#244 – Amazon Australia, Split Testing, and Navigating E-Com Patent Issues
Here's an opportunity to find out the latest on a new Amazon marketplace from an e-commerce veteran who first reached 7 figures back in 2015.
Updated on: January 3, 2022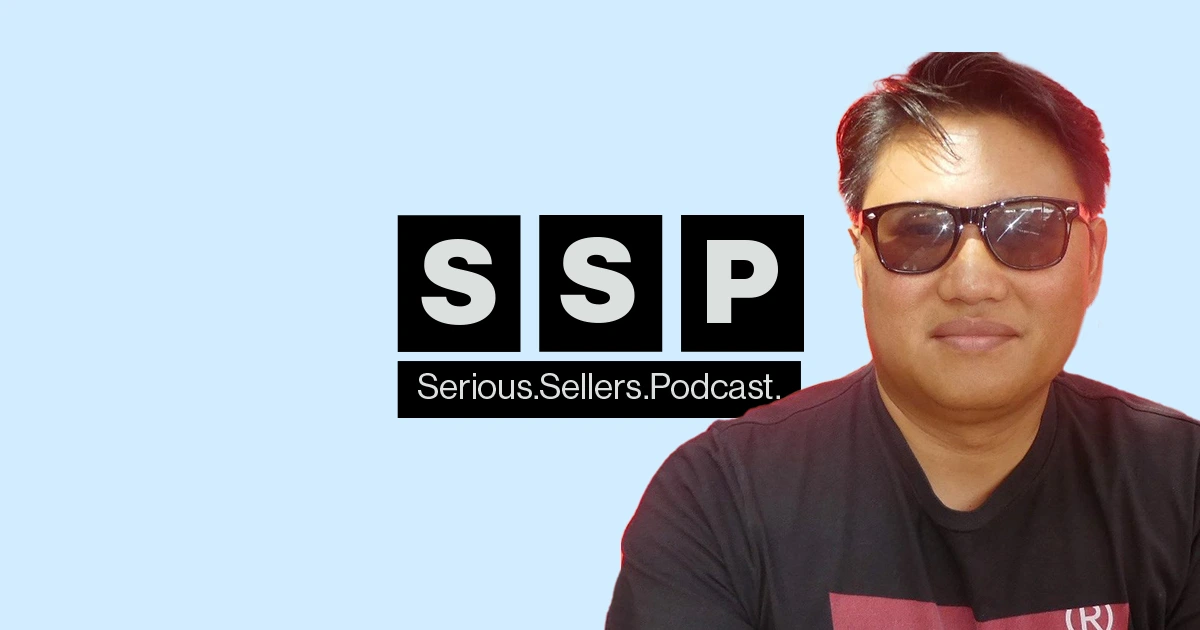 For many, the early years selling on Amazon are referred to as the "wild west days." Amazon's relaxed rules governing reviews and giveaways allowed new products to rocket to the top of the page (in many cases) without a single penny having been spent on PPC.
While selling on Amazon has changed dramatically in the last five years, many of the processes that helped entrepreneurs find success back then, are still relevant today. That's why in this episode of the Serious Sellers Podcast, Helium 10's Director of Training and Chief Evangelist, Bradley Sutton welcomes Leonard Palad, an e-commerce veteran who's here to help put selling on Amazon in 2021 into historical perspective.
After charging an Amazon selling course to his wife's credit card, Leonard quickly found that e-commerce was in his blood. So much so, that he's still (very successfully) selling his first Amazon product. Beginner's luck? Sometimes. Most often it's a result of doing a lot of the little things, and all of the big things right. Listen in and you'll have the opportunity to hear about what has made Leonard such an Amazon-selling success.
Then, take those strategies and start your own e-commerce dynasty. It's true; the wild west days are over but there are still plenty of riches out there to be had by those who are working hard and following time-tested paths to success.
In episode 244 of the Serious Sellers Podcast, Bradley and Leonard discuss:
02:23 – An Early Start with Computers
03:27 – Purchasing a Course with His Wife's Credit Card
05:22 – 20X-ing His Income Selling on Amazon
07:10 – Making the Move to Selling Full-time on Amazon
08:51 – A Five Figure Amazon Seller by 2015
09:08 – Patent Issues Put a Stop to a Second Big Amazon Product
13:38 – Leonard's Best E-Com Memories
17:21 – A Hand Sanitizer Product Takes Off
19:04 – Don't Be Afraid of Seasonal or Quick Hitting Products
24:05 – Leonard is a Fan of Split Testing
27:40 – Using Amazon's A/B Testing for A Plus Content
29:01 – What's the Latest on Amazon Australia?
34:16 – Back to School for a Master's in Marketing
38:19 – How to Contact Leonard
Transcript
Bradley Sutton:
Today, we've got an Amazon seller who's going to talk to us about selling on Amazon Australia, as well as how he still in 2021 is selling his very first product that he launched in 2014. This was a product that after he launched, he was able to 15x his salary from his old day job. How cool is that? Pretty cool, I think.
Bradley Sutton:
Hello everybody. And welcome to another episode of the Serious Sellers Podcast by Helium 10. I am your host Bradley Sutton, and this is the show that's a completely BS-free, unscripted and unrehearsed organic conversation about serious strategies or serious sellers of any level in the Amazon world. We've got a serious seller from the other side of the world, from Australia, Leonard. [speaks in Filipino]
Leonard:
How are you, Bradley? I'm good. Thanks.
Bradley Sutton:
I'm doing pretty good.
Leonard:
That's good.
Bradley Sutton:
I was speaking– no people from Australia do not speak Tagalog. However, Leonard actually, you were born in the Philippines, right?
Leonard:
Yeah. I was born in the Philippines by– I moved to Sydney way back in 1991. So it's a while back.
Bradley Sutton:
When you were eight, nine years old, regardless of whether you're in back in Philippines or Australia, what did you think you were going to be when you grew up? I always ask the same question.
Leonard:
Well, I'm always keen getting into business. I see people growing up. I see people that are running businesses and things like that. And I'm always fascinated. How do they do it? There's got to be a way. I mean, I was eight, nine years old.
Bradley Sutton:
At eight and nine years old, you were fascinated at the way people run businesses.
Leonard:
Yeah, yeah.
Bradley Sutton:
That's what I'm talking about. We knew you were going to be an entrepreneur.
Leonard:
But sometimes, you just kind of, as a kid, you, you kind of put it aside for now and then probably someday it will creep up on you.
Bradley Sutton:
Did you go to school there in Australia or you started working right away?
Leonard:
No, no. I started doing– it's more like evening colleges courses and things like that in computers because back then in the early nineties, computers are starting up.
Bradley Sutton:
When exactly did you get into e-commerce?
Leonard:
One winter afternoon, I was dragged into a real estate investment course and they had one guest– he who's from Canada and he started talking about internet marketing, selling courses online and things like that. And he made it as a passive income, but that got me intrigued.
Bradley Sutton:
When did you discover Amazon then?
Leonard:
Well, when I saw this ad from ASM and I saw it before, like 12 months before I didn't pay attention Oh, six months before I didn't pay attention. And then I said, okay, well, why don't I just give this a go and see what happens? Because this is the last time I'm going to try because I don't have any more funds. I use my wife's credit card and I purchased the course. I didn't tell my wife about it.
Bradley Sutton:
I was about to ask you that I was like, did you ask permission first or are you still married to her?
Leonard:
I'm still married to her, thank God.
Bradley Sutton:
So, she forgave you.
Leonard:
She forgave me, yeap. Because I've already– I paid her credit card, so that's all good. But back then, I didn't tell her about it. Because I know the answer is no.
Bradley Sutton:
Guys, if you're listening out there, please don't go do the same thing and use your husband's or your wife's credit card without asking. And then, because the excuse old Leonard said, I could do it. That's not going to work with your significant other, sorry. It worked for Leonard, but might not work for everybody. So anyways, you paid the $3,000 for the course you learned, or you went through it, and then did you go right into looking for your first product?
Leonard:
Yeah, I did get it straight away. I didn't waste any time. I didn't waste any time. This is around 2014.
Bradley Sutton:
So 2014, some consider those days like the wild, wild West of Amazon, that first product. Do you still sell that product by chance?
Leonard:
Yeah. I still sell it.
Bradley Sutton:
Are you serious? Your very first product from 2014 is still active and you're selling it on Amazon now?
Leonard:
It's still active. I'm selling it is a instant read meat thermometer.
Bradley Sutton:
Incredible.
Leonard:
Yeah. I'm still selling it
Bradley Sutton:
Your first full year of sales then was 2015. Have you any idea, or do you remember approximately how much gross sales you did in 2015?
Leonard:
Well, when I started selling that it hits Amazon– it went live around July 7th. I remember it was July 7 because it was my last day on my old job. I didn't realize that this product is going to do so well that in three months it replaces my income, like 20x.
Bradley Sutton:
At your peak in your first year. How much a day were you selling? How many units?
Leonard:
Oh, it was around 128.
Bradley Sutton:
What was your retail price?
Leonard:
It was like 14 bucks or something.
Bradley Sutton:
14?
Leonard:
Yeah. 14 bucks.
Bradley Sutton:
And then like, what was your cost?
Leonard:
It was pretty cheap. It was like back then I was getting it for like a dollar 90, like two bucks or something.
Bradley Sutton:
Yeah. And then shipping is almost nothing because it's so small.
Leonard:
It's so small. And so the profit margin is around 50% or something 50, 60. It was pretty good.
Bradley Sutton:
Yeah, I'd say 50% profit margin is pretty good.
Leonard:
And 30–3 months later, it was significant profit that I thought about. Okay. Well, I thought about, should I still go to work? And then eventually I bet up my house, paid all my cards and loans.
Bradley Sutton:
All from these thermometers. Or you launched another product?
Leonard:
Only from that thermometers.
Bradley Sutton:
Oh my God. For one product, a thermometer paying off houses and cars and all your debts that you had. How long did you ride that first product before you're like, you know what I'm going to try and launch a second one?
Leonard:
Well, when I took the full-time job, that's when I took seriously, doing full-time Amazon. That's when I took it seriously.
Bradley Sutton:
Which is like 2015, 2016? Still 2014?
Leonard:
Yeah. It was around October, November. That's when I took the full time, my wife couldn't believe it and said, what are you doing? We have mortgage to pay, we have costs to pay and you think that's going to pay up your salary. I said, look, this is where I'm taking. It's like 15 times of what I'm taking compare my salary. I mean, I take this full time and glad I listened to myself, and sometimes you got to listen and trust your instinct and your gut feeling. And I started doing it full-time and then I started doing more research and launch more products. And that's when I expanded to Europe. This is 2015.
Bradley Sutton:
With the thermometers?
Leonard:
With thermometers and other products as well. Yeah, not a products in the school category.
Bradley Sutton:
In 2015, out of all the marketplaces you were selling USA, Europe, et cetera, et cetera. Thermometer is your second product, third product, whatever, like approximately how much gross sales did you do?
Leonard:
It was around 20 gross sales. Well, it was around like 800 to 900,000 a year. And then when I rolled more products, I expanded to UK to Europe, that when it pushes me to over a million, this 2015, 2016.
Bradley Sutton:
So, you're already a seven figure seller by 2015, 2016, around there?
Leonard:
Yeah, like 2015, early, early 2000.
Bradley Sutton:
Did you launch any products that equaled that success of the thermometer of getting to 100, 120 a day or was everything good, but just not that amazing as that one?
Leonard:
Well, there's one product that came close. But here's what happened. I ran into a patent issue. This product was a seat cushion. I'll tell you what the product is. It's a seat cushion when I– one of those U-shape seat cushion that you find on Amazon. And when I was searching for that product, I wasn't aware there was already a patent exists. It was a patent pending design. Back then, nobody talks about patent. Trademark a little bit. Trademarking your brand. Yes. A little bit patent that not exactly, hasn't came about around 2017, 2018. That's when everybody started getting suspended for patent issues and things like that. So, I was searching this product and I was on Amazon and I saw seat cushion, and there's not a lot of reviews. And I read all the reviews about one star, two star and people complaining about it's always– this product is always slipped on my chair and I had an accident. Always it has a anti-slip fabric on the bottom of it. So, I found a supplier in Alibaba and I brought them into Skype. We started talking and I said, what do you suggest putting an anti-slip fabric on the bottom of this. Now, when I launch that within 30 days, it did about $40,000 in sales. And then around six months, I was, back then to get the page one, it's a piece of cake, you launch it, give away. Bang within few days, you're on page one, making money straight away. But now obviously it's hard to do that because of the level of competition. So back then, it straight away, it's already making some significant money. And then six months later, I've got this email from Amazon about patent issue.
Bradley Sutton:
All right, guys, quick break in the episode for my BTS. Bradley's 30 seconds. Here's my 30-second tip. There is something cool on Pinterest to kind of see trending ideas. All right, guys, go to trends.pinterest.com. And you're going to find a lot of cool things on there about like what people are searching for on Pinterest. Now, the cool thing is, as you start searching for keywords and discovering them, guess what guys, those of you who have the Helium 10 Chrome Extension, you can actually activate the Chrome extension on a pin, any Pinterest page, especially these trends pages. And for these keywords, you're going to be able to see the search volume, the search volume history, the top products on Amazon, and more.
Bradley Sutton:
What about big negative, like a big L that you took like a big loss, where you're like, you're convinced something was going to be big, but then something really bad happened and you ended up having to cancel that product. Any others like that?
Leonard:
Variation. One of my successful product as we discussed is an instant read meat thermometer. And I produced like four different variation color because my number one seller was a black in color. And I roll out different colors like red, green, and I spend significant amount of inventory, like 20 grand for the amount of inventory. But for some reason, they didn't do well. It's more like hurting my ranking because consumer are getting confused. There's so many options, so many options to choose. And eventually I have to close all those listings, take all those inventory from Amazon warehouses, and then ship them back to my 3PL. And that was a costly mistake.
Bradley Sutton:
What about opposite? What about pleasant surprise, obviously thermometer was a pleasant surprise, but where maybe you didn't have some big expectations, or maybe something went viral for a few weeks and you just were crushing it like, what's some of your fondest memories of the last seven years of Amazon selling?
Leonard:
Last year when we had a pandemic hit Australia. It was around late February, March. I was doing product research using your fantastic tool, Helium 10. And I was just searching for a product and hand sanitizer came up a few times and I was doing product research in UK, and the numbers are off the charts. There's hardly any reviews. And the sales, the monthly sales for all the top, well, 16 products, they're doing something like 30,000 pounds a month. There's hardly any reviews. So what's going on here? Why is this product, back then, this is early pandemic period. So I looked at Australia, I looked at Hey, because Amazon, it's been here for a few years now and the same thing, but we don't have tools right that here yet, it's not available, but there's a lot of sellers. And then when I go to shop on wooly supermarket, there is no hand sanitizer. I couldn't find anything. So I drove around, I went to chemists warehouse or drug store. You call them drug store there, and I couldn't find anything. So I said, well, this must be something happening with this product. So I rang a supplier here in Sydney. It's about two hours drive from my house. And I bought a pallet of it, a hand sanitizer palette, which is like five kilogram container each. And then I bought some bottles.
Bradley Sutton:
Five kilograms. That's like more than 10 pounds, right?
Leonard:
Yeah. One on 10 pounds. So I bought a whole pallet of it. I sold the bottles in three pack, like for a 19.95 or something like that.
Bradley Sutton:
Where? In Amazon, Australia or?
Leonard:
Yeah, in Amazon Australia. So I thought, I didn't think much.
Bradley Sutton:
Oh, hold on, hold on. So you bought these in bulk and then you bought a whole bunch of like empty bottles or something?
Leonard:
Yeah. Bottle. It's not that hard to bottle the. So I bottled them and I just use a dymo labels to label them. And I put it on Amazon and then create a campaign advertising campaign and left it overnight. And then within– I wake up in the morning, I have about what 300 sales or something.
Bradley Sutton:
Fulfilled by merchant?
Leonard:
Fulfilled by merchant.
Bradley Sutton:
So, you had to package– when you say package and ship, it's really packaged and shipped because you actually have to pour the hand sanitizer into 300 bottles. Right. And then label each one, too, right?
Leonard:
It has a pump. It has a pump and it's a lot easy to handle it. I mean, they have a special pump to do it
Bradley Sutton:
Wow. Now, is your first product on Amazon Australia, or are you already selling your existing products on Amazon Australia?
Leonard:
I was already selling an existing product. Like the seat cushion. There's no patent issue here for the seat cushion. And so they're– it's a small market, it's an insignificant and yeah. And when this thing took off, said like 300 sales in a day, I said, Oh my God, I better keep cracking at it. Because there's a lot of things to ship. And yeah. So this is during pandemic. And luckily my wife, she works for mom. My son doesn't go to school because they can't go to school because the school was shut. So they helped me out then. And we didn't 30 days did about a hundred thousand dollars.
Bradley Sutton:
I've been doing the same thing. People are going to think we Filipinos are child labor, bad guys. I've been making my kids work on my Amazon business since they were like five, six years old. Free labor. I love it. No, but actually now I have to pay them. Now they're old my kids, they're actually on salary and stuff now. So, but anyways, wow, that's pretty cool. I like how you walked us through your thought process and that's the takeaway. It doesn't matter, somebody's listening to this and in America, like all that, well, that's just happened on Australia. There's different situations where take a look at what's going on in the market. And then if you have some kind of local supply for something that people are wanting in other parts of the country, but you can get it. And maybe, it's not on Amazon or something, you can literally turn that around just in a matter of a couple of days. And you start making a killing, and the traditional way of private label of course is, Hey, let me go manufacture this product and let me get some samples from China. And then, it takes like five, six months, but some people think, Oh, man, if you really want success, it's kind of like what Leonard did with a thermometer and have a product that just lasts for seven years. Some people stay away from seasonal products, but all of these things, if you can make sales for two months, if you can make sales for two years, if you can make sales in the winter months of every year or something seasonal, like just do it. Don't stay away from these products as long as you're applying for it right. So I really like that. Now, how many total marketplaces are you selling on now? The different Amazon countries and any other websites, can you name them all? I know obviously amazon.com. You said Amazon, UK, Amazon, Australia. Where else are you selling?
Leonard:
Amazon, Italy. Because I sell my seat cushion there in Amazon Italy, I used to sell in France, Germany, but I closed my listing there because–
Bradley Sutton:
How come?
Leonard:
Germany is– I'm finding it's hard. I think the German psyche is a little bit different than US consumer and the British consumer. I piloted the top to crack in terms of what they're looking for the products. I mean, I had a product that is doing well in UK. I brought it to Germany and it bombed.
Bradley Sutton:
But why stop it? Like, were you losing money because of storage or something. Like, why not just keep the listings active? And then even if it's not doing well?
Leonard:
No, I stopped selling it because I'm not getting any sales.
Bradley Sutton:
So, then there's Amazon USA, Amazon, Australia, UK, we talked about Italy. Any other Amazons are you selling on around the world?
Leonard:
Well, not at the moment because the others are fairly new, like Singapore, India. It's hard to get into India. You got to partner with existing company, a local company. And I think there's at a market in Europe. They're opening up as well.
Bradley Sutton:
Poland, Netherlands, stuff like that, but they're still pretty new. Any other non-Amazon websites?
Leonard:
No, I'm pretty much Amazon since, since the beginning.
Bradley Sutton:
Okay. So what was your sales overall like? I mean, I know it's obviously different currencies and stuff, but if you were to estimate in US dollars, what your overall sales in 2020 was, what would you say?
Leonard:
It was around 1.2 mil.
Bradley Sutton:
Nice. And I'm assuming that the days of 50% profit are no more. So, what's your profit nowadays?
Leonard:
Average is around 35, 40.
Bradley Sutton:
Still pretty nice. Cool.
Leonard:
So, that's the average profit margin.
Bradley Sutton:
Now, did you just expand on that whatever brand you had for a thermometer or all these other products are just like, kind of separate brands and complete separate products?
Leonard:
I got two brands. There's one brand for the thermometers and different brands, so I only have two brands, so I don't want to keep it. I don't want to expand more brands and things like that. So, yeah, I'm happy with two brands.
Bradley Sutton:
Okay. Okay. You leverage any other marketing outside of PPC? You're doing Google ads or are you running any social media? Are you doing insert cards? What else are you doing other than the traditional just search find buy, PPC stuff like that?
Leonard:
I do a bit of insert and insert card. And then I paneled them through Facebook messenger and things like that, to get reviews. The other thing as well is I don't do any big, I'm not a big in social media at the moment. Because you got to have someone who knows what to do, who knows in terms of how to run social media. I don't have anyone at the moment. I rely on Amazon PPC. That's where my– most of my traffic coming from organic and the Amazon PPC yet.
Bradley Sutton:
Okay. All right. Usually, on the show, we do this thing called a TST, 30-second tip, TST. That's actually you being Filipino know where it comes from. When my mom always wanted to go [speaks in Filipino]. that's how that actually– that's actually how I came up with that acronym the TST. But anyways, instead of just one, instead of just [speaks in Filipino], I want more than one, like let's do like two or three of some of your unique strategies. Now, you don't have to keep them to 30 seconds each because a T can also mean two minutes if you want, but think for a little bit on two or three different strategies that you think you're doing differently than most people. You don't have to be the only one in the world doing it, but what are some unique things that have gotten you ahead? I mean, obviously, you've already told us one, which is, Hey, you went and found some local supplier and took advantage of some huge demand when there wasn't supply. But what else kind of unique strategies are you doing that maybe some other people could learn from?
Leonard:
I use PickFu.com You'd been featuring pickfu.com In your segment in the past. I use it before I even launch a product before I even come up with an idea, in terms of how the listing will look, the way I use PickFu is I in terms of listing optimization. See, before I put my listing on Amazon, the images, the bullet points, the EBC images, they're all well-tested. There's a data that backs that up. So, what I normally do, I take my five competitors, my top five competitors' images, and I've grouped them into six, two images on the top and side-by-side, I grouped them into six and then I go into PickFu. And then I basically asked the respondent, which options on images here that resonate, that tells the story of the product well. And then they do all their survey. And the one that comes up, I'll take that. And I talk to my designer. I said I want you to build me my images as close as possible to these guys, but in a different variation, in different style. And then I take those images and I go back into PickFu and run a poll again. Again, say bench will win on the previous one. And then whatever the result is, I read all the comments and then refine my images again. And then I run it again. And until it wins, then I use that. I use that as my images. So I know when my images, those live on Amazon, they're well tested.
Bradley Sutton:
What are you targeting when you do those Pickfu audiences? Are you just doing the standard 50 and then just put prime members or are you really diving down a little bit and say like, Hey, from this age and man, or woman, or like, did you really try and segment who you're talking to or did you more than 50? What are some of your standard filters that you do?
Leonard:
I keep it pretty basic, primarily for they're mainly prime members and that's it. Prime members.
Bradley Sutton:
No, I do pretty much the same, the only times I really go deep as if it's like makeup or something where of course I want to primarily target women, or older people or younger people, et cetera. But yeah, usually I just do the standard there. Okay, cool. Do you have one more for us, another tip, something unique that Mr. Leonard does?
Leonard:
You can do an AB testing on your EBC? I don't know if people do that.
Bradley Sutton:
Oh, using the Amazon AB testing?
Leonard:
Yeah. You can do that. You can create a variation of your EBC and then run it for seven days and see which one performs. If it performs by 5% better, switch it and then you can see your sales goes up. So, that's what I do.
Bradley Sutton:
I've never done that before. So what are the things that you're able to AB test inside of that brand registry? It's your A-plus content description, or are there other things that you can test?
Leonard:
Well, what I've seen, so far mainly the A-plus content. So, you can AB test that and talk to your designer and tell them, look, I want a variation of all these images and then run it. And I get the seven days. Usually Amazon, it says, you can run it for 30 days to get the data, but you can actually shortcut that and wait for seven days to seven days is an update at the decide. Usually, it tells you, based from our data, our forecast that this AB listing this B or C, whatever, we'll be 80% a clear winner. So, it usually tells you the forecast. So, then you can make a decision to kill it, or you keep going. So I usually– seven days, 10 days, I usually kill it and then I'll switch it. And then you see your conversion goes up by five, 7%, then make extra sales just by doing that.
Bradley Sutton:
Nice. Now we're real quick. I was about to ask you this and I forgot already, but other than your amazing hand sanitizer situation. How is Amazon Australia? I know two years ago, it was dead as a doornail because it was just super small, but I've heard it is growing and getting better. Like, how does it compare to, I mean, I'm not even going to ask you how it compares to USA sales. We know there's no comparison there, but how does it compare to like your Italy and UK sales?
Leonard:
Well, the thing with Amazon Australia, before pandemic, Australia is about four or five years behind in terms of e-commerce compared to United States, like four or five years behind. During the pandemic, that shorten that gap to just two months, three months. So, which means, another words, a lot of our population here basically use the e-commerce to buy products online. So, the pandemic pauses everybody to use the technology to use e-commerce shop online. So as a result, Amazon, I think last year, Amazon said they did about a billion dollars in sales. I mean, it's a small peanut compared to the United States, or you buy the billion dollars says that's significant for, they're only been here for three years, four years, 2017 when they open December 2017. So that was like three and a half years or something. So, yeah, but it's still relatively new. I know some friends that they're, they're doing 30K a month in certain segment of Amazon and certain market, certain niche. But that's very rare because there are no tools available right now. There's no tools available.
Bradley Sutton:
No longer. A couple of weeks ago, you didn't even realize we don't have the Chrome extension yet, but now Blackbox, Cerebro, Magnet, Profits all available now in Helium 10 for Amazon Australia.
Leonard:
Oh, that's fantastic. Good to hear.
Bradley Sutton:
I want you to start testing out, please test it out, connect it to your account. We need more people testing the tools and let us know what– run Cerebro on your listings and let us know. Because we did, we always– like a lot of people are always asking about Australia just because I think a lot of obviously American and European sellers, they speak English and they're like, Hey, just make sense. Let's go to Amazon Australia, but we didn't have enough demand because like you said, that the sales were very low overall, but I think we've seen a similar thing there because of the pandemic, more and more people are adopting e-commerce, I mean all over the world, but then in Australia to now, how does like, does FBA work the same way? Like, because Australia is humongous, like there's no way that you can do two day delivery across a whole country. Is it mainly in the metropolitan areas or how does it even work?
Leonard:
It's pretty much like any other countries. We can do an overnight ship, but it's just expensive. That's all. Yeah. The shipping is a little bit expensive, as you said, it's a big country. But Amazon is partnering with local logistic company and they can do a very good job in terms of shipping costs. They're probably like a dollar cheaper if you ship it yourself if you do an FBM, the Amazon. So because they have buying power. They're large, they're big company, they can squeeze the big, the logistic company. So, in terms of the price, yeah, it's not too bad, it's not too bad, but it's not as cheap compared to US. You guys are over there. It's much cheaper, but it's still okay. It's still okay. You just have to factor in, obviously the shipping cost into your price. If you want to ship it or something like that.
Bradley Sutton:
Now, I mean, obviously, you live in Australia, so I'm assuming it was relatively easy for you to set up an account. Any of your network, that is from Europe or from America that you know of sell on Amazon Australia. And if so, like, do you know what they have to do? Like you said, India, you kind of have to have a partner and Japan, you've got to have some kind of boots on the ground a little bit, but what is it requirement like if me, me being an American citizen, I wanted to open project X account in Amazon, Australia. Is it difficult or what?
Leonard:
As far as I know, Amazon Australia has invited the rest of the sellers from other countries as well. So, you can sell here. You can open an account. I don't think there is a restriction as far as I know.
Bradley Sutton:
Alright, last question is actually funny, a couple of months ago. I told you, Hey, I was like, I want to hear your story. I don't know too much about your Amazon story. And then you're like, Oh no, I'm kind of busy right now. And I said, well, what are you busy? And you're like, well, I'm finishing my something like masters or so I was like, what? I was like, you went back to university? So like, what inspired you? You've been in Amazon now seven years and over seven figure seller. What made you want to go back to school?
Leonard:
That's good. Good question, Bradley. Yeah, it was a master of marketing. I'm doing a master of marketing, sort of halfway now. The reason is when I started in e-commerce when I started my e-commerce business or e-commerce journey, I came from an it background. So, I didn't have any marketing background whatsoever. So it's like learn as you go. That's what it is. Learn the marketing as you go. I mean, I did pretty well in the last seven years without marketing background. And I thought marketing is such an important aspect of e-commerce. Everything is marketing. And I said, I better learn this because it will stay with me for internet. Right. It's something that I can use over and over again. And I mean, I can buy trainings, I can buy books on marketing, but it doesn't– it's a one way communication. Whereas when you learn it from the best, the source of information, the premier source of information is colleges or university. That's when you literally learn the theory and I have a practical background, or I've been selling an e-commerce seven years. A lot of the things that we talk about in terms of theory, it's all resonating now. It's all making sense now, but if you're coming from a workplace that you don't have any business background, and then you try to enroll in marketing. A lot of the theory, they kind of like hop makes sense to you. Know what I mean? When you're running an e-commerce and you're running a business, a lot of the theories that kind of resonate to you, and you can apply that to your business.
Leonard:
I mean, culture plays a lot, play a significant role when you're selling products into different markets. Culture is so important. Like the Western culture, it's pretty much an individual society, whereas in the Eastern culture, Japan and China, that's a collective culture. That's why when you deal with a Chinese manufacturer, you hear it time and time again, that you've got to build relationship with your supplier because that's where you get the best price. It's so true because that's the nature of their culture. They're collective. They tend to basically, they tend to rely on their family and their friends. That's how they tried. So that's why building relationship with your Chinese supplier will go a long way. Everything we do on e-commerce is all marketing. And that's the thing that we learn in billion dollar summit, it's all tactics. But if you have– when you have a marketing background, when you know how the consumer thinks, when you know how the culture plays into the marketing and all those things and the branding. If it helps you to basically sell a successful product.
Bradley Sutton:
Wow. Okay. Cool. All right. Well, best of success in that. It'll be Leonard, now with what MBA at the end of your name now, with your business card?
Leonard:
No. Well, I've already done my MBA, 12 years ago, and this is just a sideline.
Bradley Sutton:
Another one. I love it. I love it. All right. Cool. Well, Leonard, I mean, you don't have to answer this, but like, are you hoping to people contacting you, or do you want to put out any social media or anything if people want to follow up and hear more of your amazing narration about some of your cool stories here?
Leonard:
Yeah. Well, there got the best way to reach me is through Facebook. They can message me through Facebook messenger.
Bradley Sutton:
Okay. Facebook messenger. All right. Cool guys. Well, Leonard, I'd love to reach out to you. Maybe around this time next year. Let's see if you finished the degree and let's see how your Amazon business is doing. And let's see what's going on with Amazon Australia in about a year.
Leonard:
Sound good, Bradley.
Bradley Sutton:
Alright. [speaks in Filipino] thank you so much for joining and I hope to see you at an event soon.
Leonard:
Yeah, good to talk to you man. I appreciate it. Have a good day.
---
Enjoy this episode? Be sure to check out our previous episodes for even more content to propel you to Amazon FBA Seller success! And don't forget to "Like" our Facebook page and subscribe to the podcast on iTunes, Google Podcast or wherever you listen to our podcast.
Want to absolutely start crushing it on Amazon? Here are few carefully curated resources to get you started: