#402 – Product Research Masterclass
In this episode, we go over the top product and niche research techniques that will help you beat the competition when it comes to finding new products to sell on Amazon.
Updated on: December 12, 2022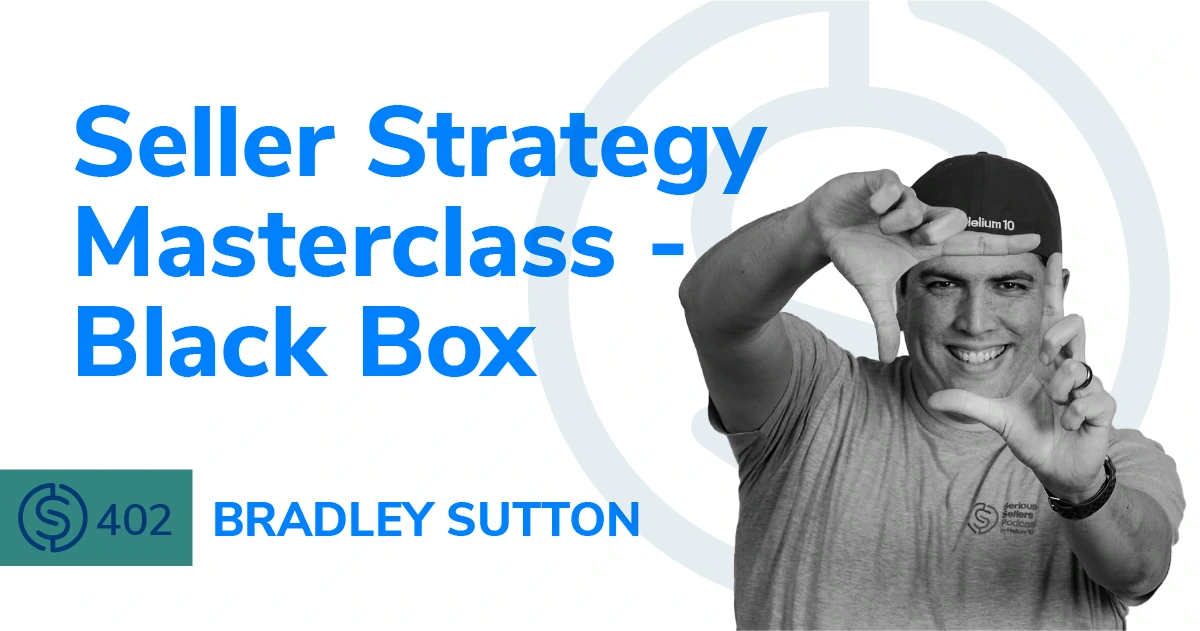 In today's edition of the Seller Strategy Masterclass on SSP, we'll talk about product research regardless of where you are in your Amazon-selling journey. You'll learn techniques that will help you either find your first Amazon product or maybe find your next product, or you're a big-time seller wanting to explore other brands and look at your niche to find product opportunities. For Bradley, there is no one way of doing Amazon product research. Still, you need to know the basic concepts of product research, be open to possibilities, and just follow the data that Helium 10 provides. Make sure to listen to the very end. This episode will be a good one!
In episode 402 of the Serious Sellers Podcast, Bradley talks about:
01:30 – Let's Learn About Next Level Amazon Product Research Strategies
04:35 – Find Products A Certain Seller Is Selling Or Has In The Last 60 Days
9:45 – Find Products With High Sales But Unoptimized Listings.
13:00 – Other Criteria in Black Box Products And Why You'd Use Them
20:10 – Bradley's Favorite Tab Inside Black Box
21:20 – How To Find Highly Searched Terms With Criteria That Might Indicate Demand
24:50 – How To Find Highly Searched Items That Will Be Easier To Get On Page One
29:20 – How To Find Highly Searched Terms With Specific Criteria In Top 10 That Might Indicate Demand
31:30 – How To Find The Products That Are Ranking For The Most Similar Keywords As One Product On Amazon
34:00 – How To Do A Deep Dive Into Products In Amazon Search Results WITHOUT Even Going To Amazon!
36:00 – How To Find A History Of What Products Are Showing For Frequently Bought Together.
41:30 – How To Find The Products That Amazon Recommends Someone Advertise For
42:35 – How To Import Keywords From Brand Analytics To Get Top-Level Information
Transcript
Bradley Sutton:
Today's another edition of our Seller Strategy Masterclass series, and I'm gonna be giving you guys top product and niche research techniques that will help you beat the competition at finding new products. How cool is that? Pretty cool I think.
Bradley Sutton:
Do you wanna see how your listing or maybe competitor's listing rates as to best practices for listing optimization? Or maybe you wanna compare a group of ASINs or Amazon products to see how they compare to each other. Maybe you wanna see within seconds the top keywords for a single listing or a group of listings. You can do that and more with the Helium 10 Tool Listing Analyzer. For more information, go to h10.me/listinganalyzer. Hello everybody, and welcome to another episode of the Serious Seller's Podcast by Helium 10. I am your host Bradley Sutton, and this is the show that's a completely BS-free unscripted, and unrehearsed organic conversation about serious strategies for serious sellers of any level in the e-commerce world. For those, watching this on YouTube, I'm here in my little like Helium 10 warm vest here because I was cold watching that intro that you guys just watching me coming out of the pool there in the Maldives.
Bradley Sutton:
But today, we're not talking Maldives Honeymoon strategy. Not much. At least what we're talking about is product research. And regardless of where you are in the game maybe you're listening to this, you haven't even started selling on Amazon. You're gonna learn techniques today that will help you find your first product. Maybe you've been selling for a little while you're ready to find that next product. Or maybe you're a big time seller and you want to explore different brands or look inside your own niche in order to find product opportunity. Well, guess what this episode is gonna be for you. So there's a little something for everybody in here because one thing about product research on Amazon is that there's no one way to do it. You need to ha be open to the different possibilities and also to make sure to follow the data, like I always talk about.
Bradley Sutton:
Now, one thing just conceptually, I want to make sure everybody understands you experience sellers might probably know this but sometimes not. You'd be surprised. So the thing is, that opportunity on Amazon is all about existing demand and looking for opportunities or gaps in the competition or indications that the competition is maybe underperforming or not, not that good, right? So the danger is new sellers sometimes want to just go ahead and sell what they know about or sell what they used to do on Etsy. And sometimes you might be able to do that, but nine times out of 10, you've gotta go into a completely different direction. A lot of you who are maybe new to Amazon, but not new to e-commerce maybe you've got a very popular.com website or off Amazon business.
Bradley Sutton:
Well, it's likely that there could be demand already for your brand on Amazon, and you could just go ahead and have success from day one. But if there's no demand on Amazon, you can't just instantly have the same success that you had on Amazon. You've gotta be able to analyze the market to see where the keywords are being searched and who's performing for those keywords. what products are out there, what indications are out there that there might be somebody or a bunch of sellers out there who are kind of crushing it right now, but you can do better than them and take some of their market shares. And that's what the product research is finding those gaps. Where are the indications that there is demand, cause Amazon's all about demand.
Bradley Sutton:
Amazon's not a Kickstarter, but where there is demand, but there's signs be it low number of reviews, a high number of sales with bad listing optimization very low title density. We'll talk about what that is later, et cetera, et cetera. The list goes on and on and on about the different signs. We're not even gonna go through all of them, but I'm gonna give you guys a good start. So let's go ahead and hop into it, and we're gonna be focusing, especially with the Helium 10 tool Black Box, which is available to all users of Helium 10. But these concepts you guys can use regardless of what tool you might be using. So the first strategy today is how to find products that a certain seller is selling or has in the last 30 or 60 days. Now, under what circumstance might this be?
Bradley Sutton:
Interesting, like maybe you're just researching a niche or you're an existing seller and you see this one guy's always competing with you, or it's obvious that he has a factory, maybe similar to yours. maybe, maybe he's in the supplements niche and you're like, "Hey, whatever this guy can make, I can probably make." So I just want to have an idea of what he's doing. So, like, for example, I'm here on Amazon right now for those of you watching on YouTube, and I'm on this, this coffin shelf page. This guy's got like Amazon's choice. And so I'm like, what is this guy doing? What else is he doing? Maybe we can have some ideas for our coffin shelf brand. So I can see that his seller name is "KEYUCRAFT". Now, this is all case-sensitive. So what I would do is I would copy this and then I would go into black box for products.
Bradley Sutton:
That's the very first tab. And then just right here under exact seller search, I'm gonna put paste "KEYUCRAFT" right there and then hit search, and then pretty much all the products that he's currently selling up to 200 or 500, depending on your limit of what level of Helium 10 you have will come up here. And then I might, I might get some ideas. And actually, most of the things this guy is selling is not even in the kind of gothic decor, spooky decor. He's got some toilet paper holders, moon shelves, remote control holders. But do you notice a trend here? All of these are, are kind of like wooden products, right? And it's just like I said the Helium 10 factory that we use in China. Any one of these products that this guy is making, I can make it.
Bradley Sutton:
And so now I might have some ideas. Well, this guy is having success in some of these categories is there some kind of line extension that I might wanna make and I don't have to like know which ones are successful for? And right here in Black Box, it's showing me his monthly sales. I can see that one of his top sellers is actually this nesting crate storage, whatever the heck that is. Looks like it might be for the kitchen potentially, but he's selling about 400 units of those $15,000 a month. Another thing that he's selling for $15,000 a month is a moon-shaped shelf. I can go in, if somebody had like, more products than this guy, I could go in and filter it out and then really get an idea of which products my competitors are crushing it on.
Bradley Sutton:
And it's just good to know in this you can kind of like plan your own strategy based on what the competition is doing. Or maybe you're like, man, this guy's already all dominating this moon-shelf category. I'm not gonna touch that, but at least it's good to know what they're up to. Conversely, I might want to look at just what a brand is doing overall, not necessarily a seller, that was what's in that exact seller, but maybe there are bigger brands out there that are doing tons of products that aren't all just from one seller. Maybe a lot of them are wholesale. So something I just found I was looking at egg trays the other day here on Amazon. I noticed this brand called Utopia Home. So instead of copying the seller name, I'm just gonna copy that exact brand.
Bradley Sutton:
And again, it's case sensitive and I'm just gonna drop that here in Black Box under exact brand search, put Utopia Home there. And let me just examine, what is this brand doing on Amazon. So maybe I mean, wholesale and I wanna know what kind of products are, are being listed here. And look at this, 300 products came up all under Utopia whatever the heck I said this guy's name, this brand name was, now this could be a private label research thing, but I think a lot of people who use this brand filter might be the wholesale and arbitrage sellers, like especially you wholesale seller. Maybe you close an account with a distributor and you've got a list of SKUs from different brands. Well, you wanna see, hey, what's on Amazon already?
Bradley Sutton:
Well, you can just go ahead and go into Black Box, put that brand name, and then go ahead and see, hey, what are the top-selling products? Even if there are like 10-15,000, you can start using these filters to see, which ones only have one seller. Hey, which ones have been selling at least a thousand dollars this month? Which ones have been on Amazon for less than three months? I mean, there are all kinds of filters that you can actually use here in order to kind of like narrow down your search for whatever you're doing. So again, this is highly used by a lot of wholesale sellers out there, but it does have some private-label applications as well. Another random thing that could signify an opportunity to you. It would be finding products with high sales, but unoptimized listings.
Bradley Sutton:
All right, so now we're talking about like traditional product research like people have been doing even since before Helium 10, using other tools out there. And this is like an entry in very specific kind of characteristics of a product or listing that could signify that there is an opportunity. So I just mentioned unoptimized listings. Well, we don't have a way necessarily to know like, hey, how strong is optimization for a certain seller? But one thing I like to do is I like to put in the number of images. To me, the number of images is sometimes, not every time, but a, a decent indicator of how strong at listing optimization or how strong of a seller somebody is, right? You guys know that if you those of you who've been selling on Amazon, if you wanna have success on Amazon, or if you're a professional seller, you gotta have like 6, 7, 8 images, maybe even a video there.
Bradley Sutton:
And if you have only one or two images, you must really not know what the heck you're doing, right? And so this is a great way to find sellers out there or products that like might not be that sophisticated. And so, remember, I said Amazon is about finding demand. So what would indicate demand for a product, right? Well, that would be the sales, right? So what I did here in this black box for product search is I just put a couple, a few random things. I said, Hey, I wanna find a product that is selling at least $10,000 a month but has less than two images. Now, why could this not guarantee? Again, why could this indicate opportunity? Well as buyers who want to see a listing that only has one image or two images, like for me, it's a turnoff.
Bradley Sutton:
Not just because I'm an Amazon seller, but I just like, I can't really get a clear picture of what's going on with this product if I only see one or two images. Also, what you guys will notice is that if you find a listing that only has one or two images like we all know that that's probably a sign of a seller who doesn't know really what they're doing. Cuz again, if you're a serious seller, you've gotta have the full image stack. And what happens is, if you find a listing that only has two, one image, maybe three, usually the rest of the listing is garbage too. So that's why, in my opinion, if I see something that's doing $10,000 of sales, but only has two images, there's a possibility that there's opportunity. Why? Because why in the world would anybody buy this product?
Bradley Sutton:
If everybody's listing in this niche was really wonderful and there was just saturated with amazing listings and everything was all equal, people wouldn't pick the listing that has only two images. They would pick the more sophisticated listings, the ones that looked better, right? So the fact that this product is getting $10,000 of sales, despite only having two images, who knows? Maybe it's because everybody in this niche only has two images. Or maybe it's because there are only like one or two products that even meet the customer's needs. So like the customer has no option, they've gotta pick this product. there are a number of reasons that could come up, but it's worth checking out. So that's one of the kind of filters that I like to look at. Now, there are plenty of other filters here that you can look, let me talk about some of them and wonder what circumstances you would want to use.
Bradley Sutton:
So regardless of what I'm looking at in Black Box for products, I usually like to narrow it down to a category or subcategory. So that's something that's newer that you can do in Helium 10. But I can go like into the home and kitchen, the whole entire category to find a product, or I can start drilling down in there and say, Hey, let me open up the home and kitchen. Let me go into the bath category, and then let me go into the bathroom accessories category, and then keep drilling down to find their product specifically there. But then, as I said before, what I like to do is to indicate demand. I gotta have demand for something, right? So that's what product research is. I'll usually use the monthly revenue filter and put a minimum of–, there's no magic number.
Bradley Sutton:
you guys do what you want 2000, 3000, 4,000, 10,000, 20,000, whatever you think would indicate high enough demand for what you're looking for. Another thing that I always do and you guys should do this, regardless of whatever tool you're using at use is set the price filter. This is the retail price. Now, this could work a number of ways for me, I like doing the price between like 15, 20, and $40. Now, I usually don't wanna see Amazon products that are less than $10. Guess what guys? I sell products that are less than $10. I did that case study a while back called Project 5k where I launched a whole bunch of small products just to show that it can be done with low money, but I'm not making handover fists for those products.
Bradley Sutton:
And if you guys wanna make serious money on Amazon, you probably shouldn't be selling six, $7 products, right? I mean, if you have to start that way, you gotta start somewhere. But that's why I use the price filter because I wanna find products that are selling for at least $15-$20 or more. No magic number here. At the same time maybe if I might have a certain budget range, I don't wanna see a whole bunch of products that start coming out there, like appliances or DVD players for $200 or $300 or something that might not be my niche, so that's why I'll cap that filter. But guess what guys? Maybe you guys want to sell products that are expensive. Well, what would you do in that situation? Well, when you're doing black box for products, you need to put a minimum filter of a hundred dollars or whatever you want.
Bradley Sutton:
So this is a very helpful filter. There are other things that you can use like the monthly sales as far as units go instead of revenue. Best sales month is kind of an interesting one to do as well because like, maybe I wanna see, hey, show me the products that we're selling the most or they had their best sales month. in other words, the history of the product, right? Let's say the product has been on for two years. I wanna see the product whose best sales month was July of 2022, right? Or maybe I'm looking for the best products that were like in Valentine's Day. So I'm gonna look, hey, let me look in this one category of products that had Valentine's in the title and had its best sales month in February of 2022.
Bradley Sutton:
Or actually probably Valentine's that's too easy. But I would put something like chocolates in the title, not Valentine's. Alright? And then I would say chocolates, but that had its best sales month in February of 2022. And then I would know, hey, you know what? These were probably some of the best-selling chocolate products that were for Valentine's Day. So there are a lot of different use cases for some of these filters I guarantee you guys probably haven't been using even though you've had access to it. If I'm looking for private label products, what I would usually do is I would use the filter called a number of sellers and put a maximum of two, this is important guys, whatever tool you're using, because otherwise what's gonna happen is a lot of the products that are wholesale or arbitrage will start coming out here.
Bradley Sutton:
And that's not your market if that's not what you're looking for. Other categories or filters that you guys can use are things like review rating, and review count. The review count is kind of big. I think the most that are probably one of the most used filters here. And this is the indication, again of potential opportunity. Because if you think about it, if you can find a product that's selling for $5,000 or $10,000 a month, but it only has 50 reviews, hey, what's going on? This must be in a niche where not many people have reviews. Cuz why is this brand-new product getting all this velocity, right? Same thing for the review rating. If you find a product that's selling a lot and it's got like 3.7 stars, again, it could be an indication that there's demand or opportunity I should say.
Bradley Sutton:
Because why would anybody, I certainly wouldn't buy a 3.7-star product unless I absolutely had to. In other words, there was no other product out there that, that fit my need other than this one, or everybody's only got like three and a half stars on this niche, so I gotta like pick the worst or the best of all these evils, right? So these aren't guaranteed to have demand or to have the opportunity, but these are the kind of things that I'm looking for. Another thing I like doing is putting a cap on the variations. You newer sellers, I don't suggest doing things with a whole bunch of variations right off the bat. So make sure to use the variation filter to cap that out. Another thing to do is, and this is for sellers of all levels, alright, is maybe you want to see, like me, I'm selling coffin shelves.
Bradley Sutton:
Maybe I wanna see all of the products that are on coffin shelves in the title. If it's a coffin shelf, it's gotta have a coffin shelf in the title. So I would use these title keywords and then I would put in coffin shelf in the title keyword, and then I would say, Hey, show me all the listings on Amazon that have coffin shelf in the title, but that are doing at least $1,000 revenue. And then maybe I'm just gonna go ahead and target those products in product targeting ads. Or maybe I'm just gonna, I just want to get an idea of the competition. Maybe I'm like, Hey, regardless of sales, show me all of the listings that have the word coffin shelf in it that were launched in the last two to three months. So I would put the coffin shelf in the title filter, and then I would use this listing age filter and put max two for two months.
Bradley Sutton:
So I mean, you just want, maybe you just wanna look at who the new players in the niche, I mean, the possibilities are endless guys. It's really kind of crazy the amount of data that we've got at Helium 10. we've got over 2 billion products in our database. And so you can just like look at all these different characteristics of products and just filter it down with all these things. Now we're in December Christmas time. So what's gonna happen is if you're doing product research, you're gonna see a lot of Christmas things. So if you're not interested in selling Christmas things, then I suggest using the exclude title keywords. Whenever you see a whole bunch of things come out that you don't want to see, just put in a keyword here. Like, Hey, I don't wanna see any product in my results that has the word Christmas or Xmas or sweater or wreath or things like that.
Bradley Sutton:
So there's another filter, guys that might be might be important to see. Now my actual favorite tab or tool inside of Black Box is not what we were talking about. It's not black box products, it's actually the Black Box Keywords tool. Now, Black Box Keywords, it allows you to do keyword research or product research, but by searching for keywords. Now, this is important because you might be able to find products by using the traditional product method, but, the way I found, or I find a lot of my products the last couple of years is actually searching instead of the product is searching for the keyword that drives sales to a product. Because looking for keywords that have demand, but lack of competition, usually it's easier for me to find this. And at the end of the day more than half the sales or at least half the sales come from keyword searches on Amazon, right?
Bradley Sutton:
So even if I do find a potential product that might seem like it could be an opportunity, I still gotta reverse engineer it and find out what the keywords are that drive sales to that product. So that's why I just go ahead and start at the end. I'm like, let me go ahead and find keywords that have a different opportunity. So this is now our, like, depending on how you're counting here, the number the fifth way of doing product research. And I call this how to find highly searched keywords that have criteria that indicate demand. Alright? And now this is doing it at the kind of like the average level. So what I have here in Black Box keywords is I said let me do a search volume of 5,000 to 8,000.
Bradley Sutton:
Remember, what indicates demand for a product is sales. What indicates demand on a keyword, not a keyword, right? It's the number of people that are searching it. If a lot of people are searching it, there's an obvious demand for that keyword. And then these filters at the top guys, like monthly revenue, price and review count. These are based on an average of the top sellers on the page, on page one. So the top sellers that are on page one of whatever keyword that we're gonna look at, what is their average revenue? What is their average retail price? What's their average review? So that's a great way to just go in and look for demand. And so what I did here as I said, Hey, show me something, a keyword that's 5,000 and 8,000 search volume. Again, there's no magic number there. You can do whatever you want that has, if I look at the average of the top players on page one, it's about $4,000 at least in revenue.
Bradley Sutton:
Their average price is between $15 and $55. I put here an average to max reviews of 200. I wanna see something where there are a lot of newer players. I don't wanna get in a niche that has thousands of reviews. So that's why my criteria were there. I also put a minimum word count of two. I like doing that because in my opinion, at least in English, in other languages is different, but there are not a lot of word and keywords that have a lot of what I call to buy your intent, meaning that they use this keyword and they buy something. If you're searching a keyword like a bathroom or table or kitchen one word, keywords, you're probably just browsing and getting ideas. Right? Now, if I were to search instead of just kitchen stainless steel kitchen utensils for display or something, now that is a keyword that has a lot of buyer intent because I'm, it's very specific and it's way more likely that I'm gonna actually buy something in those search results as opposed to if I just typed in kitchen, right?
Bradley Sutton:
Hope, hopes that. I hope that makes sense. So those are some of the keywords I just entered in here. I look at a couple of categories, home and kitchen, and kitchen and dining, meaning that most of the results of this keyword come from that category. And here it found 69 different phrases. And there are just a lot of different keywords here that I might not have thought about, like a paper placemat, who would've thought that that in this day and age is still potentially a, an opportunity there, but it has 8,000 searches. But the average of the top players, they've only got a hundred and 90 reviews right here. Here's another magnolia garland. I don't even know what the heck this is. That's the thing, guys. When you're doing product and keyword research, you might find keywords, you might find products that you had no idea you even knew existed.
Bradley Sutton:
Don't let that dissuade you from selling it. Usually, that's what you gotta sell because other sellers have ignored it. Now strategy number six is how to find highly searched items that will be easier to get on page one. And the way that you do that is by looking at title density, right? Title density is a keyword that, or it's a word that we kind of made up here at Helium 10, and it indicates the number of listings on page one of the search results that have whatever search term in its title and phrase form. For example, if I type in collagen peptides in Amazon 50 50 results come up because it's page one, right? The Title Density of collagen peptides is probably 40 to 45. What does that mean? That means out of the 50 listings on page one, probably 40 to 45 of them all have the key collagen peptides in phrase form in the title.
Bradley Sutton:
Now, what that means is, is that it's gonna be super, super hard to get to page one for that keyword. All right? If everybody's got it in the title, that's the place that Amazon looks to the most for relevancy for a product, it's gonna be harder for you to get on page one. Now, if I were to type in coffin pencil holder, the Title Density of that keyword probably is only one or two, meaning that out of the first page of results, only two listings and the entire page have coffin pencil holder in it, right? And regardless of if there's any even if this has zero demand or it's got 5,000 search volume, what happens is, the way Amazon works now is that since that title density number is so low, it's going to be very, very easy, relatively speaking for me to get to page one for that keyword as opposed to collagen peptides.
Bradley Sutton:
It's possible that from day one of making my listing live, I could already be on page one if the search volume was on the lower side as opposed to the higher side. So looking at title density is a great way to kind of like find keywords that will be easy to get to page one. And so, for example, I just did a whole search here of 8,000 and 20,000 thousand search volume. I used the price and the review count but then I put a Title Density of max five. And what that means is that it's going to find my keywords where the last time Helium 10 checked a maximum of five listings in the entire page, one had that exact keyword in the title, and then you could see stuff, like gifts for father-in-law. That's kind of shocking if you think about it.
Bradley Sutton:
That's a very popular keyword, especially come Q4 gifts for father-in-law, right? Now gifts I think actually nowadays is something that you probably can't even put in the title right there, but I probably the reason why a lot of people didn't even really didn't even realize that this is a highly searched term and they're probably marketing it as a gift for father-in-law, but they're not putting that in phrase form. Other keywords I see up here there's a lot of like branded stuff you guys don't want do that, but like zip lock bag organizer, that's another one that you'd have to check if that's like a branded keyword or not, but if not, or if it is, that's probably why it has a little title lensing cuz you're not allowed to put that keyword in your listing.
Bradley Sutton:
But again, this is very, very unique. I don't know of any other tool that does this. I mean, we've had this for like two years and I'm surprised that nobody has copied this. But to be able to see how many listings on page one have a keyword in the title is super, the super key to knowing how difficult it is gonna be for you to get to page one. Now, my favorite part of Black Box for keywords is actually using advanced filters. And this, I would say probably 5% of you if that is using this just gives me potential product opportunities for days every time I use it. Now, I told you earlier, the way I normally use Black Box for keywords, or not me, but other people who normally use it, is by looking at the averages of the top product, which is totally fine.
Bradley Sutton:
You, you can definitely find an opportunity that way, but in my opinion, a lot of the time on a lot of keywords, you are not necessarily competing with all of page one, you're competing with whoever's in the top 10. So I like looking at what's going on in the top 10 products the last time Helium 10 checked. And so I can actually do that, like here, I said, Hey, Black Box, show me a keyword that has at least 4,000 searches, right? Its price is between 15 and $55. But out of the top 10 products, this is by the way, I'm using the Competitor Revenue filter and Black Box for keywords. Out of the top 10 products, at least four are selling for more than $5,000 a month, right? I don't wanna see a, a top 10 listing where there's, they're all dud products, right? So at least four have gotta be selling $5,000 a month, but at the same time, at least six out of those top 10 products could be any six have less than 75 reviews.
Bradley Sutton:
So this is really, really amazing, amazing like next-level insights that you are getting and, and I just did this search right here. Look at this. Like I didn't even know this existed. Dog bathrobe, like, are you, are you serious right now? Hold on, I gotta open this up on Amazon. Oh my goodness gracious, I'm looking at this. There are people who are buying bathrobes for their dogs. I love it. I love it because you would, it's me as a non-dog owner I would never have thought about in a million years. And look at this page one position three has only one review, guys, right? Page one position, six zero reviews, right? How did we find this keyword? It took me seconds because I entered it in those criteria and I said, Hey Helium 10 show me where there's a keyword, we're out of the top 10 results, at least X number had like less than 75 reviews and this is what came up.
Bradley Sutton:
I'm not saying everybody go buy this dog bath here, but it just illustrates how relatively easy it is to find product opportunities on the keyword side by using these advanced filters. So I highly recommend you guys don't use those top filters if you're getting stuck, use those bottom ones that have to specifically do with the top 10 listings on page one of the keyword. Really tons and tons of golden nuggets there for product opportunity. Now another tool that is slept on in Black Box is called Black Box Competitors. So here is a way in order to find the products that are ranking for the most similar keywords as a product. Now, how would you use this? Let's say I'm doing my research and I find this dog bathrobe and I find a really top-selling product. I'm just wondering who is his top competitors.
Bradley Sutton:
What if you're ready to sell on Amazon and you're like, Hey, I want to know where what products are showing up most in the same keywords as me? In other words, let's say that you are ranking in the top few pages for a set of 250 keywords. Well, what Helium 10 is gonna do is we know all of the other products that are ranking almost on those same exact keywords. Does that make sense? So that's actually you guys, I bet you guys probably didn't even know this, right? I guarantee half of you guys who are listening to this didn't know that, but Helium 10 is tracking that. And so what I can do in this tab, Black box Competitors, like for example, I put in our coffin shelf ASIN right here, and then it spits out the top 188 products that are all ranking for the most similar keywords.
Bradley Sutton:
And of course, it's mainly going to be coffin shelves that are gonna come up. But as you start going down the list and, and there's a score here, by the way, guys, this P Index right here, this is like the score. This means that this product here a score of 10 on the P Index. It's like a Proximity Index. So that means that this is the number one product that they're almost on all of my same keywords as me. But as I start, start scrolling down, I can see a lot of batch shells and there's like makeup coffin shelves, and here we got makeup letter boards well not makeup letter boards, coffin letter boards, I should say. There are some triangle weird shells. There's an actual skull handle here. But that means that these guys are also ranking for similar keywords like maybe gothic decor or spooky decor or something.
Bradley Sutton:
But really interesting guys, if you're wondering what are the products that you're competing with the most for keyword real estate, this is a great tool in order to do that. And then what I can do is I can like say, Hey, since it's on Black Box, I can use any of these filters and say, Hey, show me all the products I'm competing with, but that maybe have a review count of less than 20 or a review rating of less than five. And now all of a sudden maybe I have some ideas for product targeting ads or sponsored display ads or who I want to try and take some of their sales. But really interesting tool guys, I think is slpet on by a lot of you Black Box for Competitors. The next tip I wanted to give you guys today is how to do a real deep study into products in the Amazon search results without having to go to Amazon.
Bradley Sutton:
You might be like saying what in the world that's not possible? So if I were to ask you if this is testing your Amazon knowledge, how in the world could I see all the details about what is going on pages 1, 2, 3, and 4 of Amazon search results without ever even going to Amazon? What tool can be used for that? Well, the answer is Black Box Niche, Black Box Niche is the name of the tool. Another tool that's completely slept on. So you go into Black Box, you hit Niche, and then for example, I put Coffin Shelf right here, right? And under Coffin Shelf, once I do that, it gives me the top four pages the last time that Helium 10 checked in order. And so, but it gives me all of the details here, like the number of sellers, the price, the monthly sales, the BSR, it gives me buttons to go to the product on the page, I can add it to my list, et cetera.
Bradley Sutton:
But this is good if, again, I wanna see, let's say I want to target all of the products that show up in the search results for Coffin Shelf that have the word coffin shelf in it. Well, now all of a sudden, instead of going to Amazon and try and extract that or using downloading Excel or Xray to Excel and stuff, I just enter it here into Black Box Niche and I would do a title keyword search of Coffin Shelf. And so out of these 181 results, let's see here, how many actually have the keyword coffin shelf in the title is what I'm looking for. And I could have what I didn't do but I could have put a number of images or variation count or price, et cetera. So look at this in the search results of Coffin Shelf. Now I know without ever having to go to Amazon that there are 35 products that have coffin shelves in it.
Bradley Sutton:
And now I'm wondering, well out all these products with coffin shelves, I'm just wondering how many are priced above me or how many are priced more than $30, right? Because our coffin shelf is priced at like $28, I think. And look, here are 20 coffin shelves that are priced over $30, all right? Of those that are priced over 30, how many have maybe less than 200 reviews, right? So I just put that filter in and now I've got a list of products here that are in my niche. They're ranking for the same main keyword as me. I'm better priced than them and I have better reviews than them. Boom. I could use this in any number of ways. So guys, if you're selling on Amazon, this is a great way to kind of do some research into your niche without ever, having to go to Amazon and copying and pacing ASINs or run Xray and download and make pivot tables and things like that, right?
Bradley Sutton:
Black box niche guys get to using that tool. The next thing I wanna talk about here, this is now I think we're on strategy number 10 for today, is studying frequently bought together in order to find ideas on product line extensions bundling, but more specifically or more importantly for product targeting in PPC sponsor display, et cetera, right? So you guys know what frequently bought together is, right? Here's, I'm showing up on YouTube here, a picture of some collagen peptides and you scroll down here and it says, Frequently Bought Together this collagen peptides with this coq 10 and this vitamin D three. So people are buying these all like in the same shopping cart, right? There's a history of it. Now, why this is important regardless of Helium 10 is if you look just right below this, these are the competitors who are targeting this collagen peptide listening.
Bradley Sutton:
And what do you notice about these guys? For those of you watching this, every single one of these is a collagen peptide. And that makes sense, right? Like if you're collagen peptides, you target other collagen peptides with you're listening. If I have a coffin shelf, I'm gonna target other coffin shelves. But guys right here, this is a top industry, people are sleeping on it. There is a history that people are buying this CoQ10 with collagen peptides, this vitamin D3 with these collagen peptides. So if I were to do this CoQ10 and this D3, and I was studying this, I would then make sure that I'm targeting this product in sponsored display or product targeting ads. Because remember the way that product targeting ads, it's not just that shows up right here on the bottom, maybe it shows up here and nobody ever sees it, but then the ad will start following the buyer around, right?
Bradley Sutton:
Like, so I went to this collagen peptides product page let's say a vitamin D3 listing showed up here. Maybe I didn't click on it or anything, but now I go search for something else. Well, I might get hit with that ad because I landed on this page. But right now all I see is collagen peptides advertising versus collagen peptides. So, guys, this is something you should be doing looking at frequently bought together because it's obvious that people who buy this product are buying these other ones cuz Amazon is telling us what's happening. There are only two products that show up frequently bought together at any given time. And this could change daily, it could change weekly, it could change throughout. So guys use Black Box Product Targeting Tab, that's the fifth tab of product targeting. Enter the ASIN.
Bradley Sutton:
So I entered the collagen peptides ASIN that I was just looking into here, and then I'm doing Frequently Bought Together. Now right here, 35 different products Helium 10 has detected over the last month or two months that have been shown frequently bought together. Now, it's interesting that a lot of the products are just the same product or the same brand. Neo cell of collagen peptides. As you scroll down here, take a look here, there's that CoQ10 that we see. There's that vitamin D3. But look at this. Here's some organic protein powder, right? Like you might not know that, Hey, you know what? People who buy collagen peptides might be buying a protein powder as well. Guess what guys? That's me. I'm one of these people. I put a mixture of collagen peptides and protein powder into my morning coffee every day.
Bradley Sutton:
Cause I really don't like the taste of coffee, but I need caffeine and I want to get protein and stuff and I want nice hair, skin, and nails. So I put all three of these things together, right? that's not normal, right? But hey, there must be other weirdos like me out there because this protein powder came up in frequently bought together at some time this month. It's not showing up there right now, right? If I just based it off of what was showing there right now, I would just see this vitamin D3 and CoQ10. So, guys, this is, this is like another slept-on feature here of Helium 10, or just in general of Amazon sellers, is don't just limit your PPC product targeting your ace in targeting to only your direct competitors. Do a deep dive into what are the products that are showing up in frequently bought together.
Bradley Sutton:
What are the ones that Amazon suggests? That's another thing that's actually probably number 11 here, is how to find the products that Amazon suggests that you advertise for, right? Matter of fact, this wasn't even on my list. I'm gonna go ahead and add it right now, but let's hop right into this list. I had filtered it out for frequently bought together. Now I'm going to filter it out to Amazon. Suggested Now what this list of products are, there are 300 products here. These are the products that if this was your product, Amazon would be showing you inside your campaign console that, hey, this is what you should advertise for. Because based on Amazon's internal algorithm and scoring, which we have access to at Helium 10, these are the highest-rated products that Amazon thinks this seller should go ahead and advertise again.
Bradley Sutton:
So like, you don't even have to be hacked into your competitor's account to see this. You can actually see this right here in Helium 10. And we're not hacking anybody's account either. This is open information that Amazon actually makes public to anybody who connects to their API. So it's really interesting stuff. This is a data point that I don't think many if not or maybe any other tools have, is the ability to look at what Amazon suggests that somebody advertised for any product out there on Amazon, not just your own. The last tab or the last tool inside of Black Box is called Elite Analytics. It's the very last tab. So if you're in Black Box and you're looking at the tabs is on the right-hand side. Now the only ones who have access to this are Elite members.
Bradley Sutton:
That's why it's called Elite Analytics. This is the very first tool that we ever made specifically for Elite members. And since then we've, we've made one more tool that we talked about last month in bbl. But basically, let's say you're doing your product research like Kevin King has talked about in freedom to get other places in Brand Analytics. Like you download all of the Brand Analytics from Amazon, and then you enter in a whole bunch of formulas and you're like, Hey, show me all the keywords where if you add up the conversion rate, it only equals this amount, or maybe you add up the clicks and it equals this percentage. However, you guys do your own research into brand analytics. Well, that might be an absolutely great way to do your research. That's what Kevin does for some of his research.
Bradley Sutton:
But then you like, have this list of keywords, and then what's the next step? Well, what's the search volume of these keywords? like how many reviews does it have? So what you can do, you can take that list from brand analytics or any list that you have of keywords, and then you go into Elite Analytics, right? And then you upload that CSV file there. And what happens is now we pair Helium 10 information, some unique data points that you cannot find anywhere else in Helium 10. So here's just a li random list of keywords that I had uploaded and yeah, I could see now that the keyword sales, the Title Density, the search volume, and then some unique data points here, such as the number of results in the top 12 that have over a thousand reviews. Like here's one that has seven.
Bradley Sutton:
I'm like, you know what? I'm probably gonna avoid this one, but here's one that only has one, agility hurdles, whatever the heck that is, right? Only has one that has over a thousand reviews in the top 12 here. Is something unique? What's the median number of reviews of the top 12? What's the most frequent seller country in the top 50? These are very unique data points. You're not only are you not gonna find it on Amazon, but you're not gonna find it inside of Helium 10 elsewhere. So if you're an Elite member, guys, make sure to be taken advantage of this tool. So, guys, I hope you liked this episode. We're doing a lot of these seller strategies once a month. I want to just do a deep dive into a different topic with you guys. Especially how you can use Helium 10 to help with this.
Bradley Sutton:
So the first time we talked about keyword research back in October last month, we talked about analytics using Market Tracker and other tools. And then this month was mainly about product research and we used Black Box. So that's just like 3, 4, 5 tools out of all the number of Helium 10 tools that we have. I'm gonna keep going with this in January. You guys let me know from now until January what you want, the January Seller Strategy masterclass to be on, and I'll do a deep dive on that. But I hope you guys enjoyed this episode. Please make sure to replay it, take down some notes, and start using these strategies in your own Amazon businesses. We'll see you guys in the next episode.
---
Enjoy this episode? Be sure to check out our previous episodes for even more content to propel you to Amazon FBA Seller success! And don't forget to "Like" our Facebook page and subscribe to the podcast on iTunes, Spotify, or wherever you listen to our podcast.
Get snippets from all episodes by following us on Instagram at @SeriousSellersPodcast
Want to absolutely start crushing it on Amazon? Here are few carefully curated resources to get you started:
Everything for your business on Amazon.
Find out more about our products by signing up or speaking with one of our
Customer Success representatives today. With us in your corner, you can enjoy
more sales and increased engagement from your Amazon business.
Chat with a Support Specialist