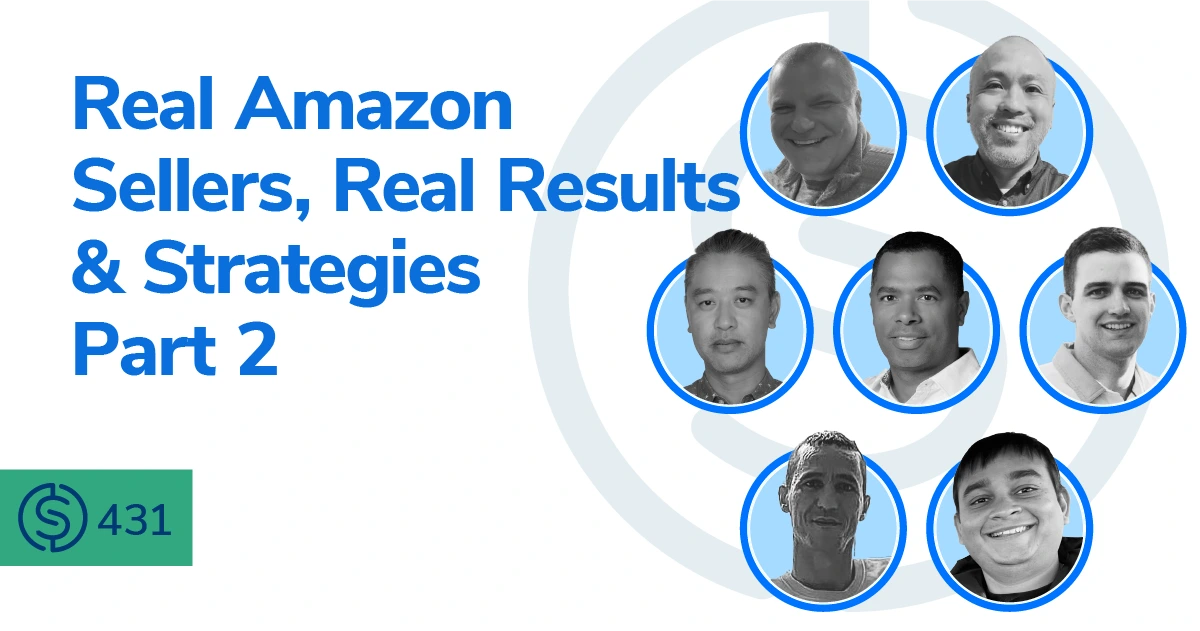 #431 – Real Amazon Sellers, Real Results & Strategies Part 2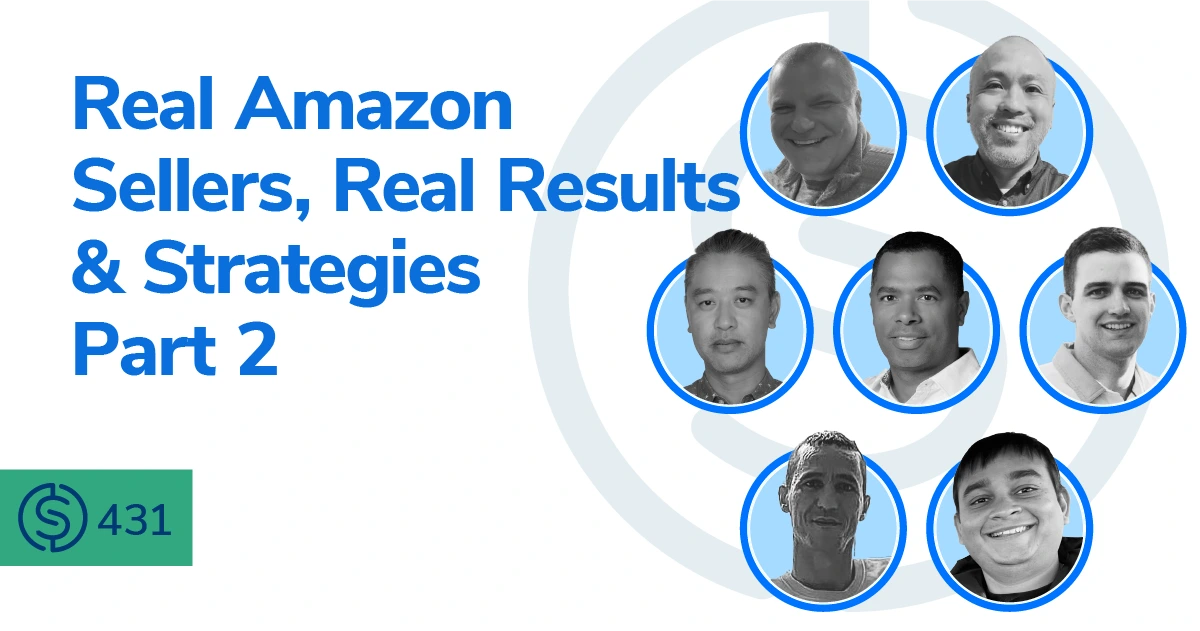 Video of the episode at the bottom
Have you ever wondered what it takes to succeed as an Amazon & Walmart seller? Well, in this episode, we're bringing together a group of E-commerce entrepreneurs who have done just that. From small and humble beginnings to 8-Figure sellers, our guests have all found success in the highly competitive world of online selling. 
Each of our guest will share their unique story, discussing the challenges they've faced along the way and the strategies they've used to overcome them. You'll learn the essential skills and strategies needed to grow and scale an Amazon business.
Whether you're a seasoned seller or just starting out, this episode has something for everyone. So tune in and get ready to be inspired by these incredible stories of determination, hard work, and success. Don't miss out on this exciting episode!
In episode 431 of the Serious Sellers Podcast, Bradley and the sellers discuss:
01:30 – Make Sure You Listened To Part 1 Of This Series
02:30 – Tips On Product Sourcing And Dealing With Factories
04:00 – Ryan's Walmart Selling Journey & PPC Dayparting Tips
06:00 – A Cool Perk Of The Helium 10 Elite Program
09:15 – The Benefits Of Helium 10 Elite & Why You Should Sign Up Now
15:00 – How To Get In Touch With Bradley's Sourcing Agent
16:30 – Our Next Guest's Have Sold $100 Million On Amazon
18:45 – Ankit's Incredible Story From Humble Beginnings To 8-Figure Seller
21:00 – The Worst Selling Experiences That Ankit Had To Overcome
23:30 – Brian's Story From Navy Veteran To E-commerce Entrepreneur
24:15 – $50 Million In Total E-commerce Sales
24:30 – The Biggest Unexpected Win In His Amazon Journey
26:30 – Huy's Tip For New Amazon Sellers
28:15 – For Huy, What Is The Biggest Benefit Of Helium 10 Elite?
30:15 – Ankit On How He Made More Money Because Of His Peers Inside Elite
33:00 – A Golden Nugget Tip From Brian Jines
34:20 – Eugene's Tip For Business Longevity
36:00 – From All Our Guests, Who Inspired You The Most?
Transcript
Bradley Sutton:
Today is part two in our Average Joe and Sally episodes, where we interview some regular sellers who aren't service rioters or consultants or anything like that. They're just ordinary people crushing it online with numbers that are far from ordinary. As a matter of fact, today's sellers collectively have generated almost half a billion dollars of sales online. How cool is that? Pretty cool I think.
Bradley Sutton:
Do you know that well over 50% of the money you make as an individual from your e-commerce company will come when you sell your business. We're talking about the biggest event of most business owners lives. How much time do you spend planning and making sure everything's in place for an exit? When the time to sell comes? We're hoping it's enough. But if not, don't worry. You can reach out to Northbound Group for help on how to improve your multiple and make your business a sellable asset. Northbound Group gets life-changing results for their clients. Don't do the biggest deal of your life alone. Visit northboundgroup.com today to learn more. That's northboundgroup.com. Hello everybody and welcome to another episode of the Serious Sellers Podcast by Helium 10. I am your host, Bradley Sutton. And this is the show that's a completely BS free, unscripted, and unrehearsed organic conversation about serious strategies for serious sellers of any level in the e-commerce world.
Bradley Sutton:
And we've got our second part right now of our Average Joe and Sally episode. So right off the bat, if this is your first time you're hearing this, you need to go back to the last episode. So just pause this and you'll see it. Whatever you're watching this on, whether it's YouTube or whether it's Spotify or Apple Podcast, go to the last episode right before this one and listen to the stories that have been told so far. A lot of inspiring stuff like one you know, person that we had on last episode, Elizabeth was making $150 a month in Nigeria, and now in the last few years on Amazon, she's grossed over 20 million. All right, so that episode had some great stories and today we've got some, some great stories. So we kind of cut it off in the middle of this one group of sellers from the last episode. So let's go ahead and hop back into their stories. And again, I want you guys thinking who can you relate with of these stories that you're hearing today are whose stories can inspire you to keep going on in your own journey. So let's go ahead and hop right into the interviews.
Carrie:
And you were in Guangzhou right, for a while? Or is that so that's where the Canton Fair is. Do you have any kind of insights on just sourcing? Cause I know a lot of people are really curious cuz they've never been there, they don't know what it's like. But since you were living there, do you have any kind of insights to sourcing maybe how to get a better price or any kind of tips you have for dealing with manufacturers in China?
Ahmed:
Yeah, from Contra Fair is like international here. They're in China. They have many fairs and many exhibitions. But the content fair is the most important in Guangzhou. And they do it twice, twice a year. There is in April and in October, and you can find the biggest like factories in Canton Fair. Also sourcing in Alibaba, we used to source before going to Alibaba. Also you use Chinese website. It's like the version Chinese version of Alibaba. It's Alibaba. It's 1688
Carrie:
And you use that?
Ahmed:
So you can have a good idea of the real price because in Alibaba sometimes the price it's not a real price. So you can negotiate better.
Carrie:
That's definitely a good tip to go to 1688 and do the comparison. All right. Let's go back to Ryan. I wanted to see if we can just give some like, tips and things, but before I get into that, I know you're selling on Walmart and just wanted to get your perspective on selling on Walmart and how that's been going for you.
Ryan:
Sure. So we selling grocery primarily on Walmart. And I think grocery is a good category on Walmart cause a lot of people are used to doing their grocery shopping in the supermarkets. So we have about 10% of our monthly sales on Amazon is for Walmart in terms of grocery, in terms of the private label, we're in the pet space and it never really took off as like 1% or so. So I'm not a good case study for the private label aspect of Walmart.
Carrie:
Yeah, definitely grocery is a good category and a few other home ones, so that's definitely good. Good to know. Do you have any like quick tips you could give, like just selling tips that you think would be helpful for anyone in the audience strategies, anything?
Ryan:
Rolando actually went in depth on the Kevin King podcast, AM/PM Podcast about this day partying. But it's worked great for me cuz I was sitting at about 17, 18, 19% TACoS. So my profits were just not really there at that point. But I realized that most of my sales were occurring before 7:00 PM each day after 7:00 PM to midnight. It's just, I was spending a lot of money on ads but not really getting any conversions. So I cut off ad spend for that and that helped me get down to a nine or 10% TACoS. But now I'm testing out adding some low bid automatic campaigns during those off hours just to see if I can scoop up some really low sales. I'm talking like 20, 20 cent bids, 30 cent bids, just to try that out.
Carrie:
Yeah. So Rolando is on the podcast but he shares a lot of really great information in our networking calls that we have every Friday. And everyone's just kind of mind blown cause he talked about day partying. So that's another cool perk about Elite is just you have these amazing people that you see right here just sharing some wealth knowledge that you can make you so much money. So yeah, that'swhat he is talking about. So maybe we can go on to move on to Rolando. See if you have a, a like a last tip. I know you've given a lot of tips here.
Rolando:
I love it. Orlando's a love I learned. You give and you get right. Yeah, I just want to give some numbers, but validity cuz I just had like somebody before I came on here ask me about it and if there are, what are some tangible numbers I could give them, especially since day party. So we started doing it in earnest at the beginning of the year, actually late December. So but anyways, the last 60 days revenue from ads were up 48% for US organic sales up 19%, and RoAS up 15%.
Carrie:
Wow. So that's amazing.
Rolando:
Day parting does work. Yes, so, and if you haven't done it, try to get it done cuz you're gonna save money and be able to redeploy that somewhere else. I love that low ball strategy. In terms of, in terms of tips, I'll tell you what has really made a huge difference. Two things, and both of them require time. They're tedious, but it absolutely pays off A-plus content, jump on it. If you're not doing it, do it. Get as many good keywords in the content, get really good images up there, that makes a huge difference. Second, we've really gone all in on the engagement piece and I know Kevin King had a hack on it recently and I talked to him about it a while back ago and it's great that he's validated it. Basically you can go in and provide more information on that Q&A on a product listing where people ask questions. Now there's a company out there that you can get to actually post questions and that's also kosher within TOS so you're not violating anything there. And so you're gonna get more words on your listing. It provides more oomph, more SEO, more juice, and these things over time, you will look back five months from now and be like wow.
Bradley Sutton:
Some people are asking about what Rolando was talking about. It was day partying you can do that in Helium 10 Adtomic, we don't call it day partying there, it's called Schedules. So that's another perk of being an elite member. You, you get the extra spend for, for Adtomic. But if you guys want more information on that join me for TACoS Tuesday, next Tuesday be talking about PPC We're gonna invite about four minutes here. And just until now, like this last group of people, we didn't really talk about it, but they've sold tens of millions of dollars on Amazon. The last group we're gonna bring up in a few minutes. They've sold hundreds of millions of dollars on Amazon just as a group of four people. But one thing, as you guys have noticed, a few people I've asked in the direct messages here about the Elite program.
Bradley Sutton:
Anybody who comes to the wanted to come to the Elite program that everybody has been on so far for since last November, you, you can't do it. But now we are opening it up. So just let me explain the Elite program to you guys in about three minutes here so you can understand what some of the benefits are. So here you guys hopefully can see my screen in a second here, but Elite is open for the first time guys since November of last year. And it's only gonna be open for a couple of weeks until I believe around March 18th or March 19th, around there. So some of the benefits of being an Elite member, you've heard them some of these elite members talk about is you get exclusive discount from the Helium 10 Hub companies.
Bradley Sutton:
Like for example, Forceget for Elite members gives special warehousing discounts. Marketing by Emma, Airwallex gives 50% off of their exchange rate. So a lot of benefits, like when you are an elite member in Helium 10, you log into hub.helium10.com, you'll see which partner or which companies I should say are offering discounts. Another benefit is we have the quarterly in-person workshops. And you know, these are in-person ones that we have four times a year where people can come and we have experts, we fly experts in to give presentations. We actually have the next one coming up in March 12th, right in Las Vegas. So anybody who signs up for Elite Membership now we'll be able to go to the next one where we have multiple guest coming. So very limited space available.
Bradley Sutton:
Only 75 seats are available. So anybody else who signs up for Elite is going to be eligible to come. You don't have to join the Prosper Show in order to get there. We have a private exclusive Facebook community where you can tag myself or Carrie or other evangelists at any time of the day and get answers, talk to each other and knowing that there's no outside people or people with hidden agendas in there, or spammers or anything like that. A hundred percent Elite members and Helium 10 employees. You can talk directly to the product managers and give feedback on tools. So that's a big benefit for many. There. We've got a weekly Zoom roundtable. So again, this is only for Elite members. Here's a screenshot of, I don't remember when this was, but maybe a few weeks ago, where we all just hop into a Zoom and then we just kind of like ask each other questions, networks talk about what's working, what's not.
Bradley Sutton:
Maybe somebody has a problem. Usually, there's somebody else in the group who's been through that problem and they can, they can help help them out. So that's a big benefit as well of the elite program. You get early beta access to new tools. So pretty much any tool that you see that eventually has been available to like you Platinum and Diamond members, it was probably released first to Elite. So they got to play around with it. Jake is famous for that. Jake is always one of our favorite BETA testers cuz he likes breaking the tools a lot. So you get early access to a lot of our tools, you get an extra $20,000 spend in PPC for Adtomic. You know, normally if you're using Adtomic, you only get up to $20,000 spend if you have Diamond, but you get up to $40,000 spend with Adtomic.
Bradley Sutton:
And as an elite member, you can access that day parting different techniques that Rolando was talking about. You get monthly training with Kevin King, an expert guest. That's probably one of the main things that people join Elite from to be able to listen directly to Kevin King. And then he gives his Ninja Hacks once a month as well. And then we have Elite only tools. You know, I talked about elite members getting early access to some tools. Elite members only have access to certain tools like Elite Analytics. You guys probably never even seen this tool. That's and where you can see the average how much percent are sellers from China versus USA versus Canada, whatever the case is, what's the median number of reviews? We don't have that metric anywhere else in Helium 10.
Bradley Sutton:
So that's a specific tool that only elite members have. We have historical data that's a game changer for me that probably, the best. My favorite thing we've ever added to Helium 10 is being able to see Cerebro going back in history like on a certain month and certain year. Like, Hey, what was this product ranking for in July of 2022? You know, something like that. You, you're only gonna get that if you're an elite member. And then of course we also have the monthly roundtable with Kevin King where it's kind of like that weekly one and where there's no agenda, you just hop into a Zoom with Kevin and everybody else and be able to ask him some questions. And then you also have the opportunity to have one-on-one calls with myself and Carrie. And so if you're a Diamond member, this is only $150 more per month for all of these things.
Bradley Sutton:
You know, each of these are worth more than that, I would definitely say. And then we got two special bonuses just for now. Helium 10 is actually included now for the last time for new members, this is the this two week window here. This is the last time where Elite is kind of like part of Helium 10, if you barely sign up, you're getting Helium 10 with it in the future, the next time it opens, who knows when it's gonna open maybe summer or fall. It's gonna be separate. Like it was in the old days, the old days Elite, it used to be called Illuminati. It was always something you had to pay for separately for new members. You know, that you had your Helium 10 subscription over here, and then you got your Elite or your Illuminati.
Bradley Sutton:
Well, that's how it's going back to for newer members. So this is like the last time we're offering Helium 10 with it. And then as another bonus if you sign up for Elite in the next week and a half, or today for sure I'm, and then you come to the Prosper Elite workshop, I'll go ahead and connect you with my sourcing agent. That's always been a popular bonus before where a lot of people in the, in the chat are asking about, Hey, how do I find my product? Where should I go? Well, I never have to worry about that because my sourcing agent, I just say, Hey, this is what I'm looking for. Find me five different factories, get me the sample. I want you to take care of the shipping. I want you to take care of the inspection.
Bradley Sutton:
She handles everything for me. And so if you want to actually use my personal sourcing agent that I've been using for years for Project X for everything I will put you in contact with her those who come to the Elite Workshop. So guys just to, to join, what I want you to do is just go to helium10.com/elite, really simple helium10.com/elite. I said March 18th, looks like March 19th. We'll close forever as far as being able to get Elite and Helium 10 together. So helium10.com/elite. Signup now guys, you get all those added bonuses and you get to talk personally with all of these great members that we've had on today. Alright, so and remember I see some people asking about hey, what level I'm, I'm at, there's brand new sellers like Renee who are in the elite program. There's a hundred million sellers that we're about to invite up to the stage now. So let's go ahead and do that actually. And let's invite up Ankit, Huy let's invite Eugene up and Brian let's start with Huy. Huy Where you at in the world and how long have you been selling online and what do you do in your previous lives?
Huy:
Yeah. Hey, how's it going everybody? I'm actually based out here in southern California, just down the street, conveniently from the helium 10 office. So any events that happened there are super convenient for me. Probably been selling on Amazon. I believe I've been selling since probably 2011, so it's been quite some time. You just kind of forget how long you've been selling on here. I probably before Amazon, I've done 15 different career changes, but probably my longest stent was working in tech as a marketing director for a Fortune 100 company. So this is completely different. And been selling on Amazon for a long time. Been through the ups and downs and you know, we're still here.
Bradley Sutton:
Awesome. Awesome. And how much would you have said you would estimate you've sold overall on online? You know, like I know it's not just Amazon. You sell all over the place. I I think you even sold in Japan too. Did you sell in Japan too, on some marketplaces there?
Huy:
I used to sell on Yahoo Auctions in Japan, so that was pre-Amazon, so I've been selling an e-commerce kind of on and off, like as a side hustle for many, many, many years since, probably since I was 18 years old. But yeah, so I've been selling for quite some time in terms of like total revenue. Couldn't even put an estimate on it, but I would say over 25 million, I probably much more than that, but yeah.
Bradley Sutton:
Yeah, he's being humble guys. He sold more than that. I love it. Love it. Even dabbles in NFTs sometimes we geek out about NFTs and crypto and things.
Huy:
Yeah. Sometimes make more money on it.
Bradley Sutton:
And a lot of times you lose more money as we've known for the last year. Love it. All right. And, Ankit what about you? Where are you at in the world and how long have you been selling online and what have you used to do?
Ankit:
Hey Eliters. Yeah, I'm down here in Chicago, cloudy weather as always. So I'm about to go to Florida, save some taxes and get some sun. Been selling on Amazon since 2015 Q4. So, but I always say 2016, right? It's almost been six or seven years. And you, like we say, you always forget how long has it been? So, because that's like bread and butter daily thing, so yeah, it's almost six years and I'm the most average Joe here. I, I moved to a state in 2003, and then I went to college for X-ray and MRI Tech, and I did my work for about 10 years and really hustled my way through pay for college and get a house and cars and everything. And then I said, okay, this is not gonna be enough, because in the future I'm gonna need a little more than what I can say with my nine to five job.
Ankit:
And that's when in 2016, I started selling on Amazon as a side hustle. And you know ever since then, it's a game changer. So I started selling, my very first product was laser lights, and the very first year of sale was $150,000, which was very surprising. My mom was watching QVC and you know she's like, Hey, you gotta try to sell these. So all of a sudden I went to Alibaba and I looked at the laser lights and I said, all right, let's try selling it. At that time, I had no idea what a keyword is, what a title is we just ran some ads. We don't know what ranking is, how Amazon works. And we just sold $150,000 worth of stuff made about $40,000 worth of profit. And that allowed us to launch more new products, and the rest is history from there.
Bradley Sutton:
Well, and then how much total you think you've sold now in your six, seven years?
Ankit:
All these seven years? I have to guess we're, we're close to a hundred million. This, this, this year, seven year, we're gonna surpass it. Last year we grew from eight figure ,18 to 25, and altogether other channels gonna be close to 80 to 90, somewhere. I don't have exact number.
Bradley Sutton:
Wow, that's really impressive. Really, really impressive. Now let's flip it like I did before you get when you you get to that level, it sometimes seems that bad thing you're more of a, a target for bad things potentially happening. What's one of the worst things that's happened to you that you've had to overcome on Amazon?
Ankit:
Oh, God. You know when you grow, all the eyes are on your listing, your product. Everybody's trying to copy you. You know, after the laser light, I started selling ice cream scoops, and it's a $2 ice cream scoop. Sold this for $13. I sold 15,000 of those, right? So I had a $5 profit on it, so that's $45,000 profit. But for $2 ice cream scoop, other people would not spend more than a hundred dollars on their product imaging, right? So I went out on fiber, found a Hollywood actress, and she was so pretty, and I said, all right, we're gonna work two together. And I spent 900, I paid at $900 to create a beautiful image, beautiful packaging for a stupid $2 ice cream scoop. And that's the reason we sold 15,000. I had to come up with an idea on how I designed this group so meticulously that it is the easiest way to scoop the ice cream, right?
Ankit:
It's just gonna make your whole ice cream eating experience and your friends better. So, and then everybody saw that, how I just captured the market share for $2 ice cream scoop, I'm the top seller. But if you do things creatively, guess what? Every single seller come up with the same ice cream scoop, copied my images, put it on their box listing. It happens every product, the more better you do, the more better they get to copy it. And back then, brand registry wasn't a big deal. Transparency wasn't there, so you can get it hijackers. So I had to just say, guys, forget it. Let's move on. I did my best. It allowed me to grow and then launch the next big product, right? So the worst thing happens is you'll get the copywriting issues. People will just copy you cuz they don't wanna work hard fake copyright claims, they'll write a bad review, they'll put in two to three negative reviews, they'll upload it. All kind of things happens to you. But hey, guess what? It's part of selling on Amazon. And look, we're still selling, right?
Bradley Sutton:
You didn't give up when these things happen and now you're about to cross a hundred million of total sale. So that shows what perseverance you know, will get you. So, alright. That's awesome. That's awesome. Now let's go move on to Brian. Brian, where are you at? How long you been selling online and what did you do before selling online?
Brian:
I've been selling online. I started on eBay probably in 2013, 2014, just as a kind of a side hustle when I was still doing construction. I've been an entrepreneur most of my life ever since I got outta the Navy. And I started with Amazon, ironically, I only started selling on Amazon from eBay because a friend of mine that had a comic book shop, he told me I should be selling on Amazon versus eBay. So he started selling my products on Amazon cuz he'd been selling on Amazon longer. I saw the sales from there, started putting my stuff on Amazon along with his too. And then things just went from there.
Bradley Sutton:
Awesome. Awesome. And how much have you sold in your online life, would you say?
Brian:
Amazon sales up till now is upward of 40 million total E-commerce sales, I don't know, maybe 50 or more.
Bradley Sutton:
Okay. All right. And instead of the negative, let's go to the positive, what's like the biggest win you've ever had? Like, like maybe unexpected win or maybe you had a product that just blasted all of your expectations or something that a PPC campaign that made you a hundred thousand dollars for and you only spent $2 or just something crazy good that happened.
Brian:
I mean, my biggest win was one of my hero products that I've always told people to kind of use your advantages, whatever that may be, depending on your situation and your knowledge base. But in my category I was always about putting together kits. I put a kid together, my gut just told me this was gonna work. And the number one competitor, I went from zero, they had like 10,000 reviews, I had zero reviews, started it up within three months. I was the number one the most they ever sold in a day was maybe 200 units. We still consistently sell eight to 900 units of that product today.
Bradley Sutton:
I love it. All right, we're gonna come back to you in a little bit. Eugene, Eugene, where are you at how long you've been selling online and what did you do before? And I remember you, you had a, a good story. Your parents had like a different path than online sales for you, right?
Eugene:
Yeah. Hey guys Ankit, just to shout out. All that stuff gave me some PTSD, all the problems. So yeah, I'm from the Lehigh Valley, Pennsylvania. Been selling since 2008, so one of the dinosaurs yeah, it took a different path. I was I guess more along the line like school, college, finance route, going to Wall Street, that type of stuff. And then things changed and just kind of stumbled upon Amazon haphazardly. Ebay was really the first start and went to went to college for business in finance and e-com. So I thought I'd be on Wall Street in New York, living out there, stuff like that. But I kinda slowed down a bit helped my parents with the restaurant. They were in the Chinese restaurant business, so there was really no one to take over. My sister wasn't gonna take over. I was kind of like the one that was groomed to be taken over, but I didn't want to.
Bradley Sutton:
Now Huy, like if you were to give a quick hitting strategy for sellers out there, something that's been working for you, maybe newer, like what strategy would that be?
Huy:
Yeah I think this is a oldie but a goodie. It's just something that we, it's, it's in our values for our company and probably very similar to Amazon as well as we're customer led customer focus, and it's easy to just kind of say that. But the hardest part is actually the implementation of it. So I think that focusing on customer service, not just when people contact you, but being proactive about it, I think Rolando had mentioned this earlier as well, is getting out there where people are asking questions and making sure, making sure that you're present doing your job to educate the customers prior to them buying your product. We're in the supplements category and it's highly competitive in there and there's a bunch of shady products in there and there's a bunch of really high quality products in there.
Huy:
So doing that pre-education and doing the customer outreach prior to actually bringing them over to Amazon to sell or to buy your product, I think that that's probably the most underrated or yeah non-focused areas. It's a bit general cuz everyone's gonna do it a little bit different, but sometimes instead of just focusing on the sale or through PPC I think it's really important for you to develop brand awareness and then identify who your customers are and target specifically messaging and support that and show them that you're supportive over that. And then that turns into you know, getting better quality reviews, higher reviews, more reviews. I know that's also very important. But establishing that relationship early on makes the ask a lot easier down the line.
Bradley Sutton:
And then last question for you is like we asked some of our opening sellers who we on this show, like, hey, what were the biggest benefit of Elite? And you would think that hell yeah if they're newer sellers, being able to rub shoulders obviously is really, really great for them. But you as a seasoned veteran who sold tens of million dollars on Amazon, how is being part of the Eite program beneficial for you? What would you say is your big takeaway?
Huy:
Yeah, I think for newer sellers there's so much information that's out there, right? There's a lot of noise. Just even the Helium 10 members Facebook group, right? You're gonna put something out there, you're gonna get all these random answers, you're gonna get a bunch of people DMing you that you don't want to DM you. Being the elite group, just as a seasoned seller, we still run into very basic problems all the time. We don't have all the answers. And so just being able to reach out into the elite group and get an instant answer is pretty good and a qualified answer, right? People aren't going to just throw stuff out there to promote themselves. And then for instance, Ankit and other people in the Elite group, I have a personal relationship with them now where I can just message them directly and Ankit I have talked for a long time, we've you know, established a good relationship and you know, I think it's just helping each other out.
Huy:
So I think Rolando had said it as well, he provides a lot of value and the more value you give, the more more value you get. So I would say that's like if you find a good mastermind and it's not just Helium 10 Elite, but sometimes you have to find a good group of people that are around you. But I will say that Helium 10 Elite, actually that group's already formed, we're very focused around Amazon and e-commerce. So it's you know, I think it's a good headstart
Bradley Sutton:
Now and Keith, you actually posted something in the chat, but not everybody saw it cuz I think it only went to the host and panelists, but this could be like your two and one here. So what's this strategy that you learned from one of the elite calls and like, what did it mean for you? But go ahead and share that strategy out too, so maybe somebody else could benefit from it as well.
Ankit:
Yeah, absolutely. Guys, see, so this is the important thing, right? I, I'd like to say that I know it all because I've been selling for six plus years and the amount of dollars and things I sell, but the truth is you actually don't, or maybe you knew it one point and you forget it because you're too busy doing other things, right? The benefit of surrounding yourself with the other like-minded people who are growth focused in the right group of people, you will get to hear the things that's important. Things are upgraded. For example, this small and light program, I tried it two years ago because I have a lot of accessories for my product that cost around 10 or $12 and I never try to get into it, right? So one of these weekly calls someone brought up that we had a good discussion about small night program, how Amazon, this January 17 changed the price threshold from $10 to $12.
Ankit:
And that was my accessory price 1199. And before I couldn't take advantage of them because the threshold was $10. But now this upgrade happened this year, I was able to immediately take an action on January 25th. I applied it, I get accepted, and now all of a sudden I'm saving $2 per unit sold. So if I multiply by total year unit sold, it's anywhere between 5,000 to 7,000 units and I'm just very conservative, throw out a conservative number that if I sell minimum 5,000 units this year, I'll be making that extra 10,000. And the cost of $400 of Helium 10 Elite, if you multiply that, that's only $4,800, right? So $5,000 already paid for my Helium 10, and on top of that, because of this mastermind, I'll be making extra $5,000 plus, right? And now I can potentially launch more products into that program. So I just can't put the value perceived in terms of dollars because there is a lot more than this, just $5,000 or $10,000 because you hang out with the right people. Like we say, like we talk about influencer marketing, we talk about what he's doing in his business, what I could be doing. Like he talk, he told me about Walmart syndication R review program and ton of value that you get out because Amazon is lonely. Like it's just me in my office, who am I gonna talk to? You know what I mean?
Bradley Sutton:
Ankit's office did look lonely. There was like a bed in the back of his office, I hop outta golf, like this dude sleeps at his office sometimes too. It was empty in there. I was like, man. But yea, you need to surround yourself with your network. You know, it's cliche nowadays, but your network is your net worth sometimes. And so that's so important. All right, so thank you Ankit for that. Brian, do you have a, a tip or strategy that you can share? It doesn't have to have come from Elite, but it could be something that you think will help Amazon sellers out there.
Brian:
I mean, my biggest thing that I tell anybody with this business is a lot of people, it's always about the big picture. You know, a lot of people, they think small, they think it's gonna be a quick win, they think they're gonna make a lot of money. You always need to think about the big picture. I can give you a great example. We have certain packs that are 96 units per pack. Amazon, as they do so eloquently f up here and there, and somebody opened the box and they literally relabeled 'em each unit saying 96 piece. So now these people are ordering these 96-piece sets, getting literally one unit and now they're emailing me through our website, which is, I'd rather them do that than send them back to Amazon anyway saying, Hey, I ordered this, can I get the rest?
Brian:
Most people knee jerk reaction, send it back to Amazon or try to do whatever they can to get away from it. I'm big picture, I just wanna send them the 96 pack, make 'em super happy. Ironically, I get their email out of it so I get something from it. But if you don't look at the big picture and what your long-term goal is at this, it's never gonna work cuz it's a business and it needs to be thought of like a business instead of a whether it's a side hustle or your long-term gig or a side hustle, you want to turn in your long-term gig. You have to treat it that way.
Bradley Sutton:
Eugene, what about you? What, what's some advice you can give to sellers? Maybe it's a specific strategy or something that's been that's helped you.
Eugene:
Yeah, I mean I think mine's pretty simple. It's in invest in your people, right? So I mean, we've been in business since oh eight and we had to learn through a lot of mistakes and being a unicorn and, and having a couple people be the jack of all trades, that usually doesn't work as you scale it breaks down and, and eventually it's gonna cost you a lot of money as a company. So the past probably like four or five years, we've investing pretty heavily in our, in our, in our staff. And I have a lot of people on staff that's been with us for over 10 years now. So I think that that passes the test and, and pretty much we get them to grow and specialize in certain areas. So like, for myself or one of my other partners or someone else doesn't have to take on the load because it's not healthy, it's unsustainable.
Eugene:
And I think this is a side that not many people talk about, is it, it's like the mental health and, and the physical health aspect of in the beginning is, it's rough, man. I mean it's, it's rough. But once you get past it though you, you can build and build and build and being able to surround yourself with people that you care about and your, your employees that you someone that bought their first car, bought their first house. I mean, that it means, it means so much more. S that's kinda like my, my mission now is it's not, not philanthropists, but like more about growing a team that we can all be successful at and be able to branch it out in other things and, and follow the same model and become a well old machine, which is I wanna run it a lot less stressful. I don't push my guys to work. I, I mean, I don't push 'em to work. Hey, you gotta work 40 hours. We don't push that motto maybe four years ago, yes, we did do that. Like, hey, you gotta work overtime, you gotta do this. But that just doesn't work. Especially now in today's age. But yeah, invest in your people.
Bradley Sutton:
All right guys, what do you think? We just had two episodes or Average Joes and average Sallys who are anything but average as far as them reaching out and achieving their online success dreams. Now let me know who your favorite one. If, if you're watching this on YouTube or somewhere where you can put comments let me know who is your favorite out of these last two episodes. And doesn't have to be the person who sold the most money or something, but maybe there's somebody who had a job similar to yours or what you're doing now or what you used to do. Or maybe there's just somebody whose attitude kind of inspired you or what they achieved. Let me know who inspired you. And then what I want you guys to do is set yourself a goal, like make yourself have a great story too.
Bradley Sutton:
You know, I had people on here who've only sold $8,000 so far and they've only been selling online in a few months in, in the last episode. So there's no such thing as, oh, you have to reach a certain figure or certain number in order to be "successful on Amazon". We like to have people from all stories and backgrounds here on this show, so make it a goal. Can you make yourself have an online story that gets my attention and then we can bring you on the show next year and talk about it. All right guys. All right. I hope you enjoyed this two episode series and I'll see you in the next episode.
---
Enjoy this episode? Be sure to check out our previous episodes for even more content to propel you to Amazon FBA Seller success! And don't forget to "Like" ourFacebook page and subscribe to the podcast on iTunes, Spotify, or wherever you listen to our podcast.
Get snippets from all episodes by following us on Instagram at @SeriousSellersPodcast
Want to absolutely start crushing it on Amazon? Here are few carefully curated resources to get you started:
Achieve More Results in Less Time
Accelerate the Growth of Your Business, Brand or Agency
Maximize your results and drive success faster with Helium 10's full suite of Amazon and Walmart solutions.