Episode 39 – 3 Brand-New Sellers Share Successes and Failures About Getting Started Selling on Amazon
In the Serious Sellers Podcast, 3 new sellers discuss Amazon seller tips and getting started selling on Amazon
Updated on: October 6, 2020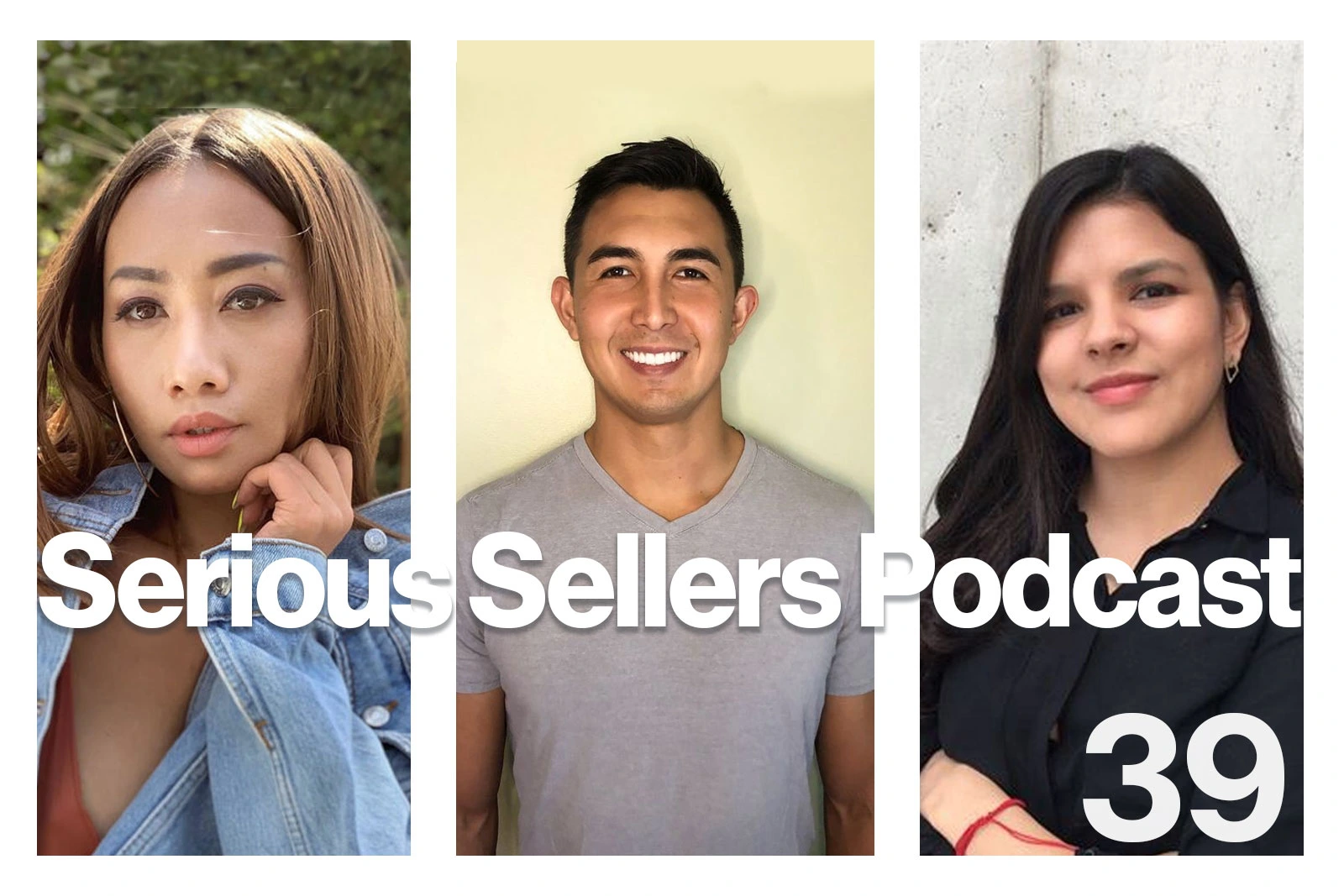 Curious about the Amazon selling experience? In this episode of the Serious Sellers Podcast, we have 3 brand-new sellers at different stages of their Amazon journey speaking with Helium 10's Director of Training and Customer Success, Bradley Sutton about their successes and failures. Perhaps you can relate to one of their stories about getting started selling on Amazon.
In episode 39 of the Serious Sellers Podcast, Bradley, Mayana, Adriana and Simon discuss:
00:00 – Bradley Mixing It Up
01:12 – An Introduction to Mayana
03:50 – Simon's Story
05:40 – Simon's First Amazon Product
06:42 – Bradley Sourcing podcast Guests in Monterrey, Mexico
08:40 – Adriana's Start with YouTube Videos
09:00 – Helium 10 – A Serious Upgrade
10:12 – What Brought Mayana to Amazon
11:45 – One Month In – What's Mayana's Process?
15:05 – How Simon Determined the Right Product
16:00 – Simon Flips the Script
18:38 – Simon Says – Helium 10 Tools Work
22:50 – 3 Weeks In, Adriana Knew It was Working
24:00 – What Would Manny Say?
26:30 – Does Mayana Have a Timeline?
27:44 – What's in Store for Simon?
29:20 – Advice from a Very New Seller
32:10 – Adriana's Amazon Future
34:05 – Bradley Says, "Let's Do This Again in 3 Months."
Enjoy this episode? Be sure to check out our previous episodes for even more content to propel you to Amazon FBA Seller success! And don't forget to "Like" our Facebook page and subscribe to the podcast on iTunes, Google Play or wherever you listen to our podcast.
Want to absolutely start crushing it on Amazon? Here are few carefully curated resources to get you started:
Transcript
Bradley Sutton: Today, we've got three brand new sellers who are at different stages in their Amazon journey. Perhaps you can relate to one of them. Find out what their successes and failures have been so far, and what you can learn from their journey.
Bradley Sutton: How's it going, everybody? Welcome to another episode of The Serious Sellers Podcast. My name is Bradley Sutton, and we're doing something a little bit different today. I don't have just one, not two, but three guests all at the same time—Mayana, Adriana and Simon, and basically one thing they have in common is that they're all fairly new to selling on Amazon. I wanted to get together with them and kind of like see how their journey has been, what's brought them to where they are now, what some of their struggles have been, what their plans are, what backgrounds they come from. We've got people from different countries here, different parts of the United States, so I think it's going to be an interesting conversation here so that all of you out there listening who are newer sellers might have something relatable to one of them. So, first of all, welcome guys. Let's first start off getting an introduction. So Mayana, can you tell us really quickly who you are and where you're at in your Amazon journey as well.
Mayana Thao: Hi, guys! I was born in Vietnam. I grew up in Germany. I came to LA in 2015, so not that long time ago. I started my catering business in LA and catered to different movie sets, like Jonas' brothers and so on, but there are a lot of things that I didn't like about the food business. And I quit it and started my YouTube channel, where I talk about fashion, personal growth, and lifestyle stuff. Now I'm driving for Uber part-time and working as a private chef and cater small events like birthday parties and so on. I always wanted to go into the Amazon FBA business, but since I have a lot of commitments, I couldn't, but a month ago I decided to quit everything else, try not to spend too much time on my YouTube channel, quit catering for movie sets for good, and just start my FBA business. I really don't know a lot by now. I just thought I'd tried to take in everything I can. I tried Jungle Scout for a little bit and then I discovered Helium 10 or the podcast AMPM, and now The Serious Sellers Podcasts, and I really, really loved it. I just loved the way that Bradley talks to the guests and how specific his questions were. I just feel like they are genuine people and really cool people. And I love that. I love the realness. I love that he loves Gary V. because I love him too!
Bradley Sutton: Mayana, you do realize that you don't get any money here if you're being so nice to me or anything here?
Mayana Thao: No, no.
Bradley Sutton: Okay. Just making sure.
Mayana Thao: I'm German. I'm very direct.
Bradley Sutton: So, currently, just correct me if I'm wrong, you do not have an active product on Amazon yet, right?
Mayana Thao: No, no. I don't even have my first product yet.
Bradley Sutton: No problem. That's great!
Mayana Thao: I just tried to take in everything. That's it.
Bradley Sutton: Okay, excellent. Well, it's great to meet you Mayana. Let's go to Simon. Simon, where are you located? I believe you're on the east coast of the United States, right?
Simon Cheam: Yeah. Thanks, Bradley. I'm in Florida.
Bradley Sutton: Florida. What part of Florida?
Simon Cheam: Tampa Bay Area.
Bradley Sutton: Oh, okay. I'm about to go to Orlando in a couple of days. Maybe you could make the drive and see me over there.
Simon Cheam: Yeah, yeah, maybe. That'd be awesome.
Bradley Sutton: Cool. So, so tell us a little bit about yourself, Simon.
Simon Cheam: Yeah, I'm a former mechanical engineer, exited the corporate rat race about a year ago, after six years developing products and doing the grind after college. And then, on the side of that full-time job, I developed a couple of different products and focused on the fitness space. I got kind of into a CrossFit, and I decided to scratch my own itch with a product idea that helps people with pain and improve their workouts. And I developed this on the side, and I was working full-time and started on Shopify originally and was just learning how to do marketing and running Facebook ads and that sort of thing. After I left my full-time job, I moved to Costa Rica for a little bit and figured out what I want to do. And I realized I didn't want to go back to the whole corporate rat race lifestyle, and I wanted to focus on e-commerce.
Simon Cheam: Then I got into all the courses that a lot of people get into, whether it's Facebook ads and email marketing. And then, with my background in product design, I went into manufacturing full on to develop this product that's essentially a body care product that helps athletes have better workouts and recover faster. And it uses plant-based ingredients and natural inflammatory ingredients. I just got on Amazon; it took a while to get approved. I didn't realize the category that I picked was pretty challenging for our first product. So right now, I'm just in the process of learning the Helium 10 tools and I'm really liking it so far and the support is great. I'm still doing the Shopify in parallel. It's been an interesting journey so far. Still, a lot to learn, but I'm loving the content.
Bradley Sutton: Cool. All right. Welcome! You've got a very different situation than Mayana. That's great. We want diversity here on this episode to get people from all walks of life. And speaking of that, we have somebody who is not currently in the United States: Adriana, how's it going? You are currently in Monterey, Mexico, right?
Adriana Rangel: Yes. Hi Bradley. Yes, I'm currently in Monterrey, Mexico, and we actually met up — you and I — two weeks ago. You were here for a concert. It was great meeting up just discussing.
Bradley Sutton: By the way, everybody out there, if you guys are on our Helium 10 users or FBA High Rollers Facebook groups, I travel a lot both for work and for personal. And whenever I travel, I always try to arrange local meetups of Helium 10 users. So, I had put something like, "Hey guys, I'm going to be in Monterrey, Mexico" and we had a couple of Helium 10 users come out to that mini meetup, little lunch or breakfast actually. I had the most amazing chilaquiles I've ever had in my life. It was great to meet you there, Adriana. Tell us a little bit about yourself now. I believe you are currently selling on Amazon one product, right?
Adriana Rangel: Yes. Well, I just finished launching my second product. I started Amazon about 11 months ago, and yes, now that Simon brought up the term rat race, I really was interested in finding—well whether shifting my career in finance—an opportunity to actually have my own business. I have a marketing background and I have been working on marketing for the last seven years, I guess. And recently, three years ago, I started learning more about technology because I started working in the health technology consulting firm that is based in California. I started to learn a little bit more about automation and of course Facebook Ad tools and all that. And then about 11 months ago, I wanted to know how people that were selling on Amazon got there. So, I started taking—well actually not courses—but on YouTube, because I didn't want to spend much at the beginning. And I started watching all these channels and everything. And I later, of course, discovered that you have to be very careful with trusting. There's a lot of people on YouTube that say a lot of things and gave a lot of advice from their point of view. So later, I discovered Helium 10 and of course, I started watching the videos and listening to the podcast and all that. And I discovered that there was a way to actually go about it. My first product I kind of really struggled with that because I didn't have much knowledge. I'd actually just bought a bunch of inventory, which is, of course, a rookie mistake and just took advice from a ton of different guys on YouTube—their videos, etc.—and for my second product, now I actually did the proper product research and use the Blackbox, and all of the tools in Helium 10 and I really see the difference now. I launched perhaps three weeks ago, and I see the difference. It's been really, really cool to see how once you choose a good product, you really see the results there as opposed to my first product where I struggled a lot with the inventory and inventory fees and then I had to promote sales coupons and all that. And I feel like I'm in a different situation right now with my second product. I'm really happy about it now and I'm looking forward to adding more products, of course, in the next few months.
Bradley Sutton: Excellent. Let's go back to Mayana now. So Mayana, what brought you, or what made you decide, "Hey, I'm not going to do the catering. No, I'm not going to spend so much time on my YouTube channel." What attracted you to want to become a seller on Amazon?
Mayana Thao: Oh, that's a good question. I feel like this is a good opportunity to just be creative, I always love to understand how the human being ticks and I think a lot of this business has to do with getting into the customer's head and get into what they want and what they think and how we can deliver it. And so, of course, the opportunities of being financially free—later on, maybe when the businesses become more automatic that you just can build it from there. They talk about the passive incomes, which I don't think is always passive incomes, but this business model, I think it's a great way to build a brand and build a business that can have a lot of potentials.
Bradley Sutton: Yes. When you first decided to do it, were you taking any courses? What's your process so far? I know you're brand new, you only decided to do this a month ago, which is why I wanted to have you on because you're the freshest one of the bunch here. What's your last month been? How have you been ramping up? Have you already started looking for your first product or are you still just trying to take an education or what's your process been like?
Mayana Thao: So, a friend of mine, he bought a course from—I don't know his name. He gave me the course, and I said, "Okay, I'll look into it." But I don't know. I don't like to take courses because I don't know if we really, really need it. Of course, we have to take them, take time to learn everything. And maybe the course can help us to save time, but in the end, I always think that there are not so many people who have a really good or great course. I looked into the course, but I didn't really like it. I think I got a lot more from your podcasts and watching a few other people. I think I like the podcasts the most, I have to be honest, but actually, yesterday, I purchased the $1 course from—
Bradley Sutton: Rob Johnson?
Mayana Thao: Yes, I really like him. He's really real, and I like his course so far. It's just one dollar but it gave me a lot more than the $600 course from my friend, which is weird. My process now is just looking into everything that I can learn from. The most important thing is product research.
Bradley Sutton: Have you started that yet?
Mayana Thao: No, but I want to learn everything about it, like how to do it. And I saw the video where you talk about the four methods of product research. I started watching that and then I just tried to get how to do research the best ways. So that's what I'm doing right now.
Bradley Sutton: Excellent. All right, well, we're definitely going to be interested to see how your product research goes. Well, what about you Simon? Did you launch simultaneously on both Shopify and Amazon? – or did you start on one . . .
Simon Cheam: I started on Shopify originally. I was just doing a little bit here and there, not fully committed. As I mentioned, I was working full time, and I got into the supplement space and now that's kind of what my passion is, developing products and creating things that I would use myself. I started on Shopify for the longest time and then I'm seeing all this stuff on Amazon and I'm seeing the trends of how people are buying things. And I just noticed the opportunity. I figured, "well, that seems to be the way people are buying products."
Bradley Sutton: How did you determine the exact product that you are going to launch? How did you determine that there is opportunity in that niche?
Simon Cheam: I saw that there was already a need for the product and that people were buying it on my Shopify site and before I got into Amazon, I was doing Facebook ads and running it to my Shopify store, and I was able to sell products and I was doing well for a startup company and generating revenue.
Bradley Sutton: What kind of revenue were you doing when you were only on Shopify?
Simon Cheam: I was doing $5,000 a month.
Bradley Sutton: Okay. Is that one SKU?
Simon Cheam: One SKU.
Bradley Sutton: Okay. You already had some kind of validation that you had a product that was in demand and that people seem to like, so that's very interesting because a lot of people sometimes they do the opposite. They start on Amazon first, try and validate the demand there, and then they'll expand to Shopify. I think it's really cool that we have you—you kind of did it the opposite way. You validated your consumer demand by starting with Shopify and running Facebook ads to see and then you're like, "Hey, I've got something and now I'm going to Amazon." Since you had that amount of time where you were generating some sales—you know, $5,000 on one SKU is definitely awesome for a Shopify for a brand-new starter product. Did you find that you were getting traffic based on people who are already familiar with your brand or did you have to start from scratch and just capitalize on general interest in the niche of your product?
Simon Cheam: That's a good question. Well, when I first started with Facebook ads, I had no idea what I was doing, and I'm still learning a lot, but I learned from Ezra Firestone and I got from Smart Marketer and I did some Facebook video ads with retargeting and I just use lookalike audiences and I was able to take customer data and I used the lookalike audience, which would expand that sort of demographic and targeting to people and I learned, "okay, well it's a certain age range and people that are interested in certain things." I don't know if I answered your question fully.
Bradley Sutton: How long have you been on Amazon now for that one product?
Simon Cheam: Just a few weeks. Yeah, I finally got it approved. It took a while with going through Hazmat and you know, it's an OTC product, so there was a little bit more that I didn't realize up front that I had to go through. But I worked with a supplier and I got everything ironed out, took about a month just to get through some of the hoops. But yeah, just been selling for maybe a week or two now and still optimizing the listing. And I haven't done any PPC or anything yet.
Bradley Sutton: Better start on that.
Simon Cheam: Yeah. I'm trying to focus on that CPR method.
Bradley Sutton: Are you running Facebook traffic as part of your launch then using the CPR?
Simon Cheam: Yeah, I'm using Facebook ads, running offer ads, and then the other day I think I made a hundred some dollars and sold a few units, and I'm still kind of tweaking that process. But yeah. Driving traffic to Amazon.
Bradley Sutton: Did you run Cerebro on some competitor ASINs that were similar with your niche and try and figure out what kind of keywords were generating sales are or how did you determine what your target keywords were going to be during this launch?
Simon Cheam: I did that method. I did the reverse ASIN search using Cerebro and then I just filtered with the minimum or the exact search volume and tried to get the main words and I put them all into my listing and then the bullets. And then, my headline, my title, but my title needs to be improved, so I need to go back and update it, figure some stuff out. But yeah, I used Scribbles and Frankenstein and those tools and tried to get it to where I'm using what people actually looking for. It can be approved, but yeah, the tools are great.
Bradley Sutton: Excellent. Excellent. All right, congratulations on that launch and we're definitely going to want to get an update from you later on too. So, Adriana, how about you? You mentioned how you did do things differently from the first product to the second, and even though you're only a couple of weeks into your new launch of your second product, you're already noticing some of the differences. What were some of the things that was different as far as the product research? Like how did you even find that first product if you said you did it the wrong way? Explain to us what was the wrong way.
Adriana Rangel: Yes. I guess about a year ago, I have some background in the art industry as well. I was thinking about licensing some of my artists' work. After that, I was thinking to cultivate a product using the artwork from my artists. And I started thinking about that and then I started thinking of my first product, so I did it. The decision for my first product was based on something that I already had in mind from a different industry, from a different situation and all of that. So that is how I ended up purchasing a bunch of inventory from a supplier here in Mexico, which was of course much more expensive than purchasing from someone in China in this case. And I just purchased that, and I created the listing, et cetera. And I sent it over. And of course, this was the beginning of Q4. You know, I heard a lot of people on YouTube saying that you need to buy a lot of inventory because you don't want to run out of stock, etc. etc. Of course, I didn't know by then about Helium 10, and so I did that, and I launched. First of all, I got into a very competitive niche—very, very competitive niche. My product got up there, but of course I didn't know how to rank. I did few giveaways, but I didn't know about the eighth-day or 10-day method. I wasn't using Cerebro—wasn't using any data. I just didn't know about that then. And I really struggled a lot with that and at some point, I was like, "you know what? Maybe Amazon US is very competitive, let me look at other marketplaces." But I soon realized that it is not about the market. I mean, of course the US market is much more competitive, but it is simple. It is about using the data to take decisions. I thought it was going to be easier, like doing it without data. But later, after I got some cash flow from selling that inventory, I discovered Helium 10 and I started looking at Cerebro and Magnet and all of those keywords, which of course helped me for the first product. But the second product, I used the Blackbox. I used to Cerebro for the keywords and reverse the ASINs and all that. And I took a leap of faith because, of course, since this first experience was a bit challenging for me and I didn't know if I should stop or invest in a second product. But I took the leap of faith and ordered a second product and the whole launch with a Cerebro data. And now I'm three weeks with this product and it's very different from my first product experience.
Bradley Sutton: What do you mean? Three weeks is kind of a short time. How was it that you already know that it's working out better? I mean, are you saying you're already getting organic sales?
Adriana Rangel: Yes.
Bradley Sutton: Okay. The first time you did it, you put the product and it was just kind of dead even from the first couple of weeks?
Adriana Rangel: Yes. Exactly. Yes. And I was expecting because I did a giveaway, but I just didn't know about the URLS. And with this second, I did that at the launch and for the first two weeks or like 10 days and then it organically started growing. Of course for my listing, I put a lot of time into adding the correct keywords and doing a good job with the photos and with the storytelling and the benefits versus features, and all that I have learned in the past 11 months from trying to save my first product. And I saw that difference. People were converting better, and I got my initial reviews in, and I feel like it is getting easier—like it is a snowball effect, I hope.
Bradley Sutton: That's awesome. Did you used to listen to the AMPM podcast before or just this one?
Adriana Rangel: Yes. To the AMPM.
Bradley Sutton: Do you remember Manny? I love your story about how in just three weeks you already know. What do you think Manny would say if he heard your story? What's his phrase?
Adriana Rangel: Ah . . .
Bradley Sutton: You don't remember it?
Adriana Rangel: No. No.
Bradley Sutton: Anybody know? Mayana or Simon? Anybody remember Manny's catch phrase?
All 3 Guests: Oh, no.
Bradley Sutton: We're going make it trending again. I'm going to start. You're going to see in more episodes because I'm going to make this trending again. He would say, "How cool is that? Pretty cool, I think."
All 3 Guests: Yes, oh yeah! How cool is that? Pretty cool!
Bradley Sutton: There you go. I've got to get this catchphrase trending again. But still one more thing I wanted to ask Adriana here is: You're in Mexico and you're selling in the United States. Did you have any obstacles that maybe other people in Mexico or other countries? Have you run into any obstacles trying to be a foreign or selling in America that maybe others should know about or it's been pretty smooth sailing?
Adriana Rangel: For me, I guess it's been smooth sailing. The number one barrier for people from other countries is the language. I think that if you are not very good with copywriting and all that, you can get help of course from someone else that knows their way. As I said that my background is in marketing. I think that helped a lot. But when it comes to logistics and all that, I had never worked with logistics or purchasing from China—even knowing what a freight forwarder is, but I learned that along the way. So I think that if you really want this and you really put in the hours and the time—I have a fulltime job by the way, which I hope that at the end of the next few months, this would be my full time job—if you really put the hours of the weekend hours and all that, it's something that it's definitely doable for sure.
Bradley Sutton: Cool. All right let's switch back to Mayana. Mayana, I want to ask you one last question: What does the next two to three months look like for you on your Amazon journey? I don't think you're using Helium 10 yet or are you already?
Mayana Thao: I just really looked into it, but I really didn't type in the keywords or anything. I know I didn't go that far.
Bradley Sutton: Okay, cool. I see. You are super fresh. You haven't even started your product. I like it. You haven't started your product and research yet. So, do you have a timeline at all? Have you thought about like, "Hey, in three weeks I'm going to start looking into software and trying to find the product" or is it two months or what? What does your timeline look like?
Mayana Thao: I still have to work a lot since I have a really, really expensive studio, which I won't give up soon. I don't have a lot of time, that's why I gave myself like five months. I want to launch my first product the latest in December 2019. That's my goal. Yeah.
Bradley Sutton: Excellent. I know you're planning to go to seller con next week and try and do some networking and I think that's great. Everybody out there as Mayana's going to find out next week, networking in the Amazon world is so important and you can learn so many things, not just from going to conferences, but just networking with other experienced sellers. And I'm sure all three of you guys have even learned a little bit just listening to each other right here. I think that's really important. So Mayana, we're definitely going to come back to you. We're going to come back to you. You're not going to wait the full five months, you know. We'll, check back, maybe like in three months, maybe we'll do another episode and see if you have launched your first product or not. And let's switch over here to Simon. Simon, you're right in the middle of a launch of your first product on Amazon. What's your forecast, Simon, for the next three, four, or five months? Where do you see yourself? What are your goals?
Simon Cheam: My goal is to try to generate $10,000 a month in revenue with one product and the priorities are going to be PPC, getting reviews and then developing the email marketing a little bit further along with social media, which is pretty nonexistent at this point.
Bradley Sutton: Do you plan on focusing on just this or do you have any plans to launch a second product in the next few months? Are you just trying to go all in on this product for now?
Simon Cheam: Yeah, I have some other ideas for other products. The issue with that is just capital. But yeah, I'm doing some other side stuff as well with the Facebook ads and consulting. My focus is to try to hit this launch pretty hard and just try to get the PPC and keep educating myself on all the Helium 10 tools, and I think networking and going into some of those conferences might be a good idea too. Yeah, I'm still in the process of learning what I don't know. So that's the main priority right now.
Bradley Sutton: Cool. You're still new to Amazon, you're doing awesome on Shopify. Maybe somebody else might be in the same bucket as you. Maybe there's a listener out there who does have a product that is doing okay on Shopify. Maybe they're thinking about taking a similar journey as you. Is there anything that you've learned in your journey so far? Why do I keep using the word journey? I don't know. I got to use different words. Is there anything in your process so far, maybe a hiccup or an obstacle or something you might've done differently or just something that really worked out amazing for you that you hope others do? What advice can you give somebody who might be in the same boots as you?
Simon Cheam: How much time do I have to answer this?
Bradley Sutton: 60 seconds.
Simon Cheam: I think it comes down to traffic and conversion. And in order to have a good conversion, I think you need to have good copywriting. And I've spent a lot of time learning copywriting and investing in mentors of copywriting because that's what people see. And if you can sell people, if you can create words that are accurate to what you're offering—I could talk about that for a while. The traffic part. Learn how to generate traffic, learn how to write email marketing. But ultimately you want to pick something that you are interested in and that you care about and you're not just like shooting for making money because it's going to take a lot of work and there's a great saying that I think Jim Rohn says it, "there are two types of pain. There's the pain of discipline and there's a pain of regret." So, you might have to make sacrifices if you want to be successful with a business like this. And you know, I'm not an expert in anything, but it is going to take a lot of time. And you have to figure out what are you going to give up in order to pursue that business and pursue your financial goals or business goals. You have to give up something. And I really think managing your time and activities are super important because there's a lot of information out there and you can get overwhelmed with so many different courses and videos and things and ultimately you want to figure out what is going to provide the most value to your customer. I think to be able to communicate with them well through copywriting, email marketing. But ultimately you have to be connected to what you're doing as an entrepreneur, I think. At least, that's what's worked for me. And so hopefully that provides a little bit of insight and I'm happy to elaborate if you need me to.
Bradley Sutton: No, that's great. I mean we're going to have you on again, so it'd be great to go a little bit more in depth into that. Cause I do think some of those things are very important and everybody needs to know about. We're definitely going to touch base on that. Let's move finally onto Adriana. What's the next few months look like for you? What are your goals?
Adriana Rangel: Well, I am very excited about Prime Day coming up soon. Because as I said before with my first product, I lost some money, not a ton of money but some money, and I'm excited that I have this second product helping me get back in shape financially. And I really hope that Prime Day and all that further helps me rank better and of course make more profit. And if everything goes well, I think I will be looking into launching a third product perhaps before the year ends. My goal is to keep adding products and keep learning and of course, keep learning how to drive traffic which is something that Simon mentioned. I think that is super important. Everything that is related to e-commerce, I think that we're in great shape right now and I'm really excited about being here.
Bradley Sutton: Awesome. Well, Mayana, Adriana and Simon, I thank you guys very much for coming on here. This is all just literally thought about in the last 12 hours. I was like, "it would be great to interview new sellers from different walks of life who are in different stages and track their progress because I know it's great. I'm sure all of you guys who listen to the podcast—you three right here and other people listening—we love to hear from Kevin King, Liran Hirschkorn, Brandon Young—seven, eight, we've even had a nine figure seller—but at the same time there's a lot of us who have day jobs, like Mayana. There's some of us who come from completely different backgrounds in our industry like Adriana, and there's others who didn't start on Amazon like Simon. We'd love to hear from people who are going through a similar struggle. A lot of people who are listening to us can relate to you. I really appreciate you coming on here and absolutely right now it's the middle of June, so what do you say, guys? Like July, August, September, like maybe end of September, around October, let's all get back together and see where we're at as far as those goals that you guys just outlined. Does that sound good guys?
All 3 Guests: Yeah, that's awesome. Great.
Bradley Sutton: Awesome. All right guys. Well thank you again for joining us and we will be watching your progress very closely and we'll see you on the Helium 10 users Facebook group.