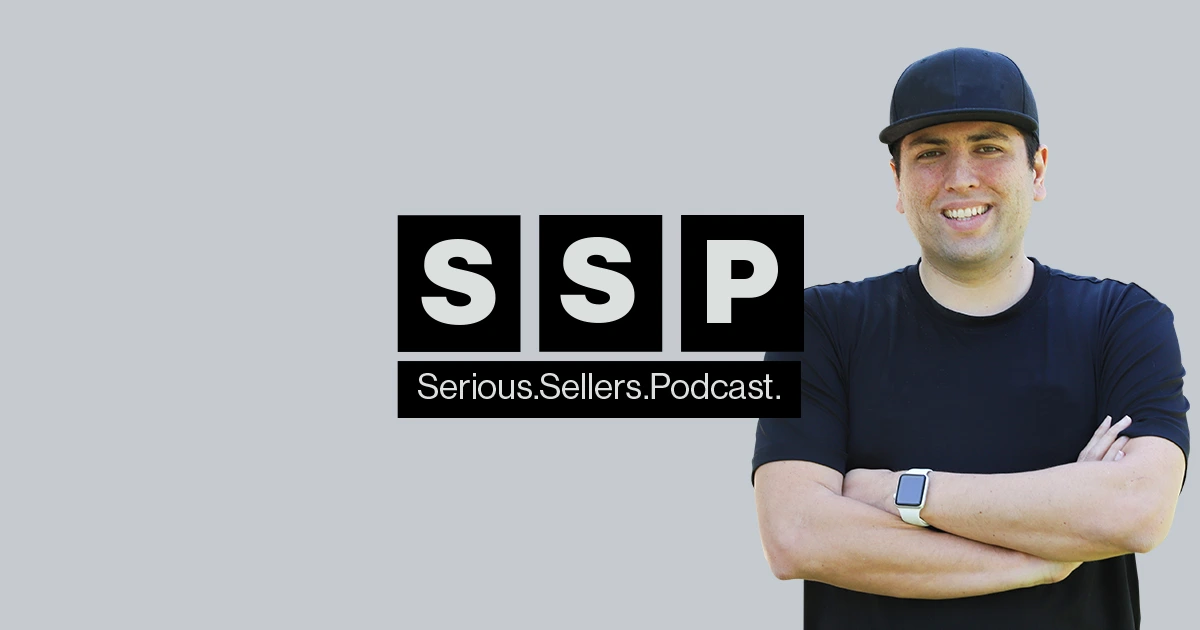 #147 – Here's a Mega "Best of" Episode with Highlights from the Serious Sellers and AM/PM Podcasts as Well as Our Blogs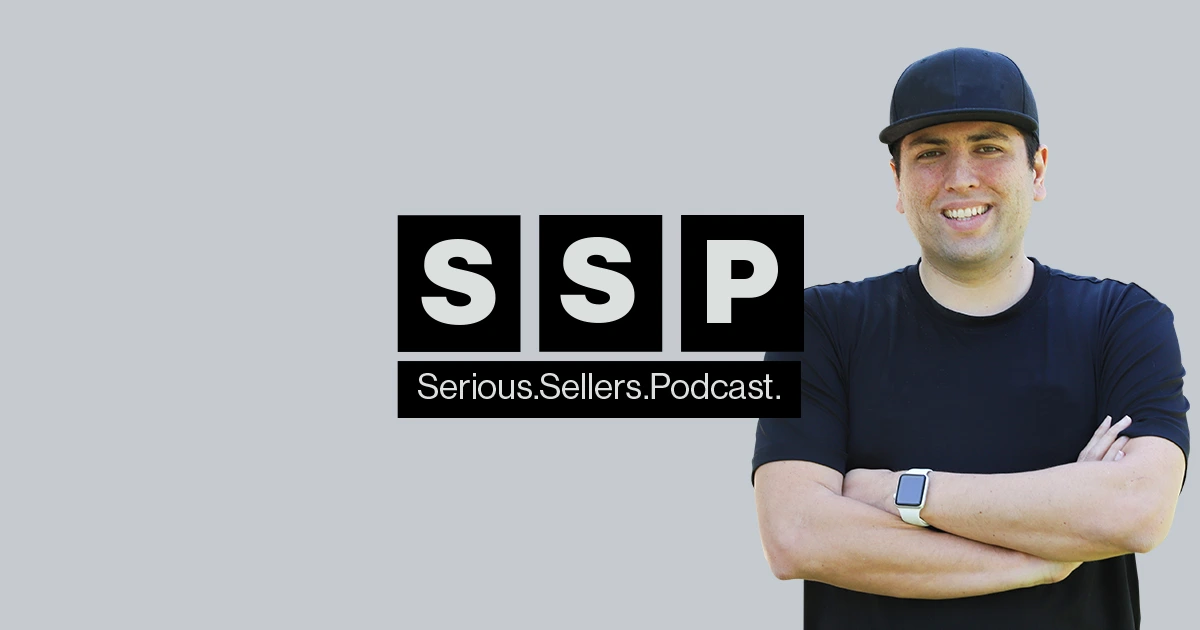 One of the great things about being part of Helium 10's writing team is the fact that everywhere we turn, we're surrounded by great content. Podcasts? Check. News programs? Check. Blog posts? Check.
Today on this Mega "Best of" episode, Helium 10's Director of Training and Customer Success, Bradley Sutton presents an update on one of the early pillars of e-commerce media, the AM/PM Podcast, a look at sourcing in India, as well as tips on effective Amazon photography. He also has a story on listing optimization and ends with a (free) way that you can make sure that the coronavirus doesn't disrupt your fitness routine.
This episode has something for everyone.
In episode 147, Bradley presents a Mega "Best of" episode of the Serious Sellers Podcast.
01:33 – Quarantine Silver Linings
04:00 – The Biggest Amazon Image Mistakes
05:00 – More than Images – Infographics
07:15 – Emotionally Connecting Buyers with Products
09:55 – How Lifestyle Images Help Explain and Give Scale to Your Products
12:00 – What Does Fulfillment by Merchant (FBM) Mean?
15:00 – Winning the Buy Box with FBM
18:30 – Why You Might Not Be Able to Sell Your Product with Fulfillment by Amazon
20:15 – India as an Alternative Sourcing Option
23:30 – How India's Difficulties Might Represent Opportunities
26:00 – Helium 10's New PPC Talk – "Don't Pause Your Amazon PPC Campaigns"
27:30 – Another Vote for Fulfillment by Merchant
28:40 – The AM/PM Podcast Honestly Chronicled the Amazon Journey
31:15 – E-Commerce Can Turn on a Dime
33:00 – As an Entrepreneur, You need to Take Time for Yourself
35:30 – A Fitness Celebrity Offers a Free Option to Sedentary Time at Home
Enjoy this episode? Be sure to check out our previous episodes for even more content to propel you to Amazon FBA Seller success! And don't forget to "Like" our Facebook page and subscribe to the podcast on iTunes, Google Play or wherever you listen to our podcast.
Want to absolutely start crushing it on Amazon? Here are few carefully curated resources to get you started:
Transcript
Bradley Sutton: Listing optimization, health tips for the stay-at-home entrepreneur, who Manny Coats is handing the reins to for the AM/PM Podcast, Amazon product photography, sourcing in India—we will go over all of this in more on today's episode. How cool is that? Pretty cool, I think.
Bradley Sutton: We have now combined our Best of Podcast and Best of Blogs episodes into one mega Best of Episode. We're going to give you snippets of your favorite Serious Sellers Podcast episodes, your favorite Helium 10 blogs, and also your favorite AM/PM Podcast episodes. We know it's sometimes tough to keep up with all the content we turn out here, so perhaps you will hear something in this episode that you have missed and want to go back and review. I'm not telling you anything you don't already know when I say that we've all spent a little too much time stuck at home these last few months. However, if we look closely, a few silver linings start to appear. Now, last year we had to Tamera Tee here on the podcast give us her story about how she left her full-time job as an office assistant and started selling on Amazon.
Bradley Sutton: Now, 12 months later, she's back to happily to report that she has since increased her sales from $200,000 a year to $2 million a year and now has 10,000 Facebook followers and 15,000 on YouTube. She says that the quarantine has made it easier to concentrate on work.
Tamara Tee: Now, we have all the time in the world, because everyone's quarantined at home. I actually find that I am much more productive now, and I can work a lot of more hours whereas compared to before where I was constantly getting distracted with going out to dinner, hanging out with friends. Back then, I didn't work as much as now, I feel, but it's all over the place. I would say what I like to do is focus on one thing a day. If today I want to update my course and only focus on coaching, I will do that eight hours today, and then tomorrow, we may go back to PPC advertising and optimizing all the campaigns. I'm going to focus on Amazon the whole day. That's how I like to break it down.
Bradley Sutton: She's a bonafide influencer on YouTube. Her videos are always very popular. I asked her if she had some kind of fancy camera set up in her recording room.
Tamara Tee: This is going to sound funny. Right now for all of my YouTube videos that we're talking about, I would say, in the last two months. I've only been using my iPhone 11 Max Pro.
Bradley Sutton: One of the other great things about having a little extra time is the ability to experiment with different ideas and tactics.
Tamara Tee: We always bring in small batches to test the market to see how the PPC is. For us, our main goal is to get a lower ACoS. Again, that's just our business. I'm not suggesting it to anybody else, but we have about five products right now that really take the lead, that make up most of the $2 million that we have made in sales, and then, there are the rest that are just—they're doing okay. They're not doing super crazy numbers, but we keep them there because our focus is to build a brand.
Bradley Sutton: Speaking of brands, these last months have made it possible for you to do much more to optimize your products and establish your brand. Lailama and Saddam are two e-commerce siblings that run a company that specializes in professional Amazon listing optimization and work with their clients on everything from their copy to Amazon specific photography. Like most of you know, you might have the most amazing Amazon product ever, but if no one knows about it, your products are just going to sit on the shelves. Lailama starts with the images; but first, you'll want to avoid shooting yourself in the foot. According to Lailama, here's the two biggest mistakes.
Lailama: I still see a lot of images. I think the main image is really important, because that's where you get all your clicks from. And a lot of the times, the main image is either not as zoomed in; we recommend zooming it in by 85%. Every time people are scrolling from their phones, they can see as much of the product as possible, and it has to be posed in a way that looks really attractive in order to get as many clicks as possible. That's one of the biggest mistakes, the main image. And secondly, they're just going to put it with irrelevant props, so it doesn't really tell much of a story. I think having relevant props, whether that's models or just a staging it with the right products around it, is really important to tell your brand story to tell the product category story.
Bradley Sutton: And sometimes a simple image isn't enough. That's when it's time to consider using infographics.
Lailama: Infographics is definitely a must because it gives information to the customer. Depending on the product, I'll do my research and how complicated it is. That depends on what kind of an infographic image I'm going to go for. If it's a straightforward product, then maybe it won't have as many infographics; they'll have more lifestyle images. But if it needs a lot of explaining to do, then I will have another infographic explaining the features of it or different qualities of it.
Bradley Sutton: Saddam says that most buyers move through three steps when they process what they're seeing on an eCommerce site.
Saddam: We look for three social cues that are important to whether we look at gravitating towards a particular person or a product. The first one is the main name; it has to be aesthetically pleasing and that's how it grabs our attention first. The second social cue is the badge. Any product with an Amazon's Choice or Best Seller badge is what I'd be more inclined to click on. And then the third social cue is basically the social proof whether how many people are talking about it and what are they talking about? That's the reviews and the ratings.
Bradley Sutton: Lailama went on to go more into detail on images in the blog that she wrote for Helium 10 entitled "Amazon Product Photography: the Last Guide You'll Ever Need." Now, in this blog, she takes us through a list of the various types of images that you're going to need to familiarize herself with to make sure that your Amazon images are fully optimized.
Lailama: Although reviews, ratings, and content are important for consumers' decision-making process, it's the images that connect them to the product. First, let's understand the fundamental elements of an Amazon FBA listing and their directed purpose. The images showcase the value proposition of the product; content informs the shoppers on the product and feeds the algorithm data for it to display the listing on relevant keywords; and the reviews and ratings create social proof allowing shoppers to verify the brand's reputation. Our rates produced emotional responses to visual aids much faster than information. Although reviews, ratings, and content are important for a consumer's decision-making process, it is the images that connect them to the product. It sparks an impulsive decision before their logical brain takes over. Although you are required to at least present one main image of the product, Amazon allows you to add nine images to the product listing. The standard listing should have seven images. Amazon considers such listings retail ready. The very first image of your listing known as the main image is the face of the listing. It must be on a plain white background. This image appears to shoppers in the search pages before they even land on the listing. All your primary focus should converge here. Understandably, and all white background poses a bit of a challenge. Here's a few quick tips: Number one, adding props to the main image can be perceived as noncompliant if it misleads the customers to believe it comes with the product. Number two, shadows can be used to give the illusion of the product either sitting on a surface or floating in the air. And number three, 35% of shoppers prefer navigating Amazon through mobile devices. Make sure the product covers the entire image. The larger the product appears, the more attention it will receive.
Lailama: Most of your consumers are likely to skim through the text you just spent so much time creatively writing. Even if your content is infused with clever keywords hiding in plain sight, it may not grab attention. However, consumers will undoubtedly check all the images before making a final purchase decision. This is your chance to capture those idle readers, impatient shoppers, and impulsive buyers from leaving your product page. Arm your image gallery with the secret power of infographics. Condense all the information you have laid out in your bullet points and description in a few well-defined images and compel your visitors to become customers. Infographics are responsible for highlighting product benefits, useful features, and any outstanding quality that sets you apart from others. While the purpose of the main image is to provide undivided attention to the product alone, lifestyle images work in contrast. The lifestyle portrait images are the product images showcased with the use of models in everyday life situations. These images are not only purposed to help your audience feel an instant connection with a product but also creates a wishful fantasy where they envision themselves using your product. Often with unconventional products, lifestyle images can be repurposed to also explain what your product is and how it can be applied in life. Since models are often used to display your product in action, it creates an opportunity to show the scale of your product against the human body ratio. Have you ever picked up a product from a store into your excitement, but after observation, put it back on the aisle? Although it looked great, you couldn't exactly figure out which part goes where and how an Earth to use it. Now imagine your customer going through the same process and leaving your product, or worse, they buy but leave a distasteful product review because they fail to understand how to use it properly. It could be a major turnoff for the audience, and they may go searching for another listing that is better explained. You can leverage an instructional image to demonstrate the correct setup or usage of the product, especially for electronics category since not everyone knows how to use certain tech gadgets. A great way to make sure your product stands out is to create a competitor comparison chart. If your product has improved features over competitors' or resolves a very common complaint that buyers usually have, this is a great way to seal the deal with potential confused buyers. And last, a before-after image helps your customer see how much of a difference your product can make in their lives. Whether they needed the product or not, this is a good chance this image might convert into a sale because it promises them a significant improvement in quality of life.
Bradley Sutton: The next blog post I actually wrote myself; it was my first blog I wrote for the company since 2018. And it was about a topic near and dear to my heart. And that's FBM: Fulfilled by Merchant. Let's get into this post titled "Six Ways Fulfilled by Merchant Listings Can Help You Crush It, Not Just During Coronavirus but Throughout the Year." First of all, what is FBM or Fulfilled by Merchant mean? We know FBA stands for Fulfilled by Amazon. You send the product to Amazon's warehouses, and they pick, pack, and ship your orders for you. Now with the fulfilled by merchant, you arrange the picking, the packing, and the shipment of your own products. Now, I've been preaching the importance of having FBM listings for years, and I have extensive experience in this. My first Amazon experience was actually around 2016 when I was a partner at a company that's sold on Amazon.
Bradley Sutton: My job was to be the warehouse guy, and I would pick, pack, and ship an average of three to 600 orders per day by myself. Now, I've also been very vocal about the benefits of dual listing your products as FBM and FBA. Now, so far, it doesn't seem like that many sellers have adopted that strategy. Now, in the recent months, it's been a hot topic due to what's been happening with the coronavirus pandemic. Now, in this post, I'm going to outline the six ways that having FBM listings can help you not only during this weird time we've been living in the last couple of months, but throughout the year as well. Number one, dual listing your products can, in my experience, increase your sales by 2 to 5% or more. The cell phone case company I used to work for actually had a bigger percentage of sales coming from FBM.
Bradley Sutton: It was close to 30%. That's why I was shipping up to 500 orders a day or so from my warehouse. Regardless of the account I've worked on though, I have always seen at least a 2 to 5% bump when dual listing the products. But why? Believe it or not, there's still a percentage of the us population who does not have Amazon Prime. If somebody is shopping on Amazon, they're going to get charged an extra shipping fee from Amazon to get an FBA item if they don't have Prime. Because of that, some FBA products can actually end up costing more than a similarly priced FBM offering on the same listing. In those cases, Amazon will reward the Buy Box to the FBM offer. Let's forget about the Buy Box for a moment, and imagine you're a customer who doesn't have prime. You just saw a $14 hemp cream that you want. If there's only an FBA offering, you'll see it and then you'll add it to your cart. Now, upon checkout, you're going to notice maybe a $9 shipping charge that Amazon just added to the total. All of a sudden, the price of that affordable hemp cream just increased dramatically. Now, if you're the type of e-commerce shopper who's decided that Amazon Prime is too expensive, you probably are not going to pay $23 instead of $14 for hemp cream. If you're that Amazon seller who had that product, you just lost that sale if you did not have an FBM offer. That customer simply would have moved onto another product that didn't cost 23 bucks, but had you had an FBM offering at the time, you could have fulfilled the product yourself for that same price of $14, and you wouldn't have lost the sale. Similarly, there's many countries that Amazon FBA just can't export to.
Bradley Sutton: If somebody is shopping on Amazon from one of those countries, and there's only an FBA offering, that item won't even show up in the search for them. The only way it's going to come up is if you have an FBM offering, and you show that you can ship it to them. Reason number two: FBM can win the Buy Box during uncertainty regarding the coronavirus pandemic or similar situations. In March and April, many sellers were affected by Amazon prioritizing shipments of customers on what they deemed essential products. Some products were seeing FBA shipping delays of up to one month. Now, under normal circumstances, if you have dually listed your products as FBM and FBA, the FBA will always get the Buy Box when the price is roughly the same. However, because of the shipping delay that was going on, what was happening is that if you had an FBM offering, that FBM offer would get the Buy Box over FBA since it could be delivered faster.
Bradley Sutton: For example, for the Project X egg tray, when I temporarily add an FBM offer at the same price. It's instantly got the Buy Box over the FBA offering. If all of your competitors only have FBA in the situation like this, and customers see that it would take a month to get a product from them, then they see your FBM Buy Box saying that they can get a product in like four or five days. Which one do you think the customer is going to buy? Number three: having a continuous FBM listing active means no longer having to lose sales and close or suppress a listing when you temporarily run out of FBA stock. Hopefully everyone out there is monitoring their inventory levels with Helium 10 profits. If so, you should be able to see what you're low on and replenish as necessary.
Bradley Sutton: However, shipping problems do occur, unexpected sales bump happens, and other situations that could result in you being out of stock for a few days on FBA. When that happens, a lot of sellers close or suppress their listings in hopes of freezing the ranking on some of their keywords. Regardless, for some of those sellers, even a few days' out of stock can result in a lot of lost sales. If you had an FBM listing active with your inventory that's in your home or your warehouse, it would instantly get the Buy Box once you ran out of stock and your sales would continue. Reason number four, FBM might've been your only option during the coronavirus pandemic due to the replenishment freeze. As we know in March and April, many sellers were not even able to send any more replenishment to FBA warehouses for their products. Once they ran out, if they didn't have an FBM listing, they're listing just went inactive. Having an FBM listing and inventory available to ship is the only way that some sellers were able to keep selling during this time. That's because they don't even have to have an FBA option at that point due to not being able to create shipments into Amazon. Reason five, your FBA SKU could be suspended. Kevin King talked about an experience he had with one of his products where he was fighting with Amazon. I believe one of the issues was about the size of the product package. Now, in any case, unbeknownst to him, Amazon decided to close his SKU until the investigation was finished, resulting in three weeks and tens of thousands of dollars in lost sales. That's what can happen when Amazon freezes the inventory. Things like this can happen to FBA SKUs out there. Now, if you actually had an FBM listing, you would not have missed any sales because instead of your listing being closed once your FBA SKU was frozen, your FBM listing would now get the Buy Box, and you can continue sales while maybe you argue with Amazon to get your FBA listing unsuspended.
Bradley Sutton: Reason number six, it's a product you can't even sell with FBA. Amazon does not allow all products in its warehouses. Products such as tires, paper lanterns, and loose batteries are not even able to be shipped into Amazon. You have to do those with fulfilled by merchant, and there are tons of other products that Amazon could consider dangerous goods and not allow in its warehouses. Things like hair brags, hairspray, nail polish, whip cream, and more. Also, what about oversized items that you might be better off shipping yourself? What about custom or made-to-order products? Again, FBM is your only way to go. I hope you guys can see the value in FBM. We've talked about some circumstances where it's your only option. In most other circumstances, it's usually best to dual list your SKU as both FBM and have an FBA SKU as well.
Bradley Sutton: You're not going to go double your sales or anything crazy like that. Under normal circumstances, like I said, I've seen about a 2 to 5% increase in sales. As we saw in March and April and parts of May during the coronavirus in case you run out of stock or if your FBA SKU gets locked down, it's obvious that this could actually mean for some hundreds if not thousands of dollars of sales. These are sales and dollars that you wouldn't have benefited from if you only had an FBA offer.
Bradley Sutton: As long as we're talking about doing things differently, here's a post by our own Chuck Kessler about how India might offer a very interesting option for sourcing your Amazon products. And here's why you might want to source your Amazon products in India. We hear why focusing your attention towards India is a great way to widen the scope of your product research and possibly find that magic Amazon product.
Bradley Sutton: First things first, sourcing in India is not a way to avoid the coronavirus pandemic. At this point in time, coronavirus is affecting all B2B business pretty similarly. Well, there are a number of crafty Amazon sellers who are becoming very creative with their sourcing, even pursuing North America as a sourcing location. Most are continuing to concentrate in Asia. Among those locations, it's India that's rapidly attracting most of the attention recently. Here's why. To start with, India's culture more closely aligns with North America. Because of India being an English-speaking country, communication is easier. India is a developing market. There are a lot of factories that don't have a backlog of business, and because of that, there's a good chance that they'll offer better terms. India's minimum order quantities are lower. China can sometimes have so much business that they're unwilling to compete for your business.
Bradley Sutton: You might hear the MLQ is 300 units. Take it or leave it. If you're looking for brands that you can tell a story around a handcrafted product, for example, India is the place for you. Wood textiles, leather and ornamental metals are just a few of the products that India has long had a strong tradition of working with as artisans. India's factories are focused on testing. Certifying that the raw materials and final manufacturing process is done properly is a part of their built-in business ecosystem. India holds a significant labor cost advantage. Labor represents one of the main costs of manufacturing goods. In recent years, China's labor costs have dramatically risen by 10 to 15% annually. The US tariffs on Chinese goods over the past year have added to the advantage for India. Still, there are a number of reasons why most Amazon sellers are sourcing in China.
Bradley Sutton: China has been at this game for a very long time. They're the champs, and it's not going to be easy to knock them from the top of the mountain. India is relatively new to large scale B2B e-Commerce, and they're playing catch up. China is still the B2B champ. India is still limited to a smaller number of products. E-commerce logistics are something that China is well versed in. China has extremely solid SOPs. They have all the necessary export licenses. China has over a long time cultivated mutually beneficial relationships with shippers. They understand Amazon FBA. Believe me, that's not a small thing. India doesn't work China's 12 hour days, so everything takes longer. In China, there's a hundred seaports between Beijing and Hong Kong. In India, everything ships out of Mumbai. Most of India shipments go first to the Middle East where the containers are offloaded then transshipped before heading back out to sea.
Bradley Sutton: Thus, ocean time is greatly increased. Because India is less established as an originating point for sourcing, you'll probably need a sourcing agent. You won't be dealing directly with the factory. You'll be establishing your own supply chains. But as experienced Amazon sellers know, every difficulty presents an opportunity. Sourcing from China is easy. Anyone can do it. Almost 400 people start selling on Amazon every single day. With platforms like Alibaba, it's all right in front of you, but because of that, you're likely to have a great deal of competition. There are two ways to look at the question of sourcing and what it's going to mean to you. Maybe you're going to go all the way with sourcing in India. You might have found the perfect product that is not only right in India's manufacturing wheelhouse, but they are also able to sell on Amazon. But there's another way to look at the whole India sourcing question and it has to do with the way that clever Amazon sellers are beginning to use off-Amazon platforms to broaden their product research.
Bradley Sutton: Forward-thinking Amazon sellers are looking at Pinterest and Etsy to source products, and then, they take those ideas back to the platform that they are most comfortable with: Amazon. What's happening in the world of B2B mirrors that trend. Smart e-commerce sellers are realizing that even though sourcing in China offers a great deal of product choices, in some ways, it's primarily offering what's currently working. Which is to say, they are going to sell you what they're selling everybody else. Finding an interesting product in a factory or warehouse becomes much more likely the farther you move away from the traditional sourcing hotspots such as Alibaba and China. During a planned trip or a visit to a factory in India, you might be sourcing your plan for product and literally stumble upon an amazing product idea you had never before considered.
Bradley Sutton: Now, if you recall before, we used to do a series on the podcast called tech talk with Bojan. Bojan was our CTO. Well he's been promoted to chief operating officer. What we're going to do instead of doing TechTalk with Bojan, we started a new series called PPC Talk. PPC is obviously at any time of year a hot topic for all Amazon sellers. For the very first episode of PPC Talk, I invited our own Vince Montero, who's our product manager for our new PPC tool call ADS. And I invited him on to talk about the things that were happening basically in the world, especially during coronavirus and beyond. Now, during coronavirus, there were a lot of Amazon sellers who attempted to maybe slow down or pause PBC campaigns to try and write out the challenging time. Here's what Vince had to say about this.
Vince: The other reason that you don't want to pause campaigns in general is because Amazon loves history. Amazon's all about legacy data, and the longer a campaign is running, the more likely it's going to show up and the more likely it's going to be in the algorithm. If you pause it, you're basically saying, "I don't want to be a part of the algorithm right now." You're losing, you're cutting off that legacy data in that history. That is one of the things I was going to say in response to how people should respond. Pausing campaigns is definitely something that I would not do.
Bradley Sutton: It's a brave new world of e-commerce out there, and Amazon is adding new customers every minute.
Vince: Right now, the landscape is kind of changing. We're experiencing a new wave of e-commerce, right? What's happening is because of what happened, we have all these new shoppers that have come in that are now used to or for the first time, if they weren't used to shopping online before, now they are. Millions of people are going to be permanently changed in the way that they shop with this experience. It's going severely affect Q4 2020 holiday season shopping. I'm sure we're going to see it much higher than it was last year. Definitely still take the time to start right now because things are stabilizing.
Bradley Sutton: Remember what I said about selling with Fulfilled by Merchant?
Vince: That's exactly what you should do.
Bradley Sutton: I'm two for two.
Vince: Yeah, you're two for two. You should definitely do that. Obviously, shipping times are going to affect a conversion. Those people that did move over to FBM? Make sure those are in your campaigns. Actually, one thing that I was seeing is that people were forgetting to do that. Their PPC campaigns we're running with just their FBA SKUs, and so they did not take advantage of what you just said, which is basically that the FBM one is going to be the one that appears in the Buy Box.
Bradley Sutton: It seems like most e-commerce and Amazon sellers have fond memories of their early days. Now, way back in 2015, when they first heard the AM/PM podcast, this was primarily on a lot of people's mind as it is what introduced so many people to the Amazon selling experience. As entrepreneurs, it's a big part of our historical record. Now today on the AM/PM Podcast, we have an e-commerce changing off the guard. In this episode, Manny Coats hands the reigns over to Tim Jordan, a former fireman, and a popular former guest of the podcast who over the last few years has become an e-commerce superstar and respected entrepreneur. One of the things that Manny wanted to do was honestly chronicle the Amazon seller's journey.
Manny Coats: If I had a podcast and I was actually talking to people and I was saying, "Hey, I'm going to be doing this that next week, I'm going to be doing this next month, and these are my goals. I could just quit. I could just change. I wouldn't pivot right away. I would just be like, let's focus on it." Initially, that was it for me, and then shortly thereafter that, as people started subscribing and getting a lot of feedback, I was like, "Oh, this is pretty cool. You know what? I'm going continue this thing. I'm going to chronicle everything that I'm doing in this Amazon FBA private label journey. The good and the bad." Because one of the things I noticed, and you probably have noticed this too, is a lot of the podcasts out there, a lot of the people that are training stuff, it sounds like their life is perfect. Like they've never ran any downs. Everything's awesome. It's super easy to make money. And I was just like, "You know what, I'm going to talk about the bad stuff." And that was probably what some of the very first episodes was like: "I made this mistake," and "Oh my God, I just got screwed over here" and "This was bad" and blah, blah, blah. And people are really like in that like, "Oh my God I did that same thing."
Bradley Sutton: Like a lot of us, Tim made his way to e-commerce gradually.
Tim Jordan: Yeah. E-commerce for me started off by accident. I was never techie. I was never exceptionally smart and thought I'd be an engineer or a software guy or anything like that. In college, I decided to pursue firefighting of all things, just kind of, I wanted that as an adventure. I thought it'd be cool. Moved down to Huntsville, Alabama, and got hired on as a firefighter. It was like 2,500 applicants and 25 hires. I felt really blessed to have this amazing job. And firefighters work a 24-hour shifts. We'd work 24 hours and be off for 48. We work two days a week. We all had side jobs, and I'm an entrepreneur by heart. In middle school, I was out doing some side hustle and stuff like that. And always worked two or three jobs, but I started construction companies. I had all sorts of crazy stuff going on that never really went well. It sucked actually.
Bradley Sutton: There are a lot of changes happening in e-commerce. How is the AM/PM Podcast going to adapt to that?
Tim Jordan: I think that, for one, we're going to be following closely the upcoming changes that are coming with e-commerce, right? New opportunities opening up. I think that obviously this is going to keep growing bigger and bigger, bigger. And I don't want to put like a target in a year and say this is where we're going to be. Because the thing about e-commerce that I've learned is like you can't speculate; you cannot anticipate; you cannot guess what's going to happen. You have to be flexible; you have to be nimble. And that's why to me, e-commerce entrepreneurship is so powerful, because when big brands and big companies and big corporations are stuck in these archaic giant slow turning ships trying to adjust to the market, we can turn on a freaking dime.
Bradley Sutton: Here in Tim's first hosted episode of the AM/PM Podcast, he talks about how he eventually found success in e-commerce after receiving and asked for advice to leave a path that had already been an early dream of his.
Tim Jordan: "Tim, there are certain things in life that people just have to understand and people just have to realize, and one of them is their strengths and their weaknesses." He said, "I don't want you to be set up for failure," and I am convinced that if you try to go the medical school route that you will not succeed. He said, "It takes a lot of effort, a lot of time, a lot of studying. You have to be incredibly smart." And he said, "You might struggled through it and barely scraped by," he said, "but if you stuck with a different major that was closer to what you're more comfortable with, you probably be more likely to succeed." And it really took the wind out of me. I remember sitting there thinking, "Holy crap, is this sage wisdom or is this just complete bull crap?"
Bradley Sutton: Not to burst any bubbles, but Tim says that you might not want to start thinking about the color of your new Lamborghini just yet.
Tim Jordan: Entrepreneur, a person who's up working 100 hours a week for themselves to avoid working 40 hours a week for someone else.
Bradley Sutton: But all that hard work has to stop sometime. Here's what Tim has to say about the idea of taking care of yourself as an entrepreneur.
Tim Jordan: You have to take time for yourself. Don't answer people all hours. Separate yourself from your job. Your job is part of your life. Your business is a huge part of your life, but your life is not your business. It can't be that way, because we will all fail. We all need time apart. We have to separate ourselves a little bit.
Bradley Sutton: For the last 20 years, this next guest has been the go-to personal trainer for Hollywood's top TV movie and music stars. Eric the Trainer has his own show on Amazon Prime as well as an Amazon Business. You also got some great tips on how the work at home Amazon seller can maintain daily structure and stage shape with the free workouts that he's offering. In some areas of e-commerce, it's fashionable to compare the lack of sleep with a determination to succeed, but here's an opposing viewpoint.
Eric The Trainer: In my opinion, and I've been a trainer for almost 30 years. I would say that if you're thinking about going through a physical transformation, you need to embrace the very science of change. The science of change are three things: exercise, diet, and sleep. Of those three things, I give each one a 33% weight in the end results. However, of those three things, the most important is not diet, and the most important is not exercise. The most important is sleep, and I'll tell you why. Sleep is the only time the body can change. All physical transformation from normal to extraordinary occurs exclusively during slumber, so instead of having a protein shake after a workout, you should probably grab a pillow and go to sleep.
Bradley Sutton: It's no surprise that Eric has an opinion on what foods you put in your body.
Eric The Trainer: I want you to eat animal-based protein sources, like lean cuts of beef and turkey and chicken and fish and eggs. I think those are all amazing. I'd like you to eat water-based carbohydrates; meaning, I don't want you to eat a lot of pasta or rice or cereal or any of that or bread or any of that junk. I want you to eat water-based carbohydrates that have sat in the sun, like fruits and vegetables. Fresh fruits and vegetables are carbohydrates, but they're not starchy carbohydrates. They're water-based, so your body can glean energy from them, but they also contain high levels of antioxidants if they're dark colored.
Bradley Sutton: For all of us, being forced to stay at home has probably disturbed a lot of fitness routines. Eric has an answer to that.
Eric The Trainer: And during this crisis I have been leading, not one but two workouts every single day that are open to the public that are free. All you need to do is go to my website, Ericthetrainer.com that's E R I C T H E T R A I N E R, Ericthetrainer.com and go to the blog section, B L O G, blog section, and you can sign up for the free workouts or twice a day. One of them uses lightweights. One of them is just a mat, the bottle of water and a big smile. And we have the greatest time. We have great workouts; we have a lot of celebrities that join us every day on the show working out. But also, we always have celebrity guests that join us where I will interview a celebrity guest, almost like you're listening to a podcast, during the workout, like, well first we'll do a quick set of exercise and then while you're resting we'll talk to the celebrity and ask them a few questions. Then, we'll work out some more, and then, we'll I talk to the celebrity more. It's so much fun.
Bradley Sutton: Well, that's it for this episode. Was there something that you heard about that you maybe want to go back and see? Don't forget where you can see the original versions of what we talked about today. Obviously, for this episode, the Serious Sellers Podcast, you can go back on whatever platform you're listening to this on right now and here are old episodes, or you can go to helium10.com/slash podcast. For the AM/PM Podcast, again, you can subscribe to it on any streaming platform that you have or you can go to ampmpodcast.com. For our written blogs, those were only two or three of some of the 30 that we have launched over the last month. If you want to go read more of those, make sure to go to helium10.com/blog. We look forward to seeing you guys on the next episode. It's going to be a great one.
Achieve More Results in Less Time
Accelerate the Growth of Your Business, Brand or Agency
Maximize your results and drive success faster with Helium 10's full suite of Amazon and Walmart solutions.