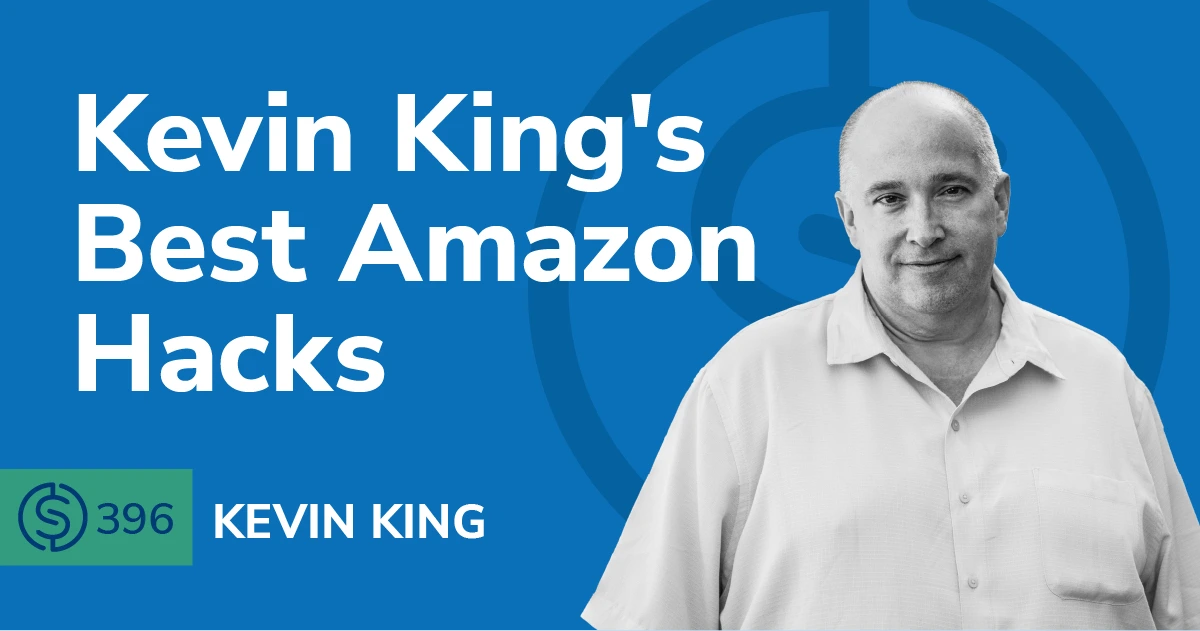 #396 – Kevin King's Best Amazon Hacks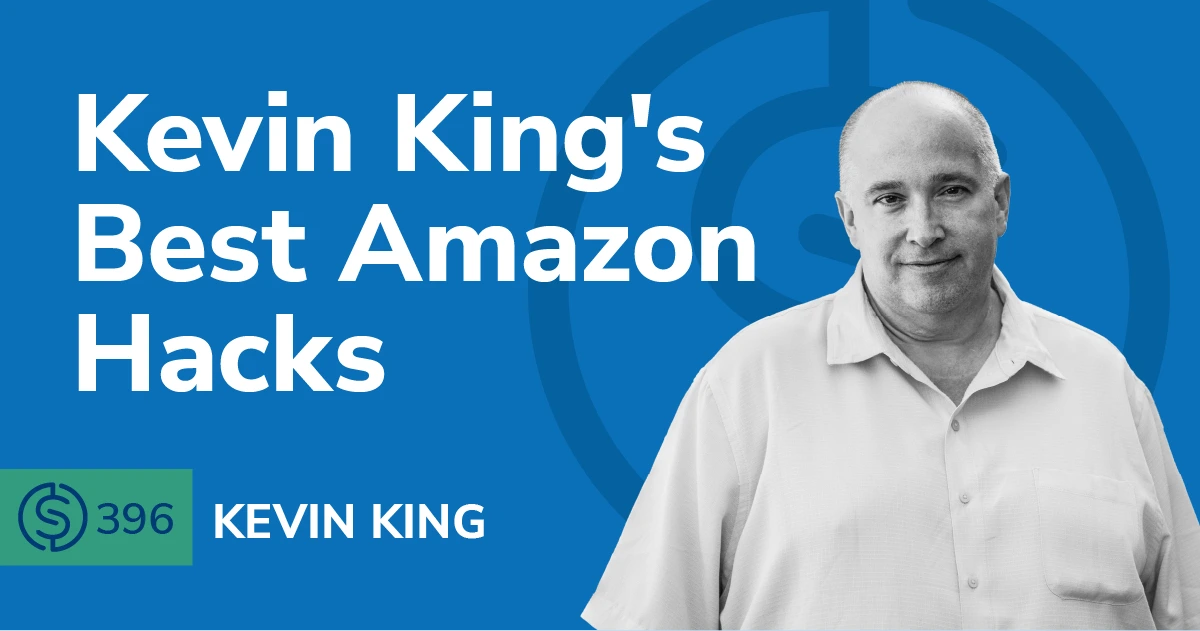 In this episode, Bradley shares all his favorite strategies from the man who needs no introduction, Kevin King! These hacks are designed to supercharge your Amazon business. We will talk about valuable tips like how to alternatively close your listing when you run out of stock, how to find influencers on YouTube who already promote Amazon links, and why checking your product type values can bring your business more sales. As a bonus, Bradley also shares his best Amazon hacks and strategies, so make sure to stay until the end!
In episode 396 of the Serious Sellers Podcast, Bradley talks about:
01:50 – Who is Kevin King?
03:30 – How To Rank Quickly On All Keywords Spanish Speakers Use
07:10 – Turn Any Text Into AI-Generated Images
09:40 – Use PPC Targeting To Steal Traffic From Your Competitor's Newly Launched Products
12:58 – Create Marketing And Customer Service Videos With AI In Multiple Languages
14:23 – Great Tool For Helping Create Company And Brand Names Using AI
15:30 – An Alternative To Closing A Listing When Your Run Out Of Stock
17:45 – Coming Soon: Historical Keyword Research For Seasonal Products
24:15 – Get All The Perks And Bonuses If Your Join Helium 10 Elite
27:05 – Do This If You Can't Get Your Videos To Appear In The Order You Want On Your Listing
27:30 – Get Import Data On Your Competition For FREE!
29:40 – How To Find YouTube Videos Linking To Amazon With Affiliate Links And Reach Out To Them
31:07 – Cool Free Tip: Setup Your Virtual Bundles
34:49 – Increase TikTok Video Views By 30% Using This Trick
35:52 – Be The Best Selling NEW RELEASE Badge Even If The Listing Is Years Old
37:04 – Secondary Descriptions And Super Indexable Fields Hack
39:37 – Check Your Product Type Values – Wrong Ones Could Be Costing You Sales
41:30 – How To Get Huge Discounts on FEDEX Shipping For All Channels
Transcript
Bradley Sutton:
Today I'm gonna be going over some of my favorite Kevin King Amazon Hacks, and also some of my hacks that I haven't even shared before on this podcast. How cool is that? Pretty cool I think.
Bradley Sutton:
Are you looking to learn how to sell on Amazon? The Freedom Ticket Course made by Kevin King is one of the most popular courses ever created for Amazon sellers. It's got over 90 modules and 40 hours of details, step-by-step training to help get you started on your entrepreneurial journey. Now, this course costs $997, but Helium 10 actually covers the cost of the course for any Helium 10 member. Find out why tens of thousands of students love this program by going to h10.me/freedomticket. Don't forget that if you do, sign up for a Helium 10 account. Don't pay full price. Use our podcast discount code SSP10 to save 10% off for life. Hello everybody, and welcome to another episode of the serious seller's podcast by Helium 10. I am your host Bradley Sutton, and this is the show that's a completely BS free unscripted, and unrehearsed organic conversation about serious strategies for serious sellers of any level in the e-commerce world.
Bradley Sutton:
And we are actually going to be doing some serious strategies today, because recently, in case you missed it, Kevin King did a webinar where he gave his 51 top Amazon hacks for this year. And a lot of them were real bangers and we're gonna be going over not all of them, but some of them, that for those of you who might have missed it, I'm gonna go over some of my favorite strategies as well, some of which I haven't even talked about too much on this podcast before. So for those who don't know, you know, Kevin King is kind of like the guru to the gurus. We don't use that Guruji word much anymore. But he's basically kind of like the mentor to a lot of very successful sellers out there.
Bradley Sutton:
And one of the kinds of secrets to his success and what he's known for is his hacks or strategy. When we say the word hacks, it doesn't mean like this is Black Hat kind of stuff or things that could get you in trouble on Amazon. You know, it's more like advanced think of that word hacks as like advanced strategies or serious strategies, just like this podcast talks about. So from his webinar, we're gonna take out some excerpts from there of some of my favorite ones. We don't have time to go through all 51, but I'm gonna bring out my top ones and also some of the ones that I think will really help. And I'll give you guys a preview of a new tool that's coming out to Helium 10 that we talked about that in itself is almost a hack to use because there's nothing out there like it that I know of.
Bradley Sutton:
It's gonna give you a lot of insights into historical keyword data that you've never seen before. So, really cool thing, I'm so happy that we're gonna, we're gonna release this, something I've been trying to release for, for years at Helium 10. A quick note here, you know, for those watching on YouTube I've we got World Cup this year, so I'm actually wearing my Helium 10 soccer jersey here in honor of the World Cup. If you guys are watching this on YouTube, let me know in the comments. So who's your team in the World Cup? Which country are you from? Go are you going for? Who's gonna take it all? Let me know. Anyways, let's go ahead and get right into the first few hacks that Kevin has for us.
Kevin King:
As all of you know or maybe you don't know, the United States is the second-largest Spanish-speaking country in the world. And actually, if you listen to the current AM/PM Podcast that just came out today, we actually talk about this with someone who's a Spanish speaker, but there are 50 million Spanish speakers in the US only Mexico has more, that's more than Columbia, That's more than Chile, That's more than Argentina, more than Spain. There are 50 million in the US and a lot of them are using Spanish words to search on Amazon.com. And it's not just the ones that live in the US, it's also ones that maybe live in Central America or there are people in South America that border on Amazon.com and they have their orders shipped to like a Dropbox in Miami. There's like Bell forwarding services that will forward their orders to them cuz they can't get this stuff off of Mercado Libre or they can't get it in their country.
Kevin King:
And so there's a lot of 'em searching in Spanish. But how do you know what those keywords are? How can you quickly, quickly find them? What I like to do on all of my products is I take the top 20 competitors to my product, I load 'em up in Cerebro, and you can do less, but I like to go up to 20 and I load 'em up into Cerebro all together. You know how you paste in altogether, you see that on the lower left-hand corner, you can just keep pasting in ASINs and I get 20 of them in there. And then that's gonna spit back the results, the Cerebro results all combined. And I'm gonna export that as a CSV file. So I export that as a CSV file, and then I take that CSV file and I import it into Google Sheets.
Kevin King:
Google Sheets is free. If you have a Google account, it's basically a spreadsheet. It's like Excel but on Google, it's totally free. So I import the CSV that I downloaded into Google Sheets. And then what I do is I added two columns. So you're gonna go in, you're gonna insert two columns into this sheet on Google Sheets. It's under insert where it says columns. You see the two arrows and you'll insert two different columns. And inside the first column, I'm gonna put where it says on the left-hand side equals detect language A2. You make sure that A2 is the column that has the keyword phrase in it. And what it's gonna do is gonna detect what language that phrase is in. And then the next column I'm gonna add equals Google translate a two so I know what the heck is this in English.
Kevin King:
And when you do that and you copy it all the way down, you're gonna get a sheet that has all that data all the way down. Then you can go on, you can filter by language. So es is the abbreviation for Spanish. So if I want all the Spanish keywords out of this massive list, everything that's in Spanish, I can just filter by Spanish. And then boom, look at this. I got all the Spanish keywords together in one place. You could do the same thing for those of you selling in Europe. If you're selling in the UK there might be people speaking and searching for French keywords or German keywords in the UK marketplace. You can instantly find them all doing this exact same method in other marketplaces as well. And then what I do, what you see here is what you see this in the spreadsheet says keyword sales, that's the estimated sales per keyword.
Kevin King:
That's a Helium 10 Elite special thing from that that we have for Helium 10 Elite members where you get this almost exactly, it's pretty close to how many sales are they generating. Not what's the search volume, but how many sales per month they're generating. So you can then decide, hey, which one of these do I want to go after? And I have the translation there. It's a really great way to get some low-lying fruit and add some extra sales. Hardly anybody is doing this. Only helium 10 Elite members have even heard of this before. For the most part. It's a great way to pick up a lot of low-lying fruit, and easy keywords, don't really even have to do any PPC or anything to start getting sales off of these and most people ignore it. So this is, this is a cool little technique to use any text.
Kevin King:
This could be a great way if you're trying to conceive something or maybe, it could even be a great way to create images for your listing or advertisements for Facebook or something like that without spending hardly any money at all or virtually no money right now. Cuz most of the stuff is in beta, it's free, and sometimes it produces some gobbledy go as an image. But other times if you get the right keywords in there, it can create some amazing stuff. It can be great for prototyping, and for coming up with ideas. If you're trying to express an idea to somebody, it's called midjourney.com. There are a couple of other ones out there DALL-E and a few others. But this one I'm gonna show you is midjourney.com. If you go there right now, it's in beta, you sign up, it's free right now to sign up.
Kevin King:
You may have to wait a day or two to get authorized to use it. But once you do that, you come in and you type in the text prompt. So you basically just describe what you want to create a picture of. So in this case, it's multiple bottles that each contain a different bio or birth. That's kind of a, like a fantasy kind of thing. You type that in, you hit return and it usually takes a couple of minutes or so, depending on how complex the prompt is. And it will come back with an image that looks like this. It just created this exactly from what you typed in. You can do it with like this, some things like the Anime character etro, dark skin goddess of the moon with long purple and black dreaded hair. Type that in. This is what came back as an image, pretty freaking cool.
Kevin King:
Another one is, a highly detailed, transparent sculpture shaped like waves and jungle flowers. It's a museum exhibit. You're just giving it concepts, just giving it ideas. Came back with this. You can use this for product ideas. You can use this for situational ideas, for cool graphics. Here's another one. A lightning baby dragon with lightning sparks, and intricate details. Unreal engine photorealism. That's what it came back with right there. You can get really, really cool. This stuff is like the next level. Google has a video version of this that's beta right now where you can actually create videos doing similar stuff to this. It's amazing. Start playing with this now because this is gonna be the future. And you're gonna be able to prototype, create images, do all kinds of amazing stuff, and probably even upload. I think it's gonna get to the point fairly soon where you can upload a base image, like maybe a base image, maybe a picture you took with your iPhone, a piece of crap picture you took with your iPhone of your product, and then do all kinds of cool stuff to it and put in all kinds of cool situations.
Kevin King:
It's coming. So take a look at this stuff. This is another cool trick that I use on PPC, is I like to steal traffic from the new guys, new people that are launching products. They're, they're, oftentimes they're running Google ads, they're running ads to their list. They're doing Facebook, who knows what they're doing? But their products have no reviews yet in most cases. So a lot of people still don't trust it. But what I like to do is I like to steal their traffic. I like to steal their promotions. I like to get on their listings and just steal everything from them all. Piggyback on their hard work for free. Almost for free. So, as I said, most lu launches have very few reviews. They're running campaigns to drive traffic.
Kevin King:
So what I do is I use Xray to find these guys. I wanna know who's launched recently and who may be out there running a lot of promotions. And then I use PPC product targeting to try to steal their traffic. So like, for example, I go on Xray, you know, where it says creation date. And that tells me, I can look and say, who's created something within the last couple months of right now, And you can sort filter it by this. And then I go and I copy those ASINs and put 'em into a PPC product targeting campaign and target my product to their page. My product has 50-100 reviews. Theirs has zero. It's instantly someone comes to look at their product like, "Oh why should I buy this one when this other one down here looks better and has a hundred reviews and you steal the traffic." It's a really cool little technique.
Bradley Sutton:
I love this, you know strategy that Kevin talked about trying to, advertise on the newer listings. So you know, he mentioned how to look it up in Xray which has the newer listings, like let's say you're not even on Amazon though. Another way that you could use this strategy that Kevin just talked about is going to Black Box Products and then using the filter that has title keywords and also listing age So for example, if you're selling collagen peptides, I might have put collagen peptides in the title. Something that I think is a keyword that most top players are gonna have in the title. In this case, I did title keywords coffin shelf, and I put a listing age maximum of five months. Now, I could put BSR filters or, or sales filters or anything, but I just did this raw search right now, and I came out with 10 items of products that were released in the last five months.
Bradley Sutton:
And you'll notice, you know, some of these are not doing many sales at all like 5, 19. But then, you know, here here's a newer makeup coffin shelf that, you know, is doing pretty good sales. So they're getting a lot of impressions a month, and they only they've only been around a couple of months, only have 40 reviews, and here are some others that are in that same boat. So this strategy by Kevin is great to use in order to try and target these newer ones that maybe you're listening is better. But, you know, use what he talked about by going into Xray and, and looking at actual search results. But you can also get that right there in Black Box Products and, and search in different niches where you think. There might be sellers or products that you know, you are more attractive than on since you have a more mature listing with more reviews. And then that's a great way to get product targeting as well. Let's go ahead and go right back into the hacks.
Kevin King:
Create marketing and customer service videos with AI in multiple languages. This is a great thing to do for customer service. It's a great thing to do. If you're answering your questions on Amazon, you know the question and answer. You can upload a video into the question-and-answer section on your listing. And this can really help you set apart and help you get conversions. It's a tool, it's a company called Synthesia. And you can actually go in here and it's an AI maker. And you basically remember earlier we were typing in text to make those pictures. You can type in text what you want the person to say, and their lips will move to exactly what those words are. And you can do multiple languages too. And you can go in, you can pick the avatar.
Kevin King:
So you can pick a woman, you can pick a man, you can pick a young person, you can choose a person of color, whatever you wanna do. You select the avatar. So like here, if I want this woman who's a little bit older because my product maybe is a skin cream for women over 50 or something, I can choose her. And then, I can choose someone like this. Just depends on what you want as an avatar. You type in what you want 'em to say, and then you generate the video and it's very professional looking. It's very slick and very cool. And so you can answer questions this way, you could use it in your marketing, you could use it to create videos really fast for your listing or the video shorts for your website.
Kevin King:
There's so much cool stuff you could do. There are the website links, synthesia.io if you wanna check that out. And this is a great tool to help you come up with brand names. You're trying to come up with a new name for a product or a new name for your business or whatever. It's, it's called namelix.com. And you can just type in something here and it will go out and it'll check all these cool names. It'll tell you if the website's available or not if the dot com's available. So it's really cool. For example, you can choose the style. There are all kinds of brandable names, compound words, real words, and made-up words, short, medium, and long. There's lots of flexibility here of what you're, you're looking for. And for example, I typed in the word dogs. I was trying to come up with a new brand name for a dog brand.
Kevin King:
So I just typed dogs and this is what it came back with all these and came back with some like little graphics and some ideas for dog names. And some of 'em are a bunch of junk, but some of 'em were pretty cool. It, it's a really cool little site. So check this out if you're trying to brainstorm some ideas. My wife actually just asked me earlier today, literally no joke. She's trying to come up with a name for a project. And I said, Why don't you go to namelix.com? She's like, What's that? I never heard of it. I said, well go to namelix.com and type in the subject. And she came up with some pretty cool ideas for this little project she's doing. It's really cool little tool to help you.
Kevin King:
This is an alternative to closing the listing. When you run outta stock, I always see people, I'm running outta stock, What do I do? And you'll see on Facebook, you'll see a lot of morons say and raise your price. You're a moron if you raise your price when you're about to run outta stock. That's just moronic. I just saw someone post that the other day and people were telling 'em, to raise their price and slow it down. Don't do that. That messes with the algorithm. If you're gonna go out on the stock, you wanna go out on top. It's like if you just won the Super Bowl, that's the time to retire not to come back. If you're over 40 or something as a quarterback, you should retire when going out on top. Don't go out on the bottom. If you raise your price, you're gonna slow down your sales.
Kevin King:
And the only reason you might wanna raise your price ever is if you're just a few days from being in stock. You know, maybe you're selling 20 a day, you raise your price to sell 15 a day because, you know, in like four days you're gonna be in stock. But if you're gonna go totally out of stock, don't raise your price. You've heard people say closing the listing that helps preserve it, and closing the listing can help preserve it. But another way that I like to use is this one. Instead of closing the listing, I put my pricing out of the band. If you go into Seller Central, there's and you go into view your inventory up in the top right, there's a little button that's got preferences, and you can turn on the minimum and maximum price fields. And so what I do is I'll put a minimum and maximum price in here.
Kevin King:
Say a $1.99 minimum, and I don't know, $12.9 9 maximum in this case. And then I'll raise the price from $12.95 to like $99.95, something crazy. And that will immediately, it goes out the price band immediately suppresses the listing but it holds your rank. You don't lose your rank. And then once you come back in stock, just go fix it. Make the maximum price within your pricing band, if your pricing back to 1295, make sure your maximum price is above $12.95. And you'll be fine. And this can help you maintain, maintain some of your ranks. You're gonna lose a little bit anytime you go outta stock, but you can, you can gain it back pretty quickly with this little trick.
Bradley Sutton:
Alright, guys, we still have some more of Kevin's hacks coming up and a couple more of mine. But one of the things we're talking about this week in our Bigger, Better Launch, and we talked about in the elite webinar that we did, was something I've been super excited about, and it's gonna give you tons of strategy that you've never, possibly never had before. And this has to do with kind of historical keyword research. Now, why would you need to do historical keyword research? One application of this is when you have a seasonal product, all right? So like, let's say I'm getting into a new niche or I'm launching a new product, and it's seasonal, not necessarily something extreme like a Valentine's Day product, but maybe it's just like something where nine months out of the year it sells really well, but in wintertime, it doesn't sell well, something like that.
Bradley Sutton:
Well, like right now is November/December whenever you're listening to this, and, you know, maybe right now is the down season for this product I'm about to launch, and maybe that's my whole strategy. Like I'm trying to launch it now in the down season. So it's cheaper to launch, right? Well, if you're doing your regular keyword research, you know, like let's say using Cerebro and Magnet, remember what you're looking at is not necessarily the top products. Like who knows on some seasonal products, some sellers just let their product go out of stock during this, and they're not even trying to, they're not even trying to keep it in stock. And so whatever is showing on page one of your main keywords, you know, the search volumes you see there, that is not indicative of what are the top sellers and what are the top keywords and what is the search volume during the peak months of whenever this product is.
Bradley Sutton:
So when I do products like this I look at only Brand Analytics. I gotta go to Brand Analytics. And I'm like, okay, let me, let me see, during the peak, what I think is the peak month of sales for this product, let me look, who were the top three clicked and what were some of the main keywords that one of these products were ranking for right now? That's limited. You know, that's great information. It's one of the reasons why I love Brand Analytics. But yeah, it's limited because I'm only can see the top three clicked and we know there's a lot more activity than just who's one of the top three clicked. I wanna know who else is on page one. I wanna know who's doing Sponsored Ads, You know, like who's targeting these keywords?
Bradley Sutton:
You know, who do I have to compete with if I'm running PPC during the peak months of this? And so that's always been kind of like this whole of doing historical research. Other applications are, let's just say it's not a seasonal product, but you notice that a certain seller looking at their BSR history or looking at their Xray history like they were just crushing it in one month maybe another top competitor or even your own product, you notice that it fell off a cliff, sales completely fell off a cliff in a certain month or a certain week or something like that. Well, what I've always liked to do is I wanna try and figure out what happened. Like if somebody had a sales spike it could have been sure out influencer marketing campaign or something like that Right?
Bradley Sutton:
But a lot of times it happens to be because all of a sudden they were getting traction in Sponsored Ads or in organic rank for keywords that maybe they weren't ranked very highly for before. And so what I always wanna do is I wanna try and reverse engineer their success because I figured they don't have visibility. They might not know what they did if they did know what they did, they would have kept it going and it wouldn't have been a temporary spike. Does that make sense? Like if all of a sudden I jump to the top of a page for a keyword and I know what it is, well, I'm gonna make sure I never fall off my ranking on that keyword. But if you see a spike and it completely falls off and it happens to be keyword based, that means that the seller really didn't even realize what had happened, or they weren't able to figure out which keyword was driving their sales.
Bradley Sutton:
So the historical research in that sense is really good. And so what we're launching at Helium 10 in Cerebro in this month is this brand-new tool. I call it like a time machine, is what I call it, but it's gonna give you the official name I think in Helium 10 is Historical Trends. So when you enter a bunch of ASINs into Cerebro soon, if you're an elite member, what's gonna happen is you are going to see a history of the month by month how many keywords total they were ranking for organic and sponsored. And then the real value is, you are then going to be able to click on a certain month. Like let's say you saw as I said, you know, their peak season was in September of 2021, or they had peak sales that month, and you wanna try and figure out what was working for them.
Bradley Sutton:
Then when you do that, when you click on this timeframe, now you're gonna be able to see what keywords they were ranking for on average that exact month. Because remember, Cerebro is a recent 30 days history of where they've been ranking for organic and Sponsored Ads. So this is like a super, super cool guy. I mean, this is the definition, in my opinion of hashtag game-changing because, you know, you've never had these insights before where you can look back and kind of like why I call it a time machine, it's kind of like you're, you're turning the clock back on a cerebral view. So you're not just looking at these 30 days, but you're looking at an exact moment in time in the last year or two years to really reverse engineer the keyword strategy for your competitors. Or even to kind of like take a look back at your own product, like maybe you know your product was doing really well in a certain period of time and maybe you didn't save your cerebral, you know, searches, you know, back then now you'll be able to go back and look at, "hey, these keywords were probably driving my sales."
Bradley Sutton:
"I gotta make sure my rank on these increases if I want to duplicate this success." So this is something, something super cool guys. It's only gonna be for Elite members this tool. So, so you elite members, it's coming in the next week or two for you. Make sure to hop in there and start doing this historical research. Now, for the rest of you guys again don't worry guys. I have more hacks coming up in just a couple of seconds here. But for the rest of you who are wondering, what does Elite even mean? This is kind of like what Kevin, you know, this whole presentation that Kevin is doing is kinda like what he does every month. He has seven, usually, he gives seven hacks in a monthly training that he does to Elite members.
Bradley Sutton:
This is the highest-tier plan at Heon where you get the widest access to our tools. And you get this special training. So Kevin King does a monthly training with two or three experts, and then he gives his seven hacks at the end of every single month. He has a monthly round table where you can ask him any question you want inside of a Zoom call. We have weekly Zoom calls with just other elite members. We have quarterly in-person workshops. We actually have one this week that we're doing it, depending on when you're listening to this on November 16th. Tons and tons of benefits. So you can talk to me one on one like you can actually book me and other evangelists one on one for consultations. Tons and tons of benefits to being an elite member, including exclusive access to tools like this Time machine tool I've been talking about.
Bradley Sutton:
So 95% of the year our Elite is closed. We want this to be exclusive. We don't want this just to be another plan where just anybody can sign up. So right now, I believe it's open. I tried to keep it open until November the 17th, I wanna say November the 18th. So if it's before November 18th and you're listening to this, you can actually sign up. It's the last chance to get it in at the current rate. If you're already on a diamond plan, it's only $140 more a month. So just go to h10.me/elite, h10.me/elite to sign up. I mean, just the one-on-one calls itself might be worth it for you, let alone all this special tool, let alone all the networking that we have and all the unique discounts and tens of thousands of dollars of discounts from partner companies, but maybe just the one-on-ones is enough to make it worthwhile for you.
Bradley Sutton:
But I highly recommend trying it out for a couple of months. This is one of the last times to get in at this rate or the last time to get in at this rate, h10.me/elite. If you are watching or listening to this after November the 17th, you're not gonna be able to go there. Go ahead and go to that website. But what you're gonna have to do is you're gonna have to just get added to the waiting list to see when we're gonna open up membership again. So just go ahead and do that. Bu if you just happen to be listening to this before the 17th, make sure to get in there, guys. You won't regret it. Let's go ahead and get back into Kevin's hacks. Actually, some of these hacks came from elite webinars that he's done, but let's go ahead and get a few more of these hacks in.
Kevin King:
If you can't get your videos to appear in the order that you want on your listing, maybe you got like seven videos that you've uploaded. You're like, the fourth one's the one I want to appear on my listing in the, in the picture spot. Number seven, I don't want it going down into the video shorts. How do I move 'em around? Amazon doesn't let you move them around. All you gotta do is go into your manage videos, just delete them all, just delete 'em and then re-upload 'em in the order that you want and the problem is solved. And that's a real easy solution. If you wanna get import data on your competition for free this is a great way to get import data on your competition for free. There's paid services that do this, like Panjiva. There are several of 'em out there that some of the big sellers use, but this is totally free.
Kevin King:
It's called importyeti.com. If you go to import yeti.com, you can type in any supplier's name, factory name, all kinds of stuff. Everything that comes into the US is public information. So if you bring stuff in by sea and some things by air, mostly by sea, it's all public information. So you can find out what anybody is bringing in. You wanna know what your competition is bringing in and what their factory is. You can find out by looking at their bill of lading, the bill of lading for every shipment coming to the United States is a public record. And this company and the ones that have paid services get that information from the government and they put it into a searchable form. So like, if say, this is one of my competitors, these selling these dog bowls here, Peggy11's stainless steel dog bowls, and I want to know what's the factory that's making this, and how many of these are they really bringing in and selling.
Kevin King:
I can come here and look at their names. So it says, sold by Lake Wu. Click on that on Amazon. That takes me to their page with their information and see where it says the business name that Chinese name. There is YUYAO FUTONG ELECTRIC APPLIANCE FACTORY. That's the name of the company. That's probably the name that they're importing under most likely. Some people are smart and they use a different names. But that's probably, so I just copy that and I go over to ImportYeti and paste that in. And look at this tells me the total shipments when I did this October 2021 to March of 2022. They had three shipments come in, tells me all their shipments, and how much they weighed. I can click on 'em and get all the information.
Kevin King:
I can see what factory they came from when they shipped them in. Get all kinds of cool information this way. You can find factories this way, you can find information on your competitors. It's pretty cool information, totally for free. It's called ImportYeti. If you wanna find YouTube videos there, link to Amazon with affiliate links so that you can reach out to these people and say, "Hey, what about my product? Maybe if you feature my product, you can make some money too. And I'll even double what you're paying from Amazon. You send me your affiliate report every month, and I'll double it for anything that's sold of our products." You can find that stuff if you just go into Google and type in "youtube amz.to", And then whatever the phrase is. So for example, I go into Google, type "youtube amz .to dog eats fast."
Kevin King:
That's the problem phrase because I'm selling a slow-feed dog wall. So the dog eats fast, and that's the problem phase. And then it'll pop up with all the videos that have an Amazon affiliate link that is talking about this problem. And I can reach out to each of these people, you know, if they have the contact information on their page, and a lot of 'em do and say, "Hey what about my slow-feed dog? Well, let's talk about some business and I'll send you some, Why don't you promote it great videos for me and link to Amazon and I'll double your commissions? If you send me a screenshot of your report every month." It can be very, very effective at driving traffic. A lot of times you can find their contact information if you look at their description and expand it out, a lot of times they'll be there. And you can also see here, there are all these affiliate links that they got in there. Easy way to get people that are already doing this to try to get 'em to promote your product.
Bradley Sutton:
What's been your favorite hack so far? Guys? We got plenty more coming to you. Let me go ahead and give you one of mine. This is not necessarily a hack, but just a strategy. I've been talking about more. Now I'm gonna show you guys who are watching this on YouTube on the screen. I'm on a, you know, collagen peptide listing. And so here's the buyer's experience. When they go to this page, they're looking here and if I'm just gonna read the first couple of bullet points, maybe I'm checking this out here, but notice, you know, there are tons of Sponsored Display Ads on here, there's no getting around that. But when I scroll down here I'm still reading the bullet points. Maybe I can see all of the bullet points.
Bradley Sutton:
Right now, I'm on this screen here. I can see all of the bullet points, but already I'm seeing all these Frequently Bought Together, you know, products and these just happen to be Frequently Bought Together with the actual same brand, but usually, these might be from other sellers, and other brands, and then immediately below that, I'm seeing customer frequently viewed. These are sponsored placements right here, and tons of products that are not my brand here. So the consumer is just flooded with all these other products and chances to buy other products that are not my brand, right? And let's say I even try and dominate these sponsored product ad placements by targeting my own listing so that I come up, if somebody actually hits one of these and it is my brand, I'm gonna get hit with a pay-per-click fee if I actually convert.
Bradley Sutton:
So what I like to do is I like to fill this whole section up with Virtual Bundles. So like, take a look at this other collagen peptides product, we're gonna do the same thing and start scrolling down. You know, maybe somebody's reading these bullet points here, right? And I'm still reading the bullet points, but do you notice here now on the screen where the other collagen peptides listing, if I'm still reading the bullet points, I have like 10 other products that I'm already looking at because of Sponsored Ads or Frequently Bought Together. But in that same view on this other collagen peptides listing, since they have Virtual Bundles set up, it takes up the whole bottom of this page right now. So all I see are the only chances that somebody has right now in this view to get another product that's not my brand, is these Sponsored Display Ads that are coming up.
Bradley Sutton:
Because look at this big section that Amazon puts for these Virtual Bundles, and it's just advertising their own products. They would have to scroll all the way down another full page just to be able to see those Sponsored Ads that is coming up on the other one. So guys, set up your Virtual Bundles. If you have more than two or three products in a brand, it's free to set those up. And the goal, Yeah, sure, you might be getting sales, you know, for those, you know, one out of every 200 orders, you know, might be the virtual bundle. But the goal is not to get sales. The goal is mainly to take up real estate, to push Frequently Bought Together, and to push the Sponsored Product Ads down the page to give people less chance to go off of your listing.
Bradley Sutton:
It allows you to highlight your own products there in this little carousel. And here's the thing, let's say somebody does click on it and does purchase it, Unlike when you're doing defensive product target ads, which you still should do, you know, unlike there where you get charged for the click and charge if somebody buys it, you're not getting charged anything. There's no pay-per-click. If somebody hits the virtual bundle, you know, whether they buy something or not, you are not paying a cent for that. So guys, really cool free tip. Make sure to set up your Virtual Bundles. Let's go ahead and get back into the hacks.
Kevin King:
You wanna increase your TikTok video views by 30%. Maybe if some of you're not doing TikTok now you need to be considering getting on TikTok. It's dominating everything. Product sales on Facebook and YouTube and Google are all trying to mimic what is doing. But this little easy trick can get your video views up by as much as 30%. Make sure you include trending music in whatever you're doing on TikTok, you wanna find that, just go to ads, which is you can go to ads TikTok and there's a link there. Select the song's thumbnail, and choose the time range, like the last two weeks or whatever. And you can then see exactly what songs are trending, and what songs are hot on Amazon. And by using those songs in your videos, you'll automatically tell the algorithm to show it to a lot more people.
Kevin King:
It can be a really, really good trick to actually get your views up on Amazon considerably, I'm sorry, on TikTok considerably. This is how to get the best-selling new release badge, even if you're listing is several years old. So even if your listing is several years old, you can still get a number one new release badge by doing this. What you need to do is change the offer date on your product to one day before the current date. So whatever the offer date field is, it's in Seller Central, change it to one day before whatever today is. So that changes to November 2nd and then the next day. So tomorrow I need to be the best seller on that listing. So I'm gonna have to drive some traffic. Maybe I got a lightning deal going on tomorrow, or maybe I can send to something to the email list that I have and say, go running a special on the product. You know, use this coupon code, whatever you're gonna need to drive some traffic. If you can be the top seller for that one day only, it'll almost always get you the best new release badge. Look at this product here. These is dog poop bags that have been around a long time, have 10,700 reviews, and have the number one new release batch. They're doing this trick to get that badge. It'll work almost most of the time if you wanna get that badge.
Bradley Sutton:
All right. Another one of my strategies for you guys, I talked about this before, but in some listings, there's now or it's been for about, I wanna say about six months now, you guys have noticed that there's like secondary descriptions that come up where you can actually add more description. Like you can add more bullet points. Now, it still does not show up on the main page. So like, I've been tracking this for a while now, who knows, whenever you're listening to this, maybe it does, it still doesn't show up. However, one thing I've noticed is I've tried putting some keywords in here, like here's the coffin shelf listing that we're looking at right now. And I actually have A+ Content instead of a description. But I have a description in the back end, and I added this other description line, and there's like about eight words in here that eight to 10 words that I did not have anywhere else in my listing. Like moon shelves and letter boards, these were not anywhere else in my listing. And then after a while, after having this in my secondary description,
Bradley Sutton:
Two out of these words, index, right? It wasn't across the board. I tried it on a couple of other listings, and it was about there like between, 15%-25% of the somewhat relevant keywords to a product. It wasn't anywhere else in the listing. Putting it in my description actually got me indexed about 20% of the time. So that's not a great success rate. You know, we have, I'm gonna be talking about in episode 400, some like super indexable fields, but still some of you Amazon sellers are always desperate for as much keyword real estate for getting indexed. And if you have, especially if you have A+ Content were meant you can probably stuff some of you guys choose to just go ahead and stuff your descriptions since it doesn't show any more keyword stuff, Well, this could be a potential place where you could throw some keywords and hopefully it'll get indexed.
Bradley Sutton:
Now if you don't have A+ Content, it'll be interesting to see what, when this description actually becomes active, where you can actually have secondary and tertiary descriptions coming up. Is it gonna show in different paragraphs? Who knows? But at least for now some of it is actually getting indexed. So there's a strategy to be looking out for. Why don't you guys try, add a secondary description, put some relevant keywords that are nowhere else in your listing, and let me know after a week do you get indexed for them or not? Use Index Checker to make sure to check it out. Let's go ahead and get into some of Kevin's last hacks.
Kevin King:
The next one, be sure to check your product type values because the wrong one could be costing you sales. So what you wanna do to do this, this is super important. Everybody needs to do this as a checkup before the holidays, or you might be leaving tens of thousands of dollars on the table and maybe hundreds of thousands. If you're a big seller, and you wanna ask the normal seller support, just open up a ticket and say, "Please open my category listing report." This is a report that will show up in all your reports. It doesn't show up by default. You have to actually ask them to turn it on. They'll turn it on. It's usually for about a week or so. It stays in there, and then it disappears again. It's because this is a blueprint of your listing. The category listing report is basically your entire blueprint.
Kevin King:
And for security reasons, they don't put this out there, but if you open it ask 'em to open it, and they'll open it for you. And then what you wanna do is go into that report, and there's a field called product I'm sorry feed product type. And here's the kicker. If the value in that field is in lowercase letters, you need to update it. That's an old system. Amazon migrated the system, and they did some updates about a year or two years ago. And if you've got products that have been around for a while, and even some new products have gotten classified wrong, they actually are in lowercase, you need to consider updating because you may be missing out on a lot of stuff. So what you wanna do is ask brand registry support to check your ASIN to confirm it has the relevant fields.
Kevin King:
It should all be uppercase, it should all be uppercase. If it's not all uppercase in this category listening report, you may be missing a lot of sales. Now, this is not gonna change where what category you're in or something like that, but it's gonna change the way you're indexed and what keywords are assigned to your listing. So make sure you do this, especially if you've been selling for a while. This is critical. This is supercritical. This could be worth the entire–, for those of you that are on here that have been selling for a while, this could be worth the entire webinar right here this holiday season. So check that out. Remember earlier I told you how to get some discounts with ups? And yes, you can use that with FBM.
Kevin King:
Someone posted it here asking if they could use that with their FBM. But here's another way. Maybe you don't like UPS. For whatever reason, you like FedEx here's another cool thing you can use FedEx, discounted FedEx shipping on any channel, your own Shopify, your FBM owners shipping into Amazon or your Walmart, whatever you wanna do. If you have a Walmart seller account, you'll need that to sign up. But once you sign up, you can use this anywhere. You don't have to just use it at Walmart. You can get what's called FedEx Advantage. It's a special thing for Walmart sellers. So if you have, even if you're not selling on Walmart, you just have the basic account, you can get into the FedEx advantage and can save you a tremendous amount of money. Here are some examples here, like on the right, it's crazy amounts of money that can make a huge, huge difference for you in a lot of cases.
Bradley Sutton:
Alright, guys, what did you think? I hope you enjoyed this episode. Kevin is a wealth of information. What was your favorite hack? Let me know in the comments below. I'd be curious to know, not only which was your favorite, but which one have you implemented hopefully since you listened to this episode, that's the key, Guys, you can't just be listening to these hacks. You actually have to implement them in your business to help it grow. So remember, you know, Kevin gives these every month with the Elite program. If you guys are interested to find out more about the Elite program, just go to h10.me/elite. And if you hop in, go right in and book one of those one-on-one calls with me and let me know that you heard about the Elite program from the podcast. And we'll definitely try and give you a shout-out. But thank you guys for tuning in to this episode. I hope you enjoyed these strategies. We'll see you in the next episode.
---
Enjoy this episode? Be sure to check out our previous episodes for even more content to propel you to Amazon FBA Seller success! And don't forget to "Like" our Facebook page and subscribe to the podcast on iTunes, Spotify, or wherever you listen to our podcast.
Get snippets from all episodes by following us on Instagram at @SeriousSellersPodcast
Want to absolutely start crushing it on Amazon? Here are few carefully curated resources to get you started:
Achieve More Results in Less Time
Accelerate the Growth of Your Business, Brand or Agency
Maximize your results and drive success faster with Helium 10's full suite of Amazon and Walmart solutions.