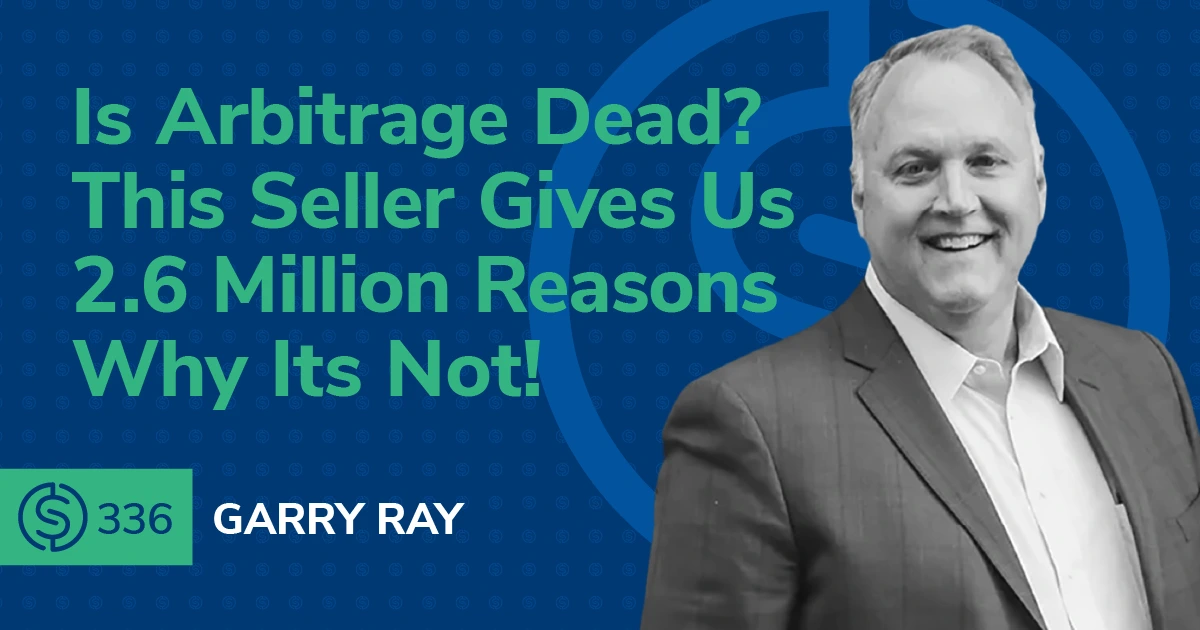 #336 – Is Arbitrage Dead? This Seller Gives Us 2.6 Million Reasons Why Its Not!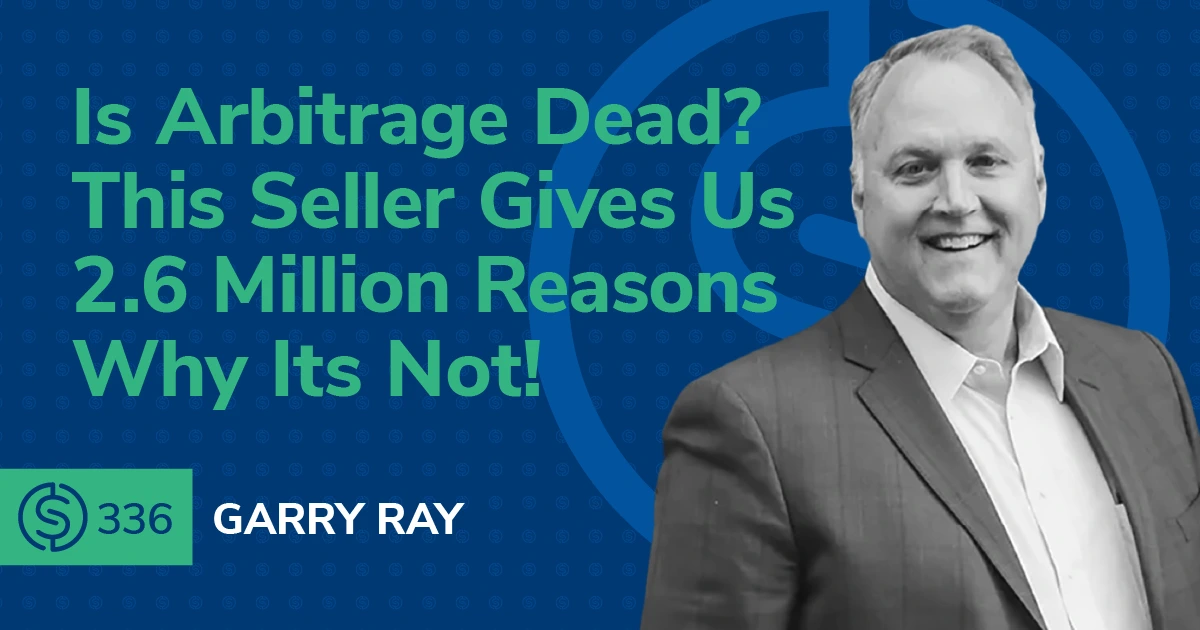 Retail or online arbitrage has been a popular business model for years. Is it still viable today? Today's expert guest Garry L. Ray has almost seven years of experience doing retail and online arbitrage, made $2.6 million in his arbitrage Amazon account last year, and runs his private label brand. Join Bradley and Garry as they talk about everything from how to get started on retail or online arbitrage, insights on its common issues, Helium 10 tools, and advanced strategies that you can use to find success in this Amazon selling model.
Make sure to listen to the very end as Garry shares the beauty of arbitrage, how to make money by doing Amazon to Amazon flips, how someone in his community made $6 million in a year, plus some business wisdom that may guide you to success.
In episode 336 of the Serious Sellers Podcast, Bradley and Garry discuss:
01:50 – Garry's Backstory And How He Got Started On Amazon
03:15 – What Does Arbitrage On Amazon Mean?
04:00 – Making $2.6 Million In Online Arbitrage Last Year
06:30 – Not Tech Savvy But Still Finding Success
10:00 – Garry's Criteria For Finding Arbitrage Products
11:45 – How To Manage Inauthentic Claims
14:10 – Liquidation Buys Are Dangerous
16:50 – Building Your Store Like A Mutual Fund
17:30 – One You Got Proof Of Concept, Always Take The Shot
18:50 – Garry's Student Earned $6 Million Using Arbitrage
21:00 – Tips On How To Get Started In Retail Arbitrage
25:30 – The Beauty Of Arbitrage
27:30 – How To Check If A Category Or Product Is Gated
28:30 – How To Use Helium 10 For Retail Arbitrage Sellers
31:00 – Making Money With Amazon To Amazon Flips
36:30 – What Inspired Garry To Try Private Label?
39:00 – Garry's Thirty-Second Tips
44:20 – How To Get In Touch With Garry
Transcript
Bradley Sutton:
Do you think arbitrage is the thing of the past? Today, we're gonna talk to a seller who did over 2 million dollars on arbitrage sales alone last year. And he has people in his community have done over 6 million dollars. How cool is that? Pretty cool I think.
Bradley Sutton:
Hello everybody, and welcome to another episode of the Serious Sellers Podcast by Helium 10. I am your host Bradley Sutton, and this is the show that's a completely BS-free unscripted, and unrehearsed, organic conversation about serious strategies for serious sellers of any level in the Amazon or Walmart world. And we got a first for the show today like I literally did not know this person existed more than two hours ago. And I was just in, in a conversation with somebody else who's been on the podcast before Andy. And Andy was telling me this story. I was like, you gotta introduce me to this guy. This sounds interesting. I wanna find out. And then I was like, you know what, why wait, I'm about to go for about three weeks to Philippines and other places. So let's record this episode right away. I slid into his Facebook Messenger DM. I'm like, Hey you down to come on the podcast and tell your story. And two hours later here we are recording. So we're moving fast here, Garry, how's it going?
Garry:
Yeah, we're definitely flying without a parachute here. We'll see what happens.
Bradley Sutton:
I love it. I love it. Now let's talk about your backstory you're in Kentuck now, is that where you were born and raised?
Garry:
That is correct. Yeah, I was born in Louisville, live in South Central, Kentucky near bowling green, the home of the Corvette. So we're a big Corvette enthusiast around here.
Bradley Sutton:
Go to college around there?
Garry:
No, did not went straight out of high school, went into the insurance business. I own an insurance agency and I'm still in that business. So that's been, I'm soon to be kinda 60.
Bradley Sutton:
What kind of insurance?
Garry:
Mostly health insurance a lot of Medicare supplement insurance and so on. And I have an agency of agents that live in different states and work, and started at that at a young age, built a team and that's how I've always made a living. And then we got into the Amazon business about seven years ago, just by sheer chance through Facebook one night, my wife we were empty nesters and she was very bored, so to speak. And I always said, if I could find a job where she could make a living, shopping, we'd get rich because she's a fantastic deal finder. And so we stumbled into arbitrage and that's been about six and a half years ago.
Bradley Sutton:
Okay. So it wasn't necessarily out of like neat like you're busy, you're making decent enough money you're in that industry for decades. It was almost like a fun thing to get started and yeah,
Garry:
Exactly. We, like I said, we were empty nesters. We have five children and 11 grandchildren, so.
Bradley Sutton:
Wow. All right, congrats on that now. Okay. So arbitrage and, you know, we've got a lot of people who understand what Private Label is, but just for those who don't understand what the word arbitrage means in the Amazon sense of things. Can you just explain that a little bit, what you guys were into on?
Garry:
Sure. And I'm actually in the Private Label business too. I have a separate Amazon account. That's Private Label as well. Arbitrage is simply if you think about it, arbitrage just like a local way of doing what Walmart does. And that is where Walmart will go to China. Like I've been to Yiwu China. If you go to Yiwu and you go to the world's largest marketplace for Private Label to try to find ideas, and Walmart goes there and they find things and they sell 'em in their stores. Well, arbitrage is simply the process of doing the same thing locally. You do it at Walmart stores, target stores, Kohl'sstores, or you can do it online. Like for example, last year with mine and my wife's arbitrage account, we did about 2.6 million last year, which I think that'll probably show there on the screen.
Garry:
And almost all of that, that we did last year was online arbitrage. An online arbitrage to drill on that a little bit is where you make purchases from retailers, whether it's a trading club or whoever it is, Walmart, Target, Kohl's, whatever, and sell it on Amazon. And it's normally like it's a very special items, something extremely popular, or it's something that's into the life cycle. And so, because nationally they're running out of it, then people then need it. I'll give you an example. The first year we started selling, this will blow your mind. We sold a little better than 15,000. I believe it was fly strips. If you could imagine that because the yeah, fly, you know, like a fly that lands on you, a pest that bugs you, okay. Fly strips and that's fly strips that you hang up and like you–,
Bradley Sutton:
Oh, and they stick to it and get that's stuff.
Garry:
That's correct.
Bradley Sutton:
Yeah. Okay. I know what you're talking about.
Garry:
And if you can imagine that now, and so arbitrage is simply the ability to find stuff and sell it on Amazon. And most of time, when you go on Amazon to buy shirts, jeans, shoes, things of this nature, you're buying it from sellers like us. There's obviously hundreds of thousands of us out there that do it. We do it through FBA. So we don't do Merchant Fulfilled very much, nevertheless.
Bradley Sutton:
Okay, let's take it back a little bit to when you got started, what were you into back when you first started those? I believe you said it was like seven or so years ago, was it?
Garry:
Correct.
Bradley Sutton:
Was it retail arbitrage? Was it online arbitrage or what was your, do you remember what your first purchase was?
Garry:
The very first thing she bought a Memorial day weekend, seven years ago, and it was some high end purses at a high-end department store in Bowl Creek, Kentucky, and simply scan it with a scanning app. You have on your phone, scan to barcode. It tells you what it's selling for on Amazon. You see what the store has, its sales price for put that in your scanning app immediately. It tells you what you're gonna make on it. That's simple.
Bradley Sutton:
Okay. All right. Now, what were your gross sales like in those first few years using that method?
Garry:
Yeah, the very first 100 day now we had no previous experience. You know, most of the people you're used to dealing with extremely high-end tech-savvy, and so on. We were very average in our tech, I mean, like I said, my backgrounds in the insurance business, so our technology experience was probably average. And so we weren't probably as technology, as savvy as, as most people would be. But our first 100 days we sold $117,000 worth. And that was from zero to that. Like I said, we had never even sold anything on eBay or anything of that nature. And then at the end of the first year, I think we sold 700,000 and we've been over a million every year. And like I said, this past year, we were at 2.6 million. And again, this is kinda like a side hustle for us. What primarily what we do, now is my wife and I, we do not buy the product. We don't physically touch. We don't even see it. It comes in, we have people that buy it. We have people that ship it. We simply make the spread. And it's the same thing a person that would own a restaurant or a hotel or anything else. They have employees that do the work and they make the spread. And that's what we do currently with the Amazon business.
Bradley Sutton:
So now in those first couple years though, were you all doing it by ourselves? Like you were the ones physically going to stores and then shipping stuff to Amazon stuff?
Garry:
Yeah, she absolutely loves doing it cuz she just loves to deal fine. And we were probably in it. I'm gonna say, Bradley, we was probably in three months when I started seeing, okay, there's some real money to be, or for me anyway, real money to be made. And we've never made under a hundred thousand a year. Last year we made almost 215,000 off of just our arbitrage account, not our PL account, and where I'm from, I'm a poor boy. I'm a country boy by birth. So those kind of numbers were just unbelievable for us that we could be doing that as a side hustle. But at first, it was retail arbitrage. And the reason we got into online arbitrage was I had a lot of downtime Bradley when I would be in my office working. And I thought, boy, if there was a way that I could buy during my boring downtime here doing my insurance work, I could.
Garry:
So I got into buying lists, which now I'm a huge believer in buying what's called OA fines list where you pay somebody to provide you with a list. You simply go down that list and make purchases if things meet your criteria. It just speeds up the process so much. I there's a difference between nickel work and dollar work. And I'm a big believer of learning the difference between the two. So I started purchasing lists because it allowed me to skip the nickel working progressed to the dollar work, and the dollar work is actually buying product, not researching but buying product, and so we started doing that. So three months into it, we hired our first prep and ship person a stay-at-home mom who needed to work. So she went to work for us. She prep and shipped our products, send it to Amazon. So we stopped the prep and ship. And then after a couple of more years, we stopped buying and had all of our buying for armed out as well.
Bradley Sutton:
So then did these people come in already knowing it, like you hired people who are in this industry or you just took people who are looking to make some money and you said, all right, this is what you need to do. You provide us with this, we're gonna show you how to do it.
Garry:
Yeah, exactly. You can do it both ways. I actually have a retail arbitrage buyer. Now that is also a seller. And this person lives in St. Louis. And this particular person knows because they are a seller, the other five part-time OA buyers, they work from home buying off of list. They have no Amazon's experience at all. They don't even have Amazon accounts. We simply have a criteria, a software that they use, they go through and make the purchases listed on a buy sheet. When they make the purchases showing the quantity, the price they paid for the order number, and so on. And then our prep and ship people, they then ship it to Amazon.
Bradley Sutton:
What are some of that criteria? Because now, you're adding different layers. You know, when you're doing yourself, you're pretty much like it's maybe easier to know how you can make money, cuz it's like, all right, I know what I'm buying this. I know what I'm selling at, but now you've got like, okay, we've got got staff that you're having to pay and you've got shipping and, and things like that. So like how do you know what's your line for?
Garry:
That's an excellent, excellent question. When we started doing it, our sales, our minimum ROI on an item was 30% because we weren't paying wages so we could buy something at 30%. And if it sold 30% to 20% to 15%, we're still making good money as it rolls our money. Cause we're a big believer in money in motion, always keep it moving. And then when we started adding employees, I had to start raising that minimum 30% up, up, up. So our minimum ROI on a purchase right now is 45% minimum ROI at the time we make the buy or $6 minimum profit on that item, we only buy things that are in a top 1%, Bradley. So we don't buy things that are in a top two or 3, 4, 5, or 6 percent. Conversely, when you're in Private Label, you can sell stuff that's in the top 2% or 3%, make great money. But in arbitrage that doesn't work. You really need to stay in the top 1%.
Bradley Sutton:
Now let's talk about what I think a lot of people are worried about sometimes whenever we're talking wholesale drop shipping arbitrage. People are worried about, you know, getting those like inauthentic claims and stuff like that. And regardless if the inauthentic claim is bogus or not, obviously you guys are not selling any inauthentic products, but that doesn't stop somebody from reporting and then Amazon saying, Hey, you gotta prove that this is legit or not. So like what is happening in 2022, as far as that goes like, is Amazon accepting just retail receipts and things like that as proof that it's legitimate or what's your experience within that regard,
Garry:
We deal with it all the time. We had last year of the 2.6 million arbitrage that we sold. I believe we had 12 IP complaints. Our account never did get in jeopardy or never in yellow state, the good rating all the time, the little slide thing, it goes from green to red. And when those come in simply provide documentation and there are even attorneys out here that do this. We actually have an attorney on our retainer. We pay small monthly fee too, and we can give that person our receipts and they write to Amazon what needs to be done. They'll even contact the merchant that filed it and ask the merchant to remove it, proving to the merchant. It is legit. And about half the merchants will voluntarily remove it. Once they see it is legit and then the other half don't.
Garry:
And with those half, we work with Amazon to get it removed. If they aren't removed, they roll off your account automatically in 180 days. And our experience has been ready. If you address these Amazon is very favorable and there's not any penalty that comes to a seasoned account seller like us, somebody that's middle level or seasoned Amazon know, and your history is there. And as long as you deal with the IP complaints, you don't have any problem. The fact that an IP claim is filed of any type does not mean that you're doing anything wrong. It simply means, again, I'm Private Label also, it simply means a brand owner wants to make sure it is legit. Once you prove the legitimacy of it, then you're fine.
Bradley Sutton:
And you know, these are being bought in store or online. So all, I mean, pretty much I would assume the only proof you have is, is like those retail receipts. And is that enough? Or you actually have to have pictures of all those products and things like that.
Garry:
No, you don't have to. Normally the receipts suffice, some stores have fantastic paperwork. Some do not. I mean, a lot of, of your deep discount stores, like TJX Marshalls, and some of them now, some of them, what we do is we take a picture at the time of sending the product to Amazon of the items. And some of us have cameras set up, which real quick, some of us just do it with our phones. You take a picture of the item with the receipt. You submit that if there ever is an IP claim, but again, in and repeat something out of 2.6 million last year, we only had 12 times this had to happen. So it's a very minor, minor issue. I feel to be candid with you, I feel it's much more bigger as a fear factor in people than it is in reality. Cause legitimately it just is not a big deal. It's something minor. It's like, you know, the cost of doing business. It's just something you do. Actually. I had a Private Label. I had another Private Label seller that caused me more trouble on a Private Label item of mine than I ever. And I lost a lot of money over that than I ever have with arbitrage in seven years.
Bradley Sutton:
Hmm. Okay. What, what about, you doing anything with like liquidations or, or things or everything is strictly buying retail either online or in person
Garry:
Now liquidation buys. Those are the kinds that are dangerous, at least in my opinion, which obviously I'm entitled to. So myself and Gaye Lisby, we are always encouraging, especially new sellers to stay away from the liquidation, the whole pallet thing, and so on. Because if you get an IP claim filed, you don't have good legitimate paperwork to prove a chain of ownership, and then you can get your account suspended. So we don't do liquidations or anything of that. Everything we do is just online arbitrage where Best Buy somebody's running a sale or retail arbitrage.
Bradley Sutton:
Okay. All right. Excellent. what are some hiccups along the way? You've been in this game more than 98% of the people probably who have been doing this, what are some of the if you had to do it over like you would've done it again or some hiccups or some mess ups along the way that you or your team made that maybe somebody listen out there, who's just getting into this can learn from your mistakes.
Garry:
I think probably the biggest mistake that we made was not seeing the opportunity fast enough and leaving so much money on the table. Now in the insurance business, I've been very good about not doing that. I've always been able to train my insurance agents to see the stitches on the fastball, so to speak, and play ahead of the curve. But in the Amazon space again, I was older when I got into it. So I wasn't as technology versed as you would be, or many of your listeners would be. So I had more of a simplistic mutual fund approach to what I did. And by mutual fund of I'll say this, I used to trade stocks and futures absolutely loved it, lost a ton of money doing it as well, but I would love to be trading it right now with the oil doom when it's doing.
Garry:
Cause there's some things I'd like to do, but it's like a gambling addiction for me playing that stuff, made money, lost money doing it. So I brought a lot of that bad experiences over to the Amazon, a marketplace. So one of the things that I coach and teach people on at Amazon Seller Tribe is I teach people on build your store like a mutual fund, make it shallow and wide. We all know that in this stock market, a mutual fund or EFTs, they are or ETFs, I should say they are the safe fist form of investing in a stock market to where you own 1% of this or 2% of this or 0.7% of that. So we build our Amazon stores the same way we have toys, supplements, blue jeans, electronics, computers, everything under the sun, ink pens, I mean, it could be whatever that you're selling on there.
Garry:
So we're really big in the shallow and wide approach and a mutual fund approach to this. And it makes it a lot more secure. The biggest mistake I made was it took me a while to get truly confident. I believe in proof of concept, I'll put it that way. Once a person has proof of concept on it, they need to take the shot. And I got proof of concept probably after like the first 15, 16 months. And it took me longer to really launch and take the shot. And when I did, we went from 100,000 to 200,000 in income after all employee wages, cardboard, tape workers, comp, electricity, everything after all expenses. That is absolutely net. When I say that again, I function accounting wise more like a businessman and less like a pitcher or a hipster, somebody trying to make big numbers. And I know 2.6 million making 214,000 is not that impressive to people. It's very impressive to me when I'm listening to a businessman that says I've got all the expenses, everything's there. Even the losses returns, everything is there.
Bradley Sutton:
And it's not like you're putting 40 hours a week into this either?
Garry:
Actually, we're not, we got buyers and shippers. We simply monitor the back end of it and it's just that simple. So the biggest mistake I made was wind proof of concept came. I didn't scale up. We've got somebody in Amazon Seller Tribe, totally arbitrage Bradley. And three years ago, they were 700,000 a year. In this past year, they hit 6 million and this is all arbitrage only arbitrage. Now that's somebody that's proof of concept. They know the stitches on the fast ball. They square up and they swing and they drive it outta the park. And so when proof of–, see some people's proof of concept is very reasonable and some people's proof of concept is so unreasonable. They demand a bacteria count on a milk, a human kindness. I mean, you just, can't never convince 'em of it. Then people are like, they're raised on a lemon and weaned on a pickle, everything they just see.
Bradley Sutton:
Hey guys, I hope you're taking down some of these sayings here. It reminds me, I love these sayings. Whenever I meet somebody from the south, we get these cool sayings. There's like three of them a minute here. So you gonna be, Hey, I got a new product idea. You can make a like what do you call it? Kindle, KDP book on, on some good sayings illustrations of these. I love it. I love it. Keep going, keep going.
Garry:
No, thank you very much. Here's another one don't ever use a fly to kill a shotgun. Okay. Don't ever use a shotgun to kill a fly, sorry. I heard that when log Kago thought it was hilarious, but seriously, some people are so cynical. They're so negative that them getting proof of concept is very difficult and I'm kind, not that way. I've just always kind of been a natural optimist kind of person that would go after Moby Dick and a rowboat and take tarter sauce with me. I just wanna believe that I can achieve. Now, I may not. I'm very average, never been to college and everything I've learned, I've learned in business. I've learned by associating myself with people that are smarter than I was. But I do believe when your proof of concept swing and for many people, they never get proof of concept because they're so cynical.
Bradley Sutton:
Absolutely. Now I think there's a lot of people out there who can see that, Hey, you can make a sustainable you know, business just doing arbitrage. But I would think the majority of the listeners here the biggest benefit for them are maybe the ones who are really, really interested in getting into Private Label, but they don't have the capital and then arbitrage is kind like that gateway drug to get there. So let's say I've got a typical, there's one of our a hundred thousand listeners out there. Hey, I wanna do Private Label in a year or so. You know, I want to get about 5 to 10 grand together for that four grand, three grand, whatever. I've got four, 500 bucks right now saved up, you know, that I can spend, how, what should I do? You know, obviously at that level, I'm not sure the buying list and things like that is the way to go. But what's an easy way with 400 or 500 bucks to start get the CA getting the cash flow, moving for a online arbitrage.
Garry:
Number one, I'll say this, my partner Gaye Lisby says this all the time, never eat your seed. So just understand that if you're starting with a limited amount of capital, whether that's 2000 or 500, whatever that is, as you make money, do not take that money and go reward yourself. Which a lot of times we Americans love to do. We're probably the spending of society in the world. So we love to reward ourselves. So if you're trying to build your pot, your nest, and make it larger and larger and larger, you can't eat your seed as the Indians would say in days of old. So just as you start making money, number one, don't eat your seed. Number two, how would you do this? You would go to Walmart or Target. Everybody has those available. I will give you a little tip, your rural Walmarts or Walmarts that are in areas where there's less people or less money.
Garry:
Those Walmarts typically have better deals than Walmarts that are in the nicer parts of town. So like if my wife today was gonna go outreach hill arbitrage, she knows this, cuz we've done this for so many years. But here where we live at in Kentucky, she knows certain Walmarts. She wouldn't even waste her time to pull in a parking lot. She'd drive right by 'em to drive 30 miles farther out to go to a rural Walmart where she could find five times as much stuff. So that's a little bit of a gold nugget there. Anytime you're sourcing retail arbitrage, places that have fewer people or fewer or less money in that particular culture, that's gonna have bigger discounts and more things there. So that would be number two. Number three would be, as you buy those items at those stores, never go deep on stuff. Absolutely don't do that. Do not put all your eggs in one basket. Remember–,
Bradley Sutton:
In other words, don't go getting, spending all $500 on one SKU or on one product.
Garry:
Absolutely not. Which see that's conversely, that's the opposite of what we do in a Private Label space there. Yeah. And again, I do that over there as well. So I'm not as good at that as I am the arbitrage, but yes, definitely want the mutual fund approach. Definitely wanna spread it out. It's safer that way. Now it's less sexy. It's less exciting, but it is better that way. So if you go into a clearance aisle of a Walmart and you see those yellow stickers, you start scanning and there's six of 'em on the shelf and they're $9.99. And they're selling on Amazon for $53. And there's 12 of 'em on the shelf. Don't buy all 12 of 'em. If you've got $500, you buy like four or five of them, then you go find another item and you buy two or three of it.
Garry:
As you're getting started because what you need is confidence. You need proof of concept. You need to be able to have some success so that you feel like, Hey, this really does work. You can go to the food department. There's certain foods and spices. There's certain things, Walmart and the big grocery stores that you can find every day of the week that you can find 'em there just simply by scanning. My wife recently went to the grocery and she had time and she came back home with enough product. Not that she needed to do it. She's just, it's just fun. She just enjoys it, like playing a crossword puzzle or chess. And she came back home with enough product to have paid for the entire grocery bill that she had for us, because she just knows how to do that. And she just sees opportunity scans it. Yep. It's profitable and you buy it. So anyway, that's the three fastest ways to scale at this. But number one is don't eat your seed. Number two, go to big box retail stores. And then number three, don't go too deep on things. When you find them, that's a big mistake. That number three right there is actually a big mistake by new people. They go too deep and then Amazon comes on the listing two days or whatever, and you're stuck with too much of it. So you don't wanna do that.
Bradley Sutton:
Okay. Now, regardless of his Walmart, Target, wherever I'm going, are you just going there and then going up and down aisles, or are you looking at their mailers or their specials beforehand? So you know what you're looking for or what?
Garry:
Yeah. That's excellent question. Thank you. You don't look at the mailers again, that's nickel work. It just takes so much time. I mean, you could, I've done it before, but I've never really found it. Their great deals normally are clearance items. It's not even on sale items, it's clearance items. And that's where the big discounts are Walmart clearance to sell. I used to buy and sell laptops. All I could find from Walmart. I mean, I literally would buy 10, 15,000 a day in laptops from Walmart when they would clearance these things. And so when you find those things, you would buy a shopping cart full of laptops because there was such a high demand form. Now, you know, a person would say, yeah, you're buying those laptops and people there can't buy 'em well, you could buy 'em and people in other countries would be buy buying them.
Garry:
And the reason that that store has so much of them is because nobody's at that store's buying 'em and that's why Walmart has 'em. It's why they're marking 'em down. So just because a store in Kentucky has a surplus of it when a Walmart in New York, they sold out two months ago, two days after they got 'em. So see, that's the beauty of arbitrage. It takes where there's local overabundance of product and puts it on a national marketplace, like Amazon to where it can be sold everywhere. We've literally had people in Saudi Arabia buy Barbie dolls. Okay. Because they can't get 'em there. So they find 'em on amazon.com. So that's the beauty of arbitrage it balance and levels out the playing field and the product sourcing.
Bradley Sutton:
Now, if you're there just, you know window shopping and seeing opportunity. I haven't done this in a long time. I actually used to do arbitrage every now and then like, just as experiments. I probably two years ago during Christmas time probably did like 200 grand in like two months selling like these remote control trucks from Walmart and a bunch of other stuff that was just ridiculous. Like, you know, was buying them for 30 bucks and selling for 110. I almost felt bad doing it, but I'm like, Hey, people are paying for it. And other people are offering it for even more. But anyways how do you check nowadays if something is gated or not? Cause obviously that's a mistake like, oh yeah, I'm gonna buy 10 of these, but then you go to list it and it's like, whoops, this is a gated category. This is a gated brand or something.
Garry:
Yeah. There's various apps out there Bradley that people use. And those apps, when you use them, you're signed in to your Amazon account. And as soon as you scan a barcode, it comes up with green or red telling you if you're gated or not gated, if you're gated, you can push the button and asked to be ungate it. And probably about a third of the time, you will be two-thirds of the time you won't be. If you're not, you put it down and go to the next item, there's several scanning apps out there real good. But the scanning app will tell you if you're gated or not.
Bradley Sutton:
And doesn't the Amazon Seller Central App, do it as well or no, just it by itself?
Garry:
It does. It's just not as clear on it. It's not as we don't use the Amazon Seller App because it doesn't tell ROI. And there's various things there that doesn't tell it. Doesn't tell what percentage it is. So yes, it does do, but it doesn't do nowhere near what a scanning app will do. If you're gonna do retail arbitrage at all and be serious, you need a professional scanning app and there's several of 'em out there that do it.
Bradley Sutton:
Okay, cool. Your community at all using Helium 10?
Garry:
I'm a Helium 10 member as well. When I was launching my Private Label brand two and a half years ago, I used Helium 10. So yes, several of us use Helium 10, but normally we use it only on the Private Label world. There may be an application for it, it probably is in the arbitrage world. I personally don't know.
Bradley Sutton:
Let me give you one. I bet you don't know about it?
Garry:
Let me have it.
Bradley Sutton:
So we developed this actually for the wholesale community, but a lot of the wholesale sellers are in the same boat as arbitrage. So they asked us to develop this you know, it's a part of our Chrome Extension. So they're looking on online at a listing and, you know, you've got 20 people fighting for buy box. I'm assuming that you know, some of your arbitrage stuff, you've got 10 people fighting for buy box and, and historically it's usually, Hey, you're not fighting with everybody. It's usually the people within like 1%-2% of that prime buy box, right? So on our, on-page app, we call it the sales estimator. What we do is we'll take the actual sales estimate, which is, you know, as you know, in Private Labels, you know, usually between like 5% and 20% accurate, you know, it's pretty, pretty close.
Bradley Sutton:
And then we take a look at how many people are competing for the buy box. And then, so without having to do all these calculations, just this one click, it'll say, all right, there's eight people fighting for the buy box. The sales in this product is $10,000 a month. You would be the ninth. And so this is approximately, you know, if you were to come in at the same price, theoretically, if Amazon's, you know, which nobody has control over, if Amazon's rotated the buy box equally, this is how much money you could make on this listing. Arbitrage seller could use that. Right.
Garry:
Very could they sure could actually that I actually had that and I haven't been using that because I'd never thought of how I could use that for arbitrage. That's actually excellent idea. I'm gonna do that because that's a big deal. What we do is we use Keepa and we go down and hit data buy box statistics. And we, we look there and it tells us, you know, if Amazon's sharing the buy box, cause a lot of the arbitrage stuff we're on, Amazon's on the listing as well. So we gotta see if Amazon is sharing the buy box or not. If they're not sharing the buy box, we stay off of it. If they are sharing the buy box, we go in.
Bradley Sutton:
Now Andy was telling me, I'm not sure if any of y'all do this, but see why am I saying y'all I don't even I'm front California. See, you're rubbing off on me.
New Speaker:
No, Bradley, keep it up. I love it. Come on down.
Bradley Sutton:
But Andy was telling me how like there's some people who do this thing that I never heard of Amazon to Amazon flips. Anybody in your community doing that? And it's so can you talk little bit about that?
Garry:
That's nothing new. That's been like I said, I've been in it six and a half years soon to be seven years in a couple of months and people were doing it when I came into it, I do a little of it every year on Q4. I won't get into the whole thing here about how you do it. We actually have a coaching program that teaches that. But the bottom line is, Amazon price fluctuates up and down. I pulled a thing up here before you and I came on of a listing that I've got. But I assume I can't share the screen to show up, but the point is you use keep or any source like that, but Keepa one of the easiest one to identify buying opportunities. A lot of 'em are seasonal. Like for example, toys, a lot of people don't know this.
Garry:
There are certain toys. Now that five years in a row have been hot. Every the same exact toy, same UPC. It's been hot every year on Amazon. So what you do is you watch and when Amazon has a major price drop in that autumn, you buy that directly from Amazon. Now many times Bradley, it's a buying hold thing. So you wanna make sure you don't go too deep on it. So this is not like you go a hundred grand deep on, but you buy those in limited quantities. Sometimes Amazon's wide open. How many they let you buy. Sometimes they're very tight. Now there are certain procedures that Amazon wants you to follow to do this. Amazon knows people do it, but there's certain things you've gotta do to do this. So it like something you can just go out here and you know, there's a couple of mistakes you can make and get in trouble with.
Garry:
But if you do it correctly, there's hundreds of us who venture. I say thousands that do this all the time. I actually know of a person that don't know 'em personally, but I know of them. They do several million a year of just Amazon to Amazon flips. So it's you buy from Amazon. See a lot of stores, like Best Buy whenever Best Buy runs, certain things on sale. If Amazon is also selling that same exact UPC item, Amazon will drop their price and match Alibaba and match Best Buy. So when best buy runs a sale, Amazon drives their price. Best Buy may limit you one, but Amazon may let you buy 9 or 10 so you can buy them from Amazon. And then when Amazon sells out, then the price goes back up. Now the key to Amazon flips is you're buying only from Amazon. You're not buying from third party sellers like me. You're buying from Amazon whenever the price drastically drops. And again, this is not a Black Hat thing. This is not something that's new. It's been going on for years. People have been doing this for a long time.
Bradley Sutton:
I like it. And then, you know, you mentioned Keepa graphs. You know, the Keepa graphs are also integrated into the Helium 10 Chrome Extension. So those of the Helium 10 Chrome Extension users, you, you know, go back the 90 days, go back one year, go back all time and take a look at the price history and things like that. And you know, you'll be able to see that's probably that remote control truck that I made hand money was probably similar.
Garry:
Easter comes every year in the spring. Right? So what happens right after Easter things that Amazon has too much supply on, they crashed a price on that thing to sell it. Well, there's a ton of people that go on there, buy that stuff. 11 months later, they're selling it. Well, Christmas does the same thing. So does Thanksgiving. So does 4th of July. So there's a lot of people when you think seasonal, you think 12 months, but if you think about it, there's something in season all the time. And all you have to do is simply mother's day father's day. All you have to do is know what that is and know how does that apply to where I can buy it right after the season, and then simply sell it. The next time that season comes back around. That's kind of the crux of how a lot of people do Amazon to Amazon flips.
Bradley Sutton:
Okay, cool. I like it. Are you and your community pretty much near a hundred percent FBA or are there some situations where you do the arbitrage, but you fulfill it yourself. You have a Merchant Fulfilled SKU.
Garry:
Yeah. We have some people in our group that is so non FBA. It's not even funny, almost everything they do is Merchant Fulfilled. And here's what they're looking for. They're looking for things that are so hot and the price is so high right now. They take in buy and list it on Amazon, literally while they're in a checkout line to check out, okay. Now every Q4 back before COVID hit. And of course COVID changed the whole world, right back before COVID hit, we would have a shop, a group of shoppers on black Friday on Thanksgiving night or that black Friday on on that day. And they would go out, I've went out before, after Thanksgiving meal, go out on that Thursday night, buy stuff already had my SKUs pre-created. And then when I was buying stuff like video games, whatever things that are really high, I actually were selling 'em before I could get 'em loaded in our vehicle to bring 'em home and then simply bring 'em home, put 'em in the package and ship 'em right out immediately. So MFN provides major opportunity for people that wanna buy and ship and act fast. Plus you get, it goes into your account. A lot of times when you sell FBA, which we do, you have to go through the OFC transfer and it can take you 10 days from the time it leaves your warehouse before it goes, live on Amazon. Well, with MFN, that or Merchant Fulfilled, that's not the case, that stuff you literally can buy it and sell it today, even ship it today. If you get it list time,
Bradley Sutton:
Let's just switch gears a little bit. Talk about your Private Label business. What inspired you to start your private lab? Because obviously, you are doing quite well with the arbitrage.
Garry:
Well, it's like anything else, you see these people like yourself and others that are successful Private Label, and you kinda want to be a part of the club. Okay. And the Elite club, and I stumbled across on the internet, this terrific guy, Andy Slammings. And I'm actually in a coffee line at the Prosper Show in Vegas. And there's Andy and I was a member of his Private Label. Course, he's fixing a cup of coffee. I woke up beside even elbowing and introduced myself. And that was the first time we ever met. So just meeting him and Laron Hurscon and other people that successful Private Label, you meet these people, you see how successful they are. And obviously, I get the bug like everybody else does. Now, my thing is I love coaching and doing the group work with Amazon Seller Tribe. So my time is plus the insurance thing. I just don't have a lot of time to build of the Private Label out to the large degree like Andy and him recently have they have just done incredible with theirs, but it's just the whole itch thing of wanting to do something big. Like we've all seen people do with Private Label.
Bradley Sutton:
Okay, cool. And then what about, how has that been for you? Like, like, are you making more profit on that? Have you had, you know, some hiccups on there due to like what's been going on the last year with shipping and stuff like that?
Garry:
Oh my gosh. We used to be able to get 40 foot containers from China delivered here in Kentucky. And it would be $6,500 to $7,200 freight from China to here. And I think the last one I priced, which was seven or eight months ago was, gosh, I don't know, 14,000. And it was just unbelievable. And that was the profit, the niche I'm in the profits, there are just probably, to be honest with you, Bradley, I got into the wrong niche. It's something that I really enjoyed and I learned a lot from it. And of course, we had the brand registry and so on. So I really need to be working on launching some more products within that account because that account's so solid, but actually no, our income and our success there has been minimal compared to what we've been able to do in the arbitrage world. We had the foundation for all of it. I just simply need to get more creative to find the right niche and product line, to be able to make that thing and grow.
Bradley Sutton:
Okay. Now we have something on this show that we do every time where we ask our guests to do a couple two or three, what we call TST 30-second tips. So, you've been talking about different strategies relating to our arbitrage and things. Why don't you give us some, you know, like two or three different, you don't have to, you know, keep it to 30 seconds. It takes you a minute. I'm not gonna cut you off, but like two or three strategies, they could be about our, they could be insurance strategies, you know, since you're an expert in that could be about anything you want.
Garry:
I think number one, the most important thing a person can do is be humble. Cuz you won't learn anything from people that's smart if they even slightly detect that you're arrogant or that you think you're smart. The second you approach somebody that is smart and you act smart, they shut down and you won't learn anything from it. So I think number one, stay humble. I'm 59 and I had my teeth kicked in when I was in my early thirties by not being humble. So I've learned it's very important to be humble. So I think that's number one, you won't learn anything from people like yourself, Bradley or anybody else iff you come across like a something, something, cause that's, that's a real turnoff. I think number two relationships, you've got to expose yourself to people that are generous, that sew with an open hand, you know, I'm from the farm from the country, but you could be from the city and you know, the same rule applies.
Garry:
You cannot so seed in a garden or in our pot unless you open that hand, same thing with raising your children, you can't help your children unless you give money time talents to them. So I think you have to sew and you gotta get yourself around people that will sew with an open hand so that you can learn. And then as you learn, you know, you said you were fixing to go to the Philippines Gaye Lisby and I, we support missions in the Philippines to help people that are less fortunate than we are 10% of everything that we earn from Amazon Seller Tribe goes to support mission work there in the Philippines with food and clothing and so on. So a big believer in sewing with an open hand. And I think number three, when you get into arbitrage it's to understand that whole shallow and wide theory, the whole mutual firm approach to everything you do.
Garry:
And if you do that, your income will be steady. It'll be consistent. You won't have the big ups and downs, big ups and downs. You don't have the major PPC expense that you have when you have with Private Label. So I think some of the expenses there can be mitigated and balanced out when you compare that to Private Label. And I think it can be a great way, number four, to build you a pot, a nest, as you touched on earlier about getting you into Private Label. Cause Private Label is something that a lot of us include myself would really want to be successful at. So I think of all of those that I would share that number fifth one would be, don't feel sorry for yourself. Then when you start feeling sorry for yourself, you limit your creativity.
Garry:
If you say I'm too short, I'm too tall, I'm bald, I'm this skin color or I'm that gender, or I'm this education, I mean, look at me. I'm not a college educated person yet. I can hold my own with 'em all day long. When you start feeling, I have a crippled right hand, see I've had five surgeries on this hand. I'm blind in my left eye. But if I go around sucking my thumb field and start for myself, I'll never be successful at anything. And the more when my father and my mom and dad were raising me, there's one thing my dad in essence, beat into me was son. If you're ever gonna succeed in life, you can, can't feel sorry for yourself. You've gotta trust in God. You gotta trust in family. You gotta be a good person. You can't crook people. You can't cheat people. You can't crook or cheat God, and you've got to live, right.
Garry:
And if you live a good life and you work hard and you surround yourself with good people and always try the people I'm from are very common people. I don't come from a money background. I didn't like that growing up. I didn't like not having money. I didn't like in essence being poor. So I desired and had ambitions to make a lot of money, but I never wanted to become arrogant or egotistical with that. Because when you do that, you're just setting yourself up to get your teeth kicked in. And we all see the news almost every night where somebody gets too big for the Brits, as we'd say down south. And they get taken to the woods yet. And if you're gonna be really successful as a marathon, you gotta not do that. So those would be real quick, five things I would rattle off.
Bradley Sutton:
I love it. I love it. All right. Well you know, Garry, this has been very, very insightful. You know, we don't talk enough about the different other forms of selling on Amazon and it's not, we're not trying to like do one way is better than the other way. There's plenty of ways to more than one way to skinny cat and you know, sometimes Aa helps you to get to B if that's your, your goal and different strokes for different folks, you see, I'm trying to come up with my own.
Garry:
I love it. I love the skin the cat thing. I mean, that's definitely a Kentucky saying.
Bradley Sutton:
There we go. And so guys, you know, keep in mind, maybe it's not for you, maybe it is, but there's a lot of interesting things that can be taken away from this episode, hopefully it can help you out. Now if people, you know, we only scratch the, of, of what we can talk about here. Real quick. Let me give you one of my dad's favorite sayings. It kind of reminded me of when you're talking about like being humble and also not thinking that you are, you know, and being genuine in things is don't put up a front, you know, people like when you're, you know, making your network and building your network, you know, like don't, don't play, you're, you're being nice and you're trying to learn this stuff. Or as my grandfather used to say, don't pat the guy in the back while you down his leg oh, is a thing there. So
Garry:
I love that. Absolutely love that. Love that. That is cool.
Bradley Sutton:
There we go. All right. You see, you're rubbing off of me. You're rubbing off.
Garry:
Love it. That's cool.
Bradley Sutton:
Anyway, so if they wanna reach out to you from more information either to get some more cool sayings or to learn more about arbitrage how can they find you on the interwebs out there?
Garry:
I think probably best way to do is go to Facebook and look for Amazon Seller Tribe. We have a free seven-day membership there and you can get in there and poke around and we've got hundreds of members there that's all in there sharing together and learning together. And then once you're in Amazon Seller Tribe that exposes you to the tribe coaching, which we do twice a year. We have hundreds of people that join that where we teach, repricers and everything arbitrage related and how to succeed at it.
Bradley Sutton:
All right. Sounds good. All right. Well, thanks a lot. Garry, maybe we'll reach out to you next year and see how 2022 ended up for you.
Garry:
Hey, get down to Kentucky, hook up with me and we'll spend some time and I'll take you down to national Corvette museum and we'll look at Corvettes and we'll–,
Bradley Sutton:
Some Kentucky Bourbon too.
Garry:
You got, oh man. It's all over the place here.
Bradley Sutton:
All right. I love it. All right. We'll talk to you later then.
Garry:
Thanks, brother. See you.
---
Enjoy this episode? Be sure to check out our previous episodes for even more content to propel you to Amazon FBA Seller success! And don't forget to "Like" our Facebook page and subscribe to the podcast on iTunes, Spotify, or wherever you listen to our podcast.
Get snippets from all episodes by following Bradley on Instagram at @H10bradley
Want to absolutely start crushing it on Amazon? Here are few carefully curated resources to get you started:
Achieve More Results in Less Time
Accelerate the Growth of Your Business, Brand or Agency
Maximize your results and drive success faster with Helium 10's full suite of Amazon and Walmart solutions.