#386 – Amazon Influencer & Affiliate Marketing For E-commerce Sellers
In this episode, our guest talks about how they have helped hundreds of sellers increase their E-commerce sales with the help of influencer and affiliate marketing.
Updated on: October 13, 2022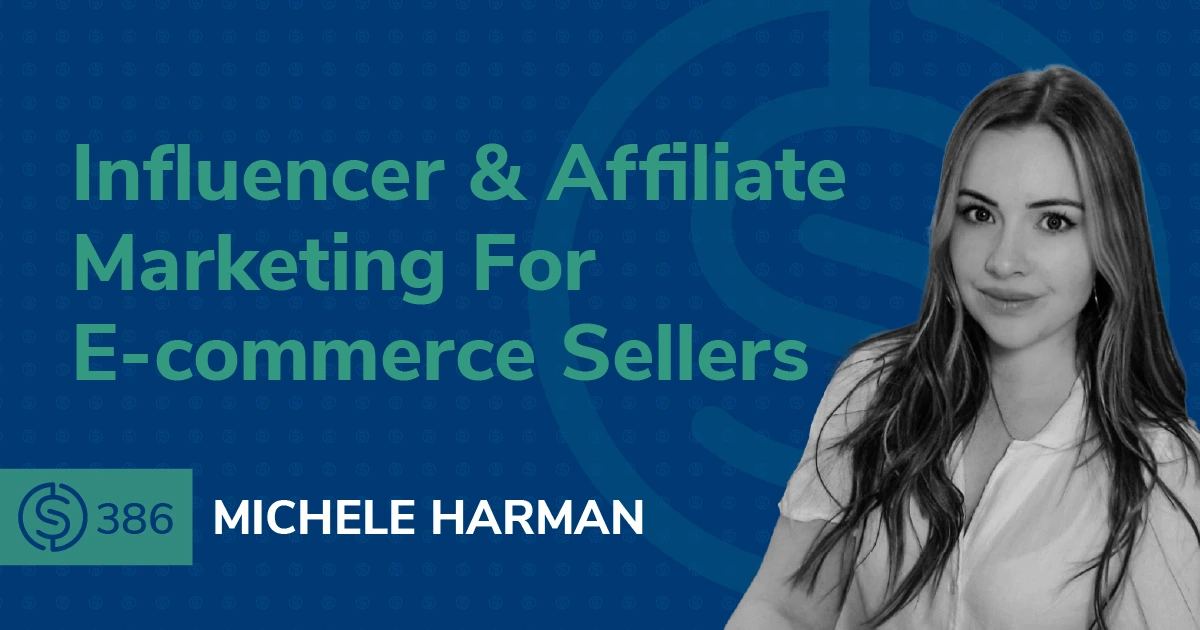 Today's guest is Michele Harman, Product Marketing Manager of Refersion, to talk about influencer marketing and affiliate marketing. What is the difference between them, and what are her best tips and strategies to automate and streamline the workflow so that you can focus on the other operational aspects of your E-commerce business? We also dive into the best practices for finding an influencer or affiliate relevant to your niche, keeping the relationship going with these partners, and what ROI we can expect when we start rolling out these programs for our E-commerce brand. Make sure to listen to the end as she shares a real case study involving a brand that made millions using these tips and strategies.

For e-commerce brands on Amazon that want to connect with new, profitable audiences, drive conversions, and increase ROI – meet Amazon Affiliate Marketing by Refersion.
In episode 386 of the Serious Sellers Podcast, Bradley and Michele discuss:
02:30 – Michele's Background And Story
03:40 – What Is Refersion, And How Did It Get Started?
04:30 – The Difference Between Affiliate & Influencer Marketing
08:30 – Easily Find Affiliates And Influencers Inside Refersion
10:30 – How To Find An Influencer Who Is Relevant To My Niche?
12:00 – Posting An Offer To Affiliates To Promote Your Product
14:00 – Tracking, Conversion, & Payout System Inside Refersion
19:00 – How To Keep The Relationship Going With Your Affiliates & Influencers
20:15 – More Tips On Managing Your Affiliates And Influencers
22:00 – What ROI Can You Expect With These Programs?
24:00 – When Should You Consider Affiliate And Influencer Marketing in Your Amazon Journey?
29:05 – Sharing A Real-Life Case Study And Their Results
31:30 – How To Get In Touch And Learn More About Refersion
32:15 – Michele's 30-Second Tip
Transcript
Bradley Sutton:
You've maybe thought about influencer marketing to increase sales to your Amazon business, but what about affiliate marketing? Today we're gonna talk to somebody who has helped hundreds of sellers of all levels get started in influencers in affiliate marketing, and it's even gonna tell us about one company that generated a million dollars of extra revenue when they started this kind of marketing. How cool is that? Pretty cool I think.
Bradley Sutton:
What were your gross sales yesterday? Last week? Last year? More importantly, what are your profits, after all, your cost of selling on Amazon? Did you pay any storage charges to Amazon? How much did you spend on PPC? Find out these key metrics and more by using the Helium 10 tool Profits. For more information, go to h10.me/profits. Hello everybody, and welcome to another episode of the serious seller's podcast by Helium 10. I am your host Bradley Sutton, and this is the show that's a completely BS free unscripted, and unrehearsed organic conversation about serious strategies for serious sellers of any level in the e-commerce world. We have got somebody here from one of Helium 10 sister companies, Refersion. Michele is in the house. Michelle, how's it going?
Michele:
Hi, I'm doing good. How are you?
Bradley Sutton:
I'm doing just ducky. Thank you. Where are you located actually?
Michele:
I'm in Portland, Oregon.
Bradley Sutton:
Okay. Yes, Portland, Oregon. I used to gain a lot of weight whenever I go to Portland. I haven't been there in a while, so I lost a couple of pounds. Voodoo donuts and Fire on the Mountain Buffalo Wings and oh my goodness, Portland has some amazing food there. Is that where you were born and raised, or have you just moved out there?
Michele:
Yeah, I'm from Central Oregon, but I've been raised in Portland pretty much my whole life. But yeah, you're right. The food is really good here.
Bradley Sutton:
Yes. College, did you go to college out there too?
Michele:
Yep. I went to Portland Community College first, and then I transferred to Portland State.
Bradley Sutton:
Okay. I almost know every mascot, but since Portland State does not exactly have a powerhouse football or basketball program, I can't say I'm familiar with the mascot. What's the mascot of Portland State?
Michele:
They're the Vikings.
Bradley Sutton:
The Vikings. Now I learned something like 95% of people who say what college, I always know their mascot, but I was like, You know what? I have no idea what Portland State is. I learned something. What was your–
Michele:
Portland State isn't really known for its sports.
Bradley Sutton:
Well, I'm assuming it's the academics then. What was your major over there?
Michele:
My major was business and innovation in technology marketing.
Bradley Sutton:
Wow. Somebody who actually kind of is working in the field that they studied
Michele:
Yeah, exactly.
Bradley Sutton:
Oh, like, who's that? That's a kind of unheard-of thing nowadays. I know. Now, what brought you to kind of like the marketing, and e-commerce world like how did your journey get to Refersion?
Michele:
Yeah. Well, when I knew that I wanted to go into marketing I kind of just gravitated toward technology. I just love the, like, constant innovation and kind of like the constant change. And I just feel like the startup world is really exciting. And I kind of just started my career in tech and I've been just kind of in some of the bigger tech companies and some smaller startups. So that's kind of how I found my way to Refersion. Yeah.
Bradley Sutton:
Okay. Now, there are some people out there, like even before you knowers joined the Helium 10 family like people would use Refersion out there before we even had this relationship, but, but I would say 95% of our listeners might not have heard of Refersion before. So can you just give a quick overview of how Refersion got started and what its main function is?
Michele:
Yeah, So Refersion was started to really just give e-commerce brands a way to easily manage all of their affiliate marketing activities. So just giving them a way to get off of spreadsheets and start more efficiently managing their affiliate marketing campaigns.
Bradley Sutton:
Okay. Now one question I've always had I kind of–, I have my own kind of answer to this, but you know, I wanna get an expert is. I know Refersion deals with affiliate marketing and influencer marketing. So why are these two different things? Some people might think that these are isn't affiliate marketing or influencer marketing, So what's the differentiation there?
Michele:
Yeah, there are definitely a lot of blurred lines and kind of like different interpretations of what each term means. But the way that I see it, and I think the way that Refersion sees it is that when you think of an affiliate marketing campaign, you think of something that tracks directly back to a conversion to a return on investment with Influencer, which I'm not discounting influencer campaigns whatsoever. I think the difference is that sometimes an influencer campaign can just be like a one-time payment or like a one-time creative campaign where like conversions aren't necessarily tracked. But affiliates can definitely do influencer campaigns. Influencers can definitely use affiliate tracking links. I think it just kind of varies depending on the brand and their circumstance.
Bradley Sutton:
Okay, cool. Now like Refersion wasn't started specifically with Amazon sellers in mind, but you guys have kind of shifted where you do have, you know, some solutions that are right up the alley of Amazon Sellers. What kind prompted this? What were you seeing that Amazon sellers were looking for that was like, "Hey, we can actually help with that." Like, what would you hear in the industry?
Michele:
Yeah, so I mean, originally and kind of historically Refersion has been primarily just Shopify, Shopify Plus, and other like D2C commerce platforms, and that's where we've kind of specialized and really refined that, you know, the automation of like affiliate marketing for all of those different platforms. But we've realized that that didn't really exist for Amazon sellers. Of course, Amazon sellers have Amazon associates, you know, promoting their products out there on the web, but they don't necessarily have the ability to form a direct relationship with affiliates and create their own networks to connect with super specific communities that they sell to. And you know, we also did several surveys and kind of validated that the market was looking for this, and we had all the expertise in affiliate marketing and we just wanted to apply that and provide a solution to Amazon sellers.
Bradley Sutton:
Cool. Now, I've obviously known about you guys for over a year now. But we've been planning to do a podcast for a long time. And so, I always say I try and find stuff live, like when I'm on the show, like, I don't like to prepare or have like prejudices about what we're gonna talk about. I just wanna kinda like think of the things that come to my mind. I wanna learn about stuff at the same time everybody else learns about it. So I've been purposely not diving too, too deep into Refersion until now. So I can ask these questions as probably a listener might. So like, one of the things though that came to my mind when I was thinking of this, and it's actually something that brings me back to like, maybe, oh, I wanna say like 2017 before I even worked at Helium 10, and I wasn't even an Amazon seller, I would work with Amazon sellers is even in those days, you know, people understood that outside marketing, getting influencers to talk about your product is good, but the number one thing that was on my mind when it comes to this is I don't even know how I can find an influencer or how can I find a potential affiliate.
Bradley Sutton:
There was a software at the time that actually had keyword tracking and different things, and the reason I got that software was that they also offered kind of like a way to just go on and find people on YouTube or some weird thing like that. But just because of that I was like, Let me get this. And actually that company just like totally sucked. And then long story short, because of that, they suck so much. I was like, Hey guys anybody knows of another tool that can do keyword tracking and stuff like this because this other tool sucks. And then people, that's when somebody actually told me about Helium 10. So it was kind of like, brought me, but even before I even use Helium 10, I was going with software because of the ability to search for a place. Now with Refersion, do you like to have your own directory where I can like, go in and find relevant influencers to my niche, or Refersion is mainly about the, once I already have a relationship to manage it?
Michele:
No, Refersion does, we do have a solution for Amazon and D2C brands to search and find affiliates and publishers. It's called Affiliate Discovery, and it is essentially a search engine that, you know, you can filter you can put in your competitors, you can see what other types of products these affiliates are promoting. And then you can also–
Bradley Sutton:
Oh, hold on. You're intriguing me, I'm just learning about this stuff right now. Obviously, we have the Project X coffin shelf I don't think anybody's really many influencers for the coffin shelf, but let's just say this was a 10x market than what it is. I could like put in the top of another coffin shelf, and then you guys have this database that shows if anybody else out there has promoted this as an influencer or something.
Michele:
Yeah. Basically, yeah, you can put in a keyword, a type of like a product category or like a keyword, and then see the results of where that show, what affiliates are promoting that in their content.
Bradley Sutton:
What kind of content are you guys searching for or maintaining your database to be searching for?
Michele:
So right now the database has a mix of different types of web content, but it's primarily like content blog bloggers and reviewers, and a lot of the kind of higher-end publishers magazines, digital magazines kind of think of like apartment therapy or like think of Men's Health, kind of like the bigger publishers they also have in the directory.
Bradley Sutton:
That's super cool. That's exactly what I wanted, that one software I had years ago was only like searching YouTube, but being able to search other things is pretty cool. Now let's just talk about some general strategy along these lines before we talk about the next thing, what's some strategy regardless of whether I'm using Refersion or if I'm just out there trying to find influencers? The Coffin Shelf is a great example. I am not necessarily going, I can't type in the coffin shelf and probably find somebody who's promoted five or six other coffin shelves. It's just not that big of a market, right? So, so what are some strategies where it's like, I'm not necessarily only trying to type in my main keyword or my main product, but how can I find an influencer who would be relevant to my niche?
Michele:
Yeah. So the way I see it is, and the way that this works for our, some of our brands is like, don't think so much as like a specific product and like exactly the audience that's gonna be following that, but more so of like the community that that product kind of applies to. And then you can kind of look and see what's peripheral to that. So kind of an example that I can think of is kind of like Paleo food products like that are very adjacent to the CrossFit community. What are other types of bloggers or affiliates that are talking about CrossFit just kind of mapping your product to that community and those topics is a really good way to find the right people to speak to the audience that is the most relevant to your brand.
Bradley Sutton:
Okay, Interesting. Now I didn't have a chance to attend your session at the Sell and Scale Summit, but I saw the slide deck. One thing I noticed from there is about finding or recruiting affiliates or influencers for your brand. Obviously, we can use Refersion for that, but something you had mentioned there in my mind, I don't think this has to do with Refersion, but you said to have a strategy to attract other affiliates like posting to marketplaces and social media. So what's that about? Cuz that's obviously not from Refersion, but what are some other ways that I can like what does posting to a marketplace mean?
Michele:
Yeah, so I mean, just most affiliate platforms or just affiliate networks, in general, will have an opportunity for brands to post an offer, which is essential, this is what we sell and this is kind of the commission rates that we're offering affiliates. And, it's an open invitation to apply to become an affiliate for the brand. That's one really good way to do it. Another good way is to just reach out to the customers that you have very loyal customers that might also be very good ambassadors for you. So there are lots of different avenues that you can take to build your network.
Bradley Sutton:
Okay. Now another, I was talking earlier about problems that need solving for people who are interested in this. And another one in those days for me, which is why I never even got into it too much was kind of I guess the tracking maybe. If it was just Amazon, like in those days there was no Amazon attribution, or at least it wasn't available as common as it is. Now, so it's kind of like the honor code almost like, Hey, maybe we gave a 10% discount code to an affiliate or to an influencer, and then we just printed the report, and then they would have to trust that, hey, this is an accurate report. Now as far as tracking and conversions and things like that, where does Refersion come into play with that kind of thing?
Michele:
Yeah, so for both Shopify and Amazon, when an affiliate applies to a program and a brand approves them, they get their own tracking link. And then both the affiliate and the brand have a performance dashboard where those conversions are all automatically tracked through the first-party tracking link. And then they can monitor those conversions and see when they're approved and see when they're paid out. So there's a lot of transparency into that whole process.
Bradley Sutton:
Okay. Now, I'm gonna give you a scenario that just came up in my mind, and I'm not even sure if this is correct, but you can tell me so I know there's an Amazon affiliate program where people like a partner with Amazon, and I believe, correct me if I'm wrong, isn't like 2-3% or something like that, that they get. Have you heard of the associates? I think it's called Amazon Associates or something. It's like 2-3% though. It's not big, right?
Michele:
Yeah, it's Amazon Associates, that's Amazon's own affiliate program, and they do pay commission depending on the category, but I think the average is 3-4% at most. So, yeah.
Bradley Sutton:
Okay. So in my mind, there's nothing to stop anybody from making their own link. I believe how it works is any Amazon affiliate can go in their little network and just find some random product and then, you know, generate a link, and to me, I would have no idea it came from an affiliate. I guess maybe a spike in my sales, which I like, who doesn't want a spike in sales that doesn't cost them anything? But then the affiliate, or Amazon associate, I guess I should say is like they're happy with their 2%, but in my mind, the better thing to do because of this Brand Referral Bonus is to like to find somebody, say, You know what, don't make your associate's link.
Bradley Sutton:
Use my link and I'll give you 6% or I'll give you twice as much as Amazon Associates of what I'm gonna for all your sales. And then on the back end, I'm actually getting still 4% of that back, or I could just almost say five, let's split. Wait it's 10%, right? The Brand Referral Bonus. So I can almost say 5%. I'll give you 5%, which is twice as much as you're 2.5%. But actually, I'm paying zero because it's coming back to me, but then the associate is actually happy. Is that a logical scenario? Is that, or am I making things up here?
Michele:
Yep, that's the scenario. That's definitely like the value proposition for Amazon Associates to use Refersion tracking links with our brands. Yeah.
Bradley Sutton:
Okay. So I can obviously choose whatever percentage I want to give to them. How does Refersion help me with that? Again, it's not necessarily based on the honor system where I'm like, here's your 5%, but is there something in Refersion that could, I could say, Hey, give them 5% of these sales and then you guys handle the payout? Or how does that work?
Michele:
Yeah, so whenever the offer is created, that's when the commission rate and any bonus rates whatsoever like, created and established. And then when an affiliate signs onto it, that's the rate that will automatically be paid to them when they get conversions when those conversions are approved. Refersion has an automated payment program. So an affiliate just signs up with their bank account information, and then there's one day a month that they get paid out for all of their approved conversions. So it's kind of like a consistent predictable payout system that we have.
Bradley Sutton:
How do you get that money from me? I'm an Amazon seller. Do I use a credit card? Are you pulling from my bank account or are you pulling from my Amazon account? Or where does the money come from you're using to pay?
Michele:
Yeah. So when a brand enrolls in the Refersion pay program, they will go through the process of setting up their bank account information and establishing their account. All the information is verified, and even all the tax information is verified. And then affiliates will sign up on their end as well with all their banking information and I guess tax information so that all of that can be streamlined down the road when the conversions roll in.
Bradley Sutton:
So then later you're even generating whatever tax form the person needs.
Michele:
Yeah. At the end of the year, and I always forget, but I think it's $600. If an affiliate is making more than $600 a year, they have to have that. I forgot I think it's called a W-9 or something?
Bradley Sutton:
Don't ask me. I hate all of that stuff, which is why I was asking. Cause I was like, the fact that Refersion's gonna handle that for me with the time. That's why I like to hear.
Michele:
So all of that's taken care of, which makes it really easy for everyone involved.
Bradley Sutton:
Okay, cool. Now again, let's go away from Refersion here, but just in general talk, I found an affiliate. I found an influencer. We got them all set up with pay everybody's happy, and we're doing promotions, how do I keep the relationship going so that it's not like a one-hit wonder with this affiliate or influencer?
Michele:
Yeah. So I'm keeping an eye on your affiliates and kind of knowing one, who's performing the best and like who, you wanna like, reward and like there's, we have like bonus payments and things like that and Refersion, but also like the consistent communication's really important. So like, this is what we're doing with our brand. Like this is what's coming up, making sure that affiliates no way ahead of time what like products are coming out and like new promotions and campaigns so that they can build their content strategy and their content plan around those releases and promotions and stuff.
Bradley Sutton:
That's an interesting thought. I never thought about it, but it's kind of–, we actually do that with the Helium 10 affiliate program, but within Refersion then I could maybe make a contest and tell all my affiliates, Hey guys, you know, whoever gets this amount of sales or this number of units, you're gonna get this added like a cash bonus. And then that's still all handled within the Refersion platform.
Michele:
Yeah.
Bradley Sutton:
Interesting. Interesting. Okay. Any other tips about finding, and maintaining affiliates and influencers?
Michele:
I think one thing that brands should think about is, yeah, you're always gonna have like one type that's gonna be like your bread and butter, like your traditional, like affiliates, your bloggers that might just consistently bring in conversions for you. But it's also important to think about diversity in your network. Like you should maybe work with some influencers and like maybe have an ambassador program as well and just kind of have like a well-rounded network so that you're not just relying on one type of affiliate.
Bradley Sutton:
Okay. Now I don't know the price, like how much this would cost. I'm assuming it's a few hundred dollars a month or something like that. And then some people might say "Oh my goodness, that's a lot of money. Helium 10 only costs either $100 or $250." But I remember in your slide deck before you had given a mini example of what the ROI could be. So if you remember some of those numbers or if you can make it up on the spot like an example scenario of "Hey this is how much maybe you're paying, a company like Refersion, but this is what's happening on the back end, and to explain why it makes sense to make that kind of investment."
Michele:
Yeah, definitely. And I think obviously investing into software is a big decision, and if you can have a really good idea of like where you need to be to have that return and what kind of return you can expect, that's really valuable. So that's why I put that example together. So I'll just kind of go over the scenario just so that I can illustrate what that looks like. So the first thing you wanna consider is your average order value. So just say that you're selling health supplements and your average order value is $50 an average kind of platform fee at Refersion. I will just say $500 as an example. And then say you're paying your affiliates 15% of all commission. Okay. So and you have, when you start out–
Bradley Sutton:
That's pretty high actually, right?
Michele:
I think it's high for maybe what Amazon affiliates are used to be
Bradley Sutton:
Yeah. Yeah. I mean that's like 5x so what Amazon pays, so if I'm a potential affiliate, I would, I would jump all over that deal. Okay. Go ahead and continue.
Michele:
Exactly. Also just to know, it depends on like, you know, what your average order value might, you know, kind of depend on influence what your commission rate is. If f you're selling like really big ticket items, you might not have such a high, but yeah. So let's just say that you're AOV is $50 you're paying $500 a month for the platform and you're paying out a 15% commission rate, and let's say in your first month you only generate 50 conversions with your affiliates. So what you're paying after–, so you have, let's say you've generated $2,500 worth of affiliate conversions, you're paying $375 for commissions, and then 500–
Bradley Sutton:
That's the 15% right there.
Michele:
Yeah. And then the $500 for the platform for that month. So after that, your net profit is $1,625 and your return ends up being 3.25 times.
Bradley Sutton:
Wow. Okay.
Michele:
And that's what that 50 conversions. So it's easy to make that back.
Bradley Sutton:
Yeah. That commission rate, in my opinion, that's on the high end. We didn't even consider if they're using the Brand Referral Bonus link like that's not even considering that I might get 10%. So it technically could be my return could be even more once I get that money back from it. Oh my goodness. This is good stuff. Yeah. Like, so guys, this is definitely something that we should be thinking about, which brings my next question is, I'm just brand new selling on Amazon, launched yesterday. I'm selling one unit a day. Probably I would imagine that I should maybe not start in affiliate or influencer marketing like from day one. But where is that line? What, is there a number you think I should reach where make sense to start considering this form of marketing or what do you suggest?
Michele:
Well, I think as you're ramping up your Amazon business, it's definitely still gonna be important to think about this and maybe think about it like your strategy, what it's gonna be. But you definitely wanna focus on fine-tuning your Amazon store, and your whole Amazon strategy, and making sure that everything is optimized within Amazon before you start investing in sending traffic from outside sources. But once you're ready to move off and really try to optimize the outside traffic to your Amazon store, which I think everybody knows that that's super beneficial, that's when you really wanna just start investing in your affiliate marketing strategy and building that out cuz that's gonna really help you scale.
Bradley Sutton:
Okay. Cool. Now one thing I know about just because I used to actually be in charge of the Helium 10 affiliate program years and years ago when we first started was that we would generate these links for influencers or for course creators or YouTubers or stuff like that. It's like sign up for Helium 10. But, you know, sometimes people might click that link to go to the landing page and I'm not sure I'm gonna use the right terminology here, but we would say, Hey, that cookie, that user, and maybe they just go to the landing page. They're like, "Oh, okay, this is interesting." But then, you know, they go along their daily life like 3, 4, 5 days later, they're like, "You know what, I think I need this helium 10, so I'm gonna go back."
Bradley Sutton:
Now, they're not clicking the link at that moment. Maybe they just navigate it to helium10.com. But I guess the way cookies and attribution or whatever works is that affiliate who generated that link, they're still gonna get credit with Helium 10 for that. So I have a kind of two-faced question here. Number one, how does that work if the affiliates are just using the Amazon Associates program? Then number two, how is that different from like, if I'm using the Refersion link?
Michele:
Yeah, so the way that Amazon associates work is it's a 24-hour cookie window. So that's the window where the conversion will be, traced back, tracked, traced back to that affiliate with Refersion. Our cookie window is 14 days. With our integration and the way that we track conversions, that was the max that we could create. So it's 14 days. So I mean, obviously that's a lot. The window is a lot longer and leaves the opportunity for a lot more conversions to be tracked.
Bradley Sutton:
Okay. So like, however, I probably might not get that Brand Referral Bonus then if it's like a 10-day later thing, or do you even know how that works? I'm not even sure how that works.
Michele:
I'm not sure what the time limit on the Brand Referral Bonus is. That's a really good question.
Bradley Sutton:
But regardless, the one that's happy about this is the affiliate themselves because they're used to only 24 hours. I mean, they don't care what kind of commission I'm getting from Brand Referral Bonus. Do you mean that somebody adds this to the cart and then a week later they buy it? I'm not getting that money in from Amazon, but I'm getting it from Refersion. See what's important I think, because of one thing that was shocking to me, and I'm gonna ask you about your personal buying habit here, but if I add something to my shopping cart that's a buyer on Amazon, I'm checking out like, like I don't add things to the cart and I just let it sit there. But when you look now, Amazon has been opening up a lot of data to sellers and you look at it and like more than 50%, if you believe this information, of people who add something to their cart, they don't actually purchase it right away. What about you? Obviously, you buy on Amazon.
Michele:
Yes, I do
Bradley Sutton:
Do you like to leave things in your cart?
Michele:
It depends, but I do, I do both. I'll do the buy it now a thing, but then I also have like a list of stuff that I want this, but it's not really a necessity maybe, but then I usually end up going back and buying it. But yeah, it depends.
Bradley Sutton:
You weirdos. I don't understand weirdos like you, like, you're one of those who's the number majority? I guess I'm the minority here, but yeah, how about you guys listening out there, which bucket do you fall into? But there's a lot of people like Michelle and just like she just said, like maybe she'll add it and then she'll like, doesn't want to make her decision. Well, guess what? If she had clicked an Amazon Associate's link, that Amazon associate if she waits longer than 24 hours is not gonna get money, even if she purchases the product that she clicked on. But with Refersion, if there was a Refersion link that affiliate is going to get the money, even if it was 14 days.
Michele:
14 days, Yeah.
Bradley Sutton:
Very interesting. Very interesting. All right, so we've been talking a lot of strategy here and, and how people can use it, but what's maybe a real-life example from a Refersion customer that you can talk about where affiliates slash influencer marketing really worked out for them?
Michele:
Yeah, so one of our favorite customers Goorin Bros, which I don't know if you know about them, but they've been making really awesome hats
Bradley Sutton:
Hats, that's right up my alley. You could see my collection back here of all my million hats.
Michele:
Yeah. and they were founded in 1895, so they've been around for a really long time. But recently they have built just an amazing social media strategy around their brand. They have a really cool way of like they go in New York and LA and they approach basically strangers to do like photo shoots to model their hats, and they're just super authentic and just really, really awesome. But so their social media manager just kind of gets it and like decided we really need to take affiliate marketing seriously, and I really wanna start kind of building this out as a channel for the brand. And they did, they used Refersion, they signed on to Refersion and in their first year, they added a million dollars in revenue through affiliate marketing.
Bradley Sutton:
Just from an influencer and affiliate marketing through. Wow.
Bradley Sutton:
I think I need to be part of that as a hat influencer myself. I might need to hook up with them and I need to ask them for a Refersion link so I can get some commission.
Michele:
Yeah, and I think within their first year they also added, they added 600 affiliates. So that's just to give you an idea. Out of their 600 affiliates, and I think this is very common for many affiliate programs is that there's the top 20, 30% that are really driving the bulk of those, those versions. So it's conversion. So just to give you an idea.
Bradley Sutton:
Yeah. I mean, guys, I mean, if you signed up that many affiliates, how in the world would you manually manage? That would be a nightmare to manage all their payouts and everything there.
Michele:
Exactly. Yeah. So you need that automation and like, kind of the streamlined workflow in order to scale a program like that.
Bradley Sutton:
Okay. We're gonna get into your 30-second tip of the day, but if you guys are interested to find out more information on Refersion the link to use is h10.me/refersion. Did I spell it right? Yep. All right. h10.me/refersion. That goes directly to the Helium 10 website, and then it'll take you to get some more information on this. But you've been talking tips and strategies throughout today, but what's our TST 30-second tip that you can give us about anything you want?
Michele:
Okay. Yeah. So I'll just say if you're interested in affiliate marketing and like having a really high-quality affiliate, you know, network, I'd say get in touch with Refersion, get in touch with our publisher team. They create amazing partnerships with some of the best publishers out there. And that's definitely kind of like a shortcut to some really good success in affiliate marketing. So if you're really serious about it, I would definitely say get in touch and get in touch with our experts, and yeah, we can help you.
Bradley Sutton:
Interesting. I didn't even know there was a such thing as that. So you're, you're saying that like publisher meaning like, like online publications or actually actual hard copy publishers as well.
Michele:
Oh, well, most of the traditional media companies now have their really strong online presence, so the review sites like Wire Cutter is a New York Times Company, and Forbes does their reviews. Apartment Therapy of course is a big one. And we have relationships, direct relationships with publishers like that, and we have a publisher team that matches, plays matchmaker, and matches brands with, you know, the right publishers. And that's just something really cool that I don't think people know a lot about. And I really recommend that brands learn about it and build that into their strategy.
Bradley Sutton:
Very interesting. Sometimes I'll be on like, let's say CNN or Fox News, and then at the bottom of the homepage they'll be like, Hey, here's like the top 10 Amazon products we love. I'm like, this is not like a news story. It doesn't say sponsored. It's not like one of those, But is that like, is like CNN and Fox News, like they probably have affiliate links themselves for some of these products.
Michele:
It's the same. Yep. It's the same kind of format. And another example is Bustle Media Group. They own a ton of those kinds of media publishers. But yeah, that's another example is yeah, these like top 10, this top 10 that, and you see those, you see those everywhere. And that's really what we're talking about. And that's, I mean, imagine getting your product on one of those lists and the amount of scale that you can take that and you can go with that. So definitely.
Bradley Sutton:
Cool. Well, I thank you so much for enlightening me and our audience here on all the stuff that you do. It's gonna be definitely fun times as we, you know, incorporate Refersion more and more into what we do here Yeah. At Helium 10. So again, guys, if you want more information, h10.me/refersion, let them know that you heard about it from the podcast with Michele. Look forward to seeing you at the next, Helium 10 event or whatever event we're at. And if I'm up in Portland I'll be expecting some fire on the mountain wings followed by a dessert of voodoo donuts.
Michele:
Yep. That sounds great. Awesome. Thank you so much.
Bradley Sutton:
Thank you.
---
Enjoy this episode? Be sure to check out our previous episodes for even more content to propel you to Amazon FBA Seller success! And don't forget to "Like" our Facebook page and subscribe to the podcast on iTunes, Spotify, or wherever you listen to our podcast.
Get snippets from all episodes by following us on Instagram at @SeriousSellersPodcast
Want to absolutely start crushing it on Amazon? Here are few carefully curated resources to get you started:
Everything for your business on Amazon.
Find out more about our products by signing up or speaking with one of our
Customer Success representatives today. With us in your corner, you can enjoy
more sales and increased engagement from your Amazon business.
Chat with a Support Specialist