Episode 87 – Take Your Job on the Road; Here's How to Sell on Etsy
Episode 87 of the Serious Sellers Podcast hosts Jay De Souza, an Etsy expert and print on demand specialist who's here to tell us how to sell on Etsy.
Updated on: October 6, 2020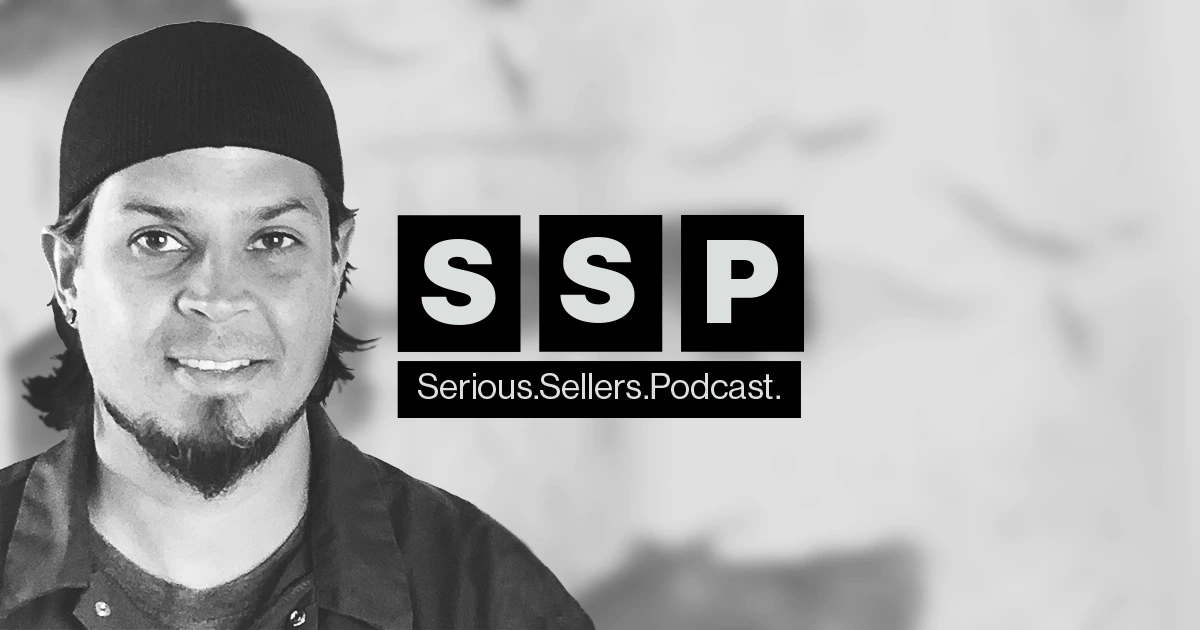 It's already cold in Toronto, and he'd just left sunny California.
Maybe that's why the idea of working three or four hours a day while traveling to warm climates resonated so much with today's guest.
It's funny, because to hear him tell it, it all began on rainy days back in that northern Canadian city when his mother would keep him out of trouble by employing stacks of paper and a box of crayons.
Somehow though, it got him started on the road to drawing and design and ultimately Etsy, which is why he's here today.
On this episode of the Serious Sellers Podcast, Helium 10's Director of Training and Customer Success, Bradley Sutton welcomes Jay De Souza, an Etsy strategist and an expert on print on demand merchandise.
He's here to tell us how to sell on Etsy.
We all know how to crochet, right?
OK, Jay will back me up on this. Etsy isn't just for handicrafts and made by grandparents enjoying their twilight years.
It's a bustling eCommerce platform, mirroring both Amazon and Facebook in its function and now that they are allowing production partners, your ability to scale is no longer an issue.
Here's how Jay got started on his Etsy path.
As I mentioned in the beginning, he'd always been creating images dating back to those rainy days in Toronto as a boy. It was much later after accepting a job offer just two years into a college graphic arts program, that he started to put significant time and energy into the idea of creating his own designs and selling them online.
Still, that wasn't paying the bills.
He had been working in the steel factory and taking college classes.
Later, he spent time working with Canada's version of the Yellow Pages as well as in Information Technology for a local bank.
He had reached a point where he "couldn't take it anymore."
So, with his wife's blessings, he quit his job and threw himself into Etsy full time. He put up designs on Kijiji, Canada's version of Craigslist, and immediately found success creating inventory for "Print on Demand" manufacturers.
The problem was that his success wasn't making him enough money so, he made a few adjustments to his business model that would increase his profit. The first thing he did was to exert greater control over his supply chain.
That meant working with screen-printers and using his home as a warehouse for his product.
He was saving (and making) more money, but in terms of lifestyle, it was taking him farther and farther away from his desired lifestyle.
Ironically, it was another Print on Demand company that reached out to him at that point. They loved his designs, wanted to represent him exclusively, and were willing to pay him enough money to make possible a financial middle-ground that would allow him to live the life he wanted.
Jay says that while he's happy to work 60 to 70 hours a week when he's home, that happens much less often now.
Travel is in his (and his wife's) blood. They love it.
Now, he enjoys a mobile lifestyle, when on the road works three to four hours a day, and though he's making less than he could, he's living the life he had always dreamt of.
Listen in because maybe you might want to take your job on the road as well.
In episode 87 of the Serious Sellers Podcast, Bradley and Jay discuss:
02:00 – A Rainy Day, a Stack of Paper and a Box of Crayons
04:00 – A Job Offer After His Second Year of College and He Was Gone
05:00 – What Exactly is the Etsy Platform?
07:11 – How Did He Find His Way to Etsy?
09:02 – On Kijiji, Canada's Craigslist a Design Business Begins
12:10 – Supply Chain Growing Pains
13:30 – Taking His Act on the Road Was the Idea
15:15 – When Not Traveling, It's a Real Workweek
18:35 – Etsy Can Be Edgy
21:15 – Who Can Sell on Etsy?
23:30 – How do the Platform's Sellers Source Their Ideas?
25:40 – Your Customers Will Tell You What They Want
28:16 – Jay's 30 – Second Tip
29:08 – How to Reach Out to Jay
Enjoy this episode? Be sure to check out our previous episodes for even more content to propel you to Amazon FBA Seller success! And don't forget to "Like" our Facebook page and subscribe to the podcast on iTunes, Google Play or wherever you listen to our podcast.
Want to absolutely start crushing it on Amazon? Here are few carefully curated resources to get you started: