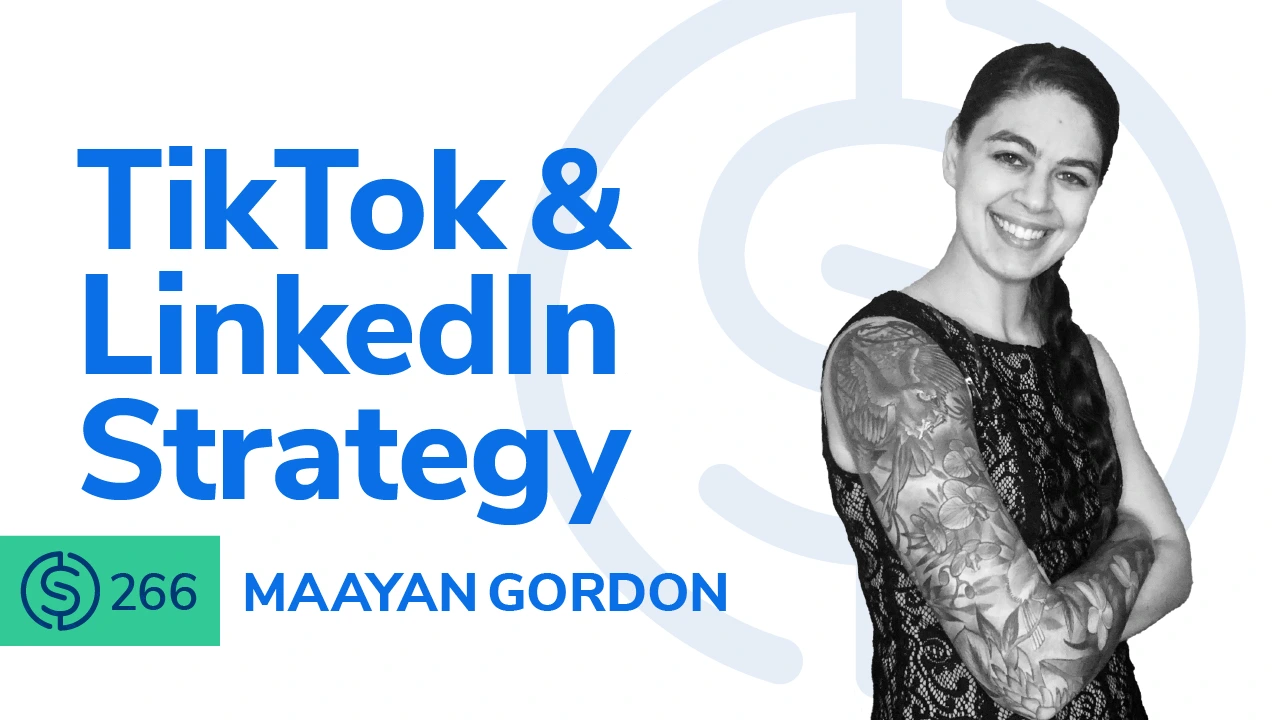 #266 – Here's How TikTok and LinkedIn Can Power Your E-Commerce Business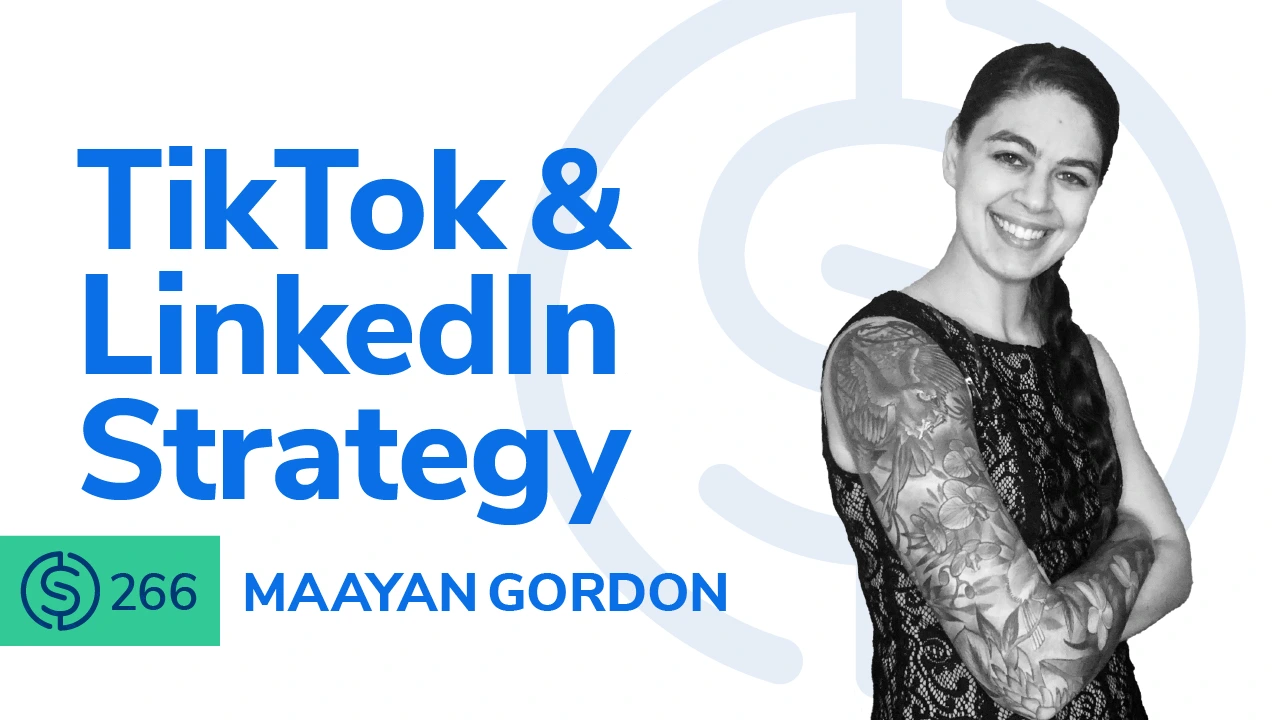 The e-commerce world is known both for its rate of growth and how quickly it can change. Still, that's nothing compared to the volatility of social media. In the last year, some of the major social media companies such as Instagram, LinkedIn, and TikTok have exploded as they are re-purposed as advertising funnels for entrepreneurs looking to take advantage of their ever-widening customer base.
Increasingly, TikTok isn't just an online clubhouse for kids with trending dance moves, it's also a great new place to expand your e-commerce business. Today on the Serious Sellers Podcast, Helium 10's Director of Training and Chief Evangelist, Bradley Sutton welcomes Maayan Gordon, a TikTok and LinkedIn Consultant as well as an expert in social media psychology. With over two million followers on TikTok, and a background in Amazon and online sales, she's perfectly poised to help you expand your own business on the platform.
Neither e-commerce nor social media are going to slow down any time soon. Make sure to listen in and take advantage of Maayan's tips. You won't regret it!
In episode 266 of the Serious Sellers Podcast, Bradley and Maayan discuss:
04:00 – Growing Up with the Internet
04:30 – Starting with Instagram
06:30 – Tips and Tricks that Work with Human Beings
08:30 – LinkedIn – Relationships Built Through Connections
11:30 – Don't Focus Too Much on Your Numbers
13:40 – Understanding How TikTok's Algorithm Works
16:40 – A Real Business That Sells on Amazon
20:00 – How Do Amazon Sellers Find the Right Influencer?
25:00 – Structuring a TikTok Deal
27:45 – The Origins of TikTok
29:00 – TikTok Content Strategies
34:00 – On a Short TikTok Video, Colors Matter
35:00 – How to Find Out More from Maayan
Transcript
Bradley Sutton:
Do you know that Tiktok isn't just about doing viral dance moves, but it's a great way to expand your online business. Today, we're going to talk to one of the most knowledgeable people out there on growing both your LinkedIn and your Tiktok reach. She has over 2 million followers herself on the platform. How cool is that? Pretty cool, I think.
Bradley Sutton:
Hey guys, we've had a few guests here on the podcast that worked for Thrasio. Now what Thrasio is, is they're a company that acquires leading FBA brands from small business owners, just like you, they've got the experience of acquiring over 125 Amazon businesses. So they've seen it all when it comes to managing and growing an Amazon brand. So if you are thinking about selling your FBA business, visit thrasio.com/helium 10 to connect with Thrasio's deal team. That's thrasio.com/helium 10. For more information on if your brand is a good fit for Thrasio.
Bradley Sutton:
Hello everybody. And welcome to another episode of the Serious Sellers Podcast by Helium 10. I am your host Bradley Sutton, and this is the show that's a completely BS-free, unscripted, and unrehearsed organic conversation about serious strategies for serious sellers of any level in the Amazon world. We've got somebody who I don't think is an Amazon seller, but definitely helps a lot of Amazon sellers out there. Maayan, how's it going?
Maayan:
It's going great. Thank you so much for having me on the podcast.
Bradley Sutton:
I am delighted to have you here. Now, here's one thing I've known about you for a while. Like the first time I think you came on my radar or when I first heard your name was probably like a year and a half ago. I think you spoke at a woman's conference that I was just, I didn't attend the conference, but I went there to like set up a booth and I just looked at the schedule. I was like, wow, somebody who's an expert on Tiktok and things like that. That's pretty cool. And then I heard of you at different events and seeing you, but I'm like, you know what, one day I want to have her on the podcast. What I do is I purposely try not to find out too much or do too much research, because I like to find out about you, like the same time everybody else is. So, this is our first time officially talking and getting to know your backstory. So I know you probably talk about it all the time, but you just told me right when we were off air that you're in Spokane area. Is that where you were born and raised or you come from somewhere else?
Maayan:
Yeah, so I was born in Providence, Rhode Island, but I actually moved over to Seattle Washington with my parents when I was about two years old. So, I've got zero memories of being over on the east coast and spent most of my life growing up in Seattle. Then, I went to college for just three semesters, so a year and a half down in Los Angeles at Occidental. And after I dropped out had a bunch of kind of adventures but ended up back in Seattle for a little bit before me and my husband, wanting to figure out where we wanted to have a family and where we really wanted to find a place that we could call our home. And we discovered Spokane, Washington, and just fell in love with it right away.
Bradley Sutton:
Cool. Cool. Yeah, I've been there back in my old Zumba traveling days. I used to do some classes out there in Spokane every now and then love the most of the year, a lot of the year. I liked the weather, like the deep of winter is a little bit cold, but rest of the year is pretty good. And the air is so nice.
Maayan:
Yeah. We got a lot of trees up here in Washington State, that's for sure.
Bradley Sutton:
Indeed, indeed. Now, what did you originally go to Occidental for? Like, what was your plan major?
Maayan:
Yeah, so I was going to be a chemistry major because my entire life until I dropped out of college, I was a hundred percent sure that I was going to be a veterinarian. And mostly that was because I just was very unaware of the real breadth of options. Like I'd never heard of someone who had really their own business. I had no exposure to the entrepreneurial world and certainly the internet. I'm that perfect age where I grew up with the internet. So, I remember the first social media platform, which was aim instant messenger. And I remember my space and all of the changes that happened. And they really kind of opened up new opportunities that my parents had never had. And so I never really knew about them until I discovered them myself.
Bradley Sutton:
Okay. Now, when did you first really go part and heavy into the social media? I mean, people, everybody uses social media, but then you've taken it to like about 17,000 levels above that. Was it Tiktok? Was it LinkedIn? I know those are your two specialties or was there something else that went viral, I guess you could say?
Maayan:
Yeah. So I started out with Instagram and this was about 10 years ago with my first business. So this was before, I mean, LinkedIn at the time was basically an online address book and there was no content component. There wasn't a social component. And Tiktok obviously didn't exist yet. So, Instagram and Facebook are kind of the two main platforms. And Instagram I found was just an excellent tool for me to combine with my website. And at the time I actually did have a product in my business listed on Amazon and all three of them were just like a trifecta for getting wholesale orders. So, we did a lot of wholesale and it was just so convincing for businesses to be able to check out our website, be able to check out our Amazon listings, but then also see the social proof and that their customers that they already had were interested in the product.
Bradley Sutton:
Okay. Okay. Interesting. So then what was the next big social media platform for you to expand your business on?
Maayan:
Yes. I mean, it was just Instagram for eight years until about two years ago. And then I hopped on Tiktok and that exploded really quickly and about the same time that I hopped on Tiktok. I also hopped on LinkedIn and that's been a phenomenal LinkedIn's for sure, my favorite platform.
Bradley Sutton:
Cool. Now, I swear this is what it said, but I think I saw like your LinkedIn profile, like you have a little video on there, and then I think you start off saying like, you are a social media cycle psychologist. Is that what it said?
Maayan:
Yeah. So I've changed the wording just a little bit. So, I should probably redo that video, but I kind of coined myself as an expert in social media psychology. Compared to a lot of people might be good at hacking an algorithm or these tips and tricks that only work for a period of time. But what I focus on are the tips and tricks that work with human beings. So thinking about social media, just as a form of communication and realizing that communication is very patterned, very well studied and very well understood in terms of how we relate to different types of communications through digital space. So that's kind of my area of focus.
Bradley Sutton:
Okay, cool. Now let's stay on LinkedIn for a little bit. For the traditional Amazon seller, you've been in the space a little bit and dealt with people. If you don't know this you'll know this soon, but like 95% of Amazon sellers are like so secretive like you got to sign 17 billion NDAs. If I'm going to even tell you what category I sell in, let alone my product. But I can't, I'm not sure if I envisioned too much use for just like the typical Amazon seller, unless they're trying to network. But one thing that has really increased in the last few years is people who start being proficient on Amazon. They want to start a course or they want to start like an agency, or something, you know, like where they're networking with other sellers. So like for that kind of persona, or even just somebody like me, like I'm not trying to start anything. I worked for Helium 10, but obviously, I would love to get my– I'm not trying to be secretive about what I do. Like an Amazon seller. I want to get help Helium 10 grow. Like how can somebody like me or somebody who's an aspiring agency starter or consultant or something like that? What are some like easy wins for us?
Maayan:
Yeah. So specifically when it comes to LinkedIn, like there's a bunch of different ways to engage with people, but I think at the heart of everything it's what do you believe? Like, what do you believe to be true at a core level about the world and in your worldview and human beings? So part of the reason that I operate in the specific way that I do is because I believe a couple core things. One is that people are good and they want to do good. Two is that people are the unlock key it's who you know, not what you know. And obviously, you got to know some things, but in terms of every single hyper, hyper successful human being that I've seen build large companies, achieve the things that I want to achieve in this lifetime. It's because they've known other people who've been able to help them support them, connect them, give them resources, work together with them. And so if that's how you believe in operate, LinkedIn is the perfect place to build those relationships, build those connections. And the easiest ways to just do that are commenting on other people's posts and adding value and adding your insights. And I would say, be interesting. A lot of people think that maybe they don't live an interesting life because they're comparing their life to other people's lives. And obviously, we all live in our own lives. And so what might be boring to us is actually fascinating to other people. So just sharing who it is you are, what are your core values? What do you stand for? What do you believe in? And what are some interesting things that you've done in your time here on this planet?
Bradley Sutton:
Cool, cool. Now, there is something that– I think I was making a mistake on LinkedIn. You tell me what's the proper etiquette. So like, I was like, man, I was kind of treating LinkedIn, like, I don't know, like Facebook or Instagram. I was like, man, I just need more connections. And then it's going to be cool. But then I realized, I was like, wait a minute, once it goes 500 plus like I hit 1000, I hit 1500. And then I'm just like accepting all these random people that I have no idea who they are, or I don't know what their network is. What should I have done?
Maayan:
Yeah. So I think everyone's going to have different answers to this question personally, again, based on the core of what I believe is every single human being has massive potential. And just because someone isn't your ideal relationship or ideal person you're looking to connect with now, doesn't mean that they won't be in one year, five years, or 10 years down the road, and people want to do business and want to help and support people that they're familiar with. And that they know. So personally I accept everyone's connection requests because who am I to judge whether or not they have value? That to me is an arrogant type of way to think. And I certainly have no idea what most of these people are up to, what they're planning, what they're working on, just what you see on their profile is not always what they're working on. I would say a good example of that are some friends of mine that a lot of people might know, Avast and Melanie from Avast. Angelo's from Avast and they haven't updated their profiles in 10 years, I'm working on updating them right now. So don't worry. They're about to come out with some super fire new stuff on their profiles, but she's an amazing, incredible person that I have loved getting to know and network with. And I would be sorely at a disadvantage if I had just looked at her profile, made a judgment based off of that and then said, Nope, I'm not going to connect with you. But that brings me to kind of like my next point, which is people often are distracted and focus so much more on numbers when numbers are not the point, the point are communications. So I think where you're making a mistake is you're thinking that the end game and the end goal is to grow the number of connections that you have when the end game and the end goal should be to grow the number of deep relationships that you have and relationships are built through conversation. They're not just built through the click of a button, so to speak.
Bradley Sutton:
Okay. Now, I like what you talked about. About commenting other people's posts and stuff. So, keeping active with my newsfeed there and trying to engage. Absolutely. That sounds great. But what about on my personal feed? Like what kind of things should I be doing original content? Should I be sharing content I write like on other sites onto there, should I be making videos that are LinkedIn only, should I be doing lives? What are some best practices there?
Maayan:
Yes to all of it. There really is no bad type of content. It's really are people interested? Is it bringing them value? Is that relatable to them in their lives? And if the answer is, yes, it doesn't matter what format that comes in. So I do a mix of, here's some examples of the mix of content that I do. I will share stories from my past, with the lessons that I've learned from them. Sometimes I will curate content from a news story that I saw and say, Hey, oh my God, you guys, this crazy thing just happened in the news. Have you heard about it? Sometimes I will share a tip or three tips that I learned on how to make great Tiktok videos. Sometimes I will post polls and be a host or a moderator of a conversation or a discussion, right? So all of those are really valid forms of content it's really about are you creating content that your audience that people care about and want to engage with?
Bradley Sutton:
Makes sense, makes sense. Now let's switch over at Tiktok. Now, last I checked, you had something like 2 million followers on Tiktok, but just out of curiosity, how in the world did that happen?
Maayan:
Yeah, it happened through the power of really the Tiktok algorithm. So Tiktok, so you need a platform where you don't have to go comment and engage on other people's posts. You just have to create content that goes viral. And so I figured out some elements of how the algorithm worked and partly how I figured that out is because it's so well mirrors human psychology. And that's kind of where that expert in social media psychology comes from is technology has really advanced to operate very similar to how human beings actually think and behave versus before it was very simple coding where it was person takes action A and action B happens. And now there's so much variance and so much more nuance to this coding and these sets of rules that these social media platforms run by. I was able to figure out, oh, okay, this social media platform works based on these factors and these factors. And so in about four months, I was able to grow to more than a million followers because I was able to tap into massive sources of attention that people were already paying that attention to other things. And then I was able to kind of gravitate my content towards those other elements that people were really interested in.
Bradley Sutton:
How does that happen? I could tell that there's a popular dance or that there's a popular subject, but it is– that doesn't mean I know how to like take advantage of it. Is it like hashtags or is it just naturally posting it and organically because of how the algorithm works? It will– it's kind of like if you build it, they will come kind of thing.
Maayan:
Absolutely. So think about it this way. On any given day before I even look at social media before anything happens, my focus and attention will be geared towards specific things. A great example of that is around holidays, right? So leading up to Christmas, I am thinking about Christmas and so are billions of other people. So if I create content that is about Christmas, people are going to be interested to see that because they're thinking about Christmas, so that that's more or less how it works is really understanding. Okay. What are some things that the world is thinking about and interested to see content around and can I create good engaging content within that category?
Bradley Sutton:
Okay, excellent. Excellent. Now let's kind of take it closer to home. As far as our– we have about 80,000 listeners per month on this podcast, I'd probably say 90% of them are Amazon sellers. So I think one question might be like Tiktok that they can probably see the potential there, but then it's like, okay, am I looking for influencers on Tiktok? Am I making a Tiktok for my brand? Or am I doing paid ads on Tiktok that lead people to my Amazon store? Or is it a mixture of the three or all of the above? Or what's the path here?
Maayan:
Yeah. So, I think it's going to be different for each person based on really what it is they want out of their business. And one of the interesting things I've seen just in the past six months that I hadn't seen in the past previous 10 years is that a lot of Amazon sellers are finally starting to think about themselves as a real business that sells on Amazon instead of an Amazon business. And so what I mean by that is if you are someone, especially who has a private label product, that is your product, that is your brand, and Amazon is just a sales channel. So Tiktok can be a sales channel. Tiktok can be a brand awareness channel. It can be a place where you can really grow your overall business if that is how you think. And if that is what you are looking for. Now, to kind of– on the other side of that, there still are a huge number of Amazon sellers who only care about Amazon. In that case, they're going to have a completely different strategy than someone who's really looking to leverage the platform to grow their entire brand and their entire business.
Bradley Sutton:
Okay. Okay. Now on your LinkedIn on the very top, it said something about a million dollars worth of sales. I'm assuming somehow, was that the part of the Tiktok related? And if so, what does that mean? Like where did that come from?
Maayan:
No. So that's through Instagram. Instagram is an amazing product sales platform. So in my glass blowing business directly through Instagram, I have generated more than a million dollars in revenue and about a five-year period total through that. So that was– I had this kind of crazy cool concept that I was going to run auctions through Instagram posts. So I would post up a piece of glass, I'd have the auction rules, people would bid in the comments, and then I would send them a direct message, grab their PayPal email address, send them a PayPal invoice, and kind of close the deal with that. And we ended up doing four out of those five years, really solid, about 30 to 50 sales a day through that plus our wholesale orders. So it stacked up pretty quickly. I mean, we were working a lot and we had some pretty nice vacations in between. But it was a massive amount of work to be able to kind of pull those numbers, not only on the sales side but again, every single one of those transactions came with communication. And that's really where I developed a lot of my skills around being able to sell through social, being able to understand why is someone spending money on something they absolutely don't need? And what I mean by that is we had these customers who would buy 30 to 80 of the same piece, just all in different colors. And they build up these little collections. And to me, it was a bit flabbergasting because they just kept coming back for more and more. And so I really picked it apart and analyzed, why are some of these people such good customers, if something that certainly they could go spend their money anywhere else, like this is not solving a particular problem in the classical sense that we think a product must sell a problem that a customer has. And I realized that the biggest problem, all of us have is that we're looking for more human connection and we just want to be happy and we want to feel loved, and we want to feel like we've gotten great friendships.
Bradley Sutton:
Absolutely. Now, I want to just give you just some random scenarios here. I'm just going to come off the top of my head, and then you tell me what's the best path. So, let's say, not every product might be good for Tiktok like, um, I don't know. Like there's probably a bunch of like a replacement part for an air filter Hey, looking for a Tiktok influencer might not be the best way to go there, but let's say it's something like we have our Project X that we did here at Helium 10, where we just showed everybody the process on YouTube of finding a product and launching it, and they're still popular products. And one of them is like a coffin shelf. Like it's a little, just a desk shelf that's shaped like a coffin, and like Gothic decor people are really into it. So that to me, seems like more of the avenue, like finding an influencer to do a post. So if we're talking about the specific lane of, I want to find an influencer to hopefully get more eyeballs on my product, first of all, how do I find that influencer? And then how does the relationship work? Like, what am I asking them to do? And then what are those people doing?
Maayan:
Yeah. So to find influencers, you're probably the best way to do it is to search hashtags. So, in the example that you gave me, you might search #coffin, #darkhumor, anything that would relate at all to not just your product, but the brand personality that your product has. So again, like a coffin shelf, I would say, is probably would have a personality of again, dark, right? Like death related, possibly goth, like that could be another kind of personality hashtag search. And then you look at content and after clicking through content, you would look at people's specific accounts. And again, just kind of looking over the general content that they're posting does their personality, does their page create the same emotion that you're trying to create with your product. And if you haven't done an emotional mapping for either your product or your customer journey, that would probably be the best place to start. And I definitely do run into a good number of Amazon sellers who they're like, oh, this product just solves a need, right? Like a lot of Amazon products are need-based, that doesn't mean that your product is without personality. And so really understanding that every single product has a personality is really important and then just matching that product or that brand personality with an influencer's personality and their content.
Bradley Sutton:
All right, guys, quick break from this episode for my BTS, Bradley's 30 seconds. Here's my 30–second tip. We've been talking in this episode a little bit about spreading the love on Tiktok, getting people to your Amazon listings into your brand, but a great way to do that is instead of sending them just straight to your listing, whether you're using an influencer or your own page, send them through sometimes two-step URLs. All right. So two-step URLs that give you– that have people search for a certain keyword, before getting to your page, like the two-step brand URL or the two step field ASIN URL are great. You can actually get those for free at helium10.com/ gems. The more advanced ways actually, and better ways probably sending them through a portal or a landing page. So, if you guys have a landing page service that you use, just go ahead and use that. If you're a Helium 10 member, make sure you use Portals. And then the advantage of that is sending them to a landing page first. You can collect their email address before they get to your Amazon page. Then they're your customer. If you just send them directly to Amazon, sure. You'll get the sale maybe, but now they're just Amazon's customer. You'll never be able to market with them. So get their email address or contact information first. You can do that with Helium 10 Portals, more information at h10.me/portals.
Bradley Sutton:
Before we talk about what the action is, let's say I find somebody, I personally don't know enough about Tiktok to this, I'm sorry, Tiktok people out there. If this is a dumb question, but how do I contact him? On Instagram, I know how to do that. I find somebody's profile, there's a message button there. Or sometimes they have their contact information, but on Tiktok, how does it work?
Maayan:
Yeah. So on Tiktok, you should contact them through Instagram. So, Tiktok has a feature that on people's profile page, they can link through a little Instagram icon button directly to their Instagram page and directly to their YouTube page. So that's absolutely the best way to reach out to people unless they have their email address listed in their bio, kind of like their little description portion of their bio. That's also a really excellent way to get in touch with them. And if they have that, it says, Hey, I'm open in wanting of communication through this channel.
Bradley Sutton:
Okay. Makes sense. All right. So, now I found this Gothic person or spooky person. And now I contact them and they're like, yeah, I'm down to collab with you. What do I tell them?
Maayan:
Yeah. So, I think there's a lot of different ways to structure a deal. Like if you're unsure, you can always ask the influencer. It'd be like, Hey, I'm new as a brand. And I don't necessarily know what you would normally charge. Have you done other deals like this? I get kind of the same way you might vet a service provider. Because really they are a service provider, right? They're going to provide you with a service in exchange for some type of payment, ask them for some references, ask them for what's worked best for you when you've done promotions with other brands and just gather some information through asking questions and then you can work on structuring a deal based on what your budget is, what their rates are and finding some hopefully common ground in between.
Bradley Sutton:
Okay. Next step is what am I asking them to do? Like is it best to do unboxing or do they do a longer form video talking about my product or try and make it as organic as possible? What's the best way?
Maayan:
Yeah. So again, the content creator is going to have much better ideas than you are as the brand. Typically not see you can't come to the table, having done some search on other people's videos and say, Hey, like, I really like these three videos because of reasons X, Y, and Z, could we do something similar along those lines, but having a discussion of what do you think would be the best way to promote this product on Tiktok. Typically you want to keep your videos pretty short. So, the 15 second range is normally where videos go viral, not to say that you can't do a minute long video and have it go viral. But it has to be really, really well done. There typically has to be a lot of work and a lot of storyline and a lot of hooks and turns and twists within that single minute because people have very, very short attention spans on TikTok. So, keeping it really short, but just asking the creator, Hey, like what do you think the best type of content to make to achieve this result is? So it'd be really, really clear as the brand, what are you looking to achieve? What is success in this influencer marketing deal look like? Does it look like a viral video? Does it look like conversions? Does it look like comment engagement? What is it just really good content that you can share on your other social media is like your Instagram reels put on your website is social proof in a testimonial. What is success look like?
Bradley Sutton:
Okay. And then, I don't know, maybe from things that you've helped with or people in your network that you've heard of somebody who has done something like this and Amazon seller reached out to a TikTok influencer or influencers and did something, and these were the results, like any stories off the top of your head?
Maayan:
I am a part of a new startup that is connecting China Amazon brands, very specifically to US and European based influencers. And the reason for that is because over in China, I'm sure a lot of you guys know there at least two, three years ahead of where we are here in the US in terms of e-commerce in terms of social media platforms, specifically around short form video. And for those of you who don't know, TikTok was spawned from– or created from a company called ByteDance. And it is almost the exact same coding as an app that they've had for a good number of years, which is Douyin and Douyin is TikTok, but it's in China. And about the kind of a digital wall where we can't see anything that's over in China and they can't see any of the content over here in the US so there have been a good number of brands. And this is why this startup kind of was created that over there used maybe 150 to 200 Douyin, AKA TikTok influencers, but over in China, and they were so successful in terms of promoting the brand that they were able to launch onto the publicly traded market. So these companies went from doing several million dollars to having market valuations in the billions.
Bradley Sutton:
Wow, wow. So, what was some of the things that they did like do you know any of the content that they were doing, like what really worked for them? Was it the unboxing or was it just a unique content and fun, like humor based things, dancing based things, music based.
Maayan:
Those are great questions that I'm going to ask my co-founder because again, obviously, I don't have access to Douyin as an app, so I haven't seen a lot of the content that they've been posting over there. And kind of the relationship I have within this company is I'm really focused on acquiring and developing the US influencers and onboarding them. And then my partner, Leo, the reason is he started this whole company because he worked for Amazon for about 10 years. He actually just retired last week. And he helped and went from Seattle to China to help them launch their whole program out in China. And he's onboarded, five, 6,000 China brands onto Amazon and help them sell their products on there and establish themselves. So, he is the one who has all of those awesome details into what those brands are doing that are working really well. And this relationship is relatively new. It's only been one or two months since I've been a part of this company. So, I've certainly got a lot that I'm going to be learning, and really excited to learn about that. I'm going to be able to take to Amazon brands and really help them out and say, here's what's working over in China. Here's why it's working. And this is something you absolutely can apply over here in the US.
Bradley Sutton:
Okay. Now, what if– you talked about Amazon brands. What if I am an Amazon brand and I'm not trying to make my own personal profile under my name, but then like for example, that coffin shelf brand name on Amazon is Manny's mysterious oddities. So, if I wanted to make a Manny's mysterious oddities TikTok profile. Like, what would I be doing? Like, should I be posting every day? Should I just be reposting things that other influencers make? What kind of original content should I be making if my end goal is I'm just trying to like, get more exposure for my brand out there, and then hopefully, organically people just end up on Amazon later.
Maayan:
Yeah. I think really looking at again, what are other creators doing that's working because when you asked me a question like that, there's literally millions and millions of variations of videos that are working. So, what you decide to create– so to answer your first question, yes. Original content, sharing other people's content, isn't going to work super well unless you're using some of the features like the duet feature and the stitch feature, which are native to the app for people who don't know what that is, the duet feature has someone else's video right next to your video. So, the screen is split in two, on one half is someone else's video on the other half is your new video that you're going to be doing. The stitch feature takes the first five seconds of someone else's video. And all you see full screen is that person's video. And then it cuts. And all of a sudden now you're able to film content. So those are kind of the two ways that you can really incorporate other people's content that have worked really well. In general, though, creating original content is really how you can tap into virality. It's how you can build brand awareness in a really significant way. And it's how you can leverage some of your success on TikTok to other areas that can drive traffic really well. So for example, I'm sure most of you guys know articles and backlinks, right? Getting featured on people's blogs, getting featured in Yahoo finance in any of the major publications online that can drive a pretty good amount of traffic. And a lot of times you can get featured in those types of publications or on blogs because you're doing TikTok content that is performing well. Like right now, people are really interested in businesses that are using TikTok is just, again, tapping into that major attention source and leveraging it for your specific goals.
Bradley Sutton:
Okay, cool. Do you do much on the paid side of TikTok? Like, do you advise at all on doing running paid ads?
Maayan:
Personally, I don't, because there are a couple companies out there. The one that I know of that does a really good job is called Modo25™. And literally, all they do is paid advertising on TikTok. They've been doing it for about two years now, and they've got hundreds, if not thousands at this point of campaigns that they've run with brands. So they have a way more data and experience around that. And I just kind of, I like to stay in my unique area of expertise versus trying to do everything.
Bradley Sutton:
Okay, cool. Now, we do something on the show we call the TST or the TST, 30-second tip. So, maybe you can give us like a few 30-second tips either about LinkedIn, TikTok, or just life hacks, anything in general. What are some quick hitters that you think are very actionable for our Amazon sellers out there?
Maayan:
I'll start with LinkedIn right now, utilizing the polls feature is one of the features that will drive the most engagement. So, if you haven't started using LinkedIn polls yet, go ahead and do it and just pick something that's a hot topic of discussion that people have a strong opinion about. Another LinkedIn tip is send a message to anyone who reaches out to connect with you. Remember it's all about conversations and building connections through relationships where there's value exchange. So, find out who someone is and why they're wanting to connect with you. That's a major way to build those relationships. And I'll do one more for LinkedIn, which would be use video even though video typically underperforms in number of views. Those views are super high quality because someone watching you in your face and hearing your expression and your energy for 30 seconds can have a much deeper and last more lasting impact than them just reading a text-based post.
Maayan:
So, I'll hop over to TikTok and do a couple of tips. So on TikTok, remember that in 10 to 15 seconds, you're not really using a whole lot of your active brainpower or thought processes. It's a lot of subconscious thinking and behavior. So that means a couple things come more heavily into play. One of which would be colors. Colors, we have evolutionarily been geared towards paying attention, even if it's just an extra second of our eyes lingering towards certain colors. So bright pink, bright orange, rainbow colors. Those can be utilized really well to grab people's attention. And in that same vein, another tip would be, make sure you're utilizing movement. There's a reason that sports bars have like 30 TVs in them. And it's because it captures your attention. You have a, it's very hard for a human being, not to look at motion. So make sure you're incorporating motion into your videos again, to grab people's attention. Another tip along the lines of attention, right? Because it's all about attention is have to capture someone's attention on a TikTok video in about the first second. People are getting into a swipe or a scroll mode kind of the same way people use to channel surf, right? Like when it would hit a commercial on someone's, just click, click, click, channel, channel, channel up through the buttons. People are having that same behavior on TikTok. So, you got to capture their attention really quickly and I'll do one more last tip would be, do not discount sound and audio again in a kind of subconscious consumption state. What we hear actually has a much more powerful effect than in our everyday life where we either tune out noises very easily and kind of create white noise, or where we have more time to think about what we're hearing. People do not have a lot of time to think about what they're hearing or seeing. And so sound can be a really powerful tool.
Bradley Sutton:
Okay. Wow. That's been a great help. And thank you for all this information as the first time we've ever had that we'd done like 270 episodes here. We've never talked to somebody who's a specialist in these things. So, we really appreciate it. I'm sure people might have more questions. So, how can they find you on the interwebs out there to reach out to for your services?
Maayan:
Yeah, I would say LinkedIn is probably the best way to get in touch with me. I spend the most time on that platform than any other platform, but Instagram is also a great way. So my LinkedIn, you just search my name, first name, last name. I should be the only one who pops up for that. And then on Instagram, it's Maayan Gordon media. So just my first name, last name together media on the end.
Bradley Sutton:
Awesome. Well, thank you so much for joining us today and maybe we'll bring you back in a year or so, and let's just see what has come about with that new partnership you just talked about.
Maayan:
Yeah, absolutely. That sounds wonderful. Thank you for having me.
---
Enjoy this episode? Be sure to check out our previous episodes for even more content to propel you to Amazon FBA Seller success! And don't forget to "Like" our Facebook page and subscribe to the podcast on iTunes, Google Podcast or wherever you listen to our podcast.
Want to absolutely start crushing it on Amazon? Here are few carefully curated resources to get you started:
Achieve More Results in Less Time
Accelerate the Growth of Your Business, Brand or Agency
Maximize your results and drive success faster with Helium 10's full suite of Amazon and Walmart solutions.