Episode 88 – How two Sisters Cracked the Amazon Code
Episode 88 of the Serious Sellers Podcast hosts Marcela and Emille, two Brazilian sisters telling stories about their Amazon business journey.
Updated on: October 6, 2020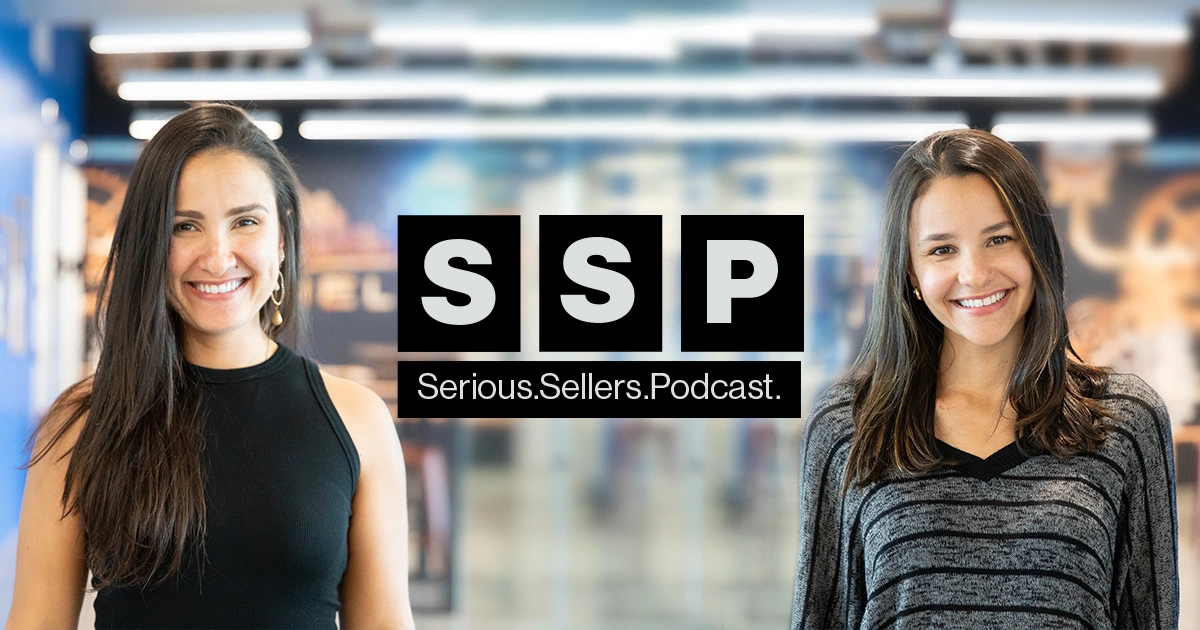 How could you let the ACoS get so out of control?
Does that sound like something that you've heard at your family's breakfast table while you're having your first cup of coffee?
It might be, if like today's guests you're working in partnership with your siblings to find success selling on Amazon.
One of the great things about starting an Amazon business is that the partnerships come in many forms.
Maybe you're working with your college friends. Or, you've decided to put the strength of your relationship to the test and create a business together with your romantic partner. Still others may be joining forces with members of an Amazon selling group.
What matters is that you're sharing the challenges and the thrill of success that comes with competing on the eCommerce playing field.
Today, on the Serious Sellers Podcast, Helium 10's Director of Training and Customer Success, Bradley Sutton welcomes two Brazilian sisters who are using their close bond to help propel them success on Amazon.
Marcela and Emille were both born in Brazil and come from a very close family. Marcela went to school for business and Emille graduated with a degree in engineering. According to the sisters, the town they're from is very much like San Diego in terms of climate.
It's not a surprise in that case that they've found themselves in southern California, pursuing an Amazon business together.
Marcela came to the US after working in sales for Groupon Brazil to work for a jewelry franchise and now works for a construction company.
Emille is still based in Brazil working as an engineer and makes trips to the US to visit and brainstorm Amazon opportunities with her sister.
It was a good friend of the two sisters back in Brazil who helped put them on the Amazon road.
A very successful businessman, he was having the same type of success on Amazon until he ran into trouble with the eCommerce giant, and had his listings blocked multiple times.
He was tired of fighting with Amazon and enlisted Marcela and Emille to take the selling of his products.
The sisters are both still working full time and moving slowly because though they have different yet complementary personalities, they're both cautious by nature.
They say that in the beginning when it came to a division of labor on Amazon, they both did everything together. Now, they've divided their efforts depending on their skillset.
They both say that it's a real advantage to work together because not only do they completely trust each other, they find themselves working extra hard because they don't want to let the other down.
And who has the final say on challenging decisions?
They say that the power to make those tough calls goes to whoever has the strength in the area they're working in.
Both Marcela and Emille say that watching Bradley's videos was their introduction to both Amazon and Helium 10 and that they continue to build their knowledge base through attending Amazon seller meet-ups whenever they can.
At Helium 10, we're all about family.
Listen in to hear more eCommerce tips from these sisters on the beginning of their Amazon journey.
In episode 88 of the Serious Sellers Podcast, Bradley, Marcela and Emille discuss:
01:40 – Here's How Marcela and Emille Ended Up on Amazon
03:45 – A Good Friend Passes the Amazon Torch
05:45 – 50K Per Week but Tired of Battling with the eCommerce Giant
08:00 – Now, it All Starts to Make Sense to Bradley
12:15 – Their Complementary Personalities Make the Partnership Easy
15:00 – Is Working Together an Advantage?
19:00 – The Final Say Goes to the Expert in the Field
22:15 – In the Beginning, it was Just Bradley's Videos
24:15 – What Were Their Obstacles to Success?
27:30 – Bradley – There's No Such Thing as a Wrong Number
29:48 – What Are the Sister's Goals?
31:22 – How are They Improving on their Friend's Business Model?
33:20 – Marcela and Emille's 30 – Second Tip
Enjoy this episode? Be sure to check out our previous episodes for even more content to propel you to Amazon FBA Seller success! And don't forget to "Like" our Facebook page and subscribe to the podcast on iTunes, Google Play or wherever you listen to our podcast.
Want to absolutely start crushing it on Amazon? Here are few carefully curated resources to get you started: