#339 – Helium 10 Search Volume Exposed?
What's the difference between Helium 10 search volume compared to Amazon's search volume tools? In this episode, Bradley dives into this topic and more!
Originally published on: April 16, 2022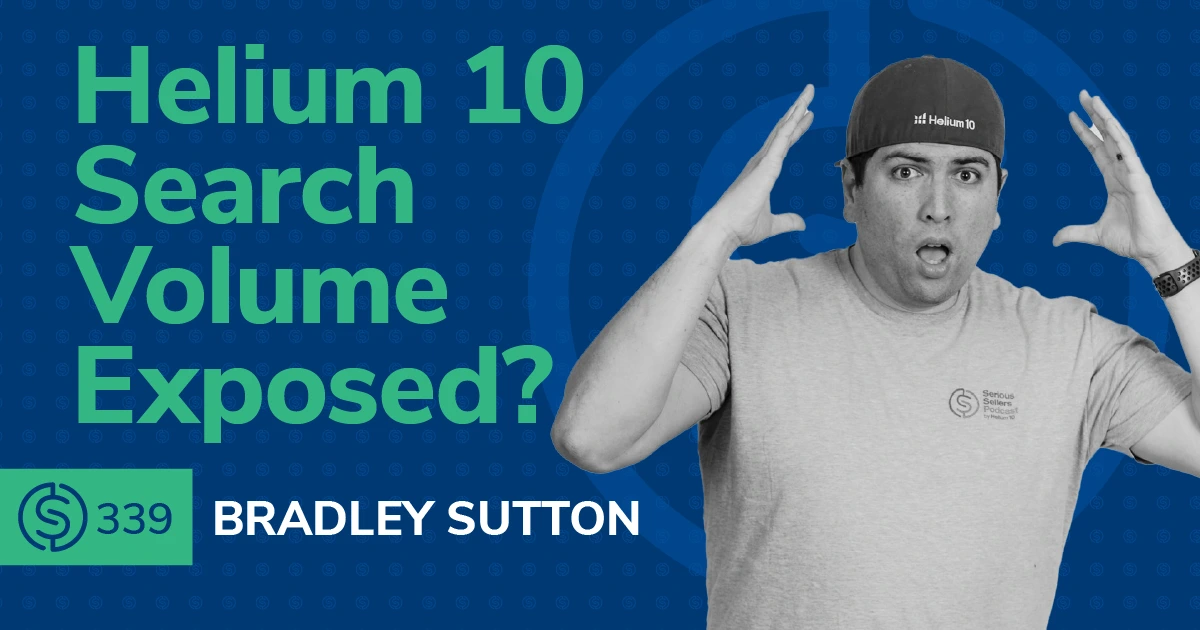 In this episode, Bradley talks about search volume. Why is it important? He also talks about its history as it relates to Helium 10 and takes a deeper look at Amazon's search volume tools. How does the Amazon Product Opportunity Explorer and Search Query Performance search volume data compare to Helium 10's data? Is Helium 10 still the way to go? Make sure to listen to the very end to see the results.
In episode 339 of the Serious Sellers Podcast, Bradley talks about:
02:00 – Why Is Search Volume Important In The First Place?
04:55 – Let's Talk About The History And Facts About Search Volume
11:30 – How Does Your Tool Match Up To Amazon Data?
13:00 – Amazon Releasing More Data Points
14:30 – Diving Into Amazon's Product Opportunity Explorer
17:00 – The Search Conversion Rate Column
18:11 – Data Discrepancies That You Have To Look Out For
23:18 – How Bradley Uses The Product Opportunity Explorer
23:30 – Let's Talk About The New Search Query Performance
27:20 – Helium 10 Data Compared To Search Query Performance Data
30:50 – Comparing Search Query Performance To Brand Analytics Data
35:00 – Checking the Search Funnel – Purchases Column
36:40 – More Discrepancies That You Might Find
38:00 – Search Volume Is Important To Know
39:20 – Take Advantage Of All The Data Points You Have
42:00 – Is Helium 10 Still The Way To Go?
43:10 – Show SSP Some Love With A Rating Or Review
43:30 – Bradley's Upcoming Schedule Of Events
44:00 – Get Your Tickets For The Sell And Scale Summit
Transcript
Bradley Sutton:
What's the difference between search volume in Helium 10 compared to the Amazon Product Opportunity Explorer search volume, and the Amazon Search Query Performance search volume. We're gonna go into this and a lot more so that you know, what you can use to help grow your business. How cool is that? Pretty cool I think.
Bradley Sutton:
As FBA business owners, we've put thousands of hours of hard work into growing our businesses, but what happens when you've grown the business, as much as you can and don't have the time or resources to take it to that next level, enter Thrasio. Thrasio has acquired over 125 Amazon businesses from owners, just like you with more than 600 experts at the top of their field in brand management, growth, marketing, creative, and supply chain Thrasio's operating team can grow your business exponentially once you've sold your business, simply celebrate a lucrative exit and watch your personal wealth grow while your brand flourishes in Thrasio's portfolio. To connect with Thrasio's deal team, visit thrasio.com/helium10 that's thrasio.com/helium10 for more information on if your brand is a good fit for Thrasio.
Bradley Sutton:
Hello everybody, and welcome to another episode of the Serious Sellers Podcast by Helium 10. I am your host Bradley Sutton, and this is the show that's a completely BS-free unscripted, and unrehearsed, organic conversation about serious strategies for serious sellers of any level in the Amazon or Walmart world. And one thing that's kind of important or should be important to any seller out there is the number of searches also known as search volume for different keywords. Now, why is this even important in the first place? You're creating a listing, right? For your product, on a platform, you own only have a finite amount of real estate or spaces to put keywords. You can't just put the entire dictionary of keywords into your listing. You wouldn't wanna do that anyways. So how do you prioritize what keywords to put in your listing? Well, the most important thing is relevancy obviously, right? You know, if I have a coffin shelf I'm not gonna put an egg tray keyword in my listing because that's not really relevant.
Bradley Sutton:
But I'm gonna put the word coffin shelf in there. I might put the word Gothic shelf. I might put the word Gothic decor, spooky decor, things like that, right? Maybe those are all equally relevant in my research I found, but how do I prioritize which ones I'm gonna focus on? Like which ones I need to kind of optimize my listing around so that the Amazon algorithm or the Walmart algorithm knows it important for these keywords, what are the one or two or three keywords I'm gonna try and get in my title, knowing that has the most kind of impact on Amazon SEO? Well, the way that we do that, if all things are equal, if we have a list of like, you know, 10, 20, 30 keywords that we think are all fairly equally relevant, the way we prioritize that is by search volume.
Bradley Sutton:
Now that makes sense, right? It's the demand for that keyword. And if your product is relevant to this keyword, the more that something is searched well, Hey, that should be your priority keyword because theoretically speaking, that means the more opportunity you have for a customer to see your product, think that it's relevant and then purchase it. You know, an example, let's say coffin shelf has 5,000 searches per month, but then another keyword like spooky decor has 300 searches per month. All right. That means, if 300 people are searching spooky decor, even if my product is very relevant to it, let's just say has a 10% conversion rate that keyword, well put potentially 30 people are gonna buy something for that keyword. And, for all like equally sharing amongst the top products, you know, maybe I'll get four or five of those, but for that 5,000 search volume keyword, let's just say that one has a conversion rate of 10%.
Bradley Sutton:
That means that there's 500 purchases that happen after a search of coffin shelf. Well, if we're all sharing that keyword and we divide it, you know, that could mean, Hey, all of a sudden, you know, I've got, you know, a hundred or something search or purchases of my product. So this is why search volume is important because it helps you again, prioritize what keywords that you are going to focus on. Now, let, let's just talk about the history of search volume as it relates to Helium 10, first of all, let's talk about Walmart.com cuz it is super easy. Actually, Helium 10 has actual search volume directly from Walmart, right? So what you see here in, like if you're in Magnet or Cerebro, when you see collagen, it says 20,000 search volume for Walmart. This is literally from Walmart. All right. This is not some kind of algorithm of them that is doing this.
Bradley Sutton:
This is Walmart providing this information. So this is pretty easy. And it's actually important that you make sure that you do not treat Walmart search volume and Amazon search volume the same. For example, take a look here, the collagen keyword has 20,000 searches on Walmart estimated on Amazon, about 180,000, you might think, okay, that makes sense, you know, that kind of ratio. But then take a look at this. The collagen powder is only 7,000 searches on Walmart, but 250,000 searches on Amazon. So that ratio is not the same. Collagen has more searches on Walmart than collagen powder, but it's the opposite on Amazon. Take a branded keyword like vital proteins collagen peptides. It's actually almost one to one, take a look at these 6,000 searches on Walmart, only 8,000 searches on Amazon. All right. So, so that's Walmart search flowing really cut and dry.
Bradley Sutton:
Make sure you're using Helium 10 to find the exact search volume from the horse's mouth, from Walmart to optimize and prioritize your listings. Now let's talk about Amazon because Amazon is kind of like has a colored history when it comes to a search volume now, way back in the day, you know, like when I first started at Helium 10 back in, was it 2018 Helium 10 was getting search volume directly from Amazon, kind of like we're getting it from Walmart. Now Amazon had that data point open. A lot of different tools were having that, you know, we actually started gathering that information from Amazon before anybody else. So we had the most historic data as far as search volume from Amazon. Now this was a unique data point and it wasn't like on the front end of Amazon. So there wasn't like tons of documentation seeing exactly what this search volume number meant.
Bradley Sutton:
But what it seemed like from the documentation that it was available was like a kind of like a 30 day velocity and that number would change. But then what we noticed was you can't like take it week by week and add it up. And then it shows what the month was. It's kind of like a monthly velocity, but recalculated every week. Right. Because you know, you couldn't take week one and week two, and then you see week three and the number just doesn't make sense when you could consider what week, one and week two, you know, in other words like, let's say week one was 3000 week two was 4,000, but then week three, it says the 30 day is 1000, well, wait a minute. How can it be 1000 when just the previous two weeks added together was this, so what it seemed like it was, was this kind of like running velocity on search volume based on the most recent amount of searches for that week, what would kind of like the projected 30 day search volume be all right.
Bradley Sutton:
And so that was a great data point. Most of the tools, all kind of tapped into that same data point in order to, to display that information. It was very helpful for prioritization. Then one day in 2018, Amazon shut that off to are like, you know what, we're not gonna show this data point anymore. We were able to develop with our data scientists, an algorithm though, based on all that historical data we had and then other new data points that Amazon was making available in order to estimate and keep that estimation going on that monthly search volume. Now here's the thing. Again, it is not meant to be something that's saying, Hey, these are the exact searches in the last 30 days. First of all, it's an estimation. Second of all, the way that our algorithm is calculating it is a way that that Amazon kind of, you seemingly used to do it.
Bradley Sutton:
In other words, we're taking kind of like that velocity from the most recent week or a little bit more than a week. And then we're kind of like projecting that out. Hey, this is kind of like what the 30 day estimated search volume is based on the most recent activity that we have detected on that keyword. So again, if you're looking, you know, how Helium 10 has different search volume week by week? Well, you can't just like add up the numbers and say, okay, yeah, this is what the month is. Or, or how come the number of week four is less than week three. No, again, it's not meant to be calculated as the preceding 30 days, right? This is how it's always been. Now, what we always said was, Hey, well, add Amazon doesn't have this information public anymore, as far as the actual search volume.
Bradley Sutton:
So like, how do you verify is Helium 10 even in the ballpark? Well, Amazon, like in 2018, 2019 released something called Brand Analytics. And what this is is, was kind of like a cool way where it showed you the top you know, 1 million at 2 million most search terms for that previous week, day month or even quarter. All right. Like for example, I'm looking here at a recent one from 4/3 to 4/9, and the most search keyword, according to this Brand Analytics on Amazon was Easter back basket stuffers. Now what happens is, is that if you were to compare week by week search volume on Helium 10, it's not gonna 100% line up to this. I'll just tell you that right now, not a hundred percent, like for example, there's weird things that we just don't detect. Like if you look here on this week, the second keyword, according to Amazon, I don't understand this at all, but according to Brand Analytics, the second most keyword searched in all of amazon.com was amazon.co.uk.
Bradley Sutton:
If you look in Helium 10, you're not gonna see that. So as the second most search term, so like, you know, Helium 10 wasn't detecting that maybe that's an Amazon bug. I don't understand how a URL can be the second most searched, but anyways, it's not gonna line up a hundred percent, but for the most part, you know, when I check it, it's like way more than 95%. You know, if we show, Hey, coffin shelf is searched 5,000 times, coffin decor, 4,000 Gothic decors, 3000, you're not gonna see Brand Analytics then that order or search frequency rank like switch. It's very, very close. Like Helium 10 is almost right on there. Again, like I said, not a hundred percent, but very close. All right. And so that's the kind of way that you can kind of make sure that Helium 10 is in the ballpark. Now before a couple of years ago, when there were other competitors out there to Helium 10, who also had search volume that, that similar reputations where, what people were like, wait a minute, Hey, this tool search volume says this Helium 10 says this, and I don't know which one to believe.
Bradley Sutton:
And, and what I would always say is, first of all, forget about that. What matters is, what, how does it match up to Amazon data? You know, don't concern yourself too much with, Hey, this tool says 3000 Helium 10 says 4,500. What you should be concerned with is the order. All right, does tool one have it in this order? But then you compare it to Brand Analytics and it's way off. Does Helium 10 have it in a certain order? And, but you compare it to Brand Analytics and it's way off. Cause again, Brand Analytics is kinda like the only way you can kind of verify actual data, you know, stop comparing tool A to tool B because it doesn't really matter what the numbers are, what matters is how you compare it, not to each other two different tools, but to actual Amazon.
Bradley Sutton:
And so like actually, you know, for last year or so, you know, now Helium 10's kind of like the undisputed number one out there. I haven't really heard it that much about where, where people are questioning, you know, Helium 10 search fund. Cause they're like, Hey, I'm checking in with Brand Analytics. And it seems to, you know, line up, for the most part, you know, with a couple of outliers here, here and there. Right. But now all of a sudden in the last few months, Amazon is releasing more data points and it's great. I love it. You know, I've always talked about that every time Amazon releases new data points, you'll see me do an article or a blog on it because I love it. You know, some people are like, oh my goodness. You know, isn't Helium 10 gonna be scared.
Bradley Sutton:
You know, Amazon's gonna put them out of business. No guys, the data that Amazon or that Helium 10 provides is like so unique that we're not like kind of like threatened just because Amazon is giving more analytics. We love that Amazon gives more analytics. Why, you know, our ultimate goal out there guys obviously is for, you know, you Amazon sellers to be successful. And the more data that Amazon makes available to either us as Helium 10 or to you, that's gonna make you more successful as an Amazon seller. And that benefits us as well. Cuz if you're a successful Amazon seller, you pretty much can never cancel Helium 10. Right? That being said, now all of a sudden, some of these questions might be coming up. You know, I haven't seen too much of it, but I'm making a prediction right now.
Bradley Sutton:
I usually don't like making predictions, making, you're gonna start seeing in, in different posts and message boards and things like that. People saying, oh, wait a minute, Helium 10 search volume is so different than Amazon, and oh my goodness, what's going on? Right. So let's start talking about some of these new data points. The very first one is Product Opportunity Explorer. Now Product Opportunity Explorer was launched a little while back and it doesn't have every single keyword on Amazon in here. It's actually, I'm not sure I can't count. You know, it doesn't give you the total number like it does on you know, Brand Analytics I can actually see, but you know, a lot of keywords it does have. So I type in coffin shelf to product opportunity Explorer and some interesting information come up here. It tells me about this niche.
Bradley Sutton:
All right, now it is saying that, Hey this has a 20 2090 search form. Now I know this can be confusing cuz it says coffin shelf right here. And it says 22,000 search form that does not mean the word coffin shelf has 22,000 search form. If you were to dive into the metrics diction here, it shows that this represents 22,000 search volume, the search volume in the last 90 days of all of the keywords that Amazon says is part of this niche. All right, keep that in mind. So now if I were to go down here and hit search terms in this coffin shelf niche, now keywords come upon an individual level. All right. So take a look here. Coffin shelf. It says search volume pass 360 days. All right. And it will say something like 61,000 searches, right?
Bradley Sutton:
So this theoretically speaking again, the Amazon documentation on this is not very exact and you're gonna see this is gonna be an ongoing theme. You know, you have to kind of like make sometimes assumptions at what some of these data points mean, but it seems that what this is is that, Hey, this was searched in the last year 61000 times. Now the first mistake that some people make is they take a look back at the week by week, different search volume history that Helium 10 has. Remember in Helium 10, you click on any keyword and you hit the search volume history and you can see going back a year, going back two years, what we are estimating as the monthly search volume, they think that you just add that up and then that should equal this full year.
Bradley Sutton:
If I take different sections at what the 30 day search volume was. But again, that is not the way that Helium 10 is calculating search volume. We're doing it on that velocity basis. All right. So just that's the first mistake that some people are making. They're trying to compare apples with oranges. Let's go back into this Product Opportunity Explorer, but I wanna show you guys a couple more things that are super interesting to me, all right, let's take a look here at a conversion share. Now this to me is what I really love about Product Opportunity Explorer this kind of has nothing to do with search volume. It kind of does, but face value, no, like you'll see coffin shelf right here has 3% conversion rate in the last 360 days. Meaning that theoretically speaking, I guess, Hey, in the last 360 days, if there is 60,000 searches, the 3% of those searches resulted in sales, right?
Bradley Sutton:
And you can see some of these had three and 4%, but then take a look at this coffin books shelf only had 0.7% conversion rate. All right. That means that there must have been a lot of people searching for this keyword coffin, bookshelf, but they just weren't purchasing it, purchasing anything from the results because less than one out of a hundred people, because they just weren't finding what they were looking for. And this is a great way to do product research because we saw this, we launched a coffin bookshelf because nobody else had coffin bookshelves. Like the only things that were showing up organically were actual coffin shelves that are too small to fit books in. So we made a coffin bookshelf, boom sold out in three weeks, it was crazy. All right, thanks to you know, checking out this metric.
Bradley Sutton:
Now here's the thing though. There's weird things that you have to be careful of about taking this completely as gospel. For example, take a look back here at another keyword in this niche, very similar to coffin bookshelf, it's called Gothic bookshelf. It says in the last year there were over 3000 searches for it, according to Product Opportunity Explorer, but take a look here, the search conversion rate of a year, 0.0%, right? 0.0%. What does that mean? That means that according to Product Opportunity Explorer out of all those 3,300 searches, not one person in the last year purchased a product after searching Gothic, bookshelf. But is that true? I knew for the reason why I highlighted this is so, Hey, I know we converted for this keyword, right? So if I were to actually now go back to Brand Analytics, right? I'm just gonna look back at like October of last year.
Bradley Sutton:
I remember that's when there was some products that were selling for this keyword and sure enough here in Brand Analytics for last October, which again was obviously in the last 360 days, you look at the search term, Gothic bookshelf, and you'll see a product here has 100% of the conversions. And what does that conversion mean? That means, Hey, somebody searched for this keyword and they converted for it. You know, somebody purchased a product and actually this one product had 100%. Now, do we know how many orders there were we don't, it's saying here that this one product sour post-Coff and Curio shelf had a hundred thousand of the purchases? So this is a little bit kind of iffy, right? Like, wait a minute, how come product opportunity sports says, there's zero purchases for this, but Brand Analytics says there were purchases for it.
Bradley Sutton:
So again, this is great data, but you're gonna see kind of discrepancies. And you know, is it because Amazon is giving wrong data? I'm not sure, it could be just a fact or something that they're not completely defining what the terms are here. And that's why you might see discrepancies, but it might be just because Amazon is actually different things than what you think they're comparing, right. Here it seems kind of clear. It's one saying that there was no purchases of Gothic bookshelf and Brand Analytics saying there were, but again, let's give Amazon the benefit of the doubt, but just keep in mind that you can't take this as a hundred percent black and white. There are gonna be some discrepancies here. So just be a little bit careful when you're looking at this data. Another thing that I find useful, but again, you have to kind of be careful because the data doesn't seem to line up.
Bradley Sutton:
Let's go ahead and click herein. This is like one of the newest features of Product Opportunity Explorer let's hit this trends button here on the right hand side. Now, this is super interesting because what this is showing was the complete niche trends, all right. Both products and search volume, the product count and the search volume of all the keywords. Now, remember what does Product Opportunity Explorer, say here as a total 90 day search volume for all the keywords in this niche, it says 22090, right now, if you look here, it is giving you exact search volume week by week. This is not of anyone keyword, but again, this is, if you even look at this tool, tip the total number of times customers entered any of the search terms in this niche on Amazon in the past seven days.
Bradley Sutton:
So if you were to start on when this ended at 4/3, and start one by one, counting up these numbers right here, you know 13.49, 13.42, 17.60, et cetera, et cetera, what's gonna happen is you are gonna come to 21,300 by 1/23, January 23rd. That means that by maybe what, January 20th, somewhere in between here, we have already surpassed this total search volume of 22090, however, or between 1/23 and 4/3, those two dates. That's only 70 days, 72, 73 days around there. So again, we have something here where it's like, wait a minute. You know this is the exact same tool on one sense, they're putting 22,000 search volume for 90 days. But when I look cure week by week at the exact search line for that same group of keywords, it just doesn't add up. It's like weeks off. So just be careful. This is great to see general trends, but if you dive deep into it, you might see some discrepancies.
Bradley Sutton:
Now I'm not saying don't use this. I'm just saying, Hey, don't let that scare you. This is still valuable information. We're not talking night and day differences here where, oh my goodness. You know, this is a few thousand off of itself. You know, I'm talking about this Product Opportunity Explorer. So I'm just not gonna trust this data at all, but just keep that in mind. All right. Now, just to kind of close this loop on Product Opportunity, Explorer, how do I use this search volume? I don't use it for my prioritization. Absolutely not. Why not? Th this is 360 days search form for these individual keywords. You know, this could be, for example, a keyword that is Halloween decor, right. It's gonna tell me that the past 360 days search volume is 1 million.
Bradley Sutton:
Let's just say, right. But if I'm optimizing my listing right, right now, and, and it's March, you know, is that the most search keywords for this niche? No, the more– the more universal words that aren't seasonal are gonna be, what's the main keywords. So what the search one for the whole year is not very helpful to me if I am trying to optimize my listing. So in this case, when you're optimizing your listings, if you're just gonna compare Helium 10 with Product Opportunity Explorer, I think it's quite clear. You have got to use Helium 10 or Brand Analytics, let's say you don't have Helium 10, and you don't care necessarily about the number of estimated searches. You just care about the order. I would recommend still using Brand Analytics instead of Product Opportunity Explorer because now you can break those searches down week by week or even day by day, if you wanted to.
Bradley Sutton:
All right, let's talk about the new kid on the block. Just uploaded a few weeks ago. It's the Search Query Performance. All right. Search Query Performance. Let's take a look at that here in Brand Analytics, right? This is how you can get there. You get it from Brand Analytics on the top of the screen, there should be a green button. You click and you get to this. Now, what is Search Query Performance? What it says in the description here, it says it provides visibility into your terms performance based on shopper's search behavior for the selected timeframe. It shows you the metrics of the top terms of your catalog, such as search display clicks, add the shopping cart and purchases and more. Purchases and sales total may not match the total account from your sales reports. As these metrics include those that originate from the search results and it excludes widgets detail pages, et cetera.
Bradley Sutton:
All right. So seems like it's very highly valuable, basically what you're getting here for all of your brand registered brands. You are gonna have a dropdown menu where you can select your brand. And it gives you according to Amazon, what the top 1000 search queries, according to Amazon, with whatever kind of algorithm that they're using that are related to your brand. Now, you know, if you have 10 products in this brand, it's related to those 10 products. If you only have one product in this brand, it's gonna be related to what Amazon things are the 1000 queries for your one particular brand. And you have the visibility on this for weekly, monthly, or quarterly. And, and you can see some of these cool metrics here, like, Hey, it's saying the number one query for Manny's Mysterious Oddities is coffin shelf, right?
Bradley Sutton:
And it's got 950 search query volume, which again, seems like it's search volume, right? If you actually look at the data definitions, it's saying, Hey, this is the number of searches in this timeframe, which is weekly, right? And then it shows you impressions and clicks how many ads to cart. There were a whole bunch of cool stuff. Like how much same day shipping speed was. And then even the most important to me is like search funnel purchases. In other words, after those searches, how many people actually ended up buying a product from that search, and then of that, how many did your brand account for? Right. So, so that's basically what you see here. Now, this is another one where you might see some people saying, Hey, Bradley, this is now week to week, and I can actually compare it.
Bradley Sutton:
You know, I'm adding stuff up. It doesn't match up to Helium 10. Again, this is apples and oranges. This is theoretically speaking week by week, actual search volume. Again, that's different than the product opportunity Explorer, which was 360 days, right? This is week by week. That's not what Helium 10 is showing. Remember Helium 10 is doing that velocity thing, but let's just dive into this and just take an example of one of the most common keywords here, coffin shelf. And let's just see how Helium 10 stacks up. I'll tell you right now, the number is not gonna match up. Why, again, apples to oranges. However, that's not the point. The point is this useful? Is Helium 10 useful is Helium 10 way off. Can you like not to trust Helium 10 anymore? Let's dive into the data, right? Let's take a look at this.
Bradley Sutton:
This is the last of few weeks of coffin shelf. Let me just start here. Let me see. Yeah, here's 3/7 to 4/2. All right. This is March 27 to 4/2. It says coffin shelf had 952 searches. All right. One week before that it says it had about 984, almost the same, right? One week before that from 3/13 to 3/20, says it was about 955. Again, like literally almost, you know, within like 10% or less than 10%, didn't it didn't change at all. And let's go to the fourth week now ago, 3/6 to 3/30. Look at this. All of a sudden it jumps up 1,230 searches for that week. Now let's go to Helium 10 for coffin shelf and look at the history again, the number is not gonna be the same.
Bradley Sutton:
We're not looking at, you know, weekly search volume. It's saying here as a 4/2, which is act just happens to be the same date that that was looking at 5,396. It doesn't mean that, oh my goodness, Helium 10, five times as much. Again, this is the monthly estimated search volume base on the velocity, the Amazon number. What was that? It was like 900, right look, week by week. The next one was 5,700 and then 5,000. Right? So there's three weeks of it all. Very, very similar. Does that sound familiar? Yeah, that's what it kind of was in the Search Query Performance, but then the fourth week, what do we see here? Boom, 7,200. It was like 20% more. According to Helium 10, this velocity of search volume right here than the subsequent three weeks. Does that sound familiar?
Bradley Sutton:
Yep. Remember they're in the Search Query Performance, there was three weeks of it. Search volume, being very similar, and then boom, it jumped up like 20%. So the numbers are not gonna match up actually here. The numbers almost pretty much match up. If you take those four weeks and you were just added up it kind of adds up to like like around 5,000 and sure enough, the Helium 10, you know, monthly search volume is 5,000, but I guarantee there are gonna be a lot of keywords where it might be, you know, two, three, 4,000 off. But the point is that Helium 10 must be getting the right data points because completely independent of this Search Query Performance thing, which just came out, you know and helium intent doesn't have access to it. This is not available in the API. As of now, we were still able to detect the correct peaks and valleys of the search volume.
Bradley Sutton:
Now, remember I talked about how sometimes there's discrepancies not to is, you know, Helium 10 to Amazon, but just Amazon to Amazon, we already saw inside a Product Opportunity Explorer. There's some question marks there because it seemed to be conflicting data. Well, let's take now Search Query Performance and compare it to Product Opportunity Explorer. First of all right, the cool thing is, or I'm sorry, let, let's compare it to Brand Analytics. I should say the cool thing is about Search Query Performance and Brand Analytics search terms. It is on the identical weekly cycle, which is helpful because you can compare apples to apples, theoretically speaking. All right. So for example, here on this weekly report, you can see that week 13 in Search Query Performance is March 27 to 4/22. Let me go ahead and pull up on Brand Analytics. The same thing, March 27, to 4/22.
Bradley Sutton:
Now take a look here. All right. Take a look here at some keywords. I sorted this by search volume. All right, here in the query performance, let's take a couple of keywords here, Gothic and goth home decor. All right. In this week, according to Search Query Performance, Gothic had almost identical, but slightly more searches, 2,458 to Gothic home decor, which was 2,337. All right. So, knowing what we know of out Brand Analytics, what would you expect? The Brand Analytics search frequency ranked to be well Gothic, right? Should have a smaller number than Gothic home decor because it's search for more. Let's take a look at this exact week in Brand Analytics. All right, same week as you guys can see your 3/27 to 4/22 Gothic, 32,136 search frequency rank Gothic home decor, 23,123. What does that mean, guys? That means that according to Brand Analytics, Gothic home decor was actually searched for more times during this week, than Gothic.
Bradley Sutton:
Hmm. So again, like which one is correct? Don't worry guys. And you might be like, well, why don't you just ask Amazon? Why is it a discrepancy? I tried to ask Amazon and they have no idea. They're like, oh, we can't help with that, that kind of thing. But this does not mean that one is bad or one is better than the other. I mean, these are still highly searched keywords. Why the data is showing something different, you know, who knows? Let's go ahead and compare it, those same two keywords to a Magnet in Helium 10, all right. Ma for this week we show Gothic home decor, 17,000 estimated monthly searches based on the velocity and Gothic a little over 12,000. So in this sense, Helium 10 is a little bit closer to Brand Analytics than it is to the Search Query Performance.
Bradley Sutton:
We've got three different tools here, two from Amazon, one from Helium 10, kind of showing somewhat different things. Although, you know, the Brand Analytics is a little bit closer, even though there's no number there, you know, to what Helium 10 is, at least as far as the order goes in the grand scheme of things, it's not that big of a deal. All right. 12,000, 17,000 searches. Does that really mean anything to you at the end of the day where something would be really, really strange is if one tool in Amazon said, Hey, this is the 10th most search thing in all of Amazon. And the other keyword is like the, you know, 1000000th most thing. Well, obviously there's a huge difference in search volume there, but then all of a sudden there are other Amazon tools showed it flipped. These two were fairly similar. We're still talking in the teens, we're still talking in like the 12,000 to 18,000 searches a month.
Bradley Sutton:
It's not that big of a deal at the end of the day. It doesn't mean, Hey, don't trust Brand Analytics, trust, Search Query Performers, or vice versa. Right? Keep that in mind. Whenever you're comparing things, you're not gonna see any kind of huge, huge discrepancies, right? But again, don't be you, you don't need to be thinking like, oh, look at Helium 10 is definitely different than this. I mean, Amazon's own tools are even contradicting each other on the same exact timeframes. Another thing, speaking of Search Query Performance, they have that search funnel purchases, which again, according to the definition here is how many purchase happen from a brand or overall after the search of a keyword. Do you remember that Gothic bookshelf from Product Opportunity Explorer that said zero purchases in the last 360 days? Take a look at what Search Query Performance says right here.
Bradley Sutton:
We are looking at the last quarter of 2021. Not even the full year, just the last quarter. All right. Gothic bookshelf right here. Here's that keyword says there was 1,254 searches during that timeframe. And take a look here. 10 purchases. I dunno if you guys can see that here, those you watching this on YouTube, 10 purchases happened, actually three of them were from Manny's mysterious Oddities. So again, we have another seemingly discrepancy, but I wouldn't necessarily wouldn't give it that word, or contradictions it's it could be just talking about different things. Just like the way Helium 10 search volume is talking about something else than other, you know, data points. But here we have Product Opportunity Explorer saying zero purchase for this keyword Brand Analytics says an undisclosed amount, but there were purchases. And then here in Search Query Performance, something different, it's saying, Hey, there was actually 10 purchases in this three month time period alone.
Bradley Sutton:
Does that mean, Hey, lose faith in all of these tools? No, but again, it just means, Hey, you've got, you've got a lot of different data points here. Still use it, but keep in mind that you might find some discrepancies or contradictions here. One more potential contradiction that you might find I'm just giving you guys heads up on this. So you aren't surprised or, or you don't get offended when you discover your own. Take a look here at the Search Query Performance from what is this? 3/6, March 6th to March 12th, 2022. All right. If I sort by the number of purchases by of products in my brand, it's saying that there was only three total or four, actually, it says four, right? You see here two for coffin shelf, one for the ASIN. I don't even know where that comes from.
Bradley Sutton:
And then one for this keyword, small crystal shelf. All right. Let's again, go to this same week. Now this time in Brand Analytics, you'll see it right here. The same week, 3/6 to 3/12 for my ASIN. Yep, sure enough. We see there's definitely some purchases here for coffin shelf. I'm pretty sure it's not two for this week because look at this conversion serve 7.14%. There's no way that two, it can come out to 7.1, 4% of another, you know, whole number. So that's weird itself. But then also look right here. I got 100% of the conversions this week for this word, Gothic shelf, right? Gothic shelf, a hundred percent of the conversions. But that was nowhere to be found on the search query report. It's almost as if, no, I didn't get any you know, purchases for that keyword.
Bradley Sutton:
So again, guys, at the end of the day, what was the point of this search volume? Walmart.Com, amazon.com is important to know. All right, why again is search volume important. It helps you prioritize your keywords. Remember, first what's most important is relevancy. You know, search volume for a keyword is not going to matter if the keyword is not relevant at all to your product, right? You can't just look at that number and say, Hey, what's the magic search volume or relevancy is most important, but then you're gonna find keywords that are, have different stages of relevancy, like tier one, tier two, tier three. And then within each of those tiers, you have got to prioritize what you're gonna focus on. Be it for PPC, be it for your listing optimization, be it, or, you know, whatever targeting campaigns off Amazon, whatever the case is, you need to be able to prioritize that.
Bradley Sutton:
And the way that we do that is by looking at the estimated search volume. There's a lot of different sources nowadays for search volume, both within Helium 10. And also on platforms for Walmart. It's easy. You got one source only Helium 10, you know, you can't get search one directly from Walmart. You can get it from Helium 10, which actually gets it from Walmart, right? For Amazon though. Yes. You have a lot of different options. So take advantage of Helium 10, take advantage of Product Opportunity Explorer, take advantage of Brand Analytics, take advantage of this Search Query new tool, but keep in mind that it's seemingly not apples to apples comparisons. All right. So each ones has kind of different functionalities, he and 10, if you guys have an elite membership, you can actually estimated now sales by keyword. That's important because that's buyer intent, right?
Bradley Sutton:
Remember I showed you how coffin shelf, you know, doesn't have too much buyer intent, but it was 4%, which is decent, but then coffin bookshelf, hardly anybody's purchasing. Right? So just because the search volume is one number, the sales tell a different story, right? Right now, coffin bookshelf having 0.9%. Conversion rate does not necessarily mean that there's not that much buyer intent, maybe they're intending to buy, but they're just not finding the product that they want. Right? So that in the future is definitely gonna be an important metric to Helium 10 and other places is well, how many actual sales are seemingly coming from some of these keywords searches? All right, if you look at here, or if you look at Amazon, you're gonna see a little bit different story here between, you know, Brand Analytics and Search Query Performance and Product Opportunity Explore.
Bradley Sutton:
So you gotta kind of like pick and choose which one you're gonna use. But me personally, I'm gonna use everything still. I've always used Brand Analytics. I love the historical context of looking at how things were searched for before. And what's the most clicked. I love looking at Product Opportunity Explorer trying to find that search conversion share and seeing what Amazon considers a niche. And now I like this new search analytics search query reports that has all these other data points that Amazon has never shown. But at the end of the day, if I'm trying to optimize my listing, to me, it just makes sense to use Helium 10 search volume, for example, first of all, you can't use search analytics for a brand new product. If you don't have an existing brand, right. If you're launching a new product, you're not gonna have any data on those search terms.
Bradley Sutton:
So you have to kind of use Helium 10 for that. And same, the same thing, Brand Analytics doesn't divide things into niches or, or buckets of keywords, you know, product opportunity Explorer does. But then again, that has very limited number of searches. So absolutely use these new data points guys, but still in my opinion, and I'm coming to this, not just as a Helium 10 salesman or evangelist like I am, but as an actual user, who does keyword research every single day, Helium 10 is still obvious to me, the way to go with, as far as the consistent numbers that you get and the ability to kind of prioritize what doing, and then check what your competitors are doing, no other tool right now has that capability within Amazon. But again, at the same time, there's a lot of stuff here that these new Amazon tools have that Helium 10 doesn't have and might never have unless Amazon opens it up.
Bradley Sutton:
So you absolutely still need to be taken advantage of those data points. So I hope I was able to kind of clear up some of the potential misunderstandings that might come up when people see different numbers. If you guys have any questions at all, you know, please reach out to me here. You know, like there might, depending on where you're watching this, there might be a call, you know, that you can use couple notes, guys. I didn't realize you can do this, but if you're listening to this on Spotify, please, please hit the little three dots that are on the main podcast page of Spotify. And then there's a little function that says, like, rate this show, hook us up with a rating. Guys, hook us up with a rating. You can't write a review there. If you're listening to this on Apple podcast, do me a solid leave us a review.
Bradley Sutton:
You can actually write a written review right there for us. I can't incentivize these reviews. You know, Amazon might, might mess up buyer seller messaging here, but now, obviously there's no Amazon buyer seller messaging here. We're talking about podcasts, but again, I digress bottom line, give us a review guys, if you're listening to this on apple podcast or on Spotify, another quick thing, upcoming schedule of events that I'm going to be going to tentatively I'll be in the Philippines at the end of this month for a team meeting. I might have a meetup in Manila on April 29th or April 30th around there. And then also that I'm flying to the Maldives to go film episode 350. You know how every 50 episodes I do that, but then Berlin guys, Berlin on, I believe it's May 5th, whoa, Cinco de Mayo forgot about that.
Bradley Sutton:
May the fifth Berlin I'm gonna be at the e-commerce Berlin. It's like a big conference of 8,000 people. I'm not going to be exhibiting there as Helium 10. We're not gonna have a booth or anything, but I'm trying to organize like a little you know, maybe informal party in Berlin at a pub or at a restaurant that day on the fifth. So there'll be more information about that in the Facebook groups, make sure to join. In June in the first week of June, I'm gonna be going to Mexico with Tim Jordan and a bunch of other of people to a couple of different events. If you guys want more information on that, go visit themexicotrip.com. What are the events I'm gonna be doing? That's all I have for right now. Obviously, the number one event of the entire year is the Sell and Scale summit by Helium 10, that's gonna meet in September in Vegas. Gary Vee will be there, I'll be there, Kevin King will be there. Will you be there guys? Get your tickets now. h10.me/s3. Find me out one of these events guys. And let's talk all about search volume. See you in the next episode.
---
Enjoy this episode? Be sure to check out our previous episodes for even more content to propel you to Amazon FBA Seller success! And don't forget to "Like" our Facebook page and subscribe to the podcast on iTunes, Spotify, or wherever you listen to our podcast.
Get snippets from all episodes by following Bradley on Instagram at @SeriousSellersPodcast
Want to absolutely start crushing it on Amazon? Here are few carefully curated resources to get you started:
Freedom Ticket: Taught by Amazon thought leader Kevin King, get A-Z Amazon strategies and techniques for establishing and solidifying your business.
Helium 10: 30+ software tools to boost your entire sales pipeline from product research to customer communication and Amazon refund automation. Make running a successful Amazon or Walmart business easier with better data and insights. See what our customers have to say.
Helium 10 Chrome Extension: Verify your Amazon product idea and validate how lucrative it can be with over a dozen data metrics and profitability estimation.
SellerTrademarks.com: Trademarks are vital for protecting your Amazon brand from hijackers, and sellertrademarks.com provides a streamlined process for helping you get one.