#368 – Event Networking | Patent & Trademarks | Listing Optimization
In this episode, we speak with Emma Schermer Tamir and Rich Goldstein about intellectual property, trademarks, listing optimization, and how to get the most out of Amazon seller events.
Updated on: August 14, 2022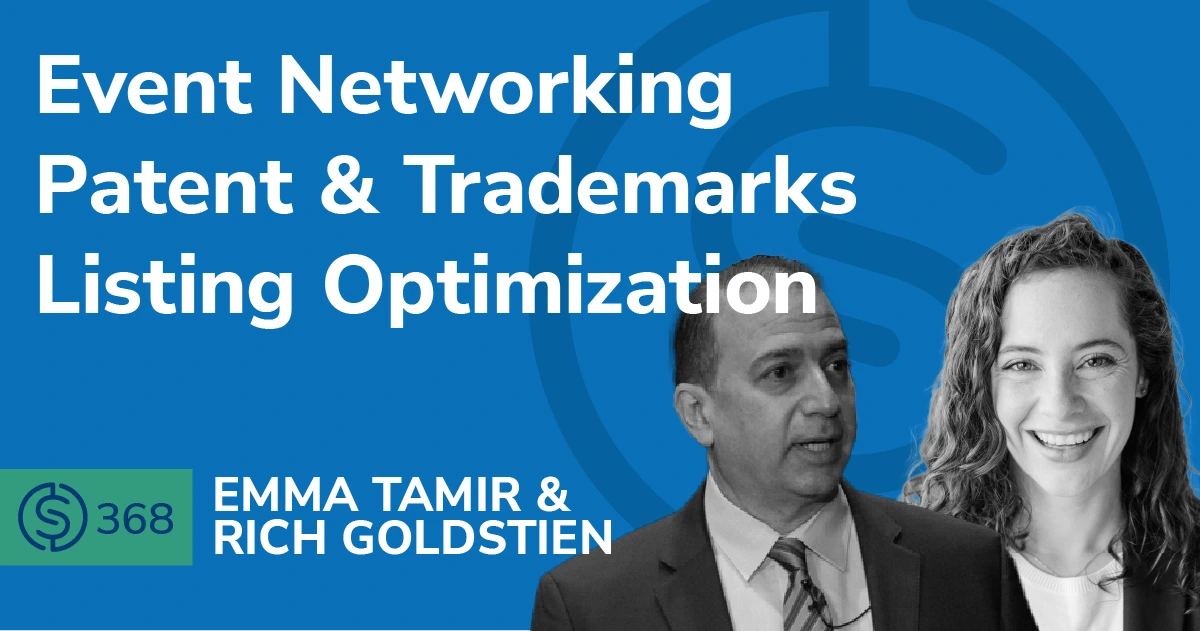 In this episode, Bradley speaks with Emma Schermer Tamir and Richard Goldstein to talk about their best tips on how to network and get the most out of attending seller events. Plus, some actionable strategies on intellectual property rights, patents, trademarks, listing optimization, A+ content, and what questions should you ask yourself before entering Q4? Our guests also give a sneak peek at their strategy and Q&A sessions at the upcoming Sell and Scale Summit.
In episode 368 of the Serious Sellers Podcast, Bradley, Emma, and Rich discuss:
02:50 – Best Practices When Attending Amazon Conferences
06:20 – Networking Tips: Make A Follow-Up List And Taking A Selfie
09:10 – How To Get The Most Out Of Events
11:10 – Catch Rich Goldstein's Patents And Trademarks Q&A Session At S3
14:10 – Should I Also Get A Patent And Trademark In China?
16:40 – Attend Emma Schermer Tamir's SEO & Listing Optimization Strategy Session At S3
20:20 – Get Your Tickets For The Sell And Scale Summit
21:20 – Apply For A Trademark Early On
23:30 – "Instagramification" Of People's Shopping Behaviors
24:40 – A+ Content: Keyword Stuffing In Descriptions And Alt Text
29:30 – Filling A Design Patent Application
32:30 – Emma's Q4 Tip: Is Your Product Giftable?
33:50 – How To Get In Touch With Rich Goldstein
34:10 – How To Get Free Listing Analysis From Emma
Transcript
Bradley Sutton:
Today, we've got a pair of guests who are gonna be giving us strategies to cover a wide variety of subjects from patents to trademarks, to listing optimization, to how to get the most out of Amazon seller conferences. How cool is that? Pretty cool I think.
Bradley Sutton:
Want to enter in an Amazon keyword and then within seconds, get up to thousands of potentially related keywords that you could research? Then you need Magnet by Helium 10 for more information, go to h10.me/magnet. Magnet Works in most Amazon marketplaces, including the USA, Mexico, Australia, Germany, UK, India, and much more. Hello everybody, and welcome to another episode of the serious seller's podcast by Helium 10. I am your host Bradley Sutton, and this is the show that's a completely BS free unscripted, and unrehearsed organic conversation about serious strategies for serious sellers of any level in the e-commerce world. We've got a couple of people who have been helping serious sellers out there for years, Emma and Rich. How's it going, guys?
Emma:
Hello, it's going great.
Rich:
Yeah. Awesome. Great to see you.
Bradley Sutton:
Awesome. All right. Before we start, this is for our YouTube viewers, you who are listening on the Apple podcast or something, have no idea what we're talking about, but I have a very strange logo on my hat today. Now, this is actually a minor league baseball team, however, can either of you, and I think Emma might have the advantage here, can either of you think like what Helium 10 tool inspired me to get this hat? Because I was like, this is perfect to represent this Helium 10 tool. Either of you can answer, but let's see.
Emma:
At first, I thought you were gonna ask me a sports question and I'm like that will definitely not be something I can answer.
Bradley Sutton:
Lemme give you a hint. What letter is this?
Rich:
C
Emma:
Cerebro. Is that what we're going at?
Bradley Sutton:
Cerebro, and then do you see the eyeballs? He's like doing keyword research. He's looking for the keyword. So this is what I call my Cerebro hat on that I have today. Anyways, that's neither here nor there, we have a lot of things I wanna talk to you guys about, but first of all, one thing that I was thinking about when I saw that you two were scheduled together is out of probably anybody else in the industry, I personally have seen you at more events than like probably every single event almost that I have been at ever since. My very first one, I think is where I met Emma even before a knew Rich. So like, you guys are in my opinion, like veterans, as far as like, Hey, going to Amazon conferences and things. So I just wanted to take a few minutes to talk about best practices. Knock on wood, the world is fairly back to normal now, you know, I just went to another event in Florida a couple of weeks ago. And it seems like every month now there are different Amazon events, big or small. So I want to get your feedback on things to do things not to do things to prepare for that have helped you guys in your illustrious conference, attending career. Let's start with Emma, first of all.
Emma:
Yeah. Think about what your goals are when going to an event and really try to put yourself out of your comfort zone. Like Bradley. We met in New York at ASGTG. I believe a few years ago. And that was one of the first events that I was like, okay, I'm not just gonna go and kind of be a wallflower. I'm gonna go, I'm gonna network, I'm gonna put myself out there. And I was terrified. I definitely remember feeling nervous to speak to you and also to Kevin King, like you were both the people that I was like, I really scared to do this, but I just have to go talk to them. And I think that for me would be the biggest takeaway is that you're going to regret more not going up and initiating the conversation than you will kind of allowing that fear to come over you. So if there's someone that you really wanna talk to it might feel a little bit scary, but it will feel so good once you actually just kind of go for it.
Bradley Sutton:
Even if they're big and intimidating, like Kevin King and me, I guess we're kind of scary out there. I'll try to lead more mellow. So I see more approachable, I guess. Rich, what about you? What kinda advice?
Rich:
Opposite advice basically. It's like if there's someone that you idolize in this field don't go up to them, they could only spoil your expectations. They could only fail to meet your expectations. You might as well just leave it alone.
Bradley Sutton:
Yeah. yeah. How Emma pictured me was forever ruined after that ASGTG there, I had like a booger in my nose and things, but seriously talking like rich–
Rich:
Bradley is way cooler on videos than he is in person.
Bradley Sutton:
I think you're actually kind of a unique person. You definitely work with a lot of Amazon sellers with your agency, but like you personally are not some huge seven figure seller where it's like, Hey, I need to go to this event to understand what's the latest in how to launch my product, but still you obviously find value in these events. Would it be safe to say that on the networking side is most of the value for you when you go to events?
Rich:
Yes, no, absolutely. And, and by the way, that was not the actual advice that I was giving. I was just kidding around. So yes, I get tremendous value from networking, from meeting people. I mean, I go to a lot of events and I meet people and then I go to other events and I see those same people and we get to build our relationship and they introduce me to new people. So it kind of builds on itself. Going to lots of events has worked well for me. But here's the piece of advice that I was going to give, but I couldn't help, but make a joke and the advice is that make a follow-up list. Like I open up a list in my phone, like on the notes app were talking to someone and it's like Hey I'm doing a webinar next week.
Rich:
You know I'd like to invite you or whatever, and like, just make a note of it, make a note of who the person is, what the follow-up is because you'll never remember otherwise and as much as like, you have great conversations with people where you say like, well, we're gonna do this, we're gonna do that. I met this person who, who you know, has some, some great resources for me. If you don't make a list, you will not remember the next day. And the reason I can–
Bradley Sutton:
Whether or not you drink alcohol at these events or not just–, making that clear.
Rich:
Yeah. And I could tell you that's true because I often look at the follow-up list and I say, oh, wow. Yeah, that's right. I never would've remembered that. And like sometimes I even have to strain to remember the person and the conversation, but at least it's a bit of a bread crumb to bring me back to it. So that's my number one advice is to make a follow-up list in your phone and actively write things in it about what you're gonna follow up on.
Bradley Sutton:
Okay. I like it
Emma:
Well, just to kind of build on that, something cool that I haven't personally done, but that I've participated in, Rich is actually taking a picture with whoever it is. And then, the way that I've seen this technique used is you meet someone, you exchange details, and then you take a selfie together and either text it or email it. And so then you don't have to just be kind of like racking your brain to think about, oh, who is that person? Not only do you have a reminder of what they look like, but then you've also already opened up that line of communication. So you've sort of gotten the ball rolling. So–
Rich:
I gotta tell you though when I get those photos, the next day, I'm like, wait, is this blackmail, is someone blackmailing me with this photo?
Bradley Sutton:
Yes. You had that big, what did Johnny Depp call it? Mega pint of alcohol in your hand there, Rich, we're sharing this with a kidney.
Rich:
Not even of that. It's like, took a horrible picture of me. Like, are you telling me that if I don't do something you're gonna show the world, this terrible picture of me?
Emma:
Exactly it's a great way to make the most of your networking efforts is to ensure that you get what you want.
Bradley Sutton:
Okay. I don't know. These is supposed to be serious strategies for serious sellers. We have digressed a little bit since the get-go, thanks to Rich now.
Rich:
Serious Sellers Podcast. That's right. Best grit faces on.
Bradley Sutton:
Now, speaking of serious strategies for serious sellers, one aspect of conferences and events is obviously what we just talked about, which is networking, which arguably might be the most important part of conferences, but also for example, you, Emma, you're in the industry as well, and your job is to actually help Amazon sellers with different strategies. And so you go to this event with even a double motive where not just trying to meet people, but you're also trying to see what the latest cutting edge strategies and things. So when you're doing all of this networking, when there's parties at night, and maybe you're not getting much sleep, and there's like six hours of, of speakers during the day, like how do you make sure you are getting good information out of it? Like, how do you stay awake, first of all? How do you not zone out? How do you make sure you're actually gonna have some actionable things when you get home that you took away from this event?
Emma:
Hydration is key, especially in Las Vegas, you need to make sure that you're drinking tons of water. I try to not drink too much caffeine because you can really easily cross the line, especially when you're sleep-deprived. I also don't drink a lot because I wanna make sure that I'm fresh, that I'm able to be showing up with get the most out of the days. And then I would say, it's also whether you're at an event all day long, or whether you're sitting in your house per watching content, you can't consume 12 hours straight of information. It's just like any person is going to need to have sort of some time to kind of reset their brain. It's a lot to take in. So being thoughtful about what talks you really wanna go to, and then making sure that you are bringing your best self to those, but also one of the things that I am so surprised about is that a lot of times what I think will be the best talk, isn't the thing that really ends up giving me the ideas, it's something unexpected.
Emma:
And that's what I really love about being able to attend events that have such a diverse range of speakers is that you're getting all of this information and it's not just how the information is presented, but you're able to connect that with the things that you do and the things that you know, and some really awesome creative ideas can come out of that.
Bradley Sutton:
Yes, I agree, a hundred percent agree. Now, Rich, you're gonna be speaking at Sell and Scale Summit coming up in September. I don't want you to give away your whole entire outline here, but just to give people a taste of what they can expect from your presentation, can you give us a little tidbit or a little preview to come into attractions here?
Rich:
Yeah, absolutely. Well, first of all, I don't have an outline. I am by definition going to be winging it because my session is Q and A session patents and trademark Q and a. So it's kind of like stump Rich Goldstein, like ask me something that I can possibly answer.
Bradley Sutton:
I see you do that at events. A matter of fact, it just reminds me, that you came here to an event right here in my backyard and like San Diego, not literally my backyard, but at a place nearby here. And you did something similar where, where people were asking you kinds of different questions about patents, it's impossible to predict exactly what people are gonna ask, but maybe you can give an example of one of these difficult things where people almost stumped you, but they weren't able to, because you had an amazing answer like you always do.
Rich:
Yes, exactly. And I mean the kind of like the way it goes actually the most difficult question is when someone deviates from asking me a question about how things work, to asking me a question about a specific fact pattern. Like, I just got a suspension and they start giving me the facts of it. And it's like, we can't figure that out here and now, and as a matter of fact, it's I'm not there to give legal advice, legal advice about a specific situation. I'm there to show to help you understand the principles by which you could then be better informed about what you ought to do in the future. So but generally what I'm gonna talk about is I'm gonna talk about how to protect your products, how to protect your brands, how to stay outta trouble on Amazon.
Rich:
Cause that's what people generally wanna know in this community. If they wanna know, like how do they keep other people from jumping onto their coattails or jumping onto the bandwagon that they create with selling products I'll look for other metaphors as we go along, but basically looking to stop people from taking your market, share, you know, taking, taking sales away from you by making similar products. Or by confusing the public into thinking that they're even you, that these are your products that they're selling.
Bradley Sutton:
I know you're not gonna be stumped because I've literally heard somebody ask this question and you answer it. But I would say three different times I've seen you do Q and A sessions before this question is asked. So I know it's like on somebody's mind. So we're gonna give you guys a preview now of how it's gonna be at selling scale summit. So, Rich, whether I need a patent here in America or not. Do I need a pat? Let's say the answer is yes. Should I also get a patent in China and is that even possible to do?
Rich:
Okay. So first of all there's a notion that if you're going to be making a product let's say in China or let me say it differently. It's like people think of getting a Chinese patent, well, what if they make it in China? But then if they're selling it here, they'd be, be infringing. So essentially it's like, if you are if your concern is that like, well, they can make it overseas, then bring it into this country. And that's why I should get a patent overseas it's not necessarily needed because the US patent is what will prevent anyone from making, using, or selling the product in the US. So the reason you would get a Chinese patent is if you think that there's a real market for products over in China.
Rich:
So if your marketplace is really the US and that's all you're concerned about, then a US patent is pretty much all you would need. Different answer for trademarks though, because trademarks that are about protecting brands can be a problem. It can cause a problem. If you don't have a trademark in China if you're manufacturing in China, because there are a lot of people that are let's call nefarious actors who are going and applying for your trademark over in China. And then what they seek to do is prevent you from exporting your products back to the US. And then they essentially hold the trademark that they procured of your name hostage. So now they blackmail you to try and buy the trademark, buy your own trademark off of them. So different answer when it comes to trademarks, a Chinese trademark can be important. It can prevent problems, but when it comes to patents, you really only need a patent in China if you're planning to sell in China.
Bradley Sutton:
All right. Thank you very much for that. Hey guys if you've already got your tickets to Sell and Scale, start now with writing down the questions, you know, you're gonna get, as detailed. Look how detailed Rich gets, and he's gonna help you with your patent and trademark questions at the summit. Now Emma, what are you going to be talking about? What's your main theme and then if you can maybe give us a little preview of coming attractions as well for your presentation?
Emma:
Definitely. Well, I'm for sure gonna be attending Rich's Q and A but I am going to be leading a workshop, talking about SEO and listing optimization tactics that you can use that are a little bit more out of the box. So it's one of those topics that I think is a mainstay of any Amazon-centric event. And so sometimes people can sort of be like, okay, well, what more is there to say about listing optimization, but it really is such an essential piece of being able to build a successful business on Amazon. And it is always changing. I mean, just this week, there's sort of some rumors. I still haven't spoken to anybody that's actually seen it in their account of A+ Premium becoming available for anybody that has a brand story and at least 15 pieces of A+ Content approved, which is huge.
Emma:
That's really much more interactive engaging content. And, and I think it's just one more indication of how Amazon is really seeing the importance of brand and wanting to encourage sellers to really lean into branding and, and giving some extra privileges for those that are taking the time and effort to do that well. So we're still formulating exactly what we're going to be talking about. You know, it's only July, so we still have almost two months and wanna make sure that our information is as cutting edge and up to date as possible. But I know for sure it's gonna be great. It's going to be really interactive and the whole goal is that you'll actually be able to walk away from that workshop with real actionable things that you can take and apply directly to your business.
Bradley Sutton:
Love it, love it. At first, when you were like saying, Hey, I'm going to attend Rich's, I thought you were gonna say his after party, cuz Rich, I just saw on Instagram you're actually already planning an after party for Sell and Scale, right?
Rich:
Yes. The funny thing about it is like, I don't know if you can call it an after party because it's really a pre-party but it's after. So it's like the first, like on Monday night–
Bradley Sutton:
You're confusing Emma over here. She's like, what is happening right now?
Rich:
Yeah, Monday night, like, which is like the day before, like the real conference starts it's going to be after the official Helium 10 welcome party. So it's gonna be from 9:00 PM to 12:00 AM on Monday night. So in essence it is an after-party, but it's also a pre-party.
Bradley Sutton:
A pre-after party.
Rich:
Over the next six weeks. We're gonna figure that part out. But yeah, we're doing a party. It's gonna be at MGM Skyloft again and it's gonna be with myself, Kian Golzari, Mina Elias, and Michael Lebhar. We're gonna throw an awesome party. And of course, it's limited capacity. We'll do the best we can to get as many people in as we can. But it's gonna be awesome as always.
Bradley Sutton:
All right guys, there's plenty. I mean, rich is gonna be presenting a lot of great stuff. He is presenting a lot of great stuff. Plenty more there's this one dude to Gary Vee people have said something about, I don't know who he is, but you know, but everybody knows who Gary Vee is. Guys, make, make sure to get your tickets. Now, if you haven't already go to h10.me/s3, h10me/s3 to get your tickets, you can use the code S3BS100 S3BS100 to save $100 off of your tickets. So now what I want do is for the last 10-15 minutes or so of this episode, kind of like not necessarily a battle because you guys talk about completely different things, but I just wanna do like have a little back and forth strategy sesh as you were here, not stuff that necessarily is gonna spoil things from your presentations, but some quick hitting we used to call 'em TST 30-second tips, but you're not tied to 30 seconds at a time. If you have a one or two-minute tip, that's fine, but let's start with you Rich. What's a strategy that Amazon Walmart, and whatever sellers need to be implementing right now
Rich:
File a trademark as early as you can. If you do it later, you might still get it, but there's a chance that someone else could file before you and make it a whole lot more complicated and a whole lot more expensive to get the trademark. So as soon as you know that this is the brand, you're gonna be selling under file a trademark application.
Bradley Sutton:
Okay. And then I get this question a lot actually. And so I'm just following up here on this, but I've done it both ways before I've used professionals, you know, before to do, and yes, it costs a little extra, I've done it on my own and only once or twice, and I haven't had issues, but correct me if I'm wrong, but one of the main reasons why it's usually, or sometimes better to have professionalism because they do this, I've noticed sometimes they've told me before, like, you know what, this is probably not gonna pass. So because of this, this, and this, I never would've found where it's like a similar name or because I did something wrong on the application. So would you say that's probably a reason why people if they follow your advice and say, okay, I need to go get a trademark, should probably have a professional help them as opposed to just going to uspto.gov or whatever it is.
Rich:
Yeah. Well, yeah, two things. So that's, that's one reason there it's like if you can find out at an early stage that like, Hey, you'd be better off with a different brand name that will give you stronger protection. It might be worth doing that before you spend the whole lot on producing products, labeling products and even promoting your store. So if you could make that switch at an early stage, that could be worth quite a bit to you. And the other part of it is too, is like, even, you know, as you describe, like, you can do it on your own and sometimes you get it right. But is it worth it for the times that you don't? So if you get it right, half the time and two of the times, let's say two times out four, you are you've launched the product it's a year later that you're finally hearing from the trademark office and you have to start all over again, or you have to change the branding. Is it really worth saving, maybe couple thousand bucks to do it on your own? So it's like sometimes you get it right. Sometimes you won't, but is it worth doing on your own? If you know, you're gonna get it right. Even a quarter of the time.
Bradley Sutton:
Yeah. All right. Excellent guys. So those are our first tips Emma, what's your first tip of the day?
Emma:
Yeah. So I think we're really seeing a strong just Instagramafication of people's shopping behaviors. And so thinking about what that means for selling on Amazon, it's really key that you are making sure to maximize your image of real estate. And a lot of times I'll even see fantastic photos, but you are leaving the interpretation up to the customer. If you're not also adding some thoughtful text to that. And what makes this even more important is we've seen the Amazon beta test, the scrollable product images directly from the mobile search results page, which means that it's possible that at some point in the near future, people might be able to see your whole product image catalog without even clicking into your listing. And so you really need to make sure that your pictures on their own can sell your product and just having great photos. Isn't enough. We really wanna make sure that every single photo has a clear benefit or a key detail that you're communicating with words so that you are making sure to get your message across.
Bradley Sutton:
Okay. Excellent. Now you brought up, you know, talking about images, you made my creative juice juices flow, and I'm now thinking of a follow-up question, but A+ Content, you know, that's one place where you can, you know, put some photos, obviously. And, and there are a couple of things I wanted to talk to you about, you know, you have more experience than me as far as listing optimization and things go, but you know, there's always been a debate. Oh, you know, how much of it is indexed? How much of it is not, you know, in my experience, my personal experience in the past, the regular description part, the text boxes of a, A+ Content are not indexed. And, and Amazon says that they're not indexed, but sometimes I'll see some words in there that aren't elsewhere in the listing that are indexed, but then it, it, sometimes in my opinion it's just like Amazon indexed them automatically just because it relates them to my listing.
Bradley Sutton:
So that's the first part of my question is what have you seen recently? Cause I haven't done any tests like in the last six months or so about descriptions of A+ Content being indexed. The second thing in the past, I heard too that, oh, the description is not indexed, but the alt text in your images is now personally, this is just my personal opinion. Maybe I was looking at this wrong. I never really wanted to take advantage of that or use it because if I'm not mistaken, isn't like, theoretically, that alt text supposed to be like, what blind people use you know, when they mouse over so they can, so they can describe the images and just, I don't know, in my personal opinion, that was kind of like if I keyword stuff that you know, that that's kind of messed up to the people who alt Texas really designed for, but maybe I was looking at it wrong. So hopefully you remembered all those things I just said. And you could comment on.
Emma:
Yeah. I actually really love that question, Bradley, because it's not just a strategy of straight keywords, but it's like, what is the actual purpose and function of this? And if you really wanna make sure that you're being accessible to as many customers as possible, it's not just about having the keywords. It means that even if somebody is vision impaired, that they can still understand what it is that you're showing. And so you can do both now, I would recommend against just dumping a bunch of keywords, but you can still be thoughtful of utilizing keywords in your alt text while still writing it in a way that makes it functional for the people it was originally intended for. So that's kind of the strategy that we take because I agree completely with you. It doesn't seem correct. And it doesn't seem like the overall kind of like bigger values decision to make, to just purely use that as another field.
Emma:
I also feel like we're not at a loss of fields to put keywords. I mean, we have so many different places that we can utilize that if you're feeling like you also just need to dump them into every single one of those fields, then it means that probably you're going way too broad with your keyword strategy. And you're utilizing a lot of keywords that you don't need, or you're doing a lot of unnecessary repetition in regards to your question about whether the–, I think what you're talking about is like the text fields in A+ Content. So not actually the product description. So for the text fields, I've heard some, I've heard both very similarly of like, some people say like, yes, 100% it's indexed. Some people say still not again, I'm gonna kind of go backwards to what are my overall goals with the listing.
Emma:
And my overall goals with the listing are to make sure that it's found by the right people and that those people then have the information that they need to buy my product. And so if we're only taking the lens of where else can I put keywords, you might be making some decisions that could steer you in the wrong direction, because if you're trying to maximize the character space for every single one of those fields, then you're going to probably create a piece of A+ Content that doesn't look awesome yeah. On mobile or on desktop. And so, if you are going to utilize those fields, you can use them in a way that's maybe a little bit more minimal. I personally think that the most effective A+ Content, and just from what I've been seeing as a trend and what is working is very infographic heavy, A+ Content. And then you also have your product description field. You have the backend search terms, you have so many other places that you can put keywords. So I would say kind of minimize the actual text that you're putting into those fields because it will make your whole a plus look a little choppier.
Rich:
Yeah. Yeah. Great. All right. One more tip from you, Rich, if you've got one for us. Sure. Yeah. So it pays to file design patents. If you've got a distinctive-looking product, it pays to file a design patent application. Keep in mind that you need to do it at as early a stage as possible. If the product has been on the market for a year, it is absolutely too late. But having a design patent on a distinctive design to be very effective for shutting down competitors. But also it's these days, Amazon seems to easily shut someone down when a product looks even remotely similar to a design patent. A lot of times this is unfair. So a lot of times you might get shut down from someone else's design patent, where they really legitimately shouldn't be able to shut you down, but that's why it pays to be the one holding the design patent. If Amazon is deferring to IP owners, it pays to be the one holding the IP.
Bradley Sutton:
Is there any going back from that, like, let's say I'm on the other side of it, and I'm getting an unfair claim and Amazon just sided with the person who made the claim, but probably legally it's not fully accurate, like is there a way to go to somebody like you and fight the suspension or the removal?
Rich:
Well you say, is there a way it, it's kind of like when Amazon takes any action and then like, okay, how do you come back from that? And then everybody's scratching their heads of like, who do I call? What do I do? What do it's the same as every other situation with Amazon? It's like Amazon doesn't have a direct procedure for disputing it. Like, they'll tell you you know, you are infringing this patent contact the rights holder. In other words, contact the person who made the complaint, oh, wait a second. What if I wanna contact you Amazon and say like, this is not legitimate? You should not be shutting me down. They don't really leave a channel open for that. You could reply to the email that was sent to you and then often you'll get a response. I mean, I have on behalf of clients written, well-thought-out analysis is of why they're not infringing. And the response to get back is please contact the rights owner. I'm like, that's not what I wanted. Yeah. So the point is–
Bradley Sutton:
In the ASMR voice here.
Rich:
And by the way, ultimately I have prevailed, I mean, in all those, I'm batting a thousand in all of those situations. Eventually, we got the listing restored. Wow. Okay. But there isn't a direct procedure for it. It's a matter of like brute force knocking on the door and, and knocking again and knocking again. So the point is no, there isn't a direct procedure, which is.
Bradley Sutton:
But it is possible just like the dumb and dumber. So you're saying there's a chance? All right. That's all that I wanted to get outta that I, I wanted to make sure that's not the end of the world.
Rich:
It's not hopeless. It's not hopeless.
Bradley Sutton:
There you go. Emma, your second tip of the day.
Emma:
Second tip. Oh gosh. Let's see. I would say you know, we're going into Q4, so let's maybe get a tip that's Q4 related, which is, I would be really thoughtful about whether your gift part of me, whether your product is actually a gift. I think a lot of people fall into the trap of thinking that automatically we're getting into the holidays. And so that means that no matter what you're selling, whether it's a roll of toilet paper or a pack of paperclips that everything is something that somebody would love to receive for the holidays. Yeah. And so be thoughtful about whether your product is giftable and then if it is giftable, really make sure that you're also including the giver in your messaging. Because I think a lot of times what we do is we automatically just think of the recipient, but there's real power in being able to connect emotionally with the person that is actually taking their time, effort, and money to find that perfect gift for someone they love. And if you can provide reassurance, if you can really help them get excited about giving that perfect gift, then you're going to really have a much better chance at being able to win over people that are looking for something to give for the holidays.
Bradley Sutton:
I Like it. I like it. All right. Rich, you know, obviously people can you know, meet you in person and ask you questions on stage or when at your party at Sell and Scale Summit. But if they can't wait until then they have some burning questions. How can they find you on the interwebs out there?
Rich:
Yeah. I mean, you can go to my website, goldsteinpatentlaw.com and there are great resources there for learning about the process. I also got the book that I wrote for the American bar association that explains patents in plain English, The ABA Consumer Guide to Obtaining a Patent, you could grab that on Amazon.
Bradley Sutton:
Awesome, awesome man. Same question for you, Emma, how can they find you?
Emma:
Yeah. Go to our website, marketingbyemma.com. We also offer a free listing analysis, which means we're always happy to take a look at your listing and give you some feedback about what we see. And then if you wanna just take that and run with it, you have what you need to really take your listing to the next level.
Bradley Sutton:
Awesome. Awesome. Well, I look forward to seeing both of you at Sell and Scale, and like I do with all of my guests who happen to be speaking at Sell and Scale Summit. I remind them that you didn't see this in the fine text, but by coming on the podcast, you are guaranteeing that you'll be front row at my Zumba fitness dance class that I'm doing on Tuesday morning. So make sure to pack appropriate attire, both of you. And I will see you on the dance floor out there. Rich is awkwardly quiet here. He's like, what did I get myself?
Rich:
I'm just nodding.
Bradley Sutton:
Yep. Yep.
Emma:
He's practicing the head nob. Is that a Zumba move?
Bradley Sutton:
It can be. You gotta start somewhere. You gotta start somewhere. All right, guys. Thank you so much. And I'll be seeing you in a few weeks over there.
---
Enjoy this episode? Be sure to check out our previous episodes for even more content to propel you to Amazon FBA Seller success! And don't forget to "Like" our Facebook page and subscribe to the podcast on iTunes, Spotify, or wherever you listen to our podcast.
Get snippets from all episodes by following us on Instagram at @SeriousSellersPodcast
Want to absolutely start crushing it on Amazon? Here are few carefully curated resources to get you started:
Everything for your business on Amazon.
Find out more about our products by signing up or speaking with one of our
Customer Success representatives today. With us in your corner, you can enjoy
more sales and increased engagement from your Amazon business.
Chat with a Support Specialist