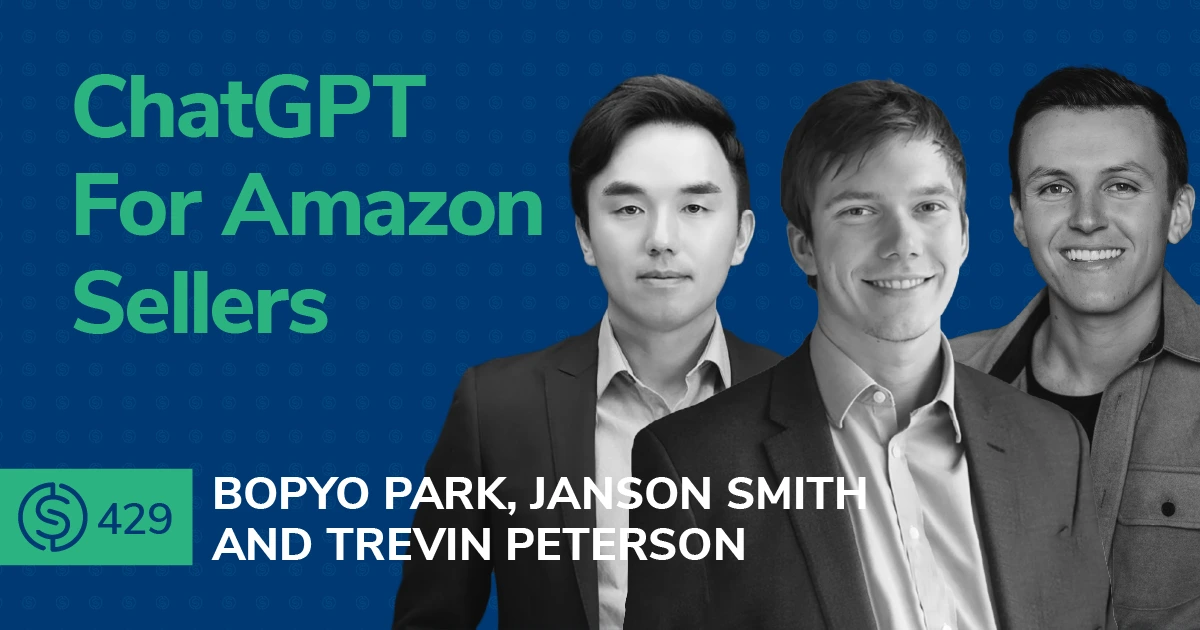 #429 – ChatGPT For Amazon Sellers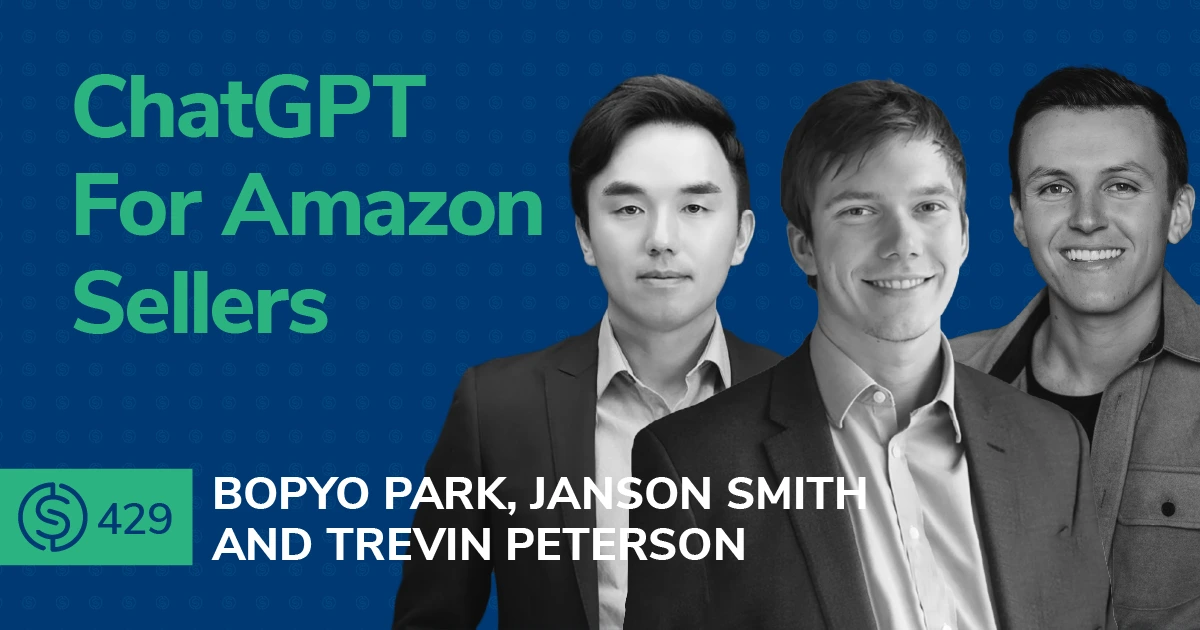 Video of the episode at the bottom
Are you an Amazon seller looking to take your business to the next level? In this episode, Bradley talks to three Amazon sellers on how to use ChatGPT! This powerful AI tool can help you optimize your Amazon listings, analyze reviews, and even assist your daily E-commerce operations. 
Make sure to tune in as we explore the many ways in which ChatGPT can benefit your Amazon business. From using it with Helium 10 tools, to leveraging it for A/B testing and brand building, you'll discover the full potential of this cutting-edge technology.
We'll also discuss how ChatGPT can help you with suspended Amazon listings, and even think about its potential future integration with your favorite Helium 10 tools. So if you're ready to take your Amazon business to new heights, read on and discover the power of ChatGPT!
In episode 429 of the Serious Sellers Podcast, Bradley, Bopyo, Janson and Trevin discuss:
01:45 – Bopyo's Backstory
04:55 – Watching Trevin's Videos Helped Bopyo To Start Amazon
08:45 – What Is ChatGPT And Aritificial Intelligence?
10:55 – Using ChatGPT With Helium 10 Portals And Email Sequences
13:40 – How To Use It For Review Analysis
15:00 – Using ChatGPT With Helium 10's Cerebro
18:40 – How ChatGPT Can Assist Your Virtual Assistants
22:30 – How It Can Help You A/B Test And Write Your Amazon Listings
24:30 – Building Your Brand's Story With ChatGPT
26:30 – Amazon Listing Optimization Assisted By ChatGPT
30:30 – What AI Features Do You Want Inside Helium 10?
31:30 – How To Use ChatGPT For Your Suspended Amazon Listings?
32:50 – ChatGPT Working With Black Box In The Future?
35:00 – Artificial Intelligence Like DAll-E 2 To Create Listing Images?
35:40 – Our Guest's Healthy Habits And Hobbies Outside The Amazon Grind
41:00 – How To Get In Touch With Bopyo Park, Janson Smith, And Trevin Peterson
42:20 – How To Access ChatGPT
Transcript
Bradley Sutton:
ChatGPT is all the rage these days. Find out how these three Amazon sellers are using it to help them level up in e-commerce. How cool is that? Pretty cool I think.
Bradley Sutton:
The cost of selling on Amazon are constantly rising. You know, it's time to really focus on growing your bottom line profit. GETIDA Is the global leader in Amazon FBA reimbursements and audits. Tens of billions of dollars in f b transactions daily. GETIDA helps Amazon sellers worldwide get maximum FBA reimbursements, unlock hidden funds, improve cash flow, and greatly boost profit. As a SSP listener, you can get your first $400 in FBA reimbursements with GETIDA for free. Visit getida.com/ssp to activate your offer. Hello everybody and welcome to another episode of the Serious Sellers Podcast by Helium 10. I am your host, Bradley Sutton. And this is the show that's a completely BS free, unscripted, and unrehearsed organic conversation about serious strategies for serious sellers of any level in the e-commerce world. And we've got three sellers on here today, two of whom have been on the podcast before, but we are gonna be strictly talking about ChatGPT how it can be used with Helium 10, maybe some other stuff we'll have time to do. But that seems to be like all the rage nowadays by ChatGPT I myself, don't really dabble in it. So I was like, you know what? Instead of trying to learn about it, on my own, let me bring in three people who have been using it for a couple of months now and see what input they can give in. Now, we'll introduce our other guest soon, but let's first go ahead and introduce the one here who is new to the show, which is Bopyo. (Speaking in Korean)
Bopyo:
Hi, Bradley. How are you? I'm doing good.
Bradley Sutton:
All right. I'm doing good too. So for those guys here who didn't see my intro, but I used an intro clip where I was at the BLACKPINK concert I'm a BLACKPINK diehard fan. I got my BLACKPINK shirt. I got this. What do you call these things? These like hammers or light sticks or?
Bopyo:
Yeah. Maybe light stick. Yeah.
Bradley Sutton:
But I was you know, right there, front row I took my daughter. The excuse was it's my daughter's favorite, but it's really mine, so that's why I use her as an excuse. But anyways you're from Korea, but based in the United States, right?
Bopyo:
Yeah, I'm from South Korea, but I'm living in New York.
Bradley Sutton:
Okay. So, so for you, we're gonna go a little bit into your backstory because Janssen and Trevin we've gone into their backstory before. So were you born and raised in, in Korea?
Bopyo:
Yes. I was born in South Korea, and then I raised South Korea. Yeah. eh, I grow in Seoul.
Bradley Sutton:
Excellent. Excellent. So Seoul, and then what brought you to the United States?
Bopyo:
Because I was doing something e-commerce business. Yhat's why I'm going to New York. And so I'm living in New York, and I had some e-commerce experience, and then I started my own business to 2019 in Amazon business. Yeah.
Bradley Sutton:
Okay. Were you doing e-commerce in Korea?
Bopyo:
Not really, but just one day I wanna do e-commerce thing because its word is changing. I don't wanna spend my time for somebody else, so I wanna do my own thing.
Bradley Sutton:
Okay. Did you go to university in Korea?
Bopyo:
Yes, but I dropped of a university and I dropped. Yeah, I dropped. And then–
Bradley Sutton:
What did your parents think of that? That's not exactly a very good thing to do in a Korean family, from what I understand.
Bopyo:
Yeah. My parents told me what I doing, man, and then I told him I wanna go into United States looking for something, my goal and then.
Bradley Sutton:
You stuck with it. I like it. So now that you're doing well, are they now like, kind of more okay with, with the career path that you, you chose? Yeah,
Bopyo:
I really like it living in United States with my wife. My wife was my college friend, so she and me–
Bradley Sutton:
It sounds like a Korean drama right there. All I do is watch Korean dramas. That sounds like a perfect story disobey the parents run off to America with your college sweetheart. We need to make we need to make this on KBS or Netflix or something.
Bopyo:
It's a big story. Yeah.
Bradley Sutton:
Nice. Okay. So now you said you started it in Amazon in 2019. Yeah. And how's that been going for you?
Bopyo:
You know I was watching some couple of video. I just to Trevin Peterson. I wasn't watching Trevin Peterson video and YouTube. It was 2019, and then I just—
Bradley Sutton:
Whoa. Wait, hold on. You're saying you were introduced to Amazon because of Trevin's videos?
Bopyo:
Yeah.
Bradley Sutton:
Well, I didn't even know that's what a small world this is perfect. Like I might seem like the most amazing podcast coordinator in the world to plan that, but no, I didn't plan that at all. That's pretty cool.
Bopyo:
Yeah. So so I have my own YouTube channel. My subscriber, they usually living in South Korea. So I pick some couple good Guru, I mean Trevin Peterson, and then other person and introduced to my subscriber. And so they know Trevin Peterson, and they know–
Bradley Sutton:
Trevin, if you go to Korea, he's already kind of a little bit famous. He's kinda like an idol over there already.
Bopyo:
Yeah, of course I can make some party or meeting or whatever. I can do everything. Yeah.
Bradley Sutton:
I love it. I love it. It was actually your group that when I went to Korea a couple of months ago, and I went out to dinner for Samgyeopsal that was with your community, right?
Bopyo:
Yeah, my community, one of my member. So I told him that Bradley is going to Korea, so you guys making some dinner or whatever.
Bradley Sutton:
What his name again? I'm like so bad with names. I have to thank him on the online game.
Bopyo:
So the group member reader, his name is Sangji.
Bradley Sutton:
That's right.
Bopyo:
Yes. Yeah. Sangji. Yeah.
Bradley Sutton:
Yes. Yeah. So, Hey, Sangji, thank you so much for that dinner that was amazing, but okay, so now you really copied not copied, but you really kind of like followed the path of Trevin. You started selling on Amazon yourself, and then you even made a YouTube channel just kinda like Trevin's journey there. I love it.
Bopyo:
Go ahead. You see my background, the Amazon FBA.
Bradley Sutton:
License plate?
Bopyo:
You know, Trevin Peterson has that one.
Bradley Sutton:
I love it.
Bopyo:
That's why I bought it.
Bradley Sutton:
I love it. I love it. So see, Trevin, you never know how many people you're, you're inspiring not out there. You're even in other, other countries that you had no idea. I love it. All right, so, we'll get back to you in a little bit. Let, let's introduce our other couple of guests here. We've got Trevin, and we're not gonna go too much into his backstory, guys. If you have a pen I looked up his old podcast episode, so if you want to get the history of how Trevin started, he's really come a long ways. His, the first time he was on our podcast was all the way back in 2019. So check out episode 89 of the podcast, and then I believe episode 213, he was also on. And then we've also got Janssen from the UK, and his story is in episode 362. All right, so we're not gonna go into the full story like we did with Bopyo here, but, but first of all, Trevin welcome back to the show, how things been going for you.
Trevin:
Thank you for having me. I love these podcasts. I listened to them and things are going great. I just turned 27, so I just had my birthday weekend, this just a couple days ago. And feeling good.
Bradley Sutton:
Awesome. Awesome. And Janssen, welcome. It's, it's late over there, isn't it? What time is it where you are?
Janssen:
Yeah, it's 10 to 11. So I'm sharing a lot of commitment here past my clock.
Bradley Sutton:
I love it. I love it. Hey, entrepreneurs, we don't know there's no such thing of sleep for us. Now Janssen, can you know some of our audience II think a lot of our audience knows about ChatGPT AI, things like that, but you know, there, there's probably some people who are like, well, what is ChatGPT? So if you were to explain it, the technology at least, or what it is, how it started, like in a minute, putting you on the spot here, you'd be the one to just explain the concept of it first.
Janssen:
I would say that it's a piece of artificial intelligence that is designed as a chat bot. So you can ask it pretty much any question. And it will use all of the resources available on the internet as of, I believe, 2021, I think it's a couple of years out of date, and its own algorithms to answer pretty much any question or task. And the questions that you set, it don't just have to be factual. So who was the president of the United States, et cetera. You can say things like, please rewrite the following paragraph, or please summarize X, Y, Z. So it's incredibly powerful and the great thing is that it's, as of now, it's completely free. There are paid plans, but yeah, it's a great tool to use.
Bradley Sutton:
Okay. And then how did you first have the idea where you're like, Hmm, I can use this along with Helium 10, or I can use this to help my Amazon business. Was it like, as soon as it came out, you're like, oh my goodness, this is a no-brainer. I'm going directly to this.
Janssen:
I basically, I mean, I saw a lot about it in the news and thought, okay, I'll try it out. And I think my first question was just something very basic, like, who won the World Cup in 1998? And it got it, right? So I was like, okay, let's try and make this a bit harder now. And then I started to throw Amazon related questions at it. So I think I said, oh, I've just had a customer complaining about a product not working. Please write a response back to the customer. And then it did it. And then I just thought, just try and push it to see what it can do. Started weaving in various tools and analysis that Helium 10 had provided, and the was very impressed with the results. And the amazing thing is this technology is still in its infancy if you think it only was publicly released in November 2022. So who knows how powerful this thing will be in a year's time, in two years time.
Bradley Sutton:
Okay. We're gonna be going back and forth with everybody to go over some of their strategies. So let's start with Trevin. The first strategy I wanted you to talk about you had submitted a few that we could choose from here for talking about today. The first one I wanted to hear about is something that I don't even know what this is, because I mean, I saw briefly one of your videos you did on it, but maybe you mentioned this, maybe you didn't. I'm just my memory's bad, but you mentioned that you're using ChatGPT with Helium 10 Portals. So if you could explain that strategy for me and for the audience.
Trevin:
Yeah. So Helium 10 portals is a tool that not a lot of people talk about, and I think it's a great way to help kind of build your brand off of Amazon. So what I've been doing lately is putting a lot of focus on trying to build an email list and trying to expand beyond the Amazon platform. And so for those that don't know what Helium 10 Portals is, is you can build different landing pages. They have different templates to create product inserts and just, just a lot of cool different things. So what I've been doing is with Helium 10 Portals and ChatGPT is, you can literally ask ChatGPT literally anything. It's incredible. And I'm kind of disappointed, Bradley, that you're not using it yourself. So maybe after this you'll jump on board, but you can ask at any question, and I basically am like, Hey, help me with a header or a tagline or help me with this piece of copy.
Trevin:
And it helps me generate basically the perfect landing page. So that's just kind of one aspect of it is you can use it to help with your landing pages, your websites about us pages whatever it is, you can just ask ChatGPT the question and it will help you. But then kind of the second point to it is once you collect the information, so you have emails, whether you're giving a warranty in return for an email, whether you're giving a free ebook or whatever you wanna do in exchange for, for an email, once you get those emails, you can then have ChatGPT curate the perfect email sequence to cross promote your products, to sell other products, to sell your current products. And that's what I've been doing, is instead of paying a copywriter that's super expensive, you can literally just go ask ChatGPT, hey, write email sequence to help promote or cross promote X, Y, Z product. And boom, it'll give you like a full blown email and you can say, Hey, give me five emails and it will give you an entire like, email sequence to promote your product. So that's a great way to kind of use ChatGPT to help build your brand off of Amazon. And that's just one of the ways that I've been utilizing the tool.
Bradley Sutton:
Okay, cool. I like it. New stuff we're learning here. Bopyo, what, what about you? You had submitted a couple of strategies, and the one I wanted to ask you first about was how you're using it for Amazon review analysis.
Bopyo:
You know, one of my favorite tools is Helium 10 Review Insights. So I'm just going to some product if I wanna launch a similar product, and then I just select, leave one star to three-star review, and then downloaded from Review Insight to CSV file. And then when I download it, and then I just copy and paste all tight and body and all negativity review, right? And then I just put it in ChatGPT and then just t just summarize this review, and then what is a three point improvement this leave review. And then I can check yeah, easily, because I don't wanna read everything cause too much too many review, and then I need to spend more time. So chat 50 is, I'm using that way too. Yeah,
Bradley Sutton:
I love it. All right. So, so we talked about Helium 10 Portals, Review Insights using the review analysis there. Let's go to Janssen. Now I want to hear about how you had a unique one about using ChatGPT with Cerebro as far as a way to kind of differentiate your product. So that was all that I saw. Like, I purposely didn't read the whole things because I wanted to like learn about it with everybody else, but I saw that as the headline. I'm like, all right, I don't understand. So take it away and let learn.
Janssen:
Yeah. So I think one of the really important things to get right when you are launching a new product on Amazon is that you are differentiating and offering something different. And that is actually quite a bit harder than it sounds, and a lot, it's an area that a lot of people struggle with. And historically, what I've always done to help me find ways to differentiate is to look at what customers are searching for that might not actually be available on Amazon. So, just as an example, if you are selling yoga mats and you see that tons of customers are searching for, I don't know, pink yoga mat, and there are no pink yoga mats, then you've got a way to differentiate. So using Cerebro and actually Magnet, which are both keyword research tools of Helium 10, you can get the output of, of those tools and get ChatGPT to go through them and tell you what customers or ways to differentiate according to what customers are saying. So I actually did this earlier on just to prove to you Bradley as well, that how, how effective a method this shape. Yeah.
Bradley Sutton:
I'm telling you that I am a skeptic, so you need to prove to me.
Janssen:
So the first thing is I went onto Helium 10 into the Magnet tool. I'm pretending that I'm selling yoga mats, and I just typed in my seed keyword, which is yoga mat. So I typed in Yoga Mat, Helium 10, then basically came back with a ton of keywords related to yoga mat that real life customers are using. Then I ordered it in order of search volume and then literally exported that list into CSV just how, how Bopya was talking about earlier and then said to ChatGPT I said, based on the below list of customer suggestions, what different ways can I improve upon my Yoga Map product? And then just paste it in that magnet list of keywords. And it's so impressive. It literally went through about 50 of these keywords and said different things you can do, could be make thicker yoga mats, create a travel mat that you can take around with you.
Janssen:
You can add a tout bundle in a towel create like a small customized bag, and so on and so on. So you know, this task that I just set, it was done in about 30 seconds. And had I been doing that manually, I probably would've been going through the list. You know probably would've taken at least 30 minutes. And in some cases I may have seen some of the search suggestions by customers and not connected the dots. So I may have seen, I don't know, yoga bag and just thought, oh, that's not relevant. But ChatGPT is saying, with your yoga mat, why don't you bundle in a mat? And this is just a really basic example of a yo like a generic product. Sure. But I do think that if you can find a product with demand and it's profitable and so on, and you do this little task here you are gonna be blown away at the different ideas that, that you get given. And it's the exact same process with Helium 10 Cerebro as well. So you run a Cerebro reverse keyword search on your competitors. You find out the relevant cues that they're ranking for, and then ask ChatGPT for its suggestions.
Bradley Sutton:
I love it. All right. There we go. There there's three different helium 10 tools that we can use ChatGPT. Let, let's go away from helium 10 a little bit. Trevin, you had a strategy that has to do not with Helium 10, but just, or I don't think it's with about Helium 10, but how to help work with your virtual assistants?
Trevin:
Yeah, so ChatGPT is obviously a great tool for people that aren't native speakers. So a lot of your virtual assistants, they may not have the best grammar, they may not know how to write properly. And so there's two things, and Janssen mentioned. The first one was for basically customer support emails. So you could delegate this to a virtual assistant, and literally any question that a customer has a complaint, a problem, you just go into ChatGPT and say, Hey, I have an issue with this product. We want to obviously make things right. Write an email and literally ChatGPT will generate a customer support email for you. The second way is, one thing that I've been focusing a lot lately is Amazon posts and trying to automate that. And it is time consuming.
Trevin:
It takes a lot of time and a lot of effort, but if you can have a virtual assistant be able to do this for you, it can open up a lot of time on your hands. So basically what you can do is on Amazon posts for those that aren't familiar with it, it's basically like an Instagram, but inside of Amazon. And you go in and you create these different posts, these pictures, and then you have captions, and then you can tag the product that you're selling. And so a virtual assistant in the past at least from my experience, every time I've hired, hired a virtual assistant to help with social media or coming up with captions, they're just not very creative. They're, they're kind of repetitive. They have misspelling, they have errors. And so you can have your virtual assistant just go in and ask ChatGPT, Hey, I sell a dog leash, or let's say yoga mats, I sell yoga mats.
Trevin:
Please write 20 Instagram captions for yoga mats. And boom, it'll generate 20 captions in a matter of 20 seconds of things that you could then use for Amazon Post and for Instagram. And then that way you can start basically being omnipresent. And if you're posting on Amazon Post, you might as well start posting on Instagram, Facebook, and all the other social platforms. So utilizing that tool to help with virtual assistance to be able to do those tasks that are super important, but they're just time consuming is a great a great way to kind of go about it.
Bradley Sutton:
So what would be like the prompt that you would, or what would you exactly input into ChatGPT to get what you just said?
Trevin:
Yeah, so that's literally what I would ask. It's as crazy as it sounds, you would literally ask ChatGPT what write me 20 or 10 or five or however many you want. Write me 20 Instagram captions about my yoga mat and make it funny or make it entertaining, make it engaging or sell the product. And then it will go in and create it. And then what's cool is once you have the 20, you can say, give me 10 more, give me five more, give me 50 more. And then if you don't like the captions that you're getting, you can kind of rewrite your, your question. And that's kind of the most important thing is you just kinda have to tinker around with it and adjust the way that you ask the question. Because depending on how you ask it is obviously going, they're going to generate the response according to that question. So you just kind of go in and kind of alter different things. And that's what I've been doing is literally that simple question is just write me 10 Instagram captions about a yoga mat. You'll be shocked at what it will give you.
Bradley Sutton:
Interesting. Okay. Alright. Bopyo another one that doesn't have to do with Helium 10. I think you had something about making like ab testing for titles.
Bopyo:
Yeah. but this feature is also, I'm using Helium 10 Xray tools. Okay. Because
Bradley Sutton:
Sounds good to me.
Bopyo:
Sounds good, right? Because copy and past all different product title is I need to spend so many time, so I just going to page number one and then using Xray and download the CSV five, and then just say maybe linking number one to 10 product title and put and then put it in the ChatGPT and then number 1, 2, 3, 2 number 1, 2, 3, 4, 5, 10. Right? And then just to ask a chatt, what is, what are you thinking? You know, you are AI, right? And what is they thinking? What is the best title for this category? And then ChatGPT, just pick one. And then I ask them, I ask a chatt, okay, can you make a similar product title? This product title and then ChatGPT just making me similar to product title. Yeah. And yeah, this is very interesting. So I'm just checking, right. What is ChatGPT choose and actually I'm using Xray. That product is actually says a really good product. So, I mean, not all the time a hundred percent ChatGPT is right, but when I'm trying to using ChatGPT, product title, AB test. ChatGPT choosing product, is also selling good product? Yeah.
Bradley Sutton:
Okay. Yeah. And, and if we, as long as our titles are optimized well with, with the keywords, like the, what, what ChatGPT puts out is well optimized as far as your keyword, your top keywords. If you still can't make a decision I would use like Helium 10 audience, which is, which is PickFu and you can possibly get some, some human feedback a also on what ChatGPT comes out with. But some people, they don't even know how to get to something that they could pull a human being with because they're like, I don't even know where to start with my title. So that, that's a great, that's a great strategy for at least having a great starting point. Janssen, what about building a brand story?
Janssen:
Yeah, so building a brand story, again, it can be something that's quite difficult, especially if you find a product that you want to sell that you're not particularly passionate about and you don't really have an interest in, you just wanna make some money. So with ChatGPT you can say to it, I sell X, Y, Z product. I'm based in the UK it's always best as the guys just said earlier, that you try and give as much information as you can to help ChatGPT come up with something for you. So in my case, I said I was based in the UK, I said the product that I sold, and then I said who the customer was. So my customer is somebody that loves exercising and going to the gym. Please write me a 300 word brand story.
Janssen:
And then again, within about a minute, it will give you three or four paragraphs talking about you know, and a lot of it is actually made up, but it does, but it does work. It'll be talking about how the brand started, where you are based you know, a bit about the product and so on. So that's a great way to curate your brand story and then put it onto your listing, which Amazon offers in eight separate section. The one thing I would say though, and this is goes without saying for anything that ChatGPT actually writes, is always read through what it actually says, because I have come across a few instances where it just flat out lies or make something up. And if you didn't actually read it you, and you just paste it somewhere, it might look a little bit, a bit silly.
Bradley Sutton:
Yeah. Yeah. Good suggestion. You know, don't turn everything, don't turn control over to the robots completely, guys you gotta you gotta have a human look at it a little bit too. All right, Trevin, fo your last one I heard you have a listing optimization strategy on how you're using ChatGPT with Helium 10 as well.
Bopyo:
Yeah, so I think ChatGPT when it comes to listing optimization is like the best use case to basically use the tool. In the past it would take me an hour, two hours, depending on how much time and effort I would put into basically creating my, my title bullet points description. And what you can do is chat b t can help with your existing listing or a new listing. So let's first talk about an existing listing. What you can do is you can copy your bullet points, throw it into ChatGPT, and just say, Hey, make this more engaging. Make this a little bit more eloquent, make this more funny, or just make it more tailored to your, your brand or more gangster. Depending on the type of product that you sell, you could kind of rewrite your bullet points that fit kind of your brand. And that I'm surprised at like me doing that. It just gives it a little bit more flair to your listing than me writing it myself. It comes up with like cliche and catchy phrases and sayings that is entertaining and fun and engaging for a customer to read.
Trevin:
And so that's what you can do with your kind of existing bullet points. And then what I recommend doing is obviously you wanna pull your keywords, use Cerebro, use Magnet, find your main keywords, and then you'll wanna put that into Scribbles and make sure that you're not removing the important keywords. And that's where you wanna manually check it yourself. So you would throw in the bullet points that they came up with, cross-check it, make sure that you still have the keywords in there so that you're still optimized. And so that's kind of one kind of pro tip with that. But kind of same thing applies with a new listing is you do the same exact thing. You find your main keywords, you pull it from Cerebro, and then you go to ChatGPT and you say, Hey, write me five benefits of my yoga mat.
Trevin:
I sell this product and include these keywords and I'm blown away with the five benefits that ChatGPT will come up with. And like, they're better benefits than I could come up with myself. And they'll give you just like five solid bullet points. And then again, if you don't like those bullet points, you say, give me 10, and it'll give you 10 bullet points. You could say, give me a hundred and it'll give you a hundred different item lines. And then you can go in and you pick each one. And then I would basically say, okay, I like this benefit the best. Because obviously when writing a description, that's kind of a main key component to it, is you want to explain and tell the customer why your product is better, why they should buy it. And then you find the top five best benefits.
Trevin:
Then you'll obviously wanna paste that into Scribbles, and then again, just crosscheck it and make sure that you have the right keywords in your listing so that you're optimized, that you're in, that you can be indexed, that you're searchable and whatnot. So that's one use case that I've used. And like I mentioned, takes me an hour, two hours, depending on how much time I spend. And I just created a brand new listing with three variations, did that same exact strategy, and it took me 15 minutes to create a listing that was better than the one where I took two, three hours.
Bradley Sutton:
All right, cool. Bopyo, what I'm gonna ask you, I'm gonna skip to the end, is something that you have thought about. Man, I wish I could do this inside of Helium 10 with ChatGPT, but I can't do it now. Like, is there anything, like, if all of a sudden I invited you to talk to our development team, what would you have them do first? By the way, they all listen to this show, so you literally are talking to our development team right now.
Bopyo:
Yeah. I hope you guys put ChatPT maybe, I don't know, some feature, but if you guys put your Cerebro put ChatGPT feature, right? And then maybe just your customer, I mean, Helium 10 regular user, they can just pick, ask Helium 10, what is my best keyword for ChatGPT then collecting all keywords, right? And then ChatGPT check each keyword, and then just chat pt, giving the user maybe five best keyword, something like that. Yeah, I think that is gonna be game changer for Amazon PPC. Okay.
Bradley Sutton:
Cool. Cool. Jensen, you had one about if you get suspended a way that you can use ChatGPT.
Janssen:
Yeah. So hopefully this doesn't actually happen to anybody that's listening or watching, but if it does, when you get suspended by Amazon, they'll typically ask you to put together a plan of action, which is where you say what happened and how you'll put things, right? So it doesn't happen again. And I did actually help somebody that got suspended for selling too many defective items by basically using ChatGPT to come up with different ideas of what they could do better next time. So I simply asked it, like, I basically told her the problem. I said, I sell on Amazon and I've been suspended because I've been selling too many faulty items. Please write 300 words on corrective actions or something like that. And then it will basically wait, it spat out like five or six reasons saying ways that you can improve. So getting quality control checks, visiting supplier factory and so on and so on. So you know, I think that's similar to what traveling was saying, that it's really, really good for idea generation. You know, if you've already got a few ideas yourself, but you're struggling ChatGPT can provide other ways to put things right effectively. Okay.
Bradley Sutton:
And then what about you? If you're talking directly to our developers, what would you want in, in a perfect world, Helium 10 to integrate ChatGPT or any of these other ai?
Janssen:
I was thinking about this when you were asking a moment ago, I think Black Box, you could potentially improve that further with AI by just allowing somebody to specifically type out the type of product that they're looking for. You know, maybe if you got shown products that you'd already seen, you could say, show me products that I haven't seen previously, or really dig down into more specific criteria about the type of product that you're looking for.
Bradley Sutton:
Okay. I like it. I like nobody's talked about Black Box yet. Trevin did you have one more also strategy you were doing?
Trevin:
No, those were the three main ones.
Bradley Sutton:
Okay. So then what about you? You already gave, that's how bad my memory is, I don't even remember what happened 10 minutes ago. I'm like the, the guy from 50 First Dates movie. But what would you say is on your wishlist for Helium 10 to integrate ai?
Trevin:
Yeah, so I've seen a few other companies that are specifically using AI for listing optimization. And so it's Amazon specific. And so basically you would create a listing optimization tool for them to write your title, your listing in the bullet points. And it's more tailored specific to Amazon. So there's certain criteria of like, okay, this is how a formatted Amazon listing is written. This is how many characters are in the title, this is how many characters you need in each bullet point. And then there's different, like, ways to toggle to change it, to be, again, more funny, more gangster, more formal, less formal more eloquent, whatever, like, whatever you wanna describe or whatever you're kind of the vibe that you're trying to give off in your listing. And I've seen some other people do something, but I still feel like it's wide open and there's still somebody that needs to do it better. So I think a listing optimization tool to build off of Listing Analyzer and Scribbles to almost make it automated to where AI is writing the listing for you.
Bradley Sutton:
Okay. Cool.
Janssen:
Yeah.
Bradley Sutton:
Go ahead.
Janssen:
Just to add to that point, I do think that eventually AI is going to be able to do every single part of an Amazon listing, including images. So one piece of AI that we haven't actually mentioned is like ChatGPT's sister, which is DALL-E-2, and at the moment is quite basic in the type of images that it can make in terms of how realistic it is. But I do think it's not gonna be long before you can say, I sell yoga mats, provide me five different images of the yoga mat being used in X, Y, Z scenarios. And it'll do, whether it's Photoshopping or just making the image itself. So if you could also have a word with the developers and weave that in as well, I think it'll be a killer platform.
Bradley Sutton:
Okay. I like it. I like it. Now one thing that even though a couple of you guys have been on this show before, but I've only been doing it like in 2023, is I try and preach a lot to everybody who's listening about as entrepreneurs, we need to make sure that we are able to disconnect ourselves from Amazon, from whatever we're doing, and enjoy life hobbies have healthy habits for diet, for mental health, whatever. So first Bopyo, what about you? What's your hobby of what you do when you're like, Hey, I just want to get away from Amazon and YouTube and things.
Bopyo:
My hobby is I'm just falling in love or AI.
Bradley Sutton:
I thought it was give some romantic posts about his wife. I'm falling in love with my wife every day over and over. She's listening to this episode like, oh honey. Jagiya.
Bopyo:
Falling in love. Oh yeah. You know, Jagiya was meaning. Yeah, yeah. So yeah, I met another community actually only for AI community. So ChatGPT is only one of the things.
Bradley Sutton:
But okay. But you see, this is why I ask this cuz you are like me, Bopya, are like, sometimes we, even our hobby is more, really more work. You know, don't you do anything that has nothing to do with e-commerce and what is it?
Bopyo:
So actually–
Bradley Sutton:
I knew a come on man.
Bopyo:
Sometimes I read a book, that's it. I read a book and then I just work. That's it.
Bradley Sutton:
Yeah. Okay. You see, this is why I do this because some, we as entrepreneurs are, are sometimes we don't know how to take it easy. So, Bopyo, stick with me, I'll show you some good Korean dramas or something to watch and then you, you need to take yourself away from Amazon sometimes.
Bopyo:
Yeah, I am tired of watching Korean drama because my wife already you have to watch this. This guy is so handsome.
Bradley Sutton:
Oh yeah, that's actually not cool. Yeah. Oh my goodness. What, what's her favorite drama?
Bopyo:
My favorite drama?
Bradley Sutton:
Hers or yours?
Bopyo:
No, her I don't know if she's watching something now in Netflix. She's watching Trolley, I don't know the exactly name, but Trolley something. And then she's also watching some or romantic story thing. Because the all Korean man is so handsome in that drama, but I just wanna say everybody that is not like person that is only for drama. It seems
Bradley Sutton:
You're very handsome yourself. So it seems like this is real life too. Just like keeping to this part of the episode. I thought this was an Amazon episode. We're talking about handsome Korean guys. What is going on? Janssen is like, what kinda show am I on?
Janssen:
Sounds like another podcast in here.
Bradley Sutton:
Alright. Alright, so guys obviously Bopyo need some work with learning how to enjoy himself. Janssen, how about you? I hope you have a better answer than him. I hope you are enjoying life sometimes.
Janssen:
It's hard, isn't it? Cause as an entrepreneur you just love hustling. Sure. So you mind is always worrying away, but definitely agree with you that you need to take breaks if not just for your mental health. So one thing I've been doing, my kind of New Year's resolution since the start of January is just going to the gym every single morning. And I find that an hour away from the phone, from the Amazon seller apps, from all the notifications is so good for mental health coming out, feeling like you've achieved something at the start of the day feeling positive and so on. So I've done, it's a bit cliche, especially for this time of year, but I'd say yeah, going to the gym and just staying consistent with it.
Bradley Sutton:
All right. Trevin I know you, I mean you travel, I see you on Instagram like water skiing and stuff like that. What would you say is your favorite hobby that you have?
Trevin:
Yeah, so the only two things that I can do and not be thinking about work or business or just problems that happen on a daily basis as being an entrepreneur is fishing and golfing. Those are the only two times that I can literally just sit there for 10 hours and just be casting for 10 hours straight. And that's all I'm thinking about. Nothing else that the golf course, not as much because I can still kind of see my phone and the people that I'm with we're still kind of talking business, but fishing a hundred percent, that's my only focus when I'm doing it. So that's a great hobby that I have that just gets me away from the world.
Bradley Sutton:
Cool. I love it. I love it. All right. How can people find you guys out there? Bopyo, since a lot of your community is, is Korean, go ahead and give a 20 seconds of how people can find you. But go ahead and speak in Korean so they can understand.
Bopyo:
Okay. My community name is sellerkingdom.com.
Bradley Sutton:
That sounds English. Unless all of a sudden I can understand Korean. Go ahead and say to Korean
Bopyo:
Oh yeah. (Speaking in Korean)
Bradley Sutton:
Cool. I could actually understand that somehow, but too much Korean drama watching for me. All right. Jansen, how can people find you out there?
Janssen:
They can find me on the usual social media channels. So Twitter, Facebook, Instagram, just Janssen Smith or on YouTube name is the same as well, Janssen Smith.
Bradley Sutton:
Are you like the only Janssen Smith that comes up in search?
Janssen:
I believe so. Yeah.
Bradley Sutton:
Yeah. Usually Smith is kind of more popular, but Janssen Smith, I guess is a little bit more.
Janssen:
If you type in Smith, you won't find me.
Bradley Sutton:
Don't type in Mr. Smith guys. Or Smith, YouTube, or Smith, Amazon, or something. All right. Trevin, how about you?
Trevin:
Yeah, that's the same thing with me is my last name is Common, but my first name is not. So if you just search Trevin Peterson, Trevin, and then Peterson with an S O N on Google, YouTube, TikTok, Instagram, anywhere trevinpeterson.com that's the easiest ways to contact me.
Bradley Sutton:
Awesome. Awesome. Well, guys one last thing I just wanted to say, like, somebody may be inspired to start diving into ChatGPT. If they are, how would they do that? Like, where do I go to sign up and what's the process like? Any of you can answer.
Janssen:
Yeah. If you go to chat.openai.com you'll have to sign up just because it's so popular at the moment. I've noticed that you'll occasionally go on it and it'll say, our servers are overloaded. Come back. Just keep refreshing, keep hammering those servers and they'll let you on. And then you can register within five minutes and straight away you can be asking it questions.
Bradley Sutton:
Okay. Cool. All right guys, well thank you so much for joining us. And you know, who knows, and a year from now, we might be living in a world like Terminator, where Skynet has taken over the world like some super AI, I don't know, but this is the beginning. This is, we can point back to you know, where it all started kind of around this time. You know, 2023 AI started podcast. What'd you say?
Janssen:
You could have ChatGPT on the podcast.
Bradley Sutton:
That's right. I might be short on guests. I'll be like, all right, ChatGPT come on the give you a voice prompt and you No, actually the, I've seen it where, where they create human beings and they make it say whatever. It's crazy. It's insane. I never thought I'd see this guy.
Trevin:
I'm gonna retire from YouTube here in a second when I can just generate scripts from ChatGPT and then put it into AI to where it's literally my face talking and I don't even have to be on camera. So I'm excited for that.
Bradley Sutton:
And then Bopyo will create like a robot to watch Korean dramas with his wife so that he doesn't have to, I mean like there are just so many things you could do.
Bopyo:
That's cool. Yeah. That's a good idea. Yeah.
Bradley Sutton:
All right guys, well thank you so much for joining us and we will see you on the next episode.
Trevin:
Thank you.
Janssen:
Thanks.
---
Enjoy this episode? Be sure to check out our previous episodes for even more content to propel you to Amazon FBA Seller success! And don't forget to "Like" our Facebook page and subscribe to the podcast on iTunes, Spotify, or wherever you listen to our podcast.
Get snippets from all episodes by following us on Instagram at @SeriousSellersPodcast
Want to absolutely start crushing it on Amazon? Here are few carefully curated resources to get you started:
Achieve More Results in Less Time
Accelerate the Growth of Your Business, Brand or Agency
Maximize your results and drive success faster with Helium 10's full suite of Amazon and Walmart solutions.