#293 – Fireside Chat with the CEO of Helium 10
Today, we speak with Helium 10's CEO, Bojan Gajic, about data security, the tool's accuracy, and some leadership tips that you can apply to your business.
Updated on: November 4, 2021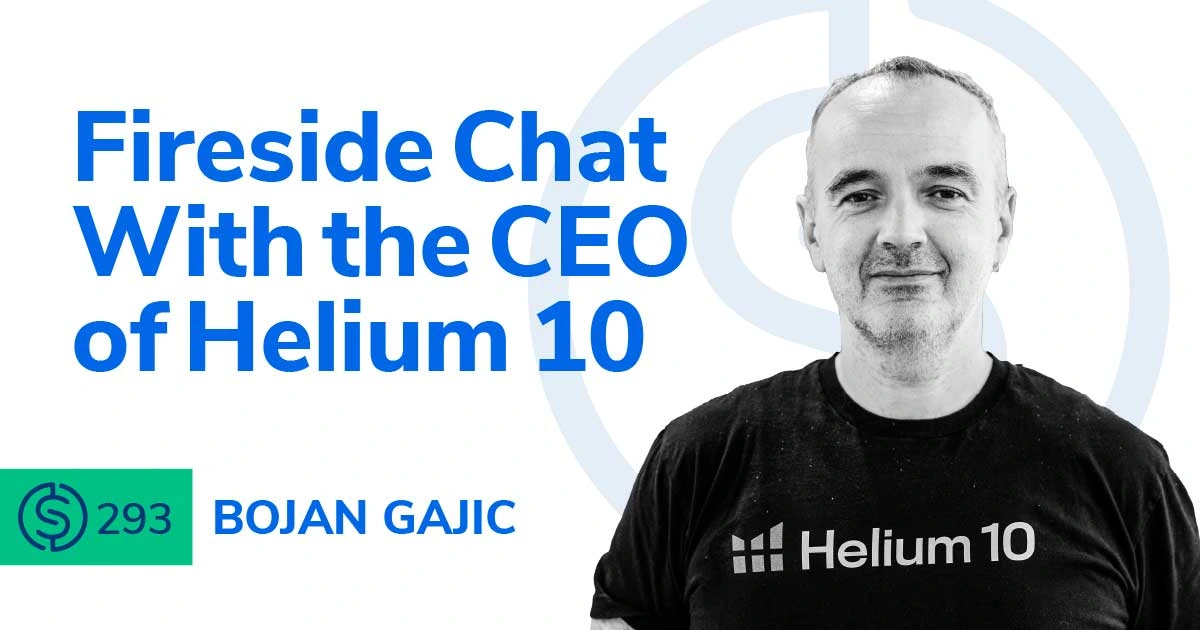 In this episode, we welcome Helium 10's CEO Bojan Gajic and discuss various topics including some "hard-hitting" questions about data security and the tool's accuracy. He also shares his perspective on how Helium 10 has grown over time and how the company's mission, vision, and values helped in such massive growth.
Plus updates on Walmart tools, Helium 10 Elite, leadership strategies, and more! So make sure to listen to the very end.
In episode 293 of the Serious Sellers Podcast, Bradley and Bojan discuss:
00:55 – Bojan's Favorite Position Before Becoming CEO Of Helium 10
02:30 – Is Helium 10 Sharing Token Data With Other Companies?
03:50 – Helium 10 Is A Serious Business That Cares For Its Customers
07:50 – How Helium 10 Has Grown In Bojan's Perspective
09:30 – How Accurate Is The Data That Helium 10 Is Displaying?
17:30- Bradley And Bojan's Take On Amazon's New Features/Tools
19:30 – Data Integration From Amazon To Helium 10
23:00 – What The Future Holds For Walmart Tools
24:30 – Selling On Multiple Channels Gives Your Business A Higher Valuation
26:00 – Join The Helium 10 Elite Webinar
34:30 – Important Leadership Lessons From Bojan
Transcript
Bradley Sutton:
Today, we're going to talk to the CEO of Helium 10. He's going to answer some of your burning questions that you've submitted such as does Helium 10 sell customer data to other companies? How can we trust the accuracy of the tools? What are some Amazon leadership principles that can help entrepreneurs? And more. How cool is that? Pretty cool I think.
Bradley Sutton:
Hello everybody, and welcome to another episode of the Serious Sellers Podcast by Helium 10. I am your host Bradley Sutton, and this is the show that's a completely BS-free, unscripted, and unrehearsed organic conversation about serious strategies for serious sellers of any level in the Amazon or Walmart world. And we're going to talk to the man behind it all, the one who is helping serious sellers out there with some serious strategies, Bojan, the new CEO of Helium 10. Bojan, how's it going?
Bojan:
Pretty good Bradley. How are you doing?
Bradley Sutton:
I'm doing just delightful. Now, I said new CEO, Bojan is not new to the company, he's also not new to this podcast. Many of you remember, we used to have a series back in the day called "Tech Talk with Bojan" because in those days he was the CTO, Chief Technology Officer, of Helium 10, and then he transitioned to the COO and now just recently became the CEO. So a lot of letters there, I know you're new to being a CEO here from those three, what's your favorite position so far that you've had would you say?
Bojan:
I enjoy each of those seats, so as a CTO, I was able to kinda shape Helium 10 from the seed to the tree that it is today that were rewarding. There was some nights that were more stressful than other nights. But in the end, I'm looking back at that period, all the rewards a lot of great memories came from that. Like, as company transitioned in 2019, and we kind of found our stable footing and our product market fit, I transitioned to the Chief Operating Officer role, fulfill thinking about the technology is still thinking about product, but having broader responsibilities. And now for the past few months being explicitly in the Chief Executive role, it's different kind of experience. It forces me to think, not as kind of short term, but think more broadly, more strategically things are deeper in the future trying to kind of define what's the kind of all of us together. I'm loving it.
Bradley Sutton:
I love it too. Now, like I said, no BS here It doesn't matter who our guest is, we're hard hitting. So I'm just going to start off with a whammy here. We're going to talk about a wide variety of subjects, but right off the bat, here's maybe one of the more hard hitting questions I can think of. That's on top of mine all right? Something I see in Facebook groups, people are concerned about is Helium 10, like sharing their Profits and sharing their product information and their sales, like I've connected my token to Helium 10, are they sharing it with other companies so that they can like market to me and like know exactly how much I'm making things like that? What's your answer to that? You know, very valid concern by many customers.
Bojan:
It is definitely a valid concern. So it's a privacy security that should be top of mind for everyone like everyone doing business, but there are the kind of their personal lives. I can give some broad answer, talk a lot then and say a lot of words, but the answer is no. There's two ways when you think about security, they're sort of two lanes like, what is our external security? What is our risk profile? What is the risk of someone from the outside finding a way to compromise our customer's account? And that's a serious concern and that's my kind of personal concern that I have. I have background information security, and we don't take that lightly. So as a company, we actually have director of information security. We have resources dedicated to that, but we also decided to think about security as something that's built in as opposed to bolted on.
Bojan:
So it's security concerns are part of development process from idea to execution to release. And that's external security, every company that has public presence has a public security risk that external risk. Helium 10 on top of that has that sort of concern that our customers might share. Are we internally doing whatever we can to protect our customers data? Is Helium 10 essentially competing with customers? Is Helium 10 trying to monetize customer data versus Helium 10 SaaS platform and so we're a good steward of customers data? And the answer to that is Helium 10 is a SaaS platform, Helium 10 is serious business if you look at it, if you look at our LinkedIn profile for example, we can see sort of hundreds of employees. If you look at our public profile, you can see tens of thousands of customers.
Bojan:
We're not here to make feedback, we're a SaaS company which is great like I love the model that forces us to think about our customers as our families, our friends, as people that we need to support today and we also need to support our customers in a month or in a year from today. Having a customer that signs up for Helium 10 and stays on for two or three months and then we take advantage of that. Someway, like that's not a sustainable business model that's not what we're about. Like Helium 10 is not competing with our customers, we consciously made a decision to stay away from building any kind of brands. So Helium 10 is not in the business of competing with our customers and Helium 10 is not selling our customer data that is the core of our business like it would just make no sense for us to engage in something like that.
Bradley Sutton:
So then a company comes in, be it a company in the Amazon space, be it a social media company who wants to get info. They say, hey, Helium 10, here's a million dollars, here's a thousand dollars, here's whatever. We would like some personal data on some of your customers. There's no circumstance where that would happen.
Bojan:
Yeah. There's no price, like I don't care. I don't care what the number it might be.
Bradley Sutton:
And then also to you, you talked about, we're not competing. You're like so, do, we have an Amazon account guys.? Yes, we do, we've got the Project X, but it's open to everybody. You can clearly see what products we have in there. It's coffin shelves and egg trays that we did in Project X. We are not, we don't have our own Amazon company that we're trying to use our customer's data to increase our own brand or something like that.
Bojan:
Keep in mind you're not alone in this like, being successful entrepreneur it takes a lot of work and takes a lot of support then and you're kind of one of the pillars we all focus. The company exists to help entrepreneurs succeed, but we are not the only ones that can and need to provide that kind of support. So there are a lot of services that people not provide and whenever we can, we'll try to partner with the deputable businesses and expose our customers and our community to opportunity to augment their business and to achieve their goals faster. So we build go hand-in-hand with some of our partners, but we will never ever share customer's information with a third-party.
Bradley Sutton:
Okay, excellent. Now, you mentioned something a couple of minutes ago about how Helium 10 is growing and looking at our public profile. And we just got our parent company Assembly which includes obviously Helium 10 the press release was a couple of weeks ago, how we got a valuation of a billion dollars, with a B that every time I say that it makes me think of the old Austin Powers movies and Dr. Evil $1 billion. I mean, it's kind of crazy to think about that you've been around since almost the beginning of the Helium 10, but what are some things that you can tell us about how Helium 10 has grown as far as like number of employees and how it's not just Helium 10 as a brand in our kind of family here, our Assembly family, we brought on some small and some large partners as well.
Bojan:
Assembly as parent company of Helium 10 is focused broadly on E-commerce end to end, horizontally and vertically. So assembly has a mandate and the mission to become the primary and the prime E-commerce solution online Helium 10 is important part of assembly and focused on primarily small and medium businesses. So that's where our focus is, we recognize the need to do more. We recognize that there are areas that you're not covering, but that actually allows us to focus at the ad is Helium 10 allows us to provide value that's unmatched there's a lot of platform out there that provides value to Helium 10. Now, there's always a need to do more and we do that through Assembly. So the recently announced the acquisition of Pacvue, a few days ago, as part of the Assembly is an example of how we can work through Assembly to augment the services and value that we provide for our customers.
Bojan:
Pacvue is advertising platform primarily focused on enterprises. So the things are fortune 500 company through this relationship that we have now, where Pacvue together with Helium 10 is part of the Assembly, and you have active working relationships or open relation there. The expertise, the knowledge, the kind of technology that's being developed for most successful businesses in the world is being shared with Helium 10 and customers of Helium 10. So we have the ability to take advantage of the research of the expertise that Pacvue experts brought to the market and augment that is what Helium 10 does and provide that to Helium 10 customers and the other way around. So that's the relation between Pacvue and Helium 10. Then there are other brands in Assembly focused on Shopify, focused on influencer marketing. So our goal is to allow our customers, to allow e-commerce entrepreneurs to succeed. And we do that by sort of providing tools and services needed to start a business, to grow the business, to manage your business, to run your business. And if that's what you want to achieve, eventually exit your business.
Bradley Sutton:
Okay. Excellent. Now, another one of these questions that comes in in social media, it comes in in customer service a lot is the word which is accuracy you know in the past it was always, I mean I don't see it much anymore and I think it's because everybody can see how accurate our estimations are on things like sales, but people wonder like how accurate, how can we trust Helium 10? Because they're by definition estimations and so people are not able to necessarily verify what we are showing with actual Amazon data, because they don't have access to it. So, like what kind of confidence can we give people about how accurate the data that Helium 10 is displaying?
Bojan:
It's a big part of the business. So having like, understanding what the history looks like, and sort of creating predictions based on that. That's a critical part of entrepreneur's business. Like you don't have a lot of history, you don't have resources available to large enterprises. So Helium 10 is here to bridge that gap, so we understand the mission and when you asked about sort of size of the company, and the growth of the company, these are triple like there more than 250 team members on the Helium 10. Large part of that is an engineering board. Part of that is focused on data assets, we had data assets we started as a sort of data platform, and we had significant assets industry leading assets 3, 4, 5 years ago and we continued to build on top of that.
Bojan:
Now the original question, like how important is accuracy? You talked previously about sort of trade-offs between precision and accuracy. And I think I use the age, like if you ask me how old I am, and I can tell you it's 47 years and 11 months, seven days, 11 hours, 26 minutes, 30 seconds, like, that's good. That's very precise and very accurate that, like do you really need to know that? On the other hand, I could be less precise and I can say I'm between 20 and 70, which probably doesn't help you as much. So sort of finding a balance between providing valuable information and providing that information in a consumable way. That's important, that's sort of scientifically important another sort of component there that I want to add is the timeliness.
Bojan:
If you need information out like winning numbers for lottery, tonight's lottery. If I give you numbers now, that's great. If I give you numbers tomorrow, it doesn't matter. Does that make sense? So we're trying to balance sort of timeliness of estimates that we provide accuracy of the estimate and the precision of that estimate. We continue to improve it to continue to improve in all three elements. The focus is sort of providing directionally accurate information that allows you to make informed decisions, because when you think about sort of data in general, like why is that important? It allows you to make rational decisions so instead of you sort of waking up one day and deciding that you want to invest in something that you just experienced, because it's great. You're recent college graduate then you spent a gap year traveling the world and you want to start the travel app. Like, that's a great idea, but it's hard. It's challenging because there are a lot of people out there doing that. And the market is not huge. So by having data like this, or remove your personal bias and it allows you to make rational decisions. So that's sort of the core of our intention why Helium 10 focuses on a sort of balance between timing, precision, and accuracy. Now improving all three is on the roadmap every quarter, every month, every day for a large part of the team. And I'm sure you've seen those like around the quality control all the time. Like there's a quality control function on data side of every aspect of the business, but data as well and we run bi-weekly tests.
Bojan:
So Helium 10 versus competition, Helium 10 versus reality and you might remember recently, you and I had a conversation or user you couldn't believe the numbers like, Hey, is it really possible that we are a hundred percent accurate in 60% of the cases? Yes, we are. Now there's a caveat to that like most of those cases were products that had less than 10 sales a month. So that's another sort of aspect to sort of think when you think about data, like, is this the information that you really need? If you give me a product, if you give me a thousand products and I tell you, Hey, we've had a percent accuracy this thousand products sold nothing in the last month, and that's really valuable, but that's not really what you're looking for, you're looking for a certain aspirational opportunity.
Bojan:
It's like you're looking for opportunities it's not for areas where you don't want to focus. So we are as accurate as science who allow us to be in this business, data engineering is actually critical part because you need to make sure that the inputs that you're receiving are clean. So cleaning data, ingesting data, leering models on top of that like there are many parts of that, but our commitment since the beginning was to improve insights that we provide like enable our customers to make informed decisions. We continue to do that and there's a clearly kind of market leaders in that way.
Bradley Sutton:
Yeah. Okay. I really love that analogy about the age, and then about being able to make an informed decision like somebody is wondering if somebody is old enough to vote you can say, Hey, well, how old are you? They can't tell by looking, because they're just talking on the phone or something, oh, about 50, like maybe they are 47 with 11 months and five days. But knowing that doesn't help them make the decision if they're, oh yeah, you're good to vote or the opposite, like do they qualify for this senior citizen discount that for 65 and up I'm about 50. Nope they don't it's like, you can make the decision. Now, if I had said the exact age of 47 and 11 months, etcetera, as opposed to somewhere in the ballpark of 49 or 50, or just fit I'm around 50, the end decision still is the same is one necessarily more accurate than the other.
Bradley Sutton:
It could be what we strive to do. I like that is how we're we try and balance it all out and make sure that we are giving an accurate estimation that is as accurate as can be. But you know, where if you were to nitpick at the end of the day you ask yourself would my decision have been different if it said 47 as opposed to 49 and the answer is no and so like to correlate that to like Xray estimations, when we're doing product research guys, we want to know is there demand for this product? Are these products making over $10,000 a month? Well, maybe the Helium 10 Xray says 10,000, maybe that seller who has that says, wait a minute, you know, my real sales is 9,750. It's not exactly 10,000, but regardless of it was 9,750 or 10,000, would your decision have been different as far as your product research? And the answer is no, because it's like, Hey, that's enough sales volume to kind of validate this product opportunity. So I'm gonna start using that age thing there.
Bojan:
Yes, so remember you're not worried and they're not scared to kind of put our estimates and test our estimates. We publicly share our estimates, you only need to do is you sign up for a free Helium 10 account and you will see the data that we share. What I'm trying to do here is reframe the conversation, like focus on outcomes, focus on opportunity, and why you're in this business as opposed to zooming in, on one aspect of the business and trying to win the big prize by focusing on specific kind of data point or specific aspect of the business.
Bradley Sutton:
Let's switch to something that's that's top of mind for a lot of people, these days it was top of mind a couple years ago when Amazon released brand analytics. And then, the over the last year or so, Amazon has given a lot more visibility on the advertising side. And then a couple of weeks ago they put in full beta the new opportunity explorer. So, sometimes I'll see memes out there like, oh my goodness all the software tools like Helium 10 must be super scared that Amazon is launching tools, but I don't know. I'm curious about your opinion, my personal opinion is I like it. And they're not, I don't see it as any competition to us because it's very different data. And I applaud that Amazon is showing more data points. What's your opinion on it?
Bojan:
It's great. So listen, when Helium 10 started, it started around Amazon and that's not a random thing. When you look at Amazon leadership principles of leadership principle, number one it's customer obsession and that's why Amazon is successful. And you can see that if you're Amazon customer, when you're buying things on Amazon, they're buying goods, Amazon is raising the bar. What used to be an exception two day delivery, same day delivery now, it's the norm. So Amazon is focused on providing experience to all of the customers and for some parts of Amazon Amazon sellers, third party merchants are actually customers and Amazon continues to improve that experience. I know they move at a slightly slower pace being the conglomerate that they are, but they are focused. I sincerely believe that that they're focused on providing better experience to all of their customers, including merchants, and I think that's great that's like Helium 10.
Bojan:
So we started in that ecosystem, we did not start with established that you are marketplaces that are in the client that are providing those supports with our customers. Like we are here because Amazon is sort of thriving ecosystem, like big company that continues to drink and continues to provide value that it's a big company. So there's an opportunity to augment the information that the Amazon provides. Helium 10 has opportunity to serve augment what available information is, and that did not really change like that. The sort of the bar is being raised and that's for as Helium 10 to be vigilant and continue innovating, continue for using, continue augmenting, providing timely insights and I think that's great. I actually think those insights finding marketing opportunities engaging with customers using the platform like there there's so many opportunities.
Bradley Sutton:
Okay. Now, part of this, one of the questions that people might ask is, this is more data from Amazon. Will we see it inside of Helium 10? How come we don't see brand analytics inside of Helium 10, but then obviously we've got plenty of data like Profits is built off of data from Amazon? PPC, Adtomic, is built off of data from the PPC side of Amazon. So why do some things we integrate Amazon data into Helium 10 and other things we do not?
Bojan:
The rules and regulations. That's Amazon data and Amazon to regulate how the data can be used and shared. So if if a merchant connects their merchant tokens with Helium 10, they give us permission to consume that data and provide services based on the data that's consumed. Similar with Amazon advertising. So sellers merchants, they give us permission to provide value added services that that's not an opportunity that's extended through Brand Analytics. So analytics is not available through API, it's limited to professional sellers and it's sort of specific access is kind of control that merchant account. So that's we don't have permission essentially from Amazon to just take that data and replicate that reproduce that which I don't think it's really needed that there are assets out there that– data assets out there that we can use and we do use to generate insights.
Bojan:
So not having Brand Analytics explicitly included as part of Helium 10 platform. Why would we do that? Like it's already available in brand analytics. We can do more and we can provide some additional insights, we can provide tools that you could deploy and use to generate our own insights on top of brand analytics data. But I don't see a need to verbatim and brand analytics data and just dump it in inside Helium 10 platform. I believe that insights that we generate are consistent and serve creative to what you get through brand analytics.
Bradley Sutton:
All right so guys out there, we got this question a lot and pretty much all of the innovation that we've done over the last few years ever since I've been here is 95, if not 100% originating from the customers. It's, you guys out there asking us, Hey, could, could we have a tool that can automatically email people to ask for review, Hey, can we have a tool that can help me make landing pages? Hey, can we have this? Can we have that? Well, we've done all that in the last few years, but some of you are like, wait a minute, I've been asking for Brand Analytics, or I've been asking for this or that for the longest time and Helium 10 must not be listening to its customers. But if it's something that we haven't done it's either maybe not at the top of the priority because not enough people have asked for it.
Bradley Sutton:
We prioritize what we work on by the number of people requesting it or B it could be perhaps against Amazon terms of service, or it's just not available like through the way that we procure information from Amazon. So, but no matter what, go ahead and ask and we'll let you know either way, make sure to keep those suggestions coming in. Now, one of the top asks, I would say of the last year was Walmart, some tools for Walmart. And I remember before two, three years ago, people were asking about that. It seemed like I don't think Helium 10 might we're just going to stick with Amazon, but we did kind of make that I don't want to call it change. It's not like we've forgotten about Amazon, and now we're shifting our focus to Walmart, but can you talk a little bit about the decision by Helium 10 to start providing services for or software for Walmart sellers and then what the future holds for it? Because we've done I think only four tools so far.
Bojan:
The focus is always on customer, on merchant, on entrepreneur. What is it that the merchant needs? How can we help? How can we support if your seller? What kind of tools? What kind of services are beneficial for you? And our goal is to build sustainable businesses, scaling 10 but for doing that, the helping people build sustainable businesses. Now there's kind of clear shifts or strategic shifts and kind of clear focus on building stronger E-commerce presence and questions came from our customers, Hey, can you help me? Or are there the way you helped me here? And that's why you're here, that's why Helium 10 exists, that's why we believe the speed of research tools for Walmart. That's not the end of it, but the research tools are not the end state for Helium 10 -Walmart support.
Bojan:
And also Walmart is not the end state for our multi-channel support because I saw a report recently from our VP of strategy Adam Shahbaz, he presented at the deliberate conference recently talking about sort of valuation impact of multichannel on the company, valuation having presence in multiple channels. Sort of first increases the likelihood of your business being attractive to acquire, but also increases the valuation multiples that you have that you can earn thanks to having those multiple channels. So when you look at, by building a business, when you look at the growth of fraternity, when you look at valuation of a business, having support for multiple channels is critical, you need to have organizational maturity where you can take advantage of that, I would never ever recommend someone to start business on Amazon and they won.
Bojan:
And then on day 31, okay, let's now go to Walmart and go to Etsy and go to chewy.com. Like you need to build our logistics, you need to build operational maturity to support multiple channels, but that's where– that's the growth opportunity and Helium 10 is committed to growing with customers, understanding what they need and helping them succeed. So today it's Walmart, or I dont know, a few months ago that was one we had previously the added support for Alibaba and one thing that they can guarantee is that there will be more channels that we will support in 2022 then they are that we support today.
Bradley Sutton:
Ooh, I like the sound of that. All right, which channels are you guys most interested in? Let us know for sure. Now, one thing that's been around for a while, it's had different names but for the last couple of years has been the Helium 10 Elite program. It's a private mastermind that we have at Helium 10 and for the last two or so years come with the highest access or the most access to Helium 10 tools. And before, if you guys would go to the pricing page, you would actually see that there's the platinum plan, there's the free plan, there's sometimes a starter plan, then we have the diamond plan and then you would see the Elite plan. Now, I'm not sure if you've got when are you guys are listed or well listening to this, but if you go there now you might not have that anymore.
Bradley Sutton:
We've kind of locked that for at least the rest of this year and keeping that exclusive but make sure guys we are giving access to one more time access for the rest of this year to the Elite, through a webinar Kevin King and I are doing a training soon on November the 4th. So if you guys would like more information on that training, we're going to be giving never before heard strategies that we have not made public in the Helium 10 ecosystem before on this webinar, it's going to have tons of value, make sure to register at h10.me/elitewebinar, h10.me/elitewebinar. Now Bojan, you kind of played a role in this decision that what we're going to take Elite private again and not keep it just open throughout the whole year as kind of like a plan, what was the thought process behind that? And then what about people out there Who are like, you know what, the diamond plan isn't enough I need more seats for my account, I need more spend for Adtomic, etcetera, etcetera. What can they do?
Bojan:
After a little bit soul searching around Elite? How do we position a lead? How do we provide value through that delete program? And if you sort of go back to the Genesis of Helium 10 and how everything started, it started as a podcast and a community content training and software came to sort of enable community members to grow faster. Over time we developed these plans you listed a few there, and one of them was Elite. And the core kind of value of Helium 10 is that it provides or democratizes access to information, but previously information that human with them for because it was available to businesses but you had to be a multinational business that can afford to spend million $2-$5 million on market study market research site. Now with Helium 10 you get that $400 a month, and then you get that action for another hundred dollars a month.
Bojan:
So that's a scale, but we generally provide information and leave it up to the consumer of that information to formulate the strategy. So Bradley, you do a great job of sort of helping people understand how to action the insights that Helium 10 provides. But in general, we are not broadly in the business of defining strategy and tactics. We are in the business of actually providing insights and then actually actioning those insights in very specific lanes, like marketing and advertising through Adtomic. We do have a group like there's again sort of listening to customers, listening to demand out there. Our customers will ask us, okay, but what do I do with this information? Can you help me? Can you help me sort of action this? Can you help me make sense of it? So we have Freedom Ticket as part of that.
Bojan:
Like, this is how you properly structure your Amazon business. Like there's so perception that Freedom Ticket is a beginner's course. Like it sort of beginner's course as if sort of beginning of plumber course, like I know a bit about plumbing I could certainly benefit from a beginner as plumber course. So that's the same thing as Freedom Ticket, you could be starting a business or you might have already successful or semi-successful business Freedom Ticket helps you there. Elite lead program is elementation of assets or the next next iteration. So there are certain tactics that there are certain sort of strategies that you Bradley have and sort of suggest then, and Kevin King does the same thing and there's our influencers educate educators, they have different tactics. We want to provide strategic support for people who have very specific needs and that's why Elite program was created.
Bojan:
So it's not like openly and honestly, that's not programmed that's designed for everyone. If you're a large business, if you're a large brand, you might benefit from some of that, but that's not the program that's focused on you. If you're thinking about starting selling on Amazon, it might be useful information. It is useful information but it's probably not the best way to start. So we want to make sure that we can sort of layer information that's available through Helium 10, with strategies that are appropriate for businesses and owners at specific stage of their life cycle, business life cycle now. And that's where, what Elite does like here's data, but then here's training, here's community, here's how we help each other, but here's how also Helium 10 experts and our friends can help us with this specific path, this specific problem.
Bojan:
Now why close that? There's a two sides of that first, that there's a gap. So there's a pretty hard cap on number of people that we want to accept in the program. Not because we are like, I mean, it's called Elite, so it is kind of exclusive. But also we need to be able to provide quality information and guidance and sort of do a bit of a handful in there. So that's why we have the ceiling there, but also don't like the experience, same question gets asked. So sort of think about education system, you wanna start school every day or a year based on your volition like, oh, I feel like starting my sixth grade now, while your friends started a week later, like there needs to be a rigor.
Bojan:
Like there needs to be a pattern and any takes certain amount of time to go through the cycle, right? To acquire skills that we see as needed and required to succeed. So it's not, it's the goal of closing Elite for some amount of time is to sort of let the new class or Elite members ingest the knowledge and just the experience or process that, and then succeed and become capable of supporting others. So at some point there'll be another opportunity. I'm sure that there will be no other opportunity this year, so I can sort of foresee her periodic opening of the program. And again, how educational system does it, but there needs to be kind of a clear path, and Helium 10 needs to be able to support new members through to that growth journey.
Bradley Sutton:
Okay. And then for people who are like, Hey, what's out there more than diamond? I'm a agency, I'm a big 9-figure company I need more than just this diamond plan.
Bojan:
So it depends how much experience do you have in Helium 10 and how frequently you interact with Helium 10, we augmented the added functionality or last year. So every day, every week there's new functionality, there's something new for various course, various kinds of businesses, agencies, our users, you think about those businesses as well and the value, their interaction, but they value them as customers. We continue to provide new functionality user management, multi multi-user management, account management. So there were a bunch of things that we can do for our customers. Some of that is not clearly visible when you create some free Helium 10 account which is why we have on the pricing page, we have to call us now button talk to us. So we have enterprise plan, or we call it the enterprise plan are essentially custom plan like, Hey, I have needs that don't fit in these predefined buckets. We try to make those buckets and tears kind of clearly defined and appropriate, but also recognize that some people, some customers will need more of this or more of this other thing.
Bojan:
Like maybe they want personalized, personalized onboarding experience, or maybe yes, maybe they need to have larger ad spend. And they want to make sure that they fit through the bucket and that their ad spend is sort of predictably managed, or they're doing a market research, they're working on marketing intelligence projects, they need more than the number of niches that the Helium 10 supports. So if you have a need like that, maybe you need more keywords. Like you want to track more than the general slim at that platinum and diamond provide. So if you're that kind of customer, you can click the button and there's a special programs that are custom designed to address that kind of lead.
Bradley Sutton:
Okay. Excellent. Now, one quick thing I wanted to ask you, we always have this thing called the that's the TST 30-second tips, and you mentioned earlier here, how you're a big fan of like a lot of Amazon leadership principles. So you know, Bojan is not an Amazon seller right now, so it's not like he's going to tell us the latest PPC hacker strategy, but he is literally the leader of Helium 10 and he's a follower of some of these principles. And so me personally, I have not studied them before so I was wondering, maybe you could give us one or two 30-second Amazon leadership principles that all of us out there who are Amazon sellers even if we're just by ourselves or if we have a team under us like these leadership principles can help us to improve our own businesses? So are you okay with giving us some tips from there?
Bojan:
The two that I always start with first one is sort of customer obsession. Providing long-term customer value is the way to build sustainable business. There are ways to sort of accelerate our growth at the expense of sort of long-term success. So you can mortgage your future in different ways, but that's not really the way to build a sustainable business. So you need to build sustainable business, you need to sort of think like your customer. So you're really immersing in that persona and if you're building a product, you're thinking about product design. Sure, you want to generate revenue, you want to discover a gap, but think like your customers like why would someone need the product that they're trying to design? Like, how do they feel when they use this product?
Bojan:
Like, what kind of emotion would you like to add when you use the product that you're putting on the market? So think for our customer first. I know it can be challenging at times, but that's what allows you to sort of have that product market fit, that it can not happen if you don't understand the markets. So stay focused on customer, and the other one is ownership. So you as a leader, you need like you have full ownership or outcomes of your effort. So there shouldn't be a task too small for you as a brand builder. And so it's kind of silly, I feel sort of this is, I assume people listening to this podcast, they will believe in that like you're entrepreneurs, you're kind of pushing the limits and you're kind of getting your hands dirty, but that's really impactful state of mind when you use sort of paint possibility over outcomes of actions that you do.
Bradley Sutton:
Okay, excellent I love it. All right, well Bojan thank you so much for joining us. It's kind of like a state of the union for Helium 10 here or a fireside chat. I'm not sure what we want to call this, but we definitely want to make it a regular thing at least once a year. It'd be great to touch bases to see what's going on in the world of Helium 10. And thank you for providing yourself or making yourself available to answer some of these questions that come directly from our users. Any last words of wisdom here?
Bojan:
I'm happy, thank you Bradley for having me and I'm happy to do this anytime. This is the reason why Helium 10 exists, we're here to provide the best possible experience to our customers and to help our customers succeed. Anyway, you guys want to reach out to us we are here for you, don't hesitate.
Bradley Sutton:
Thanks a lot, Bojan, and we'll be seeing you soon.
---
Enjoy this episode? Be sure to check out our previous episodes for even more content to propel you to Amazon FBA Seller success! And don't forget to "Like" our Facebook page and subscribe to the podcast on iTunes, Spotify, or wherever you listen to our podcast.
Get snippets from all episodes by following Bradley on Instagram at @H10bradley
Want to absolutely start crushing it on Amazon? Here are few carefully curated resources to get you started: