#219 – Avoiding Hijackers, Building Workflows, Amazon Display Ads, PPC Forecasting and More
Here's an opportunity to revisit content you've missed. We take a fresh look at the last month's most popular podcasts, videos, & blog posts.
Originally published on: February 16, 2021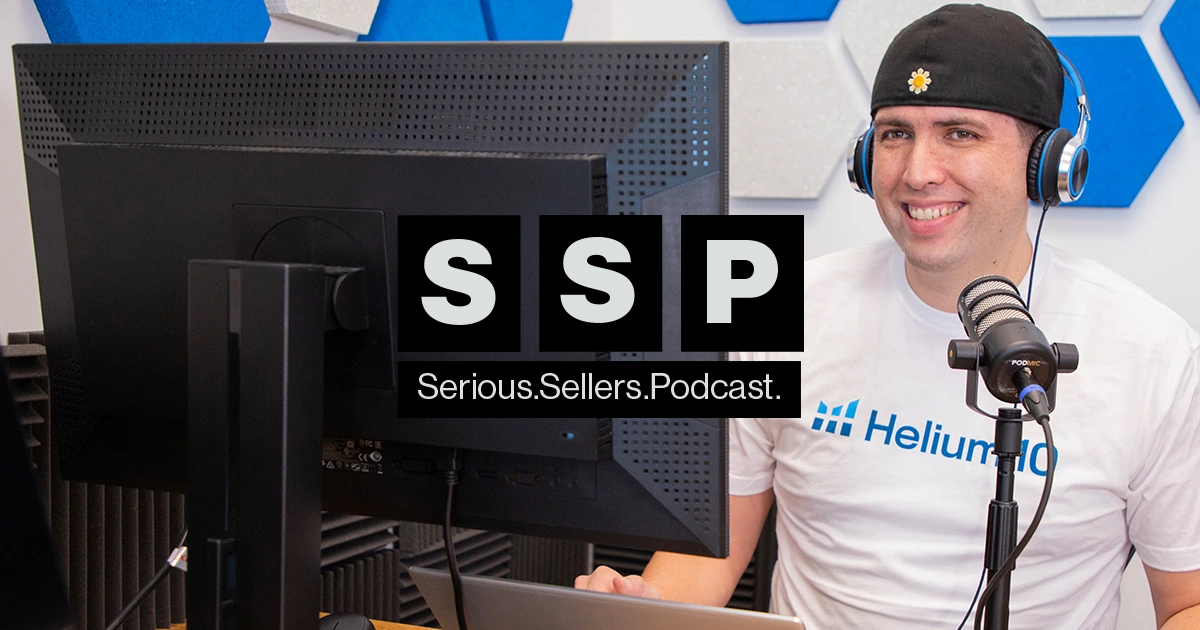 Are you one of the tens of thousands who have found that selling on Amazon is a great way to make extra income? If so, this next 35 minutes is going to take you on an educational e-commerce field trip that features everything from selling on Amazon in the United States to sourcing your latest product in Pakistan.
There's really no better way to illustrate the global nature of selling on Amazon than to point out that the world's largest Amazon sellers Facebook group is based not here in the US, but in Pakistan. Most e-commerce sellers are aware that China remains a huge source of the products sold on Amazon. Increasingly however, marketplaces such as that in Pakistan are beginning to attract more attention.
In this episode of the Serious Sellers Podcast, Helium 10's Director of Training and Chief Evangelist, Bradley Sutton presents another "Best Of" edition offering a fresh look at segments of our written, audio and video content.
You'll hear the latest about Saqib Azhar, the man behind the creation of that Pakistani Amazon sellers Facebook group. Want to know how to pick the right virtual assistant, take advantage of Helium 10's new Competitive Revenue Filter, or understand the importance of Amazon's Choice Badge?
Find out the answers to those questions and more right here.
In episode 219 of the Serious Sellers Podcast, Bradley presents the latest "Best of everything."
02:45 – What About Sourcing in Pakistan?
04:00 – How to Pick the Right Virtual Assistant
06:30 – E-Commerce Playbooks, Workflows, and Actions
07:45 – Recording Your Processes Helps You Scale
09:30 – Laser Focusing with Helium 10's Competitive Revenue Filter
11:30 – Checking Off-Amazon Trends
13:30 – PPC Inventory Forecasting Tips
15:00 – The Latest on Amazon's Choice Badge
19:30 – Two Best Friends 30X Their Income on Amazon
21:30 – Flying Under the Radar to Avoid Hijackers
23:00 – TACoS, Not Just a Delicious Food
25:00 – Taking a Closer Look at Amazon Display Ads
30:30 – Entrepreneurs Facing the Fear of the Unknown
33:00 – There's Plenty of Room for Introverts in E-Commerce
34:45 – How to Get More Information on Our Content
Enjoy this episode? Be sure to check out our previous episodes for even more content to propel you to Amazon FBA Seller success! And don't forget to "Like" our Facebook page and subscribe to the podcast on iTunes, Google Play or wherever you listen to our podcast.
Want to absolutely start crushing it on Amazon? Here are few carefully curated resources to get you started:
Transcript
Bradley Sutton: In today's best of episode, we've got strategies about PPC sponsored display, avoiding hijackers, building a business information about Amazon's choice button and much more. How cool is that? Pretty cool, I think .
Bradley Sutton: Hello everybody, and welcome to another episode of the Serious Sellers Podcast by Helium 10, I am your host Bradley Sutton, and this is the show that is an episode of the best of all right. We do this every eight weeks or so. We know you don't have all the time in the world to take in all of our content that we do in our different podcasts and blogs and other features. We have compiled the best of those so that you can get a quick glance at what you need to know about what's going on in the Amazon world today. And so here in this episode, we've got clips from your favorite Serious Sellers Podcasts episodes, AM/PM Podcast episodes, our written blogs, and even a couple of new features that are related to PPC, let's hop right into it. So one of the things that just boggles my mind, right? This first episode, that we're about to show you, this was with a guest who shortly after we recorded this episode that I'm about to show you clips from he actually met with the President of Pakistan. Now here's the thing, that's crazy. Two of the topics that came up in their conversation. This is the president of Pakistan and this podcast guests or Helium 10 and a certain Serious Sellers Podcast host. All right, now I'm just going to tell you, this is probably the only time in the history that a leader of a country has actually talked about myself or Helium 10. Now later on this year, I am absolutely going to Pakistan and going to meet a lot of Saqib's group over there. Saqib is the guest that I'm referring to in the first clip of this episode here.
Bradley Sutton: So let us talk a little bit about Pakistan. Now, Saqib, he's the CEO and co-founder of Enablers, which is a platform that has the goal of creating 2 million employment opportunities in that country, Pakistan by 2023. He's established one of the world's largest Amazon focused Facebook groups and has years of experience in technology, digital marketing, and e-commerce. Now he spent the first 15 years of his life in the United Kingdom, but then he decided to go back to Pakistan to serve his countrymen and help them develop their own e-commerce ecosystem. Sourcing in Pakistan is different than sourcing in China. It's not necessarily better or worse. It just depends on what you're looking for. Here's what Saqib has to say about the process.
Saqib: Well, for Pakistan, the biggest industry right now, which is growing rapidly is a textile industry. If you look at our export for one year, which has grown like more than 80% of the growth year in year in textile industry. The second top products, which is being manufactured in Pakistan in sports, which you might have heard that the world cup footballs was actually being manufactured from Seattle Corbin, from Pakistan, which the last world cup, all the boxing gloves, especially the biggest brands you see on Amazon is like ADI exports, sellable, and lots of others. Big bands are actually being manufactured and being banished from Pakistan. So, it's actually a great opportunity for the people to source directly from the manufacturers.
Bradley Sutton: Like many e-commerce pros. Saqib understands that a pivotal moment for Amazon sellers is when they're able to start scaling with the help of virtual assistants. But how do you pick the right one? Here's what Saqib has to say about that.
Saqib: One of the obviously key factor is to see his work history, what he has done for you for the previous work. And obviously to find out you should be seeing their portfolio from their public profiles in the reviews, from the websites, like for example, fiver, Upwork and wherever they have accounts, which would have created. Also ask the agents numbers, which they have been managing previously, because then from the tools like Helium 10, you can see the transfer, the BSR has been going up and down and all that. And now the price is being managed as well. So because everything is public so they can be hidden. So, also the biggest thing I'd say is the communication, because communication is very important because this person will be managing your potential clients when the person or the people either be unhappy or happy be messaging you or the views will be coming in. So this person will be responding. So this is very important. The potential business is being given to the person who has a good communication skills. So, and also the loyalty, the person needs to be loyal to you that you need to make sure the person, whatever he's telling you that is telling you the truth, because usually the people actually just trying to run the business. They just say that I can do this. I can do that. I can potentially do this. And then so on what is also the biggest factor, which we must ask the launching techniques, that what sort of launching techniques, this person will be approaching because this is the technique where it actually potentially can pose your account suspension, because we really knew that the be the way people take reviews, the way people juggle things to get to the page one and all that, where the tweet keywords and all this, this is the thing which you should understand on your own before you even hired a services provider or virtual assistance,
Bradley Sutton: Many business owners at all levels struggle with the process of scaling up. Maybe you've experienced something similar. Now whether it's individual, Amazon sellers, or large, highly profitable companies, the story is often the same. So next up, we have an episode here that Tim Jordan brought us on the AM/PM Podcast. It's featuring Joey Gilkey, the CEO of Sales Driven Agency. Now Joey here says that when it comes to growing your business, it's important to balance efficiency and effectiveness. And that the way to make that happen is to distill the running of your business down to playbooks, workflows and action here is how he recommends that you get started.
Joey: We've built playbooks, right? We have objectives that we want to accomplish, and we have playbooks around those. And inside of playbooks are a bunch of workflows. So my salespeople know that if this prospect is here, go down this workflow. If this prospect is there, go down that workflow. And then you have actions, which is the step below that, which is, if you know this prospect here, take this workflow and take these seven, eight, nine, 10 actions so that we can accomplish the objective of that playbook. And if you could build a business around playbooks, workflows and actions, you're going to have a lot more repeatable, predictable outcomes. And because they're repeatable and predictable, even if you lose somebody, you can hire someone and you've got a training program to run through, and then they pick up those playbooks workflows and actions again, and they're back up to speed 30, 60 days. And you're not unsustainable in the sense that you're just sitting there searching for that next tactic for that next real sales rockstar.
Bradley Sutton: With entrepreneurs running their own businesses. So much of the workflow is probably just in their heads. When it comes time to scale up and be able to delegate. Joey says that the first step is to make sure that you start writing down your process.
Joey: A lot of stuff that you do on databases lives in your head. How do you get it on paper? How do you get it into a system? And then how do you decide, do I delegate this to a piece of software? Do I delegate this to a human being? That is a hard process. Like you said, that most people don't know how to do yet. We do it. You just want it to accomplish. That is what do you do on a day-to-day basis record what you're doing, send it to a technical writer, have them create a framework around whatever you did or documents it in a way that makes sense on paper. And then just keep making little iterations over and over and over again. That is one of the easiest ways for you to scale SOP building and process building and playbook building.
Bradley Sutton: All right, now, next up, we've got a recap of the 2021 Amazon product research strategy episode that we did right here on the Serious Sellers Podcasts. So whether you're selling on Amazon or not success often comes down to a combination of different strategies that you're using, product research strategy, keyword research strategy, your listing optimization, your scaling, your analytics, your operations, all of these things are vital parts, but usually what is the first step in the journey? It is your product research. You've got to find the right product to sell on Amazon. Now, I think a lot of us, whether we're talking about last year 2020, or even now 2021 life for a lot of us definitely feels hectic right. Now when you finally sit down to your computer to do your product research, what you probably want is a way to drill down and find real product opportunities without sitting there for hours in a pointless struggle. Now here is where one of our new Helium 10 tool filters comes in handy.
Bradley Sutton: We've got some brand new filters in a Helium 10. I mean, they're not brand new anymore. They've been around for like four or five months, but it allows us to kind of really dive in and see the characteristics of the products on page one, but just laser focusing to those top 10 products. So what I like to do is I use the competitor revenue and I put a minimum of five that are making more than $5,000. Now I know this is hard to visualize as you're driving your car. So let me try and explain that. So basically I'm telling Helium 10, show me a keyword were out of the top 10 results. At least five of those 10 products have estimated revenue of more than $5,000. Does that make sense, guys? All right. At least five out of the top 10 and that to me, and to many people that says, Hey, there's some demand for this. The other thing I do is I say out of the top 10 products, show me at least five that have less than 75 reviews. All right. So at least five. So those are the two that I did in my little test right here. And when I put both of those filters in I'm telling Helium 10, it has to match both of these situations. It's got to have more than five competitors that are making more than $5,000, but at the same time, there's got to be five or more that have less than 75 reviews. And a few of these products that came out when I get a search, this was a few weeks ago now was, was pretty amazing because it was a bunch of a lot of our products that really just popped up in 2020, for example, sneeze guard for desk. If you said that in 2019, sneeze guard for desk or social distancing floor decals, guess what guys, these are both ones that came up in my search. People will be like, are you speaking a different language? Are you from Canada or something? I'm like, what the heck are you talking about social distancing floor decals? All right, that's crazy. But now in 2020, 2021, we all know what that kind of stuff means. Those were keywords that had 7,000 and 17,000 searches per month respectively. And both of them had a bunch of listings on the top 10 that had less than 75 reviews.
Bradley Sutton: When selling on Amazon, it's easy to get tunnel vision. Like you only have one exact way that you want to do product research. However, here's one way to check trends off of Amazon, outside of Helium 10 even, and maybe look into the e-commerce future.
Bradley Sutton: Another way is checking trends. This is the last main way I want to talk about today. Checking trends off of Amazon, right? We talked about this in Project X, how egg carton and egg tray seem to be saturated on Amazon. But when we went to Etsy and Pinterest, we were able to see that there was opportunity because people were not doing wooden ones and there is demand off of Amazon for that. One of the ways that I just recently did on this workshop is I use the keyword. I think it was like wine rack. All right, you look on a wine rack on Amazon. A lot of the same stuff, people have got tons of reviews. I'm like, eh, it's not that great. You know, same thing, a holder, right? Egg holder doesn't look that great. But what happens when you type in a holder nowadays and this other wine rack onto like Pinterest and Etsy, it's completely different. What you see on there, you'll see these kind of like coolest zigzag wine racks that don't even show up on Amazon. You'll see some like these weird looking, like cabinet kind of things. And let me tell you guys, let me tell you guys right now. I said this live when I did the full workshop, I was doing all these research live, and what I did at first, I was like, wait a minute. I never saw this like a year ago when we were doing the egg holder for Project X. Now it looks like there's this new trend of like these little egg shelves that have like chicken wire and like weird things. And I was like, you know what? I'm going to go ahead and do a test listing for this. And see, and I might add this to the Project X account.
Bradley Sutton: Now here in this best of episode, for the first time, we're going to add even more value by including a PPC tip from Helium's 10 Product Marketing Manager, Vince. Now here is Vince with a tip on forecasting your inventory.
Vince: I'm Vince Montero. And this PPC tip is on forecasting your inventory. Now, some might think this isn't related to PPC, but believe me, it is. Running out of stock for just a few days. During the holiday rush could potentially lead to thousands of dollars in lost sales. But more importantly, if someone can't find your product, they're going to pick a competitor. And that's why this is relevant to PPC. You see the longer your product is unavailable, the harder it will be to gain back your position in your PPC strategy, because your competitors will have gained that ground in your absence. You should also be careful not to over order because this could cause you to have overstock and have to pay additional fees to Amazon or your 3PL warehouse. This is why forecasting your inventory is crucial during the holiday season and why we recently launched an inventory management solution found in our Profits tool and utilizing things like reorder frequency and lead time. Our inventory management solution can forecast demand for your product and give you suggestions to make sure you always have the right amount of stock.
Bradley Sutton: Next up is a blog post by Shivali Patel titled: "How Much Time Should You Spend Chasing the Amazon's Choice Badge?" Now, if I had a dollar for every time somebody asks me one of the Facebook groups, Hey, how can I get Amazon's Choice? Well, I would have be able to fund Project X PPC for years. Everybody always wants to know that. So what is the origin of the Amazon's Choice Badge and also how important really is it find out here in this clip from our blog.
Shivali: A new restaurant just opened up near you. You want to try it, but at the same time, you have not quite been able to convince yourself to go. Is it just me? Or does that sound a little too familiar to you? You like me are most likely most people when it comes to purchasing decisions, most people desire assurance that a particular product or service will be worth their money prior to buying it, being able to read reviews or find something recommended by a credible source is incredibly helpful yet faced with too many choices. All with raving reviews, the choices can become paralyzing. Amazon's goal is obviously to get you to buy more of their products. So as the host of over 12 million products, how exactly is the Amazon marketplace combating choice overload to help people move past indecision? The answer, Amazon's Choice program. In 2014, when the first Amazon echo smart speaker debuted consumers who chose to voice shop had been limited to purchasing products they had purchased previously. However, in 2015, Amazon introduced Amazon's Choice, a feature reportedly developed to make voice shopping with Amazon Alexa easier, the update bestowed and Amazon's choice status on hundreds of items and paved the way for shoppers to finally purchase products they had not purchased before with only their voice. Today, if Alexa is prompted to search for a product to keyword, the order of recommendations Alexa's voices choices are a similar item that is already located in the customer's order history. Two, the Amazon Choice product for the corresponding keyword. And three, the top search result if there is no Amazon Choice option available now as an Amazon seller, you may be interested in acquiring the Amazon's Choice label for your product according to CNET and reader's digest. The only statement the company has formally given is we launched Amazon's Choice in 2015 as a way to simplify shopping for customers by highlighting highly rated well-priced products, ready to ship immediately for the most popular searches on Amazon.
Shivali: There's a lot of speculations surrounding how to acquire the Amazon's Choice badge. Here are some myths we can debunk for you right now that have been circulating around Amazon's algorithm. Some Amazon sellers assume Amazon's Choice goes to the product with the best conversion rate or the most interactions for a specified keyword. However, this is not true. When we did an Amazon search for the keyword coffin shelf, the product displaying the Amazon's Choice Badge was not a coffin shelf, but rather a desk or makeup organizer. The desk makeup organizer was irrelevant to the keyword we typed in and appeared not to be the highest converting. Another myth is that an Amazon's Choice Badge will always help sellers increase sales. False. People will not purchase Amazon's Choice product simply because it is Amazon's Choice. Logically speaking consumers looking to buy a coffin shelf are unlikely to add the makeup organizer to their cart, because that is not what they need. Undoubtedly, occasionally the Amazon's Choice Badge may sway some people in the right direction, but it is not in any way guarantee sales. If it did, the makeup organizer would have appeared higher up in the keyword search results. As an Amazon seller, understand that having the Amazon's Choice Badge does not always signify a better click through rate, better conversions or a better product. Of course it does not hurt to have the Amazon's Choice Badge. If you have an Amazon's Choice product and it is genuinely relevant to the keyword, the product is appearing for it may benefit your product sales. Should this be your case? Take advantage of it, aim to ensure your PPC expenditure is a rewarding, positive cashflow one and increase your page rankings. Getting on page one or two can be as easy as improving your keyword rankings. If an Amazon shopper, we're looking at two to four similar products that all are priced similarly and not from well-known brands, then it is possible having the Amazon's choice badge could work in your favor. Bear in mind the criteria for which Amazon's choice is awarded should not be the foremost priority on your mind. Since it is hard to decipher how to acquire the badge and what it can do for you. We highly recommend spending your time on things that are more within your control.
BradleySutton: Now we're going to hear from two best friends that are nearing seven figures on Amazon. They're making in one day, what they used to make in a month. In a Serious Sellers Podcast, titled "Two Best Friends, 30x Their Income Selling on Amazon," I speak to Sharon and Elizabeth two Amazon sellers that are in the midst of that online selling rocket trip. After meeting in an online Amazon sellers group, they quickly became fast friends. Now, their Amazon selling trajectories mirror each other. Both of their Amazon sales are approaching seven figures and each have enjoyed like most Amazon sellers, a mixture of successes and failures. Both women say that the Amazon selling journey hasn't been without a few ups and downs, still the distance between where they are now and where they were before Amazon is amazing. Here's Elizabeth's take.
Elizabeth: Looking back eight years ago when I was in Nigeria and in about $200 in months for my day job, and then having to make that same amount of money and profits in a day now is just mind blowing, having to be home with my baby, and having to watch her grow, see all the milestones that she's come to have is just so, so good. Having that free time to go on vacation too has been awesome. So it's been, it's been good. Yeah. We've had a lot of failures, but like I say, I always try to look at the positive side of every failures that I've had with my products and Amazon, but overall it has been good. We've been going from breaking one milestone after the other. So I've been so, so grateful for Amazon. It's been awesome.
BradleySutton: Amazon selling strategies come in all forms. Here's one from Sharon that though she didn't realize it at the time is a great way to fly under the radar and avoid hijackers.
Sharon: Funny enough, my Amazon journey has been what are considered slow and steady. Like I see a lot of people post about selling 1 million units a day and it's just never been for me for one reason. You're at a point in time because I'm a Christian and I just like I told Elizabeth as well. I said, I think I'm cursed. I can never get a product to sell more than 20, 30 units a day, no matter how great I think this is where that is. And for a long time, I just was moving around with that why me and just kept pushing on.
BradleySutton: Let me ask you something really quick, Sharon. You say you've never had a product selling more than 20 or 30 units a day. Now, let me ask you, have you ever had one of those products like attacked by black hat people where they get your listing suspend it or they give you a million fake reviews or anything like that?
Sharon: I've had a few hijackers, but not serious total black hats attack like that.
BradleySutton: Okay. You see, and that, that I'm going to tell people right now, that's what Kevin King teaches. Like sometimes when you do the 100 and 200 and 300 unit a day products, that's when all of a sudden, like some of these other sellers who do those black hat strategies, they might attack you because they're like, wow, this is such a amazing thing. But when you fly under the radar, sometimes–
Sharon: That's what I know now. That's what I know now.
BradleySutton: Experienced Amazon sellers spend a lot of time thinking about TACoS in this case. I'm not talking about delicious food, even though I think about that kind of tacos on a daily basis. Now TACoS also refers to total advertising cost of sales and important metric for e-commerce sellers. Here's Vince again with a series that has become a must for sellers who want the latest on Amazon advertising. It's a series called TACoS Tuesday. Now in this clip, Vince was talking about dynamic bids for campaigns making at least 50 sales a week. He focuses on testing up and down bidding and looks at why new sellers might only want to use down bids.
Vince: One of the first tips that I want to recommend for those maybe a little bit more advanced sellers that have established campaigns. So these are campaigns that you're not testing. These are campaigns that you've been running for a while, at least a few months, and are considered to be very maintained. The bids are at the right place. The ACoS is where you want it. If you've got campaigns like that, that are making at least 50 sales a week, then you might want to try your dynamic bid up and down. So typically, the dynamic bids, well, actually, there's two things I'll say about this. So dynamic bids used to be previously just set to down only. And what that means is that when you're doing, when you have a keyword bid, that Amazon is going to have that bid, but it's going to lower it to the point where you can get a conversion, right? Instead of this is typically why, when you see a keyword bid, your CPC is always, usually lower than that is because Amazon's doing dynamic bid down. So, which is really helpful, especially if you're starting out and just testing dynamic bid down only as something that I definitely suggest that you guys do if you're just start this launching.
BradleySutton: We're going to follow that with a blog from Vince titled "Amazon Sponsored Display in 2021: A Case Study Review", let's take a listen to what we learned from this case study.
Vince: In January, I had the opportunity to conduct a training webinar for new Amazon sellers. In partnership with Amazon advertising, we took a deep dive into the newest campaign type available to brand registered sellers. Sponsored display. Sponsored display was originally launched as an audience remarketing ad type only, but it now includes some pretty powerful product targeting capabilities, sponsored display product targeting campaigns, generate visibility, especially during high traffic periods. These ads can appear under the featured offer, which is the new name for the buy box and below the product listing bullets at the top of the product detail page. This is sometimes referred to as above the fold. That simply means they're easily seen without the shopper having to scroll down. With sponsored display product targeting the focus is on placement and control. That's because you can dictate what product detail pages these highly visible ads will appear on. As of late 2020, Amazon now allows you to update your sponsor display, product targeting creative with a unique brand logo and headline, similar to a sponsor brand ad. Most importantly, this also opens up additional placements for the product targeting creative, namely the very thin ad you now see visible at the top of most product detail pages. Since the enhanced creative feature for sponsored display opened up new placements. We wanted to test the effects on overall campaign performance. One of our users began with a handful of sponsored product campaigns in late September 2020 for their innovative indoor bike rack. We encourage them to launch new sponsored display campaigns in November and ran both the enhanced creative versions and identical campaigns without the enhanced creative. In general, when testing new or different creative, doing an AB test can help you determine which version performs the best. You could test different approved logos, or try a variety of headlines to see what shoppers respond to most.
Vince: For example, in our case, we just wanted to test the results of standard sponsored display creatives versus the version, including a logo and headline for identical campaigns. We tested eight campaigns in total that included both ACE and targets and category targeting. After running the test for six weeks, the results were pretty clear, campaigns without the enhanced ads creative had sales of $3,402 at 55% of ACoS and campaigns with the enhanced creative had sales of $5,021 at 34% ACoS. Running sponsored display product targeting campaigns with the enhanced creative achieved 47% more in sales with a 38% lower ACoS in the same time period. Of course, results may vary for different products, but this is a perfect example of what a new seller that's inexperienced with sponsored display ads can achieve when they take full advantage of the new enhanced creative options. The next example, highlights an experienced seller running multiple types of sponsored product and sponsored brand campaigns. But with zero familiarity with sponsored display ads, our goal was identifying the potential overall account sales lift that would result by adding sponsored display product targeting campaigns to the mix. Helium 10 user Bear Grips, markets exercise products on Amazon design for weightlifting and CrossFit. They began advertising in December of 2019 and already had 84 campaigns enabled when we spoke to them, we instructed them to launch six new sponsored display product targeting campaigns for each of their workout products in mid-November 2020 using the updated creative versions only. We reviewed a period before the sponsored display campaigns were launched and compare it to the same period afterwards and found that for approximately six weeks before launching sponsored display, the total PPC sales were $20,372 in reviewing the same period after the sponsored display campaigns were launched, we found the total sales were at $27,816.
Vince: Compared to the initial sales period, the results showed a 36% increase in total PPC sales after adding sponsored display product targeting ads to their PPC campaign mix. We also noted that in the same period, they paused 62% of their campaigns. This is particularly interesting because as I mentioned earlier, they had 84 campaigns running when we launched the six new sponsored display campaigns that made a total of 90 enabled campaigns. But by the end of the last six week period, there were only 34 enabled campaigns, including the six new sponsored display campaigns. That means that after adding the sponsored display product targeting campaigns and pausing 56 existing campaigns in the same period, they still saw a 27% increase in total PPC sales over that same time period. This is a great example of the potential overall sales lift and account can see by adding sponsor display product targeting campaigns to their PPC campaign mix. But again, results like this don't just happen on their own. Optimization is King. As we always encourage in our PPC trainings, you must be vigilant with your campaign optimization. For a deeper dive and other insights into how you might optimize all types of PPC campaigns. Take a look at the most recent updates to freedom ticket. We recently released a module in week eight, entitled PPC campaign optimization, and it's one you don't want to miss. Join me there or in my bi-weekly PPC AMA training calls aptly called TACoS Tuesday at 10, keep an eye out on our social media channels to sign up. Or you can view replays of these PPC training sessions on our Helium 10 YouTube channel.
BradleySutton: Last up is an episode of the AM/PM Podcast titled "The (Un)Comfort Zone: Fighting the Fear of the Unknown." In it, Tim Jordan speaks with Emma Tamir, an in-demand copywriter who together with her husband and business partner owns Marketing by Emma. Emma says that she started with a love for words and a dream to share them with the world. Now Marketing by Emma has over 800 happy clients and is growing every year. Emma's challenge has been that she's a bit introverted and works in a packed e-commerce field that sometimes rewards those that enjoy drawing attention to themselves. She's had to find a way to break through the noise and her own discomfort. For entrepreneurs and small business owners. Sometimes the most challenging aspect is realizing that you might have to put yourself in the spotlight.
Emma: And it was a conscious choice, understanding that we had a really great customer base and we were getting a lot of business through referrals, but we also understood that if we wanted to grow and the way that we were striving to grow, we had to figure out a way to be able to connect with a broader audience. And it was clear that things like speaking engagements and podcasts and different things like that was a great way to be able to cultivate relationships, to get in front of different kinds of people. And as much as it was not a comfort zone, in some respects, it was also very much a comfort zone and other respects for the same reasons why this kind of conversation is really uncomfortable for me. I love talking about what I know well, and I love geeking out about the topics that I have a lot of understanding about. So, in thinking about even as a younger person, I always felt most comfortable in that sort of knowledge dialogue type of place. So whether that was school or in one-on-one conversations with people. And so, I definitely the hardest part I think was just putting myself out there initially and saying, Hey, you don't know who I am, but I think I have something to contribute. And it takes a great amount of either competence to do that, or just kind of– this is terrifying, but I'm not going to let that be a reason not to do this.
BradleySutton: Now that Emma is thriving a competitive e-commerce environment, she's had time to reflect on how an entrepreneur's more quiet nature can impact their business.
Emma: In the same way that the loudest people are going to be. The ones that you know are heard or the people that are most confident are going to be the ones that you're seeing the most. It doesn't mean that there isn't also space for the people that are softer spoken or the people that prefer to listen more than speak. And a lot of times those people have such tremendous value to be able to bring. And so I think what's also important. Like, let's say that you're the extrovert, maybe also contemplate ways that you can create a space that is more inviting for the introverts to be able to contribute whether that's your own business and your team, or a community or whatever it is that you're in, because what we're doing is introverts all the time is we are observing, we're making connections. We're not sitting there just not engaging. It's just that more of that engagement is happening internally in our minds and we're processing and making connections and doing some of those things that you may not even have the time to do if you're primarily spending your time talking and actively engaging with the people around you.
Bradley Sutton: All right. Well, they are the clips that were some of the favorites over the last few weeks. Now, if you want to catch these things as they come out, obviously you're already here on the Serious Sellers Podcast. Don't forget every Tuesday and every Saturday we have new episodes that drop. If you're interested in the AM/PM Podcast, you can subscribe to it on whatever platform you're listening to this episode. You can also find the AM/PM Podcast. So make sure to subscribe there and you'll be able to see episodes every Thursday. Now, we also were showing you some blogs that you won't get them in like the audio form like we had. We had those narrated by the authors this week, but if you'd like to read the blogs, we always have great information. That's not always just about Helium 10 or just about Amazon strategies. We've got a lot of lifestyle blogs as well. You can catch up with those at helium10.com/blog. Finally, you heard a couple different clips from Vince's Amazon series for PPC. I should say TACoS Tuesday, particularly make sure to subscribe to our YouTube channel. All right, just look up Helium 10 on YouTube, hit subscribe, and then hit that little bell button. So you can get notified when new episodes drop on there. You'll actually be able to join Vince live every week or every other week. I should say every other Tuesday for TACoS Tuesday with Vince. And you'll be able to ask him your PPC questions live. We really love bringing you guys all of the most recent strategies for your Amazon business, these serious strategies for serious sellers of any level in the e-commerce world, from all of these different mediums. So, thank you guys for listening and we'll see you in the next episode.