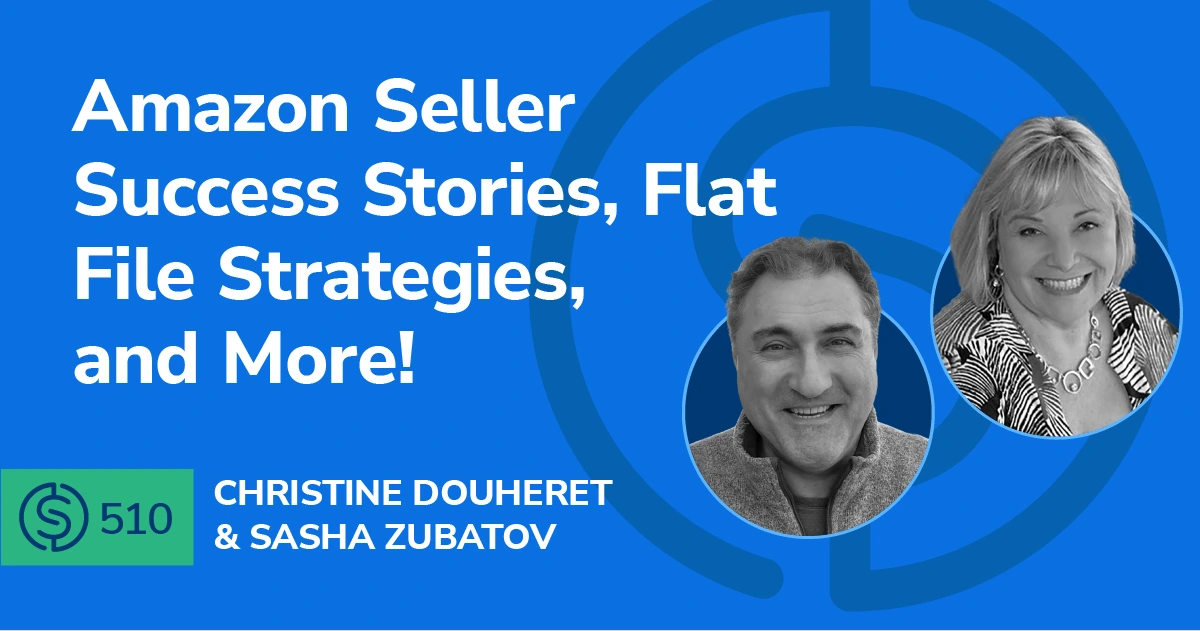 #510 – Amazon Seller Success Stories, Flat File Strategies, and More!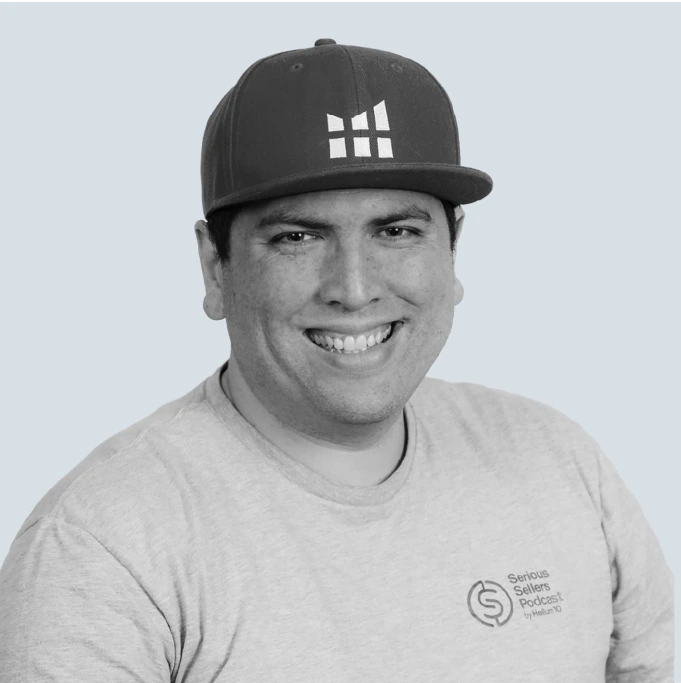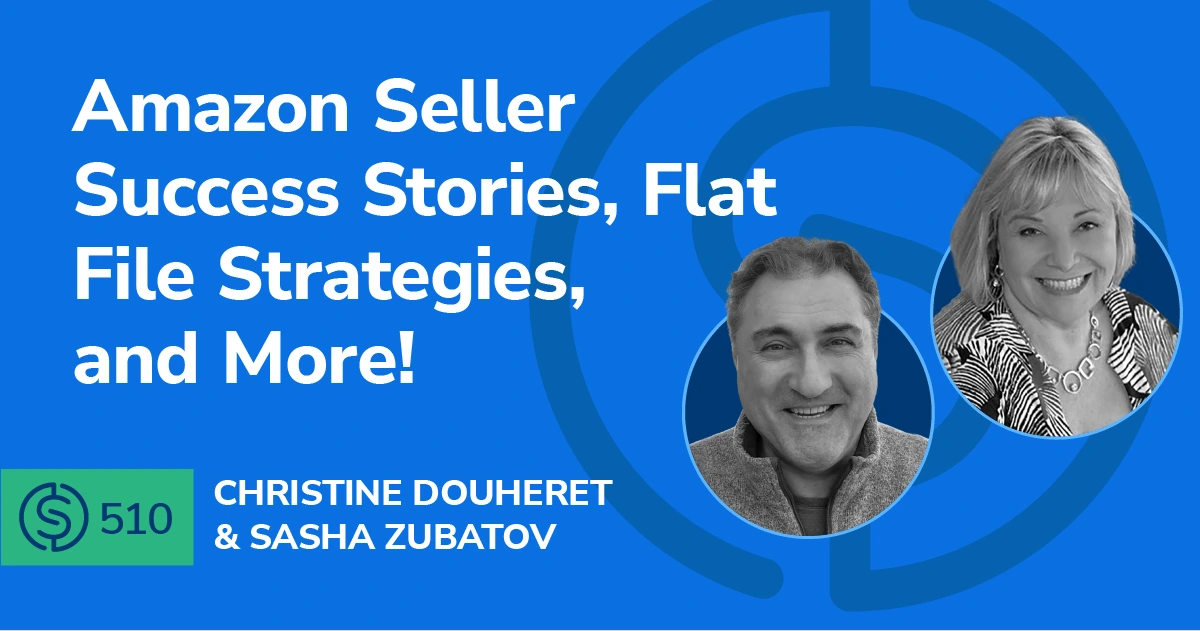 Video of the episode at the bottom
If you've ever wanted a peek into the world of Amazon selling, this episode is your golden ticket. We're joined by elite sellers and Amazon specialists, Christine Douheret and Sasha Zubatov, who share invaluable insights and strategies they've used to overcome challenges and achieve incredible success in the E-commerce space. With their unlikely backgrounds – Christine hailing from Hollywood with a degree in interior design and Sasha from New York with a computer science degree – they bring unique perspectives to the table.

Our guests reveal their strategies, such as utilizing flat files and Helium 10 Elite training, that have helped them stay ahead of the curve. They divulge how their diligent manual research, constant learning, and strategic use of VAs have been instrumental to their success. Listen in as Christine recounts her staggering 300% sales growth in just a year, and Sasha shares her client's seven-figure sales accomplishment. We also delve into the not-so-pretty side of things, including having listings hijacked and the struggles of facing stiff competition.

As we wind down our engaging chat, Sasha shares her take on Walmart's competition and the suitability of products across platforms, offering her top flat file strategy. We also discuss the potential risks and rewards of creating product variations. Christine, always ready to help, extends an invitation to listeners who may need assistance or have questions about their Amazon journey. We wrap up the episode with a look at possible future Amazon and Walmart meetups and the unique challenges these could present. However challenging, the future of e-commerce remains thrilling, and we're here to help you navigate it. Tune in and let Christine and Sasha's success stories inspire you to create your own journey to success.
In episode 510 of the Serious Sellers Podcast, Bradley, Christine, and Sasha discuss:
01:53 – Sasha's Funny Helium 10 Swag Story
10:35 – Sell on Amazon, Overcoming Challenges
16:25 – Sales Success and Expansion
19:11 – Successful Strategies and Challenges On Their Amazon Journey
25:18 – Organize and Inform for Successful Outcomes
27:26 – Understanding and Protecting Flat File Strategies
33:18 – Profit Margins and Competition
35:01 – Sales Performance: Amazon vs Walmart
Transcript
Bradley Sutton:
Today we've got a couple of elite sellers and Amazon specialists who have come from completely different backgrounds but now have found success on Amazon, Walmart and what is even going to share his unique flat file strategies with us. How cool is that? Pretty cool. I think we know that getting to page one on keyword search results is one of the most important goals that an Amazon seller might have. So track your progress on the way to page one and even get historical keyword ranking information and even see sponsored ad rank placement with keyword tracker by Helium 10. For more information, go to h10.me/keywordtracker.
Bradley Sutton:
Hello everybody and welcome to another episode of the Serious Sellers podcast by Helium 10. I am your host, Bradley Sutton, and this is the show. That's a completely BS free, unscripted and unrehearsed organic conversation about serious strategies for serious sellers of any level in the e-commerce world. We've got a couple elite sellers on with us from opposite sides of the coast here, if I'm not mistaken or I'm not. Let's find out. Actually, where are you guys actually from? Let's start with Christine. Where are you at right now? Where are you calling in from?
Christine:
I'm in San Diego California.
Bradley Sutton:
You're in San Diego, so forget it. You're local to me. I don't know why I thought you were on the east coast for some reason. Where in San Diego are you at?
Christine:
Carmel Mountain, Carmel Valley area.
Bradley Sutton:
Okay, about like 30 minutes away from me. You know towards what is it? Towards the stadium down there, right? No, not like about 10, 15 minutes, okay, cool, wow, you're almost my neighbor and Sasha, about the distance south of me, you're north, you're up in like Orange County, California, right?
Sasha:
Yeah, I'm within like half an hour of any local workshop you guys put on.
Bradley Sutton:
I love it. I love it. Now here's a funny story about Sasha, like one time our you know, one of our executives, Bojan, he in our private Slack channel he posted a picture and he's like sell and scale summit t-shirt spotted in the wild or something like that, and he had snapped the picture of somebody that he saw in the checkout line in his grocery store up in I don't know somewhere in the OC and I was like wait a minute, that looks amazing. I was like yes, it's Sasha right there. So you're famous inside of Helium 10. There for wearing a Helium 10. Swag out in the wild, love it.
Sasha:
From now on, every time I go to Costco, I put that on. All right, you never know when a Helium 10 employee might capture you, awesome, awesome.
Bradley Sutton:
Now, Christine, let's go to your origin story. Is San Diego where you were born and raised, or are you a transplant, or what?
Christine:
I was actually born and raised in Los Angeles. My parents were transplants. However. They came from Switzerland on the Queen Mary for their honeymoon, and so they landed in Los Angeles, and that's where I grew up.
Bradley Sutton:
The Queen Mary. That's now like in Long Beach, that one that you can actually.
Christine:
Wow, nice, that one 1955, that came over.
Bradley Sutton:
Awesome, awesome, Sasha. What about you?
Sasha:
I'm originally from Odessa, Ukraine, and so I speak Russian, and I wound up doing a lot of business with Russia, and that's what actually led up to Amazon eventually.
Bradley Sutton:
Okay now, how long have you been here in the States?
Sasha:
I grew up here. I grew up in New York in 1980s.
Bradley Sutton:
Okay, so you must have moved here when you were one or two years old, all right. So growing up in New York, you had emigrated over here. What was your aspirations? Were you just wanting to be a fireman or an astronaut, or what did you think you'd be when you grew up? Quote unquote.
Sasha:
I had very little choice. My dad was an engineer and my mom was an actress, and all my life isolated between the two. So jump back and forth.
Bradley Sutton:
What did you end up going to college for then.
Sasha:
I ended up going. I got my bachelor's in computer science initially, and then, when my business was doing well enough, I went into a theater program.
Bradley Sutton:
So you still made both of them happy after my goodness, the model son here, Love it. What about you, Christine? What did you think you'd be when you grew up?
Christine:
I always wanted to be an interior designer and actually that's what my degree is in. So I was an interior design when I lived in LA, in Hollywood, for a big firm and often did a lot of the studio sets with the studio designers and maybe did something for Sasha's mom or there, you never know. Actually Johnny Cochran's office, I did.
Bradley Sutton:
Oh, okay, all right, wow all right. So now you know what. How many years were you in that field, Christine?
Christine:
10 years.
Bradley Sutton:
10 years and then after that?
Christine:
Then I went into nurse recruiting.
Bradley Sutton:
Nurse recruiting.
Christine:
Well, yes, recruiting nurses for travel assignments. So a travel nurse assignments across the US in every hospital there's probably 20-30% of travel nurses, so that they can adjust their fluctuations in census, and so they bring in travel nurses when it's high census and reduce the travel nurse population when it's lower census.
Bradley Sutton:
I'm half Filipino. Is it true that, like 30% of nurses, are Filipinos?
Christine:
They do bring a lot of Filipinos over, yes.
Bradley Sutton:
Okay, all right, so you're moving Filipino nurses around all the country, and others as well, and then how long do you do that?
Christine:
Ten years, at least ten years.
Bradley Sutton:
Oh, so you stick with stuff. You start. I like that. All right, so well. There's 20 years of work, so you must have started working when you were three, four years old, yourself there, okay, and then after that, did you find e-commerce or what's next in your life?
Christine:
Yes, and I found e-commerce, so it brought together everything I've learned and I just wanted to be able to do something that I could do from anywhere in the world. Since my family is from Switzerland, as you know, since my parents immigrated, I like to go there frequently and I wanted to be able to do a business I could do from there, if I needed to be there for two, three months, or from anywhere in the world, and I found this.
Bradley Sutton:
So did you just like Google at the time? Do you remember like where you know things I can do on the road, or something like that? Do you remember what you searched for?
Christine:
No, no, I um. I always like to buy things on Amazon, and I knew that it was growing, that people would be buying online more frequently, and so I started searching how to do that, and I did several webinars and classes and seminars In fact, I did probably six months of education before I even jumped into selling to make sure it was something that I could do, that I had the skills for, that I had the money for and that I would be able to grow with. See, like in nursing nurses, they can grow, they keep growing in their careers, they do all kinds of different things, they advance, and I wanted something that I could also grow with, so I could become a bigger seller, I could expand selling to different regions, different countries, and so I found this fit the bill.
Bradley Sutton:
Awesome. What about you, Sasha? How does somebody who studies theater and engineering end up in e-commerce?
Sasha:
I went to Russia with a suitcase full of computer parts. That's how I started in business, and from then, on, I think one dollar Sounds very shady.
Bradley Sutton:
Well, I don't know how.
Sasha:
Listen, I mean nothing with. Russia is a white hat, let's put it this way. So yeah, and so that led eventually to doing a lot of exporting to Russia. I did everything from computer parts to software to eventually slot machines even, and mining equipment, so that kind of led naturally to.
Bradley Sutton:
Did you say slot machines and mining equipment? Amazingly, yes, never in the history of vocabulary has that, I don't think, been used in the same Both of those things? That's interesting. So you're basically exporting whatever and whatever they wanted there. Huh Okay.
Sasha:
So it really does depend on relationships there as well, just like here in the States, and so wherever you can find a competitive advantage, that's a good place to go, and so eventually, when that died down as a market and now essentially it's almost entirely out of reach, you look for other opportunities, and by that point I've already had a number of other businesses that I was involved with, and so I started Amazon on a dare with a friend of mine who really did not believe that we could do any sales on Amazon when his website was doing so well.
Sasha:
So I bet him that we could beat his website sales with Amazon sales, and that's how it was what year are we? Talking about this was just not too long ago, I think it was 2018,.
Bradley Sutton:
I think it was Okay so that's about five years ago. All right, and then, and did you make that bet without even knowing a lot about Amazon? Or at that point, had you done some studying and research into it, or something?
Sasha:
I knew very little about Amazon. I did not have any experience selling on Amazon or listing on Amazon, but just simply understanding the marketing and the size of the market and the demand there. It just seemed it was a bet I couldn't lose.
Bradley Sutton:
So yeah, okay, I took it, Christine. What about you? What year approximately was it that you made this leap into e-commerce?
Christine:
Well, I launched my first product at the end of 2019.
Bradley Sutton:
Okay, Around the same time and are you still selling that exact product today?
Christine:
No Can you tell us what it is, then well, there's still kitchen products, but Well, I am still selling the remainder of that particular Also, somebody is still active.
Bradley Sutton:
That's pretty impressive for your very Not many people are still selling, like four years later, their very first product. Usually, it's like they just get their feet wet and they're like, oh nope, this was the wrong choice, but that's pretty impressive. You still have some inventory left and still going on that yes. Now how did you learn to how to sell on Amazon?
Christine:
You know I did a course. I did a course, but I can't say that I really learned how to do it from that course. What I really learned was when I started believe it or not signed up for Helium 10, because they have so many of the courses, you know the get started courses. That's where I really Like I was already on the platform beginning the sales, but there is so much to learn.
Bradley Sutton:
So in Helium 10?
Christine:
I did all of the modules you know, from the first set to the second set. I mean literally everything and I would say that, and also being part of the elite meetings, that is where I really learned how to sell, so you joined elite even before you were that big of a seller. Yes.
Bradley Sutton:
And then that that was me, Like in 2016, 2017, I wasn't even a seller and I was like you know what I just want to, like be a fly on the wall in these trainings and learn, and that's how I like. I probably learned more in six months than I could have, you know, in like two or three years taking a course or something. So I took a very similar path as you, All right, so that's interesting. What about you, Sasha? Did you take a course too? Or you just like got just dove right in? Or how did you learn to do what you were doing in the first?
Sasha:
year or 18? It was all just manual work, digging into Amazon specs, so really digging in into the specifications of flat files and categories. And I actually started with there are not category listing reports, but with transaction reports. You know those reports that list every transaction and the challenge there is that Amazon doesn't give you a flat file there. It actually is grouped by different categories. It's very, very hard to figure out exactly what the expenses are, so it really makes you work to break it up and clean it up. And that took a lot of time to break up that file and eventually I made it so that every column would be would represent a single type of expense, so it'd be easy to run pivot tables on it and analyze it.
Bradley Sutton:
There goes your engineering background a little bit there. Now, where are you still selling the very first product that you started with?
Sasha:
No, and it's not because it wasn't selling well, it's just it became less of a product for the manufacturer. So I don't really sell my own products. I help partners that I have sell products in their accounts typically, and so it depends in a way what they're.
Bradley Sutton:
So that first one that you launched was that for your friend, who you made that with.
Sasha:
That's right, that was his products and businesses that have storefronts that are brick and mortar they have other channels, so they have other needs, other interests, so they might have distribution, they might have a retail store, and so Amazon website aren't always their first priority.
Bradley Sutton:
Yeah, that's another thing that one of you have in common with me is when I first started until I worked at Helium 10, I didn't have any of my own products 100%. I launched over 400 products before I started working at Helium 10. 100% was for other people partners or people who hired me. Just my mindset was like I'm good at what I do, I have a specific thing I'm doing and I like doing this where there's not risk, like I'm not risking my family's savings and it could totally fail, so I'm gonna get. I mean, it's not.
Bradley Sutton:
Of course, I always try to have success, but I didn't have to stay up at night knowing that I risk my second mortgage or something to do this product launch. Amazon could just close the account down back in those days. Now, if I had things to do over again, now that I know what I know, I would have probably gone ahead and launched on my own products. But in those days I was very happy just getting a paycheck and if they made a million dollars from my $1,000 work, great for them. But then if they lost money, it's like all right, sorry, not sorry. We did it. We did what we could.
Sasha:
I hear you. I hear you, but for me it's entirely different. I prefer to work with somebody else's product and do the marketing. In a way. For me it's sort of more customer facing for me. To figure out what it is they need, what their needs are, and make it work.
Bradley Sutton:
What's the biggest success story? Like some projects that you've worked on and now they've scaled up to X number of sales in a year or something like that. Anything stick out in your mind.
Sasha:
For me. There was a client that had not been on Amazon at all, but their products have for years and years. They're a large manufacturer of beauty products who sold through retail and distribution and when I took them on, they had hundreds and hundreds of listings that were not created by themselves but by other resellers that needed to be on Amazon. So in the end, when we eventually were able to capture that market share, those beauty products wound up being really large, really large numbers for them.
Bradley Sutton:
Hmm, well, how large we're talking. Well, we're talking about seven figures. I like it all. Right, excellent. Now going back to you, Christine, like you've been selling now for like three years or four years, which year was your peak in sales and approximately how much was it?
Christine:
I would say this year is the peak in sales. So this year's increased like 300% over last year.
Bradley Sutton:
Wow.
Christine:
An increase, and well, we're in the high six figures at this point.
Bradley Sutton:
Excellent, so this is your full income now.
Christine:
Yes.
Bradley Sutton:
And do you have employees, or are you doing this all on your own?
Christine:
Oh no, I couldn't possibly do it all on my own. Now I have a VA who does all of the reporting and all of the things like that for me, and of course I have a team. I've got the photographer, videographer, social media.
Bradley Sutton:
So that's in-house, or you just like have somebody on retainer or something.
Christine:
I just contract out as I need it yeah.
Bradley Sutton:
Awesome, awesome. Now, what's been your biggest L, your biggest loss, still with you, Christine, like the worst thing that's happened to you since you started selling on Amazon, because that's something that I like to keep it real. Amazon is not all rainbows and unicorns Listings gets shut down, you get hijacked and bad experience with customer service. Let's keep it real here. Let's be vulnerable. What's your biggest loss you've taken, or worst thing?
Christine:
Well, I had a. It's a product I still sell, so it was actually selling very, very well and it was like top you know top numbers and a new person had designed a similar product and so they came in and cited us as patent infringement. Amazon pulled all the listings down, which, of course, stopped the sales immediately. Now we had authorization to sell, we had a patent, we had everything, and I contacted Amazon with I mean right away and sent that document, sent it to the person that claimed the IP, and it still took over two and a half weeks to bring the listings back up. Of course, by then sales were lost. It had to sort of rebuild its rank and everything, and this person did it which I've learned since in order to launch his product right.
Bradley Sutton:
So he wanted to clear the way so that he was the only kind of player in the chain.
Christine:
Exactly, and so that's my first time really realizing the tricks that people play just to get ahead and that was disappointing. It was sad I lost money, but you know what? I wasn't going to let him win, so I just worked hard to get those sales back.
Bradley Sutton:
I love it. Now let's flip the script. What's the coolest thing that's ever happened? You like something unexpected or something amazing where you went viral, one of your products you sold out of inventory in two weeks or you made ridiculous profit on something. What's one of the coolest things that's happened to you?
Christine:
Well, yeah, I have sold out of inventory, but I've learned now to keep that in stock in backup. But actually this last prime day was probably one of the most exciting for me because I sold over a thousand units on that day For me that was A thousand units in one day, wow. Yeah, for me that was big, that was a big, exciting moment.
Bradley Sutton:
How many SKUs?
Christine:
In that particular product line there were five SKUs.
Bradley Sutton:
Wow. So how many units did you have in stock to cover that? That's a huge day.
Christine:
Well, here's what happened is I did run out, but I have a backup over at Deliver. So when it ran out it pulled from Deliver and gave me enough time to get more in. So I had, thank goodness, in the backup warehouse. I had a whole another thousand units ready to ship. And was able to send them in immediately as Deliver was fulfilling the overflow orders.
Bradley Sutton:
What would you say is the reason you did so well on Prime Day? Did you have some kind of, you know, Prime Exclusive Discount? Did you have a coupon? Did you send some outside traffic? Is there one thing that resulted in that crazy sales day?
Christine:
Well, I did a Prime Exclusive Discount. I also, prior to that, made sure all my ads were prepped and primed and that I made sure that the listing was 100% perfect and the pictures were perfect all before that Prime Day. So I guess I was just prepared.
Bradley Sutton:
I like it, Sasha. What about you? You know, sometimes, working with multiple accounts, you get exposed to even more things than the average. You know, seller, what's the worst thing? It doesn't have to be from you, but just like you were part of an account and you heard that something crazy happened. What's?
Sasha:
on Amazon. I think the most heartbreaking thing is when listings become hijacked. I mean, I've seen policy violations on Amazon and all sorts of difficulties that we have working with Amazon, but when listings get hijacked, that's just. I think. To me that's the toughest part.
Bradley Sutton:
And so what was one of the worst? Like somebody who had like, was there any? That was like they were selling 100 a day and it went to zero because of it, or something crazy like that.
Sasha:
They've got an entire product line with something that competitors were able to put Covid-related keywords in there somehow During the time when Covid items were hot and Amazon was blocking sellers, and so their entire list product line was shut down.
Bradley Sutton:
Yeah, all right. Well, let's not be doom and gloom. Christine talked about her. Great, you know, 1000 sale prime day. What about you? What's a crazy, amazing thing that's, like you know, can't happen, probably in the rain or it's very. It would be very impossible or very difficult for it to happen off of Amazon, but you've seen it happen on Amazon.
Sasha:
Gosh, I have to think about that, but the thing that comes to mind that the most satisfying thing that I had experienced was when I finally figured out how to put attributes up on Amazon that they don't give you in the category listing report. There are, for some, certain categories, like in the, for example, a grocery category that I work with a lot. When I was finally able to put up the nutrition table to get all the nutrition values up for products when it's not it's not regularly available in your category listing report, that was probably the most satisfying experience.
Bradley Sutton:
Where is that show on the list? Or does it show on the listing, or is this is only? We're talking about the back end here.
Sasha:
So it shows on the listing right above the bullet points. It's in that prime space below the title and right above the bullet points it'll show like nutrition information. It'll show ingredients and it will show the nutrition table that you usually see on products in the grocery store.
Bradley Sutton:
But for most products you don't actually get those attributes even if you download the flat file that you would, you know like it's not going to. It's not going to show up there.
Sasha:
It's not going to show up, even though it should.
Bradley Sutton:
So how do you do it? Do you like copy it from another category listing report that it does show up and then just paste those columns or something? Well, at this point, at this point.
Sasha:
You could probably find it. You could probably find it in some other category. I had to search for those attributes throughout the internet. I found them eventually in a European Amazon catalog. So I had to scrape them off of there and that's how I populated those columns. It didn't exist anywhere. My suspicion and I don't know this for sure, my suspicion is that they were available for products that were sold through Amazon Fresh. You know Amazon Fresh that product line, and so if you were in stores at Amazon Fresh, you had access to those fields, but not if you were in seller central, and so that was a bit of a hack.
Bradley Sutton:
All right, we're going to come back to you because I know your specialty is like flat files and stuff like that. So we're going to be getting lots of strategies. But going back to Christine, let's talk some strategy. Not anybody can have a thousand sale prime day. Not anybody can scale up on their own to high six figures. So what are some things that you think you're doing that is unique or that you're focusing on? Maybe it's not so unique, but it's like you put a big focus on it and you feel that that's part of the secret to your success.
Christine:
Well, I have these master files on literally everything that's required. So I think being organized and having all the information in one place is really important for me. For example I have, since I'm on both Amazon and Walmart I have like a spreadsheet that's got you know the UPC, the ASIN, the titles, the bullets, I mean literally everything on it that I can then, you know, adjust before fixing a listing, and I can refer to that sheet at any time I need to when I'm doing something else in Amazon, and also the same with Walmart. They have different IDs, different things, and this sheet goes as far as it has dimensions of the products and the pricing of the products.
Bradley Sutton:
Now, guys, I don't know if you picked up on this, but something I like to tell people is, no matter what career you come from, there's things that you can take from your previous life and apply to Amazon. You know if you guys picked up. You know Sasha used to be, you know computer science and engineer and stuff, and now he's got this analytical mind and now he just happens to be an expert on you know Excel and flat files and stuff. And listen, Christine, you know being an interior designer. You know she couldn't just like throw stuff together. You know like she probably had.
Bradley Sutton:
You know this system where she would really plan out her sets and very detailed, and now she's taken that and applied it to the way she manages her interior, designing her Amazon catalog, so you can always take stuff from and then play. You know, plus, sasha, you know being a service provider too. You know he's taking his acting lessons. He's very well spoken and eloquent there and very good looking too, so he's using whatever he can do right there. Sasha, back to you Another, maybe a flat file strategy that you can share with the community.
Sasha:
So with flat files, I think it's important to know that the category listing report is not necessarily what's live on the product page, and that's a major misconception that people have is that when they receive the category listing report, when they download it, they think that that accurately reflects what's up on the system, and it's not the way I would. The way I think about the CLR is that it is just a suggestion. It's what you've uploaded to Amazon and then Amazon makes a decision about whether they will accept that recommendation and update the data in the system or not. Conversely, the file itself, the category listing report or the category template, that is also Amazon's suggestion to you, what you can upload to the, to the cloud, and you don't necessarily have to follow that recommendation.
Sasha:
That's why there are a lot of ways to hack the file, the Excel file that comes down from from Amazon, and so one of the first things that you do if you do have a conflict, if you have an issue, you may take a look at what's in your category listing report and then compare it to the, to the UI, to the data fields that you see in your seller central when you click the edit button and take a look at the shaded text and numbers that are right above the field, which shows you what's what's on the cloud live, and very often you'll find that what you've uploaded is not exactly the same as what's on that now, and that could be things like title, it could be bullet points, clearly, product ideas and other other fields that Amazon doesn't think that you have the right to update or you have the priority to update. So that's one check that I would do once in a while to make sure that what you think is being uploaded is actually getting up there.
Bradley Sutton:
Okay, is it? I mean, I know this was the case years ago, but you know what would happen and how some people would get their listings, you know, shut down. Is you know, like, like, like COVID type keywords, but any adult keywords, drug related keywords, they would go to a marketplace where that seller wasn't in and where there's open spots in their flat file sometimes they would get to, you know, throw some of those keywords in there and then it would stop it. And then you know what was you know one way years ago of how to stop that is like hey, hey, you know, make sure everything in your flat files are filled out and even upload it to different marketplaces. Is that? Can that still help? Or what is the latest protection on how you can stop people from abusing the flat file system? Where, where they can get your listing, you know, shut down?
Sasha:
That is absolutely the right thing to do is fill out the category list and report with all the fields that are relevant to your product, and there's a couple that that are sort of not part of your product listing unless you're in the adult category that you should also update. But that is the good recommendation to update as much as you can that is relevant to your product, because bad actors can update your listings by doing that in other marketplaces or by virtue of having access to higher level of Amazon account, for example, they can do it through vendor central right. So that is that is a good recommendation. It is getting harder for people to to hijack casually because Amazon is making it more difficult for people to create and modify listings for that are owned by brand registry. But they they could still do it, and so I would.
Sasha:
I would say don't go overboard and try to complete every single empty field in your listing report, because you really cannot do that. There are many more fields that are related to your product. Then you can actually see when you download your category listing report. So you can't really even contemplate completing every possible field, but you should fill out those fields that are relevant. You should fill out those fields that have to do with compliance has met and so on, and you should fill out the field that has to do with is is this an adult product? To make sure that those don't get in there. Aside from that, you could you could still have bad actors put bad, bad keywords in your product. They'll get you shut down so that yeah, that's that hijacking process still exists out there.
Bradley Sutton:
Okay, I'm just curious what's your ratio of sales from Amazon to Walmart? Five to one, 10 to one. Amazon more, Would you say it?
Christine:
for me it's. Let's see, last year it was like Five to one, this year it's more like eight to one on one.
Bradley Sutton:
It changed so eight to eight. For every eight dollars you sell on Amazon, you sell one dollar on Walmart.
Christine:
Yes.
Bradley Sutton:
Okay, are you using WFS?
Christine:
Yes.
Bradley Sutton:
Okay, how's your profit margins? You know like after, if you know calculate out what you're you know selling or you know doing for PPC, etc. Is the profit margins similar or you making more money than one platform, than the other?
Christine:
Well, last year I made more I mean profit margin was better on Walmart. This year the advertising Something's a skew there. So the profit margins not as good On Walmart as it was last year and I'm hoping they fix that and that goes back up. But typically because Walmart doesn't charge as much for delivery, they do still charge the 15%. They don't charge as much delivery. There is room for a better profit margin on Walmart.
Bradley Sutton:
Okay, interesting, interesting. Do you find that there's less competition for your niche on Walmart compared to Amazon? Are you fighting more competitors on Amazon or is similar to the same ones? You who are there on Amazon are also there on the Walmart.
Christine:
I think it's less competition. It's less competition, but it's harder to rank up for some reason. But you know, it's a unique client. Each platform has its set of unique clients, right and certain products. Like I, have five different products With many, many skews. So one product does very, very well on Walmart and Not so well on Amazon.
Bradley Sutton:
So you're doing better on Walmart than you are on Amazon for one product.
Christine:
Yes, yes.
Bradley Sutton:
Yeah, I know Kerry's got one or two like that too interesting.
Christine:
Yeah, and where the other products do better on Amazon. It's interesting. So I I come to where I'm picking out different products for the different platforms.
Bradley Sutton:
Could you have predicted that, like you know, when you were looking in helium 10 at the search volume or the competitors, like could you have said you know what I think this might be, or it did it just happen, and then now, in retrospect, you know what to look for as far as science about what could be better on Walmart than Amazon?
Christine:
I think it just happened. But yes, now in retrospect I can look a little bit more, I have a bit more information about what to look for and you know, price is a key it's just a key thing on Walmart. So having good price products so if you have a product that's a little bit higher priced For me I'm putting it on Amazon it just doesn't move as well on Walmart. In my category I'm talking about kitchen now in another category it might work just fine, but in my category the lower priced products that appear to have the best value for the price let's put it that way Move better on Walmart. And yes, now I'm picking out things that fit that category.
Bradley Sutton:
Sasha you doing anything at all with Walmart, or everything that you do is all on Amazon.
Sasha:
I help with Walmart as well, but it really varies by client. There are certain products that don't do well on Walmart at all because they are on Walmart shelves and so if it's a, if it's a product that can be purchased from Walmart, in the store and Amazon and Walmart will ship it at their Walmart price, it's very difficult to compete with an Amazon price that includes FBA fees. So it it's really kind of all over the board where some products do Better on Walmart when there's no competitors and there's some products that really don't even have opportunity to compete.
Bradley Sutton:
Okay, and what's your last strategy for us? If I were to ask you for your 60 second, your 60 second strategy of the of the day for you? I mean, I said flat files because that's your specialty, but it could be about anything.
Sasha:
I'll stick with flat files. My top recommendation would be to create variations. Create them often and Don't wait until it's too late. You're your ASINs, your, your product listings are your assets on Amazon and they're constantly at risk. They could be taken down for multiple reasons, and so when your product reaches a level of maturity, when you have Thousands of reviews and is doing very well, create a variation, even if you don't think you need one. Create something with small, small modification. Pair it up with your best seller and let that new product gather reviews and that new product becomes a new asset and Then, once are doing well, you have the option of splitting it off from your main parent and take up Amazon real estate. So that's one of the top strategies I use with clients is I create variations with, with new products cool, cool.
Bradley Sutton:
Now. If people wanted to reach out to you, Sasha, to see if you know to contact you and ask for your you know Russian escapades, or perhaps talk about you know flat files or whatever, how can they find you on the interwebs out there?
Sasha:
If, if they want, if you want to have, they want to have that beer, I'll tell them the local bar. But if they want to talk about Amazon I'm usually on the Friday calls at 11 o'clock that those are always great case studies, so I'm usually. They are also in the Helium 10 elite Facebook group and of course it. If you want to reach out directly, my email is at [email protected]. Cutterstone spell, just like it sounds.
Bradley Sutton:
Cool now, Christine, you know, no pressure, you don't have to say your contact information, but if somebody was inspired by something you said and they wanted to reach out to you, dude, would you like anybody to reach out?
Christine:
Yeah, I'm happy to help. I mean, so many people help me along the way I want to do the same, so I'm happy to help, and my email would be [email protected].
Bradley Sutton:
Awesome, all right. Well, you too it's. It's a great, you know, been having you and you know weekly calls and seeing you at the elite events. And Next one, probably neither of you can make it to because I'm doing it, we're probably doing it in Germany, so that'll be a bit of a bit of a drive for you guys who are used to being here in Southern California, but perhaps I'll see you at the next, you know, like online meetup or Next conference. You know be great to see you again.
Christine:
Thank you.
Bradley Sutton:
Great to be here.
---
Enjoy this episode? Be sure to check out our previous episodes for even more content to propel you to Amazon FBA Seller success! And don't forget to "Like" our Facebook page and subscribe to the podcast on iTunes, Spotify, or wherever you listen to our podcast.
Get snippets from all episodes by following us on Instagram at @SeriousSellersPodcast
Want to absolutely start crushing it on Amazon? Here are few carefully curated resources to get you started:
Achieve More Results in Less Time
Accelerate the Growth of Your Business, Brand or Agency
Maximize your results and drive success faster with Helium 10's full suite of Amazon and Walmart solutions.