#313 – Amazon Product Photography 101
Today, we're going to talk about everything you want to know about Amazon images, product photography, and even 3D imaging.
Originally published on: January 15, 2022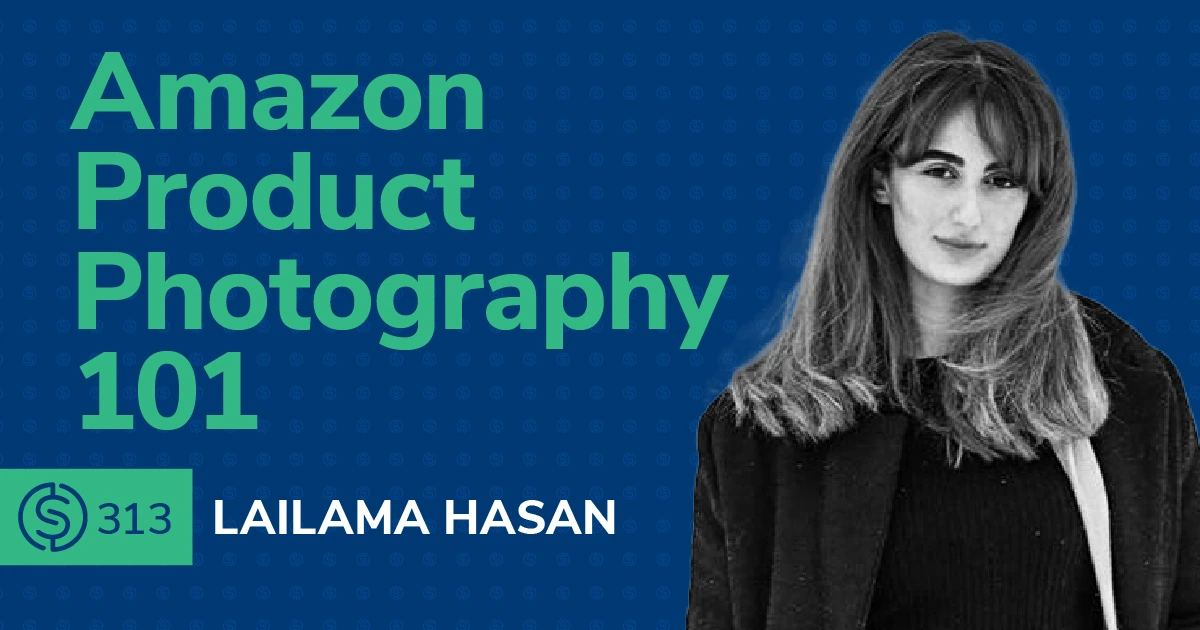 In this episode, we welcome back Lailama Hasan, now part of the Helium 10 team as a brand evangelist, to talk about Amazon images, product photography, and even 3D rendering. What is the right ratio of lifestyle and infographic images? Why do you need an image plan for your listings? Are 3D renderings worth it? How to repurpose your product photography for PPC and Amazon Posts? We tackle these and more!

As a bonus, Bradley also shares his experiences in his recent trip last month to Peshawar, Pakistan, and a funny story about attending two weddings in a day there.
In episode 313 of the Serious Sellers Podcast, Bradley and Lailama discuss:
04:30 – Quick Story On Bradley's Recent Pakistan Trip
08:45 – What Are The Different Types Of Product Images
12:15 – Lifestyle And Infographic Images Which One Should You Use More?
14:00 – Having An Image Plan For Your Listings
17:00 – Using Helium 10's Review Insights For Image Ideas
19:00 – Getting Your Product Images Edited
23:00 – How Much Would It Cost To Outsource?
26:00 – Are 3D Imaging And Renders Worth It?
29:10 – When You Should NOT Use 3D Rendering For Your Product?
30:30 – Always Know Your Target Demographic
33:00 – Can You Take Quality Pictures On Your Own?
37:00 – Repurposing Your Images To Use For Amazon Posts
39:00 – Lalaima's Tip On Product Photography
Transcript
Bradley Sutton:
Today, we're gonna talk about everything you want to know about Amazon images, product photography, even 3d imaging. How cool is that? Pretty cool I think.
Bradley Sutton:
Hello everybody, and welcome to another episode of the Serious Sellers Podcast by Helium 10. I am your host Bradley Sutton, and this is the show that's a completely BS-free unscripted, and unrehearsed organic conversation about serious strategies for serious sellers of any level in the Amazon or Walmart world.. We're definitely gonna be talking about some strategies that you guys have sent in a lot of questions about, and that's about photography, but before we introduce our guest, I wanted to give a quick shout out to my team. So actually, as I'm recording this, now, I'm still on kind of a leave you guys. Haven't seen me much around, you know, social media and things like that. So first of all, shout out to the company Helium 10, you know, they have a very cool program where, you know, once you've been at the company a couple years, you can take a one month sabbatical, which, you know, me being a workaholic, I never really wanted to do that, but you know, family emergency came up and still dealing with that.
Bradley Sutton:
But, you know, I had to take some time away from work. So I guess, you know, one of the first takeaways is make sure you guys know your priorities, right. You know work is important. You guys are Amazon sellers, Walmart sellers. It's important. You're in this space that you have a regular job it's important, but always remember, you know, family problems could, could come up and it should come first. All right. So just know when to step away and that's important. And thankfully I work for a company that, you know allows me to do that. The second thing is, you know, before I'm not like, you know, maybe two years ago, I'm not sure what I've done if this thing happened. Like, I don't even know how I could have taken off of work because I was doing so much.
Bradley Sutton:
I was kinda like a one man team, but now I got a pretty cool team where I was just able to, to step away the last few weeks. And they kind of just like completely pick up the slack. So hope I don't forget anybody but want to give a shout to Carrie. Carrie's been here on the podcast. She's really been helping all a lot lately. The other evangelists on the team Lem, Shivali, and Adriana, and Marcus are two new international podcasts, by the way, quick shout out to them, make sure if you're a German speaker or a Spanish speaker, check out their Serious Sellers Podcast auf Deutch, or Serious Sellers Podcast en Espanol on any podcast player, you can hear them, you know, do the Serious Sellers Podcast there in that language, Mhel, and Nikko on the background helping out as well.
Bradley Sutton:
And of course our guest today is Lailama. So shoutout to my team, hope I didn't forget anybody. And Lailama actually is an interesting story because she's been on this podcast before, but not as a helium 10 employee, she was working for AMZ one step at the time which is an agency that's actually in the Helium 10 Trusted Partner Directory and she came on to give her expertise and she wrote some blogs about product photography. And now she's one of her evangelists here at our team. So I wanted to like invite her back to talk a little bit more about photography and anyways, welcome her like her first solo podcast as a guest, she was with her brother the last time Lailama, how's it going?
Lailama:
Hello. Hello. So happy to hear as a member of Helium 10 now.
Bradley Sutton:
Yes, yes. And now you are actually coming to us on location. You're usually, you know, live here in north America, but right now, where are you at?
Lailama:
I'm in Pakistan right now. So a completely different side of the world.
Bradley Sutton:
Yes. Yes, your brother got married a few weeks ago and thankfully I was invited to that wedding. I went there and, and just, you know, before we get into the photography, you know, quick, quick, funny story guys. So last month, you know, I went to Pakistan and, and I did a seminar with the Enablers group. And then of course, you know, the main reason there was to go to the to go to the wedding there in Peshawar, now Peshawar, first of all, let me just tell you guys, it's a beautiful place. You know, I've never been to a place in Pakistan. I didn't like, but I really love the weather there and great sites. But there's history and that's it. I did not know about, but let me just tell you guys, you know, things happened before in the past, and that's one of the reasons why I like going to Pakistan is because it's not like it was back in the day where it is really, you know, unsafe.
Bradley Sutton:
Like I never felt unsafe. I didn't even have like guards or anything this time I was walking around in just in the market. Totally, totally cool. Everybody's super nice. Like I had to get like an outfit for the wedding and then, so they took me to the market and the vendors, they just gave it to me for free. They're like, oh no, we can't take your money. You're like a visitor to our country. I'm like, what in the world? Like, there's hospitality here, guys in Pakistan that is unprecedented. But the funny story is anyway. So when Lailama was in the office, the Helium 10 office a week before or a couple weeks before the wedding she knew I was gonna give a seminar there, an Amazon seminar.
Bradley Sutton:
And so her and her sister Omama were like asking, Hey, where's that seminar at? And then I showed them like the the kind of advertisement for it. Yeah. And I forgot what it was called, like Sophia hall or, Sabrina-
Lailama:
Sabrina, Sabrina.
Bradley Sutton:
Sabrina hall. And they're like, wow, that's so that what a coincidence, that's like the same place where the wedding is gonna be, I was like, whoa, that makes sense. You know this is a smaller town and maybe you know, maybe there's not that many wedding halls. So I was like, whoa, that's like, that's like, so cool. I'm gonna be at the same place, like, you know, two days in a row. And so anyway, so come the day of the wedding I was, you know, going out in the market, like I said, with the Enablers group, and they were helping me buy outfit and everything.
Bradley Sutton:
And so I just stuck with them and they're like, yeah, we'll give you a ride to the wedding hall. And so was like, okay, cool. So we went to the wedding home and then the, I was like, nah, I'm good. Like, you know, you can just leave me out here. And like, we wanted to make sure you're okay. So we went in and I was texting Saddam who's Lailama's brother. I was like, all right, I'm here. He's like, okay. Yes, go to you know, you can get in through like the women's side. So like, I guess in the Pakistani weddings, it's kind of like a little bit of segregation, like the women and the men. And so I wasn't there in the middle and I was like peeking in and I didn't see Lailama and her phone was not working on, and her sister Omama's phone was not working.
Bradley Sutton:
So I was like texting them and they didn't reply. And then it said down, I was like, no, no, somebody will come out to get you. So I was waiting there for like 30, 40 minutes. And then you're seeing every, everybody's like looking at this guy, like, what was this guy doing here? So finally the one guy I was with she's like, let's go ask somebody. So we asked somebody and they were like, yeah, we can't find Saddam. And people were like Saddam. And then, and I was like, I was getting worried. I'm like, wait a minute. What's going on here? And then, so we walk in, they're like, they take me to the father of the groom, right. Of this wedding that I've been in. And then, so they're like, yeah, who are, who here from? I'm like, yeah, Saddam, you know, this is his wedding. Right. And they're like, do you have a picture of him? And so I show the father, like my cell phone picture of me and Saddam. He's like, that's not my son. I was like, I've been in the wrong wedding.
Lailama:
The funniest part to me was the fact that you named a guy and the fathers still wanted a picture to be sure.
Bradley Sutton:
Yeah. He was like, Who knows? Maybe his name was Saddam too. I'm not sure. But anyway, so the father of the groom was like, oh yeah, come stay. And he feel like, no, no, no, I gotta, I gotta, I gotta find the right place. And so we found out that Sabrina there's two Sabrina wedding halls in there in Peshawar. And I was at the one where yes, the next day I was giving the Amazon seminar, but then finally got to the right place. And I got there at the right time. Like it was literally right when lay Lama was doing a choreographed dance with her sister for, for her brother. Really, really cool, great food, great people. But anyways, we're not here to talk about my, my, my Pakistani wedding adventures, but there's a quick story of how I got to go to two weddings. My first two Pakistani weddings in one day, by the way the word Lailama. I learned while I was there. There's two words that everybody, I think it's everybody said, oh, you look like you are a Patan or a Phastun or something like that.
Lailama:
Yeah. Yeah. That's what I am.
Bradley Sutton:
Does that mean like I'm from Peshawar? Like, I look like I could have been from there. Right? Okay, cool. But anyways, we're not here. We're, we're not here to talk about that.
Lailama:
You know what Bradley? There's like a key takeaway from that story and that's on branding, what we're gonna be talking about. So you need to differentiate yourself as a brand. Right. That's what I thought about when you told me about it.
Bradley Sutton:
I like it. I like that. Let's talk about, you know, one of the ways to differentiate yourself is with your product images, which is what we're gonna be talking about today. So gonna go from A to Z, we're gonna have some advanced stuff, but let's start off with just the beginner stuff. Let's just talk about Amazon product images in a nutshell, like what are the different types that or the different kind of classifications of product images, right?
Lailama:
So usually, you know, you can fill up the space with about nine images, but a people like to go for-, you should at least go for the minimum seven images. And the first one is the main image, which is, you know, if you wanna be compliant with the terms of service, you wanna make sure that it's on a plain white background. And you know, it's really product focused. And the rest of the six slots are left for infographics and lifestyle images. Now infographics are basically a combination of text and visuals. So you're kind of like creating an Ad banner for your product where you kind of explain to your audience what the features of your product are, how to use your product maybe, and how you are different from your competition. So a lot of things that you can cover in infographic images, and there's like a bunch of types that fall under that category.
Lailama:
And the last type is lifestyle images, which is basically showcasing your product being used so that your audience can kind of relate to your product and see themselves, you know, using that product. So that's kind of the main purpose of lifestyle image. And these are the three main types. Again, we can cover in depth what, like an infographic image could entail. There's like different kinds of them where you could either talk about the dimensions of your product, what your set includes. Again, attributes that could set you apart from your competition and you know, just a plethora of different ways to go about that.
Bradley Sutton:
Now, sometimes you can almost combine lifestyle and infographic like you just mentioned one that shows the dimensions like that does not have to be necessarily another white background image that just shows the demsion. I could do that, but I could take like a lifestyle image and then overlay dimensions like that. Right?
Lailama:
That's correct. Yeah. And, and I think we misunderstand the idea of infographics in the sense that it doesn't have to be on a white background. The only picture that needs to be on the white background is your main image. And in fact, it's actually better. If you put it on a different background, let's say it's a kitchen product. You wanna put it on marble countertop for instance, or something that maybe has like rustic look, maybe you could place it on like wooden background. So yeah, it is like a combination of that, but if there's text involved, then that would definitely be categorized as an infographic.
Bradley Sutton:
What is your opinion on what's more important or are they kind of equal, like, you know, should I focus like put all my effort into like, making the most incredible infographic and then, you know, maybe have a lifestyle image if I have time, or should I like, Hey, in absolutely almost every circumstance, unless I'm selling like some kind of widget or screw or some kind of industrial product, should I always have, do you think I should always have both infographics and the lifestyle images?
Lailama:
I think the breakdown of your lifestyle and infographic images would really depend on the product category that you're selling. So for instance, if you have a product that needs a lot of information that has a lot of features, or maybe it's kind of hard to understand how to use that product, you wanna go for more infographic images and then maybe one or two lifestyle images to kind of show the customer, you know to inspire them to kind of use your product. But so for instance, we had a backpack which had like a USB charging port, different anti theft zips. So that's a lot of features, right? In that case, I would definitely go for more infographic images as opposed to lifestyle images.
Bradley Sutton:
Okay. You know, let's talk about that backpack. That was a project I had given you, and you know, this isn't an necessarily an Amazon, you know, we're trying to make money on Amazon by selling a Helium 10 backpack. But what we had done is we had actually sent it in for multi-channel fulfillment because we send it to, you know, some podcast guests and we send it to our employees and things, we're like, Hey, it's there in Amazon, let's make a listing for it. So how do you tackle that project? Like as far as from the main how to get, you know, the main image, and then the lifestyle images and, and deciding which infographics that you were gonna do, walk us through your process of what you did there. Yeah.
Lailama:
That's I've actually written a blog on that, which will be coming up soon. And it will is a really fun project because I kind of, have a background in photography. So I kind of took the pictures myself and I modeled myself. So it was a lot of fun that way, but what I kind of did was do exactly what you would do if you were dealing with an agency. So you kind of come up with an image plans is what I like to call it. An image plan, entailing, the different props that you wanna use, the locations that you wanna shoot at, and, you know, just what kind of features you wanna cover. So I made a plan of that, you know, obviously I didn't have to plan for models cuz I modeled myself, but you know, just keeping in mind, all those features that you wanna highlight and then planning an image according to that. So again, like I said, there were a lot of features that had to be covered with a backpack. So, you know, it had like different uses. You could use it for work, for school work. So I kind dressed up like a school girl and you know, like in a professional away and I kind of showcase different features for it. And then-
Bradley Sutton:
Wait. Wait. If you were the model who took the pictures?
Lailama:
I simply put my camera on a tripod and you know, in the middle of-
Bradley Sutton:
Put a timer?
Lailama:
Yeah. With a timer and that's how I took the picture. So I mean, if someone doesn't wanna go with a profess agency, they could do that themselves as well. It's as simple as that, but yeah, you wanna keep in mind what material you wanna cover in the pictures and then plan the pictures according to that.
Bradley Sutton:
You know, you actually, I don't know if I made this clear or not where people didn't hear your other episode, but you are actually a professional photographer yourself. Now, not everybody is a professional photographer. So like, you know, for you, it was a no brainer. Like, okay, we don't, I'm not gonna hire an outside agency to go do this. You know I can get this white background image, I can get these, you know, lifestyle images. And then, you know, maybe I can send it out to somebody to do some, some Photoshop and things later. But what if I'm not a professionally trained photographer, you know like you are, and I'm just like I have, I wouldn't know the difference of a Lumix camera to a Sony, to a, what is a lens? Like, I don't know, none of this stuff. Does that mean that I absolutely need to outsource? Or is there a circumstance where maybe if I had some, a really nice like iPhone 12 or whatever is the latest iPhone where that has a nice camera? Like I could actually take care of some of these images with a cell phone?
Lailama:
Yeah. I mean, it all boils down to the quality of your pictures, right? You wanna come across as a professional brand. So as long as the picture quality is good, you're good to go. And again, the planning, you could also do it on your own. You don't need to be a photographer. What I used for my project was the Review Insights Tool. So I kind of got information through that. Seeing what people are saying in the different reviews, the points that they would like me to cover when they see a backpack listing. Right? So that was one of the tools I used. I went to my competition's Q and A section, and I saw the kind of questions people had. So keeping those things in mind, all the data that I collected from there, I kind of planned my pictures around that. And again, I said, it just boils down to quality. So you could literally use any camera and once you have the pictures planned out, I'm sure it'll come out great.
Bradley Sutton:
Okay. So you mentioned before, Hey, you know, trying to, depending on the category, sometimes it's 6, 7, 8, 8 images, your shoots that you did, like, you know, I'm sure you ended up like seven images or whatever, and by the way, guys, if you guys wanna check out this listing, just to see what she did and her debut as a Helium 10 backpack model just go to amazon.com and type in Helium 10 backpack. I'm sure it'll come up. But those last seven or seven, I don't know how many are in there. Seven, eight. How many actual shots do you think you took 20, 30, 40, and then that you narrow down to that number.
Lailama:
For each picture? I would say I took about four pictures. So that would, so if I had a total of seven images, seven and four, that would be 28 pictures. So I kind of narrowed it down to seven at the end. I took four for each picture just so I could make sure that the focus on all of them was perfect. I had posed the right way, or let's say the product feature that I was trying to demonstrate in that picture was prominent. Right?
Bradley Sutton:
Yeah. Okay. So now what was the next step like, did you outsource, like the editing of it? Did you handle it yourself? You know, like putting the words on the infographics or, you know, Photoshopping you know, your facial blemishes, if you had, and just like, who does that kind of stuff?
Lailama:
There's a lot of ways to go about it. I mean, if you know how to use Photoshop, you can probably do it yourself, or, you know, you can use the app Canva. But what I did was I went for our editing team in house, and you can kind of use different agencies for that, or even find like a freelance editor on, let's say Upwork, Fiver, there's different freelancing websites where you can find these editors. And if you give them the correct instructions, they will most probably get the editing right in one to two goes. And so what I did was I put these pictures together and I made a whole document which had all these instructions in there. So I would put a picture in there and next to it, I would kind of write different instructions, like, okay. Clean up the backpack a bit, because when you're taking a high quality picture, you will sometimes see dust on the product. So clean up dust from the backpack, or, you know Photoshop out whatever part, if I saw like some blurriness or something. And then if I wanted text for the infographic, I would say, write so and so text and such and such font you know, this needs to be uppercase, this needs to, to be lower case. So you need to be very specific about your instructions and once you hand it out to them, you know, there's the quality that comes back is surely, you know, one that doesn't require many revisions.
Bradley Sutton:
Okay. Now, something you mentioned earlier was about like, you know, making images, looking, branded and you know, differentiating yourself things like that. Like is that a strategy used for this backpack or just, can you explain that? Like, how do you make an image look branded and why would you even wanna do that?
Lailama:
Well you're and if you look at it this way, you're a brand on Amazon, right? So if you were to look at brands outside of Amazon, even you see that their pictures are really branded professional looking. And when you come across that as a shopper, as a customer, you just, that just instills more trust and confidence in that particular brand. So if you give them that branded experience, what I've noticed is a lot of the people who will come across your listing are more likely to go for you as opposed to another competition that just looks not so branded, well branded. So that's why I think one branding is important and two, the way to go about looking like a proper brand, I would say is, you know, everyone has, when you create your logo, you've got your branding color. So in the backpacks case, we had the Helium 10 logo, which is white and blue.
Lailama:
So a lot of the texts you will see there is in white and blue. That's the only text I use by the way. And the colors that I use for props for instance for my outfits were very in line with that, or I try to keep it to a minimal so that these colors would pop up a bit more. And there were also infographics where I put the backpack against a blue background, or like a grayish background to enforce those branding colors. And lastly, I think I would also keep the pictures in like a, looking in a similar color palette or looking cohesive, just so that it looks like it all belongs to one particular brand. And it's not a mess, you know, one in orange, one in blue. So it just gives it that tad bit more professionalism.
Bradley Sutton:
Okay. Now these images, and again, I suggest guys looking at that on Amazon. Please don't click on. No, we don't have sponsored guys. I was gonna say, don't click on that sponsor. We don't have a sponsored ads for it, but just find it just so you can kind of visualize what we're talking about here, but let those exact images, you know, you made your full photoshoot you did. And then now, you know, you had outsourced that, but inside our Helium 10 come I'm because we have graphic designers here to get that done. Let's just say, I'm, you know, this was a random person's backpack and they're a Amazon seller. Like how much would they have paid for those photo shoots, the original photo shoots to get the raw images, and then how much would they have been to do those edits that our team did?
Lailama:
Usually what I would say is that you know, when you're outsourcing to an agency to a freelancer, whatever their costs are gonna be pretty much the same. So the first step would be to find the right studio for your product. So it needs to have the particular settings for your lifestyle images, as well as a white background for your main image. So you need to find a studio like that. If they don't have it in studio, they would probably get an Airbnb. So the cost kind of comes down to like $300 to $400 for the studio or Airbnb that you're renting as well as the white background studio space. So you, either way, have to rent out two different studio spaces, right. And then there's models involved. So depending on how many models you want, usually, you need to pay them a minimum of three hours and their hourly rate can really vary sometimes about $50 sometimes they'll you know charged by the day. Depends on that. Again, they all have very different pricing. That would be one, a part of the cost and then editing in itself, like going through the info graphics for them to brand your images and kind of take a look at the selecting the typography and all of these things. I think it comes down to about 1500 to 2000 for like a complete seven to nine image set.
Bradley Sutton:
Wow. Okay. So it can, I mean, the answer is it varies, you know, depending on what you want, but it can get, it can get pretty expensive, but, you know guys, this is not one of those places where you want to cut corners, just like, oh yeah, I'm gonna save some money and not get an inspection on my products. No, no, no. That's not where you wanna save money and I'm gonna save money and not get this quality check. No, no images and photography. Another one of those ones that if you have the means, you definitely want to make it as good as you know, make sure to budget enough for it now then if I'm just taking the images, myself, that part that would save the big chunk. And then just the, just the editing, especially if I'm using like a freelancers or one of those websites that would probably be fairly inexpensive. Right. Cuz you know, usually sometimes those work you can get from like four to $6 or $7 an hour, right?
Lailama:
Yeah. Or are sometimes they charge $20 to $50 per image. So it really depends on how much Photoshop work is involved and all of these things. Right. Considering different factors again, would depend on the product.
Bradley Sutton:
Now, one thing you didn't have or I mean, I don't think I, I would assume you didn't have to too much experience on because it's not, you know, I know the company you work for used to do it, but, but 3d imaging. So, so another project that you were working on is like, Hey, let's take some of these coffin shelf or, or our original Manny's Mysterious Oddities Project X Coffin Shelf, and let's do some 3d imaging for it. Now, 3d imaging has come a long ways. You know, there's back in the day, you know, where, where people think of 3d images and it looks like something like, but it seems like nowadays sometimes if it's a really good render, you can't even really tell it's not photography right?
Lailama:
Yeah, yeah. I mean what 3d renders basically are it's a process of creating 3d dimensional models from 2d drawings. Right. And they really add that high definition and that it has that element of realism in it. So a lot of the times, I mean really depending on the kind of product you have, but sometimes it can even be better than a real life photography, you know because it gives you like a really clean high definition result. So again, it boils down to what kind of a product you have in our case. It was a coffin shelf and it worked out really well. I think the images came out great.
Bradley Sutton:
So, guys, you know, you can actually check, there's gonna be a blog about this as well. I'm not sure if it's out yet, but all, all these blogs she's talking about will be at helium10.com/blog, but you can actually check, you know, look up, you know Manny's Mysterious Oddities Coffin Shelf on Amazon. Now that one we do have sponsored ads. So guys, please don't mess up our PPC spend in our ACoS. But check that out. We did with is it Fade Visuals? Is it the company?
Lailama:
Yes, it's Fade Visuals
Bradley Sutton:
Yeah. So Fade Visuals. Fade Visuals. They did some really nice renders and we did some tests. Doyou remember offhand like I think the only one we kind of like split tested was that main image, like changing out the main image that used to be just a generic, you know, product photography, white background, and then we changed it to a 3d image. Do you remember what the specs were on how that increased our clickthrough?
Lailama:
I think it went, our conversions went up by from 10% to five, 15%. So there was a 5% increase in that too within like I believe a two week period was when we were monitoring our conversions.
Bradley Sutton:
Yeah. So I mean guys, I mean, that may be not, you know, even 1% guys that that's something, you know, like, especially if you're, you're selling hundreds of these things a year, like, you know, like we are any little bit helps, but you know, 5% is just kind of like incredible. And, and it's what you might have to do. Like, like we, for, for the longest time, we were just like the main, we are the only Coff off, you know, but, but as competition comes on, you're gonna have to keep kind of evolving your strategy guys. And this is not just about images, but, you know, keywords and your PPC strategy and your listing, you, you should reoptimize it and things. So don't just, you know, have the same exact listing that you had two years ago. I mean, if you're a market share, if you're still the only player in the game, you know? Yeah. Maybe you don't need to do anything, but nine times outta 10, I would assume that new players are coming in and they're using keywords you didn't think of. They have better looking images than yours and you gotta step up your game now, what would be some situations where you think, nah, nah, you should not use 3d rendering for your Amazon product.
Lailama:
Well I think I would start with answering what kind of products would be suitable for it, for the most part. It's like products with packaging that have like a box in it or a bottle, for instance, supplements, stuff like that. Or if you wanted like an exploded product view where, you know, the product materials can kind of distanced from each other, or if you have reflective products or anything that's bulky or oversized anything with smooth straight lines, like our coffin shelf. So it would be perfect for these kind of products. Anything opposite to these traits, I would say would not be a good fit, like something with like a really complex texture that a render cannot imitate would probably not be a good option for 3d rendering
Bradley Sutton:
Going quickly back, you know, something I forgot to ask about, but just came to my mind about the photography. I guess it could be 3d rendering, like when we're doing like lifestyle images and you're what to, you know, who to shoot and things like that. So, so you guys or when you were working at AMZ one step, what they did was, you know, they had different models that they contracted with and different Airbnbs, but like, are you talking to the Amazon sellers in those days and saying, Hey, who's your target market? Like if it's you know, a senior citizen, like, you know, you, you're not using a 22 year old college student model or like does that level go into the planning stage or how do you decide that?
Lailama:
That is very important That's a very good question actually. Like looking at the target demographic and you can get all of this information. Sometimes we'd ask them, sometimes brands aren't even aware of who their target audience looks like, because we would also work with brands starting out. Right. So in that case where you don't have any data, you wanna look at similar products like with a similar market and kind of you know, their business reports and stuff like that and see what the demographic looks like. But if you already have an established brand, in that case, you can always go to brand analytics and kind of see where most of your sales are coming from. They'll divide it by age income, different filters. So that's a great place to kind of check what your target demographic looks like. And then making sure that your listing images, the models that you use for your listing images are exactly what your target audience looks like.
Lailama:
So if it's a unisex product, it's so important to include a male and female model, because a lot of the times, from what I've seen as a buyer, like a lot of male audience, they're gonna look at a product and if they don't see a male model in there, they're just gonna automatically assume it's not for men. So this is one of the reasons why it's so important. And there's also been studies showing that, if people see their own ethnicity in a picture, they're more likely to go for that product. So that's another thing to cover diversity is so, so important these days, right?
Bradley Sutton:
Let's just say, Hey, I can't afford 3d renders right now, which by the way, guys is not as expensive as you might think. A lot of it is the same, or even cheaper sometimes than really product photography. But let's say, Hey, I can't afford 3d rendering. I can't afford like a professional studio. You know, I can't just drop a thousand dollars right now. What I can afford is, you know, I can pay somebody 50 or a hundred dollars to like edit all my images to make him rule crisp. But again, it comes back to that initial image. So we talked a little bit about that. Hey, can I do it the iPhone, but let's just talk about main image. All right. White background. I don't have a photo studio. I don't have, I don't know what it's called, like a lightbox or whatever. How can I make that initial white background? Can I just like snap it as is, and then have the person Photoshop everything out or would it help if I actually put like a white sheet, like, you know, it's down and I took the picture there or what should I do?
Lailama:
You know, I, I did the backpack at home and my, at my studio wasn't set up at the time. So I literally took like a chart paper. You can even use a cloth. Put it against the wall and then put one on like a table and I put the bag on top of it. So that the background and the bottom of the product is plain white. And that's it like, that's all you have to do, take a good quality picture, send it to an editor and they'll make it look nice and clean. See you don't really investment.
Bradley Sutton:
I think that's better than what I see. A lot of Amazon sellers do is they use these stock photography and then they just like Photoshop, like, you know, things on like, they'll take a, an image of somebody holding up their hand like this, by the way, guys, don't forget, you know, we actually do these podcasts on, on YouTube now too, like a week later. So if it sounds like saying, look at something that's because this is the version here, but you know, like, they'll be like this stock photography with somebody with their hand up like this, and then they'll put something, but then it looks so fake. It's like so annoying to me. I like, literally as a buyer have like purposely not bought a product, I was like, wow, this price looks good. And it looks like, but then I look at the image and I'm like, ah, come on, man.
Bradley Sutton:
This just doesn't look. It doesn't give me confidence. If it looks like this seller is like, just doing some cheap, cheap ripoff and of, of an image or, or it's obviously not to scale, you know, like, like a coffin shelf on a wall and they just Photoshop it on a stock photography house, but then it looks way bigger. Not only is that unprofessional guys, but let's just say somebody doesn't even look at it, didn't even like, care about that kind of thing. But imagine they look at that image and they think it's one size and now they get it. And it's like, wait a minute, this is too small or too big. Well, guess what, there there's a bad review right there. There's a return. So a really important, you know, to, not do those really cheap Photoshopping.
Lailama:
Yeah. Needs to be correct to a scale, like when a person looks at it, not only add measurements but also like something for point of scale, right? Like including a hand in there, or, you know, like even a pencil, if it's like a smaller product, you know, just, it's really important to give them that idea,
Bradley Sutton:
Talking about multiple images, you know, one thing I know you and show while are working on this project with I think it's Lizette who was in Freedom Ticket, who was talking about Amazon post, but you mentioned, you know, taking multiple shots, you know, to get the right one for the Amazon listing. But, but a lot of these additional images that you're taking either with your cellphone, orif it's the agents or a photography studio who takes it, you could repurpose this for Amazon post, right?
Lailama:
Yes, that's correct. Like, I think a lot of the pictures on Amazon posts are taken with your cellphone. So really you can repurpose these pictures in there with like infographics that you have with texts, you can remove the text and post that in there as well.
Bradley Sutton:
Okay. Yeah. So look out guys I don't know if it's gonna be ready like in a month or so we're gonna have some cool blogs that, that show how we're doing the Manny's Mysterious Oddities and possibly the egg tray and different things like that in Amazon post, just to kind of give you guys an idea of how that works. Now, we recently sent to AMZ One Step because we wanted to outsource this instead of using our own for photographers who are all pretty busy right now, but all of our, like coffin shelves and we have different ones now. So have they started doing anything, like, have you told 'em to do anything? Or what's the plan there? What were– I don't even remember now what we were trying to do there.
Lailama:
Yeah, no, we're creating images for Amazon posts. And so a lot of them will be like lifestyle images, right. With models or showing how to do, like what setting it should be in. And again, like this goes again, touching back on the lifestyle images point. Like there doesn't have to be a model. So anyway the Amazon post images, we're working on that and they've come up with an image plan, which we've you know, okayed and it's in the process of photography right now.
Bradley Sutton:
Okay, cool.
Lailama:
It's gonna go editing and should be out soon. Hopefully.
Bradley Sutton:
Yeah. So remember guys, you know, it might seem expensive at first when you're doing this, you know, photoshoots and things like that. But t it's not just to get seven images, right? You gotta think about your, A+ content. You know you don't wanna use the same exact images from your listing in the A+ content. You want to use different ones. So you can use those additional shots. You can repurpose these things for Amazon posts. You can repurpose this, like let's say, you're building a brand and your website, you know, you wanna put on your website, you wanna put on your Instagram feed. So there's so many different things that you can repurpose these initial photo shoots.
Bradley Sutton:
So don't look at it as like a thousand dollars, $1,500 investment and I'm only getting seven images out of it. There are so many other things that you can use these images, and that's why it is always worth it to put the right investment in it. So you know, we've mentioned AMZ One Step here, they're in the trusted partner directory. I'm not sure how many other studios, if any, we have, but check it out guys, directory.helium10.com. You know, there might be a service provider there that can help you with your product imaging needs. Now, I don't remember what you did for the last time, but the last time you were on the podcast, we asked you at the end to give your "TST" TST, your 30-second tip. So something about you know, photography or Amazon images, what would be your 30-second tip for everybody out there?
Lailama:
I would say research your target demographic. Research your competition, and have your brand reflect all that information
Bradley Sutton:
Short and to the point. 10 seconds, the T for TST stood for a ten seconds.
Lailama:
I was under pressure.
Bradley Sutton:
Yeah. Sometimes with Kevin King, he'll go 10 minutes instead of fast. But guys, what she said is super important. You know you are spending a lot of money on this and you want it to be the best it can be. Don't just do it based on your own knowledge. If you're redoing product photos for an existing listing, well, you have the benefit of knowing who your demographic is. Especially if you have brand analytics, you can go in, in there and see what each group, you know, what gender et cetera, and that could help you. But if you don't have that information, you know, you might want to, you know, use a Helium 10 Audience or PickFu to try and get some of that information, but do that research. Research your competitors.
Bradley Sutton:
One thing I love about another favorite podcast guest of ours, Tomer Rabinovich talked about what he does when he goes to the photographers who are going to do photoshoots or goes to the picture editors. He actually prints out the top images of the top competition, the top existing competition. And it says, Hey, this is what's working guys out there. Just do something better, like you dont want to change it too much. Like you don't, Hey, everybody is using you know, a red background. So I'm gonna use a hot pink background just to be different. Like if something's working, you know, stick with it, but you can always improve on it. So do that research like Lailama said. So anyways, Lailama, we hope you have a safe journey back here to North America. And we'll be seeing you soon and look forward to reading these blogs and look forward to your contributions in the future.
Lailama:
Yes. A lot of exciting stuff coming up, so stay tuned, and yeah. Make sure you follow us.
---
Enjoy this episode? Be sure to check out our previous episodes for even more content to propel you to Amazon FBA Seller success! And don't forget to "Like" our Facebook page and subscribe to the podcast on iTunes, Spotify, or wherever you listen to our podcast.
Get snippets from all episodes by following Bradley on Instagram at @H10bradley
Want to absolutely start crushing it on Amazon? Here are few carefully curated resources to get you started: