#252 – PPC Talk – Gaining Traction at Launch and Getting Creative With Ads
PPC strategies for a first product launch, the art of product targeting, and cross-country bike trips… this episode of the SSP has it all.
Updated on: September 2, 2021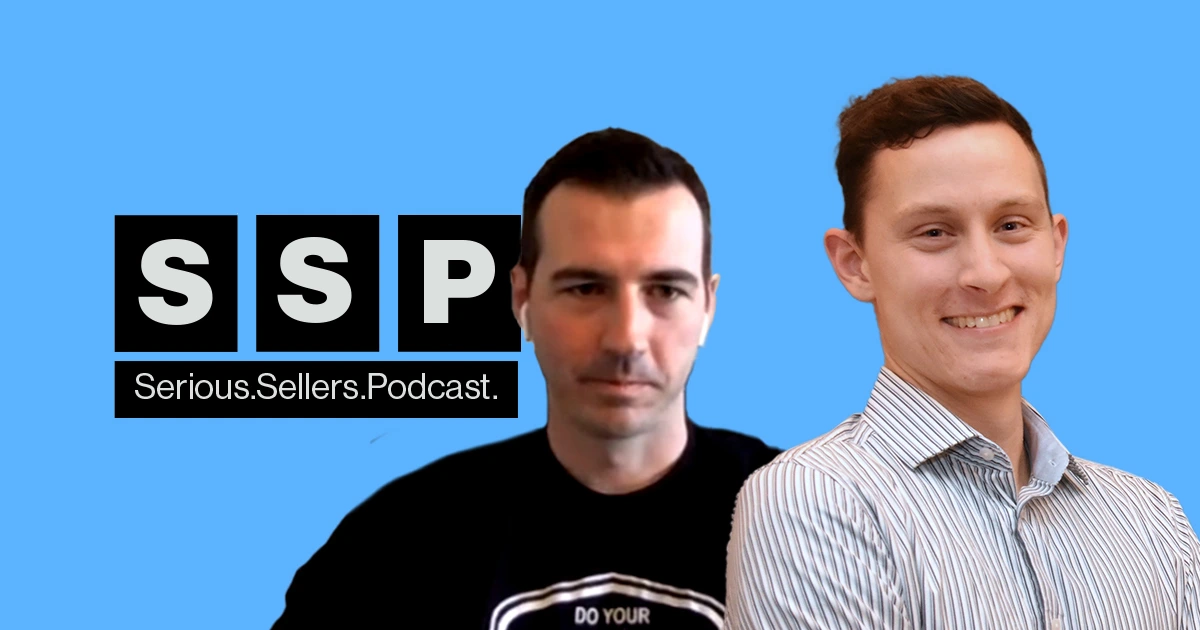 If there is one thing that we can learn from listening to Robert Boniface, Co-Founder of eTAIL ROCKET and Brent Zahradnik, founder of AMZ Pathfinder, it's that PPC is key to scaling your business on Amazon.
With PPC comes a myriad of decisions, strategies, and questions that can be intimidating for more experienced sellers and downright mind boggling for newer entrepreneurs on the Amazon platform.
Which type of PPC tools should you be using? The broadly catered, do-everything-for-you platform or the more niche tools that allow you to tune and tweak everything yourself?
What about launching your first product? Is Amazon advertising something you should be teaching yourself from day one?
On this episode of the Serious Sellers Podcast, Bradley, Robert, and Brent walk us through the
importance of listing optimization, leveraging PPC straight out of the gate at launch, playing "brand defense" with your ad campaigns, and so much more.
The Amazon platform may be run by an algorithm, but that doesn't mean you can't influence the way it views your product and assigns your listing relevance based on keywords!
In episode 252 of the Serious Sellers Podcast, Bradley, Robert and Brent discuss:
02:30 – A Colorado Buffalo Majoring in Psychology
04:00 – Brent Started in Amish Country, Later Moving on to Penn State
07:00 – Using Early Online Advertising Tactics to Build Your Own Brand
09:00 – After a Cross-Country Bike Trip, a Pivot to Amazon Paid Ads
11:00 – Brent Gives a Report on His Prestozon Experience
13:00 – Prestozon (and Now Adtomic), Are The "Apple" of PPC Tools
15:30 – Should You Start Your PPC Immediately
17:30 – Brent's "Retail Readiness Check" Gets Things Started
20:00 – Medium Tail Keywords?
24:00 – Helium 10 Makes Product Targeting Much Easier
28:00 – Playing Defense with PPC
33:00 – Negative Matching Strategies
35:00 – Brent's Keyword Isolation Methodology
38:00 – Robert – "Search Term Isolation is More Important Than Ever"
41:00 – Make Sure You're Using All Ad Types
43:00 – How to Connect with Brent and Robert
Enjoy this episode? Be sure to check out our previous episodes for even more content to propel you to Amazon FBA Seller success! And don't forget to "Like" our Facebook page and subscribe to the podcast on iTunes, Google Podcast or wherever you listen to our podcast.
Want to absolutely start crushing it on Amazon? Here are few carefully curated resources to get you started:
Transcript
Bradley Sutton: Today, we've got another episode of our PPC talk series, where we talk to PPC specialists to go over their latest top strategies for sellers of any level. How cool is that? Pretty cool, I think.
Bradley Sutton: Hello everybody and welcome to another episode of the Serious Sellers Podcast by Helium 10. I am your host Bradley Sutton, and this is the show that's a completely BS-free, unscripted and unrehearsed organic conversation about serious strategies of serious sellers of any level in the Amazon world. We've got a couple people here, again, like we've been doing lately, from kind of opposite ends of the globe here. First, we've got Robert actually, Robert you're fairly local. Where are you at?
Robert: Right down the road from you, down in San Diego.
Bradley Sutton: San Diego. What part of San Diego?
Robert: Encinitas.
Bradley Sutton: Encinitas. You're like 10 minutes away from me. I'm in San Marcos here. So we are almost neighbors.
Robert: Right. There you go.
Bradley Sutton: There you go. And Brent, where are you at?
Brent: Across the Atlantic ocean in Montpelier in Southern France.
Bradley Sutton: All right, Brent, well, your English accent is either perfect or you are not originally from France?
Brent: Well, it may shock you to learn I'm from Pennsylvania of all places. So, not sunny Southern California, unfortunately, but Pennsylvania, the great Amish farm state.
Bradley Sutton: Okay. Well, I'm definitely going to get into how in the world you went from there to there, but before we do that, let's go back to Robert really quickly. Are you a San Diegan? Are you a native here or where were you born and raised?
Robert: I'm not. I was actually born and raised in Palo Alto, California. So not too far up the road. Went to college and lived in Boulder, Colorado for six years.
Bradley Sutton: Hold on. You're skipping way too fast here. Got to slow your roll here. Well, like when you were growing up there, what does a 10 year old kid who grows up in Palo Alto aspire to be?
Robert: An inventor maybe even go to the moon? Who knows?
Bradley Sutton: I like that. That's what 10-year olds should be thinking about.
Robert: I actually loved selling stuff on the street. I used to take stuff out of my pantry and sell it down to all the bikers that would be driving by on the road. So, I'd sell them bags of chips and lemonade that I pulled out of my fridge.
Bradley Sutton: Okay. And then you went to– was it University of Colorado?
Robert: That's right. That's right.
Bradley Sutton: Buffalo is it?
Robert: Big Boulder. Yeah, the Buffs.
Bradley Sutton: The Buffs. All right. I'm assuming you didn't major in lemonade selling, but what was your major?
Robert: Psychology. Actually, I started in business and found that business classes, intro level were just terrible and boring as hell. So I definitely moved over to psychology, realized that some of the practices were way more interesting and down the road, I could probably use some of those social psychology classes for my own marketing and aspirations for entrepreneurship. So, it served me well so far for sure. And it helped me from being extremely bored through four years in college.
Bradley Sutton: Okay. And then, after college, what was your first like full-time employment?
Robert: I actually randomly got a job from Craigslist. I sold a lady my dresser from Craigslist and she was looking for an intern and I got a job selling sports timing equipment randomly. And then, I ended up leveraging my freedom and moved out to San Diego so that I could work remotely and then started my first business, which was a daily deal company called I coupon back in 2008.
Bradley Sutton: Okay. Cool. Cool. Now back to Brent, growing up in Pennsylvania, I mean, where– did you grow up in Amish community or were you just saying that was near?
Brent: Nearby. Actually, I grew up in the Lehigh valley, which is circles to Allentown. Some of you might know it from, I think the Billy Joel song, approximately in the Philadelphia greater region, but in Lancaster, not too far on the road, that is the epicenter of a lot of Amish activity. All the big families are down there, but no, I'm not part of that community.
Bradley Sutton: Okay. I was going to say, if you were, then your life goals at the age of 10, might've been different, but what were you– what did you aspire to be when you "grew up"?
Brent: At that age? Probably a paleontologist.
Bradley Sutton: Good grief.
Brent: Yes. I was really into dinosaurs.
Bradley Sutton: Jurassic Park?
Brent: Yeah, of course. Yeah, of course. Naturally that's probably what started it, but yeah, I didn't take that path. Although I still enjoy the visit to a museum with dinosaur bones and everything, and know some of the science behind it, but I wouldn't say that was never a professional path.
Bradley Sutton: Did you go to college after high school?
Brent: I went to Penn state. I have a degree in like basically information science.
Bradley Sutton: Nittany lions?
Brent: That's the very same. Yeah.
Bradley Sutton: There we go. That's one of my side hobbies. I try to memorize mascots from colleges.
Brent: I noticed you pulled that out real quick when Robert said I was going to school. Bradley really knows his stuff.
Bradley Sutton: Nah, I'm just a sports fanatic. So I watch a lot of college sports. What was your major?
Brent: They called it IST, Information Sciences Tech. I'm not sure if they still offer it, but it's basically an IT degree. So I have a couple of backgrounds in computer hardware, computer security, and then like Microsoft active directory, like boring IT, stuff like that, which has certainly come in handy in this kind of remote work lifestyle with the team and everything. But, yeah, I guess I worked in IT for that many years.
Bradley Sutton: So, you did work in IT upon graduation?
Brent: I worked at my university and then I actually worked at the apple store for a couple of years doing things like genius bar, fixing computers and stuff like that. I had some other jobs that were more like traditional windows environments IT, but eventually I ended up in paid advertising doing Google ads.
Bradley Sutton: Okay. All right. Now, Robert, how did you first get on the radar of Amazon sellers and this is an episode of PPC talk. We do this every, every few weeks, so we obviously are going to get all talking about PPC, but I like to chronicle the journey to there because every single time it's always, from the time you're little, from the time you're in university to your first job, it is all over the place, bridge that gap a little bit more for me from that remote job you had and then the software to getting into Amazon PPC.
Robert: Absolutely. So, my business partner and I in e-tail rocket, we originally started our first venture, which was a daily deal business called i-coupon, in that similar to what Groupon operates today, we worked in and worked with local brands as well as national product brands in order to do flash sales, essentially when there was a huge craze at the beginning of that life cycle. And we grew that business up to be across five different countries. And in doing so simultaneously, we had launched several of our own e-commerce brands and developed some partnerships directly through today's show, good morning America, and some national broadcasts operating as kind of a PR rep, as well as a sales distributor on both our platform, as well as through press and the media. And at that same time started to dabble in PPC, both through Google Facebook, and as we develop that brand and started to see that that market was becoming largely saturated with 750 total daily deal sites that popped on the scene. We sold out of that business and simultaneously launched five of our own retail brands. In which case was our early foray into PPC advertising, starting to do it for our own brands directly. Back in the day, I don't know if you guys remember the Drupal days, I know it still exists, but we coded our own websites on Drupal, and we're trying to set up pixels for Google analytics and Google ads back in the day, and then hopped over to evolution. And now Shopify. Been doing that about five years ago, we basically said, Hey, we sell on Amazon, but we don't really sell much. People are having a ton of success. Why aren't we? And we dove in head first about five years ago to launch our own brand successfully on Amazon. And we grew and scaled a team of experts now around us in order to grow and scale our brands internally to be million dollar brands, and have brought on third-party brands to help them represent both our advertising, but more of a full service. Everything from customer service, fulfillment and forecasting, we actually managed 3PL, drop shipping and fulfillment for our clients as well. And then also full services when it comes to Amazon advertising to help people who sell.
Bradley Sutton: Actually, you have your own private label products that you're selling on Amazon too. And then you're also just managing these things for other people, too.
Robert: Exactly. Exactly.
Bradley Sutton: Okay. All right. How about you, Brent? How did you get from working in Apple and then now, Hey, I'm going to work in managed PPC?
Brent: Yeah. It's not nearly as entrepreneurial as Robert's path. I really enjoy hearing about that though, Robert. Essentially, yeah, I had that job. And then, in 2012 I actually quit and I did something I always wanted to do. I rode my bike across the country from the east coast to the west coast, US.
Bradley Sutton: That sounds like Forrest Gump.
Brent: It took about four months. It was well worth it. I did it with a good friend of mine and yeah, I almost ended up settling on the west coast, but eventually it was drawn back to the east coast. I started working at a B2B marketing agency. That's actually a pretty small company. And I was brought on as second hand, doing paid advertising there because I knew enough IT stuff to figure that out and had decent Excel skills could figure out Google analytics, things like that. And so I managed a lot of B2B type PPC campaigns on mostly Google, but also being in like, at the time, like nascent advertising on things like, I guess like Yahoo was still around, this is like 2013. But yeah, eventually I ended up in 2015, helping a friend who is selling on Amazon. And he was like, Hey, you know about paid ads, don't you? I was like, yeah, sure. I'll take a look. He's like, I got these products, he was selling and I think about 89, 88 dollars for these like packs of products. I won't say what. In case he's still selling them. But, yeah, I took a look at the ads and I saw some campaigns for them and came back like two days later. And I was like blown away because we were spending literally pennies at that time. This is not a very competitive category. And mind you, this is mid 2015 when Amazon advertising was probably less than a year old. And we were making sales like crazy with these clicks or with three, 4 cents. I was like, all right, there's something to this. So, I immediately started just diving into Facebook groups and trying to get additional clients and thought, all right, this is the direction I want to take this. And it's been pretty much straight on ever since then. Just Amazon PPC, Amazon advertising.
Bradley Sutton: Okay. Cool. Now sticking with you for a second. We just obviously a while back acquired Prestozon and now have kind of integrated in the last few weeks, the kind of Prestozon backend into our new PPC tool Adtomic, which I'm still learning. But I actually had no experience at all with Prestozon, being one of the bigger players in the space, I knew who they were, but I didn't really know what they were about. Now, if I'm not mistaken, you have been using Prestozon for a while, right Brent?
Brent: That's correct. Yeah. And in fact, I had the fortune to, in 2019, sit down and have lunch with Ben, the Prestozon CEO, and two of the other co-founders at that time and the waterfront in San Francisco. And I was there in town last, and I'll never forget that because that was one of the best lunches I've ever had from just a friendly and business perspective. It was just great. We have been using Prestozon since March, 2018, when they were, I would say, still pretty well-known and definitely one of the stronger tools at that time. It almost sounds like they were an early mover now, if you look back on it from 2021, but yeah, I'm just absolutely thrilled with the direction that they have taken things and everything that's happened with Helium 10 and Adtomic. I mean, I have some information from Ben and the Helium 10 team, because I talked to them frequently about what they're developing. I'm not going to say anything more, but I'm really excited about the roadmap. So, I'm just positively thrilled with the developments that have happened since, and I love to see the direction the software is taking now. It's been so cool to see the trajectory of it over these years.
Bradley Sutton: Well, what's some of the things that you were using in the Prestozon days? Like what benefits were you getting? Because again, somebody like me, I literally never even went into the platform before, so I'm not exactly sure of what it can and or did, and didn't do.
Brent: Sure. So I'll put it this way. There's a spectrum of tools for Amazon PPC management and Robert, I'm also really curious to hear what you have to say about this, and if you use any of them too, but there are some that try to say, like AI, big data, we're going to do everything for you with algorithms, and they try to disambiguate it too much. And they take away a lot of the agency that you have as the user. And then there are other tools that are like the nerds nerd tools, and you can use those and you can do like the tiniest little adjustments or tweak keywords in like these ultra complicated ways. And you need a master's degree to figure them out. Why I always liked Prestozon is that it's in between those two things. It kind of splits the difference and it gets good components from things like AI machine learning, big algorithms. And it takes some of those nerd nerd tools and it makes them in a much nicer package and helps you use them. And it combines all that stuff together. I always thought that Prestozon is kind of like the Apple of PPC tools. Like they have the features you really need, they're easy to use and it's reliable. And for me, that was like most of the battle, because a lot of the PPC tools that I've used over the years in Amazon, which has many, the rough around the edges, they don't have things like totally figured out. They're not reliable. You have some questions about the data they have in them. I never really had those doubts with Prestozon, and we've used it for years to help automating a lot of things like keyword migrations, negative bid suggestions, bid algorithms, to set up targeted costs for clients. Those are like the main things I can think of, but it's also got a lot of good analytics tools when it comes to looking at where search terms have duplicated in the account, how impressions are being shared, and some other nerdier stuff we can dive into. So, I imagine that all that stuff is going to be built into Adtomic as well, in addition to whatever new stuff is coming up.
Bradley Sutton: Okay, cool. Now, what I want to do for the rest of this episode is go back and forth with you guys. We usually have this thing just at the end of the show we have that we call the TST or 30-second tip, but instead of just saving it for one, we're going to go back and forth with a different kind of TST. More like a, it could be 30 seconds, the T could stand for two minutes tips, but I'm going to give you guys different scenarios. And I want you guys to give like your best strategy or what, how you currently do it. So let's start with Robert. Robert, your first scenario would be like, let's say I'm a new seller launching my first product from day one. Do you launch PPC and what is your strategy, if so?
Robert: Well, long story short. Yes, absolutely. However, you have to rewind and make sure that depending on if it's a new product launch, that that product page is completely optimized. I know a lot of your most recent videos and lives and different trainings that you guys have done. Helium 10 has talked about a lot of this, and a big portion more than ever now with the competition in the algorithm and for ad spend, it's more apparent than ever that a properly optimized page is so vital for conversion rates and especially for conversion rates when you don't have reviews on that page. So what we find is you really have to put optimizing that product listing first, making sure that it is fully optimized with the title, the bullet points, proper images, and now more than ever, we're seeing through our A and B testing, what is more important than ever is having a video in your image real. Makes a huge difference with conversion rates and giving you that kind of social proof and validity that they should be buying from you. Because the thing that we always find is our clients don't understand that they really are competing with thousands of other legitimate sellers. Even though some brands you work with may think they have the best thing ever. And then launching out of the gate with auto campaigns in order to get impressions, to get the algorithm to recognize as soon as you hit launch that this product is worth looking at. So, we come out of the gate pretty hot with regards to auto campaigns, making sure that we come out of the gate with higher bids, so that you're not just running auto campaigns that are just basically posting impressions on restless search. And really making sure that your product is actually getting seen top of search, making sure that it's getting seen across a myriad of different ad placements, and something that we're even really pushing now is really targeting hyper-targeted long tail terms specific to that individual niche through manual campaigns and coming out of the gate really aggressive with product display as well. Product display is now, I mean, even in the last month, the iterations that came out of Amazon display that's now available to everyone within their Seller Central portal is giving an opportunity to just expand reach and scope with a product launch that we've never seen before. Really kind of encompassing that full circle. So long story short, a hundred percent come out of the gate. You have to start advertising from day one.
Bradley Sutton: All right. Cool. And let's go to Brent. All right. Same scenario, new seller first product day one, are you doing PPC? And if so, what is your general or even specific to that strategy?
Brent: Yeah, sure. I'll first echo a lot of what Robert said in terms of retail readiness. So we do for clients, what we call a retail readiness check, which is essentially do we feel comfortable sending paid traffic, spending client money to send who we hope are certainly qualified and relevant customers to this listing, with the idea that it's going to convert. So if it passes that check and it meets those specifications, then we feel like we can proceed. If not, we're going to make some recommendations to them or refer them to a company that can help them improve the listing or work with their team internally to do that. That's always the first step because otherwise you're just throwing money at the wall essentially. So don't recommend that. The second thing I'll say is from our experience with client accounts, some clients will want to launch with no reviews. I would say that's a majority but there is a small subset that won't want to have any advertising spend, with no reviews on the product listing. I'm actually a fan of launching without reviews. I think if you have a good enough listing that's retail ready, you can do that. That's okay. But also there's this like honeymoon period on Amazon, which I speculate and kind of don't have any confirmation on, of course, but I think it's 30, 35 days roughly, and in that period, you want to teach Amazon as best as possible, what keywords you're relevant for what you should be showing up for what you should be indexed for, what kind of customers are going to be looking at your product. So, that's the time to prioritize ad spend and not wait around for just like five reviews or something, which could take a long time, depending on what kind of systems you have in place for that. I'll also say that the expectations need to be set correctly. So we're not spending in the beginning for super low hyper optimized costs at great returns. The idea is to get the product in front of as many relevant eyeballs, shoppers, potential customers, as you can, and gather data surrounding that product and then make adjustments to it. Of course, right. You're going to be making continual adjustments to it through the life of it, but especially in the beginning, and as we get more ad data and say, okay, we can't get enough exposure for this keyword or this one's like really expensive, but we need a bid against it. Anyway, let's find a bid that works, or this one's actually working. We're getting repeat sales, even with just like a couple of reviews.
Brent: That's a great sign. Let's keep pushing harder there. Those are all pieces of information that the Amazon ecosystem is feeding back to you. So you should pay close attention to it and basically work to change and ameliorate the listing based on that information. When it comes to specific tactics for launching, the only thing I would maybe disagree with Robert on a little bit is we don't use auto campaigns so much anymore in 2021. We kind of reformulated our approach for that at the beginning of this year, based on the launches we've been doing late 2020, and just people we talk to in the industry and how our understanding of what's working with ad and ad rank really kind of operates. We're much more focused, I would say on like important keywords at the beginning. So, we're going to put a lot of money towards a select group of terms. Let's just say like seven to 10, maybe in one campaign, maybe split across a couple campaigns depending on budgetary guidance that we get from the client. And we're focusing on these terms that are not necessarily hyper competitive, because that's probably not a good idea, but those that are relevant, I would say like medium tail, not long tail where they have barely any impressions, but somewhere in between those two. So, being smart about which terms you target and just driving home on those and gathering data on them and trying to basically start to get ranked for them is the objective. And then we move into phases two and three, which would be going after more broad terms using more open match types. And then phase three is usually like product display or– sorry, sponsored display, got to stop calling it product display, but sponsored display and then doing ASIN targeting through that because that's a really good way to get started. I agree with you there a hundred percent, Robert, that's like definitely the big topic for 2021 would be the sponsored display.
Bradley Sutton: Okay. All right. Now you guys can feel free to disagree if you guys are both saying the same thing, that's not a great show, don't be shy to have two different viewpoints because as we all know in Amazon, there's not just one way to skin a cat.
Robert: If there is an opportunity to just kind of talk to that. I think all those points are valid. And I think one important thing just so listeners also put into perspective, I think an important part of the strategy and layout that we kind of define with our clients too, is based on their budgets, right? There's no two one size fits all for a launch campaign that really works. It's kind of dependent upon the client's budget, their total catalog and what we can dedicate towards that new product launch. You're completely right. Those auto campaigns, if you do have some budget constraints, you kind of are going a little too broad out of the gate. However, now with placement bids within auto campaigns, we find that the auto campaign, if you do have a product and a brand that is willing to really go hard with that launch, a lot of times being able to use placement bids and auto campaigns now gives you different levers to kind of optimize the performance of getting as many eyeballs on that product as possible out of the gate. And what we also find too, is sometimes it's really hard to get optimal bid costs out of the gate for a new product, with no reviews these days. And even in the last six to 12 months with COVID, CBC costs across virtually every category we manage have increased by three to 4x. So, what we've found is actually a lot of times, depending on obvious margin constraints, as well as launch constraints, is being able to leverage some of the other ad types with placement bids, where you can get more exposure, more impressions on that listing at a lower cost. Sometimes it really does help through that honeymoon phase. So, I think just pointing that out, I think everything that Brent is saying is a hundred percent true. I think it's just important to devise a strategy specific based on your budget, for sure.
Bradley Sutton: All right. Quick break. From this episode for my BTS, Bradley's 30 seconds. Here's my 30-second tip for this episode. We were talking about PPC and I've mentioned this before, but I'm going to talk a little about it really quick, a little bit more details, but guys, regardless of what level you are, Amazon usually defaults your payment method for your PPC campaigns in seller central to your disbursements. In other words, you get a disbursement every two weeks from Amazon. Let's say it's $20,000. Let's say your PPC spend is 2000. Well, instead of getting $20,000, you'll get $18,000 because they just take away the money from there to pay for your PPC. However, what I always suggest doing is changing that to a credit card that works for you, and it could be the Alta credit card by Helium 10. So you can get, I think it's like one or 2% cash back. Personally, I use travel credit cards. So this weekend I'm going to the Maldives again to record episode 250 and it's an $11,000 trip. I'm paying zero. All right, I am paying zero. I'm using the Hilton American express. That one is tied to the PPC account. And that's what all my PPC gets charged to. And I got enough points to get a $2,500 a night room, four nights of it. All right. My flights I'm completely paying for free. And I got it from a Turkish airline and that's because of the Chase Sapphire reserve card, I use points. And I can use that for all kinds of different airlines. So guys, regardless of what level you're on, make sure that your PPC spend is working for you in not just taking it out of your disbursements, but actually charging it to a credit card that can get you either cash back, like Alta or like travel points, like the Hilton or chase Sapphire.
Bradley Sutton: Now, just keeping up with you there, Robert, another scenario is how do you guys populate your product targeting campaigns? Be it anything that has an ASIN target, obviously there's a product targeting just a regular campaign, regular sponsored products campaign where we're targeting ASINs only, there's a sponsored display, do-do sponsor, do-do product targeting and sponsored brand? What is your product targeting strategy regardless of a campaign type?
Robert: We do all the above and thanks to Helium 10. It makes it really easy. I shouldn't say it made it really easy, but I can tell you the amount of time saved for our team by having the Helium 10 extension makes our lives a million times easier. But now with sponsored display sponsored brand sponsored videos, it's allowed us to have and develop a really full funnel strategy that allows us to really target product, product targeting and ASIN targeting through the full life cycle from that buyer experience. And we've really started to use it specific to individual search term strategies and making sure that if there's a certain product we want to rank for, or a certain keyword we want to rank for, or really just trying to push volume to scale a SKU that is already kind of at the top. Using product display, we found it has really started to expedite that process through product targeting, and the amount of impressions you can get quickly through that is kind of– if you can't find that anywhere else, really. So, really we're kind of double downing on the product display. That said we are definitely utilizing ASIN targeting and product targeting specific both for brand defense, as well as for competitor targeting. And I think a lot of times the brand defense kind of gets a bad rap. But with competition increasing dramatically, day over day, I think brand defense for a lot of brands if done right and done effectively, is a very, very important vital strategy where we see oftentimes brands who come to us and onboard they're losing money constantly. And just assuming that people are going to try to find their product, but in reality, their competitors are just stealing sales. So, I think it's a really important strategy to define both competitor and branded strategies individually for product targeting.
Bradley Sutton: All right. And Brent, same question. Like, are you targeting ASINs from day one just based on your analysis or do you have a– are you building your product targeting based on what's converting? I mean, you said that you don't do much in auto campaigns, but sometimes the auto campaigns can do the product– can find you some product targets, but talk about your product targeting strategy.
Brent: Yeah. And to be clear, I mean, we don't do much with autos when it comes to launch, but they're a necessary part of any account, like in an ongoing fashion. Absolutely, they should be taking up a good chunk of spend because they're there for exploratory purposes and not to mention auto campaigns get placements that manual campaigns don't in terms of like on the ad ecosystem. And furthermore, if there's some kind of lightning deal, they have additional reach that manual campaigns don't. So there's always reasons to be running auto, but when it comes to ASIN targeting, I'll just build off what Robert said, because I find all of everything you said great. So, with sponsored display in particular, I think we had more and more of a preference for using those for ASIN targeting versus sponsored products ASIN targeting. The reason is the placements that are actually on page on the product detail pages, the top stripe, they– middle and then the buy box right on the right side underneath, those are all sponsored display placements. Some of those are shared with sponsored products, but just being able to be found in those slots for cross selling or defensive campaigns, like Robert mentioned defensive super key. When we do account evaluations for prospective clients, we pretty much never see defensive campaigns ever. But this is something we're pretty much always implementing with our own clients because we find it to be very beneficial for them in protecting the brand, keeping sales inside of their catalog and also just keeping competitors off. But yeah, just those ad placements are what makes sponsored display such a good bet right now. We still do run sponsored products with ASIN targeting for sure. And one other trick that I think is perhaps overlooked is doing catalog– sorry, category targeting, which is available with many ad types. Now I think all of them have it, but using the refined feature. So you can say all these products that have three stars or less, or let's say your product is $28, all competitor products that are $30 and above. So, basically you're just positioning yourself as the option. That's slightly cheaper, maybe we're better. We're a couple dollars less, that's going to catch someone's attention or we have a much better star rating than them. And that's going to go out and give you results that are also ASIN targets. So you'll get that in the data when you examine it later.
Bradley Sutton: Okay, cool. Cool. Let's go back to Robert. Now, I want to talk about negative targeting strategies. So everybody has different triggers that say, yup, I'm going to go ahead and negative match this. ASIN, I'm going to negative match this phrase, this exact search term, et cetera, et cetera. So, first of all, what are your team's criteria like? Do you have it based on clicks without sales? Is it based on spend, is it spend with certain level of sales is a based on ACOS. Like how do you guys determine what eventually gets into your negative targets?
Robert: I mean, we have a mirror to different rules that we apply based on the product, based on the margins of that product. And also based on kind of what phase we are of that product, if we're in kind of a growth phase at launch phase, or if we're on a scaling phase, on top of keeping up with the budgets, but something that kind of everyone talks about, and it's kind of like the old way of doing advertising or just kind of the go-to of what everyone talks about, which is kind of like the peel sticking block. Immediately pulling out those converting search terms, and then moving them on up through broad and phrase and exact match. And then negativing out those search terms from the original auto campaign or the broad match campaign. What we've actually found is although a lot of people say that's good practice. We actually kind of take more of a hybrid approach because we've done a lot of testing with that. And we found more times than not when we immediately pull out negatives, we see negative effects with getting that product in the new manual campaign to start yielding the same results. So, we kind of take more of a delayed approach to where we see and track the results over a period of time after it is transitioned to more of the manual campaigns in the phrase and exact matches, before negativing those out. And then sometimes we also are analyzing keywords based on relevance. Sometimes when you're looking at negatives and autos, I think it's important to really go through the reports. There's a lot of stuff that you're going to be working on that should never be there. But then if you really parse through on your top product, some of those reports you'll notice that there actually are terms where it is highly relevant, and it may even be on your 10 keyword list where your results have been terrible, but it's important for you to analyze that and pull it out and give it a shot in the manual campaign, and then be able to give it a shot with the correct placements, because oftentimes what happens is in auto campaigns, you can't really control the placement, how you want to, and what you may find is that top keyword, maybe just rest of search, but when you pull that out and put it in a manual campaign in top of search, it may be converting really well. So, I think it's important with negatives to not have a one size fits all. I think there's a tradition of looking at 15 to 20 clicks with no sales negativing those out, but I think it's also really good practice to not just kind of set it and forget it, and to still analyze what's happening in some of your top campaigns.
Bradley Sutton: Okay, Excellent. Brent, what other things that– he covered a lot there, but is there anything he didn't cover that you guys are actually doing?
Brent: I'll just explain our process and then talk about how I think about it too. So, I think the first thing to consider when doing negatives is relevance and also where these search terms are appearing. So, naturally you're going to have more negatives set in automatic and broad match type campaigns, phrases as well. Anything that has a wider swath of results that it's turning up. Now Amazon finally was it last year, given us the power to set negative ASINs to in auto campaigns is a super important thing to do something we wanted to do for a long time. So assessing those ASINs on an individual basis, looking at the search terms for relevance as they match up to the product, that's always like number one in the rubric of how we assess it, because if it's irrelevant or if it's just like off base entirely, then yeah, you can set that as a negative. You're not going to harm anything. If it's relevant and it's not doing well, that might lead to a couple of things. One of them is inspecting the listing for how has this keyword lining up with this? Like, we should be converting for this. Like, why is it doing so poorly? Why is the click through rate so bad or is this same search term doing well somewhere else in the account? And that's why the impressions are getting pulled off of this one. And it's going over there instead because splitting impressions around the account is a pretty common issue we see in accounts we evaluate and just our own accounts when they have a lot of products that are quite similar and that tends to happen. The other thing I would say is the price of the product. Like Robert said, you can't just say 15 clicks and no sales. We kill it. That's it. If your product is $200 and you've spent $1 CPC, which is pretty normal 15 times, and you don't have any sales, don't set a negative. If it's irrelevant, hold onto that a little bit longer, look at the other leading indicators and figure out what the margins are on that. If you don't already know of course, and say, how much more can I afford to test this? This is value based bidding. We can't just set things to be negative. If the product price is that high, of course, if it's a $12 product, you have a lot less wiggle room, you have to make decisions quicker, but that's going to drastically influence the sale price what you do for negatives. I'll also say one other thing that wasn't touched on, but like a brand, one thing that we often do for clients is make sure to segment out branded search terms into their own campaigns.
Brent: We want them to have visibility into how much they're spending on brand defense or how much they're spending to just make sure that people who are searching for their brand are finding them. And oftentimes when we do evaluations or come across like new client accounts, or just talk to people, they have campaigns where branded searches are interspersed throughout the rest of the account. And so it's basically like artificially deflating the ACOS, so to speak and we'll do an evaluation. You'd be like, Hey, 40% of your ad revenue is from branded spend, like, no wonder your ACOS is 17%. And if we take that out of this equation, yeah, it actually looks pretty different. We're not saying don't spend against brand. We're just saying, have a very clear idea of how much you're doing and set negatives elsewhere. So it doesn't kind of spill over. So that's one other negative strategy. I think I would employ. Two more things, I'll touch on the first one would be, don't be afraid of negative phrase match keywords. If you have themes that keep showing up in your account that are repeatedly costing you money, and like basically dropping the relevance of your campaigns, don't be afraid to set negative phrase match keywords. Now these are like really powerful weapons, especially if you set them at the campaign level. So be aware of what, how they work and what they can do, but don't be afraid to use them. Sometimes you'll see them in an account at all. Or clients have misconceptions about them. They're scared of them or something. There's nothing to be afraid of. They're there for a reason; they're super powerful. And then the last thing I'll say, which bounces off one thing Robert said with the old, like a stick peel and block, a methodology, which is called keyword isolation or whatever you want to call it. But it's one of these common things that we know from the Google ads world, which has basically continued to isolate search terms and increasingly tighter match types. In general, we follow that methodology. Although we found a lot of the same things that Robert mentioned, and one tweak we've made to our system in the past year would be in a lot of auto campaigns. We don't set negatives there because those auto campaigns are exploring a different CPC space than the manual campaigns. Those manual efforts are usually far higher bids. So the autos are catching the ones that are like, the 25, 35, 45 cents. Whereas the manual might be at a dollar plus bid or a– we do a lot of work in Europe, so close to a Euro or whatever. Whereas the autos are getting like the leftover bits and the cheaper clicks. And it might make sense to be seen in a cheaper click and have that open. So, we keep that there, most of the impressions will still go to the higher bid. That's one thing that we've mostly found.
Bradley Sutton: Okay, excellent. Now, one last question before I open it up for like, just some 30-second tips, but this one be one minute or less. Let's start with Robert. Do you do search term isolation? Yes or no. Why or why not?
Robert: Absolutely. You have to do search term isolation and it's more vital than ever. In the last year to two years, right? Like a lot of the strategies and I'm sure both of you have found through your own dealings with Amazon PPC, right? The days of just doing a search term report and dropping a thousand or a hundred search terms into manual campaigns and testing them that way is just not effective anymore. Yes, there are what we like to call legacy campaigns that have had this success and in the algorithm, they still succeed. However, when you're launching new campaigns for manuals or types, I think it's more important than ever to isolate individual search terms based on relevance, based on long tail. And then also based on being able to control budgets, specific to conquesting and ranking, we're finding more important than ever in order to get consistency of search terms that you really do want to rank for. You have to make sure that your products are displaying in those ad placements and using your placement bids effectively. We found that over the course of time by utilizing placement bids effectively by isolating those search terms, we've been able to actually cut our ad costs for key search terms that we're trying to rank for by sometimes up to 60% from where they originally are. While also increasing our ranking for launch, and even in our growth phases for top search terms and conquesting dramatically. So, I would say more than ever, don't be afraid if there's old campaigns that you have that are running in there, you're just not seeing the same results. Understand that things have changed a lot in algorithms and also in just the amount of placements that are out there. And what Brent's kind of talking about too, is Amazon's continuing to diversify their ad placements and what ad types go where, and with that I think is changing the landscape quite a bit. So it's more important than ever to have an effective individual keyword, isolation strategy.
Bradley Sutton: Anything to add to that Brent, or are you pretty much in agreement in that or disagreement?
Brent: I agree with him entirely, but I'll just say one more thing to build on it. So, you can expect to have a good understanding of what products in your catalog impressions for ads are being shown for. How are you showing up in the ad rank? If you have the same keyword, which is displaying the same search terms, like seven different places in your account, that's a mess, right? Because you're saying, oh, we're going to have this search. And I know that this product, which is the red variation, which is our top seller, is going to be showing up for that keyword because that's what we want. Well, if it's in seven different places, you don't have any guarantee of that. And actually one feature that Prestozon has had for years, it's called the search term chart. And that helps you analyze on a day-to-day basis. Where are the impressions for that have gone? And that's a tool we use all the time, to figure out where those are going and then clean it up essentially. So that's one of the main reasons to still have search term isolation in an account, I would say.
Bradley Sutton: Okay. And then now it's time for kind of like what our traditional 30-second tip is. Robert, just in general, I'm not going to give you a scenario on this one, but like, what do you think that you're doing that's highly actual, pretty valuable and fairly unique, like, Hey, I use auto campaigns, please don't make that your 30-second tip, but something kind of unique strategy that you guys have developed. I know you might not want to give your best one out there, but something you feel comfortable with sharing with the audience.
Robert: Yeah. I mean, Honestly, I think as a whole, without getting into the nitty-gritty 30 seconds, make sure you're using all ad types, right. Even if you have success currently with autos and manuals and product targeting, you have to get video moving, get sponsored brands video with an isolated strategy for keywords and search terms, and really have a full funnel strategy now. Now that you have product display. Product display really is the new age of getting impressions it's scale and being able to have it above the fold rather than below and requiring those customers to scroll all the way down. So, really my advice is really start utilizing all ad types and start testing.
Bradley Sutton: Cool. Brent?
Brent: I would say get serious about the creative elements of your different ads. So, we have more and more ability to add creative things to sponsored brands. And I think that sponsored display is going to see some more of that in the future as they start to iterate on it and improve on it. So, your creative is what can set you apart in the ad and the ad placements, because for years we've had sponsored products, what is it? The image is your product. Okay. People know what that looks like boring, but we've all seen the great search results of a custom image, creative on sponsored brands, mostly on mobile. Now, they're starting to roll it out more in their web beta on desktop. And then I think sponsored display is going to get more of that. So focus on the creative and AB test it to the best of your ability. I don't have this on a date specifically, but I know Amazon is working on the ability to have AB testing in sponsored brands as a feature that's going to be released at some point. So really look forward to that because that gives you a true opportunity to say, okay, we have this.
Bradley Sutton: A couple of my accounts, they actually have it already.
Brent: Oh really?
Bradley Sutton: Yeah.
Brent: Okay. Well, I guess it's here now.
Bradley Sutton: I don't think it's available in Europe over there though, like in Amazon, France and Germany.
Brent: Oh no. Everything was here in the US. And then UK and then the rest of Europe. Yeah. But well, there you go. So that's something to look forward to.
Bradley Sutton: Cool. Cool. All right guys, if people have more questions, want to reach out to you to get some more help or see what you guys do? How can they find you on the inter webs?
Robert: You can find me on e-tailrocket.com or find me on LinkedIn. Those are the two best places to go. Robert Boniface on LinkedIn.
Bradley Sutton: And Brett?
Brent: Yeah. You can email me [email protected] or you can search for me. Brent Zahradnik on LinkedIn, that last name is a bit tough.
Bradley Sutton: I was about to say good luck in spelling that.
Brent: I'll also be at Prosper this year. It's my first time ever going. You guys are both going to be there.
Bradley Sutton: Yes. And don't forget to come to our party that we have the rock out on the record. We're calling it at the MGM on the 13th guys. So if you guys are listening to this, you haven't heard about that yet. Make sure to ask our customer service, just go to helium10.com. We'll have some announcements on there, but hopefully both Brent and Robert will be there at the party. There'll be karaoke there. So put some drinks in them and maybe they can sing some songs.
Brent: Believe it or not, I don't need any drinks to do karaoke.
Bradley Sutton: I do. All right. Guys, thank you for coming on here and sharing your insights. I love going into these deep dive strategy sessions here, and wish you the best success with the rest of your year.
Robert: Thanks so much.
Brent: Thank you, Bradley.
Robert: Nice talking to you guys.