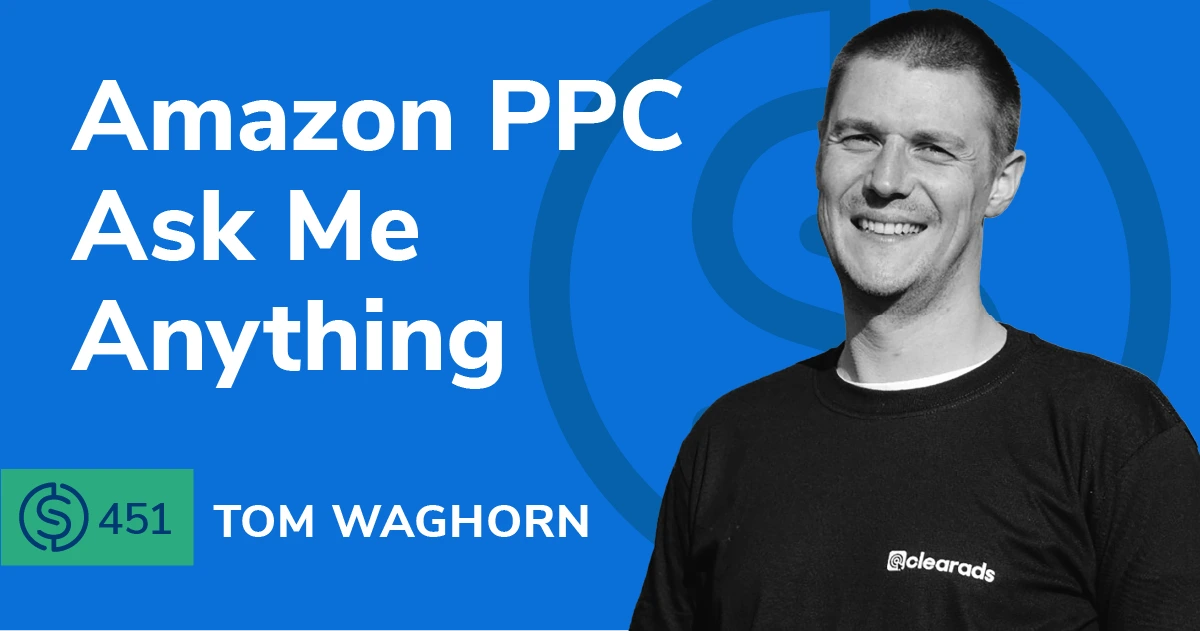 #451 – Amazon PPC Ask Me Anything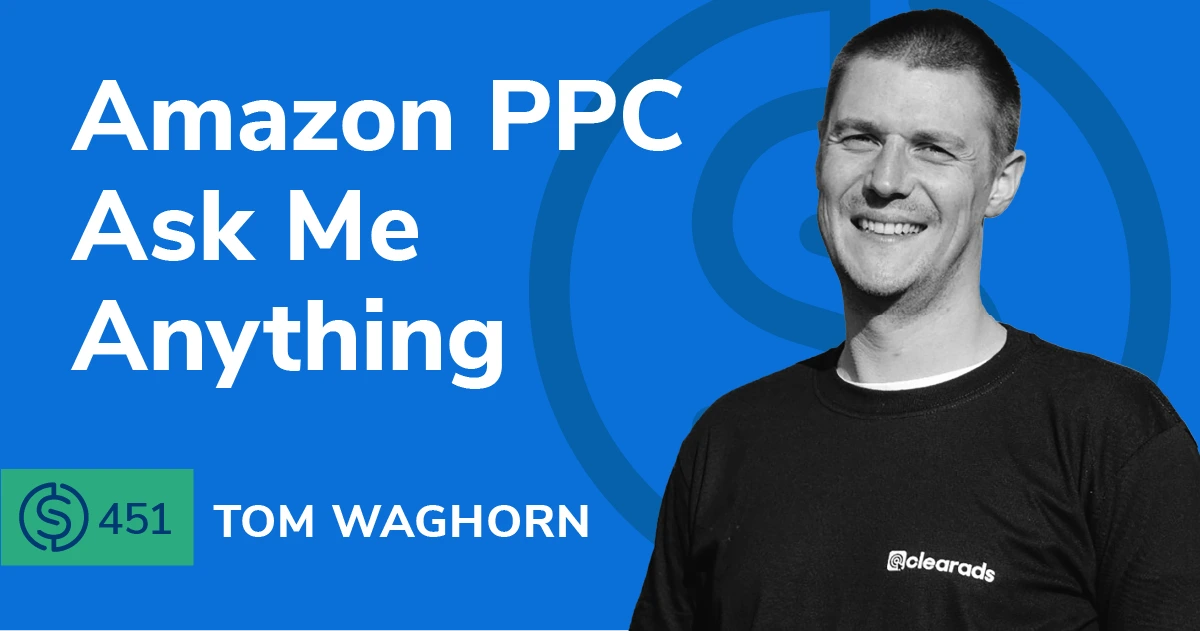 Video of the episode at the bottom
In episode #451 of the Serious Sellers Podcast, we bring you another of our TaCOS Tuesday episodes, which is our monthly PPC AMA. This time, we invite Tom Waghorn from Clear Ads for the first time. In this episode, he answered tons of questions the audience threw at him including his Variation listing PPC strategy, defense ad tactics, best practices for advertising during launch, how to use day parting and ChatGPT, and much more!
In episode 451 of the Serious Sellers Podcast, Shivali and Tom discuss:
02:01 – Tom's Journey from 3D Animation to PPC
03:30 – Why are my Competitors Crushing me During Launch?
08:51 – Which Child ASINS Should I Target in PPC?
11:09 – Which Metrics Will Help me Audit my PPC?
13:56 – How do I Keep Competitors from Stealing my Sales?
16:00 – Should I Target All Variations During Launch?
18:10 – If I Remake New Campaigns, Will I Lose Momentum?
20:15 – Should we Use Auto Campaigns During Launch?
21:20 – How Should I Divide Targets In Campaigns?
22:10 – When Should We Implement Day Parting?
24:21 – How Should I Allocate Budget To Campaigns During Launch?
28:12 – When do you Start Negative Matching?
30:53 – How Should I Raise Budgets?
33:02 – Can You Use ChatGPT with Amazon PPC?
35:15 – Tom's 60-Second Tip
Transcript
Bradley Sutton:
Today we've got a guest expert who's gonna answer all of your PPC questions, everything from Sponsored Brand Campaigns, to using ChatGPT with advertising, how to do variation, listing targeting, and more. How cool is that? Pretty cool. I think
Bradley Sutton:
Helium 10's got over 40 tools for e-commerce entrepreneurs. I know how overwhelming it might seem to try and figure out how you're gonna learn how to use everything or maybe even to know which ones you wanna get started with. So for a completely free course that's gonna guide you through learning everything you need in order to become a Helium 10 expert, visit the Helium 10 Academy. That is h10.me/academy. Hello everybody and welcome to another episode of the Serious Sellers Podcast by Helium 10. I am your host, Bradley Sutton, and this is the show that is our monthly TACoS Tuesday program TACoS meaning Total ACoS. This is our PPC-centric episode where we bring on a guest each month and we answer questions that you guys, the audience are giving in live to our show. So in this case we have Shivali who interviewed Tom from Clear Ads and he's gonna go over a wide variety of topics and he's got some great information for you. So hope you like this episode.
Shivali:
With that, I am going to tell you a little bit about who we're having on of course. And that is Tom Waghorn. He is from Clear Ads and we are so excited to have them because he is so knowledgeable on all things Amazon advertising. Tom, how are you?
Tom:
I'm very well Shali. Thank you very much for inviting me to TACoS Tuesday. It's my first time.
Shivali:
Well, I know about Clear Ads through conferences. That's where I first met you guys. And I might know a little bit about Clear Ads, but I know our viewership might not. So could you share a little bit about, first of all, your experience with PPC as well as a little bit about Clear Ads?
Tom:
Absolutely. So I got into PPC six years ago now when I joined Clear Ads originally people might not know it, but Clear Ads actually started as a Google Ads agency and then we very quickly caught onto the scene of Amazon advertising and how lucrative that was and how easy it was for a seller to set up on Amazon and start getting their products appearing through PPC. So a lot of our business ended up going that way cuz it was a lot more attractive to a lot of the clients that were, were searching for an agency. So I helped spearhead that department with George, our CEO through Clear Ads here. So yeah, I'd love every minute of that journey, which is why I'm still here six years later in the PPC game. It's definitely not where I started my educational journey. I actually started in 3D animation, but yeah, everyone changed their career path and I ended up doing PPC instead of cartoons. But I'm loving it.
Shivali:
I think that's incredible. That's incredible. I mean, before we started this, I was telling you how PPC was such a foreign thing for me, even when I was getting started as an Amazon seller, it was the one thing that caused so many nerves and I didn't know what the heck I was doing. So I'm really looking forward to picking your brain about PPC today and hopefully providing a lot of value, not just for myself, but for all of our viewers. I'm, I have full faith that'll happen. So I guess we'll go ahead and get started. We have Raef hopefully I'm pronouncing that right, he says, I launched my first product two months ago and I'm not getting the sales velocity to rank competitors started after me get to under 20,000 BSR even with a worse listing and price. What should I do? He also continues PPC is costing too much and getting only a few sales even after optimizing the ACoS, which is over a hundred percent. If I negate the keywords that got sales and over a hundred ACoS, I can't find more keywords. So what would you recommend in this situation, Tom?
Tom:
So first of all, I would take a step back and review your product and review the marketplace. How water down is that market? How convoluted, how busy is that? Do you have a unique enough product that you can actually set yourself apart from that competition that's taken a big global step back in terms of when you launched your products two months ago? Did you also launch with PPC at the same time or did you wait a period before launching your product with PPC? I asked that because as soon as you launch your products on Amazon, you've got something known as the honeymoon period. And that actually lasts around a month and every day through the honeymoon period it's deprecating and you start off with some sort of invisible rank. Amazon very quickly pushes you off the rank and that's the benefit of the Honeymoon period.
Tom:
But every day you need to start getting your own sales and improving your rank and improving your sales velocity because the honeymoon period is ending every single day. So what I would do is reevaluate if you actually launched your product during that period, if you missed out on that, ranking boost that Amazon does give you when you launch, you could potentially revisit launching your ASIN again. I know that sounds like a lot of hard work going back to almost square one, but if you can launch your product with PPC, that should help you get that ranking boost. And you've also talked about having an ACoS higher than a hundred percent. During the launch stage, I would encourage you not to be too focused on ACoS. Try not to be too scared about even having high ACoS of above hundred or even 200%.
Tom:
Consider what you're actually paying for in those early stages. Are you trying to launch with profitable sales from the get-go? If so, you're probably gonna struggle coming into that sales velocity and that rank that you're after. So I would review what you're actually spending your PPC money on. Cons consider that that spend should go towards increasing that sales velocity, increasing that rank, increasing that exposure. You are paying for the benefit of having that new exposure and even reviews coming through. Once you've got that foundation set up, then you can start to optimize your account and start to see that ACoS come down to 90% to 80% to 70% all the way down to whatever your target ACoS is. Don't try and achieve and tick every box from the word go cuz it's impossible to pull every lever and tick each of those targets that you've set for yourself and your business and your account in one go.
Tom:
So it seems like the sales velocity and the rank is what you want to go for first. So yeah, try and change your mindset on what you're actually spending your PPC on. And then your next point was that PPC is actually costing you too much and only getting you a few sales. That's another reason why you need to reevaluate what you're trying to achieve with your PPC. No, it's not always the same. Some people can successfully launch with a sustainable ACoS out of the gate. It depends how water down that marketplace. It's but yeah, you've also mentioned if you negate your keywords that got sales at a hundred percent ACoS, then yeah you struggle to find more keywords. That's probably because those keywords were the ones that were relevant. You've carefully done that keyword research, whether that's through a tool like Helium 10 or even through other tools or your own search term reports.
Tom:
Are you running automatic campaigns? I know it seems like it's lazy advertising, just letting Amazon do the work for you, but having those run alongside your manual campaigns is a very good way to constantly discover new keywords and harvest more. Also, it's worth taking those keywords that you have identified that have got you sales regardless of what the ACoS is and running those through a long tail keyword at tool. So your seed keyword might only be one or two words long. Even putting that into the Amazon search bar using the Helium 10 extension, it will actually auto-complete a lot of those words for you. Try running ads on some of those keywords. Yes, they're gonna have a lower sales volume lower search volume I should say because they are longer tail keywords, but they should be cheaper and easier to rank for cause they're likely to be a lot less competitive. Because of the nature of the length of the phrase in that keyword. Once you start ranking well for that, it's also ranking for the individual keywords and shorter phrases that are in that long tail keyword. So then you can start to introduce those broader keywords that might be carrying higher ACoS for you. And you should see improved results on that. So sometimes it can be slower, steady ways to get there.
Shivali:
We also have Rozina who says, if I have three size variations, bigger being more price, which variation should I advertise on my sponsored product exact campaign? The cheapest or all three.
Tom:
Depends on your strategy. So if you know that you've got a far better margin on the bigger product with the far bigger price, which I assume would be the case, then that will be the one I would want to advertise because the keywords are gonna cost the same, but your margins are not better. So you have a $1 per click keyword is gonna give you far better profits if you've got a higher ticket price item. But also I would suggest trying to advertise all three potentially in separate campaigns and actually see which gets more engagement. Which of those size variations has a higher click-through rate and which of those has a higher conversion rate? And then I'll just advertise that one. Cause if that's how people are responding to your products in the search results and from the listings when they get to that listing, they can then choose if they want smaller variation, a medium variation, or the large variation.
Tom:
Most shoppers are intuitive to know that there are different sizes. They don't just assume when they search for a product that it only comes in one size and one color. So I would, I would do that. That's something we are doing for a new client that's signed up with us to advertise in the UK. They have for some of their ASINs 15 variations. They already had some data with their previous agency and we knew where the sales velocity was coming through, so we just prioritized which of these variations generates more sales. So that's the one that we advertised. But yeah, generally speaking, the bigger the price, the better your margins are, but it's just the case of how people are gonna respond. I guess another example is if you are selling, let's say a cleaning product, I think most households are gonna go for a simple handheld spray. But you could also be selling something that comes in like a big gallon ju I think the general public are more likely to respond better to something that they could actually use in their house rather than the industrial size. So it depends on the need and the niche of your product and how many people are likely to adopt those different sizes. So evaluate that as well, Rozina.
Shivali:
Thank you for answering that question. Now as far as, let's say somebody already has their set PPC strategy, right? Like maybe they're doing the variations or they have a catalog of products that they already are very set in their campaigns. How do you recommend somebody audits their campaigns? So I know there's a lot of different metrics you could take a look at, but what's sort of that fine balance of maybe understanding that you're spending too much or when to kind of start fine-tuning it, how to fine-tune it, that sort of thing?
Tom:
Yeah, there's, there's a wide variety of things. I guess going to the title of this show checky TACoS. Are your TACoS low enough? Set yourself a target. I think most people go somewhere between 10% and 15%. You can easily find your TACoS by cross-referencing your spend against your overall sales. So that's not just your ad-attributed sales, that's all of the sales. And seeing what that percentage is. If it's too high, then you're likely cannibalizing some of your organic sales. So if this is a legacy account where you're in maintenance mode and you've got all your keywords sorted, then potentially start dialing back on some of those bids in some of those budgets. I wouldn't recommend doing that across the board. Test that with one product or even just one campaign or, or a few keywords and see what effect that has.
Tom:
If you still see the same level of overall sales, then pulling back was the right thing to do. If you start pulling back but then your overall sales start declining, then yeah, you still need to keep pushing and trying to get that ranking up before you can see those TACoS come down. Another thing to look at would be your click-through rate. So it's very easy to settle on keywords that have the lowest ACoS, but try and find some of those little hidden gems that have a really high click-through rate. They're the ones that people are responding to. They might just not have had the chance to flourish or be pushed further. So there's always one or two keywords in the campaign that we kind of just leave there. They tick along, they're not wasting too much money, they get one sale here or there, but try and look at their click-through rate.
Tom:
And we've now got access to the search query report through brand analytics. It's an incredible tool. I still think it's un underutilized today. I know we, we see it all over LinkedIn, but we live in a bubble. It's a small portion of people that are utilizing that and talking about it. That will show you how many impressions you get from that keyword from that search term down to how many clicks down to how many outer cards, down to how many purchases. So work backward through that. And then that also guide you to what your realistic bid is for that keyword as well. But find those high, click through eight keywords and start trying to push those more and you might be surprised.
Shivali:
Yeah. Awesome. So the next question here is, what are some ways to try to stop or slow competitors from advertising on your listing and stealing sales?
Tom:
My quick answer is to advertise on your own listing. Yeah, defend your listing rather than just worrying about them going on the offensive. So we also employ those offensive tactics but try and defend them. So instead of in those sponsor product campaigns or even through sponsor brands and sponsor display, instead of just relying on doing your competitor's research and targeting those target your own listings, especially if you've got variations. Going back I think it was Rozina's question earlier. She's got three size variations advertise against those different size variations that way, yes, we know that they can click on those different variations within the listing, but if they're scrolling down the page and seeing those ads for your own products in different parts of the product display page, it's pushing away the competition and slowing the competitors. It also acts as cross-sell and gives you another chance to showcase to that shopper that you have other products and size variations to show off.
Tom:
You can also show off your complimentary products. So maybe you are selling coffee, that's a chance to show off your coffee mugs, your coffee machines, and your coffee paraphernalia. It accesses a cross-sell, but the main job you're trying to do is to stop someone from advertising or listing. So, so try that. At that point, I would say the important metric to track as well would be impressions don't be put off if those sales aren't generating sales. The job they're trying to do is have those ads appear on your page. If you've got high impressions on those campaigns, that campaign's doing its job, and you know your product is appearing on your page. If you get any sales, that's the cherry on the top. Depending on how many sales, it might be time to evaluate the product that they're appearing on. If you're already seeing a few people jump ship from your product A to product B, then they found a more applicable product to them in the time. But if you see a high volume of people jumping from one to the other, then you might need to evaluate the product they're jumping from as well too.
Shivali:
I see that there are a couple of questions here, let's get to both of them. Yitzhak says I launched yesterday new products on clothing for women in niche black colors, six sizes small through three xl. Congratulations, no reviews. I run automated PPC and exact broad and product. Should I target all of the sizes or just one?
Tom:
There are two ways you could approach this. You could go all in on all sizes and see which one just gets the most engagement. Or you could do some market research and I guess see which size you think is likely to get more engagement just from the get-go. Our reaction here at clearance is unless we've got any data coming from the client previously is to test everything. You're not gonna know until you test. You could just try one size and it might work, but if you'd tested another size, that might have actually given you more exposure, more engagement, more clicks, more reviews, and then more click-throughs to your other sizes. So yeah, I know that might sound like the easy boring answer to test everything, but that that's really what I would do until you tested it, you are not really gonna know. But yeah, that does require a bigger budget because you are diverting that through more sizes. I don't know how many different sizes you've got there s through three xl. So yeah, looks say you've got six or seven sizes going there and that would be my answer. I dunno if you've got any, anything else to add to that, Shivali?
Shivali:
No, I absolutely agree. I think unless there is something similar on the market and you can figure out using maybe helium, tens chrome extension for figuring out in that review insights section, which variation tends to have the most reviews. Maybe you can begin there and figure out which variation sells the most and then start by using that for targeting first. But again, you really won't know until if you do have the budget for it, then go ahead and test. I would say
Tom:
You could also just test the keywords just running some searches yourself and see what default size has come up from your competitors. That could be another way to do quick some quick market research. Yeah, absolutely.
Shivali:
Yeah, absolutely. Absolutely. Dominik says, I started my listings about a year ago and my PPC campaigns are, let's just say crap, can I make new campaigns or do I lose some historic data to the algorithms? Thank you in advance.
Tom:
You can absolutely make some new campaigns. There's, there's no harm in starting from scratch or PPC. Your algorithmic data is tied to the keyword against the product. I don't think Amazon truly cares. So it's from that campaign or not? So if you do have some gold within those campaigns from search term reports and lifetime data, just start with those. For anything that's paused, like even reviewing that data, you might find some keywords that worked for you in the past, try and revisit those. You might have even negated some keywords. Try and revisit those as well. But rather than un negating them within that campaign, leave them negated where they are but introduce them as keywords within a new campaign. That way you're not disrupting something. I know you're saying your campaigns are crap so you're not gonna be disrupting anything but dare I say is working well. But yeah, always try and test it in a new campaign. There's no harm in trying to do that. So yeah, good luck with that Dominik.
Shivali:
Yeah, good luck. Hopefully, things start looking up for you. We also have Safi asking when we perform an auto campaign for a new launch.
Tom:
Good question. Yeah, that's quite a hot topic cuz yeah, you've got no reviews and you really want to teach Amazon what your product is. Amazon doesn't know what your product is. It knows what category it's in, but you need to teach the algorithm that when people are searching for keywords, your product is appearing for those. And so when running an auto campaign, you do run the risk of people coming through with irrelevant searches or maybe they're close to your product but not quite hitting the nail on the head. So I would still launch them early on, but not necessarily on day one. So come prepared with a number of keywords whether that's just five or six that truly sum up your product, but you know that if this is the product you want, they're the keywords that you would search for.
Tom:
Try and rank for those. Try and put some budget behind those. So when people search for those and your product appears, Amazon is now learning that your product is those five keywords. Once you've got some traction behind those, then you can start introducing them. Your other campaigns, your broad, your phrase, your product targeting. But in an ideal world, I would launch with exact batch on a selection of keywords that I knew that sums up the product I wanted to rank for. And if I was looking for that product, that's what I would search for.
Shivali:
Are there a certain amount of keywords that you would maybe put into a campaign and limit it as, I know that when you have a certain budget, then that budget can run out really fast especially if you're spreading yourself too thin? So is there a recommendation of what you recommend staying between?
Tom:
Yeah, this has changed a lot over the years and very quickly I've gone are the days where you can just fill a campaign with a thousand keywords like every keyword under the sun and it just works. It's very quickly been reducing and I probably wouldn't put more than a dozen or 20 keywords in a campaign now, but I would also have a look at the search volume of those keywords, even if I've got 20 keywords. But search volume-wise, one keyword's got like 20,000 and the other keywords have got a couple of hundred. I already know where the budget's going. It's going to that high search volume keyword and the others aren't gonna have a chance. So divide your campaign structure up by search volume, not just by match type and product type, but if you've got one keyword that's carrying 20,000, then everything else is a thousand and lower. I isolate that one already cause it's already gonna swap off the budget and it's not gonna be a fair test, it's not gonna be a fair experiment. So keep those lower search and keywords in a different campaign with its own budget. We know it's gonna be a fair, fair trial.
Shivali:
And what about something that's a little bit more advanced? For example, day partying ads? When does that become a good idea or when should somebody consider that?
Tom:
First of all, you're gonna need a tool for day parting. Unfortunately, that's not something Amazon allows us to do within the platform. I guess for those that don't know what day parting is, this is where you can tell the system to pause your ads completely during a certain day or a certain hour of the day. I would never recommend having your ads and your keywords completely paused for those periods, but reducing bids during moonlight hours like no one is really looking to purchase with any intent at one or two in the morning. Chances are they can't sleep and they're just window shopping. Still good to reach those customers cuz they're still showing some sort of interest but have your bids reduced by maybe 10, 15, 20, 30, 40, or even 50%. But when to introduce this would when you really see that you are struggling to combat some wasted spend even with thorough optimization, getting those bids down, getting rid of the wasted spend from irrelevant keywords or high ACoS keywords, that might be a time to, to consider day parting.
Tom:
And that might bring us back to our example earlier that Rafi was asking that there are key campaigns and keywords in there with an ACoS above hundred percent that might not be true for every hour of the day. That might just be what the average is. Maybe you've got a lot of traffic in on sociable hours that are causing that ACoS to go up. So that will be a time to visit day parting and with the Amazon marketing stream, I know that's kind of in the beta stages at the moment. It actually gives you a lot more data with day parting. It's not just you deciding, okay, it's probably a good time to reduce bids during the hours like 1:00 AM to 4:00 AM the marketing stream actually tell you what level of sales you're seeing through those hours, what your ACoS is for that campaign or that product or that keyword through those hours. So if you can get access to the marketing stream, that will give you a lot more data and you can introduce that a lot quicker cuz you've got a lot more solid data through that.
Shivali:
I see Safi has asked how do we allocate budget PPC budget amongst ad campaigns for a brand-new launch?
Tom:
Good question. I would make sure most of that goes to like what we were just saying, the keyword word campaigns. I would try and launch an exact, because like I mentioned, you want to teach Anderson's algorithm what your product is and it's gonna learn that quicker by knowing what keywords people have clicked through and made that purchase from. So I'll try and allocate more of your budget through to those keywords that you really wanna rank for, you really want to index for and you really want to be relevant to your product. I would have a smaller budget. When you do introduce it for auto campaigns you are always gonna do better keyword research on your own by using tools. The auto campaigns are just gonna kind of fit in those gaps of the nuances, the nest spellings, the yeah, the different nuances within language, whether that's kind of localized slang words.
Tom:
You are not always gonna find those within your own keyword research. So yeah, I would always try and prioritize the keyword campaigns. I would mostly be launching with keywords and then a selection of competitor targeting. Competitor targeting is gonna give you a better rank increase, but it's also less likely that you're gonna get the conversion from a competitor targeting ad most of that is gonna come from you from your keywords, but you're likely to see a 4X ranking increase from someone jumping from a competitor to your listing and having that conversion directly from a keyword sale, you're more likely to see keyword sales. So wave that up. And when you introduce sponsor brands and sponsor display, for the most part in my accounts, I'm allocating about 60-70% of my budget to keyword campaigns once, once we've got past that launch phase.
Tom:
And then sort of 30-40% across sponsor brands as sponsor display. Hey Zach I see your next comment is women's clothes niche Walmart marketplace, new product. Which keyword will you run after high search volume or low search? New item, no reviews. I would go with high search volume to start with. That's what people are searching for. Yes, it's gonna be more competitive. But it's ultimately where people are gonna be looking those low search keywords. That's what I would go after. Once you've exhausted your testing on those high search volume, your keywords also it depe it depends on what metric and what KPI you're trying to track. Are you going after profitability out of the gate or are you just trying to get those reviews that sales velocity that ranking, that exposure. I would absolutely go for the high.
Tom:
If you are more conscious of your margins and your ACoS, then I would look at introducing a lot more of those low search while in keywords but have a lot of them. You can't just have a few low search while in keywords. Otherwise yeah, they're low searching for you for a reason. Not many people are gonna discover them that way. So I'd make sure that they're included. But I'm always introducing low search while in keywords. Like I said, you've got your seed keyword, which is the main keyword you're going for. That might be women's type or women's dress site. And then the longer tail version is gonna start to introduce colors sizes, patterns. There's gonna be a smaller search one for those because you've made that keyword more niche, you're reaching a more niche audience with that, but they're still valid and it will help you to rank for the individual keywords that are within that longer tail variant. I hope that helps you attack.
Shivali:
Let's talk about something else. And that is negative matching keywords. Is there a time that you tend to do that? When do you change those keywords over to a negative match?
Tom:
I'm definitely not doing it from day one cuz it's very easy to respond to a keyword that's got a very high ACoS and think, okay, this isn't working for me. I'll add this as a negative so I don't waste more money. We've talked a lot about launching and ranking today. If you can take a step back and work out what you're actually trying to pay for, you're paying for ranking, you're paying for exposure, you're paying for the benefit of trying to get more reviews in, it's not about profitability from the get-go. So I wouldn't negate from day one. But maybe a few weeks in when you've actually got a bit more stability, you know what your ranking is from those first two weeks of the honeymoon period, then you can start negating. Especially if we're talking about keyword reports at least on a weekly basis.
Tom:
Negate in traffic that is irrelevant. Negate any keywords that talk about a difference in quality. Maybe you've got an average household product, but there are key words that would signify maybe a cheaper variant or even a more luxury premium variation. You don't wanna see that that traffic come through cuz you're just gonna disappoint the customer regardless of where you are on that spectrum of quality of the product or barrier to your pricing. If you can negate the premium keywords because you've got a middle ground product, then do that. You don't wanna confuse that traffic that is searching for a more expensive variation or even cheaper variation. So start negating those as you see them come up from your search 10 reports. But once you start to hit the maturity, if you do see keywords that are relevant but consistently have a high a cost, maybe it's because you just can't be competitive on that bid.
Tom:
Maybe you've got a lower ticket price item, let's say $10 price and some of the keyword clicks are gonna be 2, 3, 4, 5 dollars. Now even with your margins, you can probably only afford a couple of clicks on those before a conversion, before your ACoS is gone on those. So start negating those. Any common themes in keywords that you see that you need to negate, whether it is cheap or premium or luxury? Maybe you're selling pet food and you're already selling dog food. Start negating things like cat like straight out of the gate. Add those on phrase because that way you can negate any variation that comes off of that keyword. But when it comes to very specific keywords and phrases that might sing true to your product, add those on exacts negative cuz you know that it's that variation of your keyword and phrase that doesn't work and yeah, not those individual keywords overall.
Shivali:
I see we have another question. Mature campaign on Amazon about $2,000 a month spend 25% ACoS. I want to increase the budget. What is recommended on how to match to increase? What are your tactics?
Tom:
First thing I would look at is the budget tab. That's a very, very new in the last few months tab that we can look at. And it will tell you how often that campaign is in budget and you can set a filter. So set your filter to your target ACoS. I'm guessing it's somewhere around 25-30% from what you've said here that you wanna increase the budget. So I assume that ACoS is sustainable. And first of all, see what percentage it's in the budget last seven days, last 30 days, year to date. If it's not hitting a hundred percent, then you've definitely got some potential to increase that budget. Now there is an Amazon-suggested budget. Definitely take that with a pinch of salt because they have some wild increases there. I've seen campaigns that are in budget 70% of the time and it wants me to increase my budget by a hundred percent, which is crazy.
Tom:
So the same way we increase and optimize our bids, increase your budget methodically and in increments. You don't wanna double your budget and then see that go from $4,000 a month and then the ACoS shoots up to 50% you've just spent to reach no additional audience that is gonna convert for you. So yeah, 2000 is quite a lot. So you probably don't wanna go with small increments like an extra $10 cuz you're not gonna get anywhere fast that way. But start experimenting by just increasing that by 10%. See what that does for you. If you see your sales grow and your ACoS isn't affected too much, then you've got a bit more authority to start increasing that by another 200. The higher your budget is, the more authority you've got to increase that. But keep an eye on that budget tab cause you'll very quickly be able to see what opportunities for growth you've got there.
Shivali:
Wonderful, thank you so much. Now I see that in our comment section, we have answered all the questions that were asked. So I'll ask a couple more here. And one of them is ChatGPT I mean there's been this incredible hype. So do you feel like there's some sort of incorporation of ChatGPT in PPC?
Tom:
Yeah, I use it. We use it.
Shivali:
Really wait, tell us about it.
Tom:
We use it to help with headline generation for sponsored brands, believe it or not. Yeah, if you run your search down reports and find what keywords or even just look at your targeting reports, find what keywords are working for you and throw that into ChatGPT. Say that you want ChatGPT to give you a headline enter your product title and it has to include your keyword. So include your keyword, include your product title, and if you are having writer's block that day, it's a very good way to get those creative juices flowing for new title ideas. I probably can come up with a hundred titles in a week and then I'm just, I hit some all, I just can't think of any combination for these keywords anymore or this product title. So it can just help Yeah, get those ideas flowing. I don't think I've ever settled on a title that ChatGPT has given me. But it's definitely given me a platform to jump off of.
Shivali:
You use it as a starting point. Yeah. Sort of for brainstorming, right? Yeah, and I've done that for emails. I won't lie. The emails say a lot. I'm just like, please draft a compelling email for this and then you can always rearrange it afterward and,
Tom:
And the prompt it goes back, you can just get it to reiterate that. So maybe it comes back too formal. You can just say less formal or the same but more exciting or make sure to include the word deal or make sure to include the word soft and it'll do that and then just put those into a spreadsheet and just split test some of those. Yeah, it's not very good at calculating character limits. So try and give it a word count. But I've also seen people use this for optimizing listings and headlines. So the same sort of thing come up with a new headline including these keywords. My product is a new range of women's clothing. I'm specifically selling black dresses for different sizes.
Shivali:
So Tom will close off with perhaps a strategy from you. What is your 60-second strategy?
Tom:
I'm gonna keep it on theme with ads cuz we've had a lot of engagement in the comments today. So I don't want talk about my lifestyle. Prepare for any of these upcoming seasonal holidays. No matter, no matter how big or small it is with a decent lead in like with Q4 and the holiday season and Christmas, you probably want to get the jump as soon as you see the other side of Halloween. I know you've got Black Friday and Thanksgiving in between. But more and more as we go through the years, people are starting to prepare for these holidays a lot earlier. You don't have to be aggressive with your bids but just get those keywords out there. Start ranking slowly that way when you get to December, if we're talking about Q4 and the holiday season, you've already done a lot of the work to rank slowly.
Tom:
Yeah, that way you've got ahead on your competition when they come in late, you've already done the hard work. But the same can be true for those single-day holidays. Like Valentine's Day work out what the lead time is, don't start advertising a few days before cuz you've missed everyone. Start trying to rank maybe two, or three weeks ahead, not too early because it is a shorter holiday. But yeah, try and come up with a marketing calendar for all of your products based on seasonality and what different holidays you can actually start taking advantage of. Some of them might surprise you. And yeah, Bradley, great point. How can we contact me and Clear Ads? So our entire team is on LinkedIn, so if you search through LinkedIn for Clear Ads Limited, you'll find most of our team, the people to reach out to. If you want to ask more questions would be someone like myself or Helen or George. If you want an audit and want someone to look at your account or you're interested in our services, reach out to George Roberts on there. But you can also find us on clearads.co.uk. There's also clearadsagency.com. So there's a few websites that you can find us through there. Thank you, Bradley.
Shivali:
Awesome. Thank you so much for being on, Tom. This has been a blast and I appreciate you taking the time out of your busy schedule to come and sit down and answer all of these questions for us. All right, we'll catch you guys next time on TACoS Tuesdays. Bye.
Bradley Sutton:
Thank you so much to Tom and Shivali for that great episode and especially thanks to you guys for inputting all of those questions that you had given during the show. Don't forget, we do this once a month one Tuesday a month. The next one, I don't have the date yet, but it'll be in June. I'll be hosting that one in full. I don't have the guest yet, but if you guys have some suggestions for guests, make sure to send them my way and I'll be doing also a Walmart Wednesday episode next month as well. So I hope you guys found some value in this. Don't forget, hopefully, I'll see you guys. May 25th at the Helium 10 Social Event that we're doing, or, actually say May 24th. You can go to h10.me/irvinesocial. You can actually sign up for the event at h10.me/irvinesocial. Hope to see you guys there in person. See you in the next episode.
---
Enjoy this episode? Be sure to check out our previous episodes for even more content to propel you to Amazon FBA Seller success! And don't forget to "Like" our Facebook page and subscribe to the podcast on iTunes, Spotify, or wherever you listen to our podcast.
Get snippets from all episodes by following us on Instagram at @SeriousSellersPodcast
Want to absolutely start crushing it on Amazon? Here are few carefully curated resources to get you started:
Achieve More Results in Less Time
Accelerate the Growth of Your Business, Brand or Agency
Maximize your results and drive success faster with Helium 10's full suite of Amazon and Walmart solutions.