#288 – Amazon Posts 101
In this episode, Lisett Lees covers posting on Amazon from A to Z and why it is important for brand promotion and discovery.
Updated on: October 13, 2021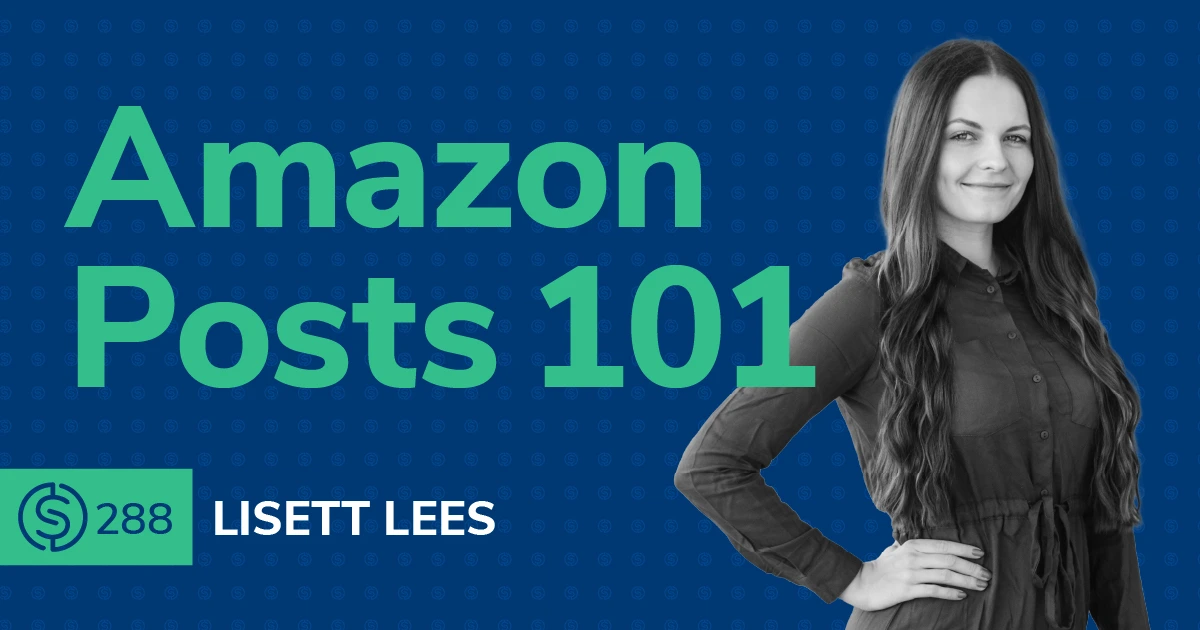 Want to get more traffic and sales to your listings for free? Today's guest, another Freedom Ticket 3.0 instructor, Lisett Lees shares her best strategies and practices in using Amazon Posts for brand promotion and discovery.

After listening to this episode, we'll have answers to your burning questions about Amazon Posts. What should your first Amazon Post be? What is the structure of an effective Amazon Post? How often should you post? This episode is filled to the brim, so listen to the very end!
In episode 288 of the Serious Sellers Podcast, Bradley and Lisett discuss:
02:00 – The Basics Of Amazon Posts
03:50 – The Benefits Of Using Amazon Posts
10:00 – What Should Your First Amazon Post Be? And What Should It Look Like?
13:00 – How Often Should You Post Content?
15:30 – Common Mistakes Sellers Make Using Amazon Posts
20:30 – Be Careful! Your Amazon Posts Can Be Denied
24:30 – How Lisette Got Involved In The Amazon Selling Industry
26:30 – The Origins Of The Phrase "How Cool Is That?! Pretty Cool I Think"
30:40 – How To Contact Lisette
Transcript
Bradley Sutton:
Today, we're going to get an in-depth tutorial on all the best practices for using Amazon Posts so that you can potentially get more traffic and more sales to your listing for free. How cool is that? Pretty cool I think.
Bradley Sutton:
We know that getting to page one on keyword search results is one of the most important goals that an Amazon seller might have. So track your progress on the way to page one and even get historical keyword ranking information, and even see sponsored ad rank placement with keyword tracker by Helium 10. For more information, go to h10.me/keywordtracker.
Bradley Sutton:
Hello everybody and welcome to another episode of the Serious Sellers Podcast by Helium 10. I am your host Bradley Sutton, and this is the show that's a completely BS-free, unscripted, and unrehearsed organic conversation about serious strategies for serious sellers of any level in the Amazon, Walmart, or E-commerce world. So today, we are doing another one of the series that we're going to be doing here of having the instructors from the brand new Freedom Ticket 3.0, come on here and talk about their expertise.
Bradley Sutton:
And a lot of these subjects are really unique, really interesting. They go really in-depth in Freedom Ticket and all of you Helium 10 members out there have full access to that. But just to give you guys a little tease of it, so you can get excited about what the subject matter is. I've been inviting the different individuals from that training course on here to talk a little bit about their subject matter and give you guys some strategies that you can use even before you get to listen to that Freedom Ticket module. So, first of all, she's on vacation right now. Lisett, thank you so much for coming on here, even though you're partying away wherever you are in the world right now.
Lisett:
Thank you so much Bradley, I'm really happy to train you today.
Bradley Sutton:
All right. And I hope you stopped drinking a little bit before this call. I'm not sure how much you party when you're on vacation, but we need you completely sober for this, right?
Lisett:
Exactly, indeed. It's all-inclusive package.
Bradley Sutton:
Oh, Yes.
Lisett:
But we did have dinner a few hours back, so don't worry about that. Fit and ready.
Bradley Sutton:
Okay, good. I don't want you saying stuff, oh Amazon Posts is a great way to get $1 billion a year, like okay. Anyways, remember this is the Serious Sellers Podcast. Okay so, I already gave it away, It's Amazon Posts that we are going to talk about today. And I'll just tell you right now is that I myself have never done one Amazon Posts and I have not learned enough about it. So I am going to be learning on this call as much as everybody else is. So first of all, let's just start with the absolute basics of what Amazon Posts are.
Lisett:
Of course. And actually I'm quite surprised you haven't jumped in yet because it's already been over a year.
Lisett:
But it's okay. I mean, that's one of the reasons I'm really happy to join you today as well. Because actually, although the tool has been out there for a little bit more than a year. A lot of sellers haven't had the time to really dig it in. And I must say it's quite an easy tool to use, but it requires quite a lot of effort to produce good content that is engaging for the customers and would actually have some effects to the businesses. So your question, what it is, quite simply said, it's basically like Instagram for Amazon sellers. So if a seller has always wanted to be, everybody has a little Instagrammer in them, so now it's the right time to play around with your own products and try to create content that would capture your potential customer's attention. So basically what we have, we have photos and we have captions. So basically two main parts that we can play around to it.
Bradley Sutton:
Okay. Now you said it's been around for about one year now?
Lisett:
Yeah, I would say, I think it was first launched like in the end of 2019, but most sellers or started to talk about it, like in the beginning of last year.
Bradley Sutton:
Okay, cool. Now, you just defined what it is, but what would you say if you had to say the top, three, four benefits of using Amazon Posts?
Lisett:
Okay, sure. First thing, you can use it for free and you can try free traffic to your listing page. So we are super used to using paid advertising to get some traffic to our products, but this tool allows us at least for now get some additional traffic without paying anything. It's just your hustle and your time, but you don't have to pay in order to post. So that's super cool in my opinion. So of course, when you get more traffic, you have more options to convert you to sales. So you possibly get more sales. Then second of course, what we have seen lately I think not only with the post but with other tools as well, that Amazon is actually giving more tools to brand owners to create more brand awareness. So you can use these posts in order to create more social proof for your products because you can self-generate content.
Lisett:
You can ask your influencers you are working together with, to create some content to make those photos and those all look really authentic and customers really like it because it's kind of like you're not trying to sell them anything you're just showing how do you use the product, how cool your product is, and kind of try to communicate with the customers. And then thirdly, I guess, I would put it out that you can, it could help customers to discover your product line because in one post you can put together different products. So for example, if your product line is for let's say pets something for the cats, then you put in one post, like a brush, a bowl, for example as well. So you can really like help to raise the options of discovering your other products as well.
Bradley Sutton:
Okay. Let me just do a quick thing where I'm going to fast forward all the way to the end. Just to make sure that people continue listening because maybe they're still not convinced. But let's fast forward to some, you don't have to tell me the exact example or the customer's product, but people you know or if you yourself have used posts, give me some like exciting statistics or something like, hey, I knew a seller and he was selling 20 units a day, and now he started doing Amazon Posts and now he sells 30 units a day. So something like that, that's a real example.
Lisett:
Yeah, that's a good one. So, one bad thing as of now is actually that we get a lot of like analytical data out of the tool, but we don't get the information about the conversions exactly. So when you're doing posts, you can't really go to the tool and see okay, like today I made three more sales. So in order to really test how much these posts influence your sales numbers, you have to kind of have this overall look what you're doing in your store. So for example, perhaps you've just uploaded your A+ content and now you started make it making posts at the same time, then it's rather difficult to say which affected more of your results. But in terms of results, I would say we have been seeing very good engagement rates, so we do have engagement rate metrics. So, we have seen like 10-20% engagement rate. This means basically, let's say your post gets like 10,000 impressions then basically around like, you get like a thousand clicks, but these are not only to go to your product detail page but there are different kinds of engagement things customers can do. For example, they can click to your– to go straight to your product detail page, but they can also go to your brand feed, they can start following your brand as well. So you can go through the data and understand which metric is the most important for you. What I usually like to look at the numbers of how many clicks we get additional clicks to detail page, because then we more or less know that okay, we already got let's say 10,000 impressions thousand let's say is engagement.
Lisett:
And out of that, we get like a hundred or more clicks, to the detail page. This means there are a hundred additional people looking at your product page. And actually I wanted to say one thing regarding like when we compare like Instagram and Amazon Posts, which is in my opinion, super important to understand. In Instagram, people are mainly scrolling, they are entertaining themselves. On Amazon, people have really strong buying intent. This basically means they are already on Amazon they are already looking for something. And now, they see this post. So they already have this, urgency to buy something. So you just have to put your product out there and be in front of their eyes at the right time with the right photo and caption, and then they are more warm to actually buy your product.
Bradley Sutton:
Okay. Interesting. Now, one thing that I saw Kevin King actually earlier in Freedom Ticket mentioned this, when he was just giving an overview of what it was, and he had showed something on the screen where it allows people to follow your page or something like that. So where does that actually show up? So like, if I'm a buyer and I go to somebody's storefront and I hit that follow, I'm assuming it's something kind of like Instagram, but then what happens if I do a post? Like, do I get as a buyer do I get notified? Or does it come on my mobile app screen? Or how does that work?
Lisett:
Yeah, actually this part is something I think Amazon is still trying to figure out. But as of now, I know that if you start following the brand yourself, by clicking on the follow button, you see all of those friends you are following under your customer profile. So when you logged in on Amazon to your customer account, and you go to your profile, then you can see there is basically like section like follow friends or something like this. And then all those friends are there. But regarding like notifications, like if you get a notification exactly from Amazon regarding new posts, I'm not too sure right now.
Bradley Sutton:
Okay. Interesting. Now, what should I be posting here? Like, is it pictures or is there text with it? Somebody like me who has never done it, like what would be my very first Amazon post? So like, let's just bring, you know, are you familiar with project X?
Lisett:
Yeah, a little bit.
Bradley Sutton:
So, you know, we have the coffin shelf, right?
Lisett:
Yeah.
Bradley Sutton:
So we've got the brand Manny's Mysterious Oddities, I sign up for Amazon Posts. What should be my first post would you recommend?
Lisett:
For your really first post, I would recommend taking one of your listing images that is basically a professional photo of your products in its natural environment. Not like white background photo, because Amazon doesn't allow posting white background images Amazon Posts. And I would use that, because to start off the most easiest one is to take your listing photos and use it. Although I have to mention Amazon actually does say, don't duplicate your content. But in my opinion, if you do it just once, it's okay. Amazon doesn't pull your posts down and actually here, I think it's a good thing to mention that regarding like using Amazon Posts, what I really like is that Amazon actually gives quite a lot of feedback to sellers. So I think you also know that we're quite used to not having enough explanation why some things are not working or why some things are not accepted, with the post it's super easy, you upload your posts, and if Amazon decides it's not good enough, it will give you like really good written explanation like what you should improve. Is it the photo? Is it the caption? And it also gives like some suggestions to gray photos. Let's say for the past year, a lot of things have already changed. So for example, if we go back through the beginning of last year, what I personally also recommended sellers doing was to use a little bit like text overlays on the photos to add some like branding elements, just like minimalistically, but a little bit. But now Amazon has updated the suggestions on their page as well, and actually they do not like this kind of images anymore. So the best is if you only use lifestyle images that are without any other graphical elements and their look. Basically like on Instagram, what kind of photos you would like to see on Instagram? Think that way.
Bradley Sutton:
Okay. Interesting. What about cadence? So now I've done my first post today is Monday, what should I be trying to do? They say on Instagram like, hey, try and post every day or post once in the morning, once in the evenings, if I have a brand that has like five products, is it like one per product per week or just one per day, one per month? What kind of cadence should I be using?
Lisett:
That's a really good question. So actually it's totally up to you. So you can post as much as you want. But I would say it's good to find your own rhythm. So it really depends on what level of seller you are, if you are just alone working on the business or do you already have a team? So you can give this task to your VA. But I would say a good starting point would be depending of course how much time you have, but I would say to try to post at least once a day for each of your products, at least for the beginning. And later once you already have the system to create the posts, because I must say it's not actually that easy because you just can't throw together random images and random captions because the main goal is to make engaging posts in order to really get those people over to your listing page.
Bradley Sutton:
I noticed on your Freedom Ticket module, it says that you can actually add up to 10 ASINs. So what's the recommended? Should the post just be focused on one? Or is it actually better to always do multiple ones if you have a brand that have related products? Or what's the suggested way to do it?
Lisett:
Actually again, this is all up to you as a seller to test it out. Like which way you would like to the posts, because I would say that it's also good to make posts that only focused on one product. Let's say you have a product that has like 9,000 reviews because the real rating is showing on the post as well so customers are able to see it. So you might just want to target that product. And they also recommend to run some tests. So for example,if you are selling five products, you can do it for one week, you only create posts for this one specific product. And you try to see how much the sales changed over that week. But this is a little bit tricky because once you post, this post will stay on Amazon. So it doesn't disappear somewhere. So oftentimes actually, the newer posts don't get that much like impressions and engagement. But over time, this number of impressions and engagement is rising. So you have to keep that in mind as well.
Bradley Sutton:
Okay, good to know. What would you say is the biggest mistake of people? Maybe you check their account and they've been trying to do their own posts and you're like, oh my God, I cannot believe they were doing this. What are some common mistakes that people are doing in your experience?
Lisett:
Yeah, that's a really good one because I'm really about a clean look and friends having a good look like on different channels they are at. Whether it's on Amazon, like in photos or in A+ content or in post, or like off Amazon as well, like Facebook or Instagram, it all has to match so it also has to like look together well. So I think like one of the main mistakes sellers have been doing is first, they try to make like photo collages. So they put several photos together trying to show more different details of the product, but this is actually also not recommended by Amazon. And the second thing that always hurts my eyes is if someone does a text overlay and the text is just like, you see more of the text than the photo behind it. So it's kind of like messy looking images. And basically it's quite easy to audit which posts is good and which is not because if you just open up Amazon, you check through the posts, you see yourself, what kind of like posts are more attractive to you and which are not. So, yeah.
Bradley Sutton:
Okay. Interesting. Alright. What about the opposite? The people that you've seen are like really crushing it, is there a common thread? I mean, you've been mentioning some of the things that people should do, but is there anything you haven't mentioned that are best practices for what you have seen as the most successful people who are utilizing this?
Lisett:
That's a good one. So regarding like photo content, I would say the photos that look the more natural more like self-generated content, it has to be with good quality, but it doesn't have to be as polished as you would have let's say your main image or like your product listing dimensions, but it has to be like natural. Just like for example, I have done some presentations using a garlic press example. So you really want to have this garlic press used by someone who is actually the target persona of that person. Let's say a mom in the kitchen, I don't want to say like having fun cooking and using the garlic press but it has to seem really natural for the viewer. So really that's kind of lifestyle images or something that worked the best.
Lisett:
And then one thing probably when we talk about the photos, I would like to point out that Amazon allows sellers to use different aspect ratios for the images. So first when Amazon Posts launched, I was using a lot of like 1:1 aspect ratio basically a square. Just because a lot of sellers wanted to reuse their content they have been using already on Instagram, so a lot of content was already in that format. But now it's better in my opinion to use, let's say 16:9 this is more like horizontal and more like narrow and the main reason behind it is actually when you open up the posting your mobile app, when you use the 16:9 aspect ratio, you can see all of the main post elements at once without additional scrolling.
Lisett:
So you can see the logo, you can see the brand name, you can see the photo, you can see I would say like I think Amazon calls it a product card and you also see the caption. So basically you can see all the posts, elements at once without additional scrolling. But if you use a square or some other formats, then oftentimes this caption will be hidden behind your phone so you have to do additional scrolling. So the customer doesn't get the full story from you. They just see the image but they can't actually see the text right away so they just scroll past it and forget about it already. Because you can have a lot of fun with the captions as well like, you can make fun, you can make educational captions, you can share something about your brand or also about your team if you want.
Bradley Sutton:
Okay. One thing again going back to your Freedom Ticket module, obviously there's so much more that you talked about we're not doing at all we want people to watch it. But I noticed you talked about, there are people who get not banned from post, it gets denied if you try and do an Amazon Advertising PPC Campaign and you use a term that is not allowed, your campaign is denied or you can not use this kind of language or it can not do this or that. What are some ways that people are getting their Amazon Posts denied?
Lisett:
Well regarding like captions, let's say like the texts you write to go together with your image. I would say they're kind of similar rules we have, like in other places in Amazon. So, one thing you definitely can't add promotional information or deal related content. You can't say anything let's say like last deal or act now or something like this that has this sense of urgency. Then one thing which is very interesting actually, is that you can't share customer reviews and you can't share also like Amazon customer reviews. But actually, one type of post has been performing really well or performed really well like in the beginning of last year, it was like kind of customer story. It's not like a review, but it's like you're telling the story of your customer using your product, or like the benefit ticket out of it and those kinds of posts actually performed super well. But lately Amazon has started to label those as customer reviews as well. Sometimes they do, sometimes they don't. So you really have to test like where's this fine line between violating Amazon rules and not. But also again, I would say that Amazon has done quite a good job putting together our different rules. And I think they're updating those also quite often. So I think in my module as well, I brought out that's once for example, Bradley you, if, once you start making posts, then before you do, after you watch my modules, then definitely go over the rules on Amazon website as well, just to be sure that you're fully updated and know everything.
Bradley Sutton:
How about this? I just mentioned, Hey, I'm going to make my first post. How about after this call I mean obviously not right now cause you're on vacation, but when you come back from vacation, you help me to make our first post on our Project X accounts.
Lisett:
That's perfect. Yeah, we can definitely do it. And actually Bradley, we have to make 10 at least.
Bradley Sutton:
We have to make 10? Oh my goodness gracious.
Lisett:
Yeah, actually it's– I don't know if it was ways the requirements like to make 10, but there was some number of posts you have to make for sure. But ten is needed in order to have a new placement, I think it was rolled out in August this year. So first, to post when you look like the product data page, the posts were visible just like near to customer question section like it was like a carousel type of like section where you can see posts from different brands. But now what Amazon did was that they made a new placement for brand owners. So now on your product detail page, there is a separate area called something like inspiration from the brand. So you always have four posts displaying there as well. And I think the requirement was that in order to gain those placements, you have to make 10 at least. So I would happy to help you make those first ones.
Bradley Sutton:
Okay, perfect. And then we can help my team to learn how to do it so they can continue to do it on their own. But, I like to put my money where my mouth is. So we're talking about how this is a great thing, but it would be kind of ridiculous if after knowing how good this is from what you just said, that I still don't do it. So I'm committing right now to everybody, all the 80,000 listeners we have, that this is by the end of this month or next month we will have some Amazon Posts on Project X. Now, before we get back into our final strategies, our 30-second tips and things, let me just go back to your history. So when did you get involved in E-commerce?
Lisett:
Yeah, so actually this year marks five years of me being unanimous in industry. So I started out as a virtual assistant for one Amazon seller and quickly started managing different brands. Of course, once I understood how Amazon FBA works and it took some time. And ever since I have been working with different brands at the same time and today I'm helping them to manage their stores great optimize listings and use different Amazon tools.
Bradley Sutton:
Okay. So you just getting started as a virtual assistant like did you just use Upwork? Or how did you get yourself out there?
Lisett:
So, I quit my last job. And then I was thinking what I want to do with my life. I was aware of this business model and at the time actually I was spending my summer in US so I was kind of thinking, okay, what could I learn or what could I do? Because I was always a fan of communication and marketing and then just one Estonian wrote the Facebook post that he's running this business and needs help, and that he will coach the person as well. And I was like, okay, this is something for me because anyways I wanted to learn more about this FBA business model and what's a better way than actually start working on it right away.
Bradley Sutton:
Okay, cool. Now, did you say you do not sell yourself on Amazon?
Lisett:
I have never sold myself. There was a point, I think like after one year of me working in Amazon works when I was thinking of starting a brand, then starting setting as well. But I think myself, I'm more like a marketer, I like build up different systems for businesses and I'm not that much of a product developer. So I need this kind of like new information and new updates all the time to keep me going. And that's something I get from working with different sellers and when I started out, I was super eager to learn a lot about Amazon because I quickly understood that there was just so much to study. And one of my favorite podcasts was AM/PM Podcast with Manny. So this was something I was like listening in 2000 let me see 2016 probably, each time I was going out for work I listen to his podcast I always remember the beginning that he always say something like, so while I was at the beach with my family, etcetera I was making money. So..
Bradley Sutton:
Hold on. Right after that.
Lisett:
Let me think. So
Bradley Sutton:
It's something that I said, and I took it directly from there. What, you didn't hear me say it yet because you didn't hear the introduction, but he always says, "How cool is that? Pretty cool I think".
Bradley Sutton:
That's exactly how we do this one too. I'm glad that we have an old-school person here who understands the origin of the how cool is that? Which by the way, we talked about Project X on Amazon, the storefront name of Project X is how cool is that is the storefront name. It's exactly the storefront name for Project X, but when you deal with so many customers as a virtual assistant as somebody who's an influencer in the space and somebody who helps people to Amazon Posts, and you ever look at their numbers, don't you ever like get the idea like, man, I need to start just my own avatar there's so much money that I could be making. You ever get that itch?
Lisett:
You know, I'm really happy for them. I'm really like value oriented service provider/partner for them. So the customers or my clients who I'm working with, I'm always like thinking I'm kind of like part of their business and I actually get like pure joy of seeing them being successful. So that's just something that even keeps me more going. Regarding selling, it doesn't like get me excited that I would like to start selling myself. Rather, I'm always thinking, okay, we reached that level we're now making let's say seven figures, how we can do even better. I forgot to mention before that I'm a video host and orange click YouTube channel. So I always talk with different experts as well. So that's something that's I really like, I always get some new information to test out and to help sellers.
Bradley Sutton:
Okay. Now we do something on this show. We didn't do this on the AM/PM podcast. We do it on Serious Sellers Podcasts. We call it that's the TST 30-second tip. So you've been giving lots of strategies throughout this episode, but maybe you can do one or two just like quick hitting things that maybe you haven't mentioned each around 30, 45 seconds or so.
Lisett:
My first tip would be to create easily more content to cover many weeks of posting. I would recommend to do a full shooting day, prepare shooting lists beforehand. Just get together with your team, rent an apartment for example, or whatever is needed for your product, especially take all the different clothes with you, the Christmas stuff with you, the color wind stuff with you and just make the photos during this one day because then later you can edit those and you can use those images for like many, many weeks to come. And I think my second tip is to be super organized with posts. So what I like to teach my clients is to create like a management file where they have all the information about the posts they have done previously, because then you can easily see what types of captions you have made before. And then when you compare that with your results, you are more easily able to create new content. That is a little bit similar to the posts you already have done, but you just are able to make new posts more efficiently and more quicker. So, yeah, that's about it.
Bradley Sutton:
Awesome. All right. Now, how can people find you on the interwebs if they want to reach out and ask more questions in addition to of course, checking out your Freedom Ticket module that you have?
Lisett:
I think the best way is to do it through my website. It's Lisettlees.com So my first name, last name written together or search me from LinkedIn.
Bradley Sutton:
Okay, awesome. Thank you so much for joining us. Let me know as soon as you're back from your vacation, cause we're going to get started with some Project X Posts.
Lisett:
Awesome. Thank you so much Bradley.
---
Enjoy this episode? Be sure to check out our previous episodes for even more content to propel you to Amazon FBA Seller success! And don't forget to "Like" our Facebook page and subscribe to the podcast on iTunes, Spotify, or wherever you listen to our podcast.
Get snippets from all episodes by following Bradley on Instagram at @H10bradley
Want to absolutely start crushing it on Amazon? Here are few carefully curated resources to get you started: