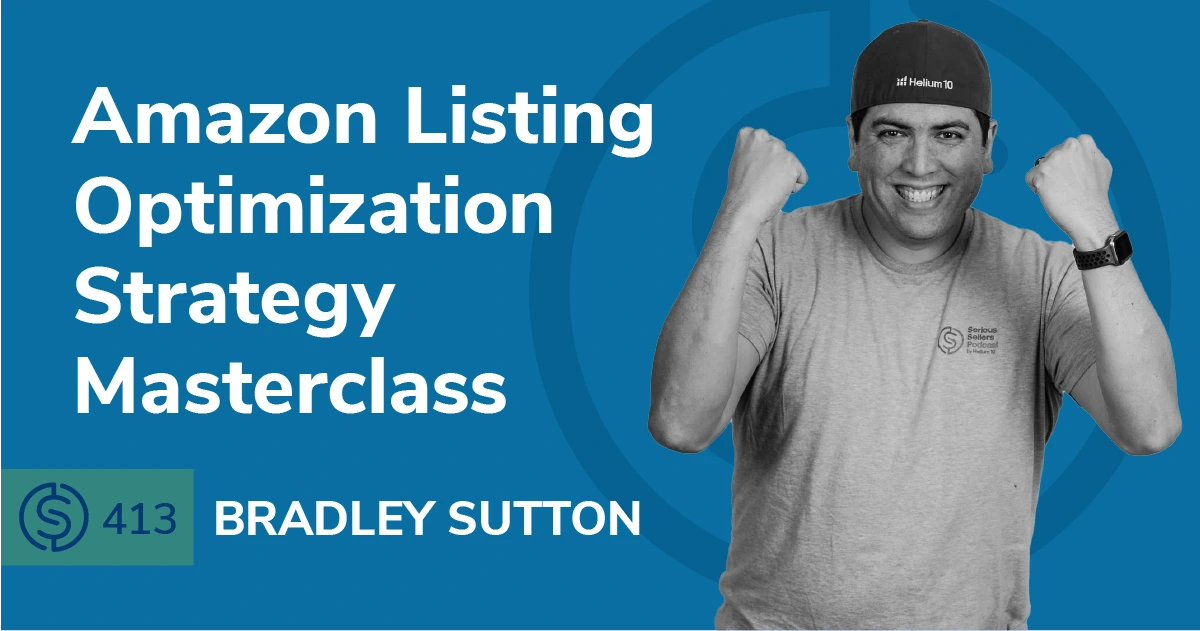 #413 – Amazon Listing Optimization Strategy Masterclass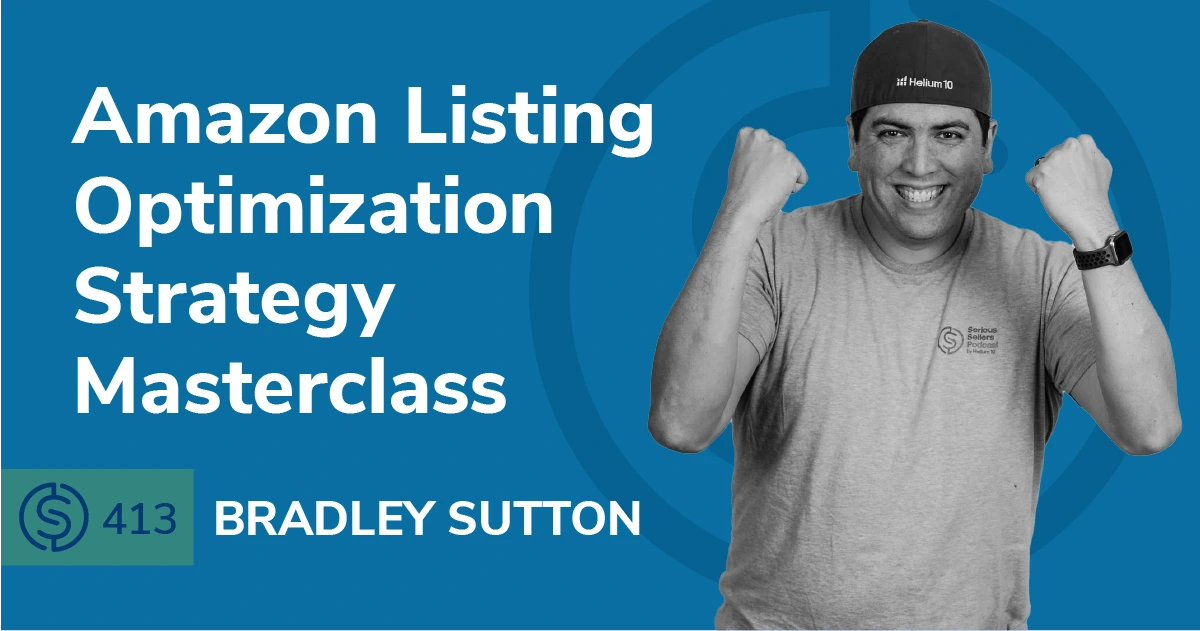 Video of the episode at the bottom
In this episode, we are continuing our Seller Strategies Masterclass that we've been doing in the last couple of months. Where once a month, Bradley talks about skills and aspects of Amazon selling and breaks it down with the tools Helium 10 has and how you can use them to get a leg up on your competition. We have a lot in store for you today. Our topic is all about Amazon listing optimization. We will discuss four Helium 10 tools and many actionable strategies you can do to crush it on your E-commerce selling journey. Let's get started!
In episode 413 of the Serious Sellers Podcast, Bradley talks about:
02:00 – Looking At The Reviews Of Your Competitors
05:05 – How To See Which Child Item In A Variation Listing Is Selling The Best
06:20 – How To See What's Top Of Mind For Customers In Your Niche
10:40 – How To See What People Love And Hate Most About A Product.
13:45 – What Is Indexing Compared To Ranking?
15:15 – Find Out If You Are Searchable For A Keyword
19:00 – Find Out Which Single Words Make The Whole Phrase Unsearchable
19:40 – How To Discover Keywords That Your Competitors Do Not Have In Their Listing, With Good Performance On Amazon
25:00 – How To Extract Individual Keywords From A List Of Keyword Phrases
29:40 – How To Remove Forbidden Keywords From Your Keyword Phrases
31:30 – How To Get Customer Feedback On Your Images Before You Launch Your Listing
35:00 – How To Import An Existing Listing Into Listing Builder To Edit
38:00 – How To Add Subject Matter To Your Listing, And Sync It To Amazon
40:00 – Amazon Tip To Maximize Your Visibility Using Filters
Transcript
Bradley Sutton:
Today is another installment in our Seller Strategy Masterclass series, and we're gonna be talking about listing optimization. I'm gonna be giving you the best tips on doing things like how to find out what information that concerns customers is actually missing from your competitor's listings. How to rank for forbidding keywords and much more. How cool is that? Pretty cool I think.
Bradley Sutton:
Do you wanna be able to sync your listings that you create in Helium 10 to your Amazon account in one click, including being able to sync subject matter, which you're not able to even edit. Now, in most listings on Amazon, you're gonna want to use Helium 10 Listing Builder. Make sure to find out how to use Listing Builder by going to h10.me/listingbuilder. That's h10.me/listingbuilder. Hello everybody, and welcome to another episode of the Serious Seller's Podcast by Helium 10. I am your host Bradley Sutton, and this is the show that's a completely BS-free unscripted, and unrehearsed organic conversation about serious strategies for serious sellers of any level in the e-commerce world. And today we are continuing our Seller Strategies Masterclass series that we do once a month, where I take a different aspect of Amazon selling and kind of break it down with the tools that Helium 10 has and how you can use them in order to get a leg up on your competition.
Bradley Sutton:
Now remember, even if you don't use Helium 10, I mean, these are still strategies you need to be implementing with whatever tool you're using, or maybe you're doing it on your own. So whether you have Helium 10 or not make sure to tune in. So we're gonna be going over a lot of things. I'm gonna try and squeeze in about four or five different tools today, each of which that can help you a lot with either making a brand new listing or maybe reoptimizing your existing listings. So the first thing I want to go over right now is looking at the reviews of your competitors. Now, this can be whether you're brand new like I said, and you're trying to like look at the existing competition to see what people like and don't like about it.
Bradley Sutton:
Or maybe you've got a product that has like over 400, 500 reviews or so you might wanna run this on your own product. So first of all, let's go ahead and let me show you a really cool way to see exactly what information your competitors are missing from their listing that actually concern customers. So this is something I don't think I've ever really talked about before. This is a listing here for collagen peptides that I'm looking at right now. And it's a pretty good listing. I mean, it's got A+ Content, it's got tons of information here. I mean, they're talking about what sets us apart. And this is type one and three probiotics. It looks like it has all the details you could possibly want. It's got 11,000 reviews, right?
Bradley Sutton:
But let me just show you really quick, what is a way that you can see what is the number one thing that's missing? So I'm gonna hit the Chrome extension, and then I'm going to hit Review Insights. And the actual tab I'm going to be looking for is called All Questions. So, once I hit all questions here, the number one thing that people are asking here and this is kind of silly to me, I've never talked about this before, but this one, not only did it have you know, is it a popular one, but the reason why we know it's a popular one, it actually has 31 up votes, and that's what Helium 10 is showing right here. This question has 31 up votes, and it's where do the cows come from? What country of origin and where is this manufactured? So the first part is like something that seems kind of ridiculous, like where do the cows come from? And then it talks about where is this manufactured?
Bradley Sutton:
So I mean, I'm assuming collagen, some part of it comes from cows. I guess I didn't realize that, but all these people who buy collagen peptides know about that. And then where's the actual product manufactured? And so that's the number one thing that they wouldn't be asking this question. First of all, if it wasn't important to customers of this product. And number two if it was in the listing, or at least if it was in this listing in a visible and easy way to find. So right off the bat, what I'm gonna do is I'm gonna take this information and I'm gonna be like, you know what? In my listing, I've gotta make sure that I say where my cows come from and where is this manufactured somewhere in a prominent place. Another thing that here I'm looking in Review Insights that just me not knowing about collagen peptides never would've known the number two question.
Bradley Sutton:
14 up votes. Is this product glyphosate free? I don't know if I'm pronouncing that right. Another question. What about heavy metal testing for this? we need to know it's 12 up votes on this. So guys, right there, first thing you know, start looking at your competition. Run Review Insights and take a look at the questions here to see if you know, what are the top things that is actually missing from your competitor's listings. The second strategy of today is when you have a variation listing, how to know which one is selling the best because this might be the one the child item maybe it's by size or color or whatever. This might be what you want to focus on when you're creating your first listing. So right there in that same app of Review Insights, or you can just go into Review Insights, you're gonna want to hit the button, product variations.
Bradley Sutton:
And then right here you are going to see that, hey, this 28 servings here in this Collagen Peptides has 783 reviews of the recent reviews ends. That's a 74% review share. And then the number two child item is this 14 servings, one that has 25% reviews share. And this other one that's a 10 serving one only has 1% of the reviews. Now, you can't just go and take those numbers and multiply it by the Estimated Sales, but remember when you see Estimated Sales in Helium 10 or any other tools on a variation listing, it's indicative of all of the child items put together how many is being sold. So if you want to know what's the child item that I should focus on most, if I'm making a new listing, and this is not my listing, I'm looking at, obviously, if this is your own listing, you'd know how much you're selling, right?
Bradley Sutton:
But if you're looking at a competitor's listing, you wanna know which one of those is selling the best use Review Insights, hit Product Variations, and it's going to tell you the percentage of reviews by each child item. And usually, that's gonna be very similar to the actual sales of it. Alright, the next thing I wanna show you guys here in Review Insights is how to see what's top of mind for customers in your niche. So to do that, I'm still on this page on this collagen peptides lesson. I'm gonna hit the button review analysis. Now, what this does is it shows the top two, three forward phrases that appear the most in the review. Now, you might think that the number one phrase that would appear in collagen peptides would be collagen peptides and a lot of listings, but that's the way it is.
Bradley Sutton:
But no, not here. You click here or you look here, the number one phrase is in my coffee. In my coffee, that, that's why it's at the very top here. 85 of the recent listings all have this phrase, and you might not understand I've been talking about this for years, but for a lot of you guys who are newer, you might be like, what in the world, what does in my coffee have to do with a supplement for your hair and skin and nails? So what I would do is I would just click in my coffee, and then every single review that has in my coffee as a phrase in it comes up. And then the in my coffee phrase is highlighted. So I, my eyes can instantly go to all of these reviews and I can just start reading, Hey, this is in my coffee.
Bradley Sutton:
I love that there's no discernible difference in my coffee. I mix it in my coffee. This person says this other person says, I mix a scoop in my coffee every morning. Here's another one. When I mix in my coffee, I really cannot taste it, and it goes on and on and on. So this is a great way to kind of know what's top of mind. In my coffee is top of mind to the customers who buy this product. But what is it not? It is not a keyword, it's not a search term. Nobody types into their computer or their Amazon app in my coffee and expects to get collagen peptides. No, the search terms for this product could be collagen peptides, collagen powder, supplement for hair, skin, and nails, whatever Those are search terms, right? In my coffee, this is what people are thinking about or how they use the product.
Bradley Sutton:
So if we are doing research for what we're gonna put in our listing, yes, of course, it is important to focus on your search terms and keywords, the things that people use to find your product. Cuz you want to get indexed for it. We're gonna talk about getting indexed a little bit more later, but don't sleep on these kind of emotional connection points you can make with your buyers. This will never have come up in a Magnet search or Cerebro keyword research reverse ace in search the words in my coffee cuz nobody is typing that in expecting to get collagen peptides. But right here, what would I do with this information? Well, I'm gonna go ahead and make sure, like one of my main images has this. And if you look at the images here on this collagen peptides listening.
Bradley Sutton:
I mean, I don't know, like, like here it's showing people doing yoga. I don't understand what that has to do with something that helps your hair, skin, and nails. The very first image of a person that's actually eating something. It's showing them eating strawberries like with milk. Like there's nobody in the reviews who is saying they put collagen peptides in their strawberry milk. Like what weirdo puts strawberries in their milk, I don't know. But anyways I see nothing here. There's no images about in my coffee. The number one thing that is on the mind of collagen peptides customers and this amazing listing here that has sold 15,000 units in the last 30 days, they do not have an image that shows the number one use. So if they were using a Helium 10, they would easily have seen that they should have put something about in my coffee in their listing.
Bradley Sutton:
Now, another thing that is cool to look at in review analysis is how to see the common topics of what people love about a product and what people hate about a product. This is important to know, not just that that first or that last strategy just told you is kind of like neutral, regardless if they love it or hate it, what is the most thing or the thing that's most at the top of mind? So the way that you can actually dive in and see what do people love or hate about this product? It's on that same page of the review analysis. So watch what I would do, I'm gonna look here on the right hand side, and what I want to do under review analysis is I want to see which ones it has an aggregate kind of score of the review.
Bradley Sutton:
So of this phrase, like for example in my coffee is kind of neutral, right? It's 4.2 stars, it says right here. But I'm gonna see is there anything above four stars that really is gonna show me something that maybe something that people like about the product? And look at this here is hair and nails has a 4.5 star rating. So if I expand this out, I can see that people nonstop are talking about hair and nails and that it's giving them a good effect. And they're mainly giving five star reviews for this. So now I know that part of my listing and part of the way I make my product, I've gotta make sure that my product is on point for hair, skin, and nails, because that's obviously important and something that will give me good reviews. Now, on the flip side, let's look for something that has maybe like a three and a half, three or less stars on this product.
Bradley Sutton:
So look at this one here, 3.1 stars, that's probably not very, that's probably on the low side for this product. And sure enough, look at this, it's called mix well, and when I expand it out, I read these reviews, it says, this doesn't mix well. This product did not mix well, nor did it taste well. This doesn't mix well, it doesn't mix well. All of these were like two and three star reviews. So this is a great way again to see what do people love about a product? What do people hate about the product? Now, what people hate about your competitors, guess what? Number one, you better make sure that your product doesn't have that same thing. So if I was gonna make collagen peptides, I gotta make sure that my product mixes well. Secondly, you better believe that this is gonna be like a top image or a top bullet point where I'm gonna talk about, hey, unlike our competitors, our product mixes great and dissolves super easily in your morning coffee or something like that, right?
Bradley Sutton:
So that right away something that obviously concerns people about the competitors, they could maybe be a little bit have some ease of mind that my product is not gonna have that issue. So guys, as you can see, review Insights is a great tool in order to get some initial research on things that are just beyond looking for search terms and keywords. Next, let's talk about a couple of phrases that some people are getting confused about. It's indexing and ranking. Ranking on Amazon. That basically means that you are showing up in the top first few pages or at least the visible pages. Usually, it's about seven pages that Amazon shows of search results, about 300 listings or 306 listings. So if you're in those seven pages like you type in a search term and you're somewhere visible, you're ranking for the keyword.
Bradley Sutton:
Now indexing is something different. You'll notice that in a lot of keywords, if you type it in the search engine in Amazon, it'll say, Hey, here's one to 50 out of 20,000 results. Now, you are only going to be shown up to seven pages of that or 300 listings, but what about the other 19,700 listings? Those products are not technically ranking because you can't even see them. But they are indexed for that keyword, meaning that they are searchable, and maybe one day they could increase in ranking and get to the top right. If you are not searchable, if you are not indexed, if you're not one of those 20,000 or 10,000 or one, 1000, whatever that number is, that means you can never rank. So let's make sure we distinguish the two terms of indexing and ranking. So how can you know if you are indexed or if you're Competitors' Index or you're brand new Listiness index, or you're a mature LISTINESS index, you're gonna use the Helium 10 tool, which is one of the very first Helium 10 tools we ever made.
Bradley Sutton:
It's called Index Checker for you old school people. This tool used to be called 5K Checker. So here's our coffin shelf. I have on my screen here, and all I have to do is I have to just put the ASIN. I don't have to do this seller id. That's only if I need like advanced searching. So just put the ASIN guys. And then here, I put in just some random keywords, coffin shelf. I figured, hey, I'm, I'm probably indexed for that keyword, right? Here's one that I'm not sure on coffin dining table. I'm not sure if I'm indexed. I'm not sure if I'm searchable for that. Cause I don't think I have those keywords in my listing. This one I'm pretty sure I'm not indexed.
Bradley Sutton:
Spooky sumo wrestling is another word I put in here. What spooky sumo wrestling would be. I don't want to picture that. And the last one is gothic decor. So all I have to do is hit check keywords and it is going to search for me for these keywords. And here, this is what I need you guys to understand how to use. This is something that a lot of people make a mistake on. If you see a check mark in the results, that means it's indexed. If you see a dash or a straight line, that means it's not indexed. If you see an X, that means that we didn't do the check. So in this situation, since I didn't put an Amazon storefront in here, it did not check the storefront index. Don't worry about I only have one of these, or I only have two of these checks.
Bradley Sutton:
All that matters is this last column of cumulative. That means check mark. Yes, you're indexed. Dash means no, you're not indexed. That's all you have to worry about. Don't worry about the individual ones. There's gonna be something I'm gonna show you in a little bit that actually is an advanced way on how you can look at the these individual ones. But all these things are the different searches that we are doing. We're just showing you which kind of searches that we are doing to check if something is indexed. Cuz there's three different ways that we can check if a listing is indexed. So what we see here, I can see that coffin shelf and gothic decor. I have check marks, so that means I am indexed. But these other phrases, coffin, dining table and spooky sumo wrestling, I am not indexed.
Bradley Sutton:
So this is interesting. So the question that you, you might have if, if you have a whole list, right, of, of keywords is, wait a minute, there are two phrases that I am not indexed for. Now, I'm pretty sure I'm indexed for the word coffin, but for a coffin dining table, you might be wondering which keywords are missing from my listening, because that's the way you get indexed. Usually if you're not indexed most cases, it means you don't even have one of the keywords in that phrase in your listing, and that's why you're not indexed for the complete phrase. So in this case, what I would do is I would just copy those keywords. Those keywords that are not indexed coffin, dining table, and spooky sumo wrestling. I'm gonna put it right back. I'm gonna paste it right back into the phrases section of Index Checker.
Bradley Sutton:
And then I'm going to unclick this maintain phrases checkbox. That means that it's going to break up all of these keywords into individual keywords. Now, watch what happens when I hit check keywords. Now after I click check keywords, you'll notice that what it does is it takes those phrases, which was Coffin dining table, and spooky sumo wrestling, and it makes it one single word each. So it check word by word, which ones. And sure enough, of course, I am indexed for coffin. I'm actually indexed for table, and I'm indexed for spooky. And so right here I can see the reason that the full phrases didn't index it was because of dining, sumo and wrestling. So that what I now know I need to do is now I need to just take these words and figure out how to get them into my listing.
Bradley Sutton:
And then just by adding these three words, now all of a sudden, potentially, I'm going to be able to index for those full phrases. So whenever you run index checks, you are going to find words that you're not indexed for. And if you don't have them in your listing, this is how you're gonna be able to tell which ones maybe you need to put in your listing. Now, here's a super advanced way of using Index Checker, and this doesn't always work. It used to work like 10 out of 10 times, maybe four years ago. Now it only works maybe 50% of the time or as Ricky Bobby would say, like, what, 50% of the time I win every time, or whatever his phrase goes. But here's a, I have right now on Index Checker a list of like a whole bunch of keywords from Cerebro that I pulled out from our coffin shelf listing.
Bradley Sutton:
So how you would do this is maybe you are gonna run Cerebro on your competitor, and you're gonna extract all of the keywords over a certain search volume that they are ranking for organically. And now I'm gonna show you how you can see potentially which ones of those keywords maybe they don't even have in their listing, but they had good interaction with it in PPC. Watch this, what I'm gonna look for is I'm gonna look for anything, oh, by the way, in this situation, I absolutely do want to put the Storefront id, I'm going to put into Index Checker, so we can do all three checks. So how you would find the Storefront ID is you hit the seller name, like, here's this listing of collagen peptides, I'm gonna hit Physician's Choice. And then at the very top in the URL, you'll see, see right here where it says seller equals, and then you just double click right in there.
Bradley Sutton:
And this long code, it's kind of like an ASIN, but it's not an ASIN, it's a little bit longer than one. That's what the Storefront ID is. So I put that right here, and then I search these 183 phrases. So now what I'm scanning for are keywords or either all three of the checks here are failed. In other words it's not indexed or we're only the middle one, the field ASIN is indexed, but the other two checks failed. So let's go ahead and see if we can see anything that matches that. And here's one right here, carotid coffin, like, again, I know coffin is in my listing, but I know for a fact that carotid is not. Now this is my listing I'm looking at. So let me just show you how cool this is.
Bradley Sutton:
I know that I have, don't have carotid in my listing, but I am indexed for it. You know, like I'm searchable for it. That's crazy. I'm, I'm organically ranked and I'm searchable for it. So if I actually went to my Adtomic, my PPC software, I could do this in Seller Central too. And then I searched in all of my search terms that I've been converting for or getting clicks on. Look at this, there is carotid coffin right here. I actually had four impressions and one click. So I don't know what the ratio is, but maybe because I had a good click through rate on this keyword, Amazon went ahead and indexed me for this keyword, even though I didn't even have a sale. So if this was my competitor's listing, I could have seen this keyword, carotid coffin, and know that they might have had some either a sale in PPC or some decent kind of like action with their PPC, like this great clickthrough rate.
Bradley Sutton:
And now I'll know that this might be something that I want to go ahead and put in my listing. Let's go ahead and let me show you a couple more examples here. Again, I'm looking for something that has no check marks or only the check mark on the field ASIN. Alright, here's one here, Wolf Shelf. as you notice, this jumped off the screen to me because it passed the field ASIN check, but it failed the other two checks. So again, if I go into my Adtomic and look up the word wolf which I know is not in my list, I do not have the word wolf, like why would I have known to put the word wolf in my listing? But look at all this action I got on auto and broad campaigns that had the word wolf in it, Wolf decor, wolf home decor.
Bradley Sutton:
I actually got sales conversions and very high clickthrough rate on these keywords. And so the word that I was looking for was, what was it? Wolf Shelf. so shelf. We know that I get action on shelf because of coffin shelf. And look here, thanks to me getting a lot of action on words that have Wolf. Amazon went and indexed me for Wolf Shelf. Actually here we go. Here's Wolf Shelf right here. I actually had a 28% click through rate on this, but the point is, I'm organically ranking now, even though I don't even have this word in my listing. And again, you could have known that. One last one. Let's go ahead and see if I can find, let's scroll down here. Alright, here we go. Here is one that failed all three index checks. It was no on all three yet.
Bradley Sutton:
They were ranking for it organically, and the keyword is coffin mirror full length. so if I go into Atomic and I type in coffin mirror, sure enough, I actually got sales for Coffin mirror as a keyword in Amazon advertising, and I actually had a 33% click through rate for coffin mirror full length. So again, this is kind of like a advanced hack for you advanced sellers, if you want to take it things an extra step and see what Amazon index your competitors for, that they don't even have their listing. This is a great way to do that. Now, the next tool I'm gonna talk about is Frankenstein, again, one of the original Amazon tools that Helium 10 made. Now, here is something that people make the mistake all the time. Whenever they're using Helium 10 listing optimization tools, what they do is they try and go directly to Scribbles or Listing Builder, and they put all of their phrases they found like let's say they found in Cerebro 300 keyword phrases that was relevant to their niche, right?
Bradley Sutton:
They put all of them in phrase form at once into a listing builder or scribbles. This is a hundred percent the wrong way to do it. If you guys are doing that, shame on you. You've always gotta put in your keywords two different buckets, regardless if you're using Helium 10 or not. You can only put like maybe 10, 15, 20, maybe 25 full phrases in phrase form in your listing. You just can't get more, you're never gonna get 200 complete phrases into a listing. There's just not enough real estate. So always focus first on what are your top 15 or 20 keywords. And we, we talked about that in the seller strategy masterclass for Cerebro a couple months ago. You can check that episode out. But once you get those 15 phrases, now you go to your secondary keywords and yeah, it might be 200, 300 or 400 phrases that are relevant to your listing that you find from Cerebro, and you want to be indexed, you want to be searchable for those keywords.
Bradley Sutton:
But again, you do not have to, you couldn't even if you wanted to put the entire phrase in your listing. So how can you make sure you are searchable for 200, 300, 400 keywords when you can't put the complete phrase? Let me show you how All you have to do is have all of the individual keywords that make up those phrases at least once, and you're listening to give you a good chance. So let's just say that I did some research in Cerebro, and I found these 200 different keyword phrases here that I just paste it into Frankenstein, and it actually tells me right off the bat that there's 482 words here. Now, I don't have room for 482 words, but if I'm looking at this list, I see coffin, I see coffin all over the place.
Bradley Sutton:
I see cool twice, I see shelf like five times. So I know there are not 482 individual keywords here. All I have to do to extract the individual keywords, which again, that's all I need to index for these, is I'm gonna hit here in Frankenstein, one word or phrase per line, and I'm gonna remove the single letters. Boom, goes the dynamite. Those 482 words now is only 154 individual words. And like I probably can fit 154 individual words at different parts of the listing. So this is a great way, guys, to be able to make sure that you can extract your individual keywords and then put this into Listing Builder or Scribbles. Hopefully you guys are only using listing builder now, not Scribble, since we're retiring that tool, but I'm going to put my phrases in full phrase form and these individual keywords, and now I should be technically indexable or searchable for all of my keywords that I did in keyword research.
Bradley Sutton:
Now one quick cool thing here. Like I said, coffin was here, I saw five times. If you wanna be able to see of all your keyword phrases that are your secondary keywords, which ones are showing up the most, which individual keywords are showing up the most. I'm just gonna hit this box, include word frequency count, and then take a look here. I'm gonna sort by frequency, and I can see that shelf was in 44 of these 150 phrases. Decor was in 37 of them, coffin was in 25. Now, what does that mean? That means that let's say I want to be indexed for all 150 of those phrases. As long as I have shelf in it, I have a chance at indexing for 44 of those phrases just by having shelf. Now, of course, I have to put in the other keywords that made it up, but this really shows me what are the most relevant keywords for my phrases here. Shelf decor, coffin wall and gothic are the most right there.
Bradley Sutton:
Now, what if you are in a niche that has forbidden keywords that you know now there's no list of forbidden keywords. You just kind of gotta know, like cuss words are forbidden, right? Drug related words. One of the listings that I manage is a hemp cream. Now, if you look at the top keywords for this hemp cream, tons of the keywords have the word CBD in it, CBD in the keyword phrases, CBD guys, is a forbidden keyword on Amazon. I can get my listings suspended if I have CBD now I know I want to index for it, so what do I do? Well, what I like to do is I like to make sure that I have the rest of the keyword in my listing.
Bradley Sutton:
So like, if I have all these CBD related keywords, I'm gonna keep the rest of that keyword in phrase form. But I'm just gonna take CBD out. So Cerebro doesn't know, just like we don't know necessarily all what's the drug related keywords, but we know, right? So I know that CBD I have to take out. So here's a list of keywords that I got from Cerebro, and you'll see a lot of them have CBD in it, right? So I'm here in Frankenstein, all I have to do is I hit here I'm gonna say here, maintain phrases. Maintain phrases, and I'm going to say replace the word CBD, and then I'm just gonna put a space right here. And then I hit process and now it took it out. All of those CBD keywords I need to do one word or phrase per line.
Bradley Sutton:
So take a look here. Infinite CBD oil became infinite oil. CBD roll on became roll on CBD recovery cream became rec recovery cream. So I don't have to go one by one to all of these phrases and take out CBD, and figure out which ones have CBD or which ones have hemp or whatever other you know, keyword I might think is forbidden. I just have to click two things right here in Frankenstein and it's going to remove that keyword from all of the phrases. And then I still have the remaining phrase that I could put into my listing. Alright, let's move on to how you can get feedback on your potential images, your title, your price point, your brand your bullet points even before you have a listing that's using Helium 10 Audience.
Bradley Sutton:
Now, this is not something that's free. I mean, every single customer that we are asking to give feedback for this, we're having to pay. So usually the costs of running one of these AB tests is about 50 to $70. But the advantage is you do not have to wait until you have a live listing and lose money on a test. You could do it before your listing goes live. So just go right into Helium 10 Audience, and then you're gonna create a poll. I like doing it from scratch, And I ask the question, I put in the options, and then I can even do audience targeting where I'm like what I want to see, or I want the ones to answer this question to be females from the age of 25 to 45, who are Amazon Prime members.
Bradley Sutton:
And like, here's an example of like, hey, which main image of a coffin shelf would make you most want to click it if you saw it in the search results? And this isn't just people randomly choosing, going, eeny, meeny, miny, moe. Not only do they have to pick the one that they like, but they actually have to write some details about what they like and don't like. So for example, for the one that a lot of these people picked, they wrote here, my first choice shows larger items within the shelves of this, and that gives me a great sense of what can exactly fit. here's another person who picked another one I liked A because it looked best because it had a medium level of brightness.
Bradley Sutton:
So I can see some detail, but it also has a more solid and dark style. Here's one person who liked option B. It says option B, make it seem, made it seem like it's less of a prop and more like a piece of furniture. So all of these things are stuff that you probably never even considered about your listing or your image or something, but these are actual potential target customers of yours who are going to give you feedback so that from day one of your listing, you can go ahead and have a good idea of which listing your customers are most likely to interact with. So again, before you have your listing, do like two or three or four options of your main image, maybe your secondary images, and throw up one or two of these tests in Helium 10 Audience to see what customers are gonna like the most.
Bradley Sutton:
So from day one, you are optimized for success. Let's go into our last tool today, and that's the tool that kind of brings all of this stuff together. all of my review research and my looking for my indexable keywords and doing my Cerebro research and Magnet research, I've got this list of 15 or 20 phrases and also maybe 100 or 200 individual words. And now I want to create a listing, or let's take a step back and let's just say you've already have a listing. You wanna start making sure that you have all of these keywords in your listing. You can actually import a listing that you didn't create inside of Helium 10. Let me show you how you go into Listing Builder, and then you hit Optimize Your Listing and hit get Started.
Bradley Sutton:
And then what you do is you find which SKU you have, and it is going to import your listing. Now, one thing that's important is that the way the Amazon API works is it'll import your title and your bullet points and your description, but it's not going to input your backend search terms. So what you have to do, just go to your listing and edit your listing in Seller Central and go to where it says search terms in some categories. Now, instead of search terms, it actually says generic keyword. It says generic keyword. So just copy that and then drop it right into the search terms. Now what you need to do is you need to put all of your keywords here, and that's what I did. You'll, you'll see here I have a lot of my individual keywords, Halloween bookshelf, candles, jewelry, vanity, but then my most important phrase is I actually threw into here too, coffin decor, goth, home decor, gothic furniture.
Bradley Sutton:
If you do it like this, and remember, you need to have Frankenstein in order to have this I put in my phrases, my top 15 phrases directly from Cerebro to here, but all of these individual keywords, the way I was able to get these keywords is because I ran Frankenstein on it. So once I do that, the cool thing is, is that Helium 10 is going to separate my phrases with my individual keywords. And if I already had a listing, now I could see once I import the listing, hey, what is missing? Right? Like, for example, right here, it looks like I have all of my phrases all done. Every single one of my phrases is somewhere here in my listing. And the way you know that is because it has a line through it, and then it has the number next to how many times you put it in your listing.
Bradley Sutton:
Like, look at this, my most important keyword is coffin shelf, and I actually have coffin shelf six times in my listing. If I hit coffin shelf here, it'll highlight where all I have coffin shelf. But look at this over here on the left hand side, look at all these individual keywords that I do not have in my listing. So probably I won't be indexed for it. You see, it doesn't have a line through it. Halloween, Kawaii, that's a Japanese for cute, decorating, deceased bathroom. Like all these are keywords that I must have found in my keyword research, but my listing doesn't have it. So then what I need to do is I need to go ahead and start adding it to different parts of the listing until I can make sure that all of these individual keywords that I had targeted have a line through it, meaning that I've used it at least once, right?
Bradley Sutton:
Remember, you're not gonna get index for keywords if you don't have in your listing unless you have some action with your auto and broad PPC campaigns. But that's a different story there. We talked a little about that earlier. Now, another cool thing about Listing Builder, my favorite part of Listing Builder is Amazon took away in the back end of listings. Now the subject matter, right? So here's generic keywords, and back in the day, there would be something called subject matter right here. And subject matter was a very powerful indexing. But now, as you can see on this listing, at least in this category, there's no more subject matter. But here in Listing Builder, you can add subject matter up to five lines, and we are going to be able to overwrite your subject matter, even though you know there is zero subject matter here in your listing, this will override it.
Bradley Sutton:
You, you won't be able to see it in the edit listing, but trust me, it works. We have a way to actually make sure that this is uploading. And the last I checked January, 2023, it is still working. So at make sure to go into Listing Builder, add subject matter. This is like put your filler words that weren't able to fit in the rest of your listing or some of your most important keywords. And then the way that you overwrite your listing is once you're finished with writing your listing, you're gonna hit the sync to Amazon button. The sync to Amazon button is going to actually overwrite your listing. You know, these fields that you went and entered. So this is like probably one of the coolest aspects of Listing Builder because for those of us who'd be using subject matter, and by the way, this is only in the United States Europe doesn't have subject matter unfortunately, but this is just a great way to take advantage of that important real estate in the back end of your listing.
Bradley Sutton:
One just last thing. This has nothing to do with Helium 10 but if you are ever going to make a new listing, this is what I suggest that you do have one of your employees or virtual assistant type in a couple of your main keywords in Amazon. Like for example, so like here I went to collagen peptides, okay? And this is the search results page, one of collagen peptides on the left hand side, underneath like the price filters, you're gonna start seeing different other filters. And these ones are ones that you absolutely have to fill in. Nutritional supplement item form is this a capsule cream gel gummy, right? Let's say I was doing gummy bears and I did not select, and I did not enter gummy in my nutritional supplement item form in the back end of my listing.
Bradley Sutton:
That means if somebody was searching for collagen peptides and they went here and they hit this filter for gummy, even though my listing is a gummy, my listing would disappear from the search results. Here are some more things here. Nutritional supplement benefit nutritional supplement container type, right? Packaging options. There's all these things that maybe like if you're just trying to hurry and make your listing, you might not even fill out, but that means that if anybody actually filters this out, you are going to lose that customer because your item will disappear from the search results if you don't have those fields filled out. So that has nothing to do with helium 10 there, but it's just a great tip for those of you who wanna make sure to maximize your visibility even when those picky customers are using filters. Alright, guys, I hope you enjoyed this episode.
Bradley Sutton:
There's so much more that has to do with listing optimization. This was just a few of the things that Helium 10 can help with. I want you to, guys right now to go back, if you haven't ran some of these things that I, I showed you today, you've got some existing listings, go in and see if you can look at the reviews of your competitors, like I showed you with Review Insights. You know, maybe check with Frankenstein or check with Index Checker I should say, on which of your keywords you are indexed for to make sure you're searchable or not. And then find out which individual keywords are resulting in you not being searchable for keywords. You know, use Listing Builder to fill in your subject matter on your listings to get that extra rank juice for the Amazon algorithm, and then of course, use Helium 10 Audience. Probably the number one thing that's a easy win for you guys is use Helium 10 audience to pull actual Amazon customers about things like your price point and your main image and things like that. So we've got a lot of solutions in here for listing optimization. I hope this episode has helped you. I'll see you guys next month on the next Seller Strategy Masterclass. Until then, we'll see you in the next episode.
---
Enjoy this episode? Be sure to check out our previous episodes for even more content to propel you to Amazon FBA Seller success! And don't forget to "Like" our Facebook page and subscribe to the podcast on iTunes, Spotify, or wherever you listen to our podcast.
Get snippets from all episodes by following us on Instagram at @SeriousSellersPodcast
Want to absolutely start crushing it on Amazon? Here are few carefully curated resources to get you started:
Achieve More Results in Less Time
Accelerate the Growth of Your Business, Brand or Agency
Maximize your results and drive success faster with Helium 10's full suite of Amazon and Walmart solutions.