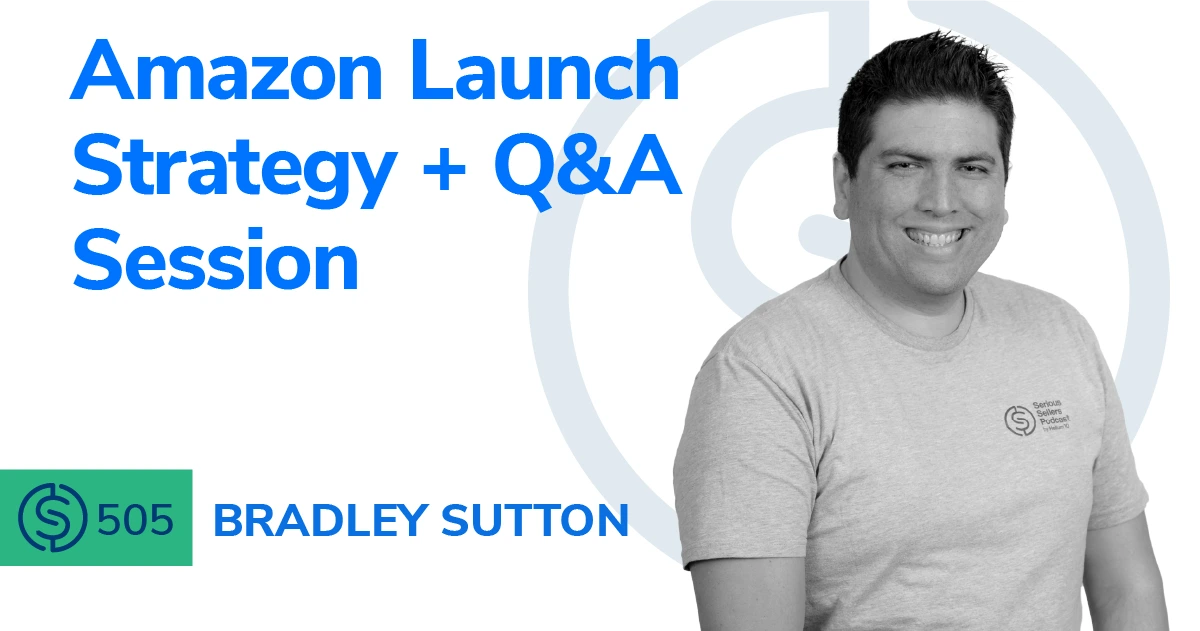 #505 – Amazon Launch Strategy + Q&A Session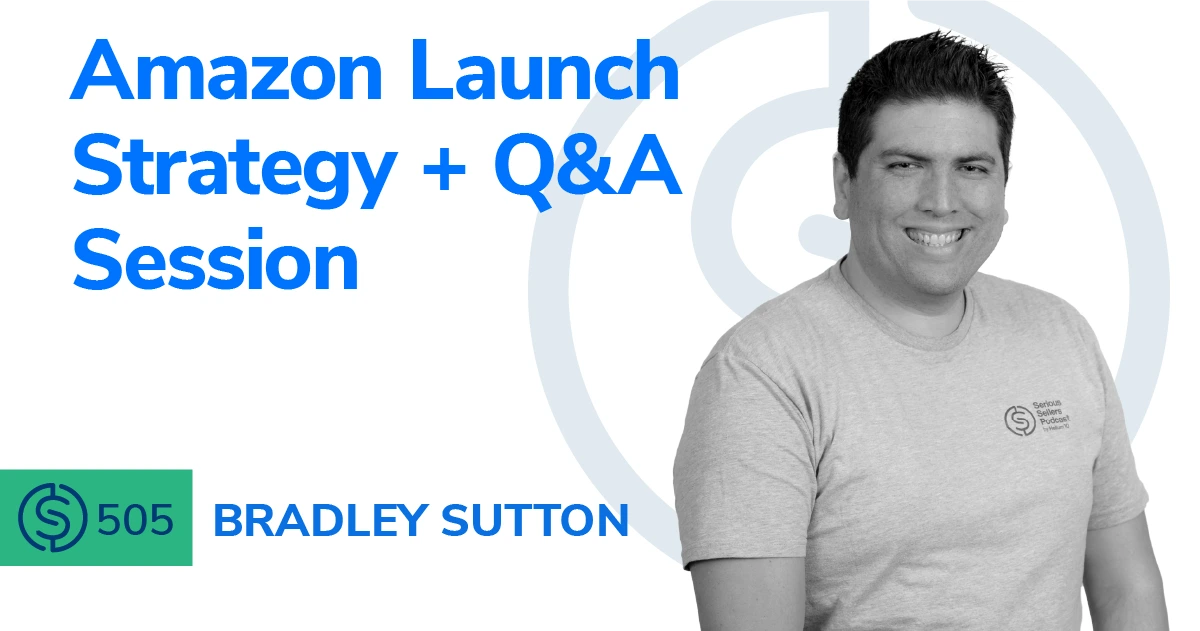 Video of the episode at the bottom
Unlock the secret to a successful Amazon launch strategy in our latest episode, where we discuss the fundamental aspects of the Maldives Honeymoon launch and Bali Blast pre-launch strategies, including keyword research, test listings, PPC campaign setup, and much more. We promise to equip you with an arsenal of tips, tricks, and strategies to help your product launch be successful. We'll kick off with the importance of sending relevant signals to Amazon, particularly when exploring a new niche – a component many entrepreneurs often overlook.

Shifting gears, we'll discuss how the Amazon Recommended Rank can be your secret weapon in product visibility. We'll walk you through optimizing your test listings, and share real examples of how to enhance your titles and send targeted traffic to specific keywords. We're also sharing how this strategy works in the Amazon Germany marketplace and all other Amazon marketplaces in the world, providing you with a comprehensive understanding of different markets and how the strategy adapts accordingly.

Lastly, we'll dive deep into the world of Amazon PPC campaigns, bid modifiers, keyword tracking, and the power of product bundling. And if you're confused by Amazon fees or finding a reliable 3PL – we've got you covered. We'll explore fee structures, pricing strategies, and 3PL selection to ensure you're set up for success. Plus, we'll answer all your burning questions in our monthly Q&A session. So buckle up for a jam-packed episode filled with actionable insights, personal anecdotes, and real-world examples designed to elevate your Amazon selling journey!
In episode 505 of the Serious Sellers Podcast, Bradley talks about:
03:32 – Amazon Launch Strategy
08:04 – Understanding Amazon Recommended Keywords
11:29 – Maximizing Amazon Impressions
13:03 – Utilizing Test Listings for Product Launches
16:37 – Launching and Ranking Products in Amazon Germany
25:59 – Surviving and Thriving Amidst Price Wars
28:31 – Launching a Product and 3PL Recommendations
31:25 – Launching Product at the Right Time
34:19 – How To Get Monthly Q&A for Serious Sellers Club Members
Transcript
Bradley Sutton:
Today we've got a recap strategy session on Amazon launches and we answer all of your questions live, such as how to do keyword research on combo product listings, how to set up PPC campaigns and more. How cool is that? Pretty cool, I think. Are you looking to learn how to sell on Amazon? The freedom to get course, made by Kevin King, is one of the most popular courses ever created for Amazon sellers. It's got over 90 modules and 40 hours of detailed, step-by-step training to help get you started on your entrepreneurial journey. Now this course costs $997, but Helium 10 actually covers that cost of the course for any Helium 10 member. Find out why tens of thousands of students love this program by going to h10.me forward slash freedom ticket. Don't forget that if you do sign up for a Helium 10 account, don't pay full price. Use our podcast discount code SSP10 to save 10% off for life.
Bradley Sutton:
Hello everybody and welcome to another episode of the Serious Sellers Podcast by Helium 10. I'm your host, Bradley Sutton, and this is a show that is our monthly ask me anything and presentation. So once a month we open this up to all of our Facebook groups and our YouTube channel etc. To open up to any questions that you guys might have for me about Helium 10 and a lot of the functions, but we always start out with like a mini training session as well. Now we actually have this every week in our Serious Sellers Club. So for our serious sellers club, which are automatically enrolled in, if you've been selling on Amazon for over a year and do at least $500,000 a year of revenue, you're in our serious sellers club. This is something we give to them, as well as our Helium 10 elite members, every week, but once a month we open it up to everybody. So that's what we're doing today. We want to make sure that you guys just get a little taste of what happens behind the scenes here. But anyways, what we're going to be I want to present on while you guys are getting your questions ready and putting them in the chat.
Bradley Sutton:
Is Amazon Launch Strategy, all right. So we just had episode 500 come out where we talk about a recap of the Maldives Honeymoon Launch Strategy, which that goes way, way more into detail on that. So you should definitely go to that episode 500 for a recap. And then another one that I want you guys to look at is what we call the Bolly Blast Strategy. That's like your prelaunch strategy. We just make up funny names for for stuff because it's easier to remember. But go back to episode 466 and 467. All right, episodes 466 and 467. You can go to h10.me forward slash 466 or h10.me forward slash 467 to go to those like prelaunch strategies about how to do your keyword research and how to set yourself up for success. But let's just focus for next. You know, five minutes or so on the, just the actual launch strategy, and I'm going to be doing this this week. I'm relaunching something and launching something. I'm always doing tests, as you guys know, and I'm going to be losing this exact strategy this week for this new launch. But basically, if you've done all the right keyword research, you know part of that Bolly Blast Strategy that I was talking about. Basically, what you want to do is is set your listing up to make sure that you have the most relevancy signals sent to Amazon.
Bradley Sutton:
Now, this is something new that we hadn't talked about in previous episodes of the Maldives Honeymoon Launch Strategy. Right, we just said, hey, start your. You know, do the right research, start your listing, get ready to get ready to go and you know you're off to the races. But what I've noticed in the last year is a little bit of a I guess you could say algorithmic, you know, shift a little bit, where the effects of not being relevant from day one to Amazon is kind of like far reaching, like it's going to mean that you can't get, you can't get impressions in your PPC. Obviously you're not going to start ranking for certain keywords. And so one of the new things that I have been suggesting when you're launching, especially in niches that are not that competitive and that there's not that much, you know, established sellers, this is probably not the same thing as launching for collagen peptides or garlic press or something like. Or you know, neck pillow or something like that. Like, I would think that if you have optimized your listing the right way, probably Amazon knows what you are from day zero or from day one, right, but even in that situation it's not 100%. But especially if you're in a newer niche where there's not that much data out there, any little thing could mean that Amazon is coming completely confused about your product. And this is how I discovered that.
Bradley Sutton:
So I did some testing, test launches on this coffin bath tray, like a think of like a regular bath tray where you're just chilling your bathtub. You got a tray that goes over your your bathtub and you put your candles on there and your books or whatever. So I had some, some test products that I was launching and from day one, like I could not get, it didn't rank me right away for coffin bath tray and I wasn't even getting that many impressions in PPC, if any. So some some zero at all on some keywords that were highly relevant to coffin bath tray, which is what the product was, and it's not like oh, I didn't make my listing in the correct way or anything like. No, I had this in my title, I had that keyword in other places in my listing. I did the list. Trust me, guys, I did the listing the right way. By the way, I'm sure this has happened to you guys. How many of you guys have launched a product in the last year or two where you're one of your, some of your main keywords? You couldn't get impressions in PPC or it was like impossible to rank in the beginning. Has that ever happened to you? I'm sure it has. But basically now there's a way to predict that.
Bradley Sutton:
So you look at Amazon recommended rank this is in helium 10. All right, this is in helium 10, uh cerebro. That is actually a live feed from Amazon. Now there's no, there's no metric in Amazon called Amazon recommended. We made that name up, but where that data comes from is directly from Amazon. It's in real time, all right. It's not some estimation or some aggregate uh information. It is actually uh directly from Amazon in real time, and what it's referring to is is which keywords Amazon thinks is most relevant to your listing. Now, in the past, this one data point that we've been getting for years, it was only for in the context of Amazon PPC. All right, it's the keywords that Amazon suggests that you uh advertise for the most in PPC, but now it's kind of more.
Bradley Sutton:
For over the last year I've been noticing these, this trend, where it's a great indication of just in general, what Amazon thinks your product is. All right, you know what. I wasn't planning to do this, but but let's go ahead and and maybe just do a live demonstration Throw me a random product in the chat that that's got some, um, that's got some decent reviews. It's been on Amazon for a while, like maybe it's got a thousand reviews or more, where the keyword should be kind of obvious what Amazon thinks uh for. All right, here we go. I see somebody threw in something.
Bradley Sutton:
Aubrey says recipe box. All right, let me look that up. Recipe box or book box? I guess it's a box. I never heard of this uh product before. I think I think I, um, I misspelled it, but that's fine, all right, let me. Let me just show you guys what we're looking at here. All right, here we go. So this is a recipe box. All right, let's pick one that has a lot of reviews. Uh, heart and berry recipe box. It's kind of weird, though it hasn't had that many sales at least. Oh, there are 200 sales for this one. Um, 300 sales for this one. Let's maybe use this one right here. All right, sensory for you recipe box. That's pretty hilarious. Let's just take a look at this box really quick. Okay, I see what this is. All right, now I'm going to put this into helium 10's cerebro. Let's go ahead and go into cerebro here. All right, here we go. All right.
Bradley Sutton:
So now, as you guys know, the the regular helium 10, you know, we've got all of our organic keywords and and sponsored and and and all that information. But what I'm going to do is I'm going to sort by Amazon recommended rank. That's one of these columns right here. Okay, you guys see that right here. All right, amazon recommended rank by me sorting it right when it goes one, two, three, four, five, six, seven. What this means is this is the the top keywords that Amazon thinks you should advertise for. But take a look at these top keywords, guys. Look at this 10 recipe box. Recipe box. Recipe keeper box. Recipe box cute. Is Amazon confused about this product? No, absolutely not. It knows exactly what this is. All right. Now I don't know if this is going to work. I'm just going to go and pick an older, an older listing here.
Bradley Sutton:
Let's go to like to page something that's not doing very good for recipe box. Let's go to like to page three. Maybe there's a brand new product here. Let's see, is there? Is there still a box that allows me to choose the top new products? There used to be a filter here that says like brand new products. Maybe it's not here anymore. Oh, here are new arrivals last 30 days. Let's take a look at this. All right, so this is last 30 days. Okay, perfect. Now I'm going to go to like something that's like way at the end here, like that's not ranked on page one, something that was brand new. All right, here we go. This is not a recipe box, but this is a tea leaf storage container. All right, let's take a look at this. I'm going to take this asin right here, copy this. Actually, I'm just going to run it directly in Cerebro. I'm going to hit this button and go run in Cerebro. So this is not a recipe box, obviously, but it's a. It's a newer product and if I'm looking at this, this product, it looks like a rectangular tea. Oh, tea leaf storage in here. That's probably what this product is. All right, but I'm just curious what is Amazon going to think that this is? Let's take a look right now. All right, let's go to Amazon Recommended and again, I obviously did not choose any of this. I have never looked at tea leaf boxes in my life here. But let's go ahead and do the same thing where we sort by Amazon Recommended rank and look at this. All right, this is not too bad.
Bradley Sutton:
Now, the number one keyword this has made a little bit worried. It says coffee tea, and the number two keyword says storage container. But there it is right. There. Tea box is number four tea storage, but a lot of okay. So this kind of is a good. This kind of is a good example here guys, look at. Do you remember how on the recipe box, how in the recipe box all of these keywords had recipe box, the top recommended rank, like there's no doubt what Amazon thinks is this product. But notice this newer product. It's got some random stuff here. Like it does have the good keywords here. But then look at this. It says can storage is the number three keyword, coffee container it's not necessarily a coffee container. Seal container T10, okay, well, t10 might be a good one. Empty tins all right. So this is interesting here because, as you can see this newer product, can you see how Amazon is a little bit confused, maybe about what it is? All right. So that's why, right here, how this can be powerful.
Bradley Sutton:
What I suggest doing when you are how does this tie into launch? All right, what I suggest doing is do a test listing, all right, because if Amazon is confused about your product, guess what's gonna happen as soon as you launch it day one. You're not gonna get top impressions right away for a keyword that Amazon doesn't think is your product, right? Sometimes it takes a little tweaking, like should you maybe tweak a little bit of your listing optimization to make it more relevant. Yeah, you gotta tweak that to get this Amazon recommended number fairly high and to see if you can get these impressions. So when you do a test listing, this is the reason why Number one is for Amazon recommended. Number two is to make sure that from day one you're gonna start getting impressions. Now, if your Amazon recommended is non-existent for an important keyword, it's probably it's gonna be difficult usually to get those PPC impressions.
Bradley Sutton:
So now the question comes in well, what can you do to influence the Amazon recommended rank? Well, sometimes it is about listing optimization. Usually, if you don't have any of your title, you having your title, well then Amazon will figure out what it is. Sometimes it's sending traffic to a certain keyword search. We talk about that a little bit in episode 500, about the kind of things you can do to make sure that Amazon gets that relevancy signal. But the point of this discussion is about making that test listing. Is, if you just launch your product and you're having to figure things, these things out, like all right, how do I send this relevancy signal? Do I need to change a part of my listing somewhere to make sure Amazon knows where my product is. And let me do this test wait an hour for it to update. All right, let me see. Does this have an effect on my PPC? What's happening during this time? Time is being wasted right In, like your honeymoon period and initial velocity.
Bradley Sutton:
You want to kind of like start off your product with a bang from day one, where you're potentially getting clicks and sales and ads of carts and different things from organic customers out there. Well, if you're having to spend all your time trying to fix things, you're accumulating days of bad like interactions with your listing right and then so it's gonna be that much harder to write the ship. So that's why in episode 500, I was recommending people to make this test listing do all these like test and figure this stuff out beforehand like on a quote unquote fake listing. Now, when I say fake listing, you still have to have a real UPC. So you have to pay 10, 20 bucks for a UPC. You're wasting, but for me it's invaluable.
Bradley Sutton:
Testing, get everything right so that you know what you need to do to your listing to get your Amazon recommended. Rank up what you need to do to your listing to get those PPC impressions, and then now on your real listing from day one day zero. Now you're starting off on the right foot, and sometimes it's not just about optimizing your listing. It might be that you have to send some traffic to a certain keyword. Well, at least, instead of trying to figure out what that traffic is, you already figured it out on your test listing and now you can just go ahead and start off doing that from as soon as you make your listing live. So again, that's just like a summary of the. You know the recent differences in the Maldives Honeymoon strategy. Again, go back to h10.me forward slash 500 to get you know all the details, and then I show some of my, or I talk about some of my tests. I did that that brought me to this conclusion, but I hope that is going to that episode, plus the 466 and 467 about how to set up your listing, should help you have a good launch. You know whether you're launching here in Q4 or going to launch in Q1, these strategies definitely should help you.
Bradley Sutton:
So now what I want to do is open it up to questions. Okay, js says how do you run a test listing before you order inventory? No, no, this is not before you order inventory. This is you've already got your inventory ready to go and it's probably in Amazon almost, or on the way to Amazon. At least it could be at any time during this time. It could be before you order inventory, but to me I wouldn't do it. That that's way too far in advance. I would do this test listing like one week before you're ready to actually launch, and the reason is is you want the freshest information. You know you want to do something three months beforehand and then basically it's out of date by the time you're launching three months later, right? So this strategy is to have all inventory handy and start with a dummy listing. Yes, that's what I do. That's what I'm literally doing, literally today. I'm doing that on one launch. I'm relaunching some holiday related products that are going to be good in December, and so I'm doing a test listing to just like check what's going on right now. But, like, the product is already on the way to Amazon from my warehouse in California, so it's going to be there in like four or five days. So, yeah, that's what's going on there. Good question Farhand says if we launch in Germany, then what strategy is the same strategy?
Bradley Sutton:
All right, so everything that I just showed you guys right now. You can also do for Amazon, germany, as far as looking at the Amazon recommended, and Cerebro, as far as you know, sending the traffic you know to your listing. Everything I mentioned today absolutely is applicable to the German market. Here we've got somebody who said how to rank a product which is a combo of two different products. Okay, great question. So there's different ways to do it. All right, and I've done it both ways. I've done a product where I have the exact same product and I make two separate Asins for it because the keywords that can go for it are different, and I was just like you know what I want to kind of like tailor, make my listing and the image and the copy for people searching for this thing, but the product could be used for something completely different and so I made a completely separate listing for that. So that's one way to do it, not very recommended unless you're in a very niche thing, like I am, if you've got like two products, like I don't know, like I'm looking here at my desk, like like headphones and a microphone right Now.
Bradley Sutton:
Number one you want to make sure that you are relevant for the customer who is most likely to buy that product and who is the customer that's most likely to buy a headphone and microphone combo? It is somebody searching for headphone and microphone. So you've got to find the keywords most related to somebody looking for that combo, right, which is different for every product. Obviously it could be for this one, it could be podcast, podcast beginners kit or something Headphone and microphone combo, right. Those are words specifically for somebody buying a microphone. But then what I think you're asking is sometimes maybe somebody's searching for headphones but they're like oh, there's headphones and microphone together. I might go ahead and buy that. Well, yeah, now you've got to optimize and be ready for those headphone only related keywords and the microphone only related keywords. So it's kind of like you are doing three different keyword research. You're doing the research on other products and other keywords that have already the same combo that you have. You're doing research on the ones that have just one of the products and a research on ones that have the other one of the products, and then what you're going to want to launch on for me is going to be still the keywords. That is most likely to get you a sale and that's going to be on the combo products, right. So, or the combo keywords. So that would be my suggestion to you there.
Bradley Sutton:
Great question from Dan says is there a Helium 10 workflow chart checklist to help launch a new product on Amazon? It's pretty much that, that, those podcast episodes I mentioned. Now we're going to make that into like a PDF form soon. A lot of customers have been asking for that. But if you want to like it to go through a checklist to make sure you've done, you've done everything you can on the keyword research, you've done everything you have on the listing optimization, again, go to episode 466, then 467 and then 500. And those three episodes is kind of like my virtual checklist of everything you need to do, from the keyword research to listing optimization, pre-launch and then launch.
Bradley Sutton:
Now that the CLA says Bradley, what do you suggest? Create a campaign with each ad with all three match types, or create one campaign with one ad group containing all three match types? I'm not 100% sure I'm understanding, but if I understand what you're saying, basically what I would do is or what I would do what I do do is I make separate campaigns, each with one ad group, and it's a different match type. So I always start with one exact match campaign. Okay, I have another campaign that is a broad match. Usually. I have another campaign that's auto, and then I'll have two different product targeting campaigns. One is an asin targeting campaign and then one which, and then one that is a sponsor display campaign. But yeah, if you're talking, if that's what you meant by the match types you know, like broad, exact and auto, yes, I always keep those in separate campaigns, personally, in atomic Of course I'm talking about.
Bradley Sutton:
Kassar says new launch in Canada market. Give me some tips about how to rank in Canada. 100% the same. So everything Kassar, that I said today about launch, I obviously was talking about the US market, but that would be the. That would be also the Canadian market, german market, whatever you're launching, and you would use those same strategies. Everything works. Or back to Dota says I have gold cross necklace as phrase, match and gold cross necklace as exact in the same ad group. At which point should a performing keyword be moved as an exact keyword? Yeah, so, so again, for me, I wouldn't have that when I set up my campaigns. And helium 10, atomic, I keep the, the, the match types separate, all right. So what, what I'm going to have is I'm going to have a. Let's just say I don't have gold cross necklace as an exact match, but I have gold cross. Gold cross, all right, or no? No, no, let me say gold necklace as a phrase match, right? Okay, I set up atomic rules to say if I get two orders at a certain a cost or below, to go ahead and suggest to get that and make it an exact match in my Exact campaign. So then, if gold cross necklace, which is a phrase match from gold necklace, if gold cross necklace gave me two orders at 25% a cost or whatever you know I had chosen for that, it's gonna actually suggest to me to hit a button and it's gonna move it to my exact match campaign which again, is separate from my phrase match campaign.
Bradley Sutton:
Very important, in my opinion, to keep things separately for this reason, so that you could kind of like segregate what's going on as far as the a different, as far as your different campaigns and match types go. Constance says, when creating a new manual exact single word campaign, would you suggest to go above the suggested bid and do placement strategy a hundred percent for product pages and top of search to collect data or burn money? Yeah, somebody asked me this before. I'm old school, alright. So me personally, I don't use the placement strategy. That does not mean that it's bad or that you shouldn't do it, it's just because I have a system that's been working for me for years where I just changed my actual bid instead of doing the placement. You know, you know the bid modifiers and it works for me. Now, if you want to play with the, you know the top of search and stuff like that, there is nothing wrong with that. I know plenty of a very successful Amazon sellers who use that. But me personally, I keep everything in atomic, just strictly about the, the bid, and I'm looking at my keyword ranks right In atomic you can actually see, if you're tracking that keyword and keyword tracker, where you are ranking and sponsored. So that's why it's easy for me to like just modify my bid, because if I have boost on and keyword tracker, I know exactly where my sponsor that is showing up, if it's showing up in in 10th or 15th or 1st or 2nd, and so I know that. Alright, let me raise my bid up. Alright, then I'll get a little bit higher rank theoretically, alright. So that's that question.
Bradley Sutton:
Dauda says Bradley, how can we get a one-on-one call with you? So this is for helium 10 elite member. So I do one-on-one calls Once a month with any helium 10 member who wants it, and there's also group calls we have. So if you're part of helium 10 elite program, yes, you can have one-on-one calls with myself and also carry. Alright, daniel says my product is a two-piece set One main product and one complimentary product. I made sure that both are purchased together and I'm using 80% keywords for the main product and 20% for the complimentary. So wait, daniel, is your ace in just one ace in, or are you having people or do you have some kind of deal where it's like buy one and then Get this one for X percent off or something? If both of you, if this is just one ace in, daniel, what you want to do is Exactly what I said about 10 minutes ago. I don't know if you caught that, just rewind on this, but you want to make sure that that you're focusing on the Combo keywords, where people might be searching for both together, and then, yeah, going For the individual keywords as well, because sometimes this is differentiation. Maybe you, maybe there are no combo keywords out there and you just put this bundle together because you know that people will probably buy it, even if they search for just one, then yeah, then all you have to worry about is the individual Keywords. I'm not sure about 80% keywords for the main product and 20% for the complimentary. It depends on what you think has the most search volume for somebody who would buy that product, because maybe the people who buy the complimentary product are more likely to buy the combo and in that sense, you shouldn't just be Giving it 20% of the keyword keyword juice. Right there.
Bradley Sutton:
Kassar says when a good selling product, people start the price war, how to survive to maintain your organic rank in the product. Yeah, well, first of all, sometimes you just can't. Let me just say that right now. I know that's bad news for some of you. Sometimes it just gets so crazy that you just can't make money. You're just gonna have to cut that product after you sell out, all right. That being said, you know, like the coffin shelf right now for Project X, we've got tons and tons of competition and they're just doing some ridiculous pricing. You know, like we're, there's no way they're making money on it due to I know what shipping costs, right? So what I decided to do? I'm doing the opposite. I'm going up in price. I'm raising the price by like three or four or five dollars and I added about three or four or five dollars of cost To my product because I'm expanding out, like I'm doing some like really cool box that I'm going to use and I'm adding some trinkets to the coffin shelf to, and so my theory is that, hey, I'm gonna catch the customers who are looking for a more premium style of product and if this doesn't work, you know what? There might come to be a day where I have to stop selling the coffin shelf, and right now I can still sell it for a higher price. But if sales ever go down to zero, I am not gonna get in a price war. You know where. I'm not gonna put the coffin shelf for 19 dollars when I used to sell it for 32 dollars. No, so sometimes you just can't Compete. At that you you'll have to cut the courts. But Enhance your product with different, with different things, and go for that more premium look, and you know you could have some some action there.
Bradley Sutton:
Mario says Quick question Should I negate an important keyword for my product after having spent 25 dollars on it and zero sales, when the product itself is 40 dollars? This is a good question. Now, if you, if it's one of the main keywords like this is what people would search, before just blindly negating it, you've got to figure out why people are not converting. All right, so I would look in search query performance for that keyword and look at the Competitors who are getting high clicks. You don't know who's getting high purchases, so you know you could do that. You could look in brand analytics and see who is the top three Clicked and then is there one of them who is getting a lot of sales. And then I'll just take a look at that listing and ask yourself why is somebody clicking on my competitors listing after searching for the same keyword and they're buying my competitor product but not mine. So you've got to ask yourself what is the reason why they're not.
Bradley Sutton:
Now, if it's a keyword that you just think is relevant to your product, are you were hoping is relevant to your product? Well, in that case you might have been wrong. So, where that cutoff is for you $25, you know if that, if you got, for me it's almost more important the number of clicks. Now, of course it's important how much you spend, but if I only got 10 clicks and that was what cost $25. That might not be enough data to say, hey, I need to negate it. So it should be like 2025 clicks, 30 clicks even, or yeah, if you get 30 clicks and you don't get a sale, you're probably not gonna get a sale. And again, all of this can be done right there in atomic, so you don't have to. You know, look at this manual. Amazon is regularly increasing different types of fees and squeezing the profits. Please guide on pricing strategy while remaining in Competition. So so, yeah, this is why you have to have your helium 10 profits Active and connected to your account and be monitoring that, because you've got to really keep an eye on the PPC cost. You know the other fees no, amazon is not charging that much. You know Amazon increases fees, but it's it's pennies that that Amazon increases.
Bradley Sutton:
If that affects you, you've got bigger problems. All right. If Amazon increasing the fulfillment on something from 73 cents to 81 cents and that kills your bottom line, you've got some other problems. That's different than just Amazon, all right. The one that really affected some people, which I can empathize with, is Amazon doing away with the small and light program that really affected me. That wasn't just a matter of pennies. You know that's like a dollar worth of profit off of our bottom lines a lot of us, you know, if we didn't do anything. So it's very important to make sure that that is. That is a setup. All right, we got one more. Ali is in the green room. We'll bring up Ali to the stage. Ali, how's it going? Hey Brad, how are you Pretty good on yourself? Excellent, yep, go ahead.
Ali:
So I'm just launching my new product. I just wanted to know that, is it better to launch in the fourth quarter or should I wait till January and then launch it? Because you know, right now the competition is really high and the sales are high, but my budget is not that much. Initially I have the budget, but I'm trying not to spend too much so that I can, you know, learn the game first and then go big.
Bradley Sutton:
Yeah, it depends. It depends on on on the market. You know like if you've got a product that is still gonna, you know like if you're selling a Christmas tree ornament, well you better launch it now because you know you're not gonna do very well in January. But if it's something that is too expensive to launch now, because the traffic is so high that the amount of sales it's gonna take to get to you to page one is is going to be too much, that's a personal decision. You know you might have to wait.
Ali:
Yeah, page one, you know there's not a lot of reviews on. The maximum number of reviews are like 100 or 150 or something, but the search volume is a lot and it says not a seasonal product. So I think it would do well in any season. That is the thing.
Bradley Sutton:
Yes, so those. That's the thing. You have to wait because the other thing is, like you said, maybe the search volume is very high right now, meaning it'll be very expensive to launch, but if this is the window where People have 50 and 75 and 100 reviews, but if you wait until February, everybody now all of a sudden has 400 views, yeah well, it's still gonna be expensive now because it's gonna. It's gonna cost you more to get you know, to get the velocity. So so there's, there's almost no right or wrong answer per se.
Ali:
Yeah, I mean personally.
Bradley Sutton:
I have never, ever, waited until Q1 to launch something. If I have something, I have the product in here and it's October, November, I'll go ahead, and I'll go ahead and launch it.
Ali:
Okay, so can I ask one more question? Okay, I decided to go through the PA 3PL route. You know I'm not I'm not delivering the product directly to Amazon. So I was looking into it and I really can't find some reliable website or somewhere to find 3PL. So do you have any ideas about that? Although that's a very immature question, but I did just try out hubhealyum10.com.
Bradley Sutton:
So there are some 3PLs there, hub.helium10.com and the Helium 10 users have like reviewed some of them, so I would take a look at the ones, look at the reviews and then go from there.
Ali:
Okay yeah, okay.
Bradley Sutton:
Okay, all right. Dan says this listing builder have all the features of screw, but you shouldn't be using. No, nobody, guys should be using scribbles anymore. I don't even know why we have that tool still active, like, like listing builder 100% took it over and it's way better than scribbles, all right. So, yeah, you should only use a listing builder. And if you have trouble syncing the listing Check with support, you know, make sure that you the the SKU that you're editing. All right, make sure that it is the original contribution skew. All right, make sure it's the original contribution skew, otherwise it's not gonna sink. But yeah, when, whenever I have trouble getting a listing updated, usually actually in listing builder, it actually updates better than if I try and do it myself.
Bradley Sutton:
A real estate Emporium says if our product is selling good, you recommend adding new variations or more products in the same niche. No right or wrong answer here. It's different for everything you got to choose. I've done both ways Before. Where I've added new variations, like a new colors, because I see the demand Sometimes, I'll just, instead of that, I'll launch a new product like, instead of a regular egg tree, a stackable egg shelf. So you can go both ways. That's a beauty about Amazon. All right, guys, that's all the time we have today. I was glad I was able to get to a lot of questions. Sometimes it takes you guys just a little bit to get Loosened up to be able to ask questions. So thank you guys, very much for joining us again. This is something we do every single week for our Serious Sellers Club and Helium 10 Elite members, but once a month we open it up and we repurpose this as a podcast episode. So thank you guys for joining us and we'll see you again next month when we open up this. Ask me anything. Thanks a lot, guys. Have a good rest of your day.
---
Enjoy this episode? Be sure to check out our previous episodes for even more content to propel you to Amazon FBA Seller success! And don't forget to "Like" our Facebook page and subscribe to the podcast on iTunes, Spotify, or wherever you listen to our podcast.
Get snippets from all episodes by following us on Instagram at @SeriousSellersPodcast
Want to absolutely start crushing it on Amazon? Here are few carefully curated resources to get you started:
Achieve More Results in Less Time
Accelerate the Growth of Your Business, Brand or Agency
Maximize your results and drive success faster with Helium 10's full suite of Amazon and Walmart solutions.