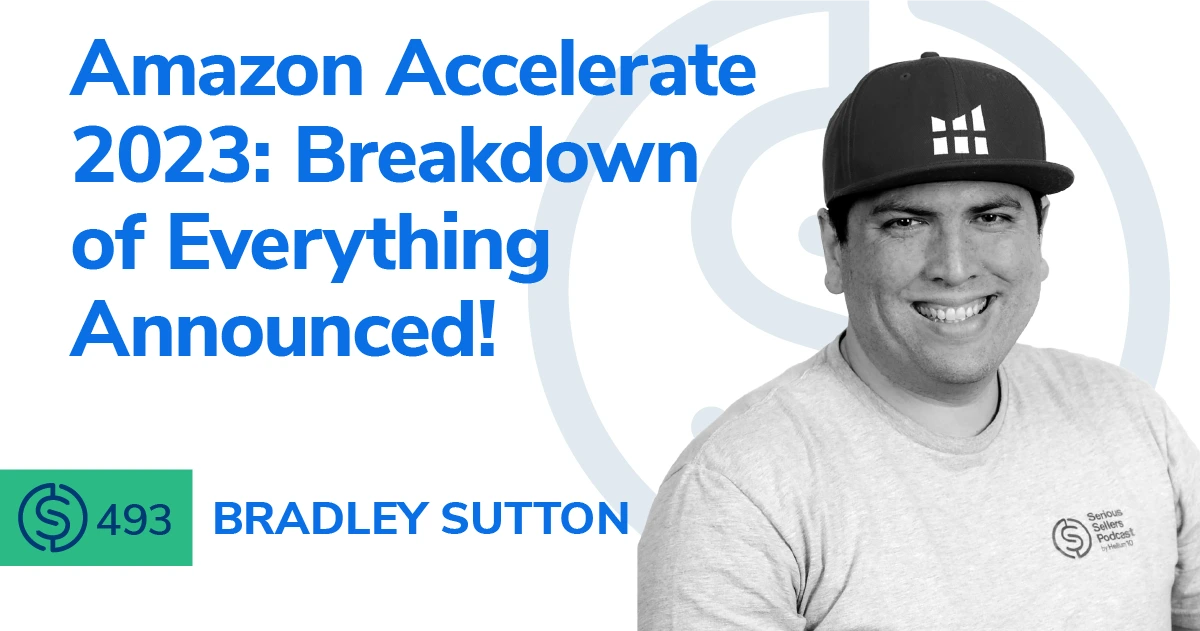 #493 – Amazon Accelerate 2023: Breakdown of Everything Announced!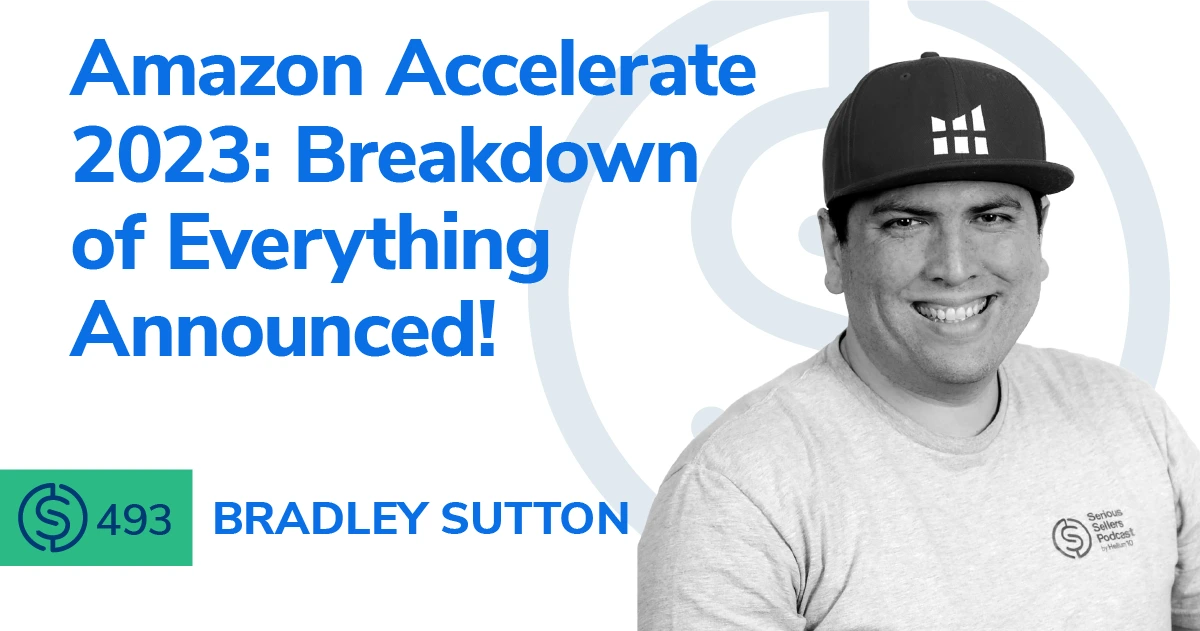 Video of the episode at the bottom
In this episode, we've got all the inside scoop on Amazon Accelerate 2023 that you might have missed! Our host, Bradley Sutton, dives deep into the exciting announcements and their implications for Amazon FBA sellers. From the eagerly awaited dates for the next Prime Deal Days to cutting-edge AI features like Generative AI for building your listings inside Amazon and the AI-backed Seller Messaging Assistant, we've got you covered. Plus, we explore game-changing updates, new tools, and features like the  Amazon Shipping ground package delivery service, Amazon Supply Chain updates with inventory management, customer loyalty analytics dashboard, and sustainability solutions that are set to reshape the Amazon seller landscape. We also talked about the Buy with Prime integration inside Shopify and shared relevant numbers on how D2C E-commerce businesses are crushing it with this new feature. Tune in to discover how these developments could impact your Amazon business and stay ahead of your competitors. It's a must-listen episode for anyone in the world of Amazon selling and don't forget to let us know what you think of these announcements!
Also, don't forget to catch Bradley, Helium 10, and Pacvue in the Amazon unBoxed Event in New York this October 24th to up-level and up-skill your Amazon advertising knowledge.
In episode 493 of the Serious Sellers Podcast, Bradley talks about:
02:05 – Dates For The Next Prime Deal Days Released!
02:40 – Featuring A Seller Success Story From A Helium 10 User
03:45 – Enterprise Solutions Integrated In Partner Seller App
04:09 – Emerald Notifications
05:23 – AI-backed Seller Messaging Assistant
06:35 – Generative AI For Listing Building
07:54 – Bradley's Feedback On This AI Feature After Tests
13:22 – A New Seller Homepage
13:40 – One Page Listing Management Page
14:23 – Buyer Abuse Protection
16:05 – Veeqo Multi-Channel Shipping
17:01 – Amazon Shipping Ground Package Delivery Service
18:44 – Supply Chain By Amazon (More Than Amazon Global Logistics)
20:54 – Automatic Inventory Replenishment with FBA
23:48 – Let's Get Into Day 2 Announcements
24:43 – Customer Loyalty Analytics Dashboard
26:26 – Fit Insights Tool
28:45 – Voice Of The Customer Dashboard
30:16 – Two-Tap Ratings
31:50 – New Seller Wallets
32:10 – Buy with Prime with Shopify
33:28 – Interesting Stats From Buy with Prime integration with Shopify
35:18 – Potential Sales Lift
37:16 – View In Your Room Feature Improvements
38:42 – Ships On Product Packaging Program
40:46 – Sustainability Solutions Hub
41:24 – What Do You Think Of All These Announcements?
42:29 – Catch Bradley, Helium 10, and Pacvue In The Amazon Unboxed Event
Transcript
Bradley Sutton:
Did you miss Amazon Accelerate? Don't worry. In this episode I'm giving you guys everything that you missed out on all the announcements and how it affects US sellers. How cool is that? Pretty cool. I think. We know that getting to page one on keyword search results is one of the most important goals that an Amazon seller might have. So track your progress on the way to page one and even get historical keyword ranking information and even see sponsored ad rank placement with keyword tracker by Helium 10. For more information, go to h10.me forward slash keyword tracker.
Bradley Sutton:
Hello everybody and welcome to another episode of the Serious Sellers podcast by Helium 10. I am Your host Bradley Sutton, and this is the show. That's a completely BS free, unscripted and unrehearsed organic conversation about serious strategies for serious sellers of any level in the e-commerce world, and I'm going to be going over everything that happened at Amazon Accelerate. Well, maybe not everything, but all the key points. There might be a couple things I missed, but there's a lot of interesting things that were announced at Amazon Accelerate. I'm going to keep it real. Like I say, this is BS free. No, there might be a couple things I think is not that exciting. I'm going to keep it real. Let you guys know, it's just my opinions here. So I wanted to give you guys kind of like a rundown of all the like I don't know Like 25 different announcements or 30, or even more than that. As you notice, I'm wearing my old school Helium 10 shirt here and the reason is because back when Helium 10 used to use this logo, you never would have gotten me to say, like in a million years, that Amazon would be announcing the kind of things that they have been at Amazon Accelerate the last couple years. I mean like the things that they're dropping, that I'm going to talk about today, and the things that they talked about last year. It was, you know, I would have bet a million dollars if I was a betting person that no, the Amazon would never give this kind of analytics or Amazon would never do this or that. But, man, you know, hats off to Amazon because they're really trying to come through for the sellers.
Bradley Sutton:
So before I get started here, real quick kind of breaking news. If you didn't, you know here last week it's not Amazon Prime Day, but what is it called like? Prime Deal, that Prime Deal days prime something or other? Anyways, the second Prime Day, what a lot of people are calling the second Prime Day. They dropped the dates, for it's actually going to be October 10th and 11th. So mark your calendars. If you guys were preparing for deals or things like that, October 10th and 11th is, I think it's called deal day, something like that. So you know, normally I drop that in the weekly buzz, but I'll give you guys that information a couple days early.
Bradley Sutton:
Alright, let's go ahead and hop into Amazon Accelerate. I was there. It was my first time at Amazon Accelerate and it was actually cool. They actually started off with like the whole entire event was started off with a Helium 10 customer. Alright, so Hemlock Park is a customer that you know we've talked about. He's actually been on the podcast Mikey from there and they did this like full profile in front of everybody about how his business is and you know how he makes these candles and you know, really, really cool to see you know Helium 10 customer front and center, like that. But you know, let me know what do you guys think? Like what if Amazon would ask you to, like you know, show your brand, you know, would you be down to do that? You know, so many sellers, I think, are afraid of showing their brand to the whole entire world, literally like now, everybody knows what, what Mikey's products are, right. So just something to think about. You know what? Would you take the publicity that you know coming on full stage from Amazon, or would you be like now, I'm good, amazon, you go pick somebody else, alright?
Bradley Sutton:
First, couple of announcements you know wanted to talk about for Accelerate nothing that exciting. One of them is was Enterprise Solutions. They announced that they had 15 more software companies and solutions that are integrated into their seller partner App Store. That the seller partner App Store is like what Helium 10 and other tools like it are connected to you, but now they're connecting with like enterprise level, you know once, like QuickBooks even so, if you use QuickBooks for accounting, that's actually now integrated into the seller partner App Store. Another announcement was Emerald Notifications. Alright, so Emerald is this beta program that are doing, where some of these seller apps like you know Helium 10 can deliver notifications about things that are happening in our software in your seller central dashboard. Some of you guys might have gotten an email about that a little while ago and you guys thought it was spam or something like that. So it's real. You know Helium 10 is part of that program amongst many others.
Bradley Sutton:
That's what they announced at Amazon Accelerate, and basically the way that they described is they said hey, we're trying to make it easier for you to manage and act on key business updates from your third party apps. That was word for word, verbatim from their announcement. Now, if you're wondering how do you activate it in your account, let me just show you how. Go to your seller central account and then you are going to want to go to apps and services and then manage your apps. Alright, once you do that, you're going to get to the other page here and it'll have all your you know software that you're connected with, and you're going to have to find Helium 10 and hit reauthorize alright. So you're going to want to hit reauthorize after doing that or whatever other apps that you have that you can connect to, and then what's going to happen is you'll now start being eligible for those notifications, alright.
Bradley Sutton:
The next announcement was an AI back seller messaging assistant, and what this is is for customer service. Basically, you know how customers, if they have a question about their shipping or a question about the product you know those kind of questions go directly to Amazon. That's not anything new. That's always been the case, one of the advantages of Amazon. You don't have to take care of a lot of your customer service, like hey, where's my shipment? Like I don't know, amazon's one who shipped it right, you don't have to worry about those kind of things. But anyways, amazon is integrating AI into there in order to save even more of the questions and so, like now, it's going to be almost instantaneous, like somebody says, hey, where's my shipment? And AI is instantly answering them, saying, hey, here's the shipping and here's where it's going to go, or here's, you know, if you're eligible for a refund, all kinds of generic questions they are. Now have an AI that powers, instead of having to wait for a person you know might take some time to answer the questions and you know, theoretically speaking, this might help because you know, maybe in that time that a buyer is having to wait for the answer. Maybe they just decided to cancel their order or like it right. So hopefully, hopefully, this will, you know, kind of lessen those.
Bradley Sutton:
Now, the first big announcement of the day that got, you know, people kind of excited was about AI and listing billing. It was kind of funny when they first were announcing that they were going to announce that they were bringing it on the stage. And I won't forget, like they had the like the product manager for there. It's like this Amazonian, like his 50s and 60s, and he's like running out there like he's you saying, bolt to the stage. And he was like super excited. Like I was sitting there in the front row, I thought he was going to do like a crowd dive or something he was running so fast, but hey, he was excited. The crowd got excited because they really hyped up this AI tool that you know we talked about on the weekly buzz a while back.
Bradley Sutton:
So what does this consist of? This announcement of their AI listing builder tool? Well, they announced a press release also. It says Amazon launches generative AI to help sellers write product descriptions. And so, basically, it's going to, you know, very similar to what, you know, helium 10 has has had for a while in listing builder. Basically, what they're saying is hey, right here, word for word, says to get started, sellers only need to provide a brief description of their product, in a few words or sentences, and then Amazon will generate high quality content for the review. Sellers can refine these if they want to, or they can directly submit the automatically generated content to the Amazon catalog.
Bradley Sutton:
Now you know, I'm going to raise my Bradley Sutton flag, my BS flag, a little bit here, especially when they say you know, really high quality. I don't think it's there yet. I'm not trying to throw Amazon under the bus. I have very strong faith that it's going to get there. You know, remember, this is not Amazon like creating their own. You know their own. You know magic system here they're probably using. You know AI tools out there, just like you know helium 10 uses. You know chat, gpt.
Bradley Sutton:
But they tried to make it seem like, you know, for example, they gave a, an example here where you can just enter mouse pad with gel wrist right and then you'd be able to get like this, full, full listing. No, that's not the case Now. I tested it like we had this custom or this, this kind of case study I'm doing where I've made at least coffin shaped bath tray and I actually just, you know, actually threw in, you know, a description that was not just like five or six words, you know, just about four or five sentences and the output that it gave me. It just copied the input that I said in the description and that was the product description and then it copied it again and that was the bullet point number one and there was only one more bullet point and then there was no more bullet points in the title. Let me see if I could show it to you guys here. In the title it called it 32 inch black plastic coffin bathtub tray. All right, now the cool thing is hey, it adds spooky decor. I actually know that that is one of the main keywords here, spooky decor, but it called it plastic. I didn't say it was plastic. And then, even though that was the title, when you go to the description, the second bullet point or the first bullet point somewhere here it says hey, this is made with wood, so you got it right once. But in the title.
Bradley Sutton:
So, guys, this is not, do not expect this yet yet to be. You know some all encompassing thing that's going to. You know, allow you to just snap your fingers and create listings. It obviously needs a lot of work If you're interested in using AI. For now I would stick with listing builder. You know that exact same listing of a test for the coffin tray. I actually created it in listing builder and I put that. You know, very similar, prompt. But obviously the difference is, you know, in listing builder I can add all of my keywords that I had found from Cerebro you know that are relevant to that niche, and then you know, listing builders try to incorporate those keywords, which is still very important. You know, for the Amazon algorithm that you, so you can get searchable. So I'm curious, you know, maybe the reason why it made such a terrible listing is because there's not that much data, you know, on coffin bath trays, and so it was kind of struggling. But maybe if I tried to do like collagen peptides, who knows, maybe I could just write collagen powder and it would make this amazing, amazing listing for me. Now, that being said, that tool might not be at its peak yet.
Bradley Sutton:
However, they were giving a sneak peek at some pretty exciting announcements. They said coming soon, sellers are going to be able to submit a URL or a photo of a product and then the AI can generate reviews somehow. So you know, in my mind they were kind of saying, without really saying it maybe you have a dot com business and you've got this Shopify listing or maybe even, who knows, maybe a listing on another website like Walmart. You enter that in and then it could create an actual Amazon listing. You know that'd be pretty cool If that happened, even just like an image of a product and it would create a listing. That is pretty cool. And another thing that they said is is it's going to be available for existing listings to edit it. You know, right now it's if you want to test this out. It's only available to be done with a brand new listing if you're going to start it. But they do say that it's going to come in the future.
Bradley Sutton:
Now this is something that had me a little bit worried. All right, let me read this next announcement that they said. They said hey, we'll also enrich your existing listings to ensure your products have all the details that customers want to help you drive more sales. We'll use AI to automatically generate missing attributes. First of all, that's excellent. I'm not worried about that at all. You know like that would be great for those attributes. You know, sometimes we don't know all the attributes that are needed in the back end and then we have the missing and we could be suppressed and stuff. So if Amazon AI can do that, beautiful, we'd love. We'd love to see that. But here, check this out.
Bradley Sutton:
The second part We'll also use AI to automatically generate and improve titles, bullet points and descriptions based on data in Amazon's catalog. You'll be able to review any changes and make edits if desired. Now, that part has me worried because we all know that. You know, sometimes when Amazon kind of changes your title, it's not always great and you got you know like what if, all of a sudden, for my product, amazon use that AI thing that I just showed you guys and it wants to call my coffin bath tray, which is made of wood, a plastic coffin tray? And just terrible listing. So hopefully these things are not going to happen until their AI is a little bit more robust, which I'm sure it is, you know. But the second part is I definitely want to be able to click a button that says no, I do not want to implement those changes because you know all you helium 10 users out there, 99% of you are going to be better at making the listing than any AI. I'll just tell you that right now, ai, as far as if you're talking about optimizing your listing, for you know the algorithm and things like that All right, like, like you know, you've got all the data. You know even more data than the AI is going to have. You know, I know that sounds kind of like a audacious thing to say, but you know, those of you guys who know, know, know what's up. You know, like you guys can, can, you know, look across different categories of different keywords? And I think the technology for AI to do that is still too far off yet. But anyways, hopefully they're not going to be automatically just changing our listings without letting us know. I don't think they're going to do that.
Bradley Sutton:
Another minor announcement that they did was about the seller homepage. You know most of you guys were opted into that new seller homepage and one of the benefits they said of this new homepage is that you can take away those widgets. You know, sometimes the seller central homepage had all kinds of like little things that you know just cluttered the screen. But now you can, you can hide those. So they talked about that in case you guys didn't know. Another thing that kind of teased it's not ready yet they talked about how you know we have all kinds of different listing dashboards in order to. You know, there's one for fixing inactive listings, there's one for managing listings. There's a dashboard to improve your listing. So what they're working on is a new one page, you know, catch all everything that has to do with your listings in seller central and it's going to have the actions that you need to take and everything's basically beyond that page. And I guess they have the beta program going right now and it said that, you know, with this beta group, sellers are being able to take actions 40% faster than the current way of having to go to all these different listing management pages.
Bradley Sutton:
Another announcement they made was buyer abuse protections. You know we definitely like that. We know, although we always know that there's there's some bad players out there on the customer side and so they're implementing AI and other things in order to help kind of detect that. They quote seller selling partners can leverage Amazon's machine learning based buyer risk evaluations and specialized abuse risk investigations to protect your business. All right, so that's a bunch of fancy. You know press release kind of words there. But in a nutshell, the way they explained it is this is gonna help protect you against fraudulent orders, fraudulent claims. It says it's gonna potentially save millions of dollars on refunds and actually probably the point that I think got some applause from people, that says they announced that to address the issue of reviews, amazon has worked to automate and sanitize the sanitize I love that word, that's literally their word, that they said on stage to sanitize the process of suppressing reviews for abusive accounts in real time. All right, so we don't know exactly in the past how the Amazon kind of policed reviews, but you could see it happening, like, if you're using the Helium 10 Chrome extension, you ever look at the review history of a product and then you'll notice that all of a sudden 3,000 reviews got lost and then 2,000 reviews got added back. You probably seen that and were thinking that was a Helium 10 mistake or something. No, what was happening was Amazon would just like quarantine thousands of reviews or hundreds of reviews at a time and I guess, like you know, do some kind of audit on it and then just put back the ones that were okay. So if this, if I'm understanding this correctly, that process in the future might be now in kind of like a real time.
Bradley Sutton:
Another announcement that you know may not affect a lot of you guys there's this Amazon company called I think it's called VCO, v-e-e-q-o and it's like a multi-channel shipping software. So kind of like you know me, I don't use that, I use like Snapscom, but it's very similar to that where it integrates with your seller central and then you could, you know, print shipping labels and things like that. And so they made an announcement that you know they've negotiated the cheapest shipping rates in the business and usually you can only get like the same price, no matter, you know, if I use Snapscom or if I'm using I don't know like ShipStation or something like that. Right, it's almost always the same exact price, like even my Snapscom price is the same as if I buy postage or UPS ground from Amazon. But if you use VCO, you can actually save an additional 5% off by getting credit. So that's like another announcement that they made. So if you use VCO or if you're interested in that, make sure to check that out.
Bradley Sutton:
Now the next big announcement was a launch of Amazon shipping. All right, so Amazon shipping is basically a new program where they're kind of gonna be be, you know, competing with FedEx and UPS. Now this I found very interesting because you know it's been, it's been rumored to happen for a long time and now it is happening. You know, in some cities there's only like 15 cities and basically this is gonna be just just what you think is a UPS and FedEx. You know like it's a package delivery service to to fulfill not only just your Amazon like fulfilled by merchant orders, but you can technically fulfill anything. You know like you've got a dot com website and you wanna have Amazon actually pick up the shipment and then deliver it in like two to five days, including Saturdays and Sundays, at a low cost and then no extra fees for residential or weekend delivery. You wanna be able to track the packages in real time, get photo on delivery when the order is delivered. This is now coming. You know you're gonna be able to do that. So again, you don't even have to like be a you know Amazon Prime seller, fba seller to take advantage of this.
Bradley Sutton:
Now a couple of things I'm wondering about is you know how you can't do like drop shipping or shipping from Amazon for Walmart? You know I used to. I used to make oh my goodness, I made hundreds of thousands of dollars drop shipping like Walmart to Amazon and vice versa. I mean it's curious, like would you be able to use Amazon shipping as a shipper and fulfill stuff you're selling Walmart? I would assume. No, I would assume Walmart would not want that. But anyways, you know if you sell on other platforms. You know this could be something that you can use.
Bradley Sutton:
Another big announcement was Amazon supply chain, or they called it supply chain by Amazon, and automated solution to help so it was quickly and reliably ship products around the world. So this is kind of like they were talked about this as being an end to end system of shipping where it goes all the way from your you know factory you know picking up at the factory, you know getting it out of the country wherever it's gonna be importing through customs, you know all the way to Amazon and it takes it to another level. This is like more. We're talking about more than just through what Amazon global logistics was. Some of the things that they talked about in their press release was that these new prices for this new system are gonna reflect this counts of up to 25% on cross-border transportation that it said. You're also gonna have a streamlined domestic inbound transportation to AWD. All right.
Bradley Sutton:
Awd is the Amazon warehousing they're through with their partnered carrier program. All right, so you can be able to save 25% on the already lower cost that you might have been having. So you're gonna have an expanded AWD offering with reduced prices. Those of you who are already using it, the AWD rates are gonna be now 80% lower than FBA storage fee, so that AWD is kind of like using Amazon as a 3PL, if I were to try and oversimplify it. But if you're doing AWD, compared to maybe you were just storing things in FBA and getting long-term fees, you're gonna save 80%, which is kind of a pretty impressive right.
Bradley Sutton:
They're gonna have new multi-channel distribution capability and what that means is that Amazon selling partners will sell across multiple who sell across multiple sales channels, including online and brick and mortar. Keeping everything in stock is a challenge, so this is going to be able to move your inventory in bulk from AWD Amazon's warehousing to any sales channel so that you can replenish across the board, not just Amazon. So that's gonna be something coming. And something that I found interesting was automatic inventory replenishment with FBA all right. So if you're using this whole supply chain system, they're gonna be like replenishing inventory into the fulfillment centers, like from AWD, without you having to forecast.
Bradley Sutton:
So, again, color me skeptical at first, just because I'm like, hey, I've seen some of Amazon's inventory forecasting recommendations and in the past it's been kind of trash in my opinion. Sorry, you know Amazon, but Amazon's definitely improving in that and so. But this would be interesting. Like I'd be curious as to what the algorithm that they're gonna use, how it's gonna work. But imagine a world where you don't even have to like worry about sending your inventory to Amazon Prime. You used to have like, hey, I'm ordering 10,000 units from my factory in China. It's going to Amazon's warehouses and I can just gonna trust Amazon to put them into FBA. You don't fulfill your orders from. You don't fulfill your orders directly from AWD to the customer. It has to go to FBA warehouses first. But imagine a world where you're not going to have to worry about that anymore. So that would be kind of interesting as well.
Bradley Sutton:
So there's another you know interesting announcement that happened on day one. I mean, I can't believe we're still on day one here. Couple other things from day one. There was escalate. My case was something that was in beta where you know there's gonna be like a button in seller essential where you can like escalate if you're having trouble with support. That's coming soon and that includes talking to a live support agent. It's something funny.
Bradley Sutton:
Seller poll you guys ever see those seller polls in your seller essential dashboard? Well, you know, they ask it. Hey, guys, please keep providing feedback. Now I'll keep it real here. Most of those polls have been pretty, pretty good lately, but sometimes we get a kick out of the ones Like I actually saved one of my all time favorites.
Bradley Sutton:
This was, you know, a while back. It says my account is safe from being suspended unexpectedly. Strongly agree, agree, neither agree or disagree. So, like you know, we all made fun of some of these polls like this that people would get back in a day because I don't think any of us thought that we were safe from being suspended. But you know, honestly, if I were to be honest, I have been suspended unexpectedly. That was like a good four or five years ago. I think was the last time that happened. You know, if I were to get my sentiment here, you know I put probably strongly disagree. You know three years ago when I took this screenshot, but maybe now I'd be like I neither agree or disagree, like I still see. You know horror stories out there, but you know I haven't been suspended in a while and now Amazon has new systems in place that actually, where they would call you before they suspend you. So that didn't exist three or four years ago. So you know they're getting better. But anyways, the point being, don't just laugh at these polls. These are important. Most of them are important for you to get some to give Amazon your feedback.
Bradley Sutton:
All right now, going to day two, a couple again minor announcements that I'm not sure affect much of you. One was called flexible customer financing, aka FCF program. You're gonna be able to enable your customers to purchase your eligible product's interest fee using installment options. So, like you know, maybe like you got a $200 product or $300 product, you can. It sounds like you're gonna be able to activate this like, hey, buy now, pay later, kind of thing sounds like. But the important part of this is that if customers opt into that, they don't have to pay right away. But guess what? You get the funds right away, if I understand this correctly. So that would be pretty cool, you know, because that would kind of suck if, yeah, let people buy this $1,000 thing and paid off over six months and you're getting, like, payments for it over six months. That would not fly right. So that would be kind of cool if this can help your sales.
Bradley Sutton:
Another announcement is that there's now a customer loyalty analytics, or there's going to be a customer loyalty analytics dashboard, so it allows you to segment customers based on loyalty and analyze, segment purchase patterns and perform targeted engagement to increase your overall lifetime customer value. So they put out a press release on this and it's pretty interesting because it says, hey, new features will give sellers a comprehensive understanding of the customer sentiment for existing products from reviews and also returns. And it gave an example like hey, there's an outdoor recreation brand, they're trying to design a new tent. They'll easily be able to understand what drives customer complaints and satisfaction with the tents today. Like so it might give you like a niche kind of analysis. And it says upcoming enhancement to the tool will provide the ability to select different time periods, analyze trends over time, benchmark customer sentiment against best sellers in the category. You know that benchmarking thing sounds pretty cool and so this is something to look out for that's going to be available later this year in the US, uk, germany, france, italy and Spain, and then Japan to follow, and, instead of localized insights, will also provide a deeper understanding of customer preferences in the country. So it's not just like looking at, you know a category across all of Amazon, but you're looking at a country basis. So again, something interesting, cool announcement to look forward to.
Bradley Sutton:
Another thing that Amazon release is something called fit insights tool. It's going to be backed by AI and this is for those of you who are mainly like in the apparel category, you know, which is historically one of the, you know, the one that has the most returns and issues and with reviews and things like that. But it's going to be analyzing the reviews and the size charts and kind of like how people identify themselves as what size they are and then compare it to like what size you're saying the product is, or, yeah, your shirt or socks or whatever, and then it's going to give you like suggestions, like you know what you know you probably should move your size tier up a little bit, because people who say that they're waist 38, you know they're complaining about your product because they say it's too big. So you might want to, you know, put it, call this a size 36 instead of a 38 or whatever the case may be. So you know I don't sell in the apparel, so this doesn't affect me at all. But what about you? You know you guys who are selling leggings or shirts or pants or things like that. You know, I'm sure you guys have all kinds of crazy horror stories about return. So if AI can help with that process you know it's called again, it's called fit insights. It's going to be available a beginning in October. Look out for more announcement on that. We'll probably have that in the weekly buzz.
Bradley Sutton:
Another minor announcement that has to do with Amazon warehouses, called computer vision based detection. All right, so they gave this demo where they're showing like vision technology where things are going on the conveyor belts, going to you know orders and stuff, and then this AI is going to like see if there's a problem with, like, an expiration date, somehow, like on the package, or maybe the box is damaged, right, and then it's going to stop it from going to the customer. So I have, you know, face value seems okay. I'm just not fully convinced this is going to make a huge impact. I think the thing that all of us are more concerned about is when products go back to Amazon. You know it's like can we please take a look at these boxes and obviously realize that the customer didn't put the pack back in the box or it's used or things like that. Please don't put it back in inventory. This is a start. This is a start, though, you know, because you know, sometimes maybe like a forklift runs over a package, but it's still somehow it gets on the conveyor belt and then gets to the customer and they get upset because they get a super damaged box and then they return it. So in that situation, this will probably kind of like help, help with that, with that kind of stuff, and then, starting in 2024, you'll actually get a report on all the packages that Amazon kind of like stopped, you know, thanks to this new robotic vision thing that it has.
Bradley Sutton:
Voice of the customer dashboard was their next announcement. That's actually something that exists now, but it talked about what is coming to this dashboard. Basically, they said they're going to launch three new, improved features that will give you more insights into what's going on to help you build customer loyalty, and these include key phrases from customer feedback. I'm not sure if that means reviews, because you know customer feedback is something different than reviews, so I'm not completely sure about that. Number two, category benchmarking and trend analysis to give you the tools to compare your performance against similar products. And then, number three, deeper key performance metrics broken down by customer feedback score. Quote unquote was part of their announcement for that. So if you're using that VOC, or voice of the customer dashboard. Look out for those three enhancements soon.
Bradley Sutton:
Add to cart seller profile pages. That was another announcement. You guys know what the seller profile page is. That's where you click on the storefront, you know from a listing, and then it takes you to the page where the feedback is and the address of the seller and stuff. Well, there's nothing that allow you to necessarily buy the product before, but now, as you can see, they have an add to cart button Now for the product that maybe they were clicking on. So that's something that's already new. And then they talked about potentially, you know, maybe even having some other cross-selling where it has other products right there on this page that somebody could add to cart.
Bradley Sutton:
Another announcement I really didn't understand. I wish I could have followed up on this, but it was called two tap ratings and in this session or not session, but in this announcement they were talking about how two tap ratings simplifies the seller rating process and customers have indicated that seller ratings are a critical data point in their shopping journey. So two tap ratings eliminates the written feedback requirement, simplifying the end to end review experience. So that's what the announcement was, but I'm like, wait a minute. Hasn't there just been this two tap rating for like a couple of years now, which is why the number of ratings is so much higher than the number of written reviews?
Bradley Sutton:
So I'm not exactly sure what this announcement was. Maybe it's about from the actual write a customer review button on orders, like if you were to open up your mobile app right now, your Amazon buyer app, and then you know, hit an order and says write a review, you kind of do there have to leave a written review, I think. So maybe that part is gonna be changed. But I know there's like a page where you can go where Amazon just gives you these messages like hey, rate this product, you don't have to write nothing, you just like click the rating right there and that's it. So I'm not exactly sure what this announcement is, but my speculation is that from the write a review button there, you can just start leaving ratings there, but this might increase the number of ratings you know you get, which is, you know, for some customers or for some of you guys. You guys would love that. Some others were like man, this kind of sucks, I barely get any written reviews now and I really want written reviews. So maybe some of you think that's a negative. Another day.
Bradley Sutton:
Two announcement was that a seller wallet where it's this is coming, where you can take your funds you know, your before you get, actually get dispersed and then you can use it to, like you know, make a wire transfer to your, to your vendors or your suppliers, things like that. You know we've had that with a group Alta, helium, 10, alta for a while, but now it's coming to a seller central. Next announcement was a little bit bigger, so it was kind of like there's a little bit of thunder being stolen because they announced it, the, you know, a couple of weeks ago about the Shopify and buy with Prime. But they talked a lot about buy with Prime. The thing that was like shock, shocking was they actually brought out the VP, or a VP of Shopify to the Amazon accelerate stage. So he actually came right on stage and even the, even the Amazonian who introduced him, was like hey, you know, a year ago I wouldn't probably not have imagined bringing this person on stage. And that was because, as we've talked about in the weekly buzz before, they had all kinds of beef. You know, in the old days, you know, shopify wanted all that smoke. They were. They were like saying, hey, if you use buy with prime on Shopify, you're against our terms of service and this and that. So, yeah, that's kind of like nobody would have ever guessed that a VP of Shopify would be on stage at Amazon accelerate, but they were talking about buy with prime. And so, in general, you know, regardless of it was Shopify or not, buy with prime has been out, you know, for a year now. They talked about how some of the stats for buy with prime, you know what kind of stats it's had for for sellers. For example, one brand said that nine out of every 10 buy with prime orders were from customers new to their brand. A newer feature was buy with prime cart is starting to see early success. So before it was kind of like if you had buy with prime, it was just for one product. But now they're rolling this out where you can, like you know, have multiple Amazon or, you know, fba supplied products and then you can actually add them to the cart and then the customer on Shopify or whatever, woocommerce or whatever, can go ahead and check out instead of just having to buy them one by one and the this, this, this feature the merchants who use it say that they increased a 15% increase in buy with prime units per order. Another announcement from the buy with prime is that they introduced you know, or they talked how they introduced reviews from Amazon so that you can display your Amazon reviews on your website at no additional costs, and they said that early results show that merchants who who added the Amazon reviews to their website have 38% increase in shopper conversion. So this is especially probably for those who are newer, have new websites and have zero reviews on there. And then another thing that they announced was buy with prime assist, which gives merchants the option to offer 24, seven cost post order customer service through Amazon at no additional costs, using a real time chat feature. So, yeah, this was definitely interesting to see.
Bradley Sutton:
You know, I've never used by with prime and never even had a my own. I mean like not in like 20 years I haven't had my own website as far as my Amazon, my Amazon products go. So what about the rest of you? Has anybody of you guys out there use by with primer ready for, like, maybe WooCommerce or another website? Be curious to see. You know what you guys, you know how that's worked out for you.
Bradley Sutton:
Another couple announcements, just really quick. Let me just speed through these last few ones here. There's the potential sales lift. You guys ever seen that from the dashboard? It's like where, where Amazon will tell you hey, you know, if you use a plus content, you know you can make a gazillion dollars. You know, I kind of like make light of that. But yeah, I think a lot of us were like this is such nonsense. You know, like I remember one time it was something yeah, put a plus content in your pink coffin shelf and you'll increase sales by $2,000 a month. I'm like, what are you talking about, bro? Like there's, there's not even $2,000 of pink coffin shelves sold in a year. That's like wrong. So that's probably why a lot of us wanted to even hide some of those widgets on the seller central dashboard back in the day, which is what they you know they we talked about earlier today.
Bradley Sutton:
But let me tell you guys it's improved. You know I'm not. I'm not again, I'm not trying to throw Amazon on the bus. I just want to show you guys that Amazon actually gets better. I actually haven't looked at those in a long time and I'm looking at it live right now where it says under growth opportunities. Hey, this coffin egg tray says if you increase improved conversion by create, creating a plus content, you could have an $88 sales lift over 90 days. That sounds reasonable. That's like four egg trays. You know, if I put a plus content could I increase sales by four, eight trays. That sounds very reasonable, but then again it's not fully completely working. That coffin bath tray test I said if I put a plus content I'm going to get an $8 and 66 cents sales lift. I'm like this is a $4 product. How am I going to get an $8 sales lift? It's not perfect, but, guys, it is getting better. Don't just overlook it. If you're like me, who are just like, oh, I'm just going to ignore all of those because they're so far off, I think their algorithms that they have working on it is definitely a lot better. So so make sure to check that out. And anyways, the announcement that they had was this potential sales lift is going to be available for a lot other kind of things like manager experiments and 20 other catalog attributes. So 20 other things they're going to be. They're going to give you a little thing that says, hey, if you do this to each of those 20 things, you could get this kind of sales lift.
Bradley Sutton:
Another cool feature they talked about was view in your room table top. So you guys ever seen the helium 10 coffin shelf or other products like furniture? And then it has a button where it says view in your room, but it puts it on the floor right, like it's mainly for like chairs and tables and stuff, and then you can kind of it's using augmented reality for your product and then you can just kind of like with your mobile app see how that product looks in the room. Well, now they said, hey, this is going to, we're rolling out the room table top feature. So instead of just looking how it would look on the floor, you're like who's going to put a coffin shelf on the floor? You know it's going to be like hey, put it on this countertop or this egg tray, how does it look in your kitchen island, and things like that. So this is coming soon.
Bradley Sutton:
So in the past it wasn't something you opted into or or could ask Amazon to give you, like the helium 10 coffin shelf. We didn't do anything special. It just all of a sudden started showing up with that augmented reality. So I have a feeling based on what they were saying at Accelerate that there's now going to be some kind of controllability you're going to have where you can potentially opt into the program or send them like 3D images or something and get into there. So we actually have some follow up meetings with that department to try and see, you know, how maybe helium 10 can can help in this. But that would be pretty cool for those of you who have products that go on table tops or counter tops or things like that, being able to integrate augmented reality for your customers who have the mobile app.
Bradley Sutton:
Another thing honestly I was not excited about it all, it's actually kind of scared a little bit was ships in product packaging program. All right, so it's allowing you the opportunity, it says, to ship customer orders in your own custom branded packaging without additional Amazon boxes. All right, now this could go both ways. Already, this happens sometimes and actually, you know, some of us are kind of upset when it might happen, like if you guys have like some super fancy gift box or like some nice, really nice packaging, you don't want Amazon just taking that and then slapping all their logos and and or their logos, but they're they're, you know, slapping their shipping labels and stuff on it and then having that really nice package getting all scuffed up and then it's like all torn up by the time it gets the customer. And so you know like right now I'm actually doing a brand new coffin shelf package where it's like a box, shape like a coffin and it's going to be like a super nice giftable thing. But if Amazon ships in that box, you know that kind of sucks. Now, where this is better is you know Amazon might be charging you extra shipping because it has to use extra packaging.
Bradley Sutton:
So this, this article or this announcement where they talk about how, because of the ability now to ship in your own packaging in the future, maybe it's going to save you in the fulfillment costs. But I don't know for me. I most of my products. I don't want that. There's a couple of products I have that that I don't really care about the packaging much, and you know they could go ahead and slap a shipping label on there. I don't care, especially if it's safe. Saves me some money. But I'm I'm curious what you, which boat are you guys in? You know would you say, yes, I want to save, you know, a few cents on packaging and you know it also saves the environment too, you know, because you're not having to to have all this cardboard you know around, or are you like, do you have fancy packaging and you and you want that put into an outside box? Anyways, this new feature is going to have enrollment in January of 2024. So you got a couple of months to think about which which boat you would be in. They also announced the sustainability solutions hub. You can look up there. You know, on seller central, if you want more news I'm running out of time here and the last one that they announced, again that you can check in seller central, was a climate some new climate pledge friendly badges that are coming, and it's interesting. Their data shows that if you have that climate pledge friendly badge, it actually drives 10% more page views than if you didn't have it. So it might be something you might want to get onto your listing, and they're going to have three new ways in order to, you know, to have that. So there you have it, guys.
Bradley Sutton:
I'm sure I missed a couple of things here, but but that was probably the majority of what they talked about that this year's Amazon Accelerate it was my first time there had a blast. I couldn't even go to all the parties because I was working in the nights. I had a whole bunch of like webinars I was doing in China and things like that. So I got I missed all the parties but I heard it was really great. There was like two, 3000 people, you know, really high quality. They had the DJ from the Beastie Boys was like the DJ for the events and and they had Tracy Ross there as a celebrity, you know speaker. Really really cool event, really well organized. You know what, what you would expect from Amazon. So, guys, next year I'm sure it's going to be back again Highly, highly, highly recommend going there because you know Amazon, there's nothing like it, you know where. I mean, I didn't even do all of it and I probably would drop 30 different news items there that they launched. So it's a one set, once a year event and definitely go.
Bradley Sutton:
It's not the only event that Amazon does. Amazon does a little bit higher end kind of more advertising. So it's really the event that's happening in October, october 20, I want to say 25th and 26th or 24th to 26th in New York City. It's called Amazon Unboxed. So you want a similar event but more focused maybe on on advertising and if you're you know bigger sellers, make sure to register for that one. Amazon Unboxed, ilium 10 and Pacview definitely will have teams there, so be great to to meet you guys in person at that one. I hope you enjoyed this recap. If you guys want follow-ups for me to talk about any of these announcements a little bit more in depth, make sure to reach out. Don't forget to follow on Instagram Sirius Sellers podcast. See you guys in the next episode.
---
Enjoy this episode? Be sure to check out our previous episodes for even more content to propel you to Amazon FBA Seller success! And don't forget to "Like" our Facebook page and subscribe to the podcast on iTunes, Spotify, or wherever you listen to our podcast.
Get snippets from all episodes by following us on Instagram at @SeriousSellersPodcast
Want to absolutely start crushing it on Amazon? Here are few carefully curated resources to get you started:
Achieve More Results in Less Time
Accelerate the Growth of Your Business, Brand or Agency
Maximize your results and drive success faster with Helium 10's full suite of Amazon and Walmart solutions.