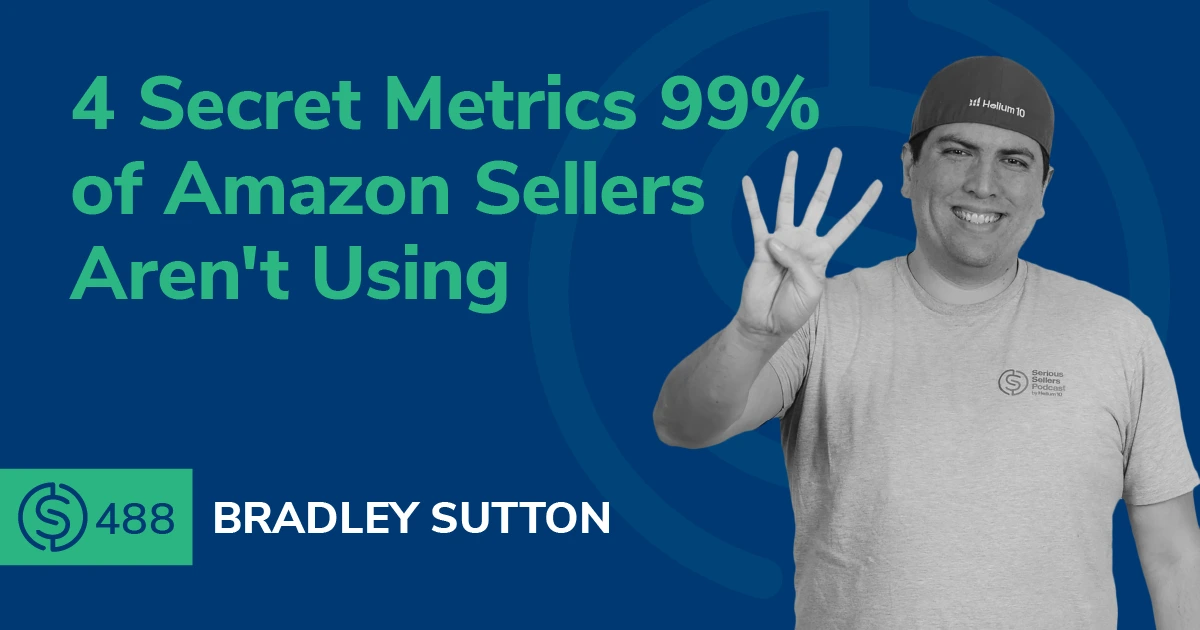 #488 – 4 Secret Metrics 99% of Amazon Sellers Aren't Using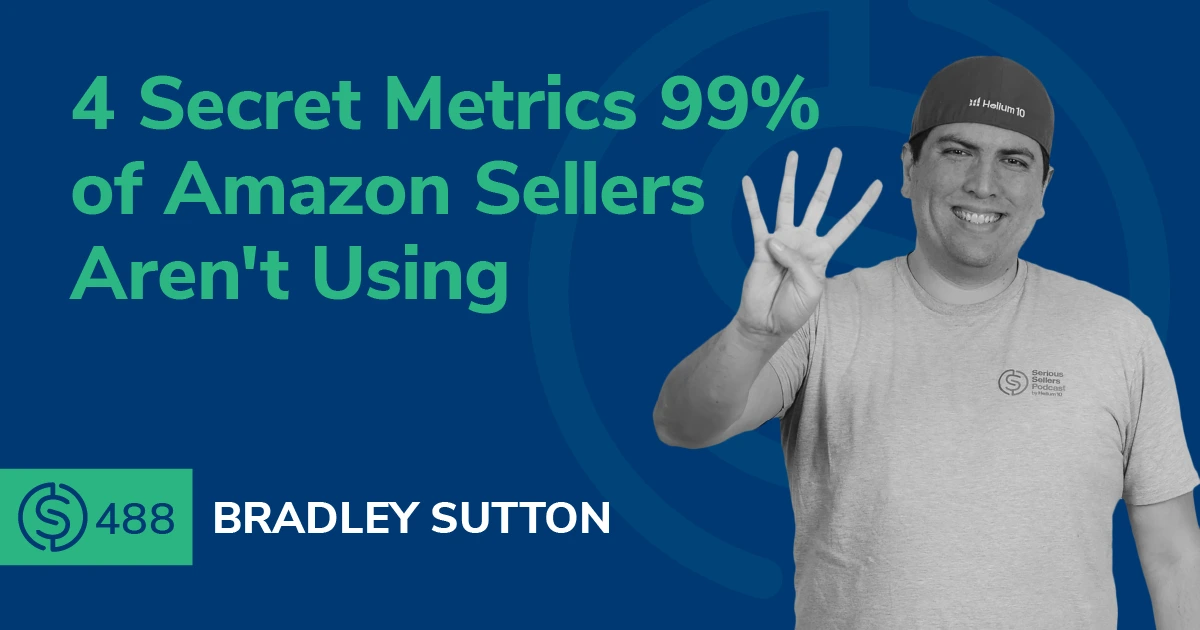 Video of the episode at the bottom
In our monthly training and "Ask Bradley Anything" episode, we talk about an important aspect of Amazon selling, uncovering the four secret metrics that a whopping 99% of Amazon sellers are missing out on. We kick off by shedding light on the abundance of untapped data points, highlighting the importance of these hidden gems provided by Helium 10. One of the standout tools in this episode is the Cerebro Match Type Filter, which allows you to reverse engineer your competitor's PPC strategy, giving you a competitive edge like never before. We also explore the significance of Cerebro's historical trends and how to check product trends week by week, all while unraveling mind-blowing insights from the Amazon Recommended Rank column. Discover why this column is incredibly vital in today's time. 
Plus, don't miss the engaging Q&A session with Bradley, where we address burning live questions from our audience. Learn how to get more reviews using Helium 10 Follow Up and gain a deeper understanding of how the Amazon Recommended Rank truly works. Lastly, catch Bradley at upcoming events for even more valuable insights. Tune in now and level up your Amazon selling game!
In episode 488 of the Serious Sellers Podcast, Bradley and Eugene discuss:
01:24 – There Are A Lot Of Data Points That Sellers Are Not Using
02:09 – Why Are These Helium 10 Data Points Are Important
04:45 – The Cerebro Match Type Filter
08:01 – Reverse Engineer Your Competitor's PPC Strategy
10:19 – Looking At Cerebro's Historical Trends
14:37 – Checking Product Trends Week-By-Week
17:11 – Mind-Blowing Data From The Amazon Recommended Rank Column
18:31 – Why The Amazon Rec Rank Is Very Important
24:23 – Q&A Session With Bradley
26:04 – Getting More Reviews With Helium 10 Follow Up
28:34 – How Does The Amazon Recommended Rank Work?
32:28 – Catch Bradley On The Following Events
Transcript
Bradley Sutton:
Today in our monthly live training with Ask Me Anything, I go over four data points that 99% of your competitors are not using, and I also answer all of your recent questions live on the show. How cool is that? Pretty cool I think.
Bradley Sutton:
Are you a YouTube vlogger, blog writer, course creator, or other kind of influencer or educator? Maybe you just have a network of people interested in e-commerce. Did you know that you can earn commissions of 25% for life for everyone that you refer to Helium 10? We've got many partners earning hundreds, even thousands of dollars monthly in commission from Helium 10's partnership program. If you'd like to join our affiliate partner program, please go to h10.me/crushit and tell them you heard about it from the podcast. Hello everybody, and welcome to another episode of the Serious Sellers Podcast by Helium 10. I'm your host, Bradley Sutton, and this is the show that is our Monthly Ask Me Anything that actually goes live to our Serious Sellers Club members. It gives you a little taste of what we do inside our Serious Sellers Club every every week we're gonna be going over some pretty cool stuff today.
Bradley Sutton:
That's mainly gonna be about some data points that a lot of sellers are not using. You know, even sellers that have Helium 10, you know, obviously seems like everybody nowadays is using Helium 10, right? But these are some things that in kind of studies I guess you can say, or my networking, I definitely know that a lot of sellers are not using. So anyways, we are talking today about unique data points, all right? And one of them, like, ah, to be honest, I was like planning to kind of talk about this more on special episode 500 of the podcast. You know, how we always do the big numbers. I'm actually flying to the Maldives to do it, so we'll talk about how it affects the Maldives honeymoon period. But I was like, you know what, I'm gonna give this group a a treat.
Bradley Sutton:
We're gonna talk about. We're not gonna wait till October, episode 500 is not happening until October. We're gonna go through this a little bit of it. Now, I'm not gonna spill the whole beans, but probably I don't wanna like, you know, give false hope or here or anything, but this is like, it's gonna end up being a pretty impactful, if not epic game changing thing to look at that nobody's looking at right now because of the way the Amazon algorithm has kind of adapted over time. It's a completely unique way to really kind of understand why your products aren't getting PPC impressions, why you can't seem to rank for new products or even mature products where you just, you know, like, you know, you're converting well, but for some reason Amazon does not, does not show you highly for this keyword.
Bradley Sutton:
You know, like, I'm gonna show you a way how to know if that happens. All right? So what I'd like to do, let's just open it up actually. If can some people throw me a, an example or a product that they want me to look up like it, you could send me to a specific ASIN. It could be your ASIN, it could be a competitor's ASIN or maybe something else. Like maybe it's a keyword that you guys want me to look up. I want this to be your show too. Lemme look up this acrylic. Let, lemme hold on. Lemme, lemme look up acrylic shelf dividers. Let me see. Okay, we'll go ahead and do this. Let's how do I add this to this stream here? There we go. Lemme make it a little bit bigger, okay.
Bradley Sutton:
Acrylic shelf dividers. Alright, let's maybe pick one of the, one of the ones that's a top seller. So I'm gonna run X-ray on this page. Okay, let's see if I didn't even check if there's any BSR here. Okay, it looks like there is BSR. Excellent. Alright, let's see. One of the top sellers looks like this Hem Devore Clear acrylic shelf dividers. They might be doing up to 2000 units a month. Let's go ahead and pull them up in Cerebro. And let's just say that set some context here. Let's just pretend that maybe you know, I, I'm an acrylic shelf divider seller and I just want to get some more insights into the niche and into my top competitors. So we're gonna go ahead and run that in Cerebro.
Bradley Sutton:
Alright, so now we pulled it up into cerebral. Now the first thing that I think that people are not looking, again, you guys know how to do Cerebro. We're not here to just like, Hey, how do use Cerebro? We're trying to find unique unique data points here, right? The first thing that I want to show you guys is the match type. Did you know that we are showing all of these other situations? What about, let's say Amazon's choice? They have not shown up in Amazon's choice. Now, what is Amazon's choice? This is not necessarily that they're Amazon's choice for a specific keyword, but what happens is, is if you go to the search results, do you guys see these special widgets here? It looks like search results, but it's really kind of like a sponsored, all right? And the reason you know it's sponsored is because it tells you right here, under highly rated, for example, that these are sponsored results.
Bradley Sutton:
So there's different widgets that show up in search results and one of them is an Amazon's choice. And as you can see, this keyword doesn't seem to have an Amazon's choice widget. It has a highly rated widget. All right? So that's one of them. Other ones that have shown up in the past that aren't showing up anymore is like editorial recommendations. So let's see if we can pull up highly rated and this product here has shown up on 26 different search results for highly rated, alright? So like maybe I'm looking at numbers maybe in Search Query Performance, right? Maybe this is my own product. I'm looking at numbers in in PPC and, and I'm just wondering like, where is this product? You know, this, this product is getting 2000 sales, but the numbers don't add up.
Bradley Sutton:
Well, remember from our Search Query Performance webinar last week, highly rated is not showing up. So if somebody were to type in acrylic shelf dividers, right? And they actually choose one of these products and take a look, right? Take a look that this product is right in there. I think this is the hum ofor that I'm pretty sure that's the product we were looking at. Or is it n in K? Nope, six two, they're not in there right now. They were in there before, if somebody clicks on this, this is not going to show up in search career performance, it's not gonna show up in Product Opportunity Explorer, right? So like any sales that come from here, the seller themself wouldn't know about it. You as a competitor obviously wouldn't know about it, but that's why you can look, use Cerebro to look at this.
Bradley Sutton:
Where are they showing up for in highly rated? Let's take a look. If there are more for, if they are doing sponsored brand headers, you guys know what that is, right? That is what you see at the very top right here, right? So right now the one is that's showing up for is this, you know, Soye brand, but if I look at Cerebro, I can sell, well now I know their sponsored brand header strategy. I mean, I'm not even sure, I don't think that they're, they're just, you know, doing, you know, that much broad here. There's only 69 keywords that, that they have showed up for in sponsored brand header. And you could almost guys look at this, you can almost reverse engineer what their target is for sponsor brand headers. If they're doing phrase it looks like they're doing phrase and they're doing broad, one of the two four closet dividers, right?
Bradley Sutton:
Do you see how many keywords say closet and divided? Look at that. Like just by one click. I haven't even like filtered anything else after this, I can now tell that they're running a broad match or phrase match campaign in sponsor brand headers for closet divider as a root word. That's crazy. This just shows you, you know, it looks like they also have one shelf divider potentially is a broad match that they're doing. So I can directly see what exactly is going on with their sponsored brand header strategy, right? So this is like stuff like, tell me right now, did has any of you ever just run your competitor and run sponsored brand header to reverse engineer what words they're targeting for their brand? Probably not, right? Maybe only a couple of you. If you have, then great, if you haven't, then you just learn something valuable.
Bradley Sutton:
And then remember again, this is something that is not counted in Amazon metrics as far as Search Query Performance. The only way that you would know if somebody is getting clicks on this is by looking at this like, hey, where, where are they spending heavily on? Right? Because these sales do not show up in Search Query Performance or what else can we look up here? We can look up sponsored brand video. Like are they running video ads? I don't know. Look at this. No data came up. So what do we, what do we learn now? Hey, this competitor, despite being number one in the niche, they do not seem to be running sponsored brand video ads. So there's one thing that I can beat them on, right? If I'm running sponsored brand video now I know, hey, this is nice, I don't have to compete with the number one seller in this niche on video because they don't seem to be running video.
Bradley Sutton:
All right? Another thing that people are not, you know looking for enough in my opinion is the Historical Trend. This is for diamond members, all right? So before this is only for elite members, so very few of you, you know, like Rolando and, and a couple others had access to this, but look at the seasonality of their keyword reach and their sponsored reach. So let's go ahead and show historical trend and let's look up very interesting. We can go back two years, we can go back two years here and take a look at the, the orange that you guys are seeing is their organic reach. So we see that these guys peak in September, so, so we have September that we're just about upon us. Now we know like, hey, looks like they go pretty hard in September and October for their organic keywords that they are ranking for.
Bradley Sutton:
And you can kind of see why, I know this is kind of small for some of you guys watching this on, on video right now, but do you see how this purple increases in September and October? The purple indicates how many sponsored keywords that they are showing up for. So it looks like these guys spend, I'm just looking at one chart here guys. It looks like they are spending more in PPC in September and October, right? At least that's what they did last year. And then what that added spend did, like, you know, you can just see, look, at August, they were only showing up for 200 keywords in PPC for regular sponsored products that jumped up to 500 in September and it looks like 400 in October. And then for some reason come November it goes way down.
Bradley Sutton:
They were only showing up for a hundred keywords in sponsored ads. So now I'm looking at this and I can kind of like prepare for Q4 a little bit, alright? If this is the number one player, this is who I'm competing with, maybe I'm gonna save my spend in September and October and go hard in November during, you know, peak Christmas shopping season when he's holding back. Or I could look at it opposite, maybe I'm looking at this and I'm like, wait a minute, maybe he's trying to get ranked for keywords and going hard on sponsored ads before those keywords jump up in volume. But guess what, guys? This is not a guessing game. What I'm gonna do is I'm gonna go directly, I'm gonna choose September and I'm going to look at Cerebro as of September, 2022. All right? I want to see what he is ranking for completely.
Bradley Sutton:
Let's go ahead and look at his, his sponsored rank. Where was he ranking highly for in sponsored keywords in the month of September, 2022. And let's give it some search volume. Let's, let's give it at least like 200 search volume. Let's take a look. Alright, so take a look here. These are keywords that he was, I put one to 10. Let's go really to the ones that he was showing up for in top of search. Let's go one to five in sponsored keywords. And now right here I have the 66 keywords. He was either doing a top of search bid modifier to get to the top of page or he was just doing a super high bid last year, right? And then I can kind of see right here, which ones did that help get him organic rank. And look at this, there are some keywords here.
Bradley Sutton:
Look at this shelf dividers. He was going hot and heavy on this keyword. 18,000 search, 17,000 search volume. He was number one sponsored and number one in organic rank for that time period. All right maybe I'm wondering, hey, did this get him to be one of the top clicked or top purchased? I don't need to guess. Let's look into the brand analytics. It's right here. This is another one of the four things that people are not looking at. Alright, we've gone through three of them. Now I'm gonna hit this ABA total click share, which is 18.8%. I'm gonna click this and I want to go back to September of 2022. Let's look up week by week on September of 2022. Lemme just go to the beginning of September and let's go to the end of September.
Bradley Sutton:
Alright, so here we go. Week by week, what were the top products picked? All right in the very beginning of September, he was not one of the top clicked. But look at this guys, this is crazy. I love it. After a couple weeks of heavy PPC spend, the week of September 16th, 2022, who was the number one clicked ASIN for this keyword right here? Metaphor, clear acrylic shelf divide the product that we are looking at now. So he went from not even being in the top three to the top three, the, the next week week 18 to 24, he was still number one. He increased his conversion share to 14%. Out of all the purchases that happened for this keyword, this guy had 14% of all the sales. And then the next week after that, the very end of the month, that going to October, you can kind of see he dialed back a little bit and now he became the third, the third biggest seller.
Bradley Sutton:
Right? Now, let's see what about right now, what the last three months? What if I want to see what happened in July? Take a look right here. This is what showing what is going on here in July or last month, July. Right now we're pretty much in September. In July, 2023, he was the number one clicked product and it was almost all organic. Look at his sponsored rank. Average was 15, meaning he was showing up at the bottom of page one, maybe top of page two in sponsored results. So could this be why he focuses so much in September and October? Maybe he's got some data that says, you know, like, I could be the top clicked one without having to do sponsored ads too much in the month of July. Look at this, in May, going back two months in May, he wasn't even advertising for this keyword.
Bradley Sutton:
He wasn't even doing a sponsored ad for this product in the month of May, but he still was able to maintain click share of 20%. This is the power of this information guys. We're taking brand analytics, which is directly from the horse's mouth, directly from Amazon and comparing it to Helium 10 data, which shows organic rank and sponsored rank to reverse engineer this competitor's strategy. So guys, this is available for the Diamond plan and and above. So if you guys, I hope you guys can see this. If you can't really see the value of this, then I'm not sure you guys are putting your best foot forward because if you understand Amazon and understand the power of looking at what competitors do, you probably are sitting there like, wow, this is kind of like mind blowing. What is possible?
Bradley Sutton:
This is stuff that you couldn't even dream about doing two, three years ago because this data just wasn't around either from Amazon or from Helium 10. Now this wasn't the complete kind of like a mind blowing thing. The thing that I'm gonna be focusing on guys in my episode 500, one of the things is what's called that is that first thing I showed you that Amazon recommended. Take your top product, your top ASIN, find your top asin, copy it and run a new cerebral search for it. I want to match type and I hit Amazon recommended, okay? And then I hit apply filters. If you have a mature product, it should be like a thousand. Kinda like this product has been around for two years. Now I want you to click the Amazon recommended rank column. So now it should rank it from one and going on.
Bradley Sutton:
Now this is what is critical guys. Let me explain what we're looking at right here. Helium 10 is the only place where you can get this right now. This is showing you what, according to the Amazon scoring system, what Amazon advertising views as the keywords most relevant to this product. Now, this is not helium 10 hacking, you know, this user's account, but there's a backend thing that Helium 10 has access to. And we've had access to this for years and we've shown it for years. But this has kind of been a sleeper thing here, but this is what is going to show you how Amazon views your product. Alright, so tell me guys, in your top, let, let's say 20 keywords here, do you see keywords that are super hyper relevant to your product? Let's take a look at this product. Again, I've never looked at this product before today.
Bradley Sutton:
These, these are acrylic shelf virus. Look at the number one keyword that Amazon thinks is relevant closet shelf. Does that make sense? Yeah, it makes a lot of sense. This is for closet shelves, closet organization, number two, shelf divider, number three office shelf, bedroom organization, acrylic shelf divider. I think that was the keyword that we, that literally was the keyword that we used to find this product. All right? So now it's like, okay, these people are, or this product Amazon is really showing, you know, kind of, well, it really understands this product. I'm gonna go a lot deeper into this guys, but I have been testing this and crazy stuff. This has not always been the case, otherwise I would've made it more of a big deal about this before. But the Amazon algorithm has changed in the last, it's always changing, but it has this aspect of it has really changed where this Amazon recommended rank, which is based on an Amazon data point.
Bradley Sutton:
This is not some Helium 10 estimation or algorithm or something. It is highly predictive of the kind of success you're gonna have with either PPC impressions or even ranking organically after interactions. And here's the one thing, it is a little, little hint, it's almost too much information I'm giving out. Have any of you ever had trouble ranking for a keyword where it's like, Hey, this keyword is the number one. Like not, maybe not number one, but this keyword is super, super important to me and I know I'm getting sales from it, but I can't get past like page or position 10 on page one. I can't get past position 20. Like what's going on? Like, I'm like one of the top ones. Check what your Amazon recommended rank is for that keyword and if it's below 10 or something, maybe it's something like 25 or 30 or, or even worse.
Bradley Sutton:
That's the answer right there of why maybe you are having trouble ranking. Alright, so there's four things that we went over today. I think that most of you, none of you are using all of them. A couple of these, maybe some of you guys have. But number one, look at the other placements in sponsored and just other widgets that you, you or your competitors are coming up with being sponsored brand video, you know sponsored brand header as the Amazon's choice widget, the highly rated widget. It'll give you a more holistic view of where your competitors are showing up, where you are showing up in search results that things like Search Query Performance is not gonna give you any data on. Number two, take a look at the historical ranks of your competitors' products and your products. Where were you? What, what do they do on a historical basis of where they're concentrating their PPC spend where they are, how many keywords they're ranking for organically month by month over the last two years.
Bradley Sutton:
And then the third thing that we went through today was this Amazon recommended rank to see how Amazon thinks that how relevant you are for the keywords that you think and that you know you are relevant for. These are all super important things that I think not enough people are looking at. You know, how many or there's actually four things I mentioned there, but do that and you get a leg up on the competition, especially now coming into Q4. Super important to do these things in Q4 and looking at it from a historical viewpoint too, because now you wanna know what your competitors do differently, what they are doing right now, you know, August, September is not the exact same strategy. I mean, how many of you guys just don't do anything in Q4? Like maybe, maybe some of you guys, you know, you're, you're not in a niche that that has, you know, has a lot of gift giving or new keywords.
Bradley Sutton:
Okay? Maybe you guys aren't doing much, but I would say 90% of you, you guys probably add some Christmas related keywords or you add some other targets in there, right? So this is going to be critical for you guys to be able to reverse engineer what your competitors are doing during this time period. Now we're gonna open this up to questions that any of you guys have, but this is what we do every week. Those who are in our Serious Sellers Club, if you to get in our Serious Sellers Club, it, it's for our higher end sellers. You've done about $500,000 worth of sales in the last year. Then you're automatically entered into our, our secret Facebook group where you know, you guys can network with each other. And we do these weekly trainings every single week, 52 weeks a year.
Bradley Sutton:
One question, best way to increase reviews, easiest way guys is Helium 10 Follow Up and then setting the request a review template, alright? That's just my go-to. Now, back in the day, I used to make custom emails. I used to make custom emails and, and they were really great. But then what happens is, is Amazon, even though emails are totally fine they, they just get bent outta shape over some minor, minor thing, which is not, you know, in any way against terms of service but to whatever bot that Amazon is using. It just thinks that it is. And so it would like sometimes suspend me for sending messages for like 30 days or not me, but other people. So for me, just so I can sleep at night and I don't have to worry about ever getting suspended, I only use the Amazon request review template that is inside of Helium 10 Follow-Up.
Bradley Sutton:
And then I set it to after how many days the order goes. So like, let's just say I've got a supplement. Well, I don't want that email to go out right away. So I said it like, Hey, send this 20 days after the product was ordered, send this request review out. If I've got like some party supply, which I do have a lot of like straws and stuff like that, I'll put that a little bit sooner. I'll be like, send this seven days after the item was ordered. Send this request or review out or eight days. So easiest way to increase reviews 'cause it's completely free if you have Helium 10 and all, all levels of Helium 10 have that Platinum, Diamond, Elite. Any other helium 10 related questions I can get to before we get going here?
Bradley Sutton:
What is the normal rate conversion for review? All right, so you're probably, you know, in Follow Up you can actually kind of see like what kind of rating what kind of rating you guys get review rating in there, right? So it varies by product. You know, I can do the same exact strategy for two different products and it's going to it's going to show different, it's gonna show different different things. Like I had one for an egg tray that I used to get one rating for every five orders. It was insane, right? That that's just like unheard of crazy. And all I was doing was a request review, right? Other products get one out of every 10, you know, ratings, right? Other products go one out of every 25, right?
Bradley Sutton:
If you are one out of every a hundred, if you could only get one rating out of every a hundred reviews, or I'm sorry, a hundred reviews, a hundred orders, you probably don't even have request review on. So you can actually see this inside of your Helium 10 FollowU p. Like here's one of my accounts like the ones that I'm tracking and I'm not requesting a review a across the board on this. I'm actually not requesting the review completely, but it's only like 3% here. So like one out of every, you know, 30 or so, 30 to 40 reviews I'm getting a rating on. But if I were to actually go in here and look at the product level, some of my products are, are doing much better than than that. That's just my overall account, which I don't even have it on, on, on everything.
Bradley Sutton:
Make sure you're looking at that guys, because if you start it, you wanna know kind of like if it's gonna have an effect, it always should have like a, you know, a few percent effect on your review velocity for sure. I'm actually curious. I'm gonna look at like my old July numbers. Yeah, look at July guys. You guys were looking at what my review rate was just for this month, but look at July, where it, it requested more reviews. I had 130 reviews requested and look at my request rating to conversion rate 8%. That's pretty decent. 8% almost one out of every 10 orders, 11 orders or so, I got a review or a rating, I should say the keywords tab instead of the products tab. Manny says, according to which criteria does the Amazon recommended rank work?
Bradley Sutton:
It's not a criteria. It it that that's an actual Amazon data point that we are pulling from. All right? So it's how Amazon scores keywords to a listing. And if you're asking me how does that work on Amazon slide, nobody could tell you other than Amazon itself and they would never disclose that information, but, you know, you gotta just use common sense that it's whatever their relevancy kind of like mechanism is where they just look at the how the listing is is optimized and maybe the history of interactions of customers with listings similar to that. You know, like, you know, if you were to ask anybody, if anybody tells you they know how that works, then they're lying because none of us know exactly how it works. I mean, there's so many scientific documents that Amazon has published and you could like look at it and kind of like understand how Amazon is making their algorithms, but there's no like one exact formula where you can just reverse engineer reverse engineer that wish I was Mark Cuban says, when checking the Amazon recommended for competitors, should I do this for one competitor product at a time or many competitors product at once?
Bradley Sutton:
Very good question. The answer is either or if I just wanna look at like, hey, what is the number one guy or gal doing? And that's what we did today. We looked at the number one seller for those acrylic, whatever the heck is we are looking at shelf dividers or something. We want to, we want to maybe reverse engineer what they specifically are doing because they're just night and day better than the rest of that, that niche, right? Or maybe there's like six or seven kind of like, you know, very on the, on the same level competitors. I can put all of them in there and then check what is the highest Amazon recommended rank average meaning that these are five top competitors. And by looking at the average, now I know what most of them or what Amazon is finding most of 'em relevant.
Bradley Sutton:
Now how, I'm glad you brought this up. Why is that beneficial? That's beneficial in itself is because now if they're listing optimization is similar, you know, like the main keywords that they're using and you are using some of the main keywords and your listing optimization and vibe is similar to that one price point, et cetera. Well, what does that mean? Now you can almost predict what your Amazon recommended rank is or how Amazon is gonna view your listing relevant if you're using those listings to kind of structure yours. I'm not saying copy the listings, nobody should ever copy listings, but obviously if you're in the coffin shelf niche, you're gonna do stuff that's similar. Like, Hey, I'm gonna have the word coffin shelf like two or three times in my listing, duh, right? Doesn't mean I'm copying it, but it just, it allows you now to predict that, hey, if, if I'm using a lot of the same keywords and optimizing my listing around it, I now know that Amazon's probably gonna, you know, right off the bat view me relevant for these because I can see that Amazon or these other listings are relevant to Amazon for it.
Bradley Sutton:
Okay? So as a reminder if you're part of our Serious Sellers Club or Elite members, elite members get this too. Whether they're part of the Serious Sellers Club or not you guys get this trained every Monday or Tuesday at 11:00 AM Pacific time. So make sure that you're getting the invites for this. If you're not in our Serious Sellers Club Facebook group and you know, you have at least $500,000 of sales in the last 12 months, make sure hit up customer service. They'll help you get into that Facebook group so you can take advantage of these trainings every week. We've got about 900 members there in that Facebook group who, who network with each other throughout the week. And guys, you notice today I'm wearing my Tokyo shirt. By the time you're watching this, if you're watching this on the podcast, I'll probably be in Tokyo.
Bradley Sutton:
So next week I won't be on this call I'll be in Japan, but September I'm gonna be on the road a lot guys. So I hope to see you guys at some of the events I am going to be at. Let me get a couple of the the next one. The first one that I'm going to be at is going to be in Amazon Accelerate. In Seattle. We're actually gonna have a networking social on the 11th. Alright? So if you're gonna be in Seattle, Amazon 11th through the 14th about make sure to come out to Amazon Accelerate you Elite members, you've got a workshop on the 11th that you guys can go to if you're a Serious Sellers Club member. I sent out an email saying a few of you guys I can get on a scholarship to get into that that Elite training that normally you have to pay $600 for.
Bradley Sutton:
So make sure to go to the Facebook group and hit me up there if I didn't give you guys a hookup for that. And that's the 11th to the 14th on the September the I think it's the 16th, all right? Yeah, September the 16th. I'm gonna be in Milan, Italy at an event with Simon. And so if you guys wanna attend that, just go to h10.me/italy. So that's on the 16th, I'll be there. And then after that I'm going to the Maldives to Film episode 500. We, I'm gonna continue this conversation. I don't think you guys can join me on that, but anybody who wants to feel free and then busy, busy October, I'll be seeing you guys hopefully at Amazon unboxed at the end of the month. That'll be in New York.
Bradley Sutton:
And then another event, I'm doing, seller velocity. There we go. The link is h10.me/velocity. That's another event I'm doing on the 11th in New York City of October. All right, so h10.me/velocity, if you guys would like to attend that. And then right after that is Amazon unboxed and I'll also be in Korea on the October 19th doing an event there, h10.me/kconference. If you guys are in Asia, wanna make a quick flight over to Seoul, Korea, h10.me/kconference. So a lot of cool events happening in September and October. I hope to see you guys at one of them. But until then, have a great time and we'll see you next week on this weekly training. Bye-Bye now.
---
Enjoy this episode? Be sure to check out our previous episodes for even more content to propel you to Amazon FBA Seller success! And don't forget to "Like" our Facebook page and subscribe to the podcast on iTunes, Spotify, or wherever you listen to our podcast.
Get snippets from all episodes by following us on Instagram at @SeriousSellersPodcast
Want to absolutely start crushing it on Amazon? Here are few carefully curated resources to get you started:
Achieve More Results in Less Time
Accelerate the Growth of Your Business, Brand or Agency
Maximize your results and drive success faster with Helium 10's full suite of Amazon and Walmart solutions.