#324 – Supply Chain Update For Post Chinese New Year
Today's guest gives us the rundown on what's going on with the shipping costs and transit situations now that March 2022 is approaching.
Originally published on: February 22, 2022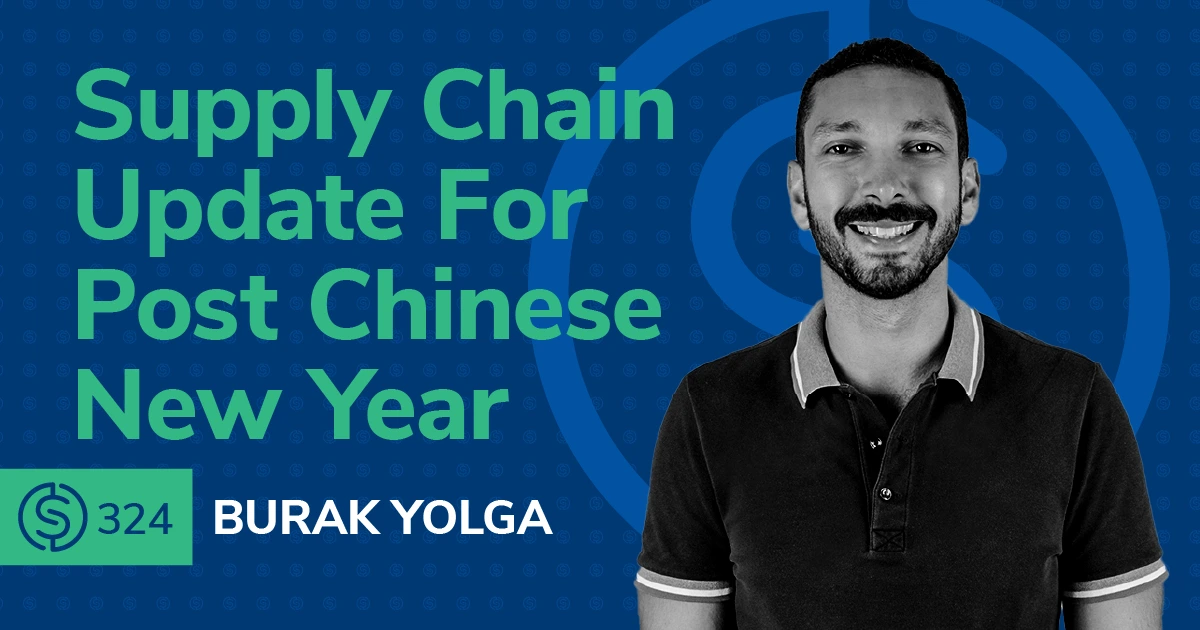 In this episode, Bradley speaks with Burak Yolga, Founder of Forceget, a digital freight forwarding company, for updates on the current shipping situation and what's going on with the shipping costs and transit timelines in China and other parts of the world. What should we expect in the coming months after the Chinese New Year?

Make sure to listen to the very end as he shares lessons on common shipping and supply terms. He also shares his tips and strategies on how to ease your shipping struggles through proper freight forwarder communication and by knowing the processes.
In episode 324 of the Serious Sellers Podcast, Bradley and Burak discuss:
02:30 – Burak's Backstory And How He Got Started In E-commerce
04:00 – Living In China And Being A Sourcing Agent
04:45 – What's The Current Status Of The Supply Chain?
07:30 – Can You Control Your Port Of Entry?
09:00 – Why Improving Communication With Your Freight Forwarded Is Important
10:00 – What Is The Current Shipping Timelines?
13:00 – Price Difference Of Shipping To A Different Port
14:00 – What's The Normal Shipment Prices And Timelines Two Years Ago?
15:30 – What Should We Expect For The Next Coming Months?
19:00 – Using Amazon Global Logistics
22:00 – Common Shipping And Supply Chain Vocabulary Terms
25:30 – What Questions Should You Ask To Your Freight Forwarder?
28:00 – Always Have A Direct Contact With Your Freight Forwarder
28:45 – The Most Common Mistakes When Working With A Freight Forwarder
33:00 – The New 30-Day Rule For Amazon Shipments
41:00 – Burak's Tip On How To Find A Good Freight Forwarder
42:00 – How To Get In Touch With Burak And Forceget
Transcript
Bradley Sutton:
What's going on with the shipping costs and transit time situation now that we're coming up on March 2022, today's guest gives us the rundown. How cool is that? Pretty cool I think.
Bradley Sutton:
Are you browsing a Shopify Walmart, Etsy, Alibaba, or Pinterest page, and maybe you see a cool product that you wanna get some more data on? Well, while you're on those pages, you can actually use the Helium 10 Chrome Extension's Demand Analyzers to get instant data about what's happening on Amazon for those keywords on these other websites, or maybe you wanna then follow up it an actual supplier quote from a company on alibaba.com in order to see if you can get this product produced, you can do that also with the Helium 10 Demand Analyzer. Both of these are part of the helium 10 Chrome extension, which you can download for free at h10.me/extension. Hello everybody, and welcome to another episode of the Serious Sellers Podcast by Helium 10. I am your host Bradley Sutton, and this is the show that's a completely BS-free unscripted, and unrehearsed, organic conversation about serious strategies for serious sellers of any level in the Amazon or Walmart world.
Bradley Sutton:
We're gonna talk about something that's, that's been on the mind of a lot of serious sellers out there and that's specifically a lot of things having to do with shipping. You know, we've been having our own resident expert that we call in about the sourcing and some shipping things at Kian. We've been having special episodes if you guys have heard on our Helium 10 buzz episode of the week, once a month, where we get an episode where we have an update what's going on as far as, especially in China on the sourcing delays that some might have. And, you know, there's been updates on power outages and things like that. So make sure to keep turning on that and you can see his channel at Sourcing with Kian on YouTube, but I want to flip the script a little bit and just talk mainly about like, you know, warehousing and shipping and things, because for the last, Ooh, it's been like two years, we've had a lot of abnormalities, you know, whether it's really delayed shipping times or, or nobody has space on warehouses or Amazon changes rules on incoming shipments and this and that.
Bradley Sutton:
So I wanted to try and ask some of these questions that I've been seeing in the Facebook groups and things and give you guys an update. You know, now that we're here coming up on the end of February 2022, coming out of Chinese new year, what can we expect? So I've invited here for the first time on the show Burak, how's it going?
Burak:
Hey, thank you so much for having me Bradley
Bradley Sutton:
Now, where are you based out of
Burak:
Miami actually, Florida, not about–,
Bradley Sutton:
Miami, Florida. Okay. Now, is that where you were born and raised, or what was your path here too?
Burak:
No, I'm originally from Istanbul Turkey. I left Turkey maybe like 12 years ago. I study one year in France. I did an MBA in Paris and I moved to China for six months. I was basically going to be a Caddie master in a golf resort. It's a strange way to start a career, but then after three months, I decided that's not something for me. My background is international logistics and international business, my bachelor's degree. So I started working for a Chinese-American company. Then I grew, started my own business. Kian is actually my good friend. We know each other for a while. Kind of have a similar background. Like I started as a sourcing agent middleman one man show, whatever you call, and ended up staying there eight years instead of six months. And then three years ago I moved to Miami, but we still have offices in China, Hong Kong, other parts of the world.
Bradley Sutton:
Okay, cool. So I'm assuming you learned Chinese pretty well than living over there?
Burak:
Yeah. Yeah. I mean, I'm kind of losing a little bit, but now in Miami, I feel like I need to improve my Spanish. So basically I'm kind of lost with the languages, but yeah, it was impossible to survive in China, you know, without Chinese and back then business was very fast, you know, I kind of luckily witnessed the fastest growing GDP of China. Like, you know, they were growing 10%-12% every year, year, 2013, 2014, 2015, the past years of China, I was there. So I kind of witnessed how the companies grew how the shipment quantities increase and how everything was like outstanding.
Bradley Sutton:
Okay, cool. So let's just hop right into it. The first thing that's on everybody's mind is, you know, everybody has seen the news, even if they're not in e-commerce where they see pictures of like the LA port or things about how there's just all these contained ships just sitting out there and we've talked with Kian and others about some of the reasons why lack of containers, you know, from China and then, and then lack of availability to, get them checked in here. But, you know, end of February 2022, what's the current status? Like, did any of that like ease up over, you know, since nothing was shipping out of China for the last few weeks due to the Chinese new year or is it still just as bad as it's been over the last few months?
Burak:
I think everybody would be expecting us to start talking about, you know, shipping from China to US. But I think I like to start like a little bit reverse engineering in here. In United States, we have almost 40 million square feet shortage warehouse wise. What I mean with that is we have roughly today 105 to 110 container ships waiting outside of Los Angeles. Unfortunately, there's no technology, or there is no solution for that yet. Even if the port or the government comes up with new regulations new updates if you can't pick up your container on time, they give you fine. Or they charge shipping lines. And that shipping line is charging actually end customers as a congestion fee, like out of nowhere. So everybody's like really surprised at when this thing's gonna over.
Burak:
But unfortunately, there's no enough space in the west coast to put all those merchandises. So basically when we are saying, there are 110 container ships are waiting outside, it is almost equal of 60 million square feet of merchandise. So where are we going to put all these things? Meanwhile, we already have 4 million almost square feet shortage in entire United States. So that is number one. I think question mark. Yes. We still have shortages in California, especially in Los Angeles, we still shortages problem with the drivers, with the trucks. And more importantly, the chassis, a lot of people wouldn't know what it is. It's little, maybe technical, but you have a container in the terminal available to pick up. We send a truck to pick up, but there is no chassis. There's no equipment to actually put that container on behind the truck. So basically truck goes in into the terminal and they can't basically pick up the corner and just come back. And this is like a snowball effect. We've been trying to avoid Los Angeles port last six months because some of our customers stuck product almost three to four months. So imagine you're investing $50,000 to $60,000 into a full container merchandise, but you can't. So there are a lot of sellers are having a very big cash flow pressure actually.
Bradley Sutton:
So then you can control where your port of entry is. As long as you're ordering a full container.
Burak:
Yes. I mean, it is. It's about you know, I mean, I lived in China, it eight years, I have a lot of good friends companies, but the companies from, especially China, Amazon FBA sellers, as well as e-commerce sellers, Shopify, Walmart. And one of the biggest, I think, challenges that sellers are facing are, they don't know where is their shipment? They don't know what is the actual departure. They don't know what is actually arrival date, how many days if it's a direct shipping line and if there's a connection through a different port, one of the biggest, I would say wrong pronunciation is a term the people call that I'm sure you heard Bradley like CDDP, Air DDP. It is due to delivery pay means that the freight for takes care of everything, but most of the companies in China, they use this fast sea DDP and slow, fast EDP, but there's no such thing existed.
Burak:
It's either direct shipping line or it's indirect shipping line. And most of the shipping lines are connecting through Korea, Busan port, which has a crazy backlog, or they're connecting through Los Angeles. If you wanna ship to, I don't know, Seattle, San Diego, Oakland, almost 80% of the shipping lines are connecting either in Korea if we ship it up from China or in Los Angeles. So what is the reason of using those shipping lines even if you have a small shipment, full container? I think one of the thing sellers need to be really careful about to improve their communication with their freight forwards. They need to understand what is the transit time, which shipping line, or are they using, what is the route? You know, when the Swiss channel was blocked with one of the Evergreen cargo ship, so many companies, they start freaking on and they try to reroute the shipments.
Burak:
You know, they start signing to different ports, different part of the world. And I guess that's where people start getting more aware of where their shipments are going and where the shipments should go through and why, where it shouldn't go. I think this is the number one thing sellers should be focusing on because, you know, we have a lot of clients they're using Helium 10. They have amazing tools. Like, you know, you check your keyword ranking, you check your competition PPC but if you don't know when your shipment departs when it's gonna arrive, how are you gonna stay on top of your inventory management? How can you manage your PPC budget? How can you manage your coupons if you don't know where's your shipment when it's gonna arrive. So I really think that sellers should start thinking all this process, just one entire process, and they need to start managing everything in one head.
Bradley Sutton:
So what is the current, you know, times like, let's say LA port versus Oakland port, you know, I ship something, March 1st, 20, 22 when is it going to actually probably clear customs get through? Cause I know sometimes, you know, sure. It'll get to the quote-unquote port of long beach, but it's sitting on a container ship, you know, like you said, for one or two months. So, what is the current situation right now? Something leaves Shenzhen port on March 1st. When can I expect to get my hands on it? Not necessarily arrive to an Amazon warehouse or a 3PL warehouse, but when can I a local truck in California, either Oakland or, or long beach actually pick it up. How long are we talking?
Burak:
Actually, there will be three options. Number one, shipping from Shenzhen to Los Angeles indirect shipping line, which means connecting through Korea. There can be between the actual sailing time, the transit time, the shipping line is providing us between 35 to 50 days. So this is just the original time of the ship departs from Chanen stops in Korea exchange the containers and go to Los Angeles could be, depending on the shipping line could be you can imagine that as an airline when you ship from when you fly from one place, other place, either you have a direct or you have a stopover. So the same thing could be between up to 30 to 50 days, between from Shenzhen to Los Angeles, connecting, and that you are expecting at least 20 to 25 days outside of Los Angeles port. So basically you are looking at something at least 60 days to 90 days from the day it departs, it arrives to the port and then your container or your shipment is available to be pick up.
Burak:
All right, if you're using a direct shipping line from Shenzhen to Oakland, the transit time is 16 days. And with the delays one week or 7 to 8 days, we are basically shipping within 25 to 30 days port to port late arrive. Or if you really need to ship the Los Angeles, you can use a express ship in line Maxon, which the price is almost 40% are some more expensive than the regular shipping line. And then they arrive also in 20. 25 days. So the three options and most of the time people are don't know which shipping line they're using. So they always complain, oh, my shipment delayed. But then we need to ask, what is the reason, or you need to ask your freight forwarder, what is the reason.
Bradley Sutton:
So what is the price difference though, of like shipping to long beach as opposed to shipping to Oakland? I wouldn't Oakland be more expensive?
Burak:
No, it's almost the same price today. 16Th of February indirect shipping line from Shenzhen to Los Angeles, $11,000 for full container, $11,000-$11,500, the direct shipping line from, Shenzhen to Oakland around $13,000. So you would say like around 20% more expensive, not because of the destination, but because the direct shipping line, there are also some shipments going to Oakland port connecting through Korea and Los Angeles, but it makes no sense because then you can just do wreck to ship it to Los Angeles, right. Or if it goes Maxon, it is roughly $17,000 to $18,000. So most of the customers that we work with, we highly recommend them to ship it to Oakland. We consulate our own containers in China. So we are very transparent. We provide the container numbers, the shipping line number, the ETD, ETA people can track the shipments on. And I think that's also another issue with most of the sellers that they don't really know where is their shipment. And then when it's gonna arrive
Bradley Sutton:
Now, there's sellers who, this is all they know, they launched only like in the last year, year and a half. And this is like normal for them. Maybe they hate it, but only the people who have been around for like, you know, two plus years know what the good old days was. So just for those out there, you know, what's, what's the contrast. What's, what's the quote-unquote normal things you just mentioned right now, first of all, prices of a container, $11,000 and $14,000, depending on where it is. And then, you know, to LA it's like 60 to nine any days before you can get your hands on it, but before the world turned upside down, what were those numbers?
Burak:
Two years ago, I would say the, you know, shipping from Shenzhen to Los Angeles would be 25 to 35 days between and then the price, I guess, like 2,800, like 2,500 between 20GP container up to maybe 4,000 and be right before the Christmas, or right before Chinese new year, we probably see $4,000-$5,000, but nothing like about 5,000 thousand. So, but last year we saw it was crazy. It was madness. We sold $18,000 at $20,000 to west coast. And New York was I think, selling around $25,000 and imagine, you know, people with like tiny margins and the big competition, they, some of them, they decided not to ship and then wait some of them had to take the cost and ship it. So, but we are expecting not to go back to those numbers either up or down. Like I don't think that we will ever see prices going back to $4,005,000. And, but I don't really think that we're gonna see $20,000 to $25,000, like right now, the east coast, New York, or Norfolk around like $14,000,-$15,000, maybe in the summertime, we might see some drop before the Christmas time, like September, October, we're gonna probably see the peak again. So I think people should be really careful with their ROI and they need to calculate this basically 20% to 30% up and downs with their pricing and the cost populations.
Bradley Sutton:
Okay. So now I know you can't predict, you know, what's gonna happen, but you have access to a lot of trends and, you know more about this than the average person. So if you were to predict what, what is gonna start ha you know, what's gonna happen now through March through April, what kind of sign are you seeing out there? Is this 11,000 to 13,000 pretty much gonna be the same for a few months, or do you see it going up a little bit do because of Chinese New Year, do you see it going down? What do you think?
Burak:
Yeah, because of Chinese New Year, probably we gonna see some drop. But this week the prices are a little bit increased, I think, because there's a really big demand, lot of factories just coming back to work and they had like half finished goods. Now they try to ship it. And the demand is not really going down because most of our customers are trying to expand internationally. So we are only talking about us, but a lot of people trying to enter new markets like UK, Canada, Germany surprising a lot of people start asking about middle east, you know, whether we do shipments or not. So I think people are a little bit tired of this. Like, you know, the Los Angeles, poor station, everything. So they're looking for like profitable new markets.
Burak:
We are helping people to expand that with international logistics, as well as the warehousing. I guess US market will keep up with the demand. So the price is gonna be staying at about $10,000 rates next couple of months. In summertime, we might see some drop, but again, if people start already asking us about the Fourth quarter, because the time goes really fast, especially the China side, or even in India right now, we see that there's a big delays with the manufacturing side because of the environmental facts, the electricity problem, the raw material prices increase a lot. We start hearing this, like, let's say stem steel increase like 40% to two years ago. So it is a little bit of everything I would say when it comes to the supply chain. So that's why people should always have like, you know, plan B, plan C sourcing from a new market shipping to the new ports. Maybe look for an alternative 3PL warehouse, you know, three years ago, maybe we wouldn't have this conversation even Bradley because, you know, things were like really smooth, but right now I think being successful on selling on Amazon or Walmart or e-commerce is all about like planning your entire year up-front, otherwise, you know, teams get like crazy with delivered times and the prices.
Bradley Sutton:
Okay. Now, as far as, you know, what are the pros and cons of using the Amazon global logistics? You know, sometimes you see news articles out there. I've never personally used it. I actually tried once to do it on our Project X case study account, but there was some issues where they never approved our account for that. But like, you know, there's news articles that say, oh yeah, you can get it much faster through there. And it's cheaper and things like that. And like, I was just, it didn't make sense to me. I was like, what, you know, they just get to skip the line at the long beach port. So, so what is the pros and cons? Like, are customers using Amazon global logistics, getting their stuff faster and cheaper, or is it pretty much, it's the same boat as everything else?
Burak:
Absolutely. They're not doing anything fast. I would, I can definitely say that a couple of our customers, they use Amazon global logistics. Basically, Amazon has its own brand, right? Like, you know, Amazon basic. So they manufacture a lot of things in Asia. So they have a big maybe almost bigger than a midsize of freight forwarder. Amazon has its own freights enough containers to load couple of vessels per week. So basically what they do is they charter their own cruises. They charter their own cargo ships and they put their own containers. And when they have an extra space, they basically put the rest of the cargo there. So basically you have zero control on your departure date. Everybody knows all the sellers know how the Amazon's customer service works. It's the same thing with the Amazon global logistics.
Burak:
Basically. There's no guarantee when it's gonna ship. There's no guarantee of track. There is no grant of anything. I heard the prices are very cheap, but you kind of need to understand whether you are okay with your entire investment, or let's say one-third of your investment, your merchandise sitting on one of the terminals in China. You don't know when it's gonna depart versus you are okay to pay $2000-$3,000 more, but you actually know when your shipment–, I mean, maybe some of the really large brands who don't have really cash flow problem, they might be doing this with huge contracts with Amazon directly. But most of sellers that who, you know, small style, like 6, 7, 8 feeder sellers, I don't really see the reason why they should be working with them. Same thing with the Amazon LTL, actually, when you're a wholesaler, you're a retailer arbitrage, you're a private label.
Burak:
We've been talking about prior label shipping from China, but I'm sure there are a lot of people listening, like sourcing in part of domestic. We are from South America, even the same thing with Amazon LTL carriers. Yes, it's cheap. But the problem we see when our customers are sending us the FBA labels and the pallet labels to ship out the products, the Amazon LTL carrier never shows up. And then in their system, they say that they showed up and then like the seller needs to call back Amazon carrier central to trying to rebook it, reschedule it, trying to get the refund. So that's why now, a lot of people, they have the limits, the more you sell Amazon gives you more ability to send new inventory in. So it means that you really have like a tight time between sending in inventory checks in. So you wanna make sure everything goes smooth. So we can't avoid the fact that Amazon is massive. They're getting like bigger, you know, they're charting their own planes, trucks. They have new strategies probably, but it's never gonna be–, because it's gonna be always like bulk, and people who use that need to be careful with the shipping time and the trust times with their shipments.
Bradley Sutton:
Okay. You talked a little bit about vocabulary words and, and different things. And, and so let's just do a quick overview again, of the terms that you think people need to understand. And, and then the differences of them, you know, like air shipping, sea shipping, fast, slow DDP. I don't know if you can pick like five or the top five or top 10, you know shipping related things that you think Amazon sellers out there need to know what they mean so that they can make a good decision.
Burak:
Most of the new beginners, we understand that they don't know the difference between FOB and EXW. That is basically when you are making a deal with your factory, they're basically asking what kind of price do you want? Like FOB and EXW, and probably a lot of people, they heard about it, but they don't know the difference. So this is something they need to understand because it affects directly their pricing. When people are asking us the price, we always quote them, everything included door to door, and we ask them, who's gonna pay the local charges in China. And they're like, what do you mean with that? We are like, what is your trade term? Is it FOB or XW, this is number one, I guess. Fob is something that when you place order, the factory pays the local charges in the origin.
Burak:
It can be Turkey, India, Bangladesh, if it is EXW, it means the factory responsible manufacture the product, live it in front of the factory door. And you're in charge of entire pricing, entire the cost. But some of the people say, oh, I don't know how to pick up. I don't know who's gonna pay. I don't know, should my supplier send you the product? Or can you pick up? We tell them it doesn't really matter because the factories in China are, you know, the different part of the world. They know this process. So the sellers only need to be careful when they choose the trade term. Because normally if you place an order Bradley, FOB, it means that factor's gonna pay the local charge. Let's say you're manufacturing, the microphone and microphone cost $5 EXW and with FOB, they're gonna probably charge you $5.50.
Burak:
So they actually gonna reflect that local charges into the product cost. You know, maybe this could sell on little advance, but just to understand what kind of pricing you are getting from factory because if you're buying 10,000, 15,000 units, it can make a really big difference. So this is the number one, the second thing I would say, the fast sea or slow sea, I hear this from every single person and this is a very wrong to say because there is no such thing. You know, it's not like two cargo ships are racing to each other in the Pacific ocean to get into the terminal. It's about their rotting, whether they stop in a different port, whether they have the size of the cargo ship, some of the cargo ship can take up to 6,000 containers, some of them can get up to only 4,000.
Burak:
So people need to understand when they talk to us or their freight forwarder they need to understand the route like shipping route. What can affect the shipping time? Is it the connection? Is it the which terminal they're actually unloading the containers in the destination? Is it the port? So this is the right question to ask. Instead of asking slow boat, fast boat, people should ask, which shipping line are you using? Is it a direct shipping line, indirect shipping line? And what is the transit time? And when you are freight forwarder is answering you the transit time. It means from the port to port you need to ask, okay, great. It is 35 days, but what is your experience? How many days it actually takes that my container will be available in the terminal.
Burak:
If they don't have the answer, you need to reconsider working that freight forwarder, because they should actually know because most of the companies, they just ship the product and they forget about it. They don't really give you because they get paid in advance. So you need to really understand the entire process. So there is no such thing, slow sea, fast sea, it's either direct shipping or indirect. And I think that one of the most important things, the HS codes I know a lot of people don't really like this topic, but if you source private label from China there are a lot of items are subjective, extra cost between 15% and 25%. So you really need to understand what kind of HS code you're freight forwarder is using, under which company, whether it's under your company, or the freight forwarders company at how much duty and tax you going to pay a couple of weeks ago, one of my customer told me their freight forwarders said such thing.
Burak:
I think that the duty farming or like tax farming, I'm like, I don't even know what does that mean? So if someone comes up to you and then asks you or tell you things like makes no sense, always make sure you question, because eventually, it could be your product return back from the custom to the origin, because it doesn't pass the custom. So I think these are the three top main things people should be focusing on and never like, worry about asking the right questions to your freight forwarders. And most of our customers who used to work with their suppliers freight forwarders. I really don't recommend that. Always make sure you guys have a direct communication with the freight forwarder. It doesn't matter if you're using the suppliers. If you using your own, make sure you have at least one or two contact people from the freight forwarder in case someone gets sick or they're out of office, or they quit the job. It happens a lot last year. So many people quit their jobs, especially in China. It is very important. Most of our friends through friends, they're asking us, Hey, can you help me to find this company because I cannot contact them? I think these are some tips that I can give sellers.
Bradley Sutton:
Okay, excellent. Now, what are some mistakes you've seen, the biggest mistakes you've seen people make, you know, obviously you deal with tons of Amazon sellers out there, and then you're probably not the company that they use for their very first shipment? Maybe they were using just Alibaba to find their freight forwarder or they're using their factory. And then now they find you guys somehow, and then you take a look at what they've been doing. You're like, oh my God, I can't believe they were doing this. Or maybe they said like, oh my God, I can't believe I was doing this for before. I can't believe I paid this. Like what, what are some of the most common mistakes you've seen Amazon sellers make when they first get started with you?
Burak:
I don't know how many things comes to my mind. I don't know where to start, but I guess one of the thing is the hidden costs. A lot of people, they get burned, especially if it's their first shipment, the second shipment you know, it's always kind of try to work with the supplies, freight forwarder, because it's kind of safe, you know, then they start asking–, what I like actually about Amazon community and, you know Facebook groups, people start giving their actual reviews, actual feedback. So that's a really great thing. I think people before start using a freight forward, they should be asking like, who are these guys? A lot of people they surprise with the hidden costs. What I mean with that is try to negotiate with your freight forwarder, not to pay them upfront in advance.
Burak:
The reason why I'm saying that I heard a lot of companies, they pay, let's say $5,000 from Shenzhen to Los Angeles, Amazon LAX9 warehouse, $5,000 for 2000 kilogram. And when the shipment arrives to port the freight forwarders, they say, oh, there's an extra charge of this and that. So then since they pay it already, they own the product. You have to pay it. I think this is one thing that people should be really careful with the quotation they receive. I highly recommend people to receive the quotation written by the email. Lot of people, they use Skype, a lot of people using WeChat. There's no problem with that. It's good to communicate with your freight forwarder cause they're in a different time zone. But definitely take the contract written at the end. If you have any problem, let's say you find Alibaba, at least you can contact Alibaba and try to gauge that fee.
Burak:
This is, this is one thing. Another thing is I asked a lot of people they're making a mistake is they don't know the shipping times. And then they're like running out of stock. They're running out of inventory. There is one thing because I lived in China eight years before I started this freight forwarding company, Forceget, I was using companies in China and the biggest problem I was facing the communication, I always had to ask them, where's my shipment. And I really never knew whether they're giving me the correct information or not. I'm not saying they lie, but they might be just giving you information because they don't wanna make you angry. They don't want to feel like having a bad relationship with you. They're like, oh yeah, it arrives next with, it arrives next week.
Burak:
But then I was like, you told me the same thing three weeks ago. Where's my shipment. Where's the container number. And they said, oh, we can't share the container number. You know, I think these are some of the things that you should be asking your freight forwards before you work with them. Whether you know, they provide you the container number that is very, very important because it's normal that if you have a small shipment, obviously every companies consolidate those containers, but you should be knowing what is your HS code and what is the container number? Because maybe that container has been sitting in China for month, for weeks in the terminal, but they told you that your you're gonna receive your product next week. And then you suddenly decide, okay, I'm gonna activate my listing, start getting reviews. But then you actually never see that product next five to six weeks. And you miss the honeymoon period. You know, these are something that I think is kind of important.
Bradley Sutton:
Now, something that I've seen come up on the Amazon dashboard and some sellers were asking about it. Some like kind of like new requirements. It says like, Hey, you've got to, once you create this shipment, you've got, you know, 30 days or something like that to actually get it in. And so a lot of sellers are like, wait a minute. You can't do anything in 30 days unless you're doing made in USA and, and have it arrive. So what's happening for the stuff that's coming from China. Let's just say it's going all the way to Amazon first. Usually, in those cases, they are putting the FBA labels on the boxes already in China, right? If they're not repackaging here in the United States, so does this rule affect them, or what's going on there?
Burak:
Wow. That's something that we've been talking almost every day to our customers because it used to be 90 days before something like that was like enough time. And if people don't do this yet, they should start doing it before you start, before you ship outta your car from China, you should create your shipment. You need to send your FBA labels to your suppliers so they can put it. We pick up and now we ship it either to our warehouse or Amazon. But until this 30-day rule Bradley when we had this 90-day, we had couple of cases that the shipments were closed by the Amazon site, but Amazon still received them after it was delivered. So I don't recommend to do this to people because Amazon basic it's against Amazon's policy. I'm not going to tell people that yes, he should be doing it.
Burak:
But some of the cases, the shipments were already in the UPS, couple of days passed the shipment delivered to Amazon. Amazon still scanned them and still put them under the active inventory. So we saw that couple of times, even we saw that the shipments supposed to deliver to a different location with a different FBA labels, it was delivered. So when it comes to the 30-day, I guess it might still be the case, but it is definitely going to affect your account health. So I don't really recommend to do that. So the best option is to create the labels when shipment departs. So people might be thinking, oh, wow. Then I need to find a 3PL warehouse, who can apply the labels. It's gonna be extra cost. Unfortunately. Yes, it is what it is. But I guess what Amazon is trying to do is imagine Amazon's system algorithm, maybe every day, there are 1 million shipments created and maybe 230% of that are failed, not delivered on time.
Burak:
So basically Amazon is predicting, they're doing a forecast. I was actually a few weeks ago, I was in Amazon San Francisco warehouse. They actually have a special area where they have the check-in the shipments. And they're expecting that day to be delivered, let's say 100 containers. But if there's only 70 containers delivered, then Amazon is actually losing 230% of their space and capacity. They still pay their employees. They still paying for facilities. Everybody probably knows. I mean, you live in California. You know how things are getting expensive in California. We used to pay $8 per pallet to put the products on. Now we are almost paying $18 per pallet. So same thing with Amazon. I think that's why they're like strict in the rules. And Amazon don't want to be more of a warehouse store. They just wanna be very fast-moving fulfillment center, you know, before the COVID you could send unlimited inventory.
Burak:
Now, these days we see still like it's a little bit losing up with the inventory restrictions, I guess, because Amazon is investing a lot into new warehouse spaces. Only like within the last three months, they probably have like 5-6 warehouses in California. So I guess it's still gonna go the same way. Amazon will never like go back to unlimited space cuz they don't really make money on that. So people should really start focusing on finding a third party warehouse to get this labeling done in US side or even in Europe, because ship, especially in Canada, like shipping China to Canada is almost 50 days. It takes by ocean. So you cannot really create your shipment before your shipment created. Like you cannot create your labels before shipment, departs from China.
Bradley Sutton:
So it does apply to all shipments. Then it's not just talking about the one when you use the Amazon partner carrier like UPS. Like if I wanted to send a full container door to door to Amazon's warehouse, there realistically is no way to comply with that new rule. Unless I relabel the stuff in a third party warehouse first.
Burak:
Almost, almost. And another biggest issue right now with Amazon full container deliveries. I don't know if you heard about it, but there's almost no carrier in California wants to deliver to Amazon directly. The waiting time is incredible. Like each container waits almost average. We have a digital platform. So we track the delivery times. They're waiting around 78 hours average to deliver a full container to Amazon. So imagine Bradley, you're paying only $800 to $1,000 detention fee for the delivery. Sometimes the trucks go to deliver things to Amazon full container. Then the Amazon says their system is done. Just come back tomorrow. So imagine how much-unexpected cost. One of our customer just shipped from Los Angeles to Las Vegas, LSV van full container. It was $4,500 for a truck, just because it's going to Amazon. It is, it used to be like $1400 to $1,600. So I guess this supply chain issue, the freights not only international but domestic freight, even with Amazon, Amazon is gonna start put like more restrictions and more rules. Well, I feel like it's coming up. So I think really people should be careful with their shipments and their costs.
Bradley Sutton:
Okay. Now–,
Burak:
I don't wanna sound like I'm giving the bad news, but I think that's something that people should be prepared.
Bradley Sutton:
Yeah. Well, I mean, one thing keep in mind too, is it's not like, now the competition is different or, or I'm screwed. I mean, everybody's in, in the same boat, you know, like the prices, the shipping times, it's not like, you know, people have special access to something that nobody else does. I mean, so people are gonna, you know, I've seen, you know, I've seen prices raise and that's how it's gonna be. So everybody's in the same boat, you know, no pun intended. And, and so we all, we all just have to deal with it.
Burak:
So when we talking about, you know, global freight forwarding it's not only about just shipping port to port, there are so many other factors get involved. You know, so many emails, so many people maybe until people place order from, you know, Amazon, their like 10 to 15 companies are involving. That's why I think digitalization is gonna change the era of this supply chain, because you said that everybody's on the same boat. I totally agree with that. But people who manage their supply chain more professionally more visible I think they will be successful actually, I'm calling like, you know, global email freight forwarding because there are like so many manual job has been done in this industry. It is really important for people and companies to understand why the digitalization should be helping them.
Bradley Sutton:
Okay. Now, before we get into your 30-second tip are you going to the Prosper Show in March actually?
Burak:
We're gonna be Helium 10's party sponsor, so–,
Bradley Sutton:
Oh, okay. That's what I wanted to talk about. So guys Forceget is one of the sponsors for our special event. It's gonna be at House of Blues. I forgot what it's called a music room or something at House of Blues in Mandalay Bay. So even if you're going to the prosperous show or if you're not just going to Vegas guys that weekend and we are gonna have a crazy party for any '90s kids, you know, like myself, we're gonna have Mark McGrath there, you know, you might remember him from Sugar Ray. He's gonna be our musical guest at this party, which is crazy to see him in person and it's gonna be kind of like a '90s thing, Mark McGrath '90s night kind of is what it's gonna be.
Bradley Sutton:
So if you guys wanna get your tickets there before they sell out, go to h10.me/prosper2022 that's h10.me/prosper2022, you can meet Burak there, you can meet me there and meet Mark McGrath potentially there. So that's definitely gonna be good times now. What is your "TST", or your TST 30-second tip? You know, you've been giving us a lot of tips and strategies, but what's something that that's kind of quick and, and right. Very action that our listeners can take in regards to freight forwarding
Burak:
Choose the right freight forwarder, reliable one with a good communication, and make sure there's no hidden cost. Make sure you get the entire shipping process understood which shipping line, how many days, which port what's gonna be the cost and what is your delivery time and make sure you are managing your cash flow according to that, and make sure you place the orders, don't forget their delays in the supply chain part. And more importantly, I guess when you compare the prices compare to apple to apple because so many companies are out there, like just offering the prices without too much details, and don't be afraid of asking more questions. I feel people are managing their entire e-commerce business sole professional everything's under control, you know, but the freight side is kind of like little gray and shady that they don't really know what is going on. I think it's important to get in all more and increase the communication with your freight forwarder to understand eventually it's your own product and it's your money tied up one of the containers, if you can't track it, you need to ask yourself like, where is my shipment?
Bradley Sutton:
Okay. So there you have it guys, we keep it real here. You know, we're not gonna try and hate something that a situation that is not and the situation is, you know, prices are higher. Shipping times are longer, but hopefully, this episode has been able to help you understand what you guys need to do to help to do all you can to ease the pain, I guess, of this situation. So Burak thanks so much for joining us. I know people can find your company also in directory.helium10.com, our trusted partner direct. If they wanna reach out to you, what are some, what are some websites and, and locations that people can find you out there?
Burak:
The best way to reach out to us is, as you say, there we are in Helium 10 trusted partner page forceget.com. And also we have quick quotation page that people can just leave their contact information. We have WhatsApp and US number. One of the advantage that working with us is we have a local person in US with a time different so that people don't have to wait for their freight forwards to wake up overseas. I think that's like one of the challenges that people are facing, but sending an email to [email protected] will be the best way to get in touch with us.
Bradley Sutton:
All right. Well, thank you so much for joining us. We'll be seeing you in a couple of weeks in Vegas, and we'll also see you on one of the upcoming elite workshops as well. So thank you so much for that and we'll see you later.
Burak:
Thank you for having me.
---
Enjoy this episode? Be sure to check out our previous episodes for even more content to propel you to Amazon FBA Seller success! And don't forget to "Like" our Facebook page and subscribe to the podcast on iTunes, Spotify, or wherever you listen to our podcast.
Get snippets from all episodes by following Bradley on Instagram at @H10bradley
Want to absolutely start crushing it on Amazon? Here are few carefully curated resources to get you started: