#309 – Navigating The Current Shipping And Sourcing Issues For 2022
Kian Golzari is back with some updates and insights on the current situation regarding sourcing and shipping. He also shares his top strategies for 2022.
Originally published on: December 28, 2021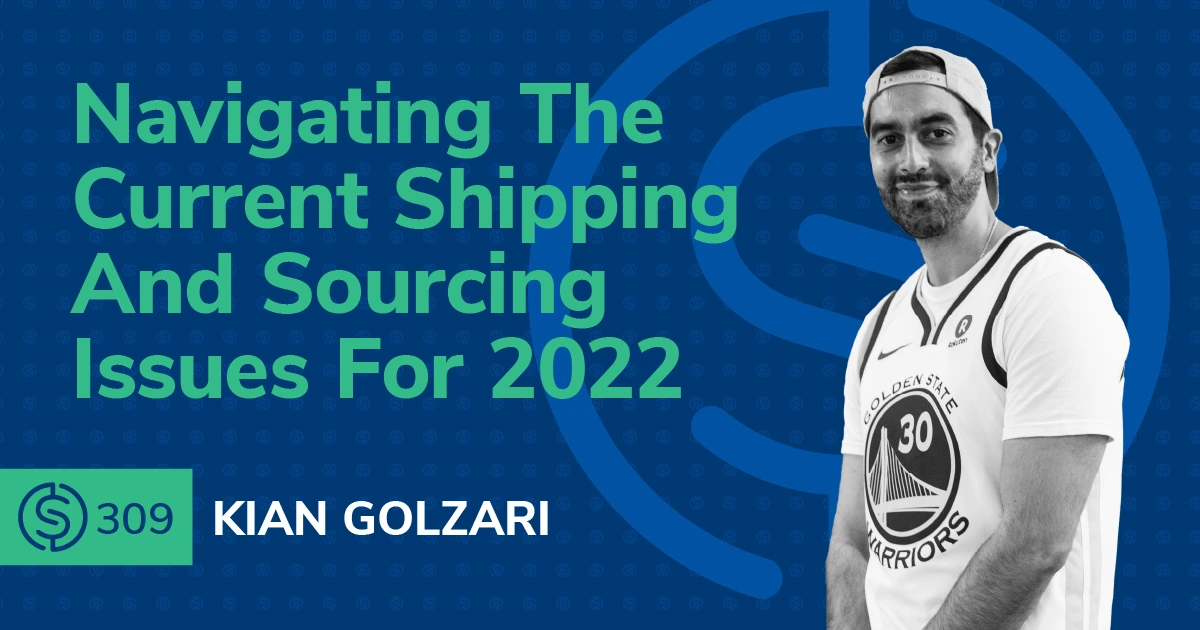 Have you been having shipping delays and other logistics issues lately? Bradley speaks with sourcing and shipping expert Kian Golzari to shed some light on what's going on and how you can prevent this from happening this 2022. Kian also shares his "key shipping principles" that he uses to improve his lead times and more!

Also, in this episode, he announces a new series about sourcing and shipping with Helium 10, so make sure to stay until the very end!
In episode 309 of the Serious Sellers Podcast, Bradley and Kian discuss:
03:00 – Shipping Delays And Other Logistic Problems
06:50 – The Key Shipping Principles To Get The Best Lead Times
11:40 – How Much More Does It Cost To Ship Your Products?
14:00 – Kian's Take On Amazon Global Logistics
17:00 – Current Shipment Lead Times And How To Plan To Improve It
22:00 – How To Improve Your Relationships With Your Suppliers
27:00 – The Best Strategies For Remote Sourcing
30:20 – A New Website That Kian Uses For Finding Suppliers
32:00 – A New Series Featuring Kian About Sourcing
35:00 – More Tips From Kian
39:40 – How To Get In Touch With Kian
Transcript
Bradley Sutton:
Today, we've got one of the world's most knowledgeable experts on all things sourcing and shipping. Who's gonna give us some light at the end of this nightmare tunnel that we've been in, as far as those things are concerned. And he's gonna give us some really cool strategies for sourcing and shipping in 2022, that you've probably never heard of. How cool is that? Pretty cool I think.
Bradley Sutton:
As FBA business owners, we've put thousands of hours of hard work into growing our businesses, but what happens when you've grown the business, as much as you can and don't have the time or resources to take it to that next level, enter Thrasio. Thrasio has acquired over 125 Amazon businesses from owners, just like you with more than 600 experts at the top of their field in brand management, growth, marketing, creative, and supply chain Thrasio's operating team can grow your business exponentially. Once you've sold your business, simply celebrate a lucrative exit, and watch your personal wealth grow while your brand flourishes in Thrasio's portfolio. To connect with Thrasio's deal team. Visit thrasio.com/helium10, that's thrasio.com/helium10 for more information on if your brand is a good fit for Thrasio. Hello everybody, and welcome to another episode of the Serious Sellers Podcast by Helium 10. I am your host Bradley Sutton, and this is the show that's a completely BS-free unscripted, and unrehearsed organic conversation about serious strategies for serious sellers of any level in the Amazon, Walmart, e-commerce world.. We've got for, you know, maybe third time, I think on this podcast in the last three years my brother from another mother he's actually in Dubai now used to live right near me Kian. How's it going, man?
Kian:
I'm great. Bradley. I'm amazing. Thanks very much for having me back on can't believe it's the third time, third times the charm glad to be back on.
Bradley Sutton:
Yes. Very very few people have come back three, you know, every time because everybody loves you as a guest. And so we're like, Hey, we're gonna bring you back again and again and again, and as a matter of fact, we're gonna talk about something later on this episode about how on other episodes of this podcast you're gonna be hearing from Kian perhaps like once a month. So stay tuned when we announce later on in this episode now let's just start off the bat, with the elephant in the room. I think the last time you were on the show, you know, what was like right in the beginning stages of COVID and we talked about, Hey, now there's you know, the online Yiwu thing, but you know, we've now been in this thing almost two years.
Bradley Sutton:
And the biggest thing that has happened in, you know, sourcing and shipping and ordering products is the shipping delays. I had a shipment from China of some products I knew was gonna do well during Christmas time. It arrived at the port or in the waters, at least like in the beginning of September. And I didn't get it until the middle of November. Another one arrived there in like the middle to end of October. And I stilll don't have it. So I completely missed, you know, I could have sold thousands and thousands of dollars of this product. So, you know, we just had our end of the year party of Helium 10 on a boat in long beach. And it was funny. I was like, we gotta take this boat out and just drive through all these million container ships that are seen out here. So, you know, the question everybody's got is like, can you walk us through first of all, what happened? Because it's not a matter of, oh, everybody's shipping more products than usual, and that's why, you know, there's this, or, oh, no, somebody got sick at a port in Ningbo or something. And that, I mean, it's a number of reasons. So walk us through how we got to where we are now.
Kian:
Sure. And I'll keep it nice and short and simple as well, cause I'm sure a lot of people have dealt with this headache for the last year or so, and are probably sick of hearing about it. But I think like we can talk about some solutions in terms of what's the best way to get around it. But before we do that, it's best to understand, well, how did we get here? And to be honest, like to summarize, if I could put it down to one thing, the main thing is like container circulation. And because of that, like, you know, we had this increase in demand of goods coming from China as a result of the pandemic. We're not spending money on holidays, we're spending it on goods. So demand from Chinese factories goes up, exports, go up. And now when nails containers get to the port in long beach, California, wherever it's going in, the US or UK or wherever there's now closures at the port, cuz people are, are catching COVID cases.
Kian:
So they shut down for a day. They have to test everyone and it take a little bit while to get back to work, they take longer to unload containers. They can't get the truckers because there's positive cases there. So as a result it takes a lot longer to unload. And as these vessels are coming in, they stack up, they stack up, they stack up and then all of a sudden before, you know, it, these containers, which used to get empty as soon as they arrive. And then the empty container goes back to China. Now they're not going back to China. And then, as a result, the demand keeps increasing on the China side, but there aren't the containers to then ship them out. So the demand far exceeds the supply, which then causes the price to massively increase. But unfortunately, the situation just never got better because the demand kept increasing and the delays kept getting longer and longer and longer.
Kian:
So that was the main reason, but there was all sorts of other things that went on as well. But we can say that there is a light at the end of the tunnel and the situation is slightly improving as well. And we did see this a little bit in October. We did see prices start to come down, even as much as 40%, even though it was just temporarily. And that was because the first of the 8th of October in China was our golden week holiday. So for one week, they weren't producing any goods. As a result, more empty containers could go back to China when they weren't making anything. So they were able to fill up more containers on their side. And then later on end of October and beginning of November, we had the power outage situation in China, which is still ongoing a little bit, but not as dramatic as it was before, but factories were kind of offering at about 40% power, 40% capacity.
Kian:
Therefore they weren't sending as many goods to the port. Therefore they were shipping less. Therefore the containers managed to catch up a little bit. And I think we're gonna see that a little bit more as we get closer to Chinese new year as well because obviously, the factories are gonna be off work for several weeks. So that should see the situation stabilized as well, which is quite interesting cuz Chinese new year is normally the time where the goods are the most expensive cuz that's when everyone's trying to get rush their orders out. And that's probably when we're gonna see a slight decrease in cost slightly through Chinese new year as well. But you know, through this whole process and what we've all gone through and been able to help a bunch of different sellers. It's now easy to identify, okay, what are the key shipping principles? Or, what are the main boxes we need to tick to make sure we get the best lead times and we get the best prices? Do you want me to jump into that real quick?
Bradley Sutton:
Let's do it.
Kian:
Let's do it. Okay, cool. So first thing, the most important thing I would say is definitely ask multiple freight forwarders for a quote because we've already been in a situation where you work with one freight forwarder. They've given you amazing service, good relationship, all that. You just always ask 'em for a price, but the pricing is based on capacity. It's how many containers they've booked on a certain vessel. So some freight forwarders will have loads of capacity. Some won't have that many, some will have last minute cancellations. So reach out to 3, 4, 5 different forwarders, reach out to Chinese forwarders as well as international forwarders. Sometimes they might give you a better price and then month to month, you're gonna see that's gonna change, but just reach out to maybe three to five.
Kian:
The other thing is that ask for your price at the right time as well. If you've got a shipment up in like say 45 days, time, or 30 days time, there's no point asking for a quote right now. Cause so many things can change between now. And then the best time to ask for a price is around 10 days to seven days away from when your goods are actually ready to ship because that's when they know what vessels are actually going out. If there's any cancellations, if dealt with it, but you don't want to book a price, you know, like two weeks out and then they find out, okay, that vessel's been canceled. There was a foreclosure there now we need to find you a new boat. So asking at the right time, which is about seven days out as well. The other thing is that like all, I think all of our knowledge about around freight's probably increased quite a lot because we've had to ask these sort of questions, but you know, if you have ever heard much of my content before, I've always preached about the importance about building a relationship with your manufacturer.
Kian:
Well, now the same sort of applies to your freight forwarder. Building a relationship with your freight forwarder is super important as well, and they can give. And why that's important is that they can give you advice on first of all, which vessels to ship on cuz each vessel, you know, you've got Costco, Mersk, Evergreen or so many different ship shipping lines. And these shipping lines have different speeds. Like some will say, all right, 15 days to LA port and they'll actually arrive in 15 days, but some will say 15 days they'll arrive in 45 days. So the freight forwarders know which shipping lines are accurate. So you want to be finding out which shipping lines and make sure it's the fastest one. And then as well as that is, which port should you be shipping to? Because we know long beach port has got this big log backup.
Kian:
Well, we could also ship our goods to Oakland and then track them down to LA or wherever they need to go. Or maybe we could ship them to Houston and then ship them to other ports where there's less congestion, less fees. Then you have like more, more inland trucking costs, but it depends on where your warehouse actually is. You can now ship them to, to other ports as well. And then one thing that I found success in is a, as I said, I was pretty, the importance of working in a relationship with your manufacturer is split the increase of the shipping cost with your factory. So for example, let's say a container price last year was five, $5,000. And now it's $20,000, right? The increase is $15,000. You can say to your supplier and the supplier knows find, well, the increase in shipping costs here, you can say, look, our container costs has gone up $15,000.
Kian:
It's now not profitable for us to ship this product. We might need to discontinue it. But because we work in partnership because we were long-term partners because we're working together, it'd be great. If you can absorb half the shipping cost with us, because if you do, then we can also continue to sell this product. We can continue to get sales. We can continue to place orders for you. So you're also gonna benefit as well. So the increase has been $15,000 can be split at 50-50, you contribute seven and a half and we'll contribute seven and a half. And then that way you've just knocked seven and a half thousand dollars off your container price, which are factory split with you and your factory's incentivized to do it because now they get continual orders from you. And you're not gonna cancel that order. Now whether you get that or not depends on how long you've been working with that manufacturer, there's no chance you're gonna get it on your first order.
Kian:
But if you've been working with that manufacturer for like maybe three years and your orders have been building up like, well, I don't wanna lose this customer and I don't wanna lose this product. So yes, I'm gonna contribute. So you might find luck splitting the cost of your manufacturer there as well. The other thing is that you don't always have to ship all your goods at one time as well. Like your factory's got storage in their warehouse as well. So you could say maybe you've ordered like 15,000 units, but you only actually need 5,000 units to get you through the next quarter. So you can say, look, I'm only gonna ship 5,000 units, but I'm gonna store 10,000 units in your warehouse. We'll keep the goods there. And then in a quarter time, when we anticipate the cost will come down, then we're gonna ship the rest of the goods and then you get that free storage, and then you'll be getting shipping it at a lesser rate, hopefully in about three months time as well. So those are the few key principles that I'd like to apply, you know, for shipping at the moment.
Bradley Sutton:
Yeah. Okay. So you know, going back a little bit and some of the things you mentioned, and I neglected to mention that, you know, I was just kind of thinking mainly about the shipping delays, which is obviously, you know, affecting me regardless of the cost, but the cost is definitely an issue. So what are we seeing now on average, as far as, as how much you know, more it's costing to ship you know, are we talking double, are we talking 50% more? And then what is the trajectory you're seeing over maybe, you know, January, February, are there any signs that it might go down or it's only gonna go down, you know, during the Chinese new year, like, as it did for that one golden week thing?
Kian:
Yeah. Well, if, if you can give me a second while I'll just get my crystal ball from under my desk.
Bradley Sutton:
Oh yeah. You guys got a lot of cool stuff in Dubai there, so–
Kian:
Yeah. No, I would say that like from the freight forwarders that looking to, you know, no one can quite predict what will be the situation, but what we envision like, you know, first of all, the container prices, depending if it's 20 foot or a 40 foot container, you know, went as high as over $20,000 and there's some freak incidences where they went even higher in that they're kind of stabilized now where they've been dropping, not too much, but maybe dropping 5%, 10%, 8% depending on which port you're shipping to. So like people can be comfortable with around like $15,000 to $18,000 per container. I think we'll see a slight reduction after Chinese new year, but maybe a little spike before Chinese new year. And I would say that after Chinese new year, even if the prices drop, I don't think the shipping lines are gonna mean a rush to drop them either because they know that the demand is still there. So I think we'll start to see just gradual decreases. And I don't think it'll really go back to as low as it was before, but hopefully, I would say that by Q3, by July next year, I would be hopeful that we can get it down to about maybe $12,000 and $13,000 a container. And it'll just be gradually dropping. It's not gonna drop like Bitcoin. It'll just be like, you know, 5%
Bradley Sutton:
Don't get me started on that.
Kian:
We'll see about that. But I think monthly, we'll bring you updates on that, which is something we're gonna chat about later on as well.
Bradley Sutton:
Okay. All right. So one thing, you know, I like bouncing around because sometimes if I don't say it, I'm gonna forget about it with my bad memory, but I've been reading news articles lately about something I have no experience with. And these news articles are like talking about, oh, how Amazon has their own shipping containers and this and that. And that part, I kind of knew about, you know, like Amazon Global Logistics. I've never used it, but we've always known and existed. But, you know, for me, what was interesting was I was under the impression that as far as the shipping delay goes, you know, it's because of the, you know, the ports and things like that. So like, you know, these boats that are waiting, you know, they can't get in, but it almost sounded like these articles were trying to say that people who are using Amazon Global Logistics are, are somehow bypassing that and getting fed. I was like, that doesn't seem right. Like I could maybe understand maybe the price, like if they have their own ecosystem of containers, which still that didn't sound completely. Right. But anyways, what's like, if, if somebody's using Amazon Global Logistics, are they saving on time and money with what's happening right now? Or is it pretty much the same?
Kian:
Yeah. So I heard like personally, I've not used Amazon Global Logistics myself as well, but I've spoke to people who have, and I've heard that they're getting better pricing using that. And I think that's because obviously, Amazon wants to buy this business at a time. They don't mind to take a slight loss in order to get, to build up there, you know, container business. And also they can sort of fast track your products into Amazon, into put 'em straight into the warehouse. And then as a result, unloading it, they know exactly where it's going. But I think I've also heard stories of you know, containers getting unloaded very, very quickly, just even in a few as well. And that's by a fast shipping line called Matson, Matson. And that that's like unrelated to Amazon.
Kian:
So if you type in Matson, and that's just that ships through Oakland, and it's a very, very short weight. And it's only certain vessel sizes that can go through Oakland, cuz they're big, massive vessels. Like the ones switched got stuck in the Swiss canal out, they have to go through long beach. Right. But the smaller ones can go through Oakland. So if you're like desperate for a shipment and you need to get it out fast ask your freight forwarder, I want the Matson fast line. And in that has a very, very fast clearance time. But in terms of Amazon, I think they're, they're also gonna be relatively quick, relatively cheap, but definitely speak to people who have used it and ask what their opinion has been on the service.
Bradley Sutton:
Okay. What should I be doing now? As far as inventory planning goes obviously here at Helium 10, we have a full Inventory Management software where, you know, it's giving Amazon sellers like suggestions on they should order and when they're gonna run out and things like that. And so we have something in there that's kind of like, you know lead time. So like once I actually cut a PO, how long does it take to get into Amazon? And you know, the last few years is it's always been, I mean the last few years, I mean, I've been importing from China for 20 years. It's like clockwork, you know, unless there's something super weird happening where you know, I order then, you know, if I know it takes like, you know, three or four weeks to manufacture maybe takes another, you know three weeks to get to the port and then like a week to clear cut. Like it's always clockwork, but now it's like hit or miss. So, as I know it is hit or miss, it's not like one number that's right. But like on average, what are you seeing from the time that may be an order is ready to go? How long is it taking to get to the port clear that long line of ships and then actually get to Amazon? Yeah. Well,
Kian:
In normal circumstances, pre-COVID to what it used to be is that like, okay, you spent your time developing your sample, but from when you have this sample that, okay, this is what I'm happy to go production with. Here's my deposit, here's my purchase. Or generally as a rule of thumb. And it varies like category to category, but normally it takes 30 days for material preparation and then 30 days for production. So your production total lead time is about 60 days. And then if you're shipping to west coast, you know, it takes about 15 days if you're shipping to east coast, maybe about 35, 40 days. So maximum from when you place your deposit to when your goods arrive at the port, if it's east coast, you're looking at maximum a hundred days, right. Three months basically. But now, and then, but now obviously depending on which port you're going to, sometimes you can bypass all of that or you're gonna get stuck for another few months at the port and even, yeah, some kids are getting held at customs as well.
Kian:
So, there's all sorts of issues going on there. But in terms of next year, what I found super interesting is depending on what category of product that you're into your suppliers actually have a bit of a backlog as well in terms of the amount of orders that they have to fulfill before Chinese new year and in order. So which are now piling up after Chinese new year. And I was having a conversation with one of my backpack suppliers just a couple of weeks ago, cause I had the company reach out and they wanted to add an order for bags. And they were telling me we can't do anything until May next year. I was like, are you joking? Like May next year. That means we're talking about July delivery, Q3 the delivery next year.
Kian:
So I was like, oh, okay. Okay, cool. Well, now it's a very, very important time to check in with your manufacturers to find out what are their cap, what's their capacity, what's their capabilities for 2022 because now, and regardless of COVID or whatever now is actually the time that I always plan my forecast orders for next year. And I would encourage anyone like listening right now that use this time what's left of December and beginning of January to give your supplier an accurate forecast of your order schedule for next year. Because what you can do is that you could actually place your order right now so that they can go and prepare your raw materials before Chinese new year and Chinese new year's 1st of February, 2022, by the way, next year. And it changes every year because Chinese year follows a lunar calendar. So that means pretty much for the month of January.
Kian:
Chinese, factory's gonna be shut down, but they can order your raw materials right now. They can keep it in storage. So when they come back to work after Chinese new year, then they can start the production. But while I to give a forecast is that you can say, okay, well, last year we ordered 10,000 units over three or four orders. We envision a bit of growth this year. So we think in 2022, we're actually gonna be ordering maybe around 15,000 or 18,000 units. And we're gonna place like we're not committing to it. This is just a forecast, but we're gonna place 18,000 units. We'll give you an order in April, right after Chinese year. We'll give you another one to ship out in June, another one in October, and then another one in December. And what your factory might do is go and order all the raw materials for those 18,000 units.
Kian:
And that also depends on the materials used in your product. If it's just like a black polyester, well, if you don't take that stock, then they can use it for someone else. Right? There's no risk. So they're just gonna order all your raw materials. But if you have like some customized goldfish or the hoodie that I'm wearing right now, some customized like purple and pink pattern, they're not gonna order 20,000 units for you because if you don't take it, they're screwed. They can't sell that to anyone else. So you can say to them, all right, if you can hold all of that in stock and in that way, that reduces your lead times as well, because next year when you want to place your when you want your orders to go into production, your raw material's already there. So you've cut out that 30 day raw material time.
Kian:
So, and you're getting better prices as well because you're securing your raw material price in that moment in January 2022, rather than, you know, July 2022, when the price could go up. So by giving a forecast, you're getting better prices, shorter lead times. And you might even get better credit terms from your manufacturer as well because you're talking about 20,000 units rather than just a 3,000 unit order. So this would be a very good time to do some deep thinking, come up with a strategy, think how many orders you want to place next year, have a conversation with your supplier. Say, this is the forecast. This is what we wanna achieve together. Lock in your pricing, lock in your lead times, lock in your production slots. And then 2022 will be much more smooth for you guys.
Bradley Sutton:
Okay. Now you've talked in the past how important it is to try and maintain a good relationship with your supplier. It helps with the sourcing and just helps with pricing and just, you know, be the trust factor in things. And, and so, you know, we've talked before on the show, how nice it is if somebody's is able to do it. So, you know, actually visit the factory and, you know, they'll take you out. And things like that, obviously that is not gonna be a thing for it. Hasn't been for a year and a half. It's not going to be for a while as the country continues to be closed off to the rest of the world. So what can people do now? You know, now that even no matter what our size is, we literally can't get a visa to get into China. How can we keep, you know, that, that relationship good? Like, should we be– should some sellers be sending gifts around Chinese new year? Like what's a good custom like talk to us.
Kian:
Yeah. That a great point. And now is actually the perfect time to do it, right? So I'd say there's two really, really important things to build that relationship. As you said, face to face, going out, there's the best way to do it, but obviously we can't do that at the moment. So I'm sure everyone's heard of an application that you can download on your phone called WeChat. And that's just WeChat. And that's basically the app that they use in China for communication. That's their version of Messenger or WhatsApp. And I would definitely download WeChat and keep all your conversations regarding the products and the prices and delivery dates to email all the importance of need to reference. But on WeChat, you wanna be having your informal conversations like, Hey, this is what me and my buddies got up to the weekend.
Kian:
We went to the game, we're having a beer, here's a photo of us in a bar. Hey, what'd you guys get up on the weekend? Like, I'd love to see what Chinese food looks like. Can you send us a picture of like your dinner and all of your family, all this sort of stuff? And then you start to build up that sort of informal relationship, that chat relationship, and why that's really, really important. It is that let's say you've got an order shipping out on, you know, the 1st of May next year, but because you've built up that relationship on WeChat, you know, on the 20th of April, you could just text them there and say, Hey, just wanna double check. Is everything still on schedule? Are the goods ready? Or all containers arrived? Is inspection there? Do you mind if I just give you a quick video call on WeChat, can you take me down to the factory floor?
Kian:
Can you show me the boxes? If the inspector's there? Can you show me? So now you have like a direct access to the factory through a video call through that relationship that you built up through WeChat. And then the other thing that you mentioned was, you know, sending gifts and Chinese new year is a perfect time to do it. So luckily for us, we have Christmas before Chinese new year. So sometimes the supplier will send us a gift. And I would say that if the supplier sends you a gift, then you should definitely send them a gift. Normally they'll probably just send you an e-card like a Merry Christmas, like email, some dodging song that pops up through an email. But if you want to go the extra mile, you can also send them a gift. And, you know, a lot of people ask like, well, what sort of gift should I be sending my supplier? And I always say something that represents your hometown, right? Because they have a lot of customers from all over the world, like, you know, from Spain, Brazil, Germany and you basically wanna send something that represents your hometown. So like, let's say you have a local sports team. So Bradley for you. I know you of the Lakers. And–
Bradley Sutton:
Oh no, come on. All right. All right, guys, thank you for this episode of the podcast. We're gonna see you guys in a, don't mention the L word here.
Kian:
Or you could send a t-shirt of your early Clippers, right? And then that there we go. That would be a nice gift effort of factory, or if your town is famous for hot sauce if your town is famous for specific tea, you know, they love their tea in China, just something that represents your hometown that they'll remember you by. But one quick hack is that if you are sending gifts, right, you wanna send a gift for the sales associate that you talk to, but it's very, very important. You also prepare a gift for the bots as well. So you email your contact and say, Hey, I would love it. If I wanna get a nice gift. You, I also wanna get a nice gift for your boss as well. And so then you arrange that and then once you send it over, you'd say, I would love it. If you could send me a photo of you passing the gift onto the boss and just letting them know that it was for me. So you're basically building up leverage, right? You're calling it a favor because what's gonna happen is like, let's say first of two July, next year, you really, really need to get an order out, you know, your, your production, you place your order late. It needs to ship out within like 30 days. So then you're gonna ask your sales associate, they're gonna ask a factory boss, they're gonna go into their office and be like, Hey Bradley's order needs to go out this month. Can we push it to the front of the production schedule? And they're gonna be like, oh, who's Bradley again. They're like, oh, Bradley's that one who send you that Clippers Jersey for Chinese new year.
Kian:
Oh, oh yeah. I love that Jersey. It was cool. I always play it. I always use it when I play basketball. Yeah, of course. Send it to the front of the production line. So you've now built that sort of favor that you can call with the factory boss. Who's essentially the decision maker. So you can use this period at Chinese new year to basically build up that leverage, build up that favor. So definitely use WeChat, have your informal conversations there, build it directly in your communication with a factory, and then also send a nice gift to your sales associate and to the boss as well.
Bradley Sutton:
Okay. Interesting. Good to know. We had somebody on the show recently talk about a website that I hadn't heard of. Yiwugo, and then, you know, you before talked about the online Canton Fair, we all know about Alibaba. Let's just run through what, you know, for 2022, you know, just some strategies for remote sourcing. You know, again, like Kian's talked about it before, absolute best way, actually going to trade shows, going to the real Canton Fair, you know, going to the other trade shows that are there meeting suppliers, potential suppliers face to face. But you know, what's working for you now when you're or for people that, you know, when they're, when they're going to Alibaba what's working for as far as online trade shows or online sourcing. What can you tell us?
Kian:
Yeah, I would say, you know, Alibaba's still really fantastic resource. There's some amazing suppliers on there and the better quality suppliers are actually coming onto the platform as well because the trade shows haven't really opened up for them yet. But as everyone I'm sure is aware that there's loss also a lot of bad suppliers on Alibaba. So the main purpose of using it is to filter out the bad ones to get to the good ones, the best way to filter out the bad ones. Is it, you wanna search by suppliers, not by products and you do that at the top. But the most important thing is that once you start searching by suppliers is use the suppliers which have verification. So that blue verification badge, which just means that every bit of information that factory has provided has been verified by a third party.
Kian:
So, and this is actually so key, right? I, if you go into a factory for any product, let's say it's a backpack. It'll bring up like a thousand suppliers, but then if you click verified and trade assurance, trade assurance, meaning your payment is protected. Those are the two most important boxes to tick. Once you hit verified, the number of suppliers drops from like maybe 2000 down to like 400. So you've just filtered all the terrible suppliers, which you don't know if the information that they provided is true. But now when you click on any of those suppliers, right, you can scroll down and there's gonna be a blue box, and it'll say verified by SGS or verified by Intertech. And it will tell you, the year to factory was established what their turnover is, if they're a manufacturer or if they're a trading company.
Kian:
And if you scroll down, even further, it'll tell you what machinery they have in their factory. Do they have machines for detecting needles? How many have they got? They've got sewing machines, they've got 85 and you'll see a blue tick next to it. And then also they have imagery inside the factory as well. And you can see like how big their premises actually is. And those images are also highlighted blues that are also verified. And I think that's just something that many, many people gloss over, but it's so, so important. And then you can also get that double confirmed when you carry out a pre-shipment inspection as well, that the number of workers are there in this, the number of machines are there, but that's kind of like the best way. And then I always like to select the certification. So then on the left to the page as well, you'll see ISO 9001, just a Quality Standard, ISO 14001 Environmental Standard, BSCI Business Social Compliance Initiative, things like that.
Kian:
The top factories have that. And even if they don't, I would, when I reach out to the supplier, be asking them, you know, what certificates do you have? What other customers do you supply? And then they'll say like, oh, we have the Disney audit. We have the Walmart audit. Okay, cool. Can you send me a copy? I'll check the date, make sure it's in the last two years. So there's so many different things that we can ask for. And so many different things that we can see through Alibaba, but there's actually one other great website, which I've been using a lot recently which is a fantastic resource. And it's called importyeti.com. And it's a free resource. I'm not sure if you've used it before, but essentially any shipping document, any shipment that goes into the USA, that shipping document is public information only into America, but to the UK, that's not public information.
Kian:
So if you type in The North Face into ImportYeti, like it'll bring up The North Face company, you can see how many shipments they've done. You can see all their suppliers, you can see other, their HTS codes. You can click on one of their suppliers and then see who else they supply. They, they end supply like Patagonia and all these other brands as well. And then you can like click on their contact information, go directly on their website, email them directly. And it's a really, really quick way to find the market leaders, suppliers for your product. It might not necessarily bring up your Amazon's competitors because maybe that brand isn't so well known. But if you want to find the market leader suppliers just head to importyet.com, it's a free resource and it's you learn a lot just by playing around with it. So that's not a fantastic resource as well.
Bradley Sutton:
Okay. Excellent. Good to know. Now let's switch gears and talk a little bit about wets at the beginning. So, you know, because of what's going on and because this is not something that's going to end in the next you couple of weeks, possibly not even the next or not possibly for sure, not the next couple of months. We were like, Hey, we need some, some more frequent updates as to what is going on, as opposed to having you on the podcast every, you know, year and a couple months. So talk a little bit about the new series that, that, that we have coming up that primarily will be video. But after you talk about that, I'm gonna talk about how people can hear about it on the podcast. Go ahead.
Kian:
Yeah, for sure. So basically with supply chain and sourcing being so volatile and changing and playing such a major factor in our businesses at the moment, we sort of came up with the idea that we wanted to put together a monthly sourcing update because things were changing month to month. That could be the shipping costs. It could be the power outage situation. It could be the raw material costs, changes, and tariffs. There's a lot going on, you know, like trade agreements going on between China and the US. So that's obviously my world. It's something I pay attention to every day. I look at the news, I look at what's happening in China. I talk to my suppliers, I talk to my friends, I talk to other big sellers. So I've got all, a good frame of reference, many different points about what's happening in China.
Kian:
So we thought it'd be a good idea to put out a monthly sourcing update episode on YouTube which would essentially cover all of these things going on in China and supply chain. And then obviously make it in a way which we can give actionable tips. So you can apply to your business today. It's no fluff high level, game changing, actionable tips. And we're gonna be doing that monthly sort of covering what happened in the next month, what we anticipate happening, what happened in the current month, what we anticipate happening next month and in what we can do in our businesses to make the most out of it. And that's something we're gonna be doing in partnership together. Those videos will live on Sourcing With Kian YouTube channel, but there'll be Helium 10 branded, and we'll be promoting those together.
Bradley Sutton:
Okay, awesome. So we're gonna have a way to incorporate that guys into some of the week or the monthly podcast we do. So like, well, won't be a standalone an episode, but we might incorporate into some other episodes. So those of you who like, you know, who don't like watching your content on YouTube, you know, I know there's a few of you out there. You just like to listen to it in your car and stuff. Well, we'll have those updates as well here on the podcast. So what we've talked a lot about, you know, some negative things that's happening, anything positive, you know, about for 2022, like you know, again, we can't always predict exactly what's gonna happen but are there signs of positive things that you can tell us about, or maybe some new strategies that you haven't talked to us before about as far as, you know, sourcing shipping side.
Kian:
Yeah. You know what I could I've got a couple things I'll gonna save one of them for my– but I guess I can give one now.
Bradley Sutton:
Yes. You know about that. Yep.
Kian:
I guess I could give one now, and then I use one as tsst become a new word now, but so I would say something super important, not very sexy, but here's where you can actually save quite a lot of money or improve a lot of margin in your supply chain is that you know, cuz of the situations that we've been in, we've really been forced to look at all aspects of our supply chain and be like, right, where can we save costs? And somewhere where I've found where we can save quite a lot is really optimizing your car and dimensions. And what I mean by that is that you, you should really be double, triple checking that you're absolutely filling a container because you're paying so much like 20,000 a dollars for a container, you wanna make sure your carts are filling it upright to the top.
Kian:
So you should be calculating how many units can I fit in a container? You know, you can do the maths yourself based on the car dimensions and the cubic meters of the container. And you can also be asking your supplier as well to calculate what's the maximum as well. And then before actually shipping out any containers as well, you should be asking your factory to send you a photo of the container doors open before it's sealed. So you can make sure it's packed right to the end and right to the top. And by also asking the factory or your freight forwarder, what are the dimensions of the container? You can then factor in your cart dimensions to make sure they stack right to the top. But so that just optimizes like your ship and costs, but where you can really, really save is in your 3PL right?
Kian:
So the first question I ask, any 3PL, when I'm about to consider, you know, moving my products into that warehouse, is I ask them, what's a maximum pallet stacking height. And you know, some that's basically when your carts are stacked up, when they're on the pallet when they're in the bay, what's a maximum height that you can load there. And some warehouses will tell you 1.6 meters or 160 centimeters, someone will tell you 170, someone will tell you 190 centimeters. And why that's so important, right? Is that if someone tells you 180 centimeters, well, you know, if your pallet, if your carton height is 60 centimeters, you can go 60, 60, 60, 60, 120, 180. So I get three layers there. But if the max pallet height was one 70 and you've got 60, 60, well, you've missed out on that third layer because that last carton is now gonna hit roof, right? So you're not gonna be able to fit it on. So you might have five cartons in one layer. Each carton has 20 units. So there's a hundred units per pallet now, which you can't store there for free because you didn't optimize for the pallet height. So I would say, find out what is a pallet height, and then divide your car dimensions to make sure you optimize for that height. And then you can actually store a whole layer of goods for free in your 3PL on your pallet cost.
Bradley Sutton:
Wow. I like it. I like it. All right now. All right. So you, you're saying that that's not the only your tsst 30-second tip that you have, you have another one for us.
Kian:
Yeah. Yeah, Because that tsst went on for about maybe two and a half minutes, but I've got one-
Bradley Sutton:
Well, two and a half minutes still starts with a T. So its still kind of a tsst, that's like a Kevin King size tsst right there because Kevin always goes for two or three or 10. That's what the T stands for him in minutes. When he gives these.
Kian:
We should do that 21 day as well. Cool. So should I go from our 30?
Bradley Sutton:
Let's do it.
Kian:
Okay, cool. So the last one I would say is, this is probably the best time ever to lock in backup suppliers because one thing the power outage situation taught us was that the power in your factory can be turned out overnight and they might know build to get the power back on for another 10 days, 20 days. And if you really need to get something out the door, you're really, really stuck. Now when, before you start working with that supplier, I'm sure you got quotes and maybe samples from multiple other suppliers as well. So before China new year now is the kind of time to reach out to those other suppliers to make sure you have an up to date price. And they've made an up to date sample of your product because you literally want to be able to tell a supplier, okay, go, here's your order. And you've already confirmed your price and you've already confirmed your sample because if this whole supply chain situation carries on the way it's going, you, you don't want to start from square one where you have to go and find a new supplier, send a sample, negotiate, confirm a sample before you can place an order. You want something might happen. If your existing supplier, their capacity might be an issue, their power might go out. You want to be able to go to the next one in line and be like, okay, cool. Here you go. Here's your order. Here's your deposit. Let's start and have locking in backup. Suppliers will ensure that you don't go out of stock in 2022.
Bradley Sutton:
I love it. I love it. All right. So Kian, when are you coming here stateside again?
Kian:
I'm not sure whenever you guys are, having me back. I'm, I'm enjoying winter and Dubai, to be honest, but we're gonna get you here before I get, go out there, right?
Bradley Sutton:
Yeah. Yep, absolutely. I'm gonna be the, are like, like three times in the end of December, like it's a great hub. It's like, no matter where I want to go, it seems like I have to fly through Dubai. So yeah, I'm glad it's not July when, when I'm going there, you know, December is a great time to go there. So anyways, Kian you know, you've referenced your YouTube channel and other things here. So how can people find you on the interwebs if they want to get more information from you?
Kian:
Sure, sure. Yeah. The main places I hang out on interwebs probably most active on Instagram, which is @kian_jg, and after that it's YouTube sourcing With Kian and I've also got a Facebook group of the same name as well, Sourcing With Kian as well. And then if you wanna lookout for those videos that we're doing in par partnership together, the monthly sourcing updates, they'll be on Sourcing With Kian YouTube channel. And we also want to make those interactive as well. So if you have any particular sourcing questions, so like, Hey, what's going on here? This inspection just fail, what do I do about it? Make sure you write those questions in the comments below, and then we'll address your points that you've written in the comments that are previous YouTube videos on the next one as well. So we make sure we'll be able to deliver everything you guys need to know about supply chain.
Bradley Sutton:
Don't forget guys too, a couple of weeks ago we actually had Melisa on the show talking about that new course she did for Foundr. So, Kian was actually on that course as well, doing some strategies. So, if you want to go check out that course Melissa and Kian here, our Serious Sellers Podcast guess we're on. You can take a look at that at h10.me/foundr.
Bradley Sutton:
And then two more things. Guys this is not for everybody, but first of all, those of you who are Freedom Ticket Xtra members, that special kind of coaching program that we have with Kevin King and some other employees here at Helium 10 you know, Kian is gonna be coming on once a month to answer your questions live, you know, on the Freedom Ticket Xtra webinars that we do. If you guys wanna be part of that program or find out what more about it, go to h10.me/ftx. And then also those of you out there who are Helium 10 Elite members, that's part of our mastermind. That's not something that's open. You can't sign up, even if you want to right now it's closed. But if you are already an Elite member you know, Kian is now added as a member of our private Facebook group.
Bradley Sutton:
So you can actually ask him, you know, publicly don't send him private messages guys, that's kind of, you know, usually, those go to spam and things like that, but right there in our private Facebook group, anything you guys want to ask about sourcing or shipping issues that's going on right now, make sure to tag Kian, in the private Helium 10 elite Facebook group. So Kian, thank you very much for giving us this valuable knowledge, not just in this podcast episode, but as you said, you know, you're gonna be doing it in a lot other you know, forms of media here coming up. So we appreciate your insights and knowledge and look forward to seeing you soon again.
Kian:
Thanks for having me and look forward to seeing you here in Dubai soon.
---
Enjoy this episode? Be sure to check out our previous episodes for even more content to propel you to Amazon FBA Seller success! And don't forget to "Like" our Facebook page and subscribe to the podcast on iTunes, Spotify, or wherever you listen to our podcast.
Get snippets from all episodes by following Bradley on Instagram at @H10bradley
Want to absolutely start crushing it on Amazon? Here are few carefully curated resources to get you started: