#33 – Amazon gestartet und 1 Jahr später ausgewandert in die Sonne
Andrés Cuello erzählt wie er es geschafft hat mit dem Verkauf auf Amazon schon ab dem ersten Monat gewinn zu machen. Jetzt ist er als digitaler Normade aus Deutschland ausgewandert, und bereist als Amazon Händler die Welt.
Originally published on: July 25, 2022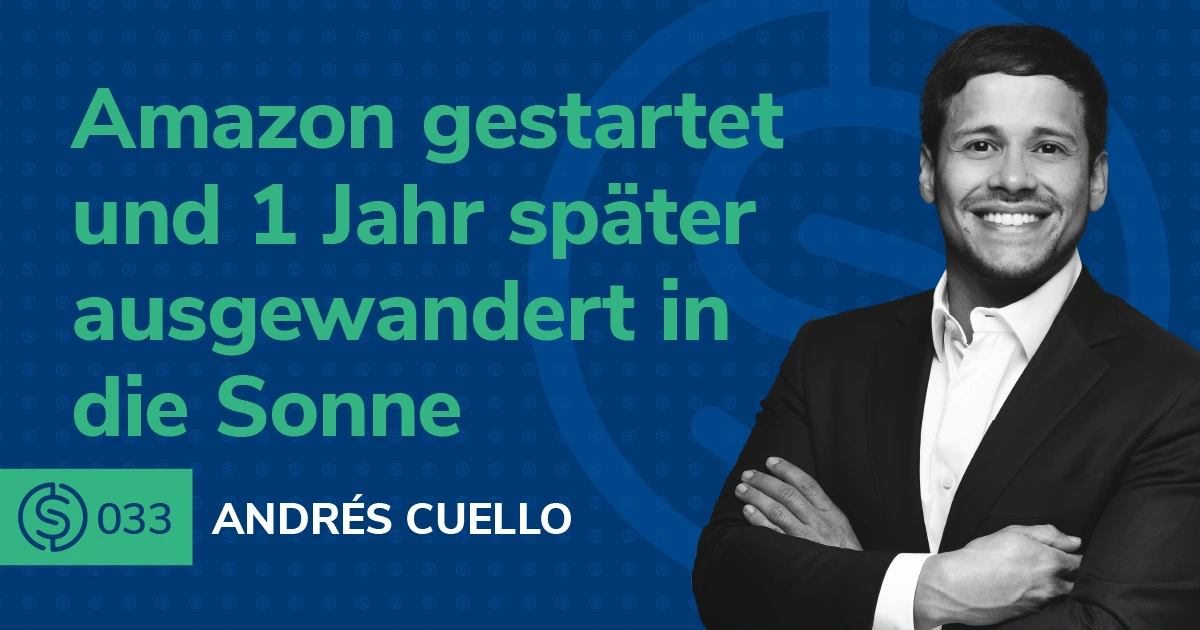 In dieser Episode habe ich Andrés Cuello zu Gast. Früh in seinem Arbeitsleben hatte er die Erkenntnis das er hier nur für den Traum seines Chefs verwirklicht. Darauf hin ging alles schnell. 1 Monat nach seinem Produktstart hat sein Produkt schon gewinn eingefahren. Zum Ende des ersten Jahres war klar, dass er mit so viel Erfolg 100 % selbständig wird, in die Sonne auswandert und viel reisen wird. Im Podcast erzählt er uns wie er es genau gemacht hat.
In Folge 33 des Serious Sellers Podcast auf Deutsch, Marcus and Andres diskutieren:
01:00 – Sein Hintergrund und warum er als Schüler nach Deutschland gekommen ist
07:52 – Dadurch hat er beschlossen sich mit dem Verkaufen auf Amazon selbständig zu machen
12:50 – Das war sein Kapital und der Erfolg von seinem ersten Produktstart
17:50 – Eigenkaptial oder Brankkredit, das war seine Strategie
20:17 – Plötzlich ausverkauft, so ging es weiter
25:54 – Das war sein Ergebnis nach dem ersten Jahr
28:57 – Job gekündigt und ausgewandert, da war seine Motivation
34:45 – Deswegen sucht er Hersteller außerhalb von China in Südamerika
39:10 – Das ist bester Tipp für andere Amazon Händler
---
Willst du unbedingt damit beginnen, es auf Amazon zu vernichten? Hier sind einige sorgfältig zusammengestellte Ressourcen, die Ihnen den Einstieg erleichtern:
Everything for your business on Amazon.
Find out more about our products by signing up or speaking with one of our
Customer Success representatives today. With us in your corner, you can enjoy
more sales and increased engagement from your Amazon business.
Chat with a Support Specialist