#27 – Darum muss Amazon tausende Produkte sperren: Alles zur Lucid-Registrierung!
Amazon sperrt Produkte der Händler die keine Lucid Registrierungsnummer angegeben haben. Das ist nötig um nach dem Verpackungsgesetz die EPR Compliance zu erfüllen.
Originally published on: June 9, 2022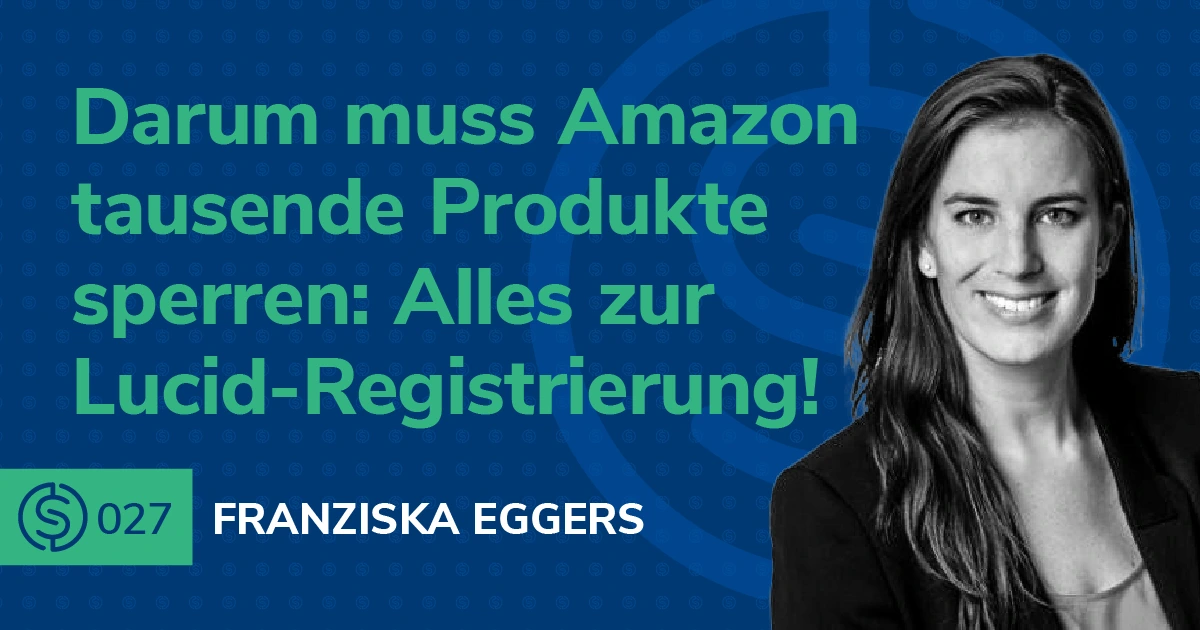 Das Verpackungsgesetz wurde überarbeitet. Der Eintrag Verpackungsregister ist nun Pflicht. Jeder Online Händler muss jetzt im LUCID Verpackungsregister angemdet sein, um die EPR Compliance zu erfüllen. Ist die Registrierungsnummer nicht bei Amazon hinterlegt die Artikel gesperrt!
SCHRITT 1: Beim Verpackungsregister LUCID registrieren – Registrieren dich beim Verpackungsregister LUCID als "Hersteller" ► https://lucid.verpackungsregister.org/ 
SCHRITT 2: Systembeteiligungsvertrag abschließen – Wenn die Verpackung der Systembeteiligungspflicht unterliegt, musst du unter Angabe deiner LUCID-Registrierungsnummer mit einem einen Systembeteiligungsvertrag abschließen. z.b. ► https://shop.veolia.de/b2bdualregistration/product 
SCHRITT 3: Verpackungsmengen melden – Du musst dem jeweiligen System in regelmäßigen Abständen Datenmeldungen übermitteln und die fälligen Gebühren abführen. – Dazu melden Sie sich hier beim Verpackungsregister LUCID an.  ► https://lucid.verpackungsregister.org/Hersteller/Dashboard – Anschließend klickst du auf Datenmeldung und übermittelst deine Daten an das jeweilige System. 
SCHRITT 4: LUCID-Registrierungsnummer bei Amazon hinterlegen – Melde dich im SellerCentral an und trage deine LUCID-Registrierungsnummer in das Formular ein ► https://sellercentral.amazon.de/spx/myc/epr-compliance Amazon 
Hilfe Dokument ► https://sellercentral.amazon.de/help/hub/reference/G6SQMSCSKWJQEPJQ
In Folge 27 des Serious Sellers Podcast auf Deutsch, Marcus and Franziska diskutieren:
02:29 – Erweiterte Herstellerverantwortung – was ist das eigentlich?
03:50 – Wie sieht denn der Weg zur Compliance für einen Amazon Verkaufspartner aus?
05:47 – Warum ist das Thema für Amazon wichtig?
07:39 – Was ändert sich durch EPR für Verkaufspartner:innen in Deutschland?
09:20 – Für wen gilt die erweiterte Herstellerverantwortung?
10:17 – Treffen die Bestimmungen auch auf Verkäufer mit Selbstversand zu?
10:47 – Welche EPR-Produktkategorien gibt es?
12:05 – Wie kann ich als Verkaufspartner den EPR-Bestimmungen entsprechen?
14:46 – Und was passiert, wenn Verkaufspartner:innen Ihre EPR-Compliance nicht nachweisen können?
17:02 – Was benötigt Amazon also von den Verkaufspartner:innen?
17:40 – Wo finde ich als Händler weitere Informationen zur EPR für Deutschland?
18:57 – Wie hoch sind eigentlich die Kosten?
20:25 – Muss ich sowohl für die Primärverpackung (Produktverpackung) als auch für die Sekundärverpackung (Versandverpackung) bezahlen?
22:30 – Wie oft muss ich meine Verkäufe melden und die EPR-Gebühren bezahlen?
23:06 – Und wie unterstützt Amazon die Verkaufspartner:innen dabei EPR-Compliance herzustellen?
---
Willst du unbedingt damit beginnen, es auf Amazon zu vernichten? Hier sind einige sorgfältig zusammengestellte Ressourcen, die Ihnen den Einstieg erleichtern:
Everything for your business on Amazon.
Find out more about our products by signing up or speaking with one of our
Customer Success representatives today. With us in your corner, you can enjoy
more sales and increased engagement from your Amazon business.
Chat with a Support Specialist