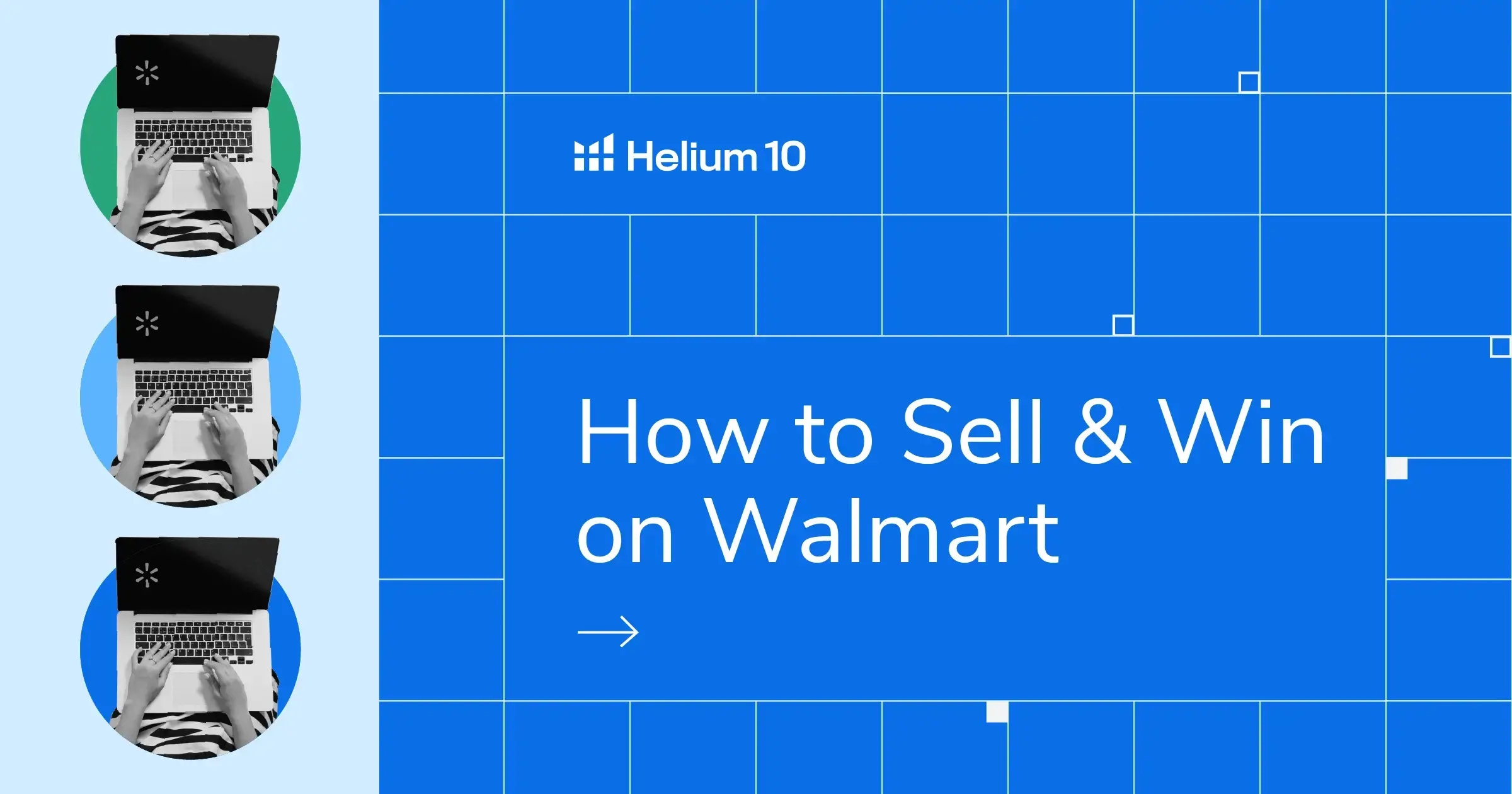 Walmart Marketplace: How to Sell and Win on Walmart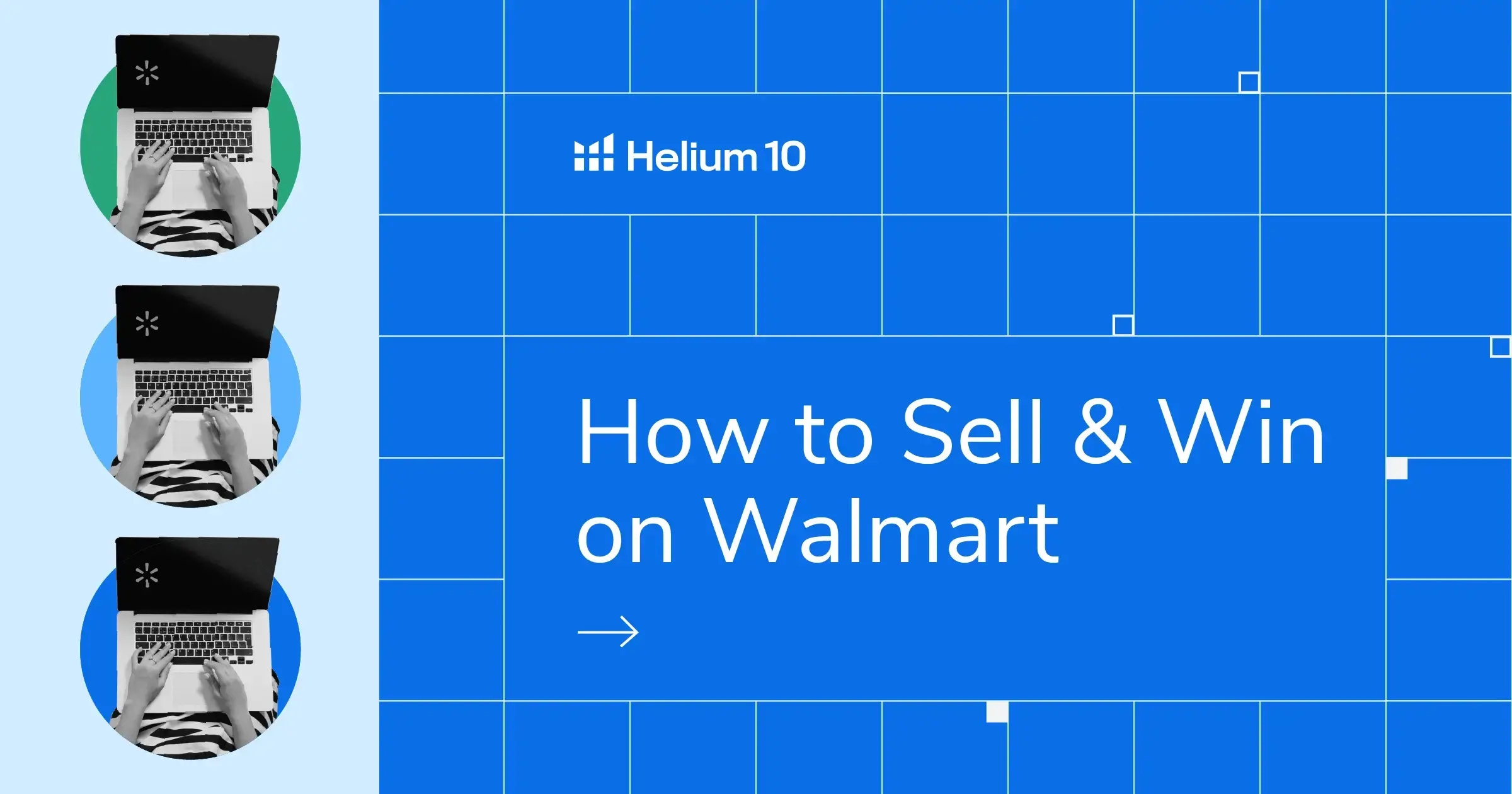 Introduction
In the ever-evolving landscape of e-commerce, one platform stands out as a retail giant, offering sellers an unparalleled opportunity to expand their business and reach millions of potential customers. Welcome to the world of the Walmart Marketplace – a dynamic and thriving online marketplace that has rapidly gained prominence in the world of digital commerce.
If you're an entrepreneur, business owner, or even an aspiring online seller, the Walmart Marketplace is a platform you simply cannot afford to ignore. With a customer base that spans across the United States and beyond, this marketplace offers you the chance to showcase your products to a vast and diverse audience. However, success on the Walmart Marketplace is not a guaranteed feat; it requires strategic planning, meticulous execution, and a deep understanding of the platform's unique dynamics.
Whether you're a seasoned seller looking to diversify your sales channels or a newcomer seeking a foothold in the world of e-commerce, our guide will equip you with the knowledge and tools you need to navigate the Walmart Marketplace successfully.
What Is Walmart Marketplace and How Does It Work?
The Walmart Marketplace is Walmart's online platform where third-party sellers can list and sell their products alongside Walmart's offerings. It serves as a massive online marketplace connecting millions of customers with a wide range of products from various sellers. To join, sellers need to register, meet Walmart's standards, and create product listings with accurate details. When customers place orders, sellers are responsible for order fulfillment, including shipping and customer service.
Sellers can either fulfill orders themselves or use Walmart's Fulfillment Centers, which offer benefits like TwoDay Delivery. Winning the Buy Box, a highlighted product listing is crucial for visibility and increased sales. However, sellers must maintain good performance, adhere to Walmart's fee structure, and continuously optimize their listings to succeed on the platform. The Walmart Marketplace offers a tremendous opportunity for businesses to expand their reach and tap into Walmart's extensive customer base, but it demands dedication, competitive pricing, and a commitment to exceptional customer service for long-term success.
Outclass Your Competitors
Achieve More Results in Less Time
Maximize your results and drive success faster with Helium 10's full suite of Amazon and Walmart solutions.
Sign Up for Free
Walmart Suppliers vs. Walmart Marketplace Sellers: What's the Difference?
Walmart sellers and Walmart suppliers represent two distinct business relationships with the retail giant. A Walmart seller is typically an individual or business that operates within Walmart's online marketplace, known as the Walmart Marketplace. These sellers establish their own digital storefronts, list their products for sale, and manage various aspects of their e-commerce operations, including pricing, inventory management, order fulfillment, and customer service. They are responsible for shipping products directly to customers and handling customer inquiries and returns.
On the other hand, a Walmart supplier is a company or entity that directly provides products or services to Walmart for resale in its physical stores or online platforms. Becoming a Walmart supplier involves a thorough approval process, which often includes meeting stringent quality and safety standards, negotiating pricing and contract terms, and ensuring a consistent and reliable supply of products to Walmart's stores and distribution centers. Suppliers collaborate closely with Walmart's buying teams to coordinate the delivery and distribution of their products to Walmart's retail locations.
The primary distinction between Walmart sellers and Walmart suppliers lies in their roles within the supply chain: sellers focus on direct consumer sales through the Walmart Marketplace, while suppliers work with Walmart to provide products for resale in Walmart's retail outlets.
How Large Is the Walmart Marketplace?
There are over 150,000 sellers on the Walmart Marketplace. This number has been steadily increasing in recent years, and it is expected to continue growing as Walmart expands its e-commerce operations and attracts more third-party sellers to its platform.
Can I Sell as an Individual on Walmart Marketplace?
You can sell as an individual on the Walmart Marketplace if you meet certain criteria and can provide the necessary information and documentation.
What Are the Qualifications to Join Walmart Marketplace?
To become a Walmart Marketplace seller as an individual, you will need to provide the following:
1. Business Tax ID(s) or Business License Number: You must have a valid Business Tax ID (SSN is not accepted) or a Business License Number.
2. Supporting Documents: You'll need supporting documents that verify your Business Name and Address.
3. History of eCommerce Success: Demonstrating a history of success in the marketplace or eCommerce field can be crucial in gaining approval to sell on the Walmart Marketplace.
4. Products with GTIN/UPC GS1 Company Prefix Numbers: Your products should have GTIN (Global Trade Item Number) or UPC (Universal Product Code) numbers with a GS1 Company Prefix.
5. Catalog Compliance: Your product catalog should comply with Walmart's Prohibited Products Policy, ensuring that the items you intend to sell are permitted on the platform.
6. Fulfillment Options: You have the option to fulfill orders either through Walmart Fulfillment Services (WFS) or another Business-to-Consumer (B2C) warehouse based in the United States that has the capability to handle returns.
Meeting these requirements and providing the necessary documentation is essential to start selling on the Walmart Marketplace as an individual seller. Keep in mind that Walmart maintains high standards for its sellers to ensure a positive shopping experience for its customers. Therefore, meeting these criteria is a vital step in gaining approval and building a successful presence on the platform.
Can You Sell on Both Amazon and Walmart?
Yes, you can sell on both Walmart and Amazon simultaneously. Many businesses and individuals choose to diversify their e-commerce presence by listing their products on multiple online marketplaces, including both Walmart and Amazon.
Selling on both Walmart and Amazon can broaden your customer reach and potentially increase sales, but it also requires effective management of your listings, inventory, and customer interactions on both platforms. Success often comes down to effective multi-channel e-commerce strategies, including pricing optimization, marketing efforts, and excellent customer service.
Is It Hard to Sell on Walmart Marketplace?
Selling on the Walmart Marketplace offers both opportunities and challenges. The difficulty level can vary based on your experience, business strategy, and how well you adapt to the platform's requirements. One notable challenge is the approval process, which involves meeting Walmart's strict criteria, including having a valid Business Tax ID or Business License and demonstrating a track record of e-commerce success. Competition on the platform is fierce, with many established sellers and brands, making it challenging for newcomers to gain visibility and win the Buy Box. Seller performance is closely monitored, requiring consistent high-quality service, on-time shipping, and low order defect rates.
Additionally, sellers must navigate a fee structure, manage product listings effectively, provide exceptional customer service, and master platform-specific tools and analytics. While selling on the Walmart Marketplace can be demanding, the potential rewards, such as access to a vast customer base, can make it a worthwhile venture for those willing to invest time and effort into their e-commerce strategy. Leveraging services like Walmart Fulfillment Services (WFS) can also simplify certain aspects of the process. Success largely hinges on dedication, continuous improvement, and a customer-centric approach.
Manage Everything With Next-Level Software
Sign up now to access powerful, easy-to-use tools to help with every part of selling on Amazon and Walmart.
Why Should I Sell My Products on Walmart Marketplace?
Selling your products on the Walmart Marketplace offers a compelling array of reasons to consider it as a strategic move for your e-commerce venture. To begin with, the sheer size of Walmart's customer base is nothing short of impressive. With millions of shoppers regularly visiting Walmart's website and brick-and-mortar stores, this platform grants you immediate access to a vast and diverse audience, which can potentially amplify your sales manifold.
Furthermore, aligning your brand with Walmart bestows a significant degree of trust and credibility. Walmart is a household name with a long-standing tradition of serving consumers, and having your products listed alongside theirs can instill a high level of confidence in potential buyers. Walmart also holds an open call every year where you can present your products to be sold in Walmart stores across the United States. Sellers are only invited to this opportunity if they have proven success online on the Walmart Marketplace.
The substantial web traffic on Walmart's platform is another compelling factor. Your products stand to benefit from increased visibility, thanks to the large number of visitors frequenting the platform, which, in turn, enhances the likelihood of converting browsers into buyers. Additionally, Walmart offers a suite of advertising tools and resources to empower you in effectively promoting your products. Moreover, their fulfillment services can significantly streamline your operations, ensuring efficient and reliable order processing.
Diversifying your sales channels to encompass the Walmart Marketplace is a prudent strategy that mitigates dependence on a single revenue source. You'll also gain access to valuable data and analytics tools to fine-tune your strategies, and as Walmart continues to expand its global presence, international growth opportunities may emerge.
However, it's imperative to recognize that attaining success on the Walmart Marketplace necessitates meticulous planning, strict adherence to Walmart's regulatory guidelines, competitive pricing strategies, unwavering commitment to exemplary customer service, and continual optimization of your product listings. Evaluating whether your target audience and product offerings align with the platform's user demographic is a pivotal step in ascertaining if it's the right fit for your business.
Can You Sell Used Products on Walmart Marketplace?
Walmart marketplace sellers are only permitted to sell new products on its Walmart Marketplace. They do not allow the sale of used or refurbished items on their platform. Walmart Marketplace focuses on offering customers a selection of new and unused products from third-party sellers.
What Are the Fees to Sell on Walmart Marketplace?
The basic fees for selling on Walmart are going to be Walmart Seller Fees and Walmart Fulfilment Services fees. The referral fees vary based on the category and the percentage for each category is listed below.
The Walmart Fulfillment Services (WFS) fees vary based on the size of the product. If you want to calculate the potential WFS fees, click here to go to Walmart's WFS Calculator. There is also a fee to ship inventory to WFS and that varies based on the size of the shipment as well as how far the shipment needs to travel to get to a WFS warehouse. The shipment fee is calculated when you create a WFS shipment. Another fee to consider when using WFS is potential storage fees if you do not turn over your inventory quickly enough so it is important to not send too much inventory at one time because you will be charged storage fees. If you decide to ship products from your own warehouse then these fees would not apply to your business instead you would need to calculate the cost based on your own carrier pricing.
Other fees include Pay Per Click Advertising fees which will vary based on how much you choose to spend and also the cost for returns.
How Does Walmart Marketplace Pay Sellers?
Walmart Marketplace Sellers get paid biweekly and their funds are transferred to the bank account specified by the seller. The total amount will be after all PPC charges, referral fees, refunds, and shipping fees are subtracted.
Manage Everything With Next-Level Software
Sign up now to access powerful, easy-to-use tools to help with every part of selling on Amazon and Walmart.
How Much Does It Cost to Join Walmart Marketplace?
There are no monthly fees to sell on the Walmart Marketplace like there are on Amazon. The only fees Walmart Marketplace sellers pay are after their first sale they will pay a referral fee depending on the category, Walmart Fulfillment services fees, and Pay Per Click Advertising costs.
How Long Does Walmart Take for the Approval Process?
The approval process to become a Walmart Marketplace seller can vary. Sometimes, sellers are approved to sell in as little as 48 hours while others may have to wait 2-4 weeks before getting an approval response.
If you would like to check the status of your application, take the following steps to contact Walmart Seller Center Support:
First, log in to your Walmart Seller Center account and click where it says "Help" at the top right of the screen. Then, click on "Contact Support."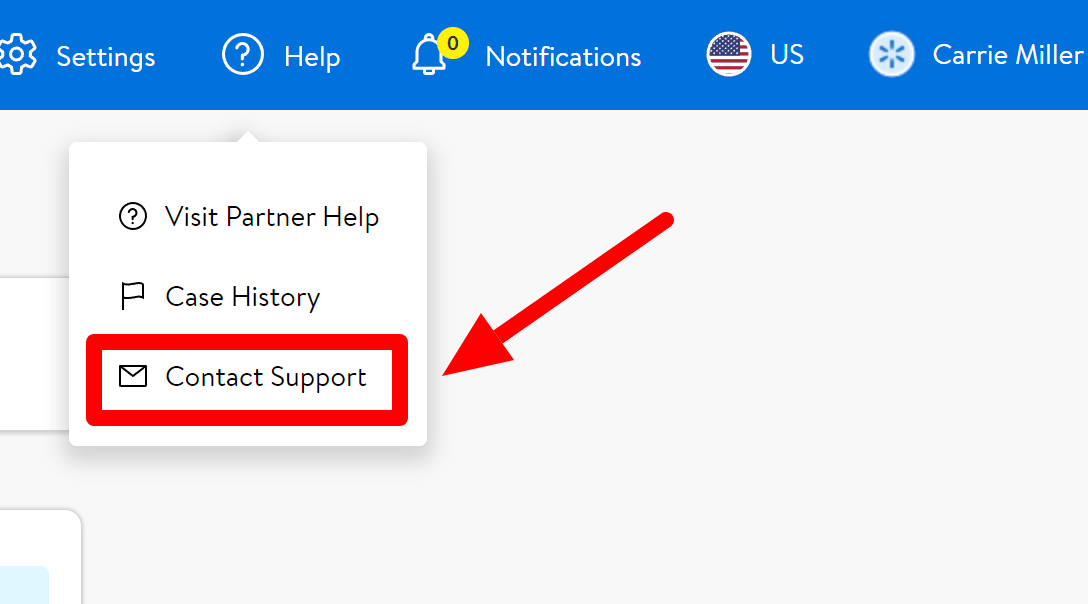 Next, choose the option, "Business verification Questions and Issues."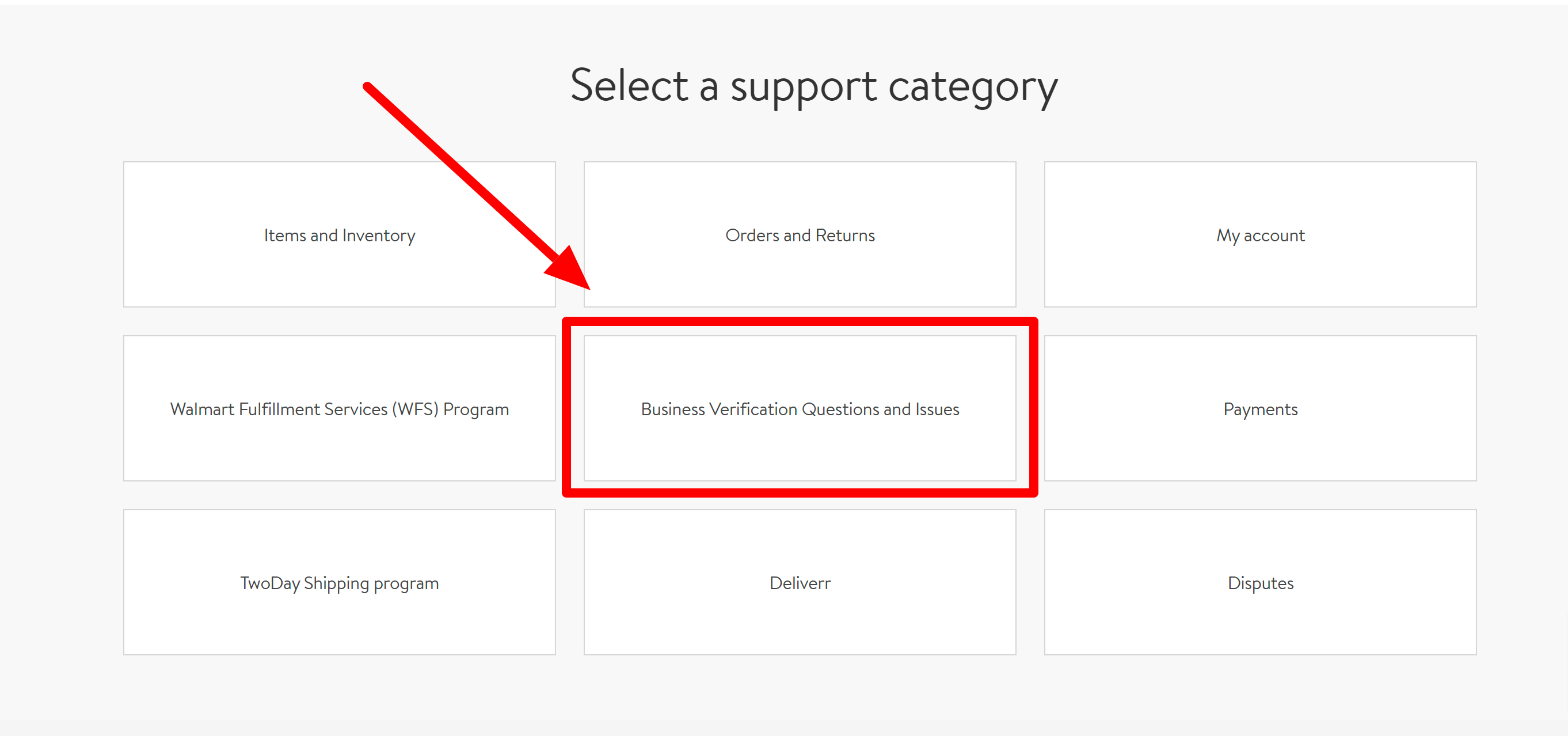 Then, select, "Verifying Status Update Questions."

When you see the following screen, click on, "Open Case Via Email."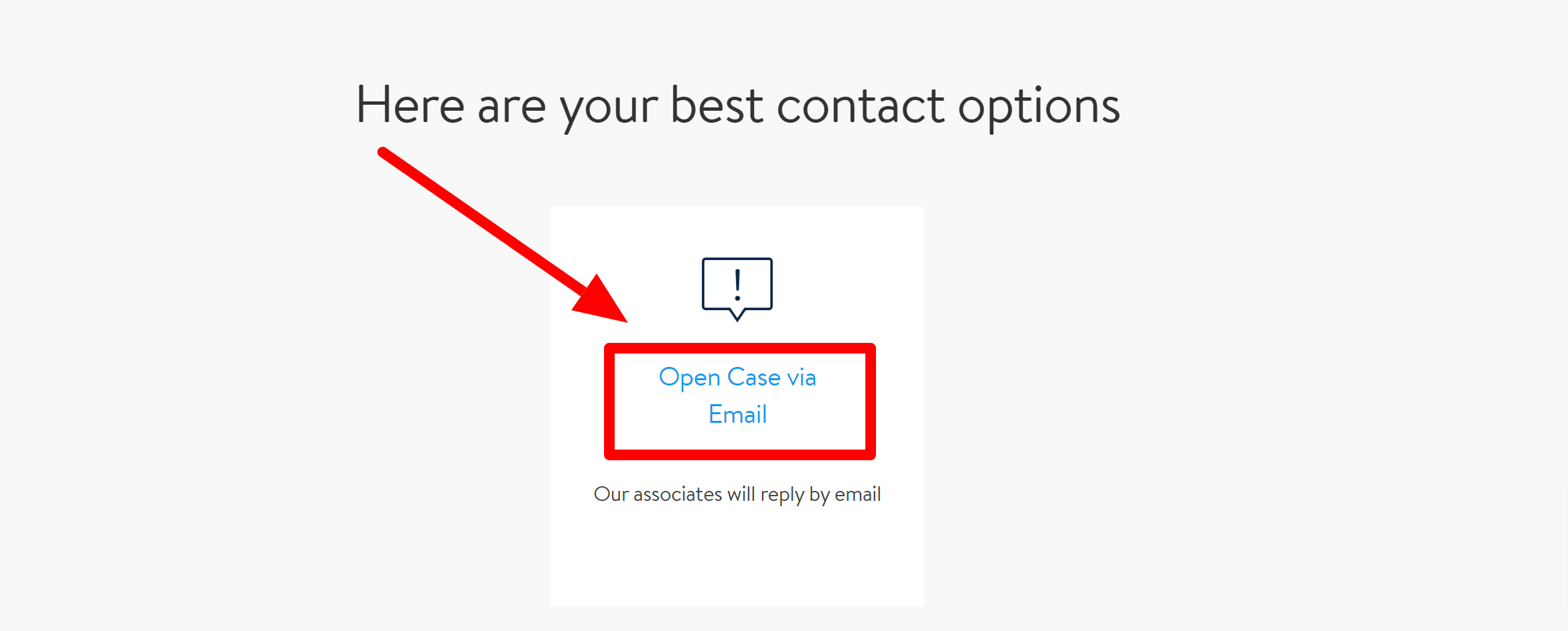 Then, provide as much detailed information about your application question in the box provided and click on, "Submit Case and Upload Files."

You will want to log back into Walmart Seller Center to check on and respond to any case updates.
How to Apply to Sell on Walmart Marketplace
If you are interested in selling on Walmart, go to helium10.com/apply-walmart. Then, fill out your basic business information and create a login and password.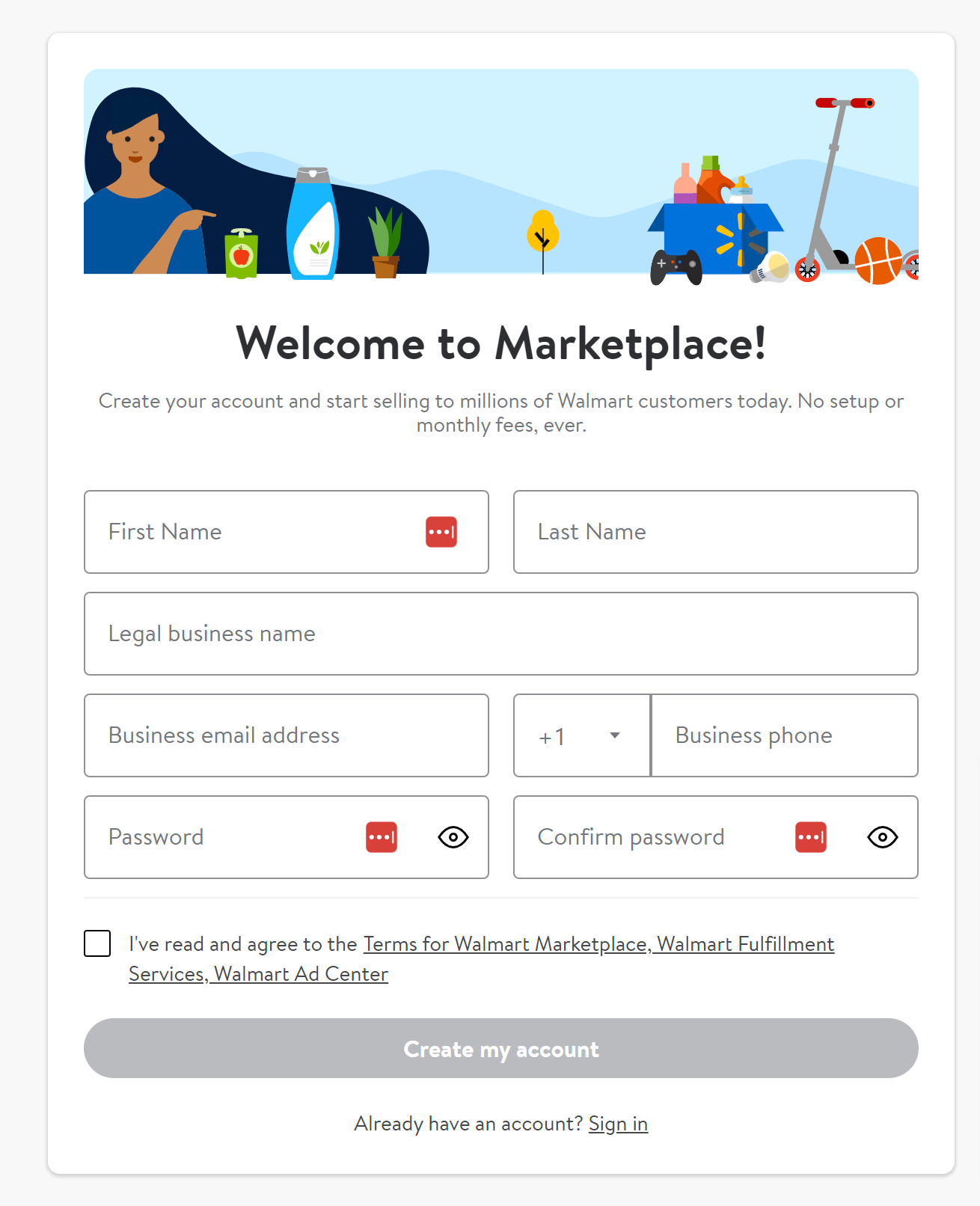 Once you hit submit, you will be logged into your Walmart Seller Center Account. Then, you will need to follow the steps listed in the screenshot below. First, you click, "Get Verified."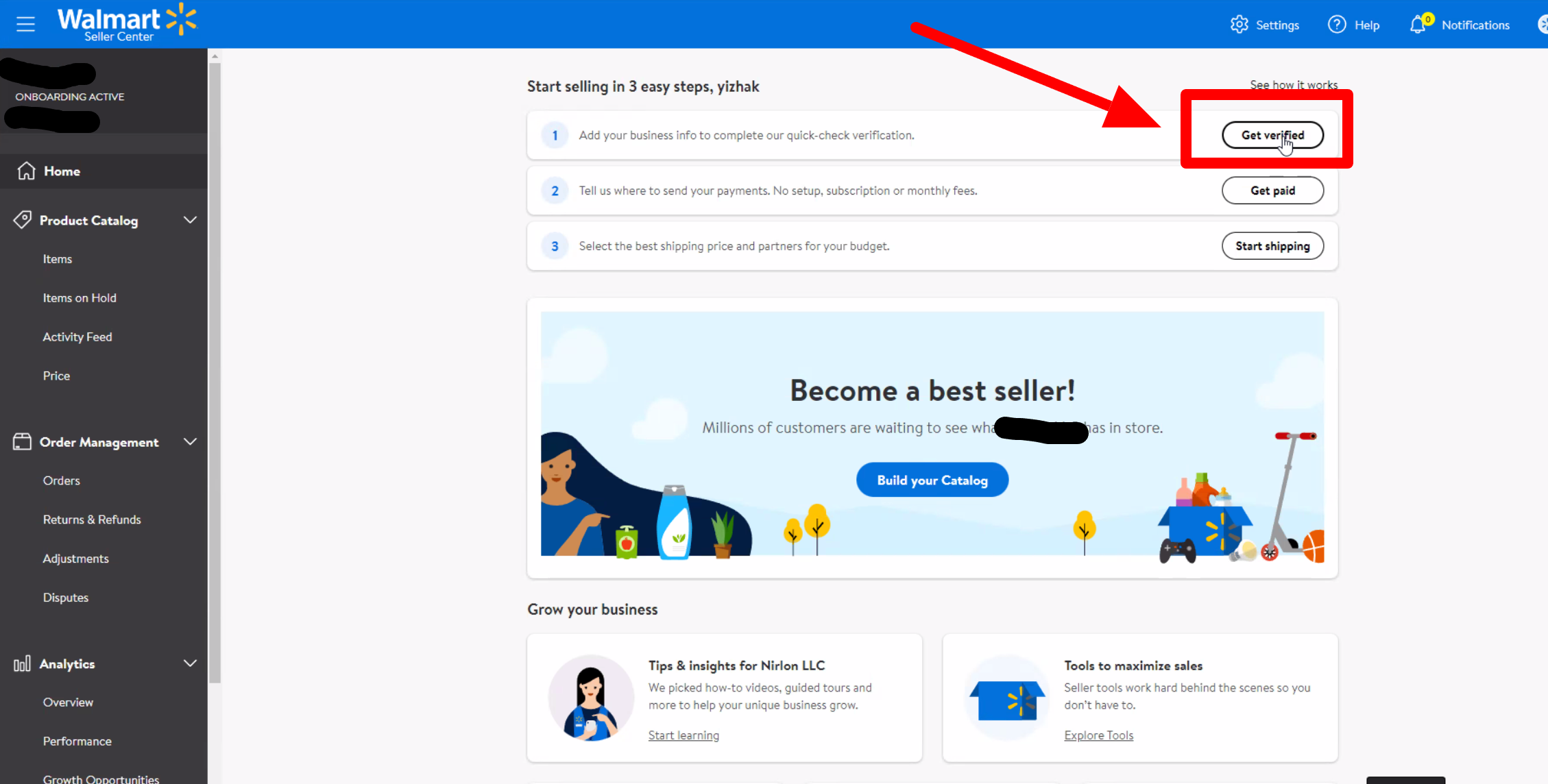 Once you click on get verified, a screen will pop up and you will need to provide the information in the following screenshot: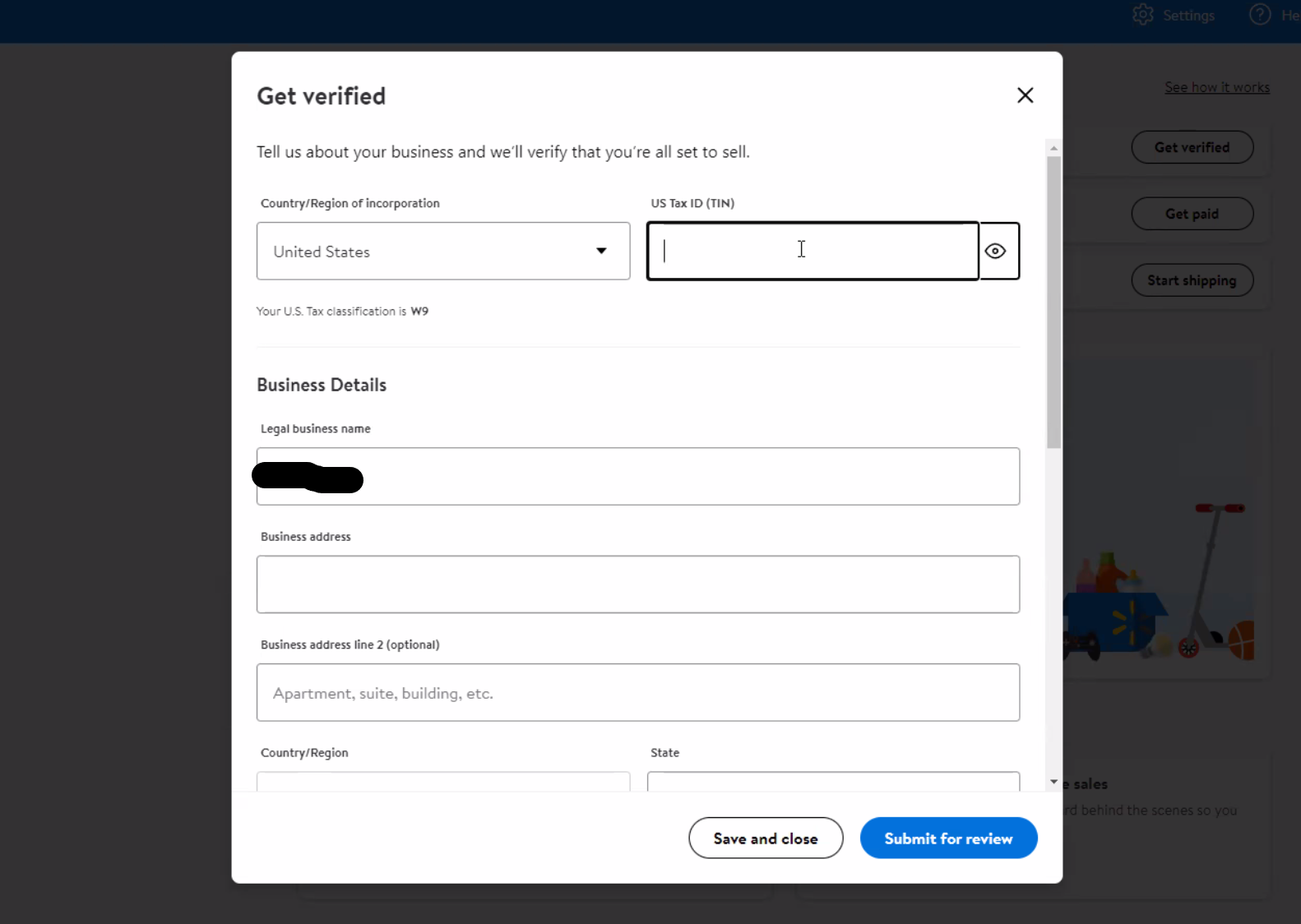 Once Walmart verifies your business (this can take 48 hours to 4 weeks), you will be allowed to go onto the next step which is "Get Paid," where you will enter your payment information with either Hyperwallet or Payoneer. After that step is completed, you will be allowed to set up your shipping templates and create your first listings.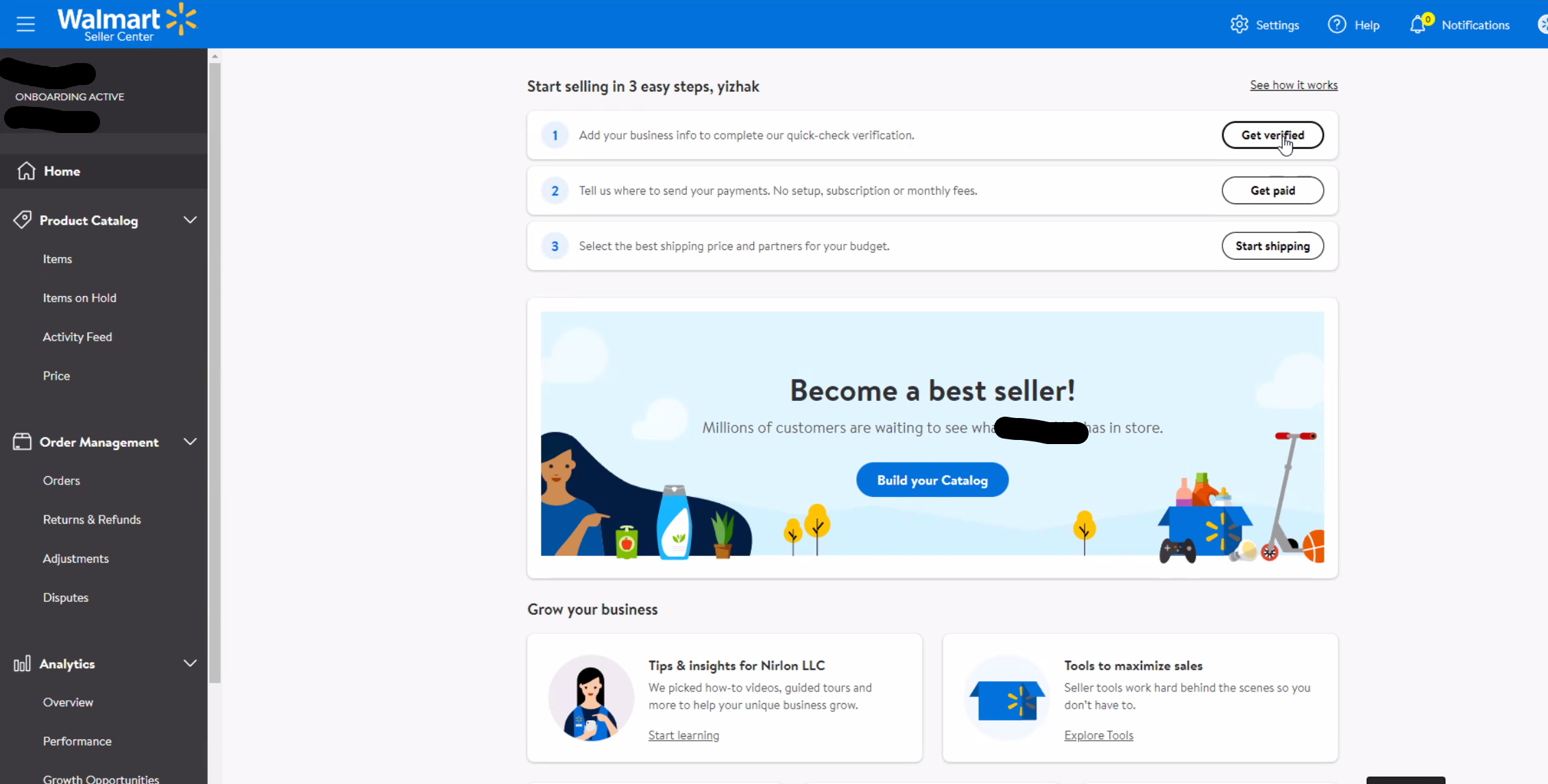 Why Was My Walmart Seller Application Declined?
There are several common reasons why your Walmart seller application might have been denied. First, Walmart Marketplace seeks experienced e-commerce sellers with a track record of consistent and substantial sales. While specific revenue requirements have not been officially disclosed, having at least $500,000 per year in total sales on platforms like Amazon or other e-commerce marketplaces is often recommended. Some sellers with lower sales figures have been accepted, but strong sales history is a crucial factor.
Another reason for application denial could be a lack of uniqueness in your product catalog. Walmart is interested in adding new, distinctive items to its catalog and tends to avoid saturating its platform with numerous identical products.
Inconsistent tax or business documentation is another potential pitfall. Any discrepancies or inaccuracies in your application, such as addresses or critical information, could lead to rejection. It's crucial to ensure that all information is accurate before submitting your application.
Walmart Marketplace also prefers sellers with e-commerce experience. If you are relatively new to e-commerce, it may be advisable to gain experience on platforms like Amazon, eBay, or Shopify before applying to Walmart. Building a robust portfolio and demonstrating expertise in e-commerce can significantly enhance your chances of acceptance.
Meeting customer service requirements is paramount. Walmart assesses your current website and links to your stores on other platforms, such as Amazon and eBay, along with your seller account and reviews. A low rating or customer complaints can result in rejection. Prioritize optimizing your product ratings and providing exceptional customer service before applying to Walmart Marketplace.
Product review ratings also matter. Walmart not only considers a seller's rating but also evaluates the product reviews. If your products have low quality, poor reviews, or a low rank in their respective categories, it may be challenging to secure a spot on Walmart Marketplace.
Finally, reliable fulfillment is crucial. Walmart Marketplace seeks sellers who can efficiently fulfill orders. If you don't have your own warehouse or use a reliable third-party fulfillment service, your application may be rejected. Demonstrating a commitment to fast and dependable fulfillment can improve your chances of acceptance.
Meeting Walmart's criteria for revenue, uniqueness, documentation accuracy, e-commerce experience, customer service, product reviews, and fulfillment reliability is crucial to a successful application to become a Walmart Marketplace seller.
Once Approved, How Do I List My Product on Walmart Marketplace?
Once you've successfully been approved to sell on the Walmart Marketplace, you can choose to upload your listings through a few different methods. To upload listings, first navigate to the items page by clicking on items in the left-hand navigation bar.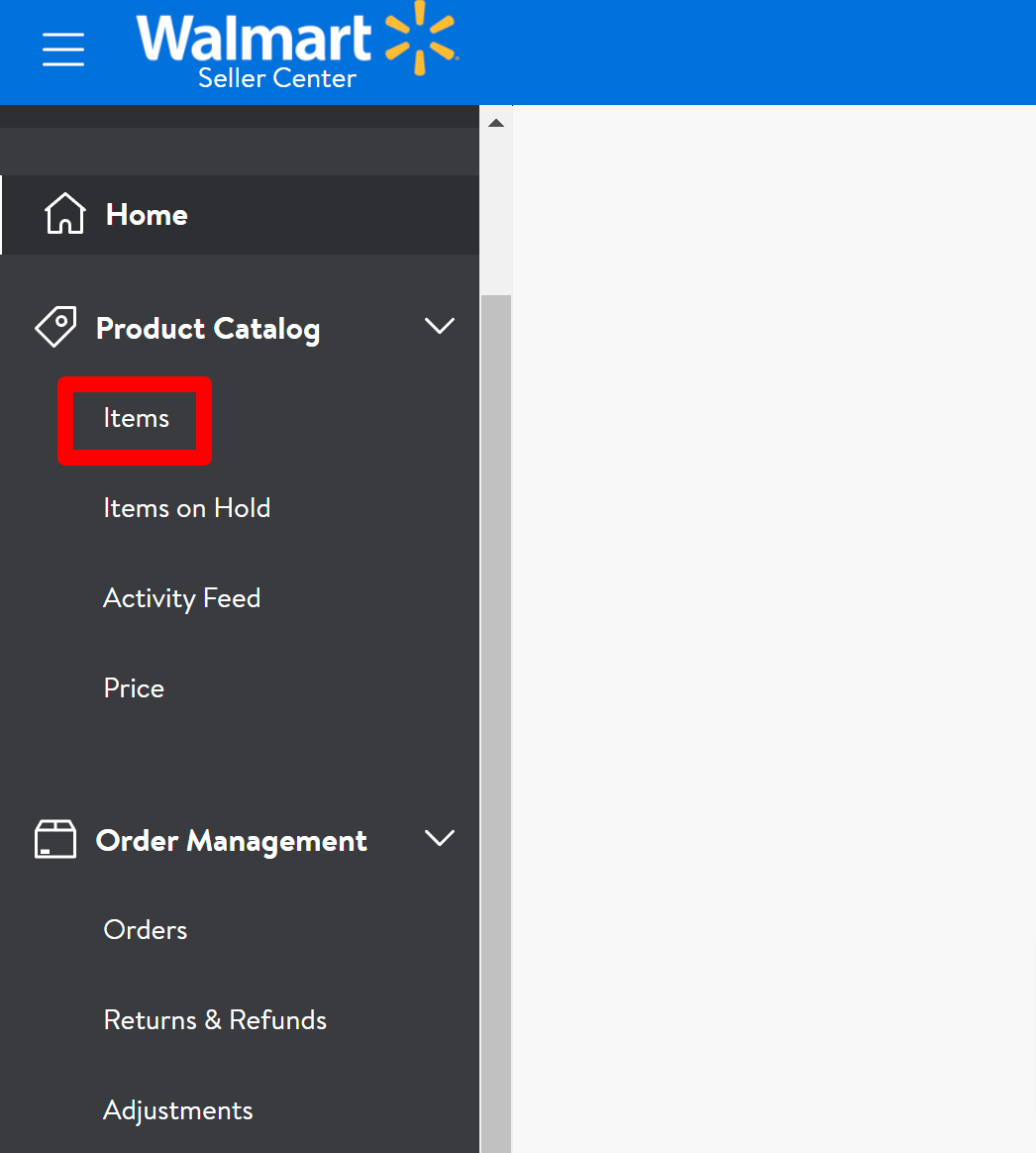 Next, in the top right corner, click, "Manage items" and then choose "add items."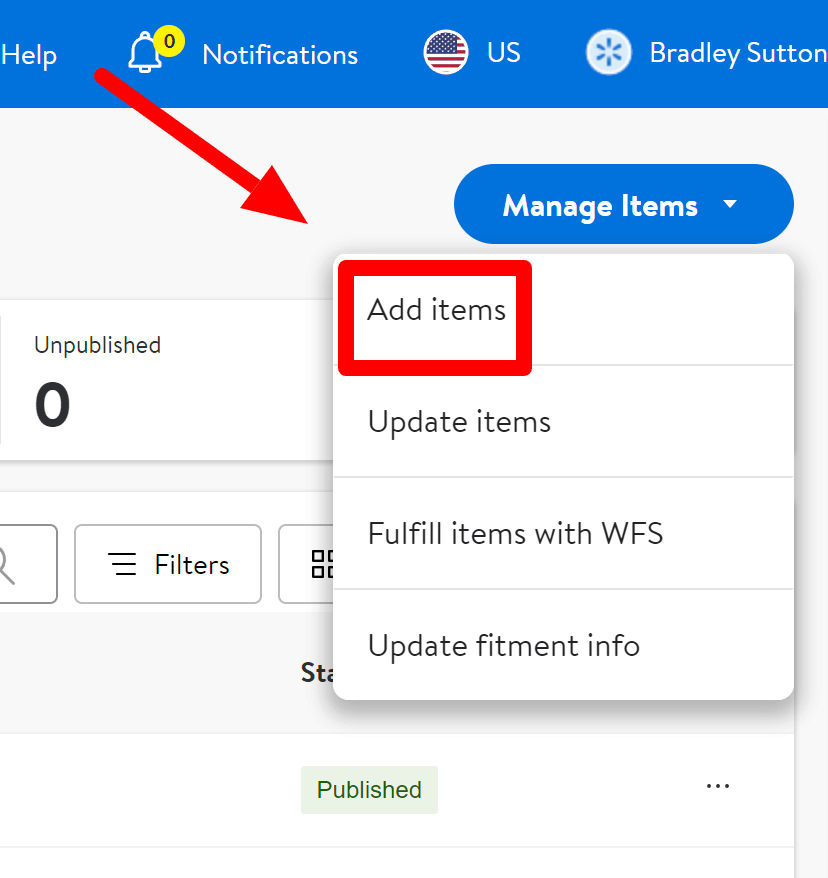 Then, choose from one of the three options for uploading listings. The first option is to upload your products via spreadsheet. This is the best and most effective way to quickly and efficiently upload large numbers of listings and listings with variations. You will first need to click where it says "Walmart Template" and choose the correct category so that you can download the correct template for your products. Once you fill it out, you can upload the spreadsheet on this page by clicking browse and uploading your file.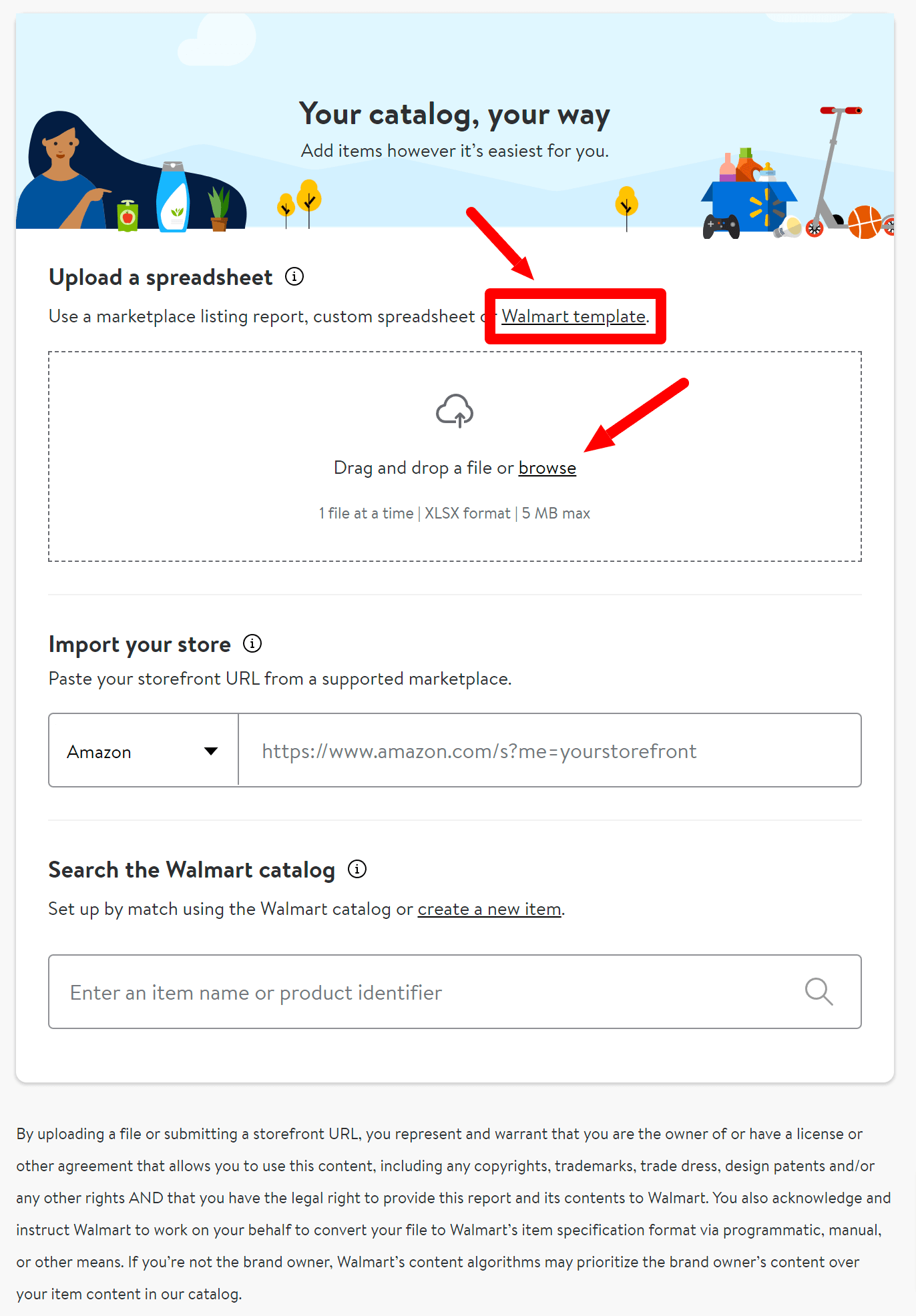 The second option is to import your listings from other websites where your products are already listed including Amazon, Shopify, Target, etc. You simply add the URL of your product page and Walmart will update your listing from there.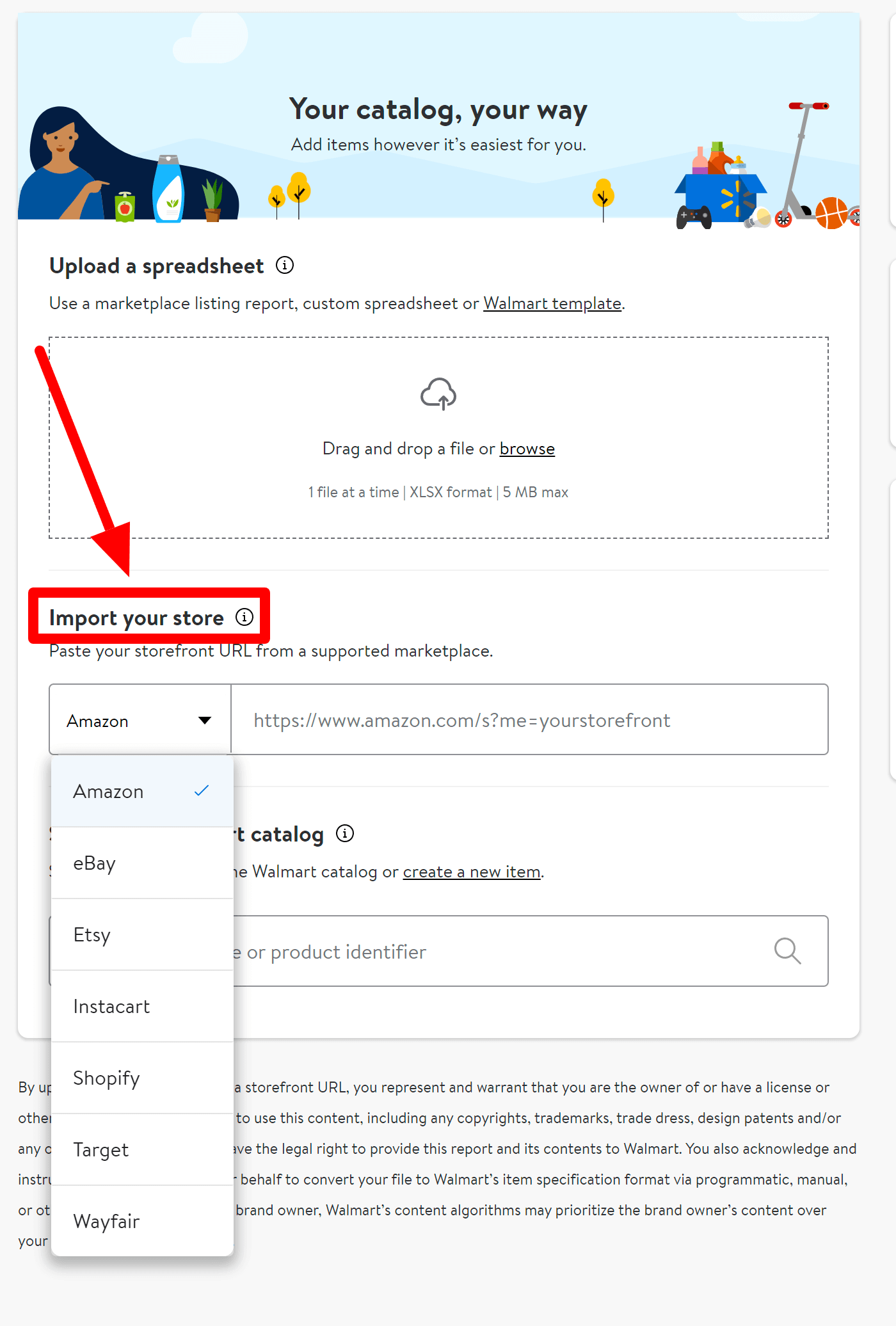 The third option is for wholesalers and this option allows you to search the Walmart catalog to find the product that you are selling.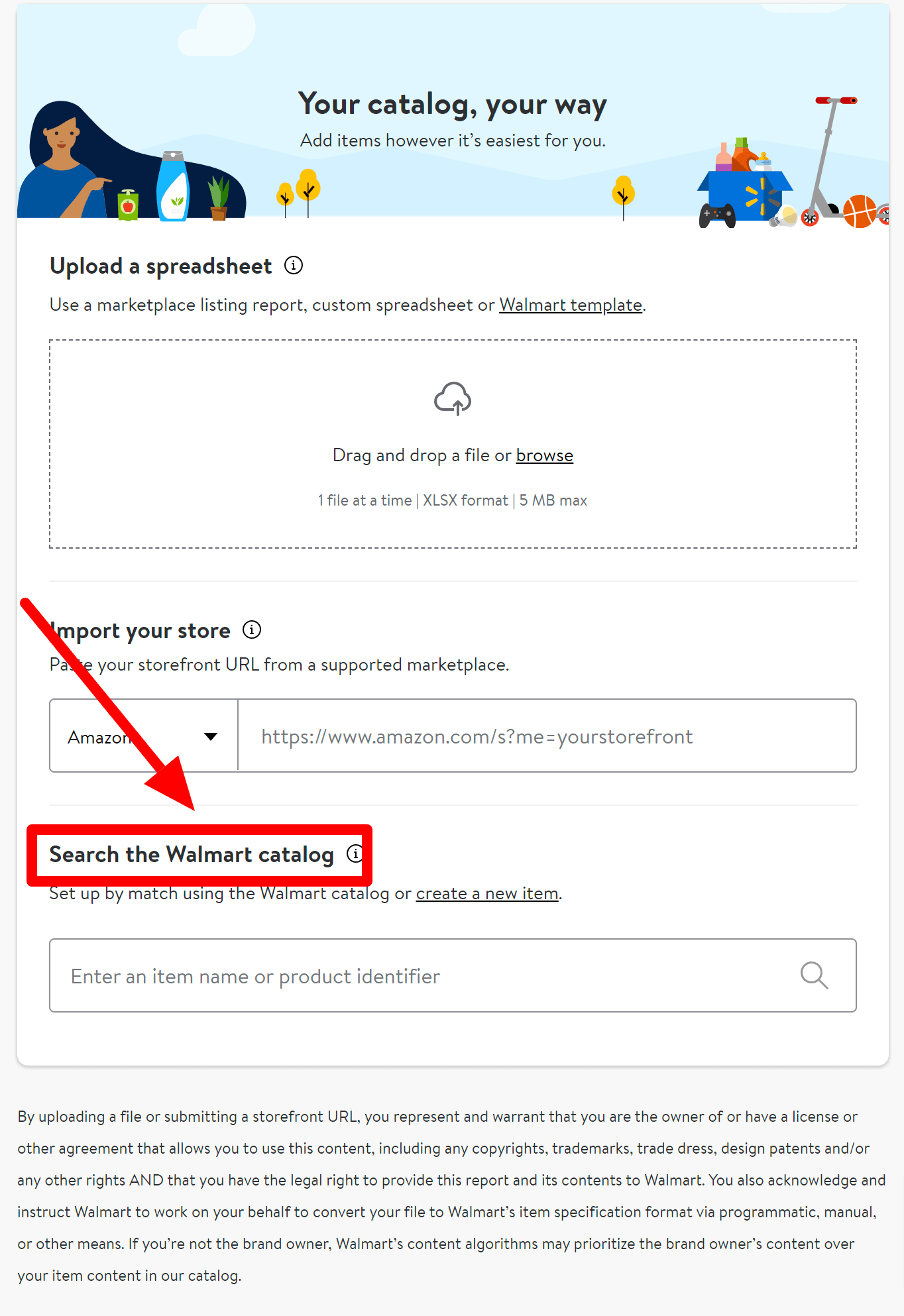 Once you have successfully uploaded your Walmart Listings, it is important to navigate to the Growth Opportunities page to view your listing score. Walmart shows areas where your listing needs more information and improvement so this is a great resource to optimize your listing after it is uploaded.
How Do I Get Reviews for My Product on Walmart Marketplace?
Getting reviews on Walmart is not as difficult as some might imagine. There are a few different programs to help marketplace sellers get reviews and the most notable and affordable options are the Review Accelerator Program and Review Syndication.
Walmart's Review Accelerator is a great place to start when joining the Walmart marketplace and launching new product listings. The way the program works is Walmart will request reviews from customers who purchase your products on Walmart.com. This ensures that authentic users of the product will be reviewing the product and giving honest feedback. Each marketplace seller pays $10 per review for up to 5 reviews. The customer will be paid $3 per review as an incentive to write their honest feedback. Each one of the reviews received through this program will get a verified customer badge.
To find the Review accelerator program, first sign in to your Walmart seller account, navigate to the Analytics section in the left-hand menu, and select Growth Opportunities. Then, choose the Review Accelerator Program tab.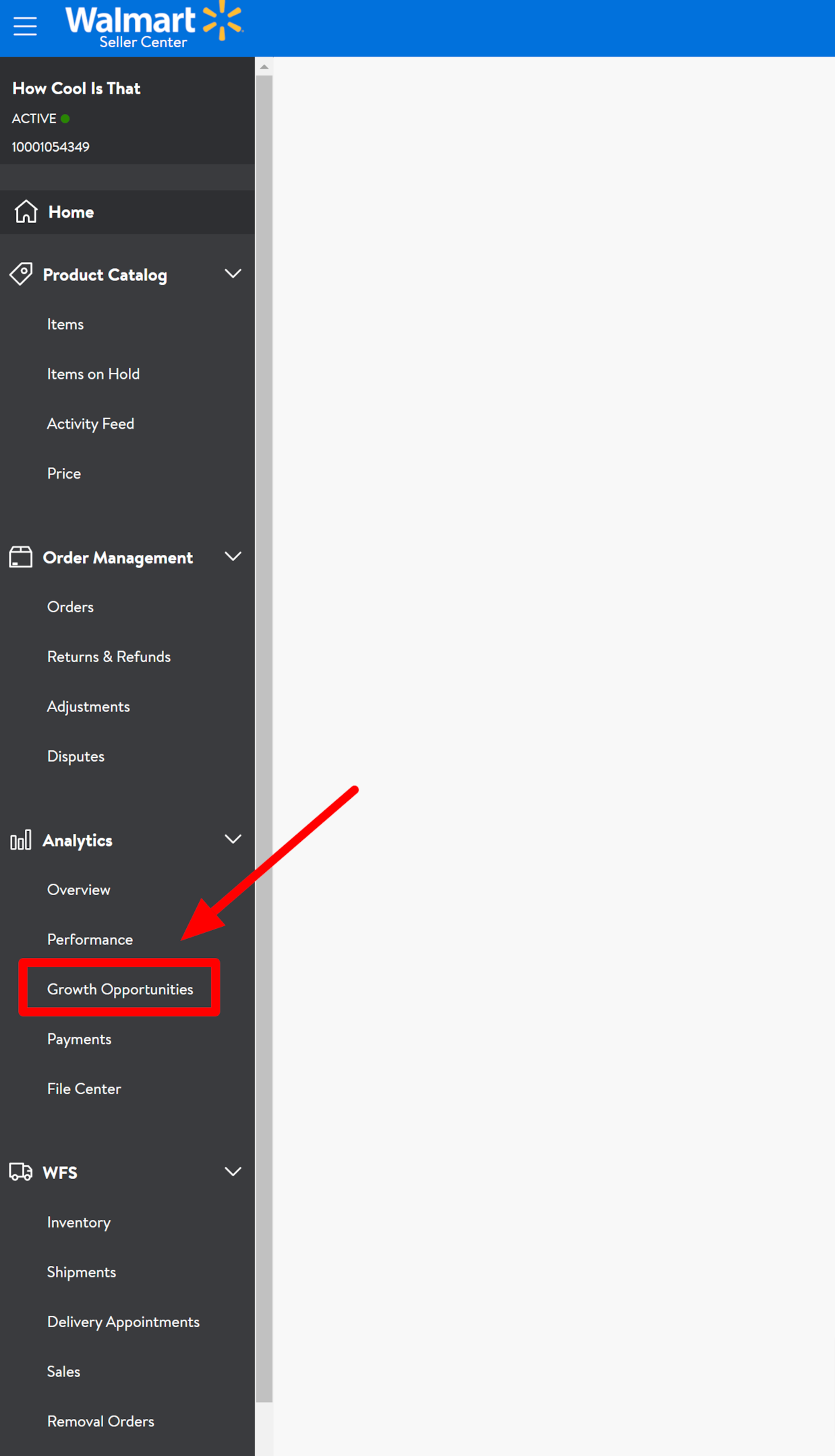 Under the Eligible tab, you will see all items that are eligible to enroll in the program. Select the checkbox next to the item name, then select Enroll to complete enrollment.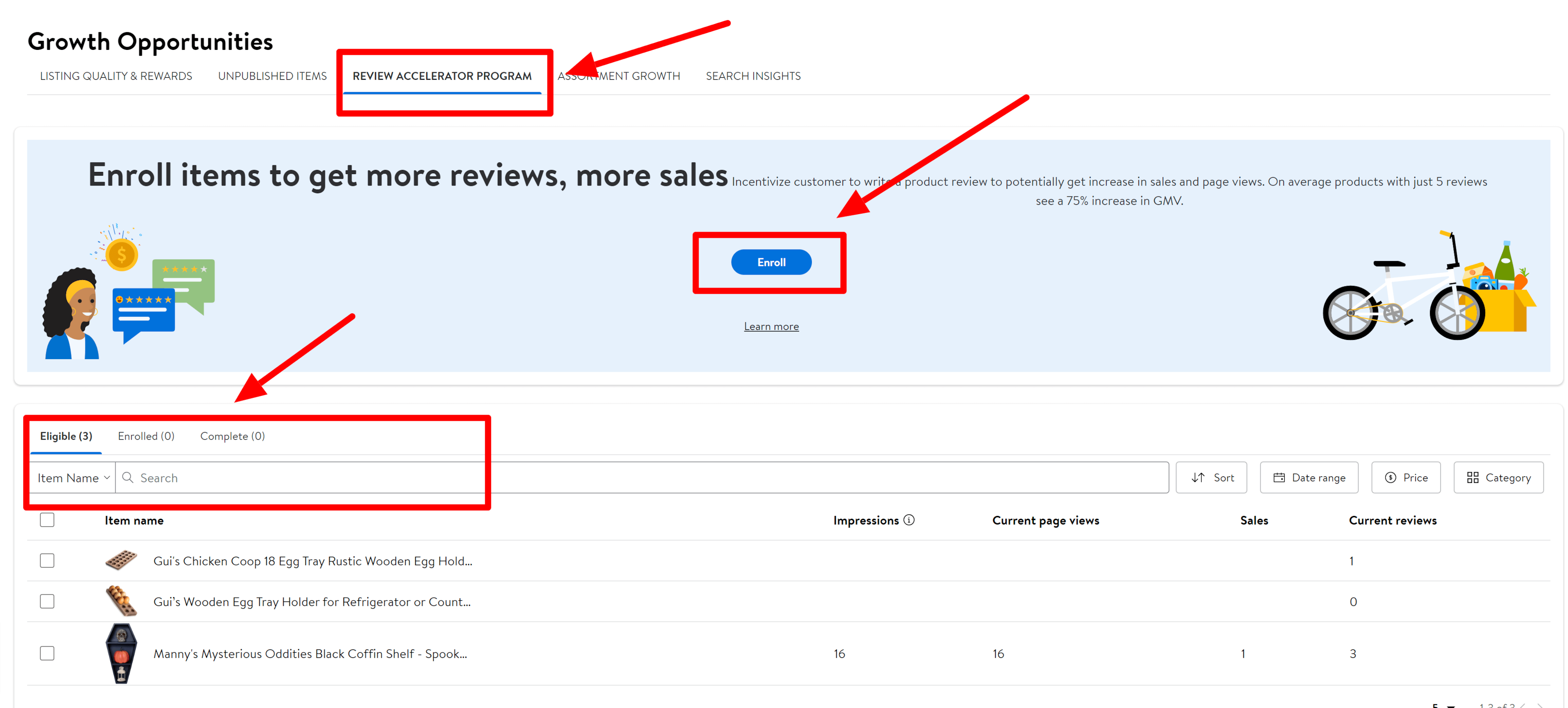 The next program is called Review Syndication which allows you to transfer the reviews from your website to your listings on Walmart.com. Simply click here to enroll in the Review Syndication program. Once you have been accepted to the program, you will be given a spreadsheet template that you can fill out with your reviews. Once you complete that spreadsheet, you can send it to Walmart and they will upload your reviews to your listing.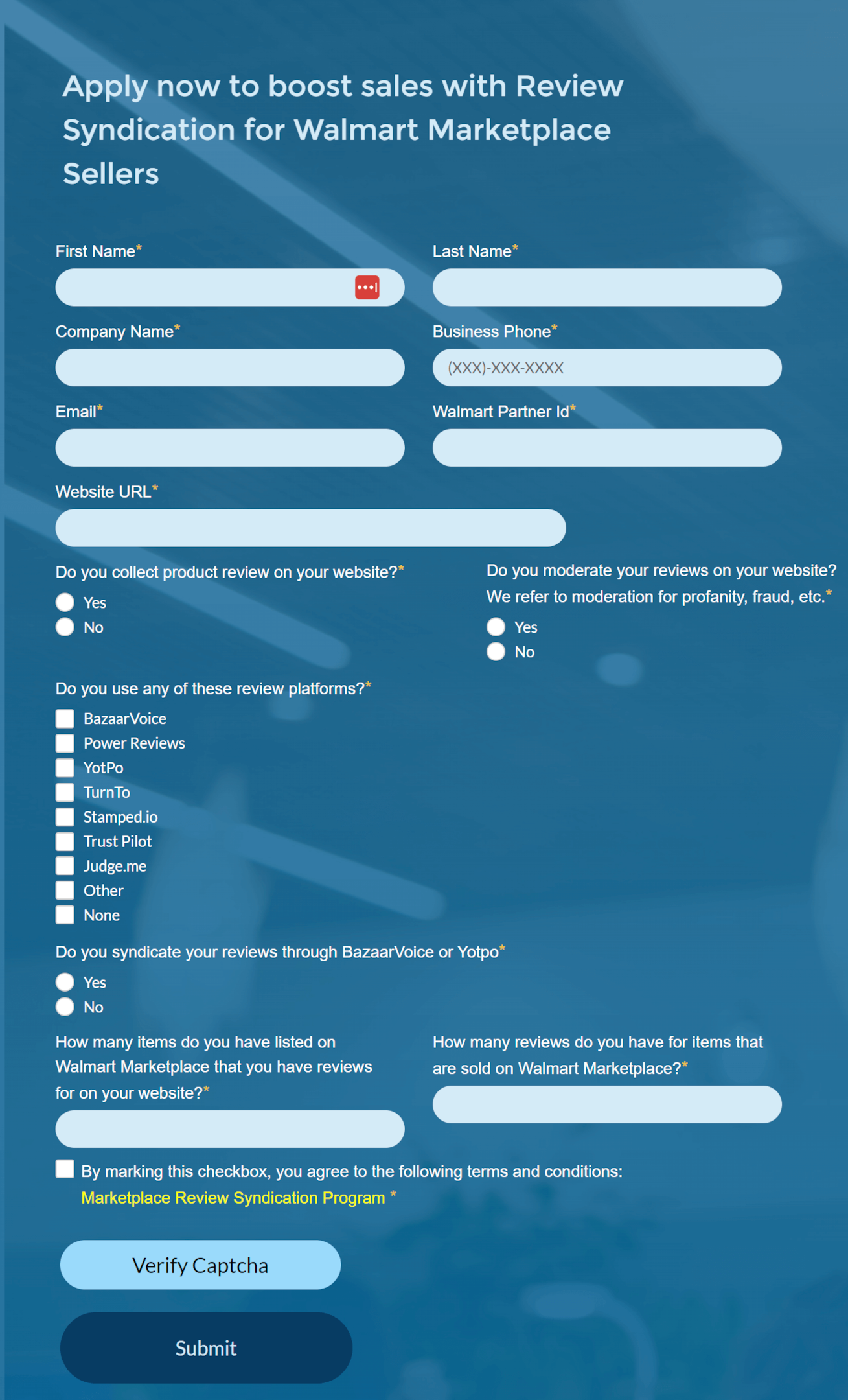 Both the Review Accelerator Program and the Walmart Review Syndication Program provide great opportunities to showcase reviews from your customers.
How Do I Advertise My Product on Walmart Marketplace?
To advertise on the Walmart Marketplace, which is Walmart's advertising platform, you can start by creating an account on the Walmart Connect website. This involves providing essential business information and setting up billing details. Once your account is verified, you gain access to the Walmart Connect dashboard, where you can begin creating advertising campaigns. Here, you'll have the option to choose from various ad formats, including Sponsored Products and Sponsored Brands. The Walmart Connect platform can be difficult to manage and create campaigns so the easiest way to manage your ads is to utilize a 3rd party software such as Helium 10's Adtomic ad management platform.
It's essential to monitor your campaigns closely through Helium 10's Adtomic dashboard or the Walmart Connect Dashboard, keeping an eye on crucial metrics like impressions, clicks, conversion rates, and return on ad spend (ROAS). Using this data, fine-tune your campaigns by adjusting targeting and bidding strategies to optimize results and maximize your return on investment. Be sure to adhere to Walmart Connect's advertising policies and guidelines to maintain compliance throughout your advertising efforts. As you gain experience and achieve positive outcomes, consider scaling your advertising endeavors by running additional campaigns or increasing your budget to further expand your reach and impact in the competitive online marketplace. For more in-depth information about Walmart Advertising, check out this article that goes in-depth into Walmart advertising.
How Do I Succeed on Walmart Marketplace?
If you need support in learning how to sell on the Walmart Marketplace and then learning how to succeed on the Walmart Marketplace, Helium 10 has created some amazing resources to help sellers get up and running on the Walmart Marketplace.
The first resource is an in-depth and thorough course that comes with any Helium 10 paid subscription and it is called Freedom Ticket. Freedom Ticket Walmart will walk you through step by step how to apply to Walmart, list products, optimize products, optimize PPC campaigns and more. It is an incredible resource for anyone joining Walmart marketplace. Below is a look into some of the modules included in the Freedom Ticket Walmart course on Helium10.com :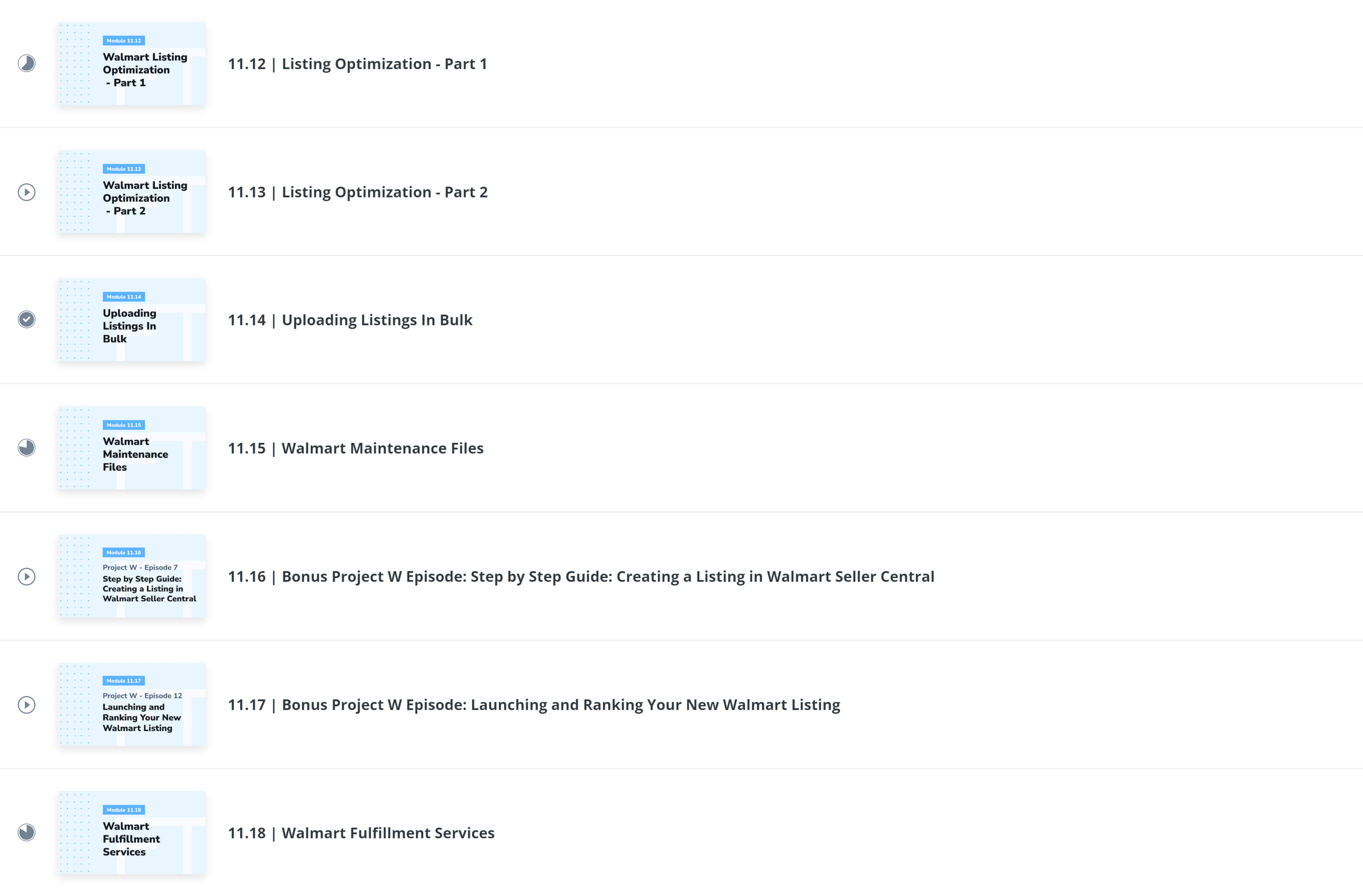 In addition to the Freedom Ticket Course, Helium10.com provides tools for Walmart Sellers such as Keyword research tools, Sales estimation tools, profits analytics tools, keyword rank tracker tools and a tool to help you manage your pay per click on Walmart called Helium 10 Adtomic. These tools are crucial for optimizing and scaling your business on the Walmart marketplace.
Overall, to succeed on the Walmart Marketplace, it's important to begin with creating compelling product listings, maintaining competitive pricing, and prioritizing high product quality and efficient fulfillment. Optimize for mobile shoppers, consider marketing and advertising efforts, and excel in customer service. Regularly analyze performance metrics, expand your product catalog strategically, and stay compliant with Walmart's policies. Encourage positive customer reviews while professionally addressing negative feedback. Success may take time and consistent effort, so adapt to market changes and continuously seek improvement in your operations and customer experience to thrive in this competitive e-commerce environment.
Manage Everything With Next-Level Software
Sign up now to access powerful, easy-to-use tools to help with every part of selling on Amazon and Walmart.
Conclusion
Venturing into the world of the Walmart Marketplace can be an incredible opportunity for e-commerce sellers. This dynamic platform offers a massive and diverse customer base, providing unparalleled opportunities for growth and expansion. However, let's not underestimate the challenges. Succeeding here requires meticulous planning, a deep understanding of the marketplace's intricacies, and an unwavering commitment to excellence in customer service and product quality.
As you embark on your journey to sell on the Walmart Marketplace, remember that adaptability and a willingness to learn are your best allies. Keep a close eye on industry trends, continuously refine your strategies, and leverage the resources available to you. Whether you're a seasoned seller diversifying your channels or a newcomer entering the e-commerce arena, the Walmart Marketplace can be a lucrative destination, but it's your dedication and adaptability that will truly set you apart and lead you to success in this ever-evolving digital retail landscape.
FAQs
Frequently Asked Questions
"3P Walmart" refers to the third-party seller program offered by Walmart on its e-commerce platform. In this program, third-party providers or sellers, distinct from Walmart itself, have the opportunity to list and sell their products on Walmart's online marketplace, known as the Walmart Marketplace. These third-party sellers manage various aspects of their sales operations, including product listings, pricing, inventory management, order fulfillment, and customer service.

Much like similar programs on other major e-commerce platforms such as Amazon and eBay, Walmart's 3P seller program offers businesses the chance to tap into Walmart's extensive customer base and leverage the retail giant's online presence to expand their sales. To participate, sellers must apply and meet specific criteria, and once approved, they can showcase their products to Walmart's online shoppers.
The Walmart Marketplace currently boasts a seller base exceeding 150,000 participants. This figure has exhibited consistent growth in recent times, and it is foreseen to further expand as Walmart continues to enhance its e-commerce endeavors, drawing an increasing number of third-party sellers into its ecosystem.
Walmart began its online sales operations in the year 2000. In that year, Walmart launched its e-commerce website, Walmart.com, which marked the company's entry into online retail. Since then, Walmart has significantly expanded its online presence and offerings, becoming one of the largest e-commerce retailers in the world. They have continued to invest in their online platform, including the introduction of the Walmart Marketplace, to compete with other major online marketplaces like Amazon and provide customers with a wide range of products and services through their website.
Achieve More Results in Less Time
Accelerate the Growth of Your Business, Brand or Agency
Maximize your results and drive success faster with Helium 10's full suite of Amazon and Walmart solutions.