See Amazon Product Listings in Color for Better Optimization – Scribbles
Helium 10 has upgraded its Amazon Listing Optimization tool, Scribbles, for an improved, colorful, and more personalized experience.
Updated on: October 8, 2019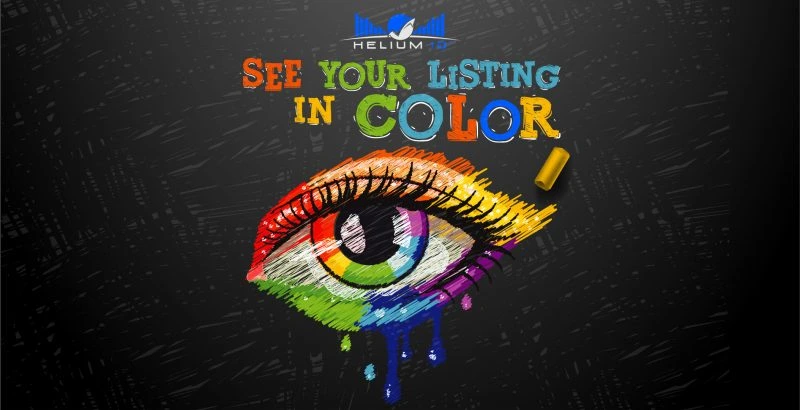 Helium 10 has upgraded its Amazon Listing Optimization tool, Scribbles, for an improved, colorful, and more personalized experience.
Scribbles was the very first tool created by Helium 10 to assist Manny Coats in creating his Amazon listings so he never missed a juicy keyword to add in for optimization.
Years later, Helium 10 has exploded with new tools and features that cover the entire process of selling on Amazon. The All-In-One tool suite gives members an unfair advantage in ranking their new products on Amazon. Today, we would like to pay tribute to the tool that started it all by announcing a massive upgrade to Scribbles!
Check out our overview video here:
New Features
The capabilities of the original Scribbles have been vastly improved for a more user-friendly experience. Some of the new changes include:
Color Coding – Keywords appear in Scribbles via colored text. Color is based on search volume of each keyword so you can easily distinguish which keywords are the most important to work into your listing.
Auto-Complete/Auto-Suggest – Suggests keywords and phrases (also color coded) to use as you type your listing text.
Frequency Count – The number of times a word is used in the listing, shown as a superscript number next to the keyword in the list.
Emojis – Helium 10 now offers a full range of emojis that can be added to your listing text.
Byte/Character Counter – Tracks bytes/characters so you don't exceed Amazon limits.
Now let's take a peek at the new Scribbles interface and how to use it: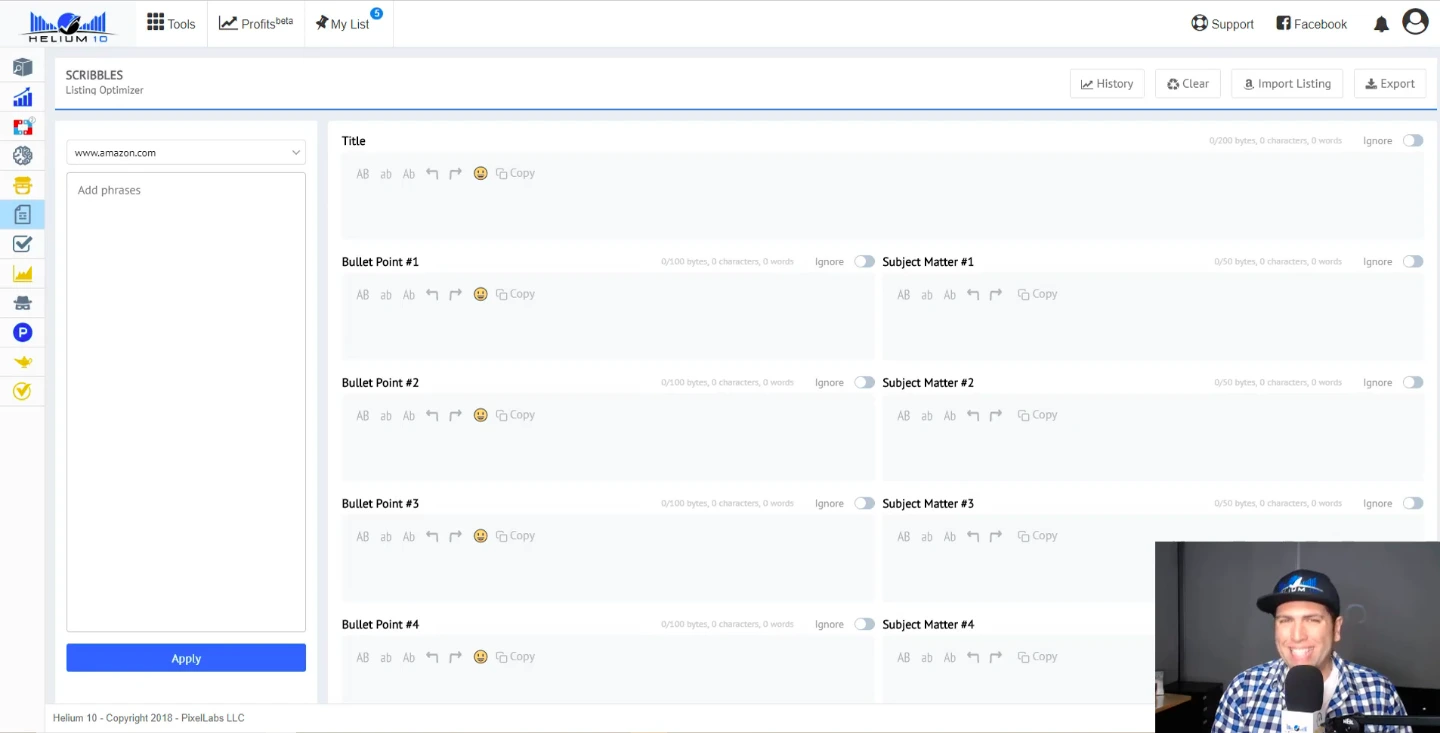 If you are used to the older interface for Scribbles, we have broken it up into definite sections, each with their own separate text box for easy reference.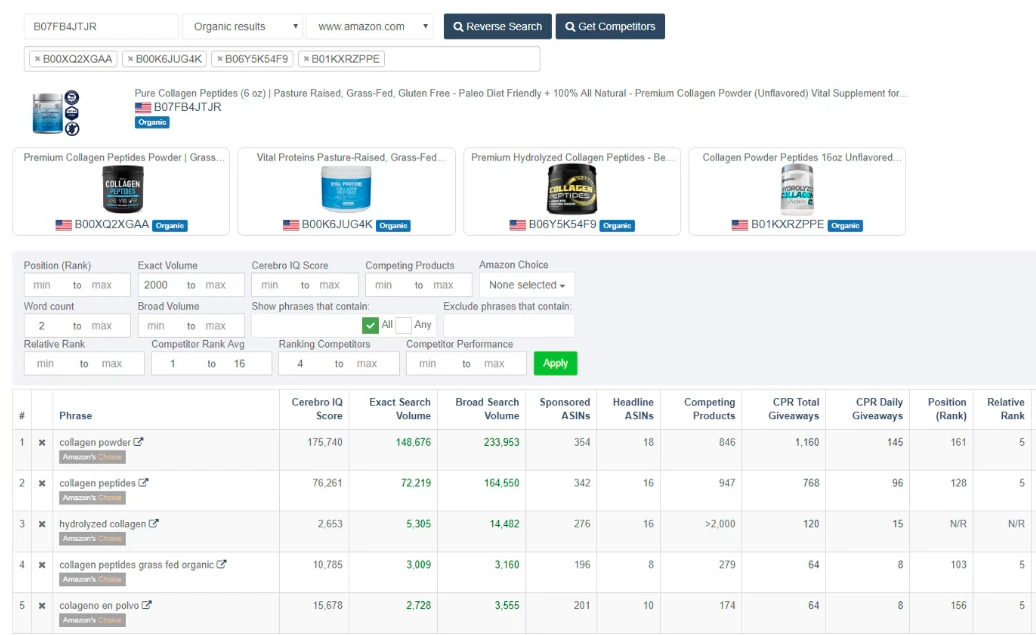 Just as you did before, you can find your preferred keywords to use in your Amazon listing by using Magnet and Cerebro. We suggest first identifying your top 5-10 keywords you absolutely must rank for.

To easily copy these keywords, click Export in the upper right corner in Cerebro and select Copy to Clipboard.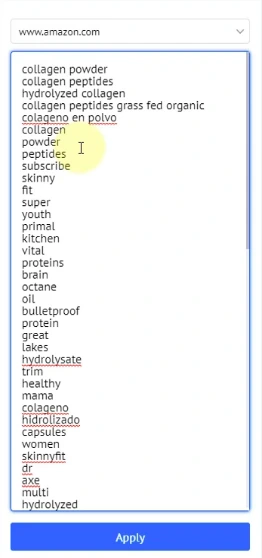 Go to Scribbles and paste in your top keywords, including the rest of your keywords that you uncovered from your keyword research efforts (in Magnet and Cerebro). To sort and color code your new keyword list, select Apply.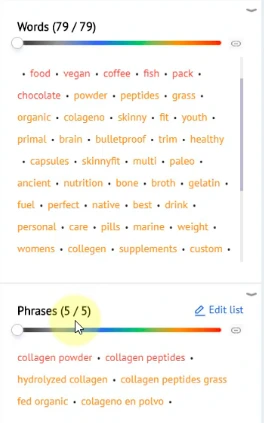 Your keyword list will become divided into descending color order: red (the highest search volume keywords), orange, green, blue, and black (the lowest search volume keywords). Red keywords are considered the most important ones to add to your Amazon listing and are arranged at the top. Lower volume keywords appear further down the list.
Additionally, keyword phrases appear together in another box separate from single words for easy reference.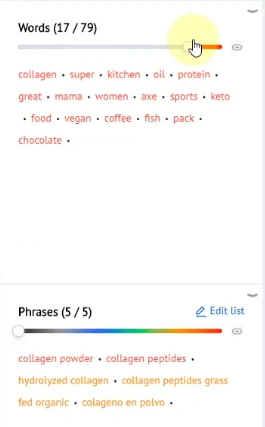 If you only want to see the top keywords in your list, move the colored slider to the right to remove low volume keywords.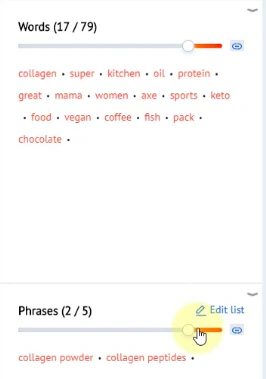 By clicking the small link icon (paperclip) to the right of the colored slider, you can move both the Words and Phrases colored sliders in unison to filter out low volume keywords and phrases at the same time.

As you begin to type out your listing text, Scribbles will recognize the keywords you use and display them in colored text according to their search volume grouping. Additionally, autocorrect and auto-suggest options will become present contextually as you type, also displayed in their designated search volume-specific colors.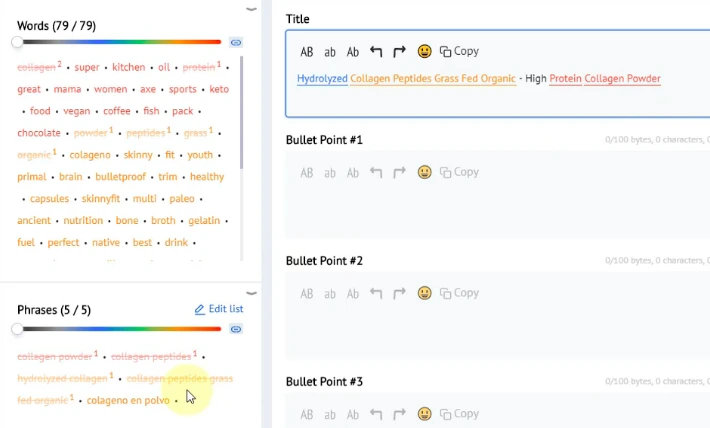 As you begin to use keywords throughout the listing, you will see those used keywords and phrases appear crossed out to signify that you have used them at least once. A superscript number will also appear to the right of used keywords and phrases, displaying the number of times the word or phrase has been used in your listing.

You should also note that the byte and character counter above each text box will become red text when you have gone over the limit of either. The maximum number is based on Amazon's guidelines for each section, so adjust your text until it is compliant with Amazon's max length.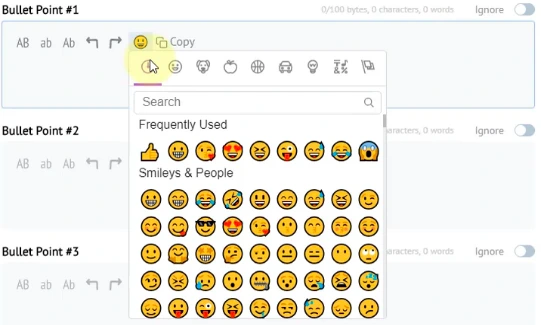 Like we mentioned, a full range of emojis are now available to be used within your listing text. To select an emoji, click on the emoji icon in the toolbar of any section and click on your desired emoji.

Another helpful trick to change the case of your letters on the fly for emphasis is to highlight the text you would like to alter, and select ALL CAPS, all lowercase, or All Upper Case.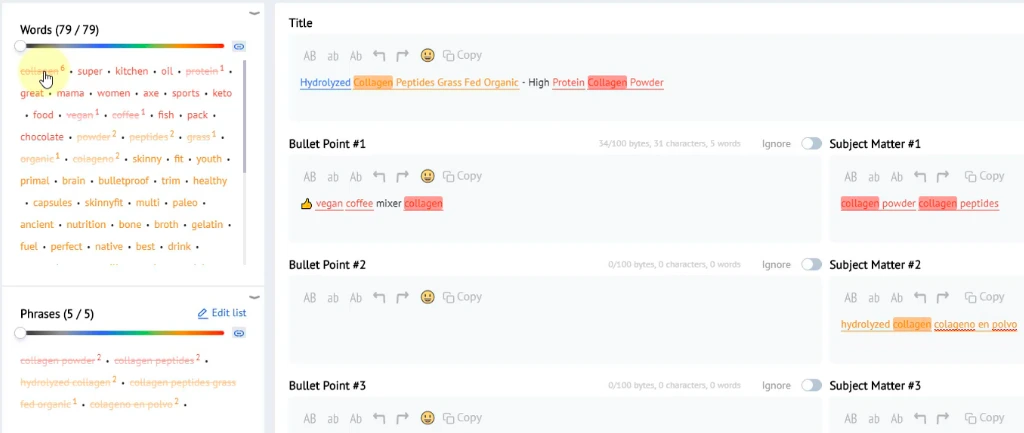 If you would like to see where you have used a particular keyword or phrase in your entire listing, double-click on the word in the left column list to highlight the word in it's designated color everywhere it has been used so far.

Once you have finished writing your listing, you can copy and upload each portion to Amazon Seller Central.
We hope you find this new version of Scribbles to be very helpful when building out your Amazon listings for better keyword optimization.
Please feel free to provide us with your feedback on the new Scribbles and our other tools so we can continue to make improvements that help you succeed by selling on Amazon!