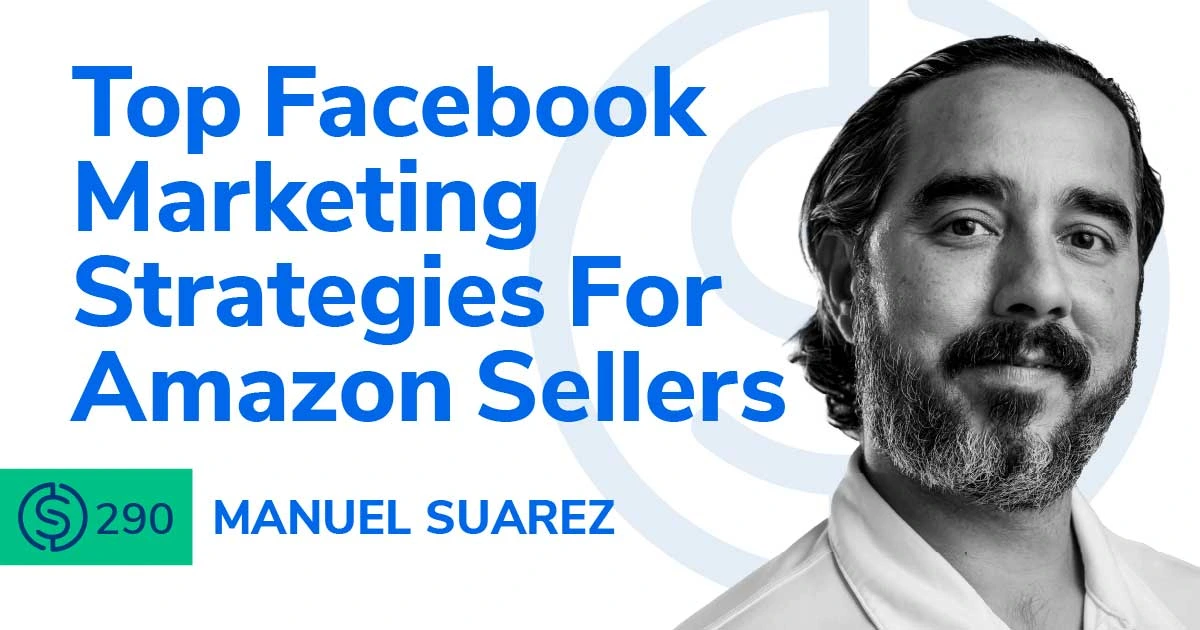 #290 – Top Facebook Marketing Strategies For Amazon Sellers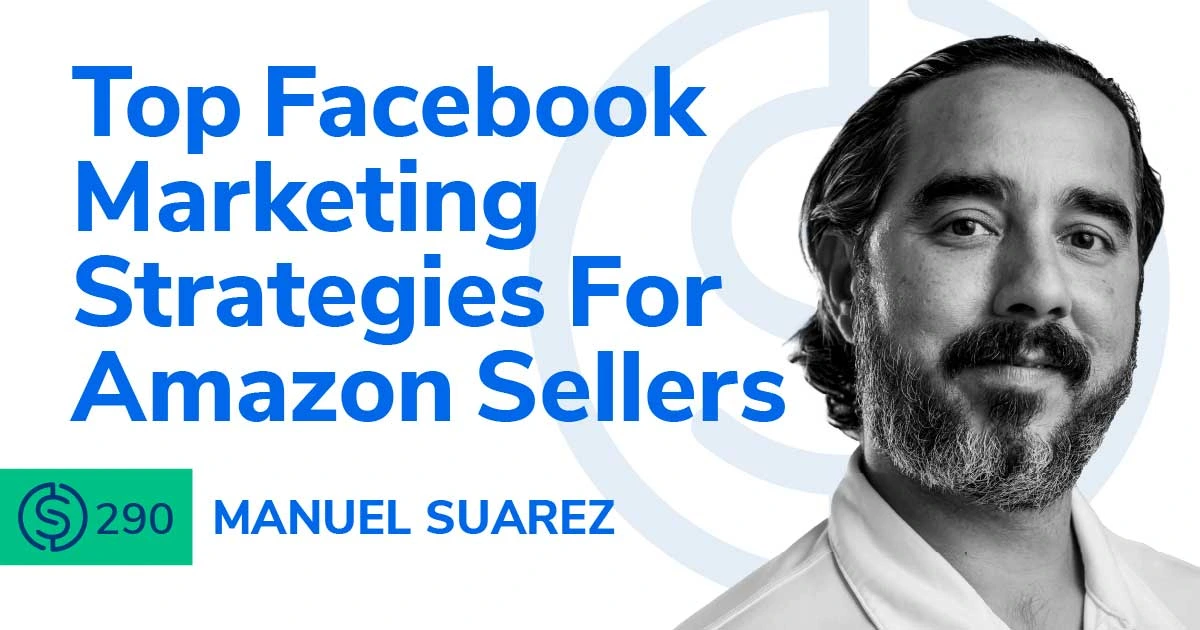 Join Bradley and another Freedom Ticket 3.0 instructor, Manuel Suarez, as they talk about unemployment in the economic meltdown in 2008, getting into e-commerce, and now leading one of the biggest social media marketing agencies.

Plus some very juicy strategies on how to do marketing for your brand – whether it would be on Facebook, your own website, or on other platforms.
In episode 290 of the Serious Sellers Podcast, Bradley and Manuel discuss:
2:00 – How Manuel Got Started On Amazon
5:00 – The Many Opportunities Online Involving Content
8:00 – Scaling His E-commerce Business By 300%
10:00 – Creating Content That Connects To Your Target Market
17:00 – Adjusting Your Marketing Efforts To Fit Your Target Customers
19:00 – What's The First Platform Outside Amazon That You Should Build On?
26:00 – The Advantages Of Having Your Own Website For Your Product
29:00 – Focus On Lead Generation!
32:30 – Check out Manuel's Freedom Ticket 3.0 Module
35:30 – How To Contact Manuel
Transcript
Bradley Sutton:
Today, we're going to talk to somebody who will give us strategies on how we can target on Amazon underserved markets, as well as great Shopify and Facebook marketing tips that can help grow your brand. How cool is that? Pretty cool I think.
Bradley Sutton:
Black Box by Helium 10 houses the largest database of Amazon products and keywords in the world outside of Amazon itself. We have over 2 billion products and many millions more keywords from different Amazon marketplaces from USA, to Australia, to Germany, and more. Use our powerful filters to search through this database for pockets of opportunity that you might want to get into with your first or next product to sell on Amazon. For more information, go to h10.me/blackbox don't forget you can save 10% off for life on Helium 10 by using our special code, SSP10.
Bradley Sutton:
Hello everybody, and welcome to another episode of the serious sellers podcast by Helium 10. I am your host Bradley Sutton, and this is the show that's a completely BS-free, unscripted, and unrehearsed organic conversation about serious strategies for serious sellers of any level in the Amazon, Walmart, general E-commerce world. And we've got somebody who I don't think actually is an Amazon seller, but he has helped hundreds if not more Amazon sellers with their social media marketing. Manuel, how's it going, man?
Manuel:
How's it going Bradley? Great to be here, absolutely a pleasure man.
Bradley Sutton:
Where are you looking at? Are you still in, is it Florida?
Manuel:
I am in the city of Largo in Florida and it's a lovely area. They call it Champ-a Bay.
Bradley Sutton:
Champ-a Bay, okay. I see how it is, I kind of gave up on football a few years ago. I'm a San Diego chargers fan and it's been pretty bad to be a San Diego chargers.
Manuel:
I would ask you to look at your team right now man cause your team is on fire right now.
Bradley Sutton:
Yeah. The team is doing is doing pretty good, but you know, as much as I would love to have a podcast about football we gotta talk about the serious stuff here.
Manuel:
So that's right. Well Bradley, first of all let me just correct the intro I am an Amazon seller, I have been an Amazon seller. It was the first thing I ever did in the world of business was being an Amazon seller without Amazon, I am now where I'm at today.
Bradley Sutton:
Awesome. When was that?
Manuel:
I started my story which goes back to maybe 2008 being a part of the meltdown of the economy and losing my job and not knowing what the heck to do with my life. I spent a few years looking for a way out having no career, no background, no degrees, no university system education. And at some point I was introduced to, I created a brand called Natural Swing when my dad and my wife and we launched it in the US we had no engine at some point in 2013, I came the Amazon opportunity and I started doing some training on it and I started getting some education with some of the free incredible things that are out there resources and YouTube. And I launched an Amazon brand and that was my first venture into the world of business.
Manuel:
And that's how I began, Amazon gave me the cashflow that I needed to build everything else outside, without it I'm telling you, my life would be quite different. My journey would've been very different. So I'm a big advocate of the Amazon platform. I just have gone beyond that world a lot, but I'm still front and center in the Amazon world. And we do a lot of things. We just have different strategies and we incorporate the grow the Amazon brands, but it's a part and parcel of my story. I even build a brand, a Betches brand in 2015, sold it in 2017 and it was 99% on Amazon. So I have a lot of experience in the area.
Bradley Sutton:
Excellent, I think that's important. You know, there's a lot of people it's not a requirement like if somebody is a service provider in another lane, it's not like, oh, you're going to be a complete failure if you don't have your personal Amazon experience, but it always is a huge help. When you can empathize more with the Amazon sellers that you're helping, you know exactly what they need and what would help them so that's really cool to know, I didn't know that. So, at what point were you like, hey, I need to start looking into what social media can help an Amazon business where cause it sounds like Amazon actually came before you started the marketing side of things.
Manuel:
It did, I think the E-commerce world has changed as you know Bradley so much aggressively over the years. Somewhere around 2015 as I was building our Amazon brand which is the natural slim that brand is going to do $45 million in the US alone this year so we've come a long way to where we're at today it's a big part of my story. Our natural slim brand we serve as the Latin American community that's our big focus, but at some point in 2015, I realized that we needed more attention and I happened to have access to a content unicorn, as I like to describe that content unicorn was my father we're not going to get into that subject right now but he sadly passed away earlier than expected this year.
Manuel:
Thank you. But he was an incredible content creator, a great educator, a great teacher, a great individual that knew how to provide value and just capture attention. And I realized as I was observing and I was going out to parks and I was going out to restaurants and I was going out to every single place that you can think of. And people were doing one thing only, they were consuming content. And it was just basically observation of obvious things. And looking at what opportunities that was presenting and how Facebook was capturing so much attention, how people were not even tuning into television ads and we had like DVRs and which means that people were not even consuming ads or radio or none of that stuff. So when that happened, something clicked. I also started one of, I can give credit to one of my mentors I'll on the way I bought Gary Vaynerchuk's book called Crush It!
Manuel:
And that was a part of my origin I said, okay, there's an opportunity right there. I jumped all over it and I obsess over Facebook opportunity. I called myself as you might've heard about Bradley, the Facebook marketing ninja. And because I was obsessed with the opportunity that Facebook was presenting along the way, I have a getting away from Facebook marketing ninja and now I'm more in marketing ninja because there's so many different opportunities that are not just Facebook at this point. So I went all over the place, but that's how I discovered my abilities as a marketer was jumping on the Facebook wave because I needed to get my dad to be more discovered. He had such great content and I had such a great brand that I knew that if I just get my dad in front of more people, I'm going to be able to grow the brand.
Manuel:
And I was right. My dad's content spread out like wildfire and we started getting a lot of attention and we grew a YouTube channel from zero to we're going to cross five million subscribers very soon. We have a following on Facebook and Instagram of millions of people across these platforms. And that has helped us build both the Amazon aggressively and our own e-commerce along the way. So social media has been at the center of our growth of every single brand that we've managed along the way, because they are attention grabbing machines. And that's why my company is called AGM, which stands for attention grabbing media.
Bradley Sutton:
I like it. Now, what I like to do sometimes when we talk about different things is I kind of like skip to the end to get people excited about, Hey, why they need to keep listening. So can you just give an example either from your own business, you know one of your clients, obviously if it's one of your clients, you have to mention their name or anything, what we're going to talk about today, something that we're going to talk about today, maybe, you know, they weren't, they didn't have it before they implemented it. And now, they had a two X increase in traffic, they had a 50% increase in sales, just some exciting statistic that comes off the top of your head to get people excited that, Hey, they need to listen to the end of this episode.
Manuel:
Okay. Well, the world of business and especially in this era 2021 that has dramatically changed the landscape of marketing, it's all about the acquisition of prospects and that applies to Amazon sellers equally. The Amazon game is such an important part of E-commerce, but at the end of the day these are Amazon customers. And I believe that we all should be focusing on building our own followings and our own leads prospects and identities along the way aggressively. That's how we can scale to the next level. So we can talk about how we are doing that across the boards on clients right now, and how we're scaling Amazon brands by aggressively scaling our list, accumulating a lot of identities, emails, subscribers, people that are engaged with us on that next level. And there are some strategies, for example, where there's one particular brand that we had 10,000 people on the list the beginning of 2020. And we took advantage of opportunities on the pandemic environment. And we did something really hardcore that helped us get a lot of attention because we gave a little bit of ourselves to the world. And in a matter of like two months, we had 220,000 people on that list. And that drove us towards scaling our e-commerce 300% in that particular period of six months after we generated those identities. So we can talk about how we did that process ourselves.
Bradley Sutton:
Okay, interesting. Now, just as you're talking here I was just thinking, my brain is kind of slow. I was thinking back to something you said a few minutes earlier, did you say that like the brand that you create for Amazon, you were kind of target marketing the Latin American market?
Manuel:
We are a hundred percent focused in the Latin American market. United States of America has over 50 million Latin people in the country and they are underserved and under marketed to. So our targets since we began this business in 2008 has been the Latin American community. We didn't really start taking off until we started getting my dad and our content distributed to millions of people across the board. Natural slim is now in nine countries, but our biggest country by far is the United States of America. And we do serve as 99.9% of our public is Latin American people just by itself, 50 million Latin people is more than most Latin countries out there. And that's what we have in the United States of America. It's a big audience.
Bradley Sutton:
Interesting. Now, how do you target the Latin American audience? It's not a matter of, hey, on Amazon.com you just decided to make your entire listings in Spanish. Obviously they're in English, but is when you say target, is it mainly your off Amazon marketing strategy? You know, that pulls in the customers is mainly targeting the Latin American or how are you optimizing your listings also for the Latin American community?
Manuel:
So here's the beautiful thing Bradley, all these people that are Latin American in the US 50 million of them. I would tell you that about 80 to 90% of them speak perfect English, which means that you don't have to grade your listings in Spanish because that's going to take away from the discovery of other people along the way on the Amazon platform. But if you do social media marketing, and you talk to the people in Spanish, the Latin people, they actually feel more connected to you because you're speaking their language. So what we do on social media is that we actually create content in Spanish, and that's something that this world does present the opportunity to do every single one of you listening to this podcast right now because we got translators. We got people that are all over the world that you can access. They can create your content in Spanish.
Manuel:
And when you go to a platform like Facebook, which has a lot of data about these people, it's very simple. You literally just enter the language you say Spanish and when you entered Spanish as a language, when you're marketing to them it's only going to put that ad in front of people that speak Spanish because that is information that Facebook easily has access to. Now, when you send them to a listing on Amazon, or when you send them to your listing, whether you have a Shopify site or whatever E-commerce, it doesn't really matter because these people are generally bilingual, but they still like to be talked to in their own language. They feel like, oh, these are my people I should pay attention to their content. I should pay attention to this particular brand because it's a brand for Latin people in the US so it is an opportunity for a lot of us to really dive into.
Bradley Sutton:
Now, you started this brand a number of years ago, is that still an opportunity? Like if you had only started today, knowing the data would you still start a supplement company in targeting the Latin American community here in the United States?
Manuel:
It is the world of Latin America that is generally on average five years behind. So if it's going to cost you a hundred thousand dollars in advertising to generate 400,000 leads, let's say you're paying pennies on the dollar. Let's say that you are going to invest on acquisition of prospects and to the Latin American public. I can tell you right now, if you do this correctly in the US and you're talking to Spanish people, and you talk to them in their language before you send them to the listings, you might pay a third of the price talking to these people still today because the Latin American communities are not being targeted enough. And because of that, it enters in supply and demand laws in general, that there's a lot of marketing going on, but not many brands are talking to people in Spanish. So if you talk to all these big players, like Grant Cardone is trying to get into the Spanish market like crazy.
Manuel:
Gary Vee has been talking about Latin American being the next big thing. There isn't an actual community that is growing a minority that is growing faster than Latin American for entrepreneurs, for business owners. And the beautiful thing also is that these Latin people have the same access to capital, to credit that all the other American citizens, which means that they are capable of investing in your products and being a great customer, they're just being underserved. So if I had to do it all over again, if I started brand all over again, right now, I would definitely assign a budget to that particular audience and see what that returns for us along the way. I did an interesting experiment the other day. We have an brand, natural slim. Again, I publicly a lot of people are scared about talking about their brands.
Manuel:
I welcome the competition view check out the natural slim brand on Amazon. We have a lot of reviews where bredius salvage already. I downloaded the list of you know, if you go to tax jar, for example, or some of these platforms, you can find out the names of people and you can look at even still today, even though there's been a lot of changes, you can find our physical addresses. And I was surprised to see Bradley that even though we're really well ranked in a lot of searches, our audience is mainly still Latin, which is telling me that what we're doing across social media and across acquisition of prospects and in our email list and our text messaging lists in all the things that we have going on, it's actually a feeding Amazon. I wouldn't be where I'm at on Amazon, which we're probably going to do about $15 million just on Amazon this year. And if I didn't have what we have going on in the rest of the world, our Amazon brand would not be growing the way that it's growing right now. So it's a big deal.
Bradley Sutton:
Okay. So, you know, it looks like that that definitely still is an opportunity if it's the right niche, you have access to tons of data on the backend. You know, when you're running campaigns on Facebook and another platforms, are there any other nationalities, language groups, something like that here in the United States that you think is more untapped potential? Obviously non nearly as big as the Latin American community, but you know, are there any others that you think that Amazon sellers, you know, could possibly build a brand around?
Manuel:
Well we have a lot of African-Americans in the United States, and a lot of these people are also very capable and they're great potential customers. So that's another one to explore, depending on what your Amazon brand is about, depending on what your products are. This is another area that is underserved, and all you've got to do is adjust your marketing, adjust your messaging a little bit and talk to them more like them, right? So it's like these people all have different– I was recently I was on the traffic and conversions summit that happens once a year in San Diego. And one of the speakers was magic Johnson and he was talking about brilliant guy, right? He's a genius, a genius business owner, aside from being one of the greatest athletes of all time, the guy's super smart.
Manuel:
He was talking about how he actually got Starbucks to expand on a minority community like the African African-American, which that's the founder of Starbucks was not really seen that he was not really believing in Magic's vision. So Magic did was that he simply adjusted a few of the concepts. For example, he changed the music. People did not want to walk into classical music or jazz. They wanted to walk into maybe potentially some hip hop or some other things instead of having like some of these like little cones or the certs or whatever, they did something for the African-American community and his Starbucks exploded took off. So all you're going to do is think you're marketing and adjusted a little bit above the messaging and the copy, the images, the video, and make it more feel, make it feel more like it's meant for them. If you adjust that, you're going to be able to get a lot of attention and help your brand grow. If you believe your products are a good fit for that particular community. So the African-American is also comparable to the Latin American minority in general.
Bradley Sutton:
Okay. Interesting. Now let's talk about some specific strategies you're a part of our series that we're doing because we have just relaunched Freedom Ticket 3.0, and you're one of the main instructors on there on our week that talks about advertising and also Facebook advertising and you have a couple of great modules. I'm really envious of your studio setup you've inspired me. I'm about to make my own mini studio in my house, now I'm going to steal some ideas from your set up, but you actually had some great content on there and we're not gonna give everything away but we just want to give people a taste. A lot of our listeners are Helium 10 members, so they do have access to Freedom Ticket 3.0, but let's just talk first of all about getting started advertising on Facebook, Instagram. I have an account, we've got the Project X is one of my accounts and we launched a brand Manny's Mysterious Oddities.
Bradley Sutton:
It wasn't named after you, you've known him for a long time. But anyways, we've never done off Amazon advertising. Now, this is just a brand , it's not huge, maybe he does about $200-300,000 a year. It's kind of like spooky decor items like coffin-shaped egg trays and coffin-shaped shelves and spooky things like that. We've never done Facebook, we've never done Instagram we've just been a hundred percent on Amazon, just because, I have no time really to do anything else but let's just say that I were to hire you to like, say, Hey, let's get a plan together because you know, we've got a kind of buzz-worthy kind of product line here. I want to start getting off of Amazon and putting content out there. First of all, what's the first platform that you would suggest that we get started on.
Manuel:
We got to build a Shopify site Bradley that's going to be okay. It's as simple as a way to go about it. Shopify has simplified dramatically the process of building your own E-commerce outset of Amazon. And I believe this is essential. I think that a lot of people don't realize that even though Amazon is such an incredible and dominating platform, it's only 50% of all e-commerce. I know I say only, but sometimes, you know, there's so many big Amazon sellers doing so much revenue on the platform that we forget that the other 50% are doing their revenue outside of Amazon. So it's a really big deal still. Shopify sites have been taking off. If you look at, for example, the last Black Friday that we had in 2020, e-commerce outside of Amazon was huge for a long time. It's been dominating, dominated by Amazon.
Manuel:
And this is the first year that we saw humongous uptrend that is happening on the e-commerce side of things. So, by putting attention on that, we have at our agency here, we service a lot of people that are making a lot of money on Amazon, but they start thinking correctly about building outside of Amazon, because in the end, Amazon continues to make things harder and harder for you to have a relationship with these people that are buying your stuff. I can see, I can understand their viewpoint. This is their platform, not yours. And it is their traffic, not yours. And because of that, they consider them to be their customers, not yours. So what a smart Amazon seller does is you start figuring out what you can put aside money-wise so you can build outside of Amazon. So the first thing that I would do before you start investing any money on advertising, do not do not take your hard earned dollars and create some ads to send people directly to Amazon.
Manuel:
I will not, I would not suggest that for a separate, this is a strategy that works because Amazon loves outside traffic, but this is not how you really grow the brand. If you want to get ranking done on Amazon, if you want to get more traffic to the website, I mean, to the Amazon listings. Okay, fine. But I would, the first thing that I will do is I would take some of that money that you're making. And I will make a Shopify site. You can either make it yourself or hire somebody to do it. It's not expensive. The Shopify basic plan starts at $30 a month. And you can go ahead and drag and drop images, copy and paste the things that you already have on your Amazon listings. And you have a Shopify site, this is your website. This is your property, whatever traffic you send there, you control you own, and you can do whatever the heck you want with it.
Manuel:
If you want to acquire an email, a phone number as a subscriber on messenger, all those things, you absolutely have the right to do so. This is a different conversation when it comes to your Amazon clients that are landing on the particular Amazon listings. So the first thing that we'll do is Shopify site to get it built out. Once you have that ready, then you can start testing slowly. This is not something that happens overnight, but I would take a little bit of your money that you're making, set it aside and start creating some ads for it. And you can do single image ads to send people to your listings. You can do little simple videos, videos right now can be made by yourself very easily. I just did a whole training on this yesterday, or you can actually hire somebody to get them done.
Manuel:
You can actually bring in an in-house editor, or you can outsource one of these editors to create some content for you. It's as simple. So some of the things that a lot of Amazon sellers don't realize Bradley, we have so many people giving us user-generated content every day on our Amazon reviews. And they are there. And even for example, when you have a good flow in place that you are generating reviews on your Amazon listings, you can actually go in there as a user and you can download the videos that people are leaving on the Amazon page and got great content. Even those reviews that are there, you can take those reviews and you can turn those into scripts. And that's something that we do really well in. Let's say, for example, the brand that you have right now that you're talking about here, that Manny's products, right?
Manuel:
Yeah. So if you take that and you have some reviews already, a couple of hundred thousand dollars a year, you probably have some people already commenting raving reviews, opinions about the products you take one of those and you post it on, you make a post out of it with a graphic that by itself is leveraging what build Amazon, which is other people's opinions. And you send them to your website and your website being Shopify, now, when they come over here, you can really start building a connection with these people. So single image, videos, single image ads, single video ads copy utilizing people's comments that they're leaving on your Amazon listings is the best way to get some traffic to your website and try to get them converted once they're inside and start trying to find something that works, that you can scale along the way.
Bradley Sutton:
Okay, good to know. Now, something you mentioned was about like downloading the videos that come on Amazon, like you can download this, but are you able to put those out there or like could there be copyright issues there if you're putting somebody else's video on like on your own advertisement?
Manuel:
You know, in all honesty, I don't know if it belongs to Amazon. In my viewpoint, we would have to look into that a little bit more. Maybe somebody here, one of the listeners have some data, but the way that we looked at it, we started testing this out a couple of weeks ago. The way that I looked at it is that people are leaving a public review on a platform and that review is out there and it's out there for the world to see if there's somebody that can complain about it, maybe Amazon? Because it's uploaded on the platform. So I don't know if we're doing something against TOS that's still to be determined, but even the reviews itself, the content, one thing that we have done for the last couple of years is that we when we write copy we put the four and a half stars to five stars that they gave us.
Manuel:
And then we put it in parenthesis, in quotations, whatever the person said. And then we put a little image that really communicates what that product is going to help them solve because every single product is going to help people solve a problem. Social media ads, Facebook and Instagram ads are supposed to show people because you're doing something called interrupted marketing. You're not really having people search for your products. They're not looking to us for a solution to their problems. You really are just interrupting them in the middle of their browsing. So you have to present what problem they're going to solve by clicking on your ad and buying your product. And that's what you do on one of these ads when you do that correctly, people land on your page. You have great copy, great messaging, if you have good conversion rate on your Amazon listing, that's a good indication that you have a good message out there.
Manuel:
You can use a similar concept and one of the most important and valuable things about having your website in there that is yours, that you control is that you can build upsells, cross-sells, and down-sells meaning that now your average order value, doesn't have to be only based on what a person decides to add to their cart. It's based on what you decide to present to the customer along the way. I've always said, Bradley, that the most important moment in an entire customer journey is when somebody already opened up their wallets and entered their credit card information and their billing address at that moment, what a great golden opportunity for you to present other products that are related complementary to that one. So you can increase the average order value, for example, on Amazon, my average order value for natural slim is 30 freaking dollars on my Shopify site is $140. It's a big deal. I get a chance to sell more products, which means I get a chance to help people more because I do believe in the ability that my brand has to help other people improve a problem that they have.
Bradley Sutton:
Yeah. So, I mean, that's obviously something you can't really do on the Amazon platform, who knows maybe one day they'll try and develop something like that's definitely advantage there for Shopify and building it out there. So are you exclusively then like your Facebook advertising is it exclusively sending traffic to your Shopify or do you still funnel at least some like for product launches or something that goes eventually to your Amazon listings?
Manuel:
I can tell you Bradley, just so we can go back a minute for those of you guys that are Shopify users, and you're wondering how the heck we set this up upsells and cross-sells. I use the software that was the founder is Ezra Firestone.
Bradley Sutton:
We've had him on the podcast before.
Manuel:
Okay, good if you guys know if you're in the E-commerce world and you're not living on the rug, you know who he is. So Zipify is the name of the software and they have something called OCU, which is one-click upsell, which is absolutely amazing. And I'm a big advocate for that because it really does help you convert more. That being said, Bradley, I can tell you more or less my percentages for growing E-commerce in general, 70% of our traffic is in general direct response ads. Now here's what it's a little bit of I want to make sure that people understand that it's not necessarily the way to go about it, to just sell, sell, sell, sell, sell on first contact. In my case, I am actually selling to people that are consuming our content. We have millions of people consuming our content the natural slim content.
Manuel:
We have a YouTube channel called Metabolismo TV that has almost 5 million subscribers on it. With that content that we have, which is utilized in an omnipresent way on Instagram, on Facebook, on TikTok, on all the different placements. We target people that are consuming the content. So 60 to 70% of our budget, we're spending several hundred thousand dollars a month is being spent on getting people to our listings on Shopify so they can purchase our stuff. We have a website called us naturalison dot com. If anybody wants to check it out and you'll see it's all in Spanish, there is a button on the top, right? If you want to switch it to English and check that out, but we're using that for the US direct response ads, selling our products with single images with videos, explaining what the products are. And we have a really good return on investment.
Manuel:
About 30% of our budget is spent on lead generation lead acquisition. We are really into acquiring phone numbers and emails and subscribers. And right now we're jumping on top of the Instagram dm wave, which is a new thing that has been rolled out recently. It's a great opportunity for you guys to try to bring some people from the billion-plus people that are using the platform. It's very simple to do. We use something called Manychat. I know we helped you guys out a long time ago at Helium 10 channel. So this is something that you guys can utilize because a big obsession of ours again, 25% of our budget is growing our lists because on a season like right now, Black Friday season, that's coming up in a few weeks, that particular opportunity, the one thing that's going to remain the same cost-wise is the marketing to your list.
Manuel:
Facebook ads, I'm going to skyrocket. They're going to be expensive as heck, but your lists and your marketing to your phone numbers, your marketing, to your emails, your marketing, to these particular lists that you control, they don't change in costs. So I actually foresee e-commerce right now, dominating through the size of their lists more than through Facebook ads and sell, because Facebook is going to keep on increasing the cost for advertising. Actually it's 189% increase year over year. So whatever it costs you to advertise last year is 189% more today in 2021. So that's something to keep in mind. If you focus on lead generation and you do a little nurture, some emails, some follow-ups on text messaging, connection with people, showing them about your story, what you're about how to use her products how you've helped other people that testimonial other people's opinions, user-generated content.
Manuel:
If you do all that stuff, you're going to have a humongous audience that you can actually now promote your products to. So we do 60% direct six to 74% direct response ads. We do 20, 30% our lead generation, and we do things like giveaways, contests, flash sales. We do quizzes, things like that to bring people in which is something that is simple to do in these days. And then about 10% of our budget. We utilize that to send traffic to our Amazon listings in an effort, try to rank products better. So that's basically what we have the formula that we have in place. So different things that happen, different departments that are handling that on either side. One of them is focused on getting sales and revenue. The other one is focused on getting acquisition of prospects and nurturing, and the other one is focused on ranking products to the next level on Amazon.
Bradley Sutton:
Okay, excellent. Now, for the last couple minutes of this episode, we always do something on this show. We call the TST 30-second tips. I thought maybe we can do two or three, they could be probably tips or strategies that you're giving him the Freedom Ticket modules that you're teaching in or just general other strategies along your line of expertise. So what are some quick-hitting strategies that Amazon sellers out there can start using?
Manuel:
Well, the Freedom Ticket module, if you guys have access to it, go for it. Because I know it's full of like incredible teachers. In my case, I think it's an hour and 10 minutes or something like that of like traffic content. You're going to learn how to get traffic to your products, whether that's on Amazon or on your own website. The obsession that I have is traffic, how to get a lot of people to see your stuff. So I can tell you one thing, if you are on Facebook, trying to generate attention, you need to know what objective you are selecting, meaning that you need to be able to tell Facebook what it is you're trying to accomplish because right now, Facebook is going to optimize for whatever you are trying to accomplish. If you're trying to get traffic, they're just going to get you traffic. And that's not necessarily the best thing to do because traffic could be quality traffic or super trash quality that is not interested in your product. You need to make sure that you optimize for the correct thing. So if you're trying to get conversions of prospects, make sure that you're giving Facebook the right information, you focus on messages, you focus on leads, you focus on getting people on that next level of that journey. So I would definitely like find out what you guys need to know in order for you to make sure that you're doing the right campaign. And I know the Freedom Ticket module on my side will definitely answer those questions for a lot of you guys.
Bradley Sutton:
Okay, cool. Maybe one more quick tip before we go off then.
Manuel:
Well, let me tell you one thing that for you guys that are Amazon sellers. My number one strategy that I will do that people love and social media they engage with is something that I like to call a coupon Bonanza. If you guys want to get that set up it's something that it takes a little bit of work on the front end, but on the back end, it's really, really just automated. And it's gave me a vacation next level because what we do we use a platform called Manychat. A lot of you guys know what that is and on Manychat there's something called the randomizer. So I bring people on the Manychat flow and I say, test out your luck. And I do a Facebook ad then I say, find out we're giving away coupons to celebrate our 23rd anniversary year anniversary, whatever you want to come up with.
Manuel:
We're giving away coupons up to 90% and you can get yours today by finding out and testing out your luck right here, they come into Manychat. We have a randomizer and for that randomizer, I was going to give out coupons between 10% and 90% off. The 90% I set them to be only 1% and I set them up to be only single-use coupons. And I also set them up to only be possible to claim once per account. So we don't get taken advantage of. So if you guys want to set this up, this is something that is really, really effective. People love to engage, they love to be entertained. This is something that people on social media would be easily attracted to because people want to find out just like when they go to the casino, just like when they buy a scratch ticket at the gas station, they want to find out how lucky they are. And that's something that you guys can take advantage of.
Bradley Sutton:
I love it, that's awesome. So again, guys, make sure to check out Manny's different modules in Freedom Ticket 3.0, but if people want to reach out to you guys directly, how can they find you on the interwebs out there?
Manuel:
Our website is AGM stands for Attention Grabbing Media, agmagency.com, and we're here to help in any way we can. We're giving content every single day and we're providing information about these platforms and how to take advantage of them.
Bradley Sutton:
Awesome. Well, thank you for coming on the show and we wish you the best of success with both your agency and obviously your Amazon business as well.
Manuel:
Thanks so much for having me Bradley, I appreciate it very much.
---
Enjoy this episode? Be sure to check out our previous episodes for even more content to propel you to Amazon FBA Seller success! And don't forget to "Like" our Facebook page and subscribe to the podcast on iTunes, Spotify, or wherever you listen to our podcast.
Get snippets from all episodes by following Bradley on Instagram at @H10bradley
Want to absolutely start crushing it on Amazon? Here are few carefully curated resources to get you started:
Freedom Ticket: Taught by Amazon thought leader Kevin King, get A-Z Amazon strategies and techniques for establishing and solidifying your business.
Helium 10: 30+ software tools to boost your entire sales pipeline from product research to customer communication and Amazon refund automation. Make running a successful Amazon or Walmart business easier with better data and insights. See what our customers have to say.
Helium 10 Chrome Extension: Verify your Amazon product idea and validate how lucrative it can be with over a dozen data metrics and profitability estimation.
SellerTradmarks.com: Trademarks are vital for protecting your Amazon brand from hijackers, and sellertrademarks.com provides a streamlined process for helping you get one.
Achieve More Results in Less Time
Accelerate the Growth of Your Business, Brand or Agency
Maximize your results and drive success faster with Helium 10's full suite of Amazon and Walmart solutions.