Episode 96 – Ezra Firestone Offers Expert eCommerce Business Advice
Episode 96 of the Serious Sellers Podcast hosts Ezra Firestone, eCommerce business super-star and CEO of Smart Marketer with digital marketing tips.
Updated on: October 6, 2020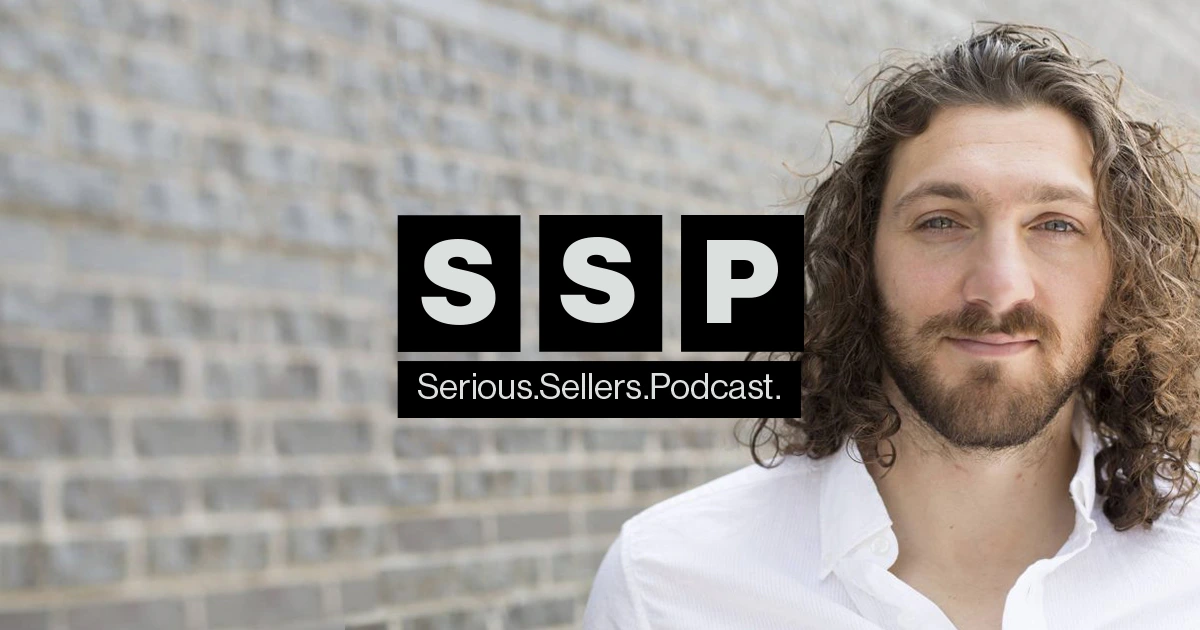 Do you ever wonder how the teams that win the major sporting championships are seen wearing congratulatory t-shirts and hats bearing their team's name as the clock is ticking down to zero?
Well, that's because there's another mirror image set of t-shirts out there somewhere, and that set is congratulating the big game's eventual loser.
Because of the lead time required, they simply have to print two versions to be ready for either outcome.
What happens to the loser's set of t-shirts and hats?
Who knows?
Today's guest knows, that's who.
He knows because although he might now have revenues in excess of 35 million and over 110 employees, he began his eCommerce journey by selling those historically inaccurate t-shirts.
Today, on the Serious Sellers Podcast, Helium 10's Director of Training and Customer Success, Bradley Sutton welcomes an eCommerce super-star, Ezra Firestone.
Ezra is the CEO of Smart Marketer who believes that it's possible to both serve the world unselfishly and make a profit doing so.
It's funny for a guy who has come to define ecommerce success to say so, but Ezra says that growing up, he never had a job.
He grew up in a communal, hippy lifestyle situation where although there was a distinct lack of money, Ezra says, "they were rich in love and community."
They would make a little money selling things (like those losing championship t-shirts) at the flea market and he remembers thinking at the time that he was interested in generating financial resources in order to use it for causes that he had a connection to.
For such a distinctly down-scale selling environment, Ezra says that the flea market was an ideal place to learn about commerce.
After spending a few years playing poker on the underground New York scene, he met a guy who was selling digitally delivered life coaching content well ahead of its eventual hyper-popularity on the internet.
He was fascinated by the idea, but even more so by the way that this guy was promoting his new internet business model.
He was leveraging his search engine optimization skills.
For Ezra, this was the good stuff.
So, he traded poker lessons in exchange for high-level SEO instruction.
That started him on his path and now 14 years later, he says that all he's focused on since then has been eCommerce and digital marketing.
His path to success?
Strangely enough, he credits his inability to achieve very much within a structured scholastic environment.
Ezra says that in his opinion, "the for-profit college system too often puts people into impossible debt" and that, "acquiring skills should be the goal, not necessarily the college education itself."
As far as finding a passion for a product or success on Amazon; Ezra has an interesting take on that.
He says that, "Humans are interested in winning cycles," and feels that people become passionate about what they're good at.
That's why he thinks in terms of, "going deep, not wide," when it comes to developing an eCommerce business.
As far as the best opportunity out there today, he says it's still Amazon.
I've just scratched the surface in this summary. Listen in for more from Ezra; you won't be disappointed.
In episode 96 of the Serious Sellers Podcast, Bradley and Ezra discuss:
01:15 – The Serious Sumo Podcast 1.0
04:10 – Ezra's Origin Story
05:15 – Selling the Losing Super Bowl Team's T-Shirts
06:40 – Trading Poker Lessons for SEO Instruction
09:22 – College Shouldn't Just Be a Way to Delay Adulthood
12:00 – 35 Million in Revenue and 110 Employees
14:00 – Value and Energy Take Time to Develop
15:35 – Getting Paid to Develop a Skillset
17:42 – On Amazon, Go Deep, not Wide
20:33 – At the End of the Day, the Goal is Wealth Creation
24:33 – Doubling Down on What's Working
27:00 – Understanding an Off-Amazon Sales Funnel
30:15 – Buying Promises, Not Products
32:10 – Acquiring the Skillset of Mastery
37:00 – A Few Last Thoughts from Ezra
34:33 – Here's How to Contract Ezra
Enjoy this episode? Be sure to check out our previous episodes for even more content to propel you to Amazon FBA Seller success! And don't forget to "Like" our Facebook page and subscribe to the podcast on iTunes, Google Play or wherever you listen to our podcast.
Want to absolutely start crushing it on Amazon? Here are few carefully curated resources to get you started: