Using "Stores" to Complete the Amazon Branding Puzzle
Amazon Stores is a free self-service tool available to Brand Registered sellers that helps them to fully immerse shoppers into their brand…if used wisely.
Updated on: March 16, 2022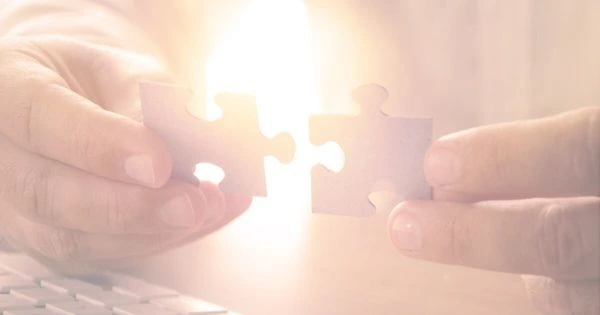 Times have changed.
That's even more true when it comes to Amazon's selling ecosystem.
It's 2020, and everyone from elementary school students on up spends most of their spare time curating their own personal brand on social media.

At the same time, websites, splash pages, and click funnels aren't just the tools of national brands, they're also how the local Girl Scout Troop raises money for their trip to Disneyland.
Consumers (of social media and of your products) expect to see some form of branding. If you haven't taken the time to establish a brand for yourself, it's as if something is missing.
But first . . .
What is a brand?
A brand is not a product. It's tempting to think of Nike's "swoosh" or the iconic red and white Coca Cola imagery as a brand, but a brand is bigger and more encompassing than that.
A brand is all those things and more.
It's not really a question of what you do.
More accurately, it's what people on the receiving end feel.
More than simply a name, design, or symbol, a brand is the recognizable feeling a product or business gives to a consumer.
Your brand is a promise to solve a problem for the buyer.
Why branding matters
Everyone has heard the expression that, "You never get a second chance to make a first impression." That's why your initial Amazon product listings are so important to both you and Amazon's A9 algorithm.
Amazon rewards sellers who have taken the time to do a good job of providing great images, content, and detail into their listings because, if done correctly, it mirrors the emotional path to purchase that their buyers exhibit in the marketplace.
Branded Stores take it a step further.
They offer a perfect opportunity to provide a clear, consistent message of your brand story and what problem you are solving for shoppers.
Of course, it's in Amazon's best interest to continue to find ways to empower brands of all sizes. Stores help sellers compete with the proliferation of quality web sites and social media content generated and expected from major brands.
Now that Amazon A+ Content and Enhanced Brand Content are the standards, it's time to level-up your game with Amazon Stores.
What is an Amazon Store?
When it comes to websites, the advent of website building companies such as WordPress, Shopify and SquareSpace has dramatically lowered the bar of entry and raised the standard of quality for everyone from individuals to multinational businesses.
Using these tools, anyone can quickly and effectively go from an imagined vision to a functional website in very little time.
Now you can do the same thing within Amazon itself.
Stores are Amazon's version of the "do-it-yourself" website builder business. It is a self-service tool that allows sellers and vendors to design their own branded storefronts to showcase their portfolio of products on multiple pages with simple blocks and moveable tiles.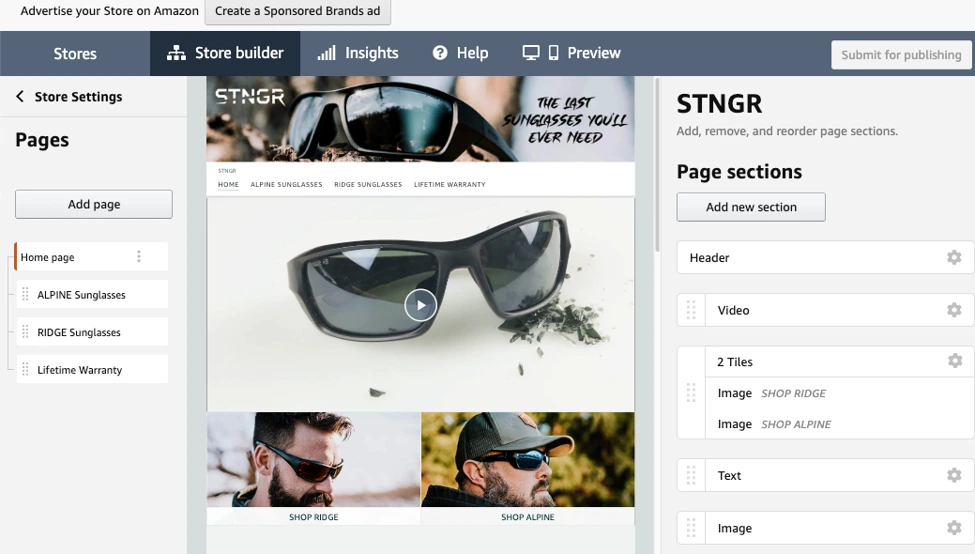 Amazon's Stores are part of the natural progression of Amazon's efforts to consistently increase the quality and professional appearance of their selling platform.
And you don't need to know how to write any code.
Why utilizing Stores matters
Amazon Stores elevate your brand by:
Highlighting your products with rich content. It's up to you to take this opportunity to set yourself apart from other sellers. On Amazon, the ability to differentiate is key.
Offering an increase in perceived value, allowing smaller sellers to compete with large companies on an even playing field.
Giving you the ability to create a custom URL that is more easily searchable outside of Amazon (Google), and also super-charges your ability to capitalize on outside marketing opportunities.
Attracting potential organic sales. It's simply a much bigger, more beautiful experience. If done correctly, shoppers will remember your brand the next time they shop.
Increasing visibility with Sponsored Brand Ads that you can direct to any page of your Store.
And it's completely free.
Amazon hosts and supports all of this rich media and content, helping elevate the shopping experience without additional cost to the Seller as would be the case using an external website company.
Using rich media, including video and unique content to stand out, brands can make sure that their selling environment matches the buyers constantly elevated expectations.
Bottom line, Stores are a significant improvement over standard brand pages, and they allow sellers to get creative with both message and design.
Still others want to buy from a brand that is taking a position on a topic that is important to them, whatever that may be.
Amazon's Stores allow you to tell your brand's individual story.
Sunglass maker STNGR, tells their story with a full-page video on their homepage: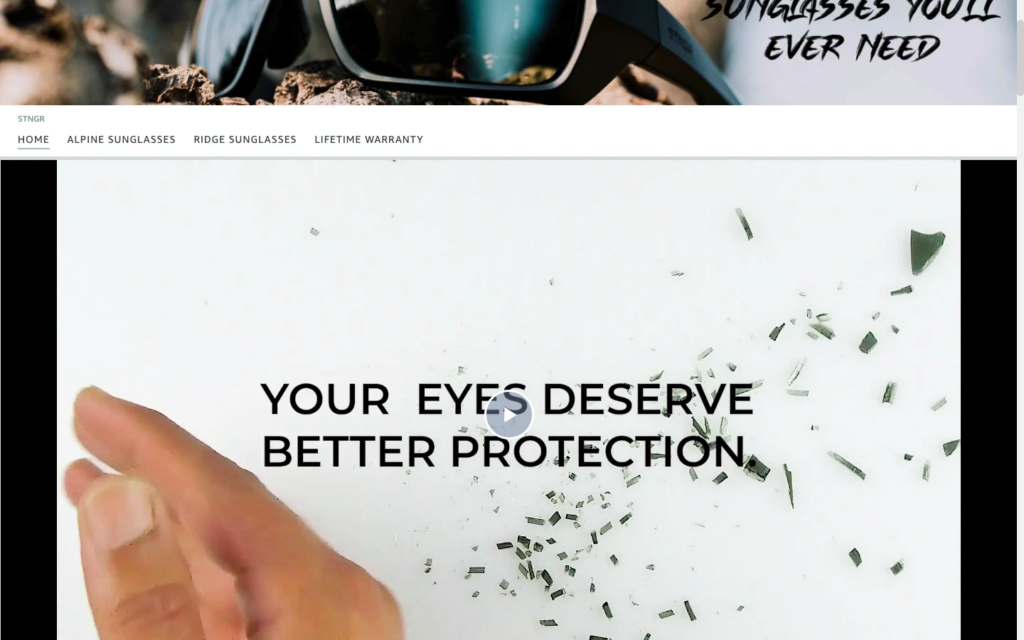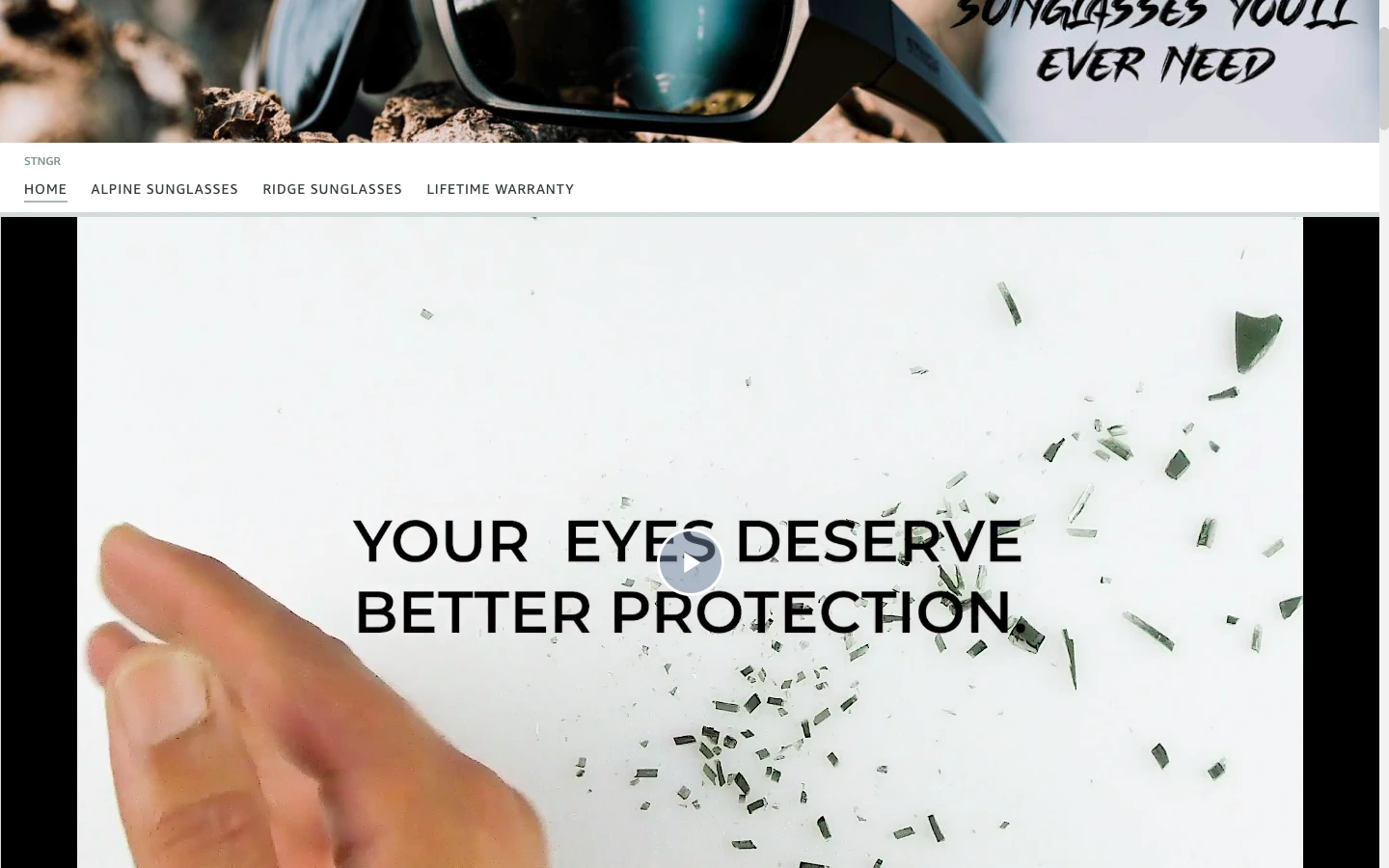 Being able to visually show how competitors lenses shatter versus their own indestructible lenses, is a message that is loud and clear… and can really only be demonstrated on video.
Why is this important? Because video converts. On social media platforms such as Instagram, more often than not, if an ad does not contain video, it doesn't get clicked on. And with the ever-increasing video capability of the phones in all of our pockets; now there's really no excuse.
In another example, outdoor clothing brand Icebreaker, whose focus is on sustainability, highlight their storytelling skills through thoughtful copy in ad tiles and across beautifully curated images.
One of the most important aspects of Amazon's Stores is that almost anyone can build a stand-alone Stores website that looks just like this.
If we're watching a sporting event on television, mixed in with all the colorful team jerseys are a handful of black and white striped referees. Their job is simple; make sure that the competition is fair.
If you are looking for the very best way to level the playing field with your larger, better-funded eCommerce competitors, this is it.
I've saved the best part for last.
The most exciting new aspect of having your own Amazon Store is that it helps sellers do the one thing that we all work hard to do.
We love selling on Amazon. It represents the best money-making opportunity in the last 20 years.
Almost everyone shops on Amazon; it's simply a great eCommerce platform.
But, we're also trying to find a way to integrate our off-Amazon business presence. Stores help you do this.
Using email, social media campaigns, Google ads, your blog posts, etc. you can link your Amazon Brand Store and use it as a landing page for any external marketing campaign.
You decide if you want to direct traffic to one of your Store pages or your homepage, giving you control of what the shopper sees.
More interestingly, because each Store page has its own customizable URL, this makes your Store much more attractive and visible to search engines like Google and increases the amount of organic external traffic from outside of Amazon.
On top of that, you can create custom source tags for your ad campaigns and track the performance of what the shoppers are doing once they land on your Store.
Page visits, sales and other important KPIs connected to the external campaign will be tracked and outlined in Amazon's analytics Store Insights tool. This can help you decide on future marketing strategies of your products.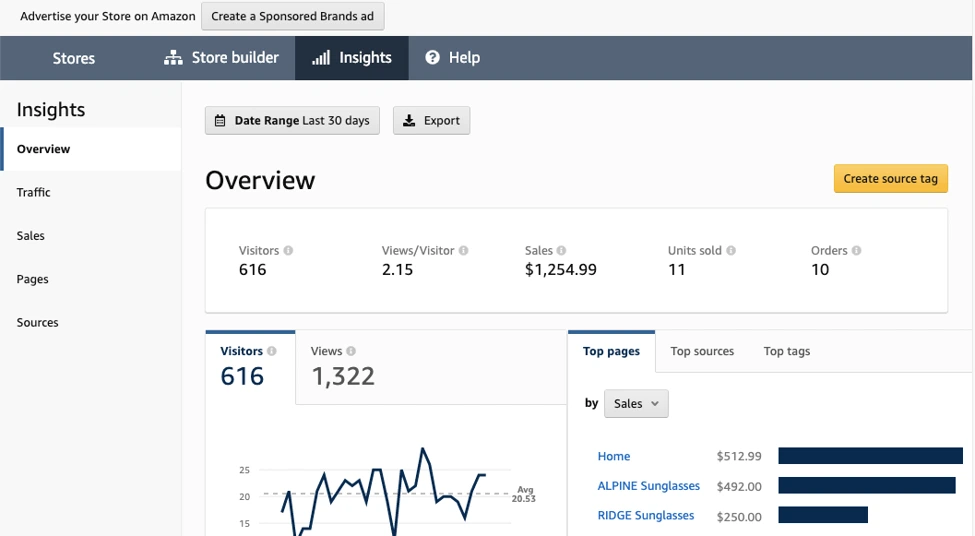 Even better, Amazon will continue to expand Stores capabilities.
In January 2020, Amazon released exciting new features that they say, "Showcases your brand and products with richer, more engaging content experiences. (They've) also made it easier for you to update your Store, so you can keep it fresh for returning customers."
The following information is from Amazon, here's a summary of Store's new features.
1. Shoppable collection images
With shoppable images, you can inspire customers with rich lifestyle images that feature your products in different settings or in collections with complementary products in your portfolio. You can choose to make any of the products in the image shoppable, enabling customers to click on the featured products to see basic information, such as name, price, customer ratings, and Prime availability.
2. Images with text
You now have the choice of adding text overlays to images. This capability lets you add descriptive text to images—with customizable location, size, alignment, and color—to better describe products or selections you want to showcase. And text on images can improve the Store's search engine optimization (SEO), which may increase traffic to the Store from third-party search engines.
3. Bulk and out-of-stock product management
Instead of uploading products individually, you can now upload products in bulk to your product grids and featured-deals tiles.
4. Stores scheduling
To make it easier to manage your Store, you can now publish updates at scheduled dates and times, allowing you to plan ahead and align your Store's publishing schedule with new releases, seasonal changes, and brand updates.
5. New links to Stores
We've launched a new way for Amazon shoppers to discover relevant Stores. In addition to the products featured on the simple landing page of your Sponsored Brands ads, we'll now add your brand logo at the bottom of the page, which customers can click to go to your Store.
Setting up your Amazon Store
To start, you will need to register with Brand Registry if haven't already done so.
Once your brand is registered, log in with your Vendor or Seller account. Locate "Stores" on the dropdown menu then choose "Manage Stores"

Even without website building experience it's easy to navigate the Amazon Store Builder once inside. The four main areas of the builder are the Page manager, Preview window, Tile manager and the Status bar.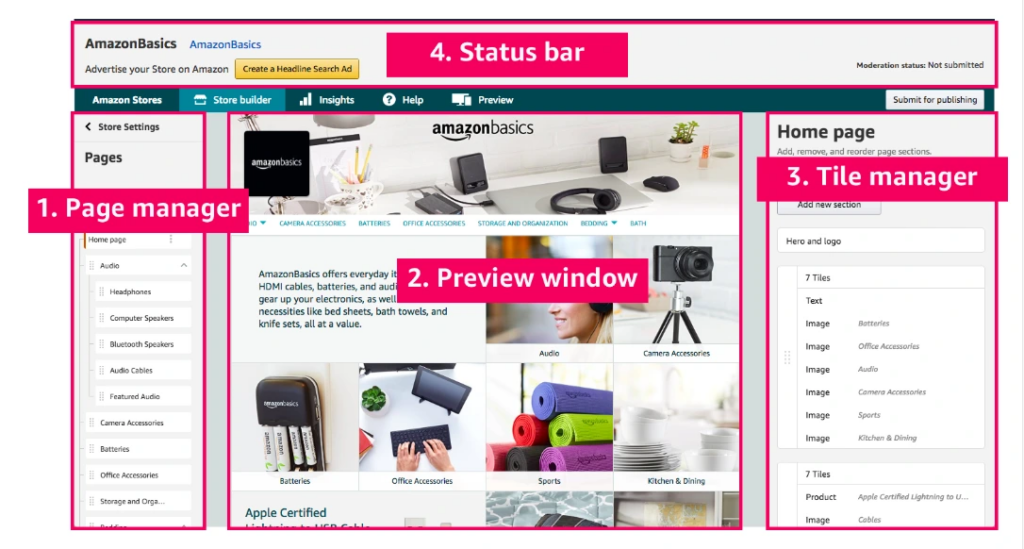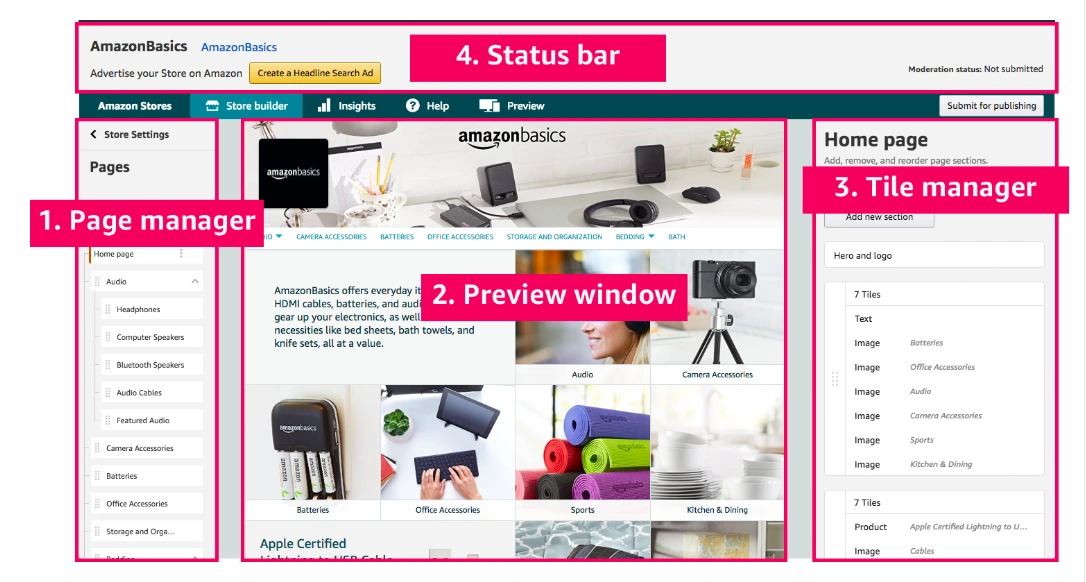 Amazon Stores offers 3 simple to follow templates; Marquee, Highlight and Product Grid. Each one has its merits depending on your goals and how many types of products you are selling.
Depending on the template that you select, you will next be offered the option to complete the header image, your logo, any text, images, or video. Most of this is done in the Tile manager once your Pages are created.
Just like any website, it's up to you to integrate the imagery, video and copy to get your message across to Amazon's buyers in the best way possible.
After you have finished building your Amazon Store and click the "Submit for publishing" button, you will receive a response from Amazon within 72 hours. If changes need to be made, they will let you know what they are, but it is best to adhere to the Store Content Policies for a smooth approval process.
Stores provide one more reason why Amazon continues to be the best way for sellers to succeed in eCommerce. The ability to place the emphasis on your own brand's story creates a situation where you alone can decide how impressively memorable you want to appear to Amazon's shoppers.
Make sure you take full advantage for your brand.