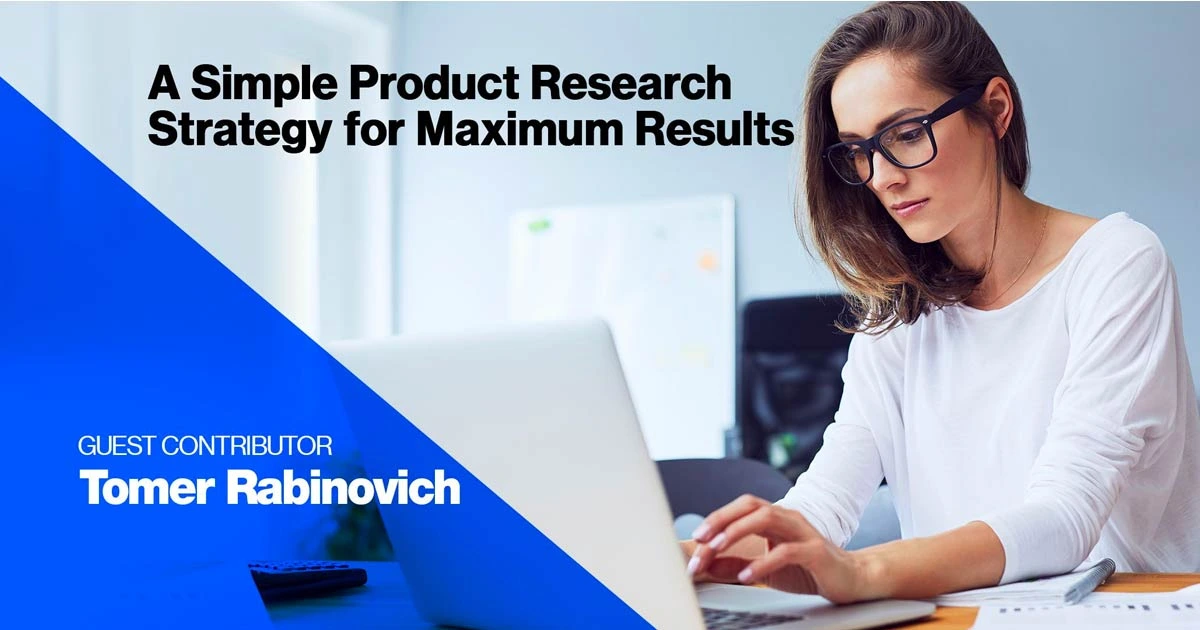 A Simple Product Research Strategy for Maximum Results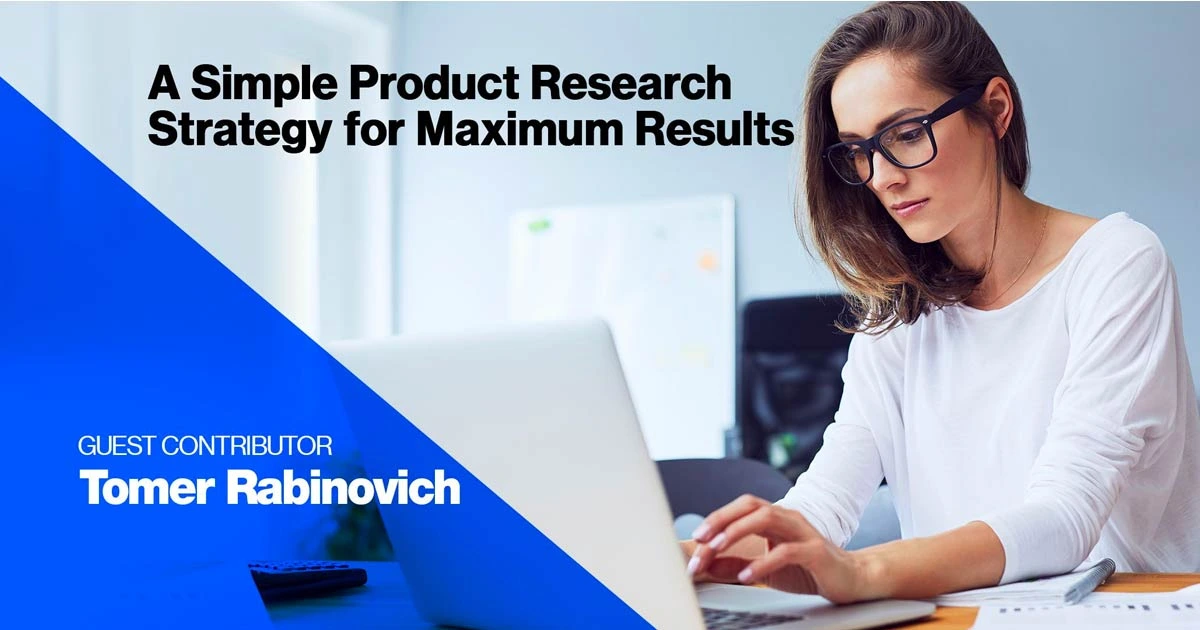 Product research is probably #1 on the list of things to do right in this Amazon business. You can have bad images, bad copy, not run PPC correctly, but still make sales if you've chosen the right product. On the other hand, in case you've chosen the wrong product, even if you do everything else right, you will most likely fail and not be able to make a profit.
So what is the right product? We can all agree that the product needs to have demand, and we can see demand by analyzing sales. The other thing we need to see is that there's still room to compete in that market, we see that by looking at the number of reviews and for how long the product has been selling for.
When looking at a new product, I don't think about the fact that it's making sales now, I need to KNOW that I will be able to make a profit with it in 60-90 days from now, which is when I will be launching it.
I want two things when I launch:
To be able to start selling organically with a minimum number of reviews.
To have enough room to grow with the product, so in the future it will result in good profits.
For these two things to happen, I need to find two sets of different products. The first will be products with a low number of reviews, that have some sales and are selling organically.
The second will be products with higher organic sales, but can have higher reviews. (Organic sales = Either sold through regular search results or PPC, basically not through any giveaway or coupon promotions)
I must find both of these. In case I find only the first part, I might make a bit of money, but will not have room to grow. In case I find only the second part, I will have difficulty in launching this product since there are no products with low reviews that are making sales.
So what products am I looking for?
1. Two products that are sold through FBA, are doing over $2,000 in revenue, have less than 100 reviews and have been on Amazon for over 100 days.
*By finding the above, I can launch the product easily, without needing many reviews, and get some organic sales going. The reason I want them to be over 100 days old is to make sure they are not in their launch phase. You should also make sure to use the Helium 10 extension to see that the BSR is steady, at least in the past two weeks.
2. Two additional products that are sold through FBA, are doing over $10,000 in revenue, have less than 350 reviews and have been on Amazon for over 100 days.
*By finding the above, I have room to grow with this product in the future. In case you're making 20%-30% profit, this type of product can be a decent investment.

Forget about price and BSR – Why the selling price for the product and BSR (Best Seller Rank) don't matter
Which of the following two options is better?
A product with a BSR of 10,000, selling for $60, at 10 units per day, with a total income of $600. The profit of 30% is $ 180 per day.
A product with a BSR of 3,000, selling for $20, at 30 units per day, with a total income of $600. The profit of 30% is $180 per day.
In case the profit is the same for both products, we can agree that the BSR and the price are not important. What is important is the revenue and margins you can do with the product. I'm not saying that you should launch more expensive products, or launch more cheap products. I'm saying you should launch both – since again, it doesn't matter. Sellers tend to think you should launch products in the price range of $15-$60, but I find a lot of opportunities for products that are selling for less than $15 or over $60 with very good margins.
By looking at the chart below, we can see both options are the same and we can ignore the BSR and the price.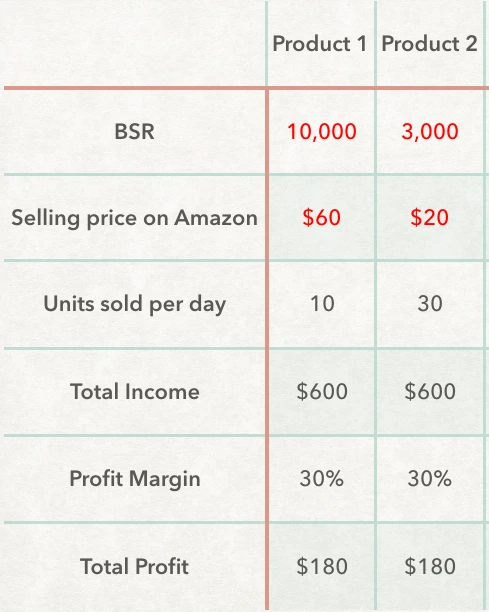 Forget about search volume
As long as the revenue is there, it shouldn't matter where the sales are coming from. Don't get me wrong, keywords are VERY important, but only when you actually launch the product and not in the product research phase.
What about established sellers?
I suggest changing the criteria in this case to:
Two additional products that are sold through FBA, are doing over $10,000 in revenue, have less than 350 reviews and have been on Amazon for over 100 days.
Two additional products that are sold through FBA, are doing over $50,000 in revenue, have less than 1,000 reviews and have been on Amazon for over 100 days.

*Remember! Launching a $10,000 a month product and a $ 50,000 a month product is the same effort when it comes to – product research, supplier negotiation, product differentiation, writing the listing, shooting the images, doing graphic design, it's all the same. The only thing that's different is how much money you invest. Instead of investing in 5 products that might make me $10,000 each, I rather invest in 1 product that might make me $50,000, with less effort but investing the same. I only recommend looking for these type of products if you're doing over $100,000 a month in sales and have the cash flow to scale the product.
How to search for the products using Helium 10's Amazon product research tool Black Box
There are fewer products doing the high revenues, so we will start by finding the two products that are doing $10,000 a month, and if we find those we will look for two more that are doing $2,000 a month.
Filter by:
● Minimum Revenue: $10,000
● Maximum Reviews: 350
● Choose your category or type in the main keyword.
● Choose to see only FBA products.
When going through the results, click on a product that makes sense to you. The listing will open, and make sure the product has been on Amazon for over 100 days.
In case the product is over 100 days, copy the main keyword of that product and paste it in the Amazon search results. Make sure you're searching in "All Departments".
Run Helium 10's Xray tool from the Chrome Extension and see if you can find at least two products over $10,000, less than 350 reviews, and that are sold through FBA. Also, look for the additional 2 other products that are doing over $ 2,000, have less than 100 reviews, and that are sold through FBA. In case you find those – open their listings to make sure all of them have been on Amazon for over 100 days.

A few more points:
This is not a formula! – Use your own judgement. You can modify the numbers based on your goals and what you think you can achieve. Maybe 100 reviews is too much for you for a new product, so you will choose a maximum of 50 reviews. Maybe $10,000 is too low and you're looking for a minimum of $30,000 for an established product. The goal stays the same – find a product that you can launch easily and get organic sales going, while still having room to grow as you get more reviews.
Make it better – Once you find a product, don't copy it. Improve it. This can be a whole other article, but basically – think why would anyone buy your product instead of the competitors. In case you're just launching the same product, you really need to know your numbers and PPC to make sure you can compete on price.
The decision making – The moment that you decide to sell a product is not when you're researching, the decision is made when you pay the supplier to start production. In case you're not sure, get samples. Run the numbers again. In case you are still not sure, wait. Check the market again in a month from now to see that it's still profitable and it still makes sense to sell that product. Do not be impulsive.
Brand focused – Amazon wants you to build a brand. When selecting products, be customer-focused. For example, you can sell baby products and supplements for breastfeeding since both are targeting moms. The way to think about a brand is that the same person will want to purchase your entire product line.
The market – There's a time gap from when you did your research to the time that you start production. Just before going into production, check the numbers again to make sure this is still a viable product. We get samples for products we end up not launching all the time, and there's nothing wrong with that. Don't feel that just because you went far with the supplier or spent a lot of time on a product that you have to go for it. Do what makes sense and is comfortable for you as a seller.
The big difference with this product research method from other methods is that we are not looking for reasons to disqualify the product. We are looking for reasons of why we should go after the product, which makes a lot more sense.
Frequently Asked Questions
Achieve More Results in Less Time
Accelerate the Growth of Your Business, Brand or Agency
Maximize your results and drive success faster with Helium 10's full suite of Amazon and Walmart solutions.