Here's What You Missed at Sell + Scale Summit
Live from Vegas, Sell + Scale Summit was four days of unparalleled education, networking, a beach party, and world-class entertainment. Warning: Symptoms of FOMO may occur.
Updated on: September 30, 2022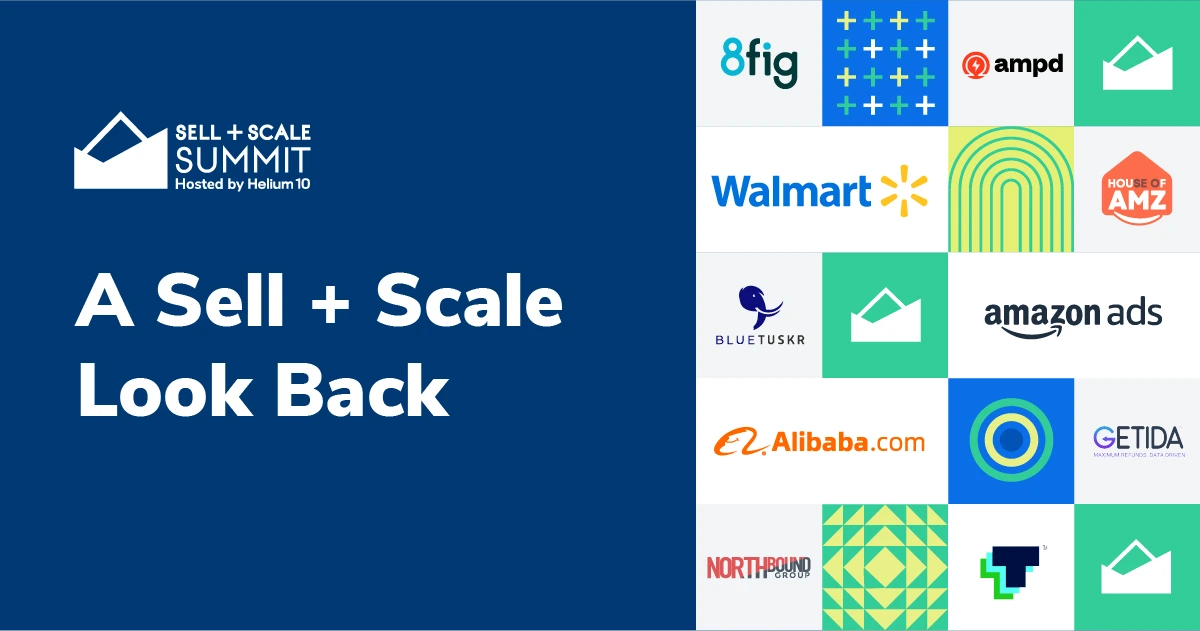 We just got back from our annual tradeshow Sell + Scale Summit in Las Vegas! It was incredible to see so many successful sellers, experts, and brands from around the world come together to network, learn from top e-commerce sellers, and party at a live performance from Helium 10's musical guest and Grammy-winning rapper, Nelly!
It was a blast.
Not everything that happens in Vegas stays in Vegas– here's what you missed.
Our conference in Las Vegas was jam-packed with over 50 agenda events including unique networking experiences, breakout sessions, interactive workshops, exercise classes, expert Q&A, and just a whole lot of fun proving it to be the conference designed for every seller at every stage of their journey.
In between our very own Chief Evangelist, Bradley Sutton, leading Zumba classes at 7 a.m. (insert FOMO), networking in our exhibition hall, and seeing fellow e-commerce sellers "bust a move" to a live performance of Hot In Herre, we were learning from the best in the business.
Some E-commerce Hot Shots
Unashamed to name drop, Gary Vaynerchuk, a serial entrepreneur who serves as the Chairman of VaynerX, the CEO of VaynerMedia, and the Creator & CEO of VeeFriends was our head keynote speaker at Sell + Scale Summit amongst other highly notable e-commerce speakers such as:
Rich Lehrfeld – Senior Vice President and General Manager of Walmart Connect and named interim Chief Marketing Officer for Walmart U.S.
Jeff Cohen – Tech Evangelist at Amazon Ads and travels the world sharing insights on Amazon Ads technology and best practices.
Amy Jo Martin – New York Times Best-Selling Author, named the third most powerful woman on Twitter by Forbes and host of the top-ranked Why Not Now? Podcast.
Neil Patel – New York Times Best-Selling Author, recognized as a top 100 entrepreneur under the age of 30 by President Obama and named top 10 marketers by Forbes.
What We Learned
Each interactive session was packed to the brim with eager e-commerce sellers learning from some of the most successful entrepreneurs in the e-commerce industry followed by breakout sessions for Q&As and networking opportunities.
We covered relevant topics like:
A Winning Mindset: Proven Mental Strategies for Making More Money
How 8 Figure Sellers Use Trained VA's to Bypass Their Biggest Competitor
Converting Amazon Images That Boost Your Sales
Amazon Photography and Images Guide led
How to Reprogram your Subconscious Mind for Success
How to Increase Sales with Proven PPC Strategies
How to Drive High-Converting External Traffic with Affiliate Marketing for Amazon
Begin with the End in Mind: A Proven Strategy for Exiting at the Highest $$$
5 Ways Bad Bookkeeping is Costing You Money & How to Fix Them
Sell + Scale Summit attendees were able to navigate the entire event with ease from the phone or tablet through the Whova App. The conference had a live ongoing group chat (over 7,800 messages were exchanged) that made networking, document sharing, and note-taking easy. 
Amazon PPC Academy
We launched our Amazon PPC Academy, a course created for sellers to learn how to effectively create, launch, and optimize PPC campaigns. This is a course geared toward intermediate to advanced level PPC users to take sales to the next level utilizing manual or automated tools and services.
With a combined PPC optimization experience of 10+ years, Vince and Mina will take you deep into the strategies and best practices that have worked best and propelled their clients' growth on Amazon both within Seller Central and in Adtomic by Helium 10.
Effective October 1st, Amazon PPC Academy will be exclusively included with your Helium 10 Diamond Plan.
Our Sponsors
We would like to give a special thanks to our Elite Sponsor, Walmart, for helping to make this ground-breaking event a reality. Getting to receive insights from the team behind the fastest-growing e-commerce platform in the US added immense value for all sellers in attendance.
In addition, we got to hear from the Senior Vice President and General Manager of Walmart Connect, Rich Lehrfeld. Learning from the man who is responsible for scaling Walmart's digital advertising business across all Walmart-owned-and-operated properties was unreal.
We'd also like to thank our Diamond Sponsor, Amazon Ads, whose in-person attendance at the event and direct engagement with sellers was greatly appreciated, and our Platinum Sponsor, Alibaba.com, for all they did to help make this inaugural conference such a rewarding experience for all.
Bigger.Better.Launch!
Missed out on of the amazing educational opportunities at Sell + Scale Summit?
Sign up for October's Bigger.Better.Launch!
This webinar was designed with you in mind. Our Chief Evangelist, Bradley Sutton, walks through our latest products, features, and updates to increase your market presence and accelerate your sales. Bigger.Better.Launch! attendees are first to discover innovative strategies, key takeaways, and the latest trends from the biggest players in the market—Amazon and Walmart.
Join us next month and learn how to navigate the ever-changing e-commerce landscape with exciting updates and game-changing product releases.
Everything for your business on Amazon.
Find out more about our products by signing up or speaking with one of our
Customer Success representatives today. With us in your corner, you can enjoy
more sales and increased engagement from your Amazon business.
Chat with a Support Specialist