Product Attribute Targeting (PAT) now supported!
Updated on: November 4, 2020
The team here at Prestozon is proud to be the first optimization tool to support Amazon's Product Attribute Targeting (PAT) feature as well as the new Enhanced Auto Campaigns (EAC)! You can now access and analyze all your PAT and EAC campaigns from within Prestozon.
What is Product Attribute Targeting (PAT)?
PAT is a powerful new way to more accurately target your Amazon ads to customers. Specifically, now you can bid on detail page placements based on product category, ASIN (your own product's ASIN or a competitor's), brands, or products with a selected price range or rating.
This amounts to a large expansion in targeting power given that previously these placements were only available through auto campaigns and at Amazon's discretion.
As you might imagine, this is a big deal and greatly expands advertisers' power to accurately target ideal customers. We've had nonstop requests to support PAT as soon as Amazon announced its rollout, so we are proud to be the first to offer such support to our users.
What's New
You can now view PAT and EAC campaigns and targeting clauses in all Prestozon Analytics Explorers.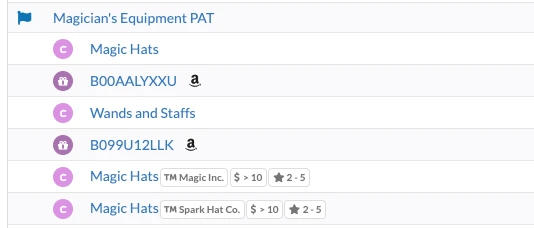 You will notice that the keyword icons for PAT campaigns are displayed in shades of purple and auto campaigns including EAC campaigns are now green.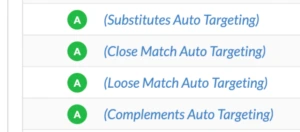 Note that for now, PAT/EAC are only supported in Analytics; support for Rules and Suggestions are forthcoming very soon. While we're here, know that another much-requested feature that is coming soon is Exporting. 🙂
We hope you enjoy, and feel free to comment here with any questions or feedback, or email [email protected]