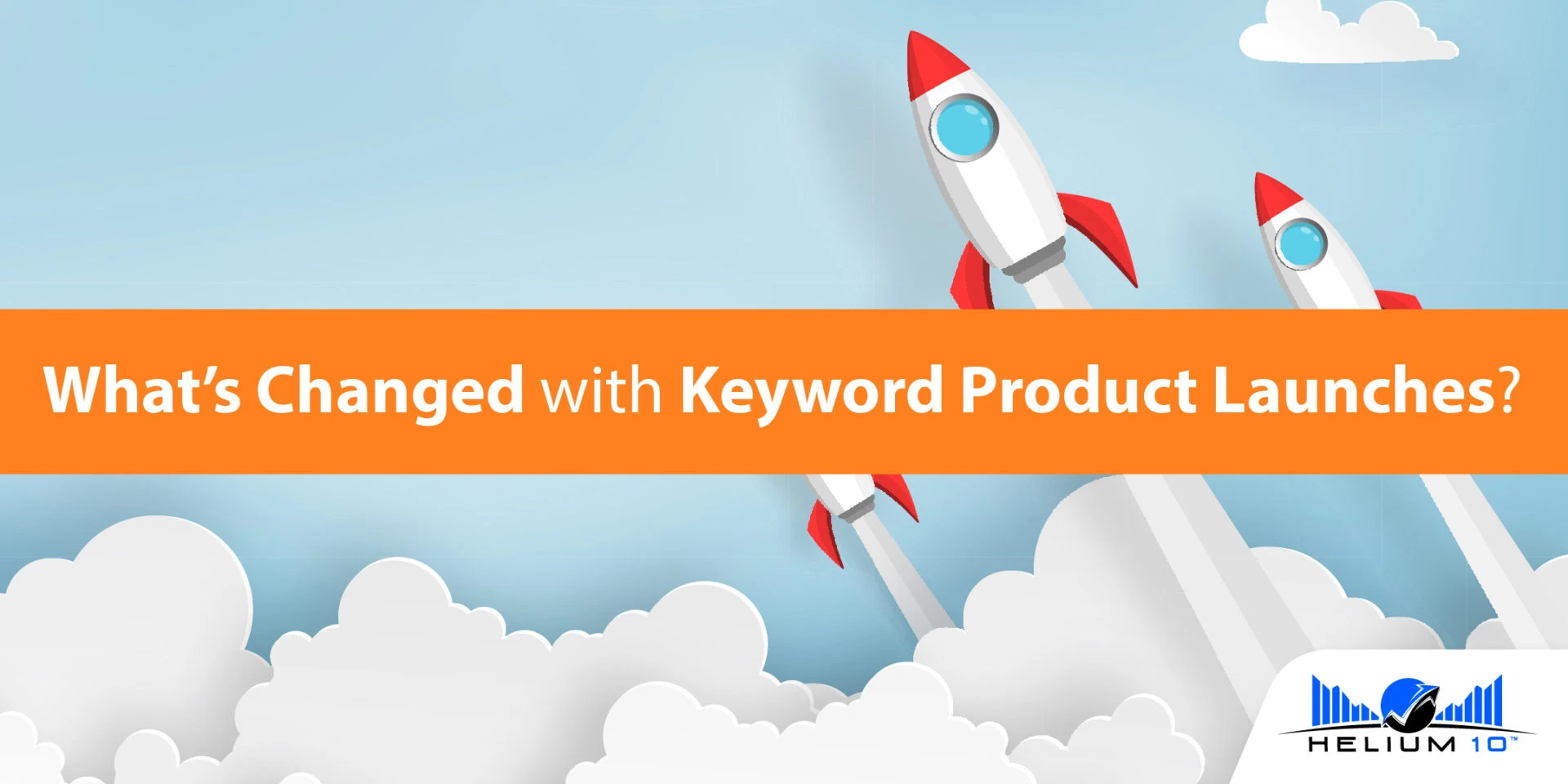 Keyword Product Launches in Q4 2018: What's Changed?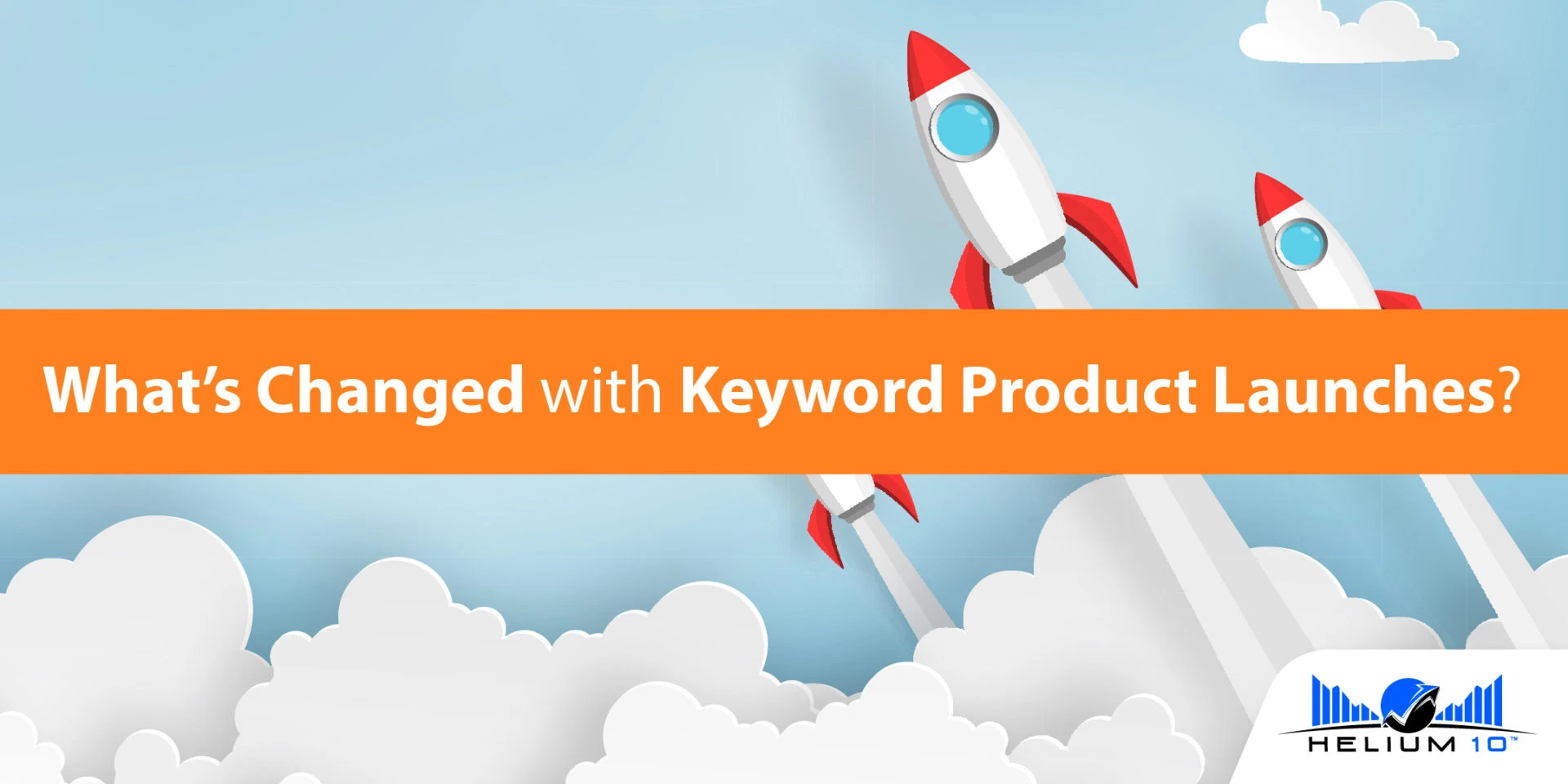 If you guys have been following along with my other blogs, you'll know that changes have been taking place on Amazon in terms of keywords and performing keyword launches. If you weren't aware, Amazon will be restricting access to their search volume numbers for keywords.
In my first blog, I talked about the glory days of keyword giveaways/launches.
In my second blog, I went into deep detail on how things on Amazon drastically changed in Summer 2018.
In the final blog of this series, I am going to give you the most up-to-date info I have based on 62 different keyword launch giveaways that I did from October 2018 through the middle of December 2018.
The first question you might have is, "Are giveaways that use 2-Step URLs still working?"
The answer is YES.
I like using the Cerebro Product Rank (CPR) method as a guide to how many units I should be giving away in order to theoretically have the best chance of getting to page 1. Over the 62 keyword giveaways I did, the average landing spot was position 51. That may not sound great, but it was based on only 75% CPR.
The reason the products appeared so low is that I wasn't always able to accurately predict how many coupons I needed in order to get the redemptions I needed. Despite that relatively low CPR number, 37 of 63 promotions resulted in getting products on page 1.
What kind of patterns did I see on things that helped or hurt the efficiency of the giveaways?
Product Titles with Keywords in Phrase Form Included
In my second blog, I mentioned that I had noticed a difference in the efficiency of giveaways. This difference depended on whether or not the targeted keyword was in the title in addition to appearing in the listing multiple times as a whole in phrase form.
Here were my results:
Of the 63 keyword launches I did, 46 of them DID NOT have the keyword in the title.
Of the 46 launches without the keyword in the title, the average landing spot after the giveaway was around position 43 with an average giveaway number of 75% of full CPR.
25 of the 46 keyword-out-of-title launches reached page 1 and 10 were below page 3.
Of the 17 keyword launches that did have the targeted keyword in phrase form within the title, the average landing spot was position 24 with an average giveaway number of 76% of CPR.
Of the 17 launches listed above, 11 resulted in reaching page 1 while only 3 were below page 3.
As you can see, there is a notable increase in efficiency for having the phrase in the title.
Listings Without the Keywords in Phrase Form
What about the keywords that did not appear in phrase form ANYWHERE in the listing?
On average, these keywords landed on position 49 with an average CPR of 78%. If a keyword WAS in the listing one or more times, the average landing spot was position 24 with an average CPR of 70%.
Once again, you can see the trend of requiring fewer units to give away to get to a higher ranking continued since Summer 2018. This trend works if I used keywords in phrase form somewhere in the listing.
Discount Percentages
What about the discount percentage?
For the first time, I tried doing giveaways with 0% discount, meaning that the item was purchased at full price. I used a service that then refunded the money to the buyer on their own at a later date. I am not trying to condone nor condemn such services—I just wanted to be able to do a test on a full price giveaway.
I only did a test on two keywords; for both, I went from an average start position of 190, and took one to position 11 and the other to position 15. Here is the kicker: both were done with only 21% CPR!
So, barring further tests (which I am doing), there is little doubt that full price sales will give you more bang for the buck. Some people say this is THE way to go.
However, others preach caution by saying that Amazon could view this as a method of trying to get verified reviews with an incentive, or that buyers can abuse this system by returning the product after they get their money back.
I have not done much research into these claims, which is why I am not promoting nor opposing the use of this kind of method.
As for giveaways done with a lower percentage, I had 16 of them that had a discount percent of 60-79%. Of these, they had an average landing spot on page 1 in position 14 with an average CPR of 76%.
The sample size might be too small to draw a conclusion, but it was very interesting that those 16 had such a good record.
For discounts of 80-90%, over 40 launches got to an average position of 61 and average CPR of 78%. Remember though, if you have a product that does not have universal appeal, it is hard to do a giveaway for less than an 80% discount.
Sometimes in order to get the redemptions you need, you have to put it at a price that makes the customer buy it even if they don't like or want it because the price is so amazing.
Regardless, your goal should be to eventually target your own lists of buyers who love your products and are willing to purchase without a steep discount. Not only does this save you money on each purchase, but also could mean having to give away fewer units in order to achieve your desired rank.
Trying Different URL Techniques
This time, I tried using different URL techniques to see if the results would be different. The promotion lasted from November 4, 2018, to November 10, 2018.
I used four different URLs during promo I did over 8 days:
Day 1: Storefront URL
Day 2: Brand URL
Day 3: Field ASIN
Day 4: Hidden Keyword ASIN
NOTE: You can create all of these URLs for your own products using the tools on our Helium 10 Gems page.
This test promotion had good results. I ran the campaign using "face toner" as my keyword, and my product went from position 125 to position 11 on page 1.
Interestingly, it would usually take an average of 1-3 days to see a peak reached from the middle of a promotion. This test promotion did not reach its peak until well after the promo had ended entirely.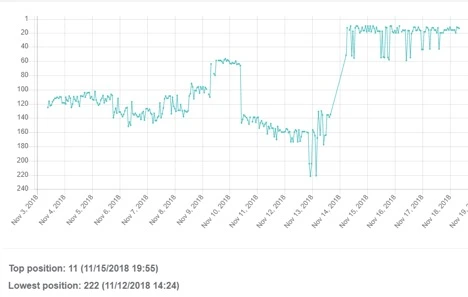 I tried another service as well that gives you a URL that drops you right on the page of the product itself. I overestimated the coupons on this and gave out 150% of CPR, but the bottom line is I got to page one position 17.
I will do further tests on this URL structure in the future. Someone also gave me another URL structure I hadn't seen before to test. I heard that this is a URL that is generated when you order something from Alexa. For these, I did 102% of CPR, and both of them took me to the bottom of page 1. So this one warrants further testing as well.
As some of you may know from my previous blogs, the Heatseeker URL is a type that I prefer since it's basically an organic search in Amazon. The results of this URL type cannot be duplicated, which is why we do not have it on our Gems page. Of the 32 tests I ran with Heatseeker, I averaged position 39 with an average of only 62% of CPR. 22 of those 32 landed on page 1.
I only tried one Storefront URL promotion, and despite doing 200% CPR, it only took me from being unranked to position 280.
I also performed 16 Hidden Keyword ASIN URL promos, and they gave me an average landing spot of position 74 with 89% CPR—not great results here either.
I ran 4 Field ASIN 2-Step URL tests, and the results averaged position 18 with 61% CPR. This test was not as big of a sample size, but this is similar to the limited numbers I had when I first started testing.
I ran 3 Brand 2-Step URL tests, which resulted in an average of position 13 on page 1 with an average CPR of 98%.
What about the length of the promotions?
For promos that lasted 1-2 days, I got to an average position of 79 with 73% CPR.
For promos that lasted 3-5 days, I got to an average position of 42 with 75% CPR.
For promos that lasted 6-8 days, I got to an average position of 38 with 76% CPR.
Are Keyword Product Launches Still Viable?
I could go on and on with the numbers. Like I said before, I am a data junkie.
But if you are going to take anything away from this blog, it should be this: keyword giveaways as a method of launch is still very viable.
There are plenty of ways to go about keyword product launches:
Full price sales with rebates after the fact
Heavily discounted giveaways
Many kinds of URL structures to use
And more
Find the right combination that works for you. You can get virtually any product you want to page 1, but remember that the only way you will stick to page 1 is if you start converting organically. How do you give yourself the best chance at converting organically? Choose the most real-world relevant keywords.
Even if you increase the efficiency of a giveaway by making sure to put your top keyword phrase in the title for relevancy to Amazon, it will be meaningless if your keyword is not considered relevant to buyers because it does not accurately represent what buyers are looking for.
For example, when I was setting up the promo for the "face toner" beauty product, 80% of the keywords that Amazon gave a 90%+ "relevancy" score to are all for "printer toner" cartridge related keywords—very different keywords.
So maybe in Amazon's eyes, that face toner product was very relevant to those printer toner keywords. Let's say that my product got ranked to page 1 for the printer toner keywords. Does that help me sell any of my face toner products? Not at all because not one person who is looking for printer toner is going to see a face beauty toner and buy it.
The best way to make sure your keywords are relevant to buyers, or what I call "real world relevant," is to use Cerebro from Helium 10 to do a compare ASIN search.
Find 5 of the BEST selling products that look, feel, function, and are priced the CLOSEST to YOUR product. In other words, find products that cater to customers who are the same as your potential customers.
Find out what keywords all of those competitors are performing well for and choose from that list of keywords to find one (or a few) to target. There is just NO better way to find relevant keywords at this time.
This is the method myself, and other sellers have been using for years. In the past, it would take us hours to find these keywords because we would have to run Reverse ASIN searches on each competitor one by one. We would then export the data to Excel and run all kinds of pivot tables in order to find what now takes five minutes in Cerebro.
Anyway, I hope you have enjoyed my deep dive into keyword product launches via giveaways. I hope you're able to take some of this info and apply it to your own business so that you can CRUSH IT!
Have any questions about my data results? Ask me about it in the comments below!
Achieve More Results in Less Time
Accelerate the Growth of Your Business, Brand or Agency
Maximize your results and drive success faster with Helium 10's full suite of Amazon and Walmart solutions.