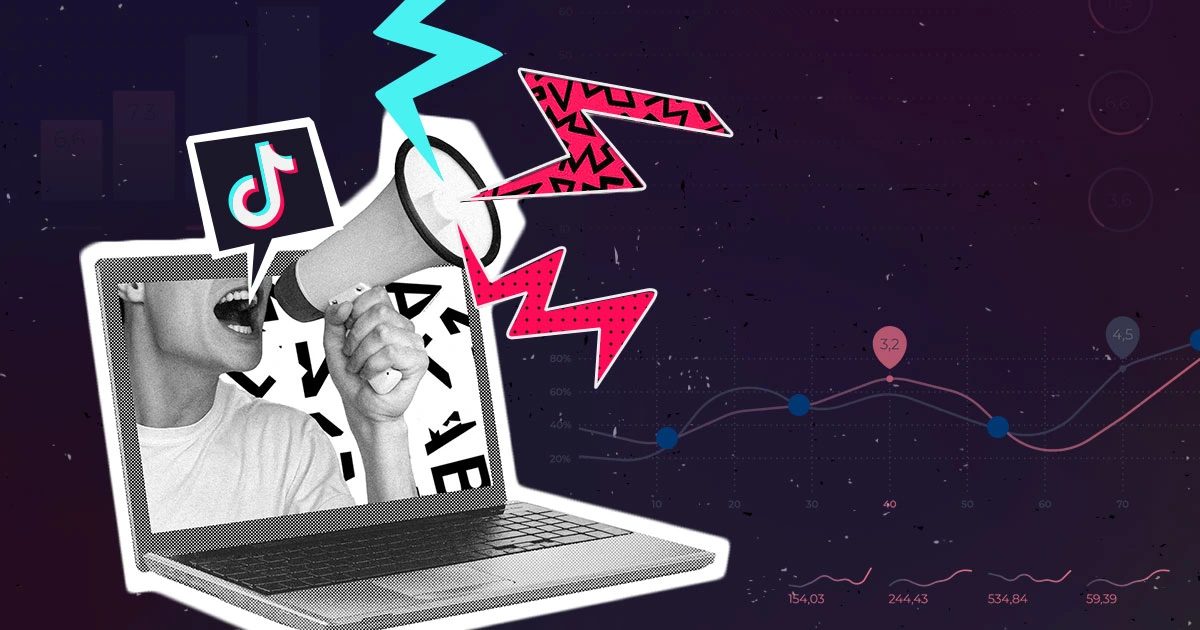 How to Increase Your Amazon Sales With TikTok Ads
How You Can Use Tik Tok to Increase Your Amazon Sales
TikTok Ads are a great tool to reach your audience in new and innovative ways. If you think outside the box and want to implement a multichannel advertising strategy, TikTok should be your cup of tea! This fastest-growing social media platform with over 800 million users is a great place for spreading brand awareness. According to research, the highly engaged TikTok audience consumes content for at least 69 minutes daily (Business of Apps, 2019).
Why is TikTok So Popular?
TikTok is currently the #1 downloaded app on Google Play and the App Store. Its viral videos and a vast user base allow you to create unique video advertising for your products and skyrocket your sales! You may think that teenagers are overcrowding the platform, but according to TikTok, only 26% of users are 13-19 years old, 40% are in their twenties, and over 30% are over thirty!
So, as you can see, TikTok users are people of all ages, genders, and interests. The app is popular in many countries, not just in the US, so your advertising options with TikTok Ads are practically limitless.


Which Ad Types Are TikTok Offering?
TikTok Ads are fantastic for online marketers looking to connect with a large audience in engaging ways. Instead of targeting people with keywords, you use demographics and audiences. That way, you're reaching the upper funnel shoppers interested in a particular niche and getting the product awareness without the purchase intent, at least not at that moment.
Building brand and product awareness will help your brand interest (and, if you're lucky, acclaim!). The targeting covers even those that are not using Amazon.

Ad types on TikTok are separated by:
1. Image Ads – as one image or slideshow and showing in-feed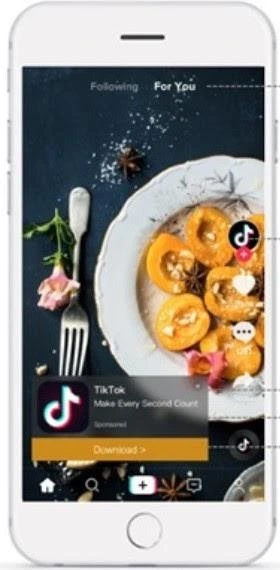 2. Video Ads – more engagement, also showing in-feed, from 5-60 sec. long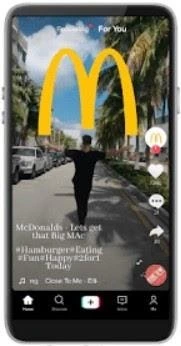 Ad placements on Tik Tok:
In-Feed
Top View
Brand Takeover
Branded #challenge
Branded Effects
In-feed ads appear between user videos as you scroll through your "For You" page with functionality for a call-to-action, "download our app," or visit the web store, all integrated within TikTok.
Top View presents your brand capturing full user attention with sight, sound, and narrative. It is a 3-5 sec. full-screen video.
*These ads are expensive and common for more prominent brands.
Brand Takeover immediately hooks user attention with full-screen static or dynamic display and delivers a strong visual impact for your brand.
*These ads are expensive and typical for more prominent brands.
Branded #challenge is an organic type of marketing with an option to boost (boost influencers video #challenge that is available only with TikTok partner agencies).
Branded effects, also an organic marketing type, bring the fun factor with tailor-made sharable stickers, filters, and special effects.
Whatever ad type you choose, your videos must get attention in the first 2-3 sec. They should be good-quality videos with unique, creative content and catchy music.
How to Make Your Brand Stand Out on TikTok?
Even though TikTok is a young social media platform, you still need to stand out and be authentic with TikTok Ads. Try to give your videos an organic look and feel. On TikTok, people like to watch videos that look like their friends made them, so think about your audiences as personas and place content that would be relevant to them. With great creatives, your success on TikTok is guaranteed!
A chance to put your brand in the spotlight on TikTok is high as the advertising space is still not jammed, and your ads will get the full attention of a highly engaged audience.
When it comes to creatives, you can film your video or hire an influencer to record something for you and use provided video material for your ads. Keep in mind that the second option is only available through TikTok partner agencies.
Use high-quality content and a suitable length for your video ads. When selecting accompanying music, try to choose a catchy melody and make sure that it's allowed for commercial use.
After finishing all the steps above, research interests and audiences matching your product and service to complete your advertising strategy.
How to Send Traffic From Tik Tok to Amazon?
Send traffic from TikTok to Amazon through campaigns leading to your Amazon Store or product page, where each campaign will have a different video for the same product. Brand campaigns leading to an Amazon Store can have a video representing the brand itself.
It's essential to know how you can track your results from TikTok Ads leading to Amazon. TikTok has its own pixel and can track results leading to your website. However, when it comes to Amazon, you should set Amazon Attribution to mirror the Tik Tok campaigns, meaning each campaign will have its order and each Ad group its line item.
The Best Way to Increase Your Sales on Amazon with TikTok
There is no better way to explain than through real-life examples.
As you know, people think daily about new ways to develop and grow their e-commerce brands. Even though it's getting extremely hard for brands and products to stand out with Amazon becoming crowded, there are still categories far more complex than others. In this case, we have picked a product that's in a very saturated supplement niche.
In the beginning, we made a Broad Discovery campaign to let the TikTok algorithm learn more about the landing page and how people respond to the ads. The Discovery campaign has run for a week, and after downloading and checking the reports, we've discovered the audience type that had the highest CTR, number of impressions, clicks, etc.
We compared the TikTok data to Google Analytics to see whether the target audience is the same or similar. It ended up being very similar to Google Analytics data, so we created new campaigns that contained those audiences. We have separated audiences each in five different campaigns made after the initial discovery phase.
Each of those campaigns had two Ad groups with two different creatives that we used for testing.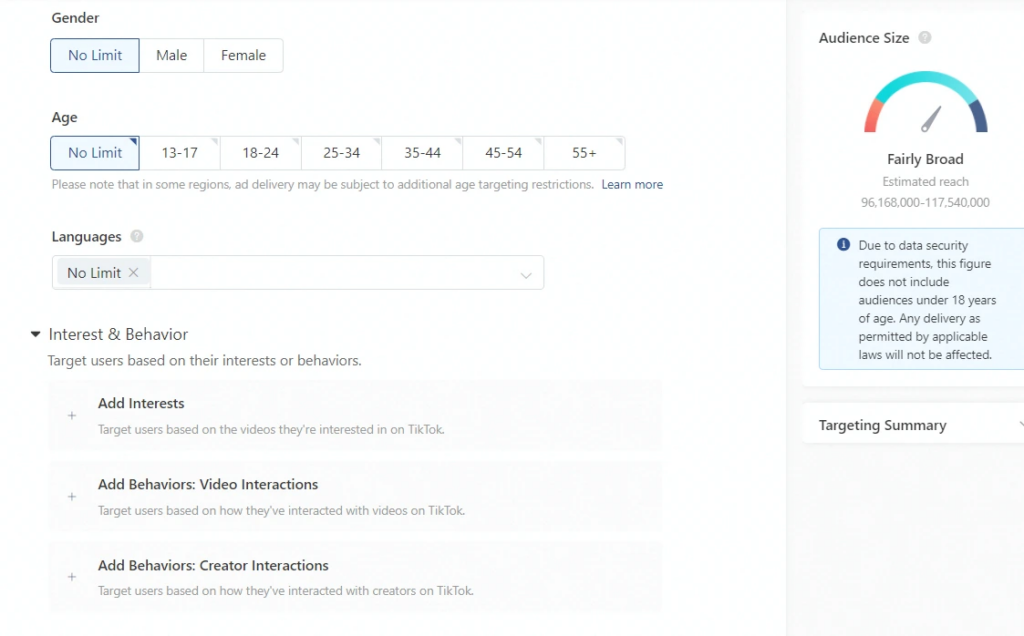 We have chosen two different videos from two influencers, with the best content and sound quality out of all we've seen. Also, we had two ideas of who our audience groups are. One video had a better performance than the other. That's because the person in it had a better connection with the TikTok audience; it felt more natural and less like an advertisement.
When it comes to optimization, we've optimized bids and budgets on a daily/weekly basis. We have paused Ad groups with lower CTR through four weeks of campaigns, but the impressions were very similar between Ad groups in the same campaign.
Along with these campaigns, we have made successful remarketing campaigns with people who saw the videos before.
The Results
Before we created the first TikTok campaigns, Amazon's product rank was around #130, and the number of sales was the same as a few weeks earlier. The best position we've seen while the ads were running was #52, and upon pausing the ads, it stabilized around #82. A promo code was active the entire time on the product to measure the conversions more correctly.
All the metrics that we've recorded are fascinating, especially when comparing TikTok to Amazon costs and how it affected the product rank and sales. The three weeks while the ads ran improved the product rank by 48 and increased sales in the period.
CPC is cheaper on TikTok, which is understandable as TikTok targeting is broader with no intent of purchase; it's the upper funnel. But impacting brand awareness is just amazing for this low cost.
A vast increase in sessions is also visible while TikTok ads were performing. From an average of 900 sessions before the TikTok ads, it spikes up to almost 20,000 in a single week.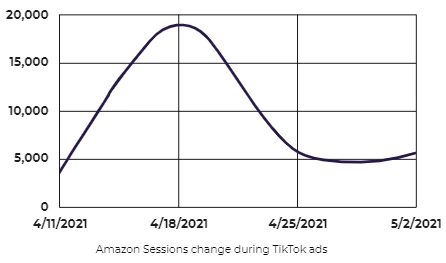 So, it's possible to get significant traffic on TikTok if you know what you're doing. Having a strategy like this can benefit your products, especially if you want to rank your product better and make your organic sales higher. On everything else mentioned, there's a brand awareness pain point which is very important if you're looking to stay in a particular niche and build your brand around your products.
There was also an increase in sales measured with the Helium 10 Chrome Extension.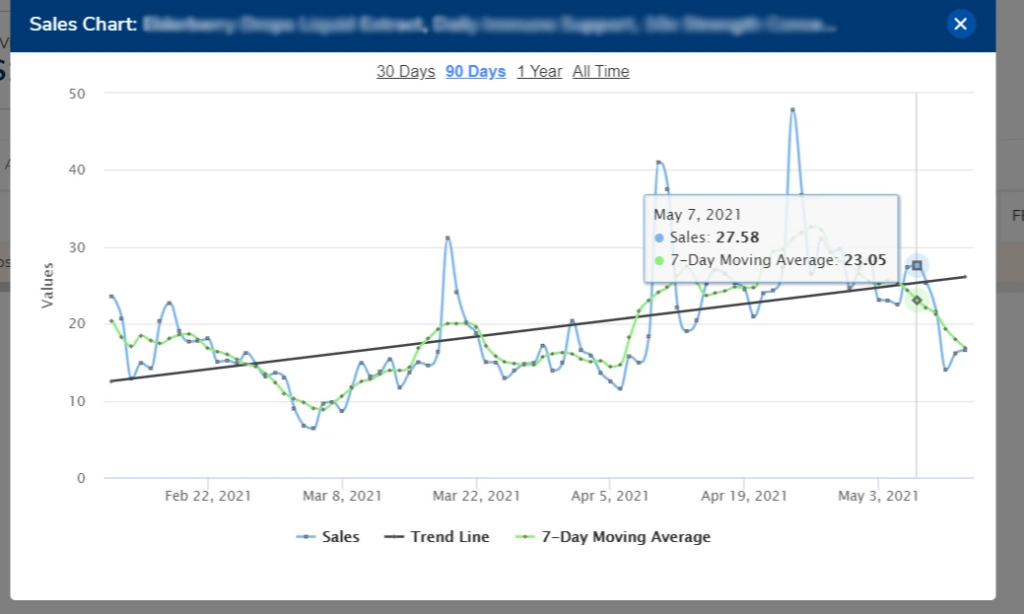 So, are Tik Tok Ads Profitable?
The answer is yes! You will get some sales directly from TikTok, and your total orders and revenue will increase. Using new ways to display your products to potential buyers has become an essential part of every e-commerce strategy. Keeping in mind the rising popularity of TikTok, it's crucial to be among the first to explore new possibilities and get the most out of it for your brand.
If you're dealing with lots of competitors, TikTok might be a perfect channel for you. CPM and CPC are lower compared to Amazon Advertising itself. CTR is significantly higher than on Amazon, and the number of clicks is way over Amazon PPC clicks.
If you are not advertising on TikTok, you should start with expanding your PPC horizons. Make sure you take the maximum from it to skyrocket your sales on Amazon. Don't forget to make highly engaging video content and find influencers that will be the best fit for your brand (with TikTok partner agency, you can expand your ads by boosting influencer videos).
Frequently Asked Questions
Achieve More Results in Less Time
Accelerate the Growth of Your Business, Brand or Agency
Maximize your results and drive success faster with Helium 10's full suite of Amazon and Walmart solutions.