A Guide on How To Start and Use Amazon Live
Level up your brand's advertising with Amazon Live. The Amazon Live Creator app is a livestreaming application that helps brands create and manage their livestreams on Amazon.com.
Updated on: February 15, 2023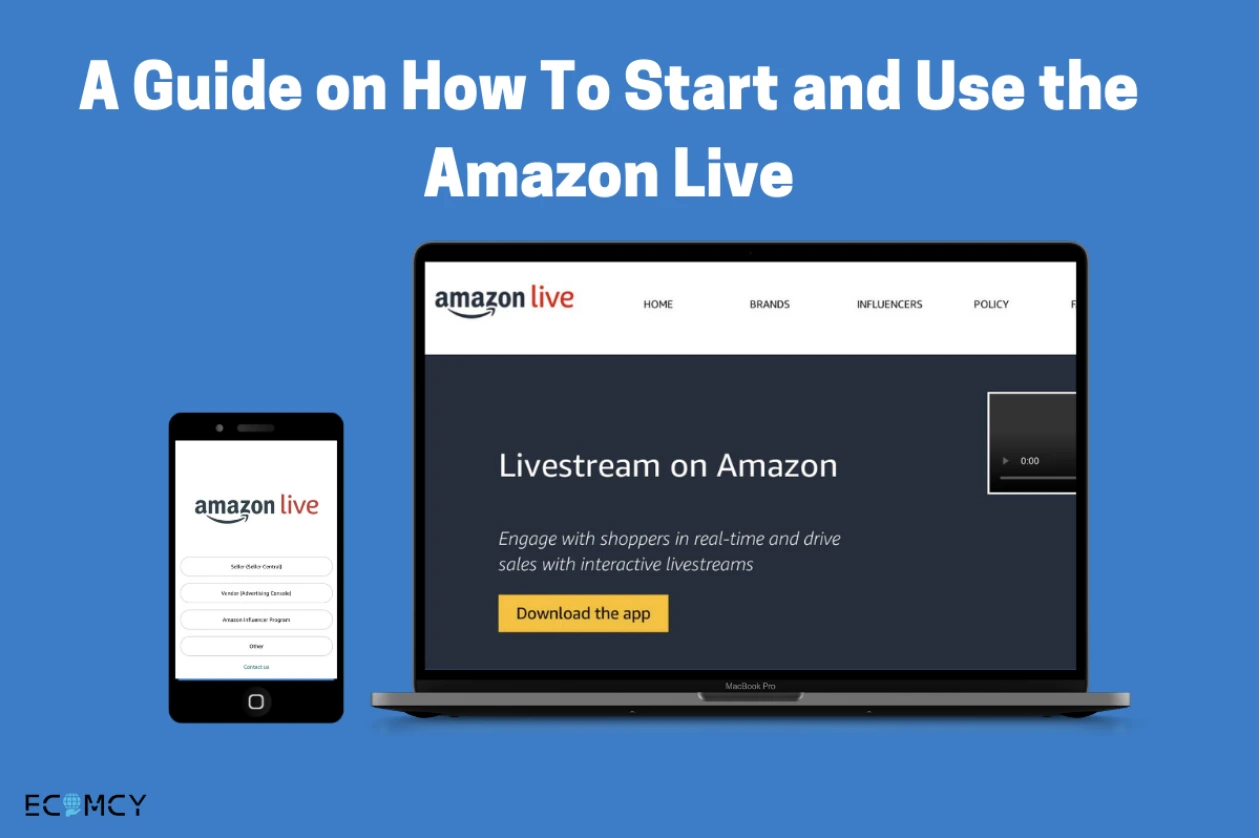 Live streaming is now being popular, especially for those sellers who want to have more engagement and interaction with their buyers. Amazon released their own version of streaming for their sellers way back in 2016 and it is called Amazon Live.
What is Amazon Live and How Does it Work?
Amazon Live is a live streaming service that enables you to "increase discovery" of your products by holding your own live streams for your Amazon customers. Buyers can see the live videos in the main menu of Amazon.com, they just have to look for "Amazon Live" and then click it.
Shoppers can choose to watch live videos or recently live videos after clicking Amazon Live. They can buy the things featured in the video with either choice, but when watching live, they can also ask questions and talk with the hosts. They may also "Follow," which allows them to "keep up to date with the influencers, companies, and interests they care about on Amazon," according to Amazon.
Shoppers who follow you will be able to receive information regarding your brand's channel, as well as notifications when you live stream.
Can Anyone Create an Amazon Live?
Amazon Live is currently only available on the US marketplace for Brand Registered merchants and Vendors.
How to Start and Create an Amazon Live?
To get started with Amazon Live, make sure you're familiar with the program. Then, when you're ready, download the Amazon Live Creator app to get started. Although the software is designed for iPhones, it may also be used on iPads. For the time being, Android smartphones are not supported. The app is free to use, and live broadcasting is completely free.
Amazon brand merchants, Amazon vendors, and Amazon influencers can use the Amazon Live Creator app. Log in to the app using your Seller Central or Vendor Central account's email and password.
You can use just the Amazon Live app to live stream, or if you have the equipment, you can combine an external camera with your broadcast software for better quality and control.
Installing the app by more than one person on your team is beneficial. It supports multiple simultaneous log-ins, so you can have one person on camera while another monitors and replies to the conversations when you go live.
Here is a step-by-step guide to starting your Amazon Live:
Download the Amazon Live Creator app (iOS only).
Sign in to your Seller, Vendor, or Influencer account to create your Live account.
Choose your brand and enter your profile name.
Choose the products that you want to feature on your live stream (here, you can choose your product list. This is where you may add any products that you want viewers to be able to purchase immediately from your live stream)
Now, you are almost ready. Doing Amazon Live is free but you can also spend some money to gain more viewers by boosting your live stream. An option will appear whether you want to boost your live stream or not. (As the amazon team said, the benefit that you can get from "Boosting your Livestream" is it will show your video with your page and product details across multiple advertising locations on the site or home page of Amazon.com and their Amazon shopping application)
You will now see a preview of your camera and just hit the "Go Live" button to start and to let the viewers see you and your amazing products live.
What are the Benefits that You Can Get from Doing Amazon Live?
Amazon Live will help you and your brand to be noticed by more shoppers and have more engagement with them. Some shoppers really want to see how some products are used and how they look besides looking at the photos in your store. It is also a great way for shoppers to ask questions and you can easily answer them live because you will be able to see their live comments as well. Some buyers also want to see who are the faces behind a brand and how they socialize with their customers. Building a good relationship with your buyers can help to gain their trust and loyalty to your brand.
During the live streaming, the viewers can follow your brand and you must encourage them to be notified whenever you go live. You can do this by telling them that some promotions can be done during your live streams.
Your account may level up if you do Amazon Live longer and you can unlock more benefits. The higher your Amazon Live level is, the higher the benefits. Also, you will get higher placements for your live streams. Here are the three levels that you have to reach:
Level 1: The Rising Star
Applicable for streaming with Amazon Live Creator
When you go live, your Amazon followers will be notified via the Amazon Shopping app.
From the Amazon Live Creator app, share URLs to your live streams.
Your live streams may display on the following sites: Amazon Live, in both relevant product category rows and the 'Live now' row Detail pages of your brand's items
Level 2: The Insider
The benefits of a Rising Star
To attain this level, you must stream for at least 90 minutes over the course of 30 days.
Your live streams are eligible to appear on the following sites:
Placements for all Rising Stars
The positioning of the Amazon Live site at the top of the page
Level 3: The A-List
In 30 days, you must stream for 1,000 minutes, drive 5,000 purchases, or sell 100 products.
The Amazon Live Creator team will give you priority support.
Amazon Live events and opportunities are available to you on a first-come, first-served basis
Your live streams are eligible to appear on the following sites:
Placements for all Rising Stars and Insiders
Amazon.com's main page
Tips to Level Up your Amazon Live Account
Live stream for at least 30 minutes or more. The longer you stream, the higher chance to reach more viewers and engagement from shoppers.
Urge your viewers to ask you questions in the comment section of your live stream to be able to cater to them well and to let them know more about your products and brand.
Create live-only promotions for your live stream viewers as a way to show your appreciation for their time spent watching your video. This will entice these consumers or viewers to return in the future.
Encourage your live stream viewers to like and follow your Amazon brand page to receive updates and notifications about when you'll be back on the air.
Make use of the live streams to introduce new products under your brand. Offer unique exclusive deals to viewers.
Don't just talk about your goods; show it off. Give your viewers a full explanation of how it works, emphasizing the most important benefits. Make use of your live stream to demonstrate your product well.
Use the URL in the app to share your live stream with audiences outside of Amazon, such as your social media following or email list, to expand your live stream's reach.
Use streams to your advantage during major events such as Prime Day, Black Friday/Cyber Monday, Christmas, and other Holidays.
When live streaming, make sure you have high-quality video and audio. You can use an external video camera and microphone. Make sure your videos are well-lit, whether with natural light or strong photography lighting so that viewers can see you and your goods clearly.
Speak clearly, concisely, and with assurance. Practice makes perfect, so get ready to talk in front of the camera! Create a one-of-a-kind, high-quality thumbnail to grab the attention of viewers. Use a background that is bright and clear or one that is linked to your product. Set up your stream in your bedroom for example, if you're promoting a bedroom item.
Good luck on your Amazon Live journey!
ECOMCY
ECOMCY is a full-service Amazon Brand Management Agency, providing tactical/execution support and strategic consulting services for Amazon sellers and vendors. Focused on mid-to-large-sized brands, Ecomcy uses specialist consulting frameworks, deep analytical ability, and powerful technology to grow our customers' revenue on Amazon.
Frequently Asked Questions
Everything for your business on Amazon.
Find out more about our products by signing up or speaking with one of our
Customer Success representatives today. With us in your corner, you can enjoy
more sales and increased engagement from your Amazon business.
Chat with a Support Specialist