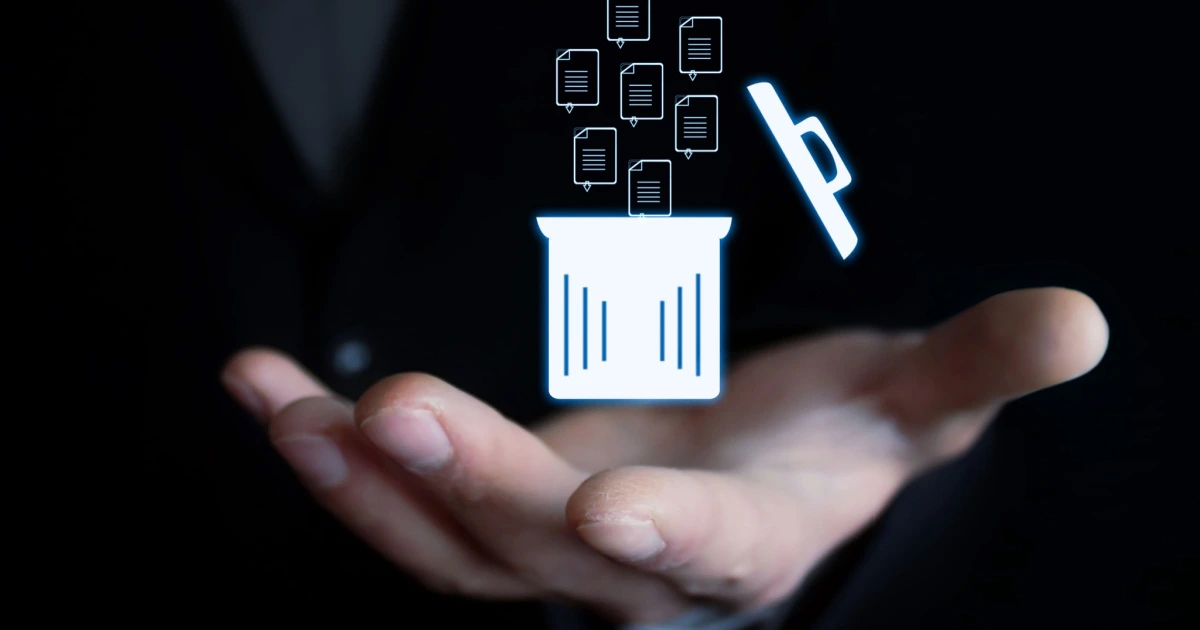 How To Set Up An Amazon Removal Order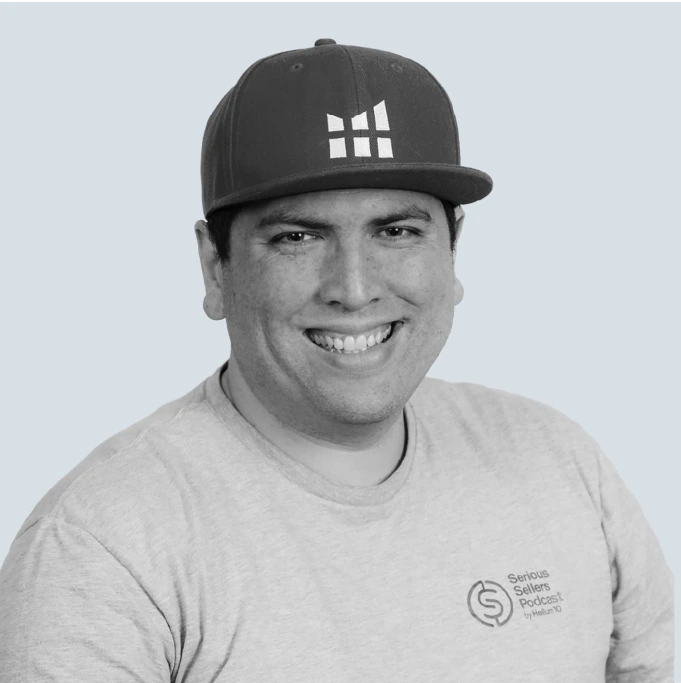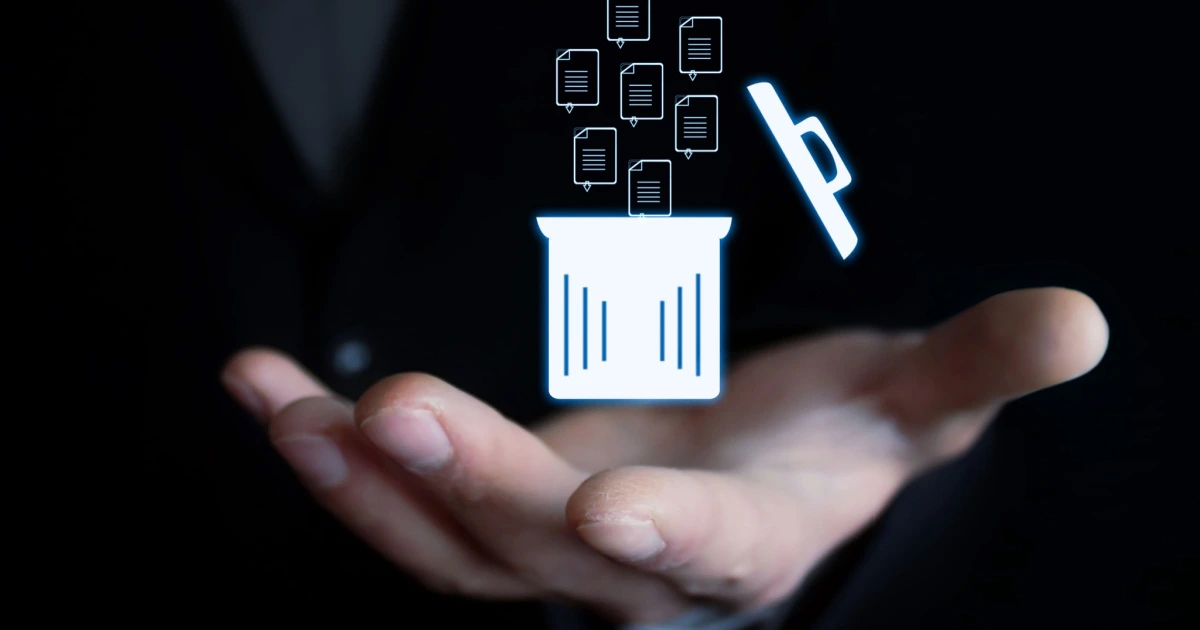 If you're going to be successful selling on Amazon, you need to know how to set up an Amazon FBA removal order.

Now, the first question is…
Why Would I Even Want to Do This?
There are several reasons! Maybe you want to get all of your inventory out of Amazon because you mislabeled it, or you found out that there was an issue with it, and you're wanting it to remove it all and send it back to your warehouse.
Maybe you fulfill some orders in your warehouse or 3PL, and you run out of stock in your warehouse ‒ and you need to pull a few back without paying a per-item charge. Maybe you want to examine a percentage of the inventory that you have on Amazon because of some kind of customer complaint. The list goes on.

It's effortless to do this. First, navigate to Inventory and Manage Inventory. After that, you are going to scroll down to the product that you want to remove. If you also have FBM (Fulfilled by Merchant) listings, you might wanna hit this Fulfilled by Amazon filter here.

So in this example, we're going to remove some backpack products and gonna ship them back to our office. Find the correct SKU that you will remove, and on the right side, go to the dropdown menu, and choose Create Removal Order.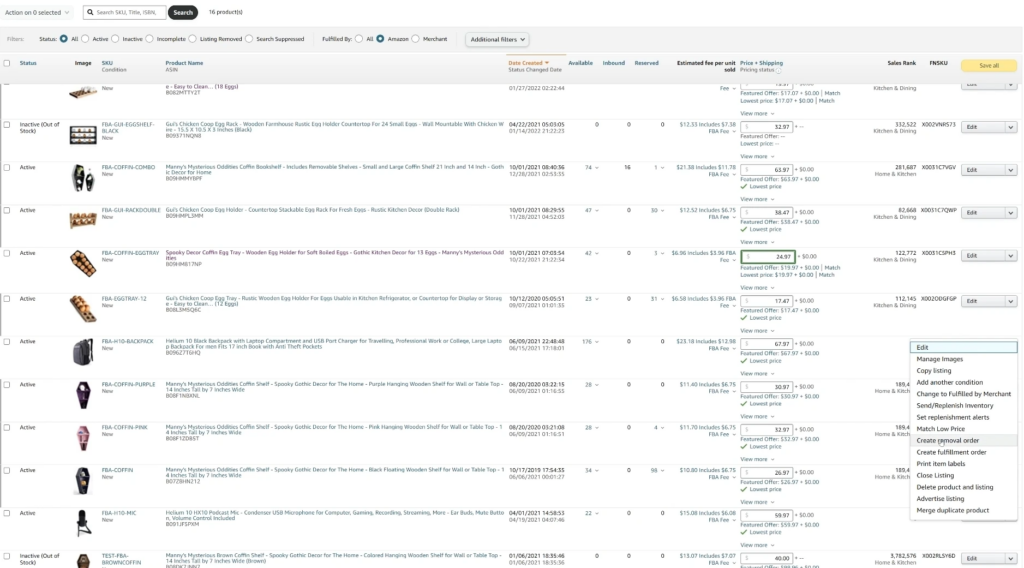 After choosing from the dropdown, this takes us to the Removal Order page, and there are different things that we can do. We can select Amazon Liquidations, make sure to hit the Learn More button to understand more about the other options. We can also have Amazon dispose of it. The one we will be using is the Return to Address since we want this to be shipped to our office.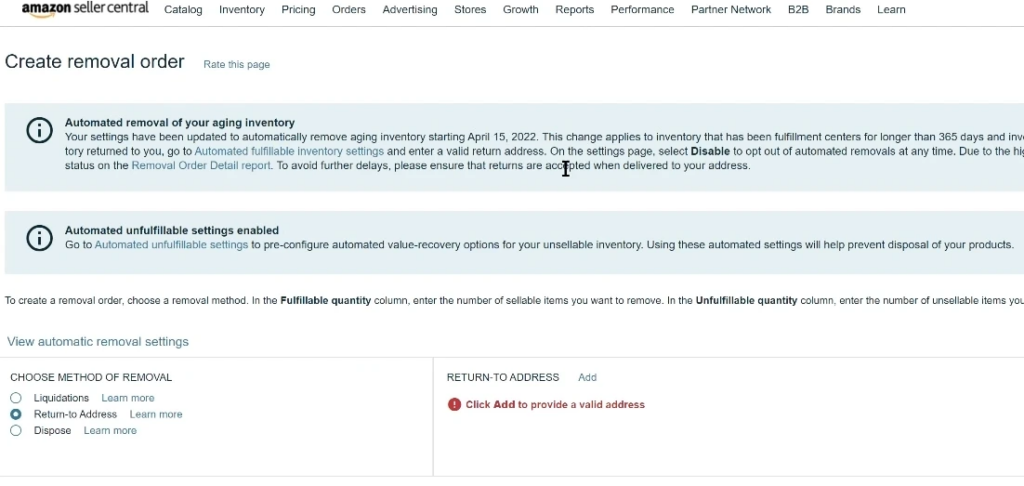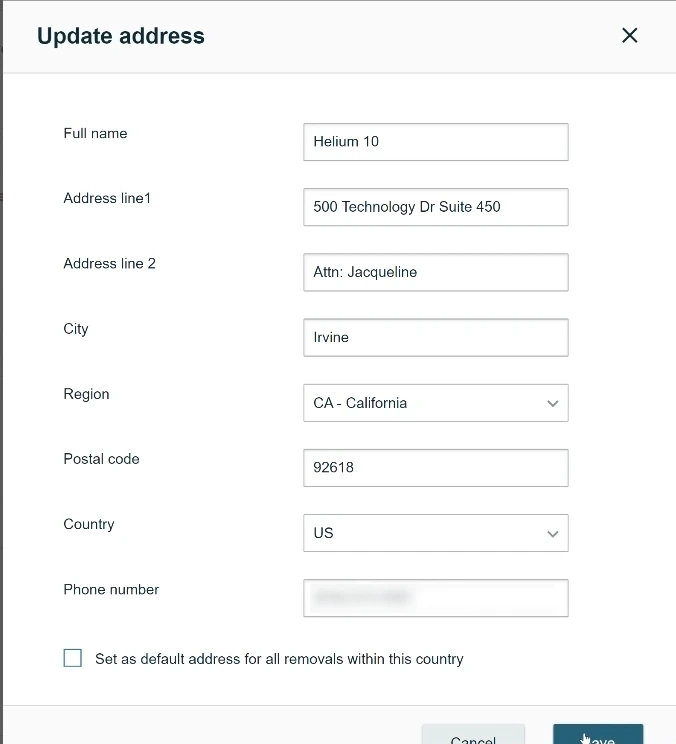 After adding the return address, just click Save, and you would need to assign an Order ID. This is so you can check it in your Manage Orders. In this example, we're going to set the Removal Order ID to "backpacks."
Note: Make sure that you only input 10 characters or less.

The next step is to add the quantity you want to remove.
Sidenote, another reason you might want to remove an order is because there is a whole bunch of unsellable and unfulfillable products such as returns. If you have it set up, you can do that, but this particular one doesn't have it.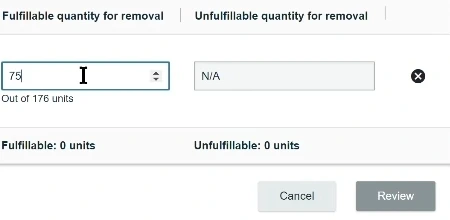 After hitting the Review button, a Review and Confirm tab will appear.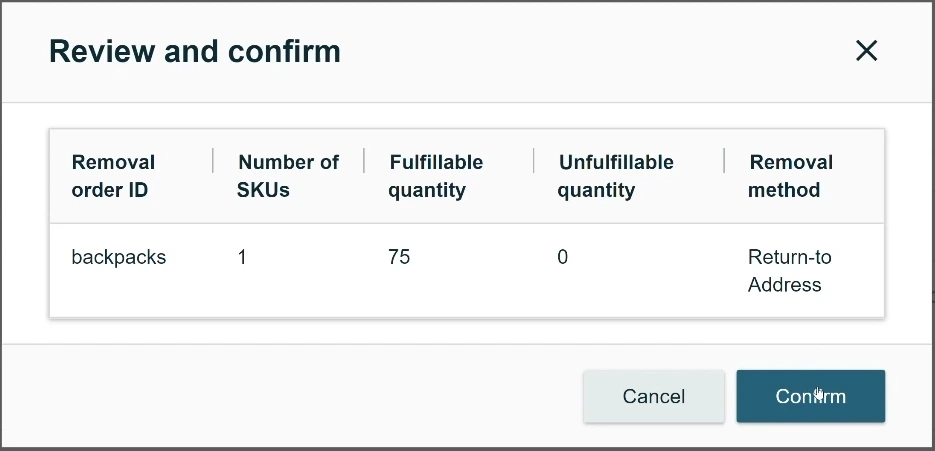 Once you're done reviewing it, just hit the Confirm button, and a notification tab will appear that indicates that you have placed your removal order.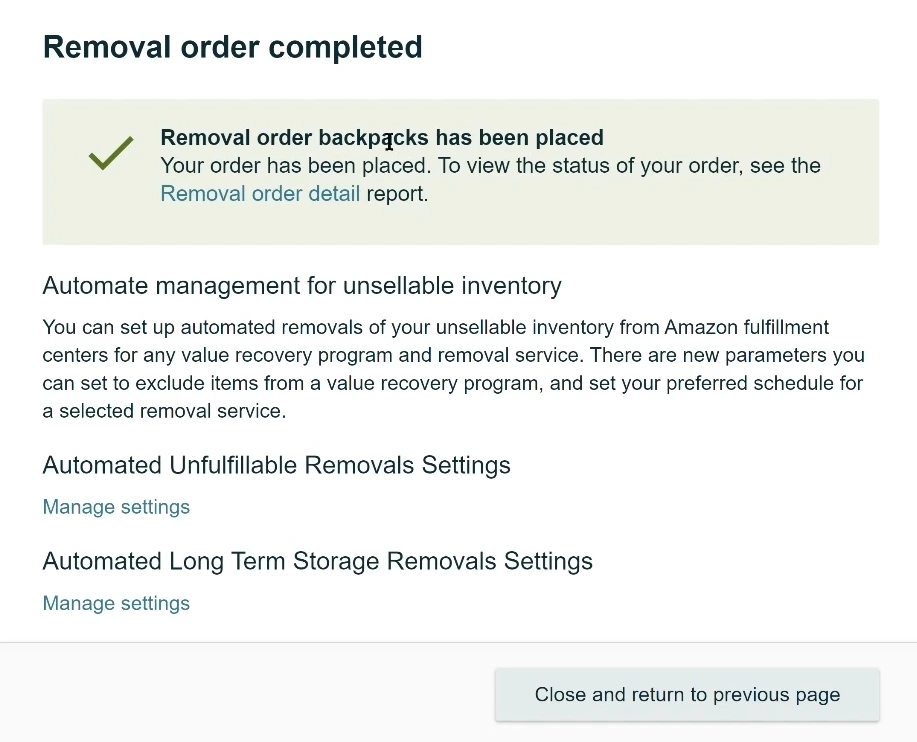 And there you go!
Amazon has noted that it could take up to 90 days for this to happen. It typically doesn't take this long ‒ you can usually expect about 2, 3, or 4 weeks maximum, and sometimes it might come in a lot of little boxes. It's not like they're gonna ship it all together. If it's smaller items like backpacks and things like that, and low quantities, you're probably going to get it in a bunch of smaller orders like boxes from UPS or FedEx or things like that.
In the next couple of weeks, all 75 of these backpacks will be at the Helium 10 office, and we'll go from there!
Frequently Asked Questions
Achieve More Results in Less Time
Accelerate the Growth of Your Business, Brand or Agency
Maximize your results and drive success faster with Helium 10's full suite of Amazon and Walmart solutions.