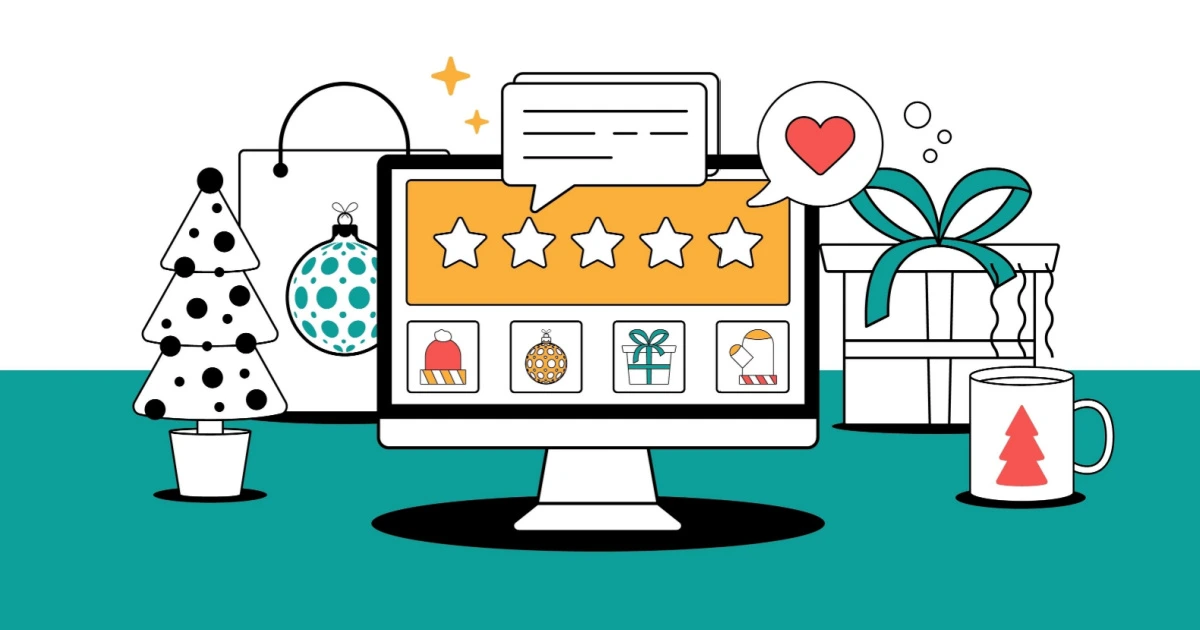 How to Check the Seasonality of A Product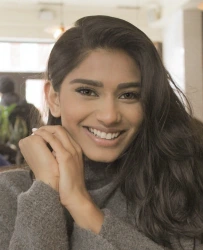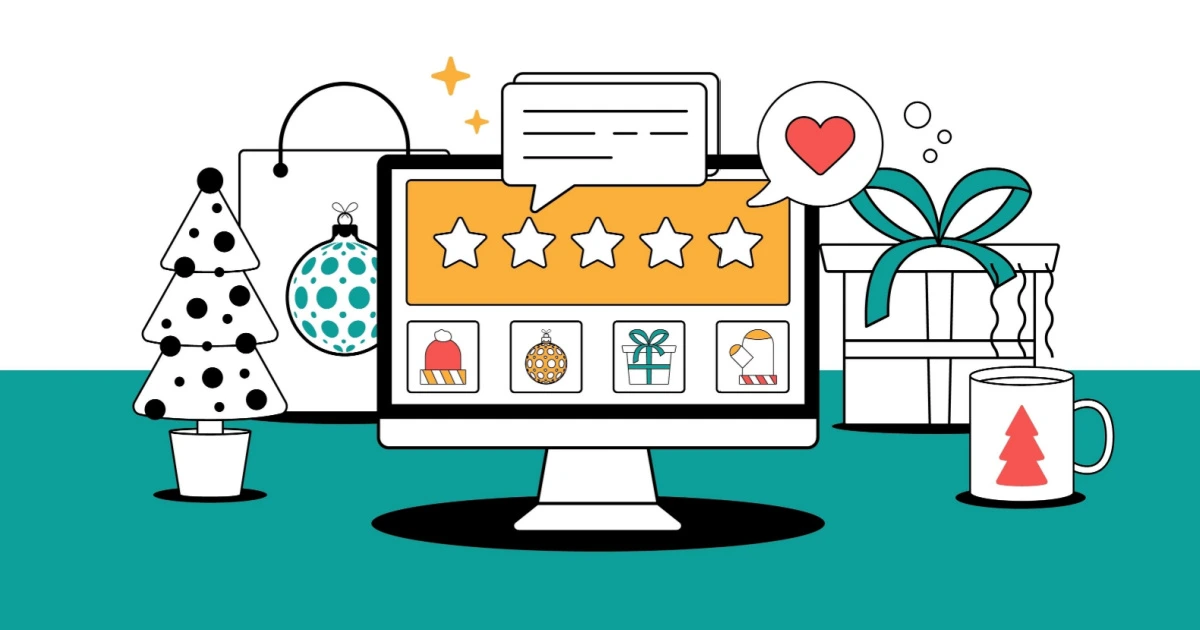 Can you imagine launching a Christmas wreath in March?
How do you speculate that would fare?
Sure, you might sell a few but if your purpose of launching a product on Amazon is to generate a sizable profit, you might be disappointed to learn your sales are not scaling the way you would have hoped.
That is because Christmas wreaths are a seasonal product.
And seasonality often means the search volume, sales, and monthly revenue associated with that product rises and falls.
When it comes to selling products online or in person, determining the seasonality of a product can be an important piece of information to understanding when to launch a product or what keywords to optimize your listings with for the holiday.
Knowing how to use Cerebro well is the difference between having a more comprehensive image of what demand in your niche looks like over the last 30 days, 60 days, 90 days, and all time or being blindsided by a sudden lack of interest in your products.
Let's take a closer look at the example of a Wall Decor Coffin Shelf – Spooky Gothic Decor for Home, Black Floating Wooden Shelf (B08TQN83GL) so you can implement this practice into your own niches.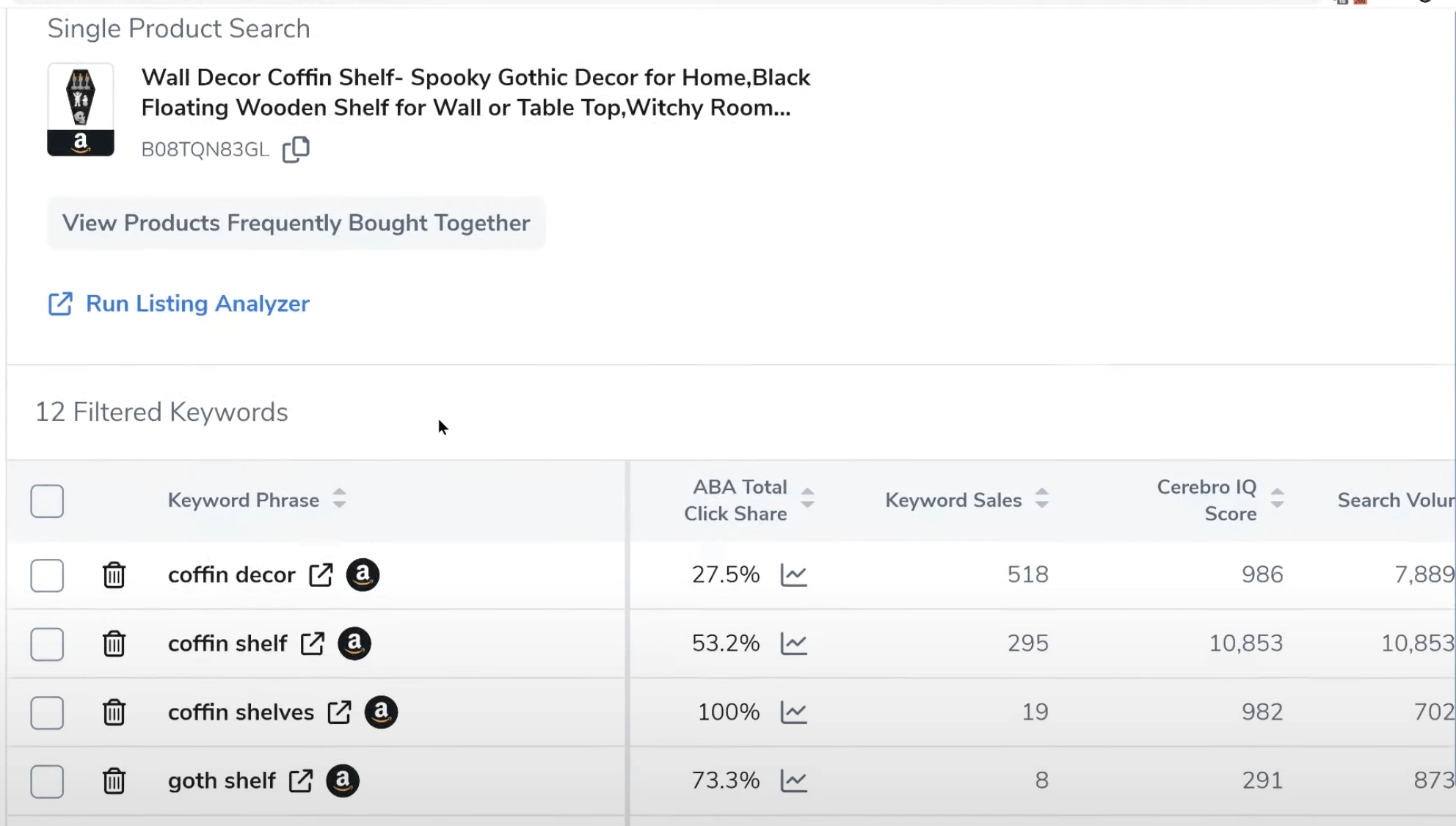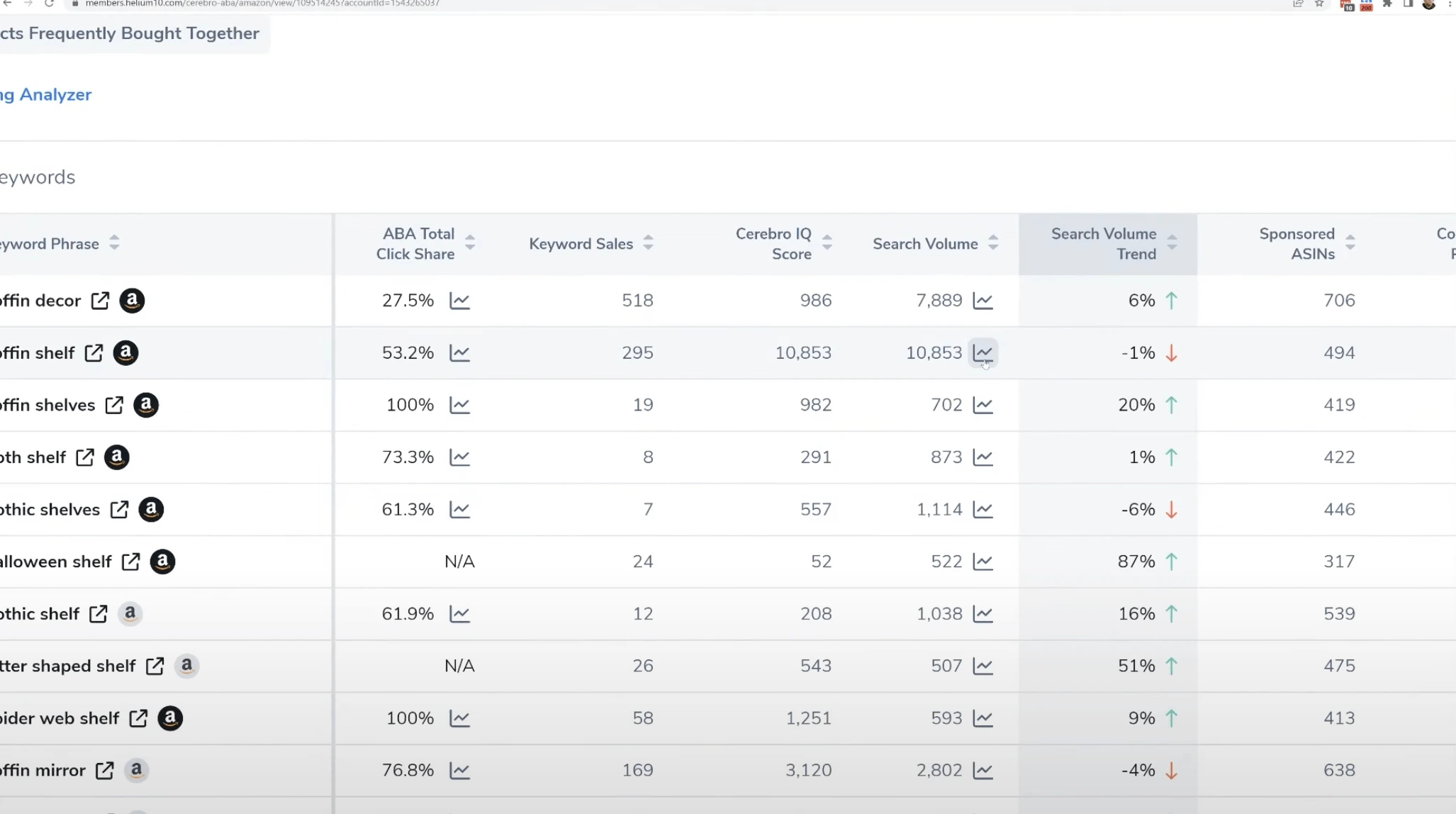 Though you will find quite a few of the keywords are certainly evergreen for the niche of interest in this article – some do peak only occasionally.
We can get a better gauge of that by clicking the graph icon next to the number listed underneath Search Volume inside of Cerebro.
For instance, a keyword that comes up for this product is Halloween Shelf, but regardless if you are considering something a top keyword to use when optimizing your listing or including it as part of your targeting campaigns, I always encourage clicking the graph to see just how seasonal a product truly is.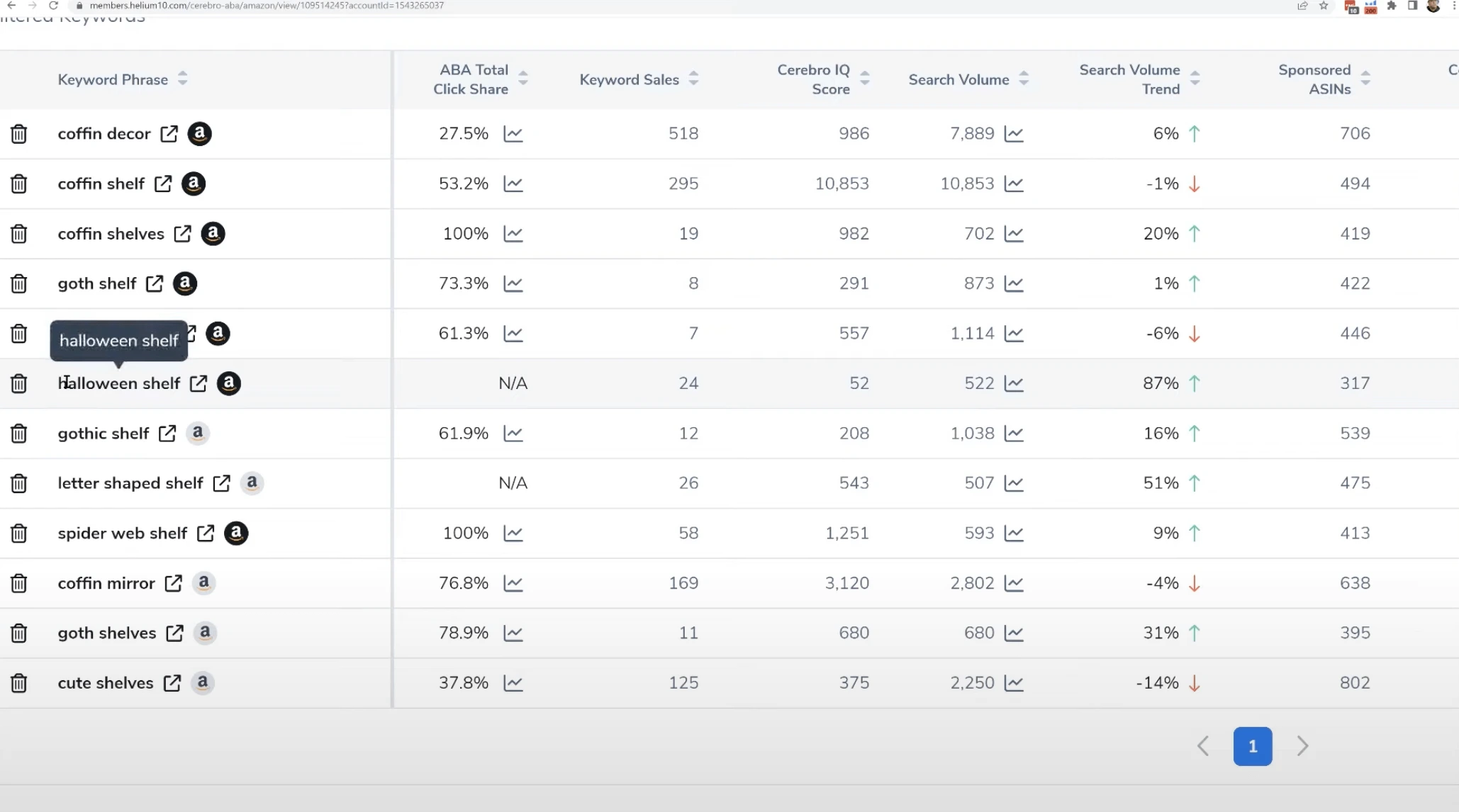 Once the pop-up opens up, you can cross-reference Google trends, Walmart, and Amazon all in this same graph.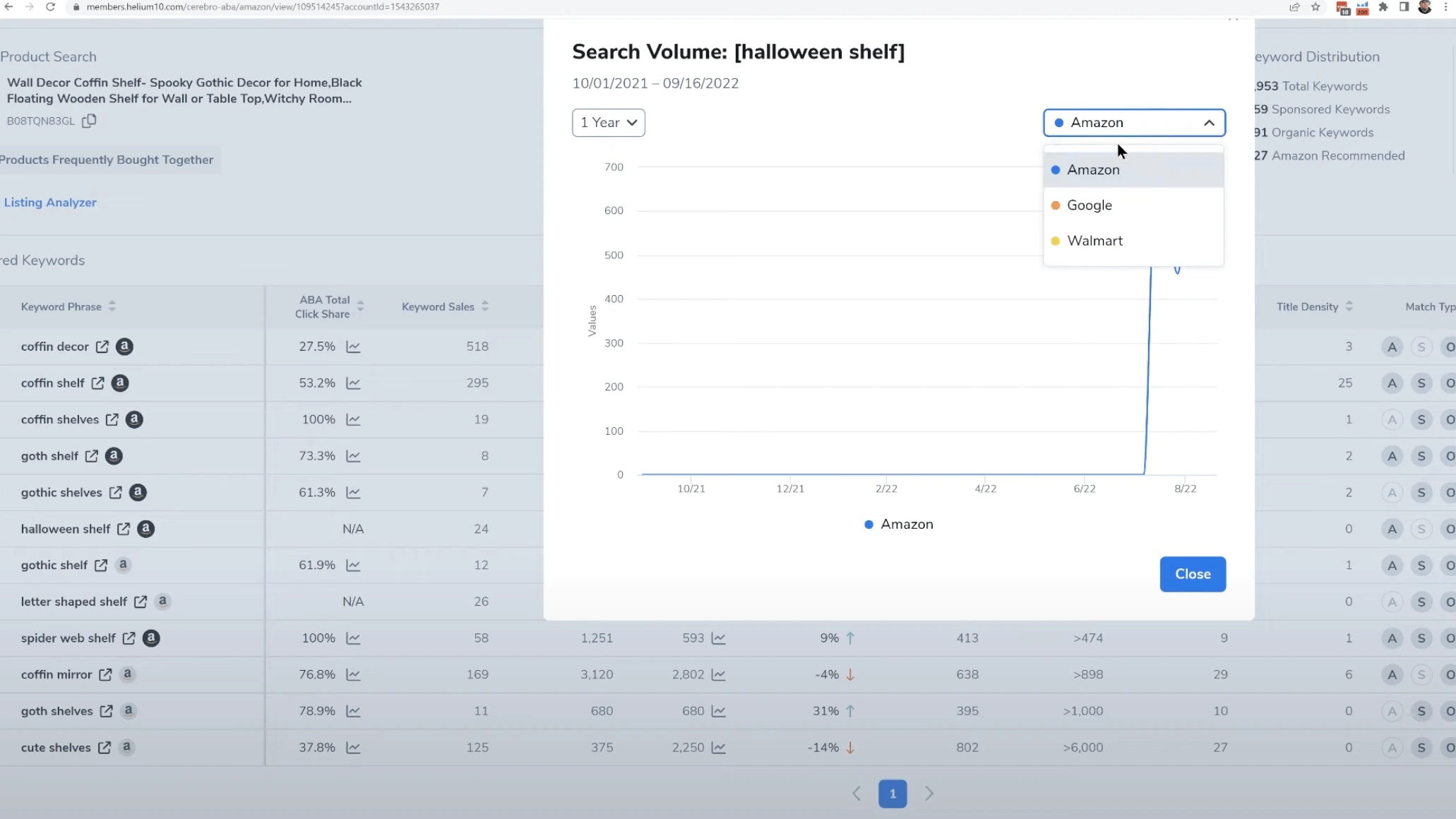 By changing the time frame to all time, we can see that we didn't even show the search volume for this keyword until weeks prior to Halloween for this ASIN. The 500-600 in search volume is quite recent based off of when the screenshot was taken.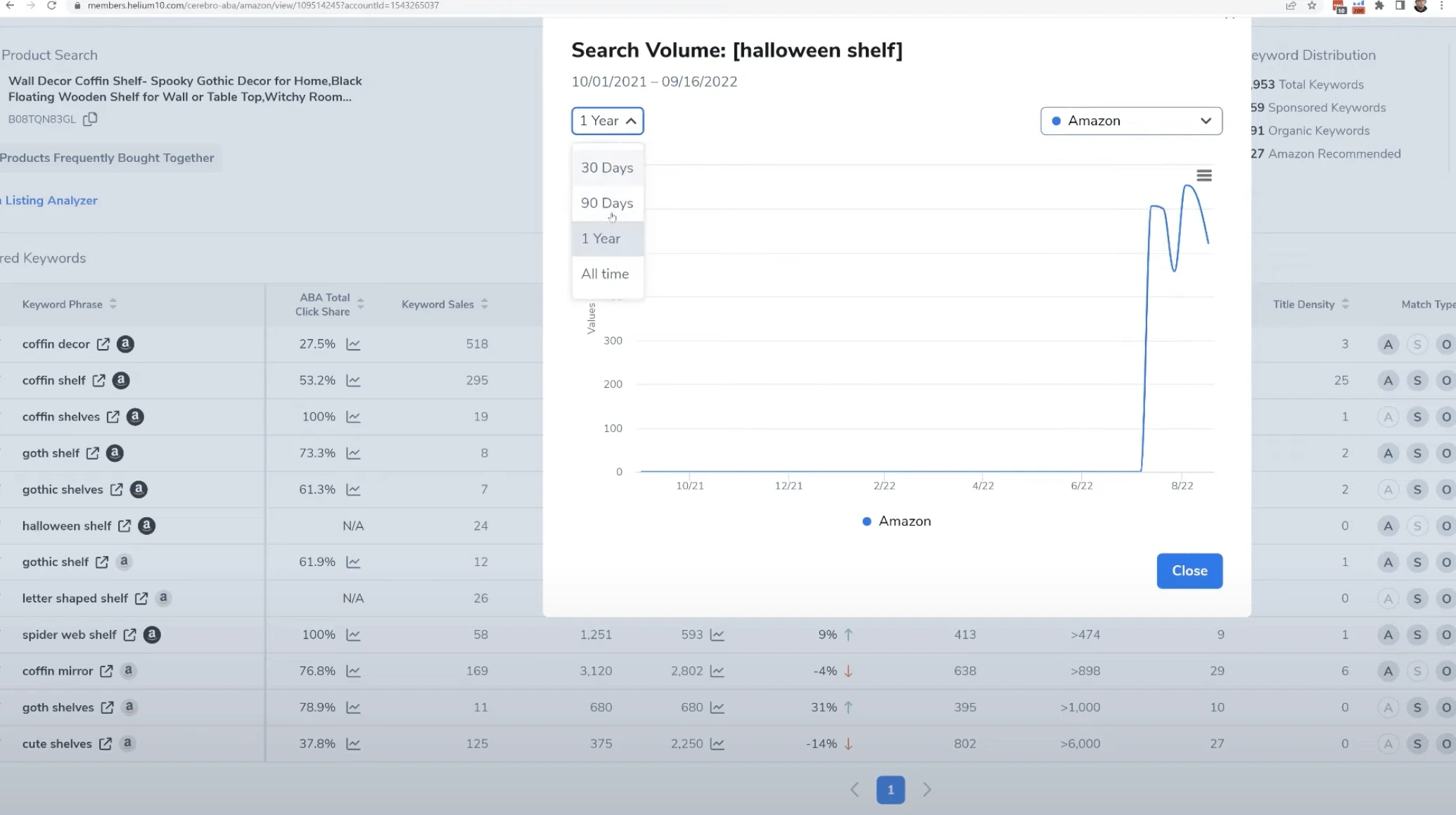 Now, if I am expecting the Halloween shelf to have 600 search volumes throughout the year, I would be making a big mistake. Had you not known Halloween peaks around October, you would need to search deeper to understand how the demand fluctuates throughout the year.
Contrast that Halloween Shelf search volume to the search volume for Coffin Shelf on the all-time graph for the individual keywords.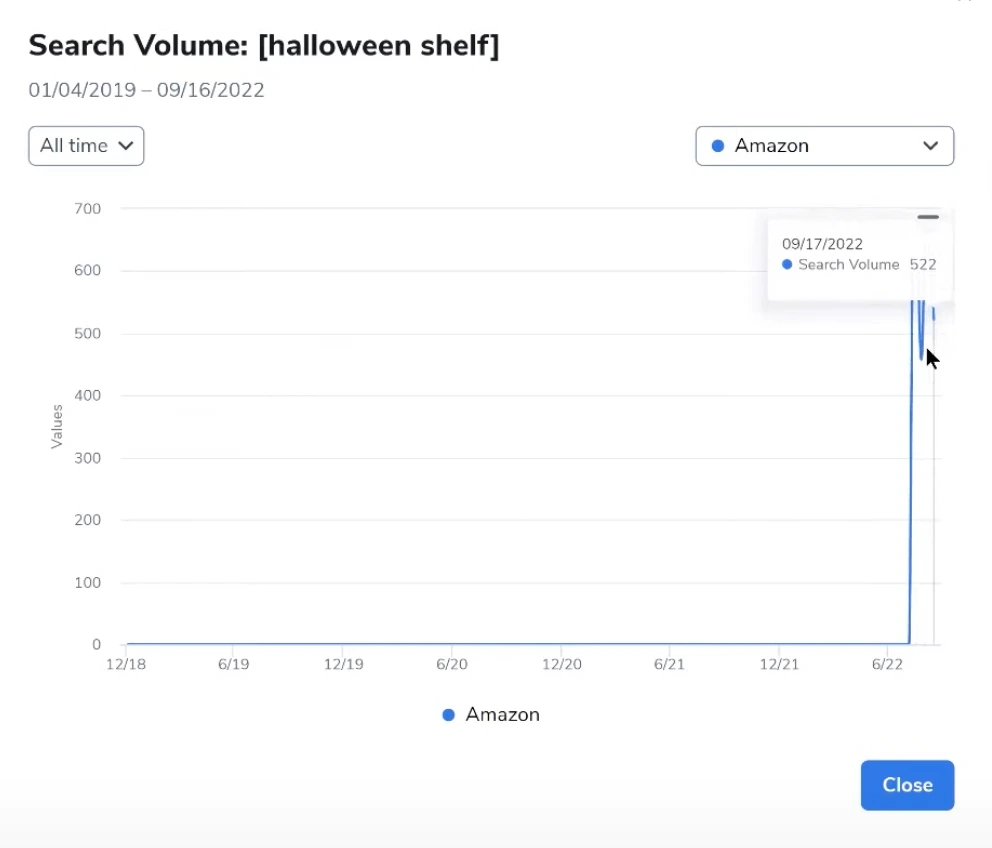 You can see that typically, the number varies between 5,000 to 10,000, but you do see peaks like last year, there was a peak coming up in August and September.
And sure enough, this year again in August and September, we see a peak.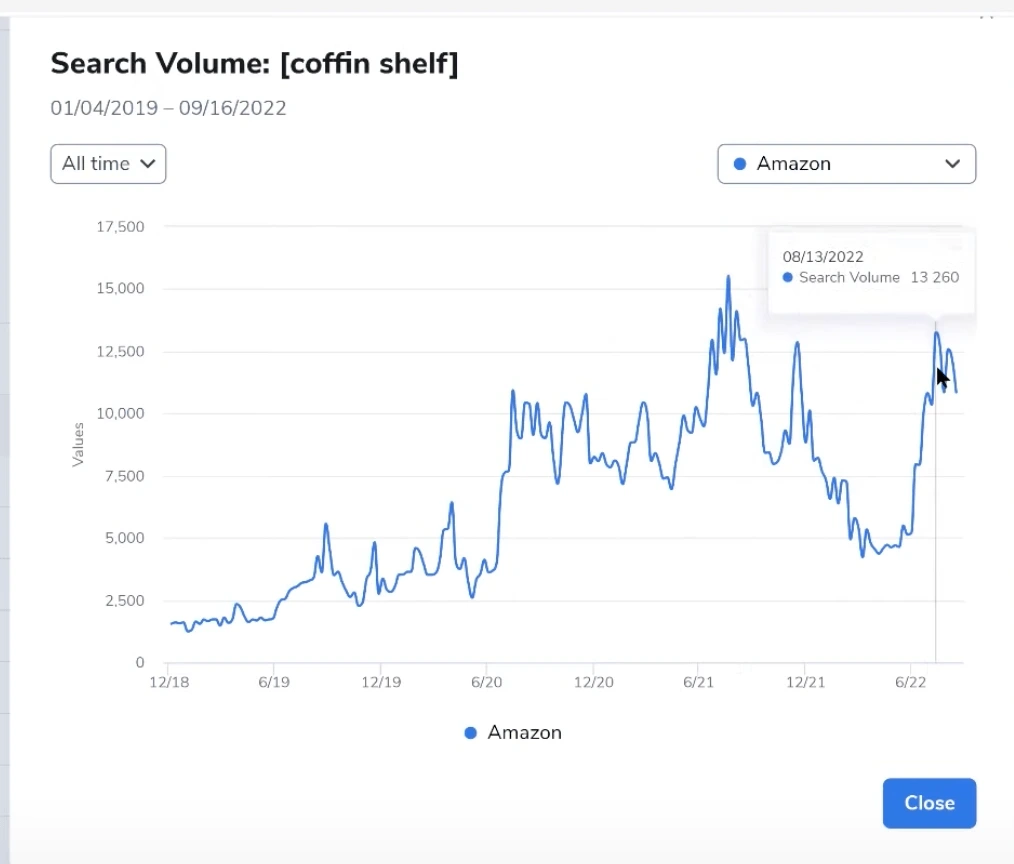 How should I digest this information?
Well, don't assume! Do not make the mistake of assuming people are interested in a particular product year-round consistently without having the data to back up your theory. You may discover some keywords are seasonal even when you thought otherwise. 
Again, anytime you see a search volume graph inside of Cerebro, click it, when you're looking at a few of the main keywords and open it up on Google Trends, open it up on Walmart, open it up on Amazon, and see if you see peaks and valleys of search volume. And that is what will give you a proper idea of the competitiveness of this keyword at different times and also when people are searching for more.
Achieve More Results in Less Time
Accelerate the Growth of Your Business, Brand or Agency
Maximize your results and drive success faster with Helium 10's full suite of Amazon and Walmart solutions.