Helium 10's Listing Analyzer: You Found Your Product, Now What?
Do you need an extreme listing makeover? Helium 10's Listing Analyzer tool is all you need to vamp up your Amazon listings.
Updated on: April 13, 2023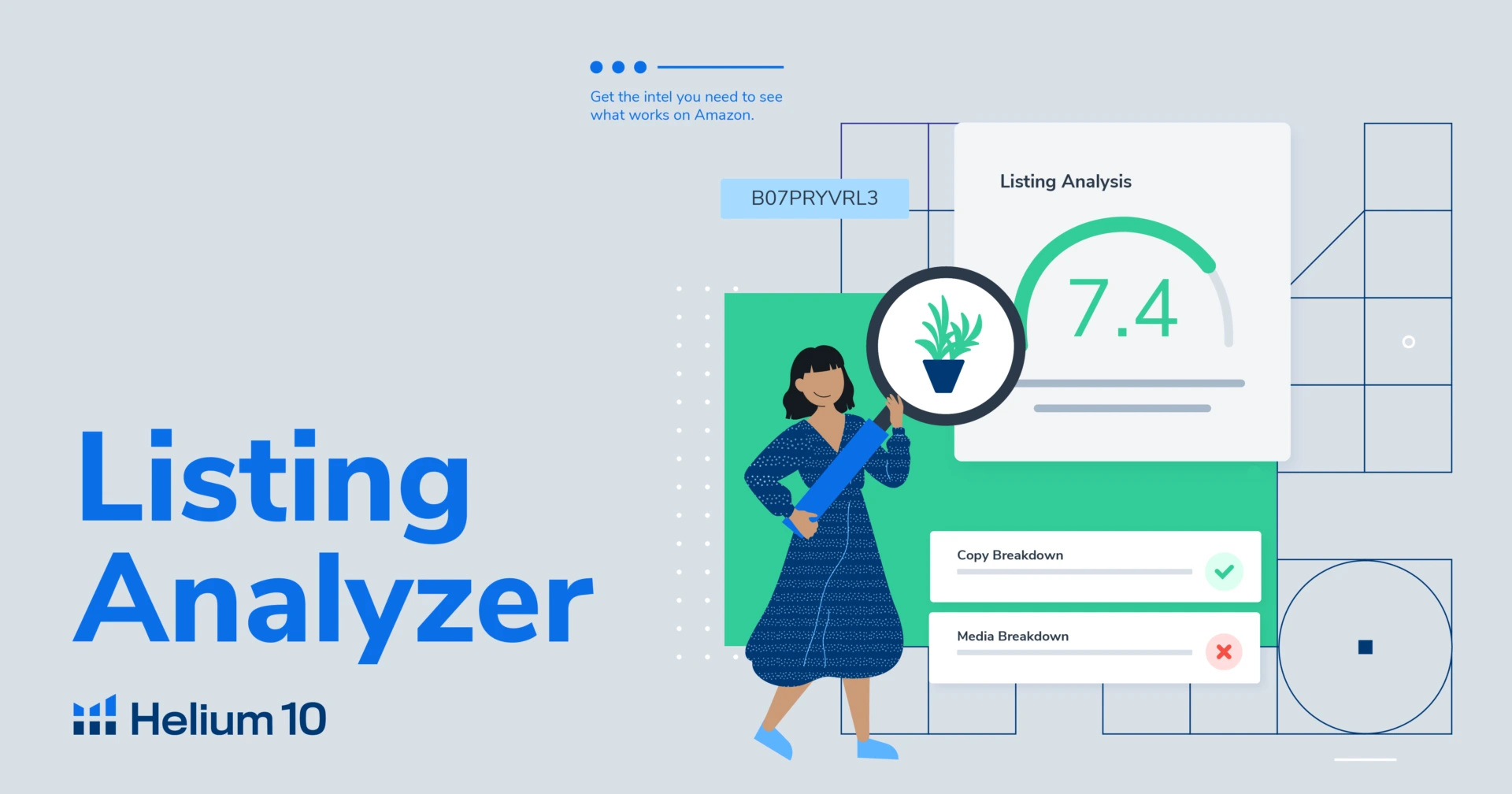 You heard it first here. It actually doesn't matter if you have the world's best product if no one is ever going to see it! Top Amazon sellers will tell you that listing optimization is one of the most important pieces to successfully selling on Amazon.
A product listing can make or break your product's sales. In today's ultra-competitive Amazon landscape, understanding where your product listing falls short can be crucial. So what did Helium 10 do? We created the ultimate tool to help sellers organize and create strong listings, or to research the content needed to develop strong listings.
Meet Listing Analyzer
Our Amazon listing optimization tool gives you instant access to the information you need to put out your best listing and get more sales.
Gain vital intel on:
Your listing. Enter your own ASIN, see things like your Listing Quality Score, and get a quick glance at your niche. Get your top keywords that are performing with one click, instead of going to Cerebro.
Your competition. You can check all of these same things, but for your competitors.
Your market. Or maybe they aren't your competition yet, but you can see what's going on within your niche.
Click here for a more comprehensive Listing Analyzer "How-To"
This tool allows the user to analyze a single ASIN listing, or to analyze up to 10 ASINs as a group of listings. The data displayed varies, depending on how you use the tool.
Note: ASIN stands for "Amazon Standard Identification Number." You can find an ASIN using the search box on Amazon's homepage or within the Add a Product page of your Amazon Seller Central account. Search by product name, model, UPC, or EAN. From the search results, click the link to the product's detail page. You'll find the ASIN in the middle of the product information section. You may also find the ASIN or ISBN from the product detail page in the URL of your browser.
The Listing Analyzer helps users get a broad, top-level view of their current or potential competitors' listings simultaneously.
Once the tool is available across all price platforms, members will be able to research competitor product listings based on the plan limits below:
Supercharge Your Brand: 300 searches per month
Diamond Plan: 150 searches per month
Platinum Plan: 50 searches per month
Listing Analyzer helps you identify the most important keywords relevant to their product. For example, in the display chart, we see that the ASIN appears in the top 10 search results for 149 keywords, but only 39 of those words are searched more than 500 times a month. All of the metrics have tool tips explaining the source of the number. Simply hover your mouse over the metric and you will get a definition and explanation for each metric.
In the chart, you'll see the organic rank, 30-day search volume, and whether the listing has the Amazon recommended badge, for each keyword.

Think big!
Your listing falls under an umbrella category on Amazon and so do all of your competitors. Measuring the impact of your keywords, marketing strategies, product titles, descriptions, and more is going to put you top of your class.
Helium 10's Listing Analyzer provides you with that comprehensive breakdown. Your full report also provides a personalized Listing Quality Score so you know exactly where you and your products stand on Amazon.
Check Your Report Card
Think of your Listing Quality Score as the report card that can't get you grounded. It simply highlights your product listing's weak spots for you to then optimize. Your score will look something like this:
Your Listing Score incorporates all of the "Breakdown" items. It comprehensively color-codes results based on the number of items the listing meets or exceeds. Some products do not allow 150 characters, but 150 is standard for the majority of listings. Amazon states it doesn't like bullet points in all CAPS.

What makes a successful product listing?
A+ content is enhanced content that might include videos, competitor analysis, test results or other content that build Brand awareness and trust
Quality images on white backgrounds
At least 7 images, ideally both product and lifestyle images
Quality Reviews/ratings, rack them up! The more reviews, the better
Video(s)
With this information, you can find areas where you can improve on your own listing, or areas in which you can outperform your competitors' listings.
We are going back to school, folks. And with this tool, we are all getting A's!
Accelerate Efficiency with Insights Dashboard
The all-in-one customizable dashboard for sellers and brands, designed to accelerate decision making through the centralization of data, insights, and action. A bird's-eye view of your business with personalized suggestions to unlock growth.
Learn More about Insights Dashboard