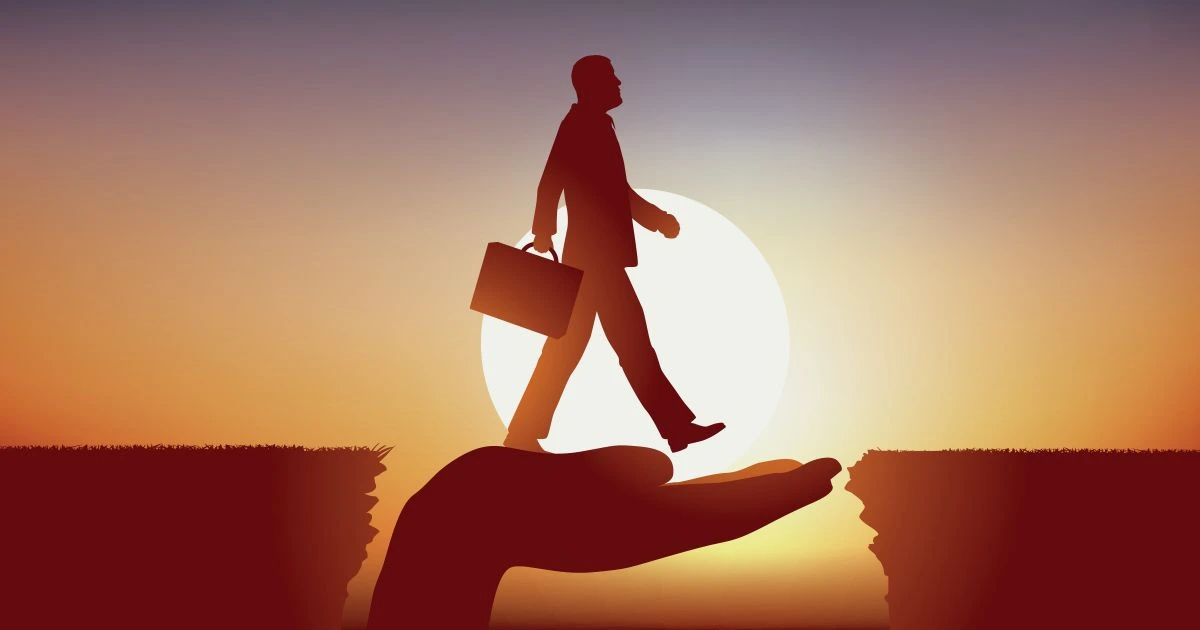 Helium 10's Frankenstein is the Vital Bridge Between Keyword Research and Amazon Listing Optimization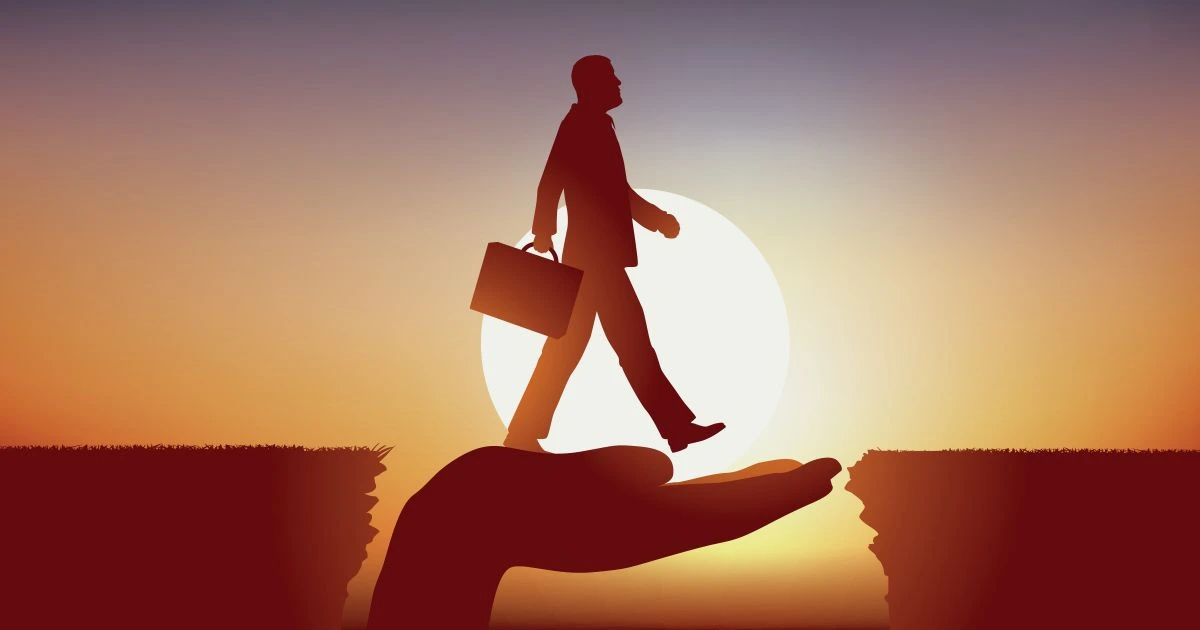 Helium 10 is All About Creating More.
More opportunities for Amazon sellers.

More tools to help you create success for yourself in eCommerce.

Helium 10 is known for its industry leading suite of software tools and just last week released four more.

If you're trying to make money selling on Amazon, more is simply better.

Until it's not.

When it comes to the business of generating data to help eCommerce sellers crush it on Amazon, it's easy to sometimes get carried away.

You've got to find a way to deal with this excess of data.

Because, there's such a thing as too much information.
---
This is Exactly Why You Need Frankenstein.
Helium 10's Frankenstein tool was designed to clean up massive keyword lists and turn them into traffic generators.
With Helium 10's Frankenstein you'll:

Save Time and Effort. Thousands of Amazon Keywords Processed in Seconds
Make sure that your hours of keyword research don't go to waste
Get insights into the individual keywords that are driving the majority of phrases that you've found
With Helium 10's Frankenstein, you can take a huge list of keywords (even thousands) and transform it into a more manageable group to use in your Amazon listing optimization efforts.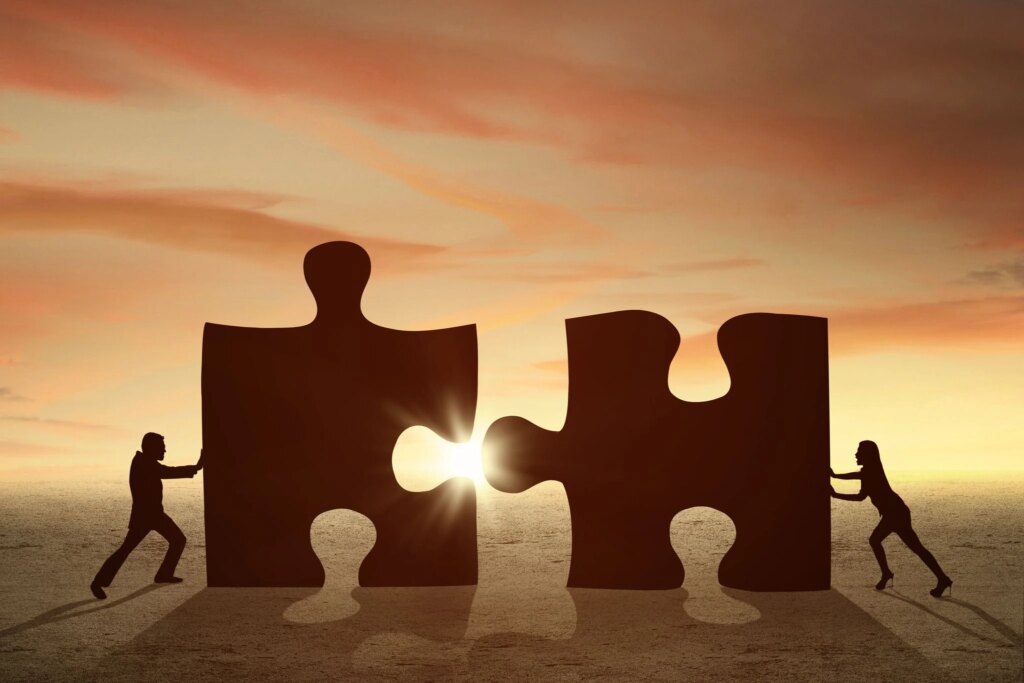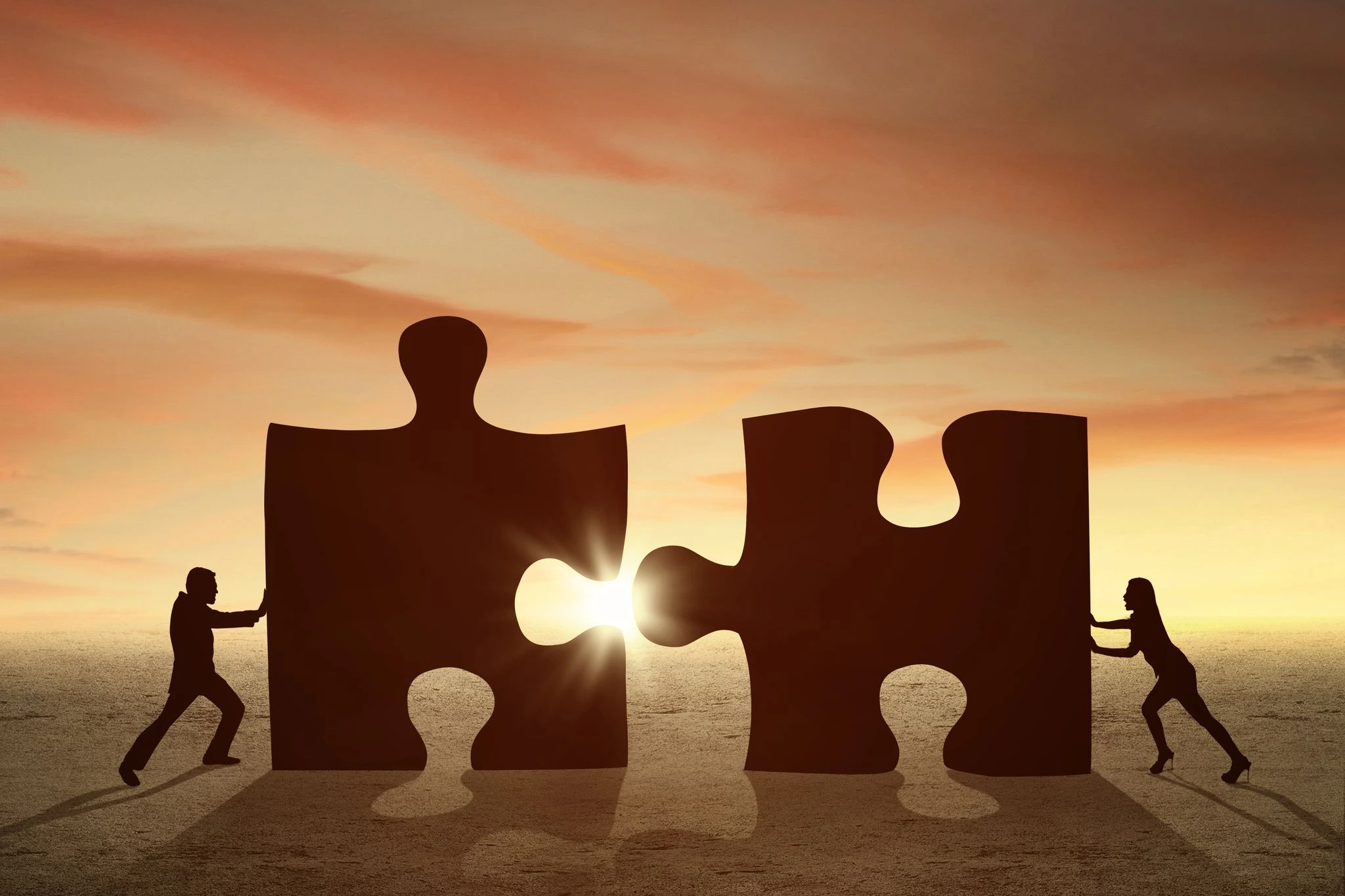 Our Frankenstein Plays Well With Others
It's impossible to write about Helium 10's Frankenstein without also considering our Magnet, Cerebro and Scribbles tools.
All those keywords have to come from somewhere.
As you conduct your keyword research, you'll be assembling a list of individual keywords and keyword phrases. These will come from your own research, from Google, and certainly from Helium 10's Magnet and Cerebro.
Make sure that as you put together this list, you're constantly copying it into Frankenstein (within the same session) so that later they'll all be in one place when it comes time to put them to use.
Frankenstein was designed to work in close partnership with Helium 10's other keyword tools.

When you're trying to identify keywords on Amazon, Helium 10's Magnet is the place to start. With Magnet, you will discover high-volume and highly relevant keywords for Amazon.

Or, you can work at it from the opposite direction with Helium 10's Cerebro.

With Cerebro, you can start with a product and discover which keywords your competitors rank for to optimize your listing and catapult your sales and conversion rate with a simple reverse ASIN lookup.

To start, we'll assemble a large group of keywords.

As an example, and because I love all forms of nut butter, we're going to use "nut butter" as a seed keyword.

I'll open my Helium 10 dashboard and navigate to the Magnet tool.

Magnet has the largest database of actionable Amazon-related search terms and long-tail keywords on the market.

With Magnet, all you have to do is enter a seed keyword and you'll get back a whole list of relevant keyword suggestions to give your organic traffic a solid boost.
I'll start by searching for keywords that are associated with "nut butter."
I've searched this before, but I'm going to select New Search to get the most up-to-date data.

This search has pulled in over 5000 keywords that are related to my seed keyword.

First I'm going to add a minimum number of 350 in the Search Volume filter, then click Apply.

That gives us filtered keywords.
How am I going to fit them all into my listing?
That's exactly what Frankenstein was designed to do.

We don't want Amazon to work any harder than it has to, do we?

To identify unique individual keywords, I'm going to go to the upper right hand corner of Magnet, and export this list of keywords to Frankenstein.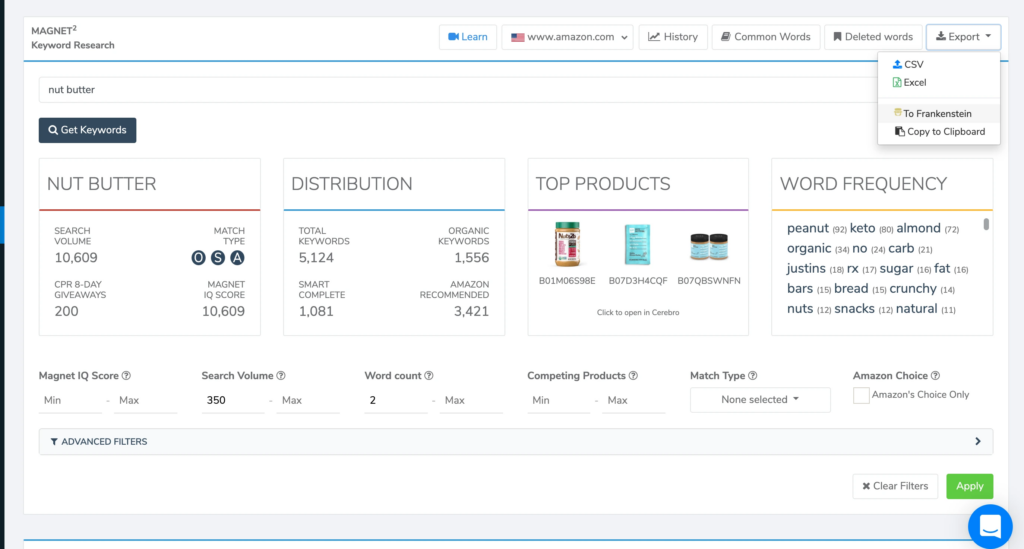 Here's what we end up with. We're looking at a list of 1320 total words.
To be searchable for these keywords, I don't need the entire phrases in my listing. I just need each individual keyword once.
We know there aren't 1320 unique keywords here. Look how many times we see the keyword "peanut" in the list of phrases above.
So, the first thing I'm going to do is filter to remove duplicates.

Then, I'll remove common words (like "a" and "the") as well as removing single letters.
This is what we get:

Better, but it's still a jumble of 245 words. Because we want our listing optimization tool, Scribbles to be able to view these words individually, we'll select one word or phrase per Line in the filter in the left hand Output Settings.

Now we're getting somewhere.
Here's something really cool!
If you want to see the keyword that appeared most often in the original 438 phrases from our search on Magnet, look at what I can do with the Frequency tab. All you need to do is select Include word frequency count in the Output settings on the left and this valuable information will show on your screen.

What's absolutely fascinating is the fact that for the seed keyword, "nut butter," the word, "keto" appears more than twice as often as the word, "nut" which was part of the original seed keyword itself.
Let's look at the keyword at the top of the list. The fact that "butter" appears in 249 of my original phrases means that just by having the word "butter" once in my listing, I could potentially be searchable for all 249 of those keywords. As long as I also have the other words that appeared in those phrases.

Now You See Why We Run the Data.
On the right in the Result column, we can filter for alphabetical sequencing with the ABC filter, you can also filter for the Length of the keywords to look more closely at either short, or long tail keywords.
We can look at the short tail keywords in this view.
Then click the Length button again and . . .
Here's the long tail keyword phrases.

If for any reason we need to exclude a keyword, we can easily filter it out right here:

But, now, let's put this organized list of keywords to use in your listing.

As I had described earlier in this post, Frankenstein (like the namesake monster) functions best when all the pieces come together.

Thinking of Frankenstein as the bridge; upstream we have Magnet, Cerebro, as well as your Google searches and the keywords that you've come up with yourself.

What's downstream is Helium 10's Scribbles tool.

Scribbles was designed to prevent you from accidentally excluding important keywords, Scribbles also makes creating your product listings so much easier.

It automatically populates a "used keywords" data field as you add a given keyword to your title, description, or bullet points. Unused keywords that have not been included in your title, description, or bullet points will remain in the "unused keywords" data fields to clearly remind you to include those keywords.

In order to put Scribbles to work, all you need to do is navigate to the bottom right of your Frankenstein screen and click the Scribbles tab. Your keyword list will appear in Scribbles.

Here's what it looks like:

Once you hit Apply, Scribbles will show your keywords and keyword phrases in a clear concise way allowing you to start to build your product listing.
By putting Helium 10's Frankenstein to use, we've taken a list of over 5,000 keywords and ended up in Scribbles, ready to assemble our listing with seven unique keywords and 12 keyword phrases.
In these challenging times, Amazon, as well as every other online marketplace is just going to continue to grow.
Helium 10 is here to help you every step of the way.
Frankenstein is included free with your Helium 10 subscription. So, if you are already a part of the Helium 10 family, make sure to put Frankenstein to work for you as soon as possible.
If not, with Frankenstein, Helium 10 has given you a very good reason to join the growing number of sellers that are using Helium 10 to crush it on Amazon.
Click here to try Helium 10 for free.
Achieve More Results in Less Time
Accelerate the Growth of Your Business, Brand or Agency
Maximize your results and drive success faster with Helium 10's full suite of Amazon and Walmart solutions.