Dominate Your Market with this NEW Competitive Insights & Analytics Tool
Are you ready to define and dominate your Amazon market? Here's how to use the newest and most powerful market tracking tool available!
Originally published on: October 10, 2022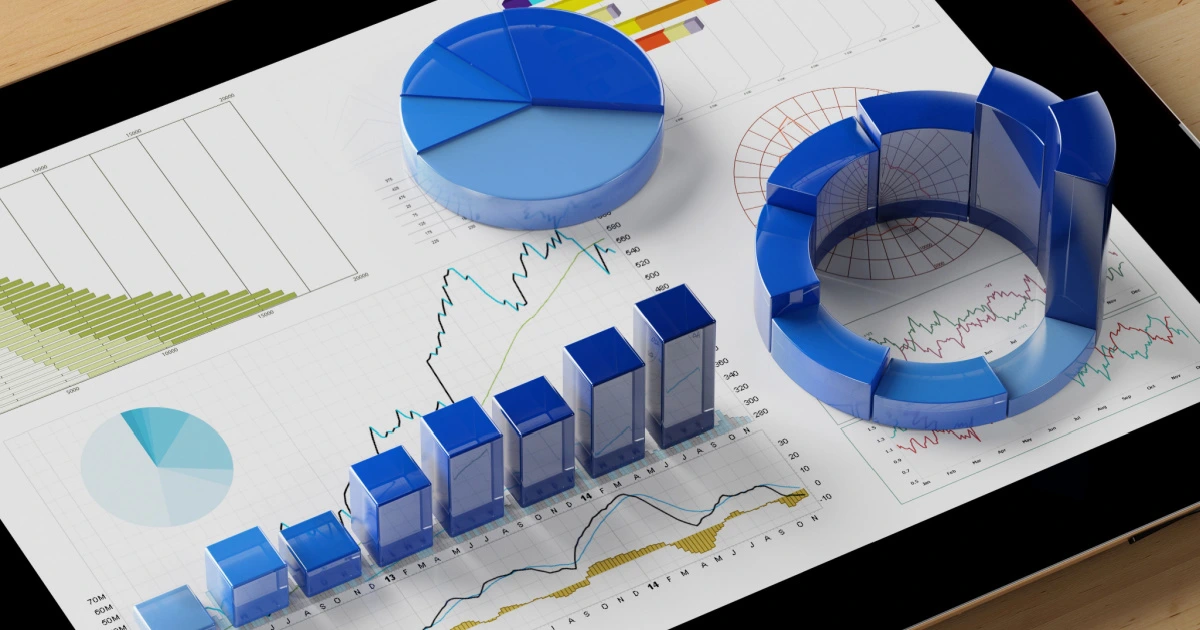 Ranking on page one for relevant, high-search volume keywords is great.
But what happens when you are in a marketplace that is just absolutely booming? If new competitors are flooding in left and right, you are left with a ton of information to track all on your own just to stay ahead of the rapidly changing landscape.
If you have not yet heard about it, Market Tracker 360 was designed for scaling sellers and large brands and businesses.
What's The Difference Between Market Tracker and Market Tracker 360?
For a refresher on everything we covered in our recent Market Tracker 360 webinar, read the overview here. We tackle the Market Tracker 360 launch and specifically what differentiates it from the original Helium 10 Market Tracker tool!
Let's Talk Dynamic Markets
Selling hundreds of products on Amazon means hundreds more competitors and multiple marketplaces to curate inside your Helium 10 account. Try mass-marking 200 products. 
Market Tracker 360 was built to fit your specific market. Once you've created your market, you can now just hit refresh, bulk curate, and allow our tool to find relevant products and add them to your market automatically.
How do you do that?
It begins with Market Create.
When you initially create a market, you have the option of inputting up to 15 keywords, only ASINs or a hybrid of keywords and ASINs. The search field accepts keywords as long as they have a search volume of at least 1000.
At the bottom is where you can turn dynamic markets on. You have access to an automatic updates tab.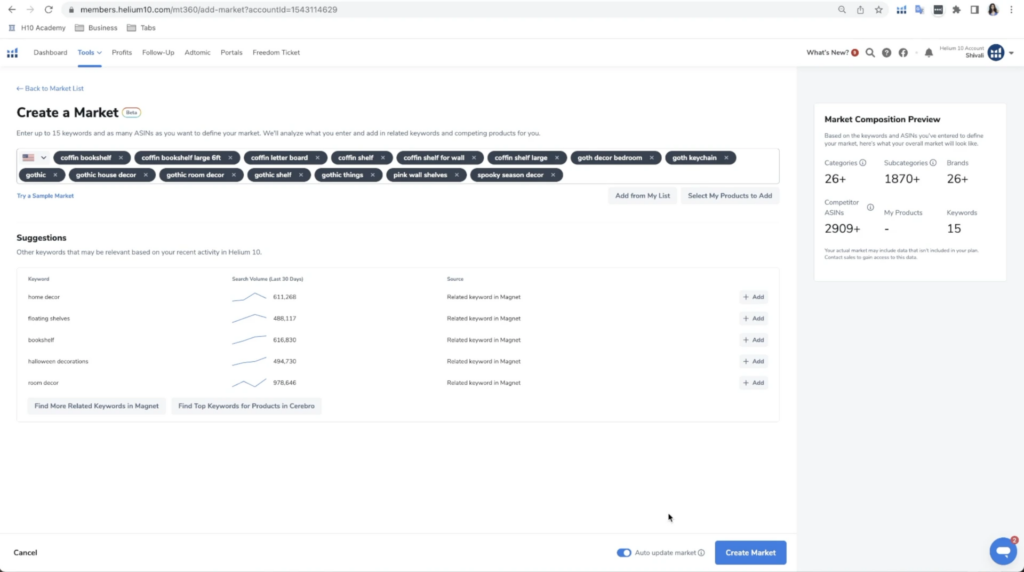 Automatic updates work for keywords and hybrid searches but keep in mind it cannot be enabled if it is ONLY ASINs by design because our entire market creation is from keywords. 
Meaning, based on the keywords you have entered, when there's a new product that relates to that keyword, we'll add it to your market for you. You can remove it or hide it from your market. Just know that similarly, you can also keep it around so it adds to the overall value associated with the filters, etc.
Improved Data Visualization and Rapid Accurate, Historical Context
Historical context allows a seller or aggregator to make informed and proactive decisions successfully. 
Maybe you're an aggregator or want to sell your business. You are most likely interested in analyzing the overall health of your market of interest in a couple of different ways. 
By going to the Overall Market chart inside of Market View, you can manipulate the data you want to see into a line chart, bar chart, or stacked area chart, as well as change the X and Y-axis variables to your liking, so you receive the best understanding of your market. This means VASTLY improved data visualizations to track how you stack up against the competition.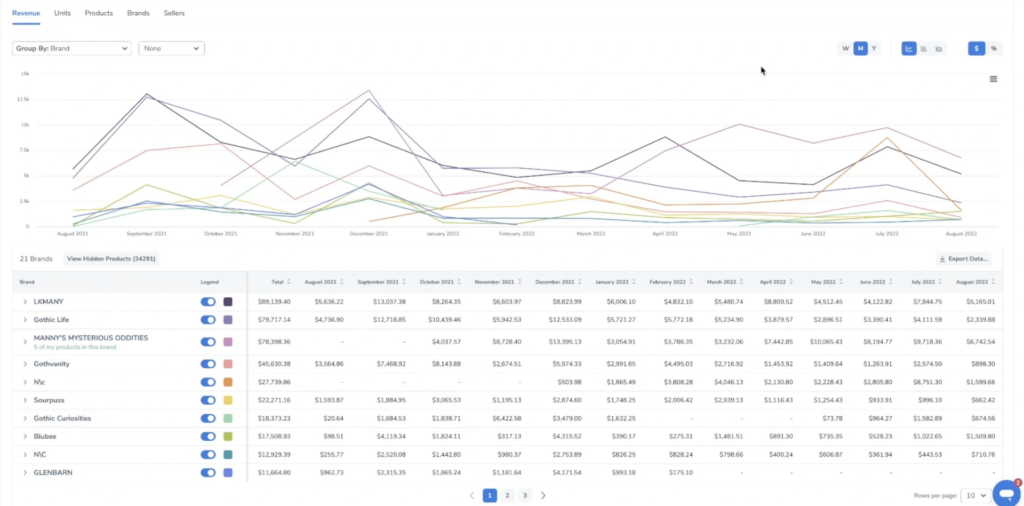 For instance, to see if you were trending upwards or downwards, you could group revenue by "none" under a one-year time span, study seasonality, and extrapolate if a market is healthy or worth breaking into over the last 12 months.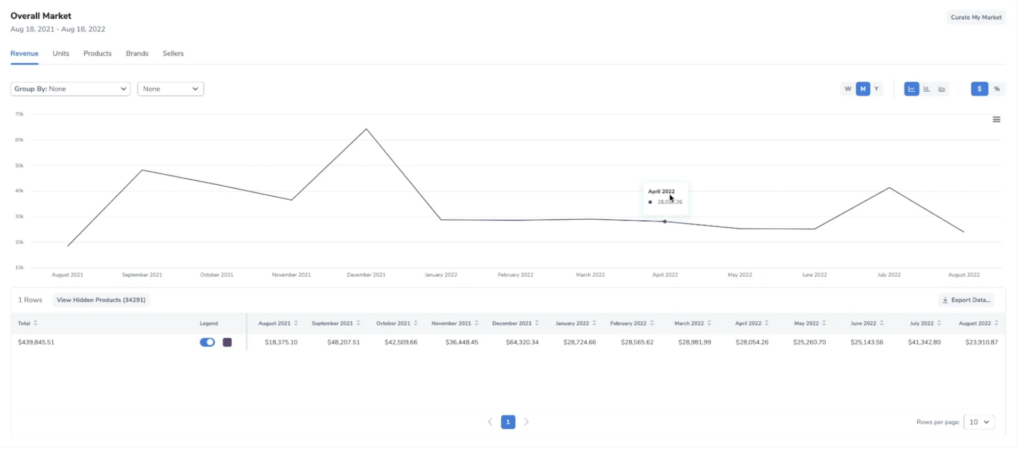 Or you could select year by year, month by month, or week by week to add more historical context to what you are looking at. These selections apply to both the units and revenue tabs.
Maybe you have selected a date range of two years at the top of your market view, have selected year by year, and are set on the week's tab – what you would see is two years of data by week and show you the rate of change from the year that's in question to the year before for the particular period in time.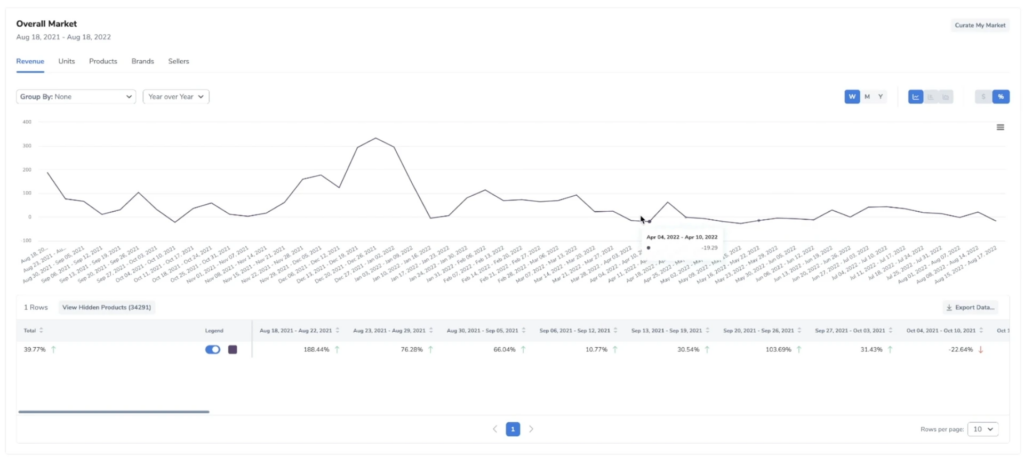 The following image showcases that although the health of the coffin bookshelf market was still in the green, there was some declining growth, but we were still increasing in sales overall. However, that was not the case in January.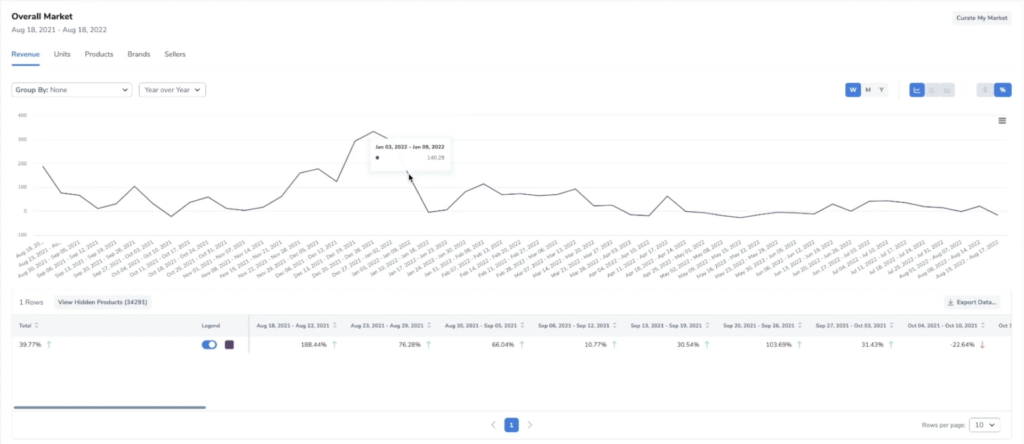 After you understand if your market is healthy, you could begin to dive deeper into the top brands in your space you may want to go after – whether it be for ad campaigns or to see which brands have the most successful products.
But unlike Market Tracker, with Market Tracker 360, you have more control over all the varying components here. Whether that be revenue by brand, by product, or another one of the options we provide.
Did We Mention… The Ability to Filter Down?
Market Tracker comes with the ability to curate and apply complex filters to hone in on areas of interest and opportunity.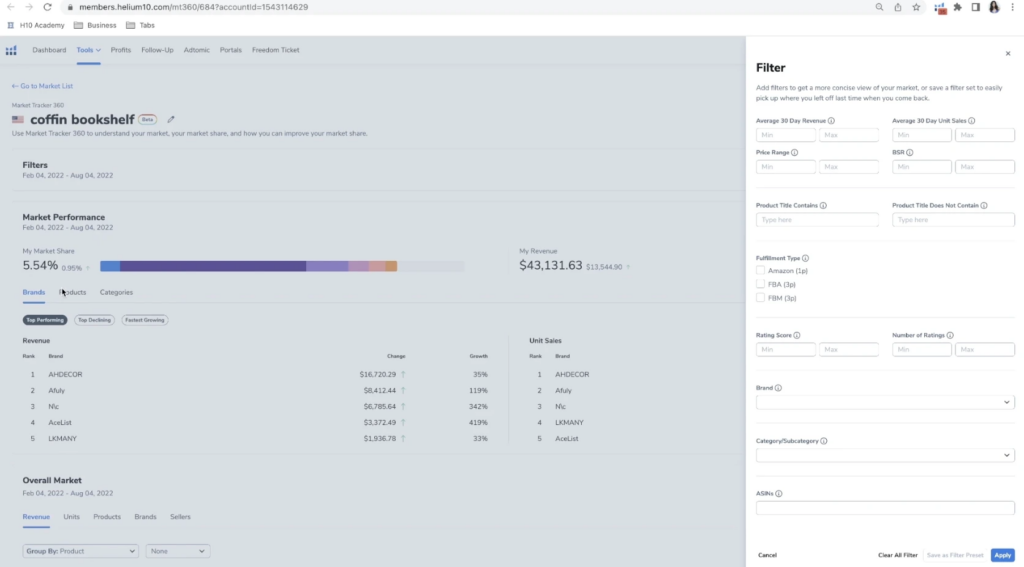 This means that, even if your product is in a subcategory where the product does not entirely line up, you could use filters like "Product Title Does Not Contain" or "Product Title Contains" to clean up the market you are analyzing.
Let's change gears and take a look at the Jade Tea Market.
Perhaps you want to compare and analyze individual products' historical sales and keyword information. You could do that too by bulk selecting a number of ASINs and clicking Add to Compare.

Adding the ASINs to compare would take you to a page that breaks down the individual listing scores. This allows you to compare revenue, pricing, BSR, unit sales, number of reviews, ratings, and shared keywords — alongside a handful more.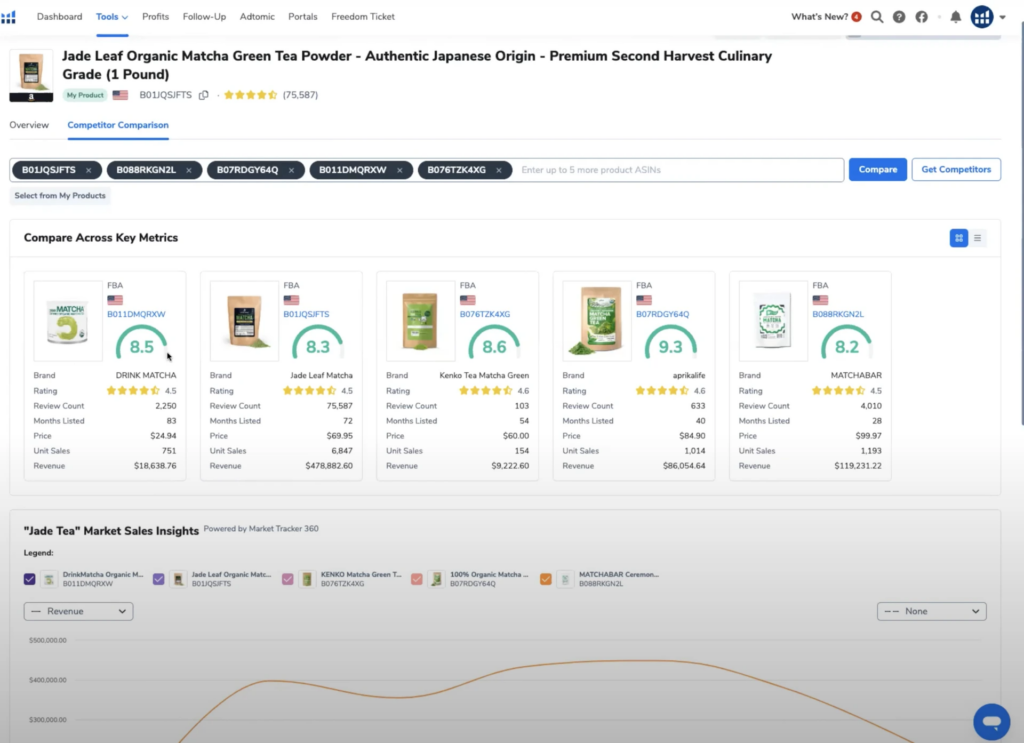 Exportable, Succinct Data
With Market Tracker 360, products with the same parent ASIN are rolled into one. You have the option to pick and choose if you want the variations to be added to the statistics.
Use the toggles to handpick what you wish to compare. We DO always roll up variations to the parent, so if you see a variation in the product count within the charts, you might need to take a closer look at the enclosed variations.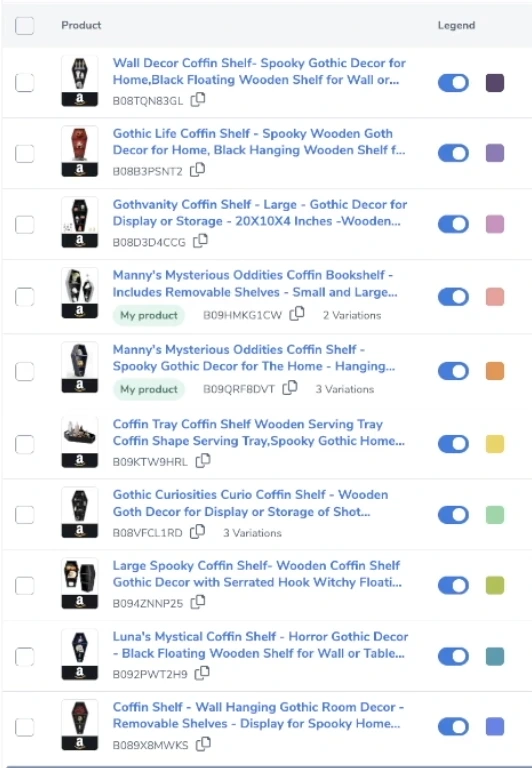 So, Which Is Better for Me: The Original Market Tracker or Market Tracker 360?
Well, that is up to you. If you prefer manual tracking, you are okay with only viewing your market at a product level and creating markets only based on up to 5 keywords, the original Market Tracker will still be wonderful for you. Depending on your account type, you have access to a certain number of markets inside of the tool anyways.
BUT – if you want dynamic tracking, rapid and accurate historical context, the ability to curate your market and data visuals, access to product comparisons, data exports, and everything else that comes with Market Tracker 360, I encourage you to sign up for a demo!
Here's to your success!
Everything for your business on Amazon.
Find out more about our products by signing up or speaking with one of our
Customer Success representatives today. With us in your corner, you can enjoy
more sales and increased engagement from your Amazon business.
Chat with a Support Specialist