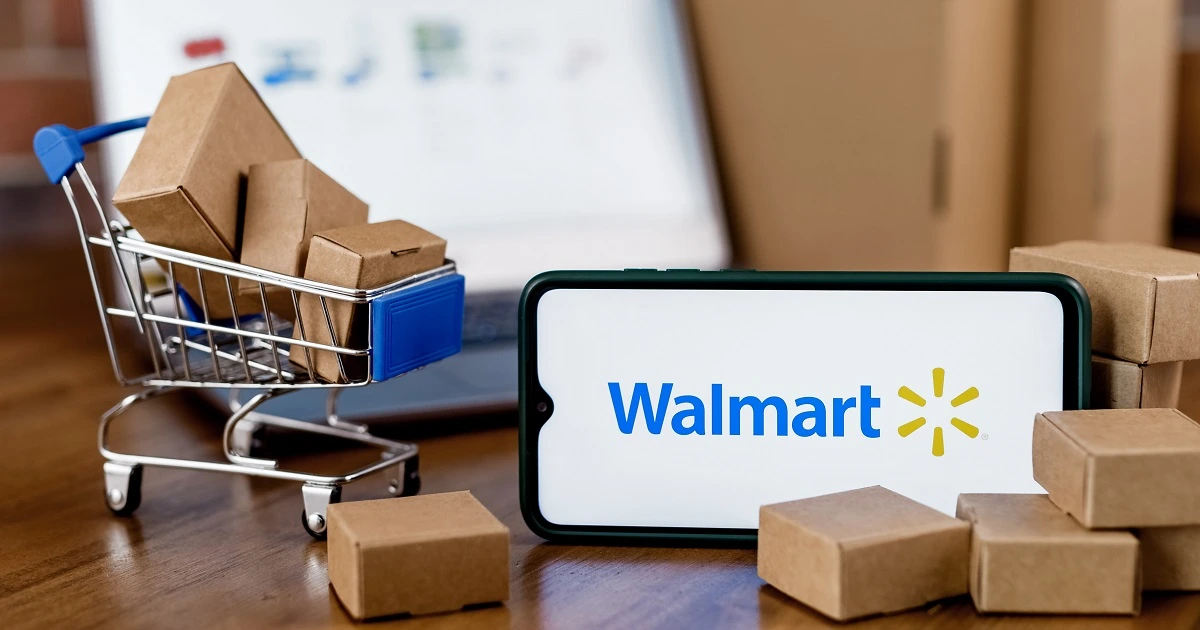 Expanding Your Amazon Game to Walmart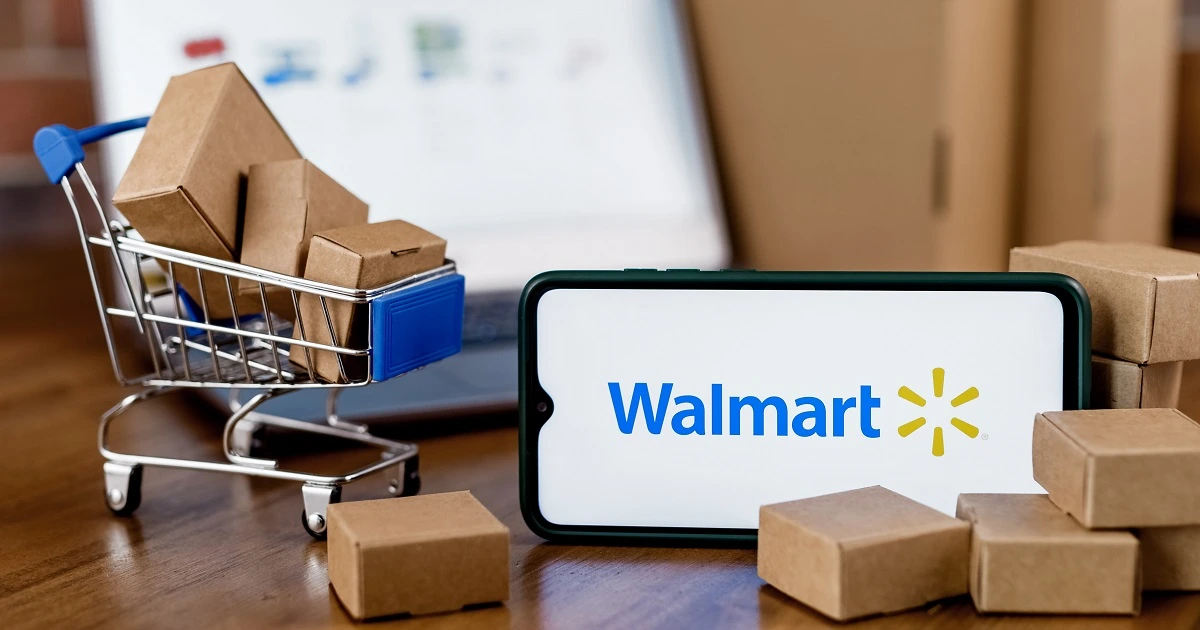 The buzz around the Walmart platform is not just hype or a hot new topic for industry experts to chatter about. The growth over the past few years has been consistently impressive and Walmart appears to be exciting and attracting customers, which attracts suppliers & sellers.
Why do customers love Walmart?
Convenience

Selection: Broad range of essential and discretionary categories
Fast shipping & delivery (without cost of membership)
Flexible returns (in store or online)
Mobile scan and go
Free curbside pickup


Value for – Budget conscious shoppers

"Save Money. Live Better"
Discounts on prescriptions
Discounts on gasoline
Walmart.com boasts 120 million unique monthly visitors, and as their e-commerce presence continues to grow in the coming years, vendors & sellers need to consider their strategy on the platform.
Being the world's largest omnichannel retailer, Walmart offers its sellers great features & benefits;
No monthly fees – only pay referral fees when products sell
Walmart Fulfilment Services – Drop-ship your orders if you can or leverage WFS
Partner programs & resources to help get started on the marketplace
Pick-up and delivery business will continue to grow in 2022

New services such as Walmart's GoLocal quickly gaining popularity

Heavily investing in state-of-the-art ad technology – marketing levers for sellers to increase sales
Less competition (less sellers) compared to Amazon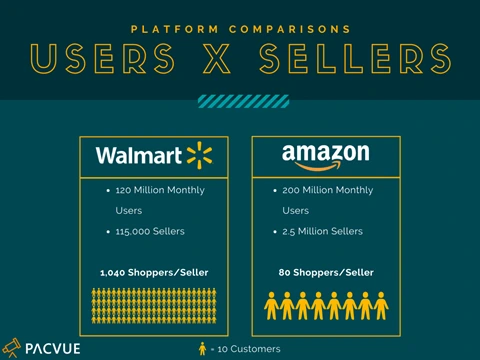 If you are interested in getting started on Walmart then you are likely already doing business on Amazon and/or other marketplaces. Let's take a crash course on Amazon's success so we can fully examine how this opportunity benefits sellers & suppliers making the jump to Walmart.
Amazon is the most prominent eCommerce retailer in the world and boasts the most mature & sophisticated retail media network. The force of the Amazon flywheel/ virtuous cycle appears unstoppable today. The model is a beautiful representation of the marketplace's cause of rapid growth over the years and a guide for other eRetailers to follow.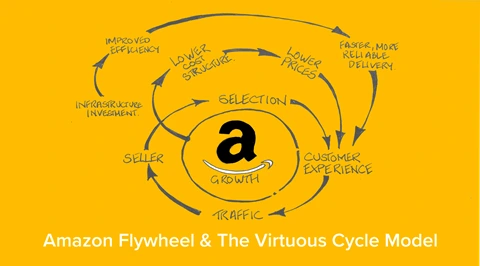 Walmart is the largest retailer in the US with 11,500 stores. Their brick & mortar flywheel is already humming. Since 2016, Walmart has been committed to growing its share of eCommerce and is building a competitive ad business to support that growth. Accelerating their e-commerce flywheel requires a broader selection of products in the marketplace, coming from a larger pool of sellers. This is a massive opportunity for Amazon sellers who have yet to expand their operations and reach the retailer.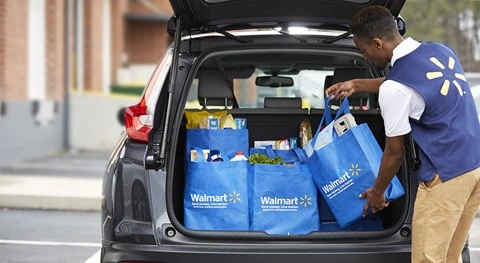 90% of Americans live 10 miles from one of Walmart's 11,500 stores. As physical stores evolve into hybrid stores with drop-shipping/fulfillment operations for e-commerce, this creates a unique advantage in the efficiency, speed, and reliability of delivery.
If you're succeeding on Amazon and want to expand your distribution, then your next sensible step may be to launch on Walmart.
Helium 10 recently launched Project W, a case study for Amazon sellers looking to expand into the Walmart marketplace. Project W is a 12-episode video series illustrating, with real examples, how to take an existing Amazon product and successfully expand into the Walmart.com marketplace.
Retailer Platform Similarities:
Though there are many differences between the two platforms, it's important to start with similarities as you get familiar with Walmart.com
Marketplace Basics
Get setup & sell products
Both retailers allow approved sellers to list their products on a marketplace. Providing a broader selection for customers to browse.
Both retailers charge a referral fee when products are sold. Cost of doing business on the marketplace.
Product performance depends on the demand for the product, and the quality of the listing & offer compared to similar available products.

Having a high converting listing is essential for reaching maximum sales
Explore our Walmart Retail Readiness Checklist for best practices
Checkout Helium 10's How to Create a Walmart Listing (9 min) for more details
Customer Satisfaction. Keep it simple – don't disappoint the customer.
Product must match the listing
Fast shipping & delivery

Both platforms offer fulfillment services
Retail Media (Advertising) Basics
Drive Traffic & Increase Sales
Once your listing is optimized for conversion, increasing the number of shoppers who view your product is the next step to increase sales.
Run promotions to increase the visibility of your products, the price decrease will increase the conversion rate, which will improve sales velocity and hopefully generate some reviews.
Drive external traffic to your product detail pages.
Paid Search (flywheel) – Help customers discover and purchase products that you sell with ads that appear in shopping results and on product pages.

Much like the Amazon virtuous flywheel, there is of course a PPC cycle that helps to increase/reinforce organic search rank & keyword relevancy.

The number one driver of the flywheel is conversions (paid+organic) for a product against the searched term.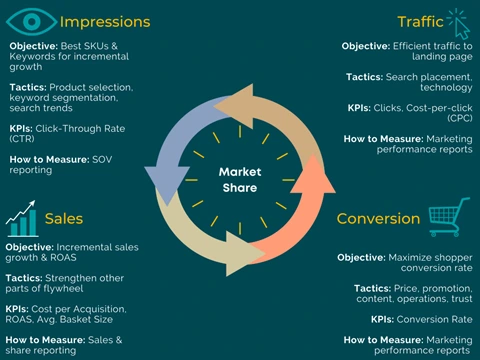 Run display media with the retailer, increasing the overall awareness of your products/brands.
Get Ready for Walmart Advertising – Cold-Start
Once you are set up and running on Walmart you will want to begin increasing the force of your paid search flywheel and see what type of sales sponsored products can bring.
1. Determine your business objective, advertising goal, and activation plan.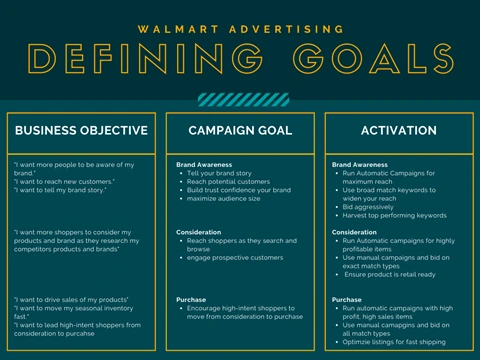 2. Determine Budget & Allocation
Budget Estimate
Spend 5-10% of Walmart sales on Walmart ads
Breakout your budget into different Ad Types
70% Auto | 20% Manual Keyword Camps | 10% SBA

Organize your campaigns by targeting type
30% Branded | 45% Category | 20% Competitor | 5% Other
3. Pre-Launch Playbook
Categorize Products
Group similar products for clean campaign setup, performance & reporting
Categorize Keywords
Take existing keywords from other ad networks and organize them into common buckets; Branded, Category, Competitor, Other
Define your campaign naming convention
Brand | Product | Ad Type | Targeting | Match Type
Define your campaign structure
1x Sub-Category of Products per Ad Group/Campaign
1x Auto Campaign
1x Branded Campaign
1x Category Campaign
1x Competitor Campaign
1x Other Campaign
4. Launch!
Start with the products and campaigns that are most likely to hit your goals.
Take advantage of all the free content that Pacvue & Helium 10 provide for more insights and best practices. Feel free to contact the author with questions or ideas.
Achieve More Results in Less Time
Accelerate the Growth of Your Business, Brand or Agency
Maximize your results and drive success faster with Helium 10's full suite of Amazon and Walmart solutions.