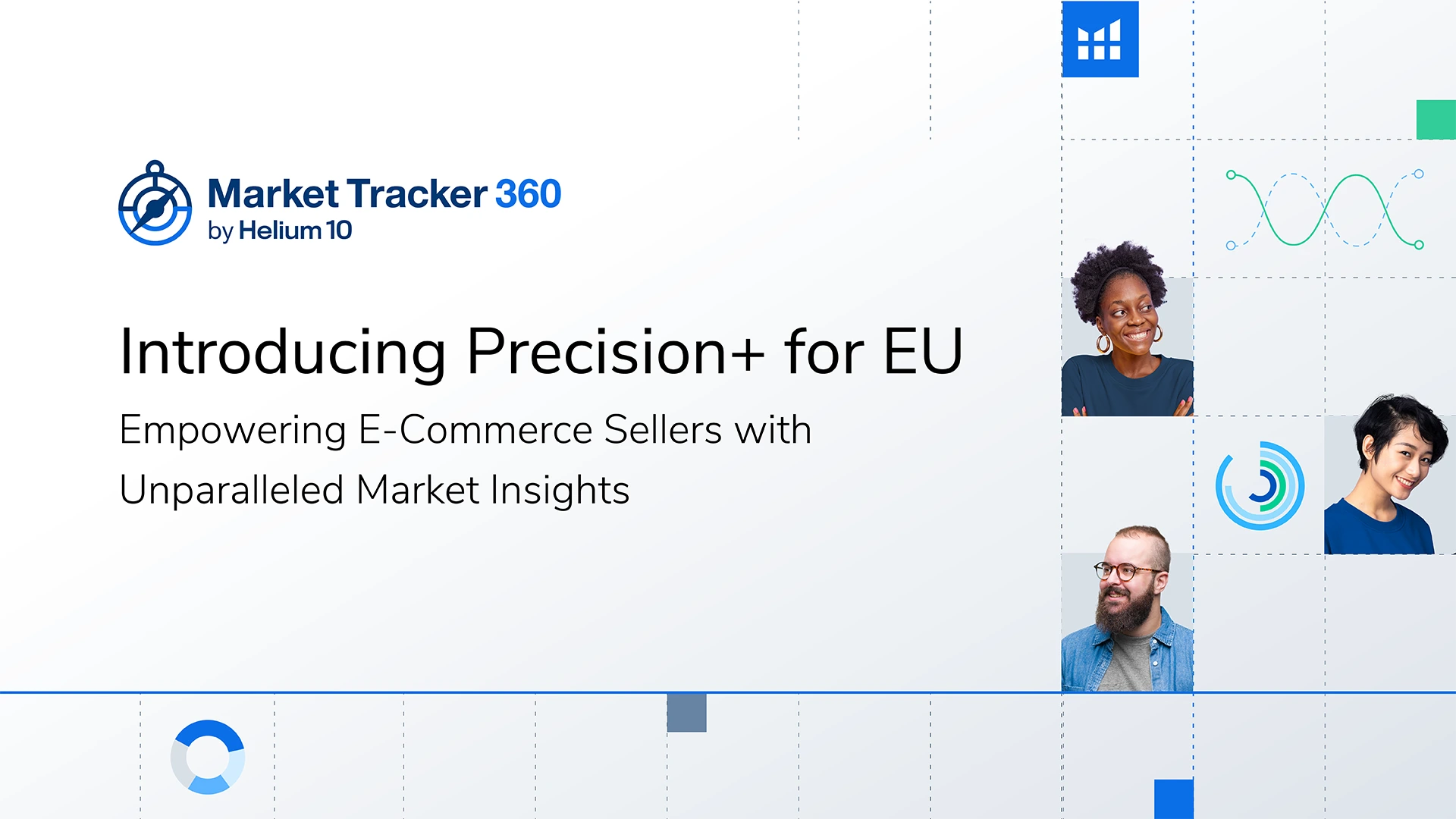 Introducing Precision+ for EU: Empowering EU E-commerce Sellers with Unparalleled Market Insights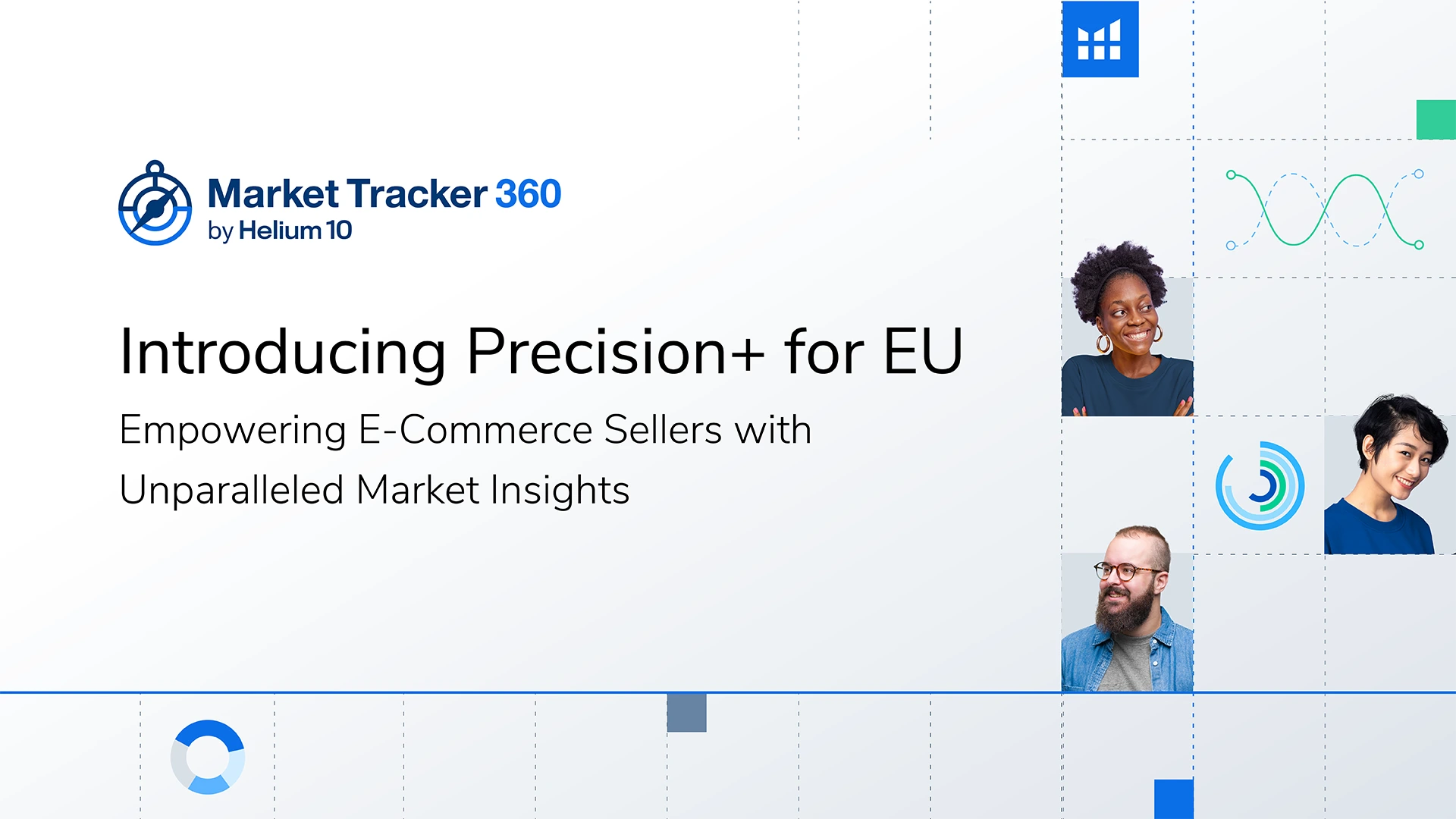 Helium 10, a trailblazing provider of e-commerce solutions for mid-market brands, is thrilled to unveil a groundbreaking addition to its product, Market Tracker 360, specifically tailored for our customers in the European Union (EU). Precision+, an innovative data model, is set to redefine how EU-based e-commerce brands analyze and optimize their strategies, offering unrivaled intelligence into the dynamic Amazon marketplace.
Harnessing the Power of Precision+ for EU
The ability to glean insights, identify trends, and make informed decisions has never been more critical. Market Tracker 360 has ascended to new heights of functionality and efficacy. As businesses navigate the complexities of the market, Amazon competitor research tools have risen to prominence, aiding in the quest for data-driven strategies. This rings especially true for EU businesses, and Helium 10 is proud to unveil a transformative upgrade to its Market Tracker 360, now integrated with Precision+.
This evolution is paramount for EU enterprises seeking to not only understand their customer base and market trends but to do so with the utmost precision. Precision+ breathes new life into data accuracy and analysis, empowering businesses to decipher nuances and seize untapped opportunities within the intricate landscape of Amazon commerce.
Enhancements Unveiled by Precision+ for EU
Variation-Level Sales Estimates
The heartbeat of any business lies in its inventory management. With the ebb and flow of seasonal shifts and market trends, accurate demand forecasting is indispensable. Precision+ introduces variation-level sales estimates, providing sellers and businesses with the insights needed to optimize inventory strategies and enhance profit margins.
Scalability
In a world where data drives decisions, scalability is the key to unlocking actionable insights. Powered by the new data model, Market Tracker 360 now effortlessly acquires, aggregates, and analyzes data at a speed and accuracy that sets a new industry standard. This iteration opens the door to accessing low-level data sets and historical data points, fostering refined estimations that set the stage for enhanced scalability and precision.
Simplicity in Complexity
The labyrinthine corridors of Amazon's data landscape can be overwhelming. However, Precision+ simplifies this journey, offering the most accurate estimations available on the market. As you navigate through the data, Market Tracker 360 becomes your trusted guide, interpreting Amazon's figures rapidly and accurately. This newfound clarity empowers you to not only make sense of the data but to harness it as a strategic asset for growth.
Rapid Historical Context
The past informs the present, and Market Tracker 360 now provides rapid access to historical market data, offering a treasure trove of insights that shape informed decisions. By delving into the annals of market history, you can anticipate market dynamics, understand the success factors behind strategies, and position yourself ahead of the competition.
Enhanced Data Visualization
The story of your market comes to life through data visualization. With Precision+, the Overall Market chart within Market View becomes a canvas where data is transformed into actionable insights. Line charts, bar charts, stacked area charts—these tools empower you to comprehend your market's ebb and flow, allowing you to not just observe but actively engage with your competition.
Embrace the Future of EU E-Commerce
Precision+ enhancements for Market Tracker 360 are a testament to the commitment to empowering EU e-commerce businesses. In a landscape defined by rapid shifts and complex data, this integration propels businesses toward strategic excellence. With Precision+, Helium 10 ensures that EU businesses remain at the forefront of the e-commerce revolution, armed with insights that enable not only survival but thriving in the ever-evolving marketplace. Step into a future where data intelligence reigns supreme—explore Market Tracker 360 with Precision+ today. 
Achieve More Results in Less Time
Accelerate the Growth of Your Business, Brand or Agency
Maximize your results and drive success faster with Helium 10's full suite of Amazon and Walmart solutions.