Amazon's Secret Weapon to Drive Traffic — Amazon Posts
Building a relationship with your customers is a cornerstone of any lasting Amazon FBA brand. Let's dive into product promotion through Amazon Posts!
Originally published on: November 22, 2022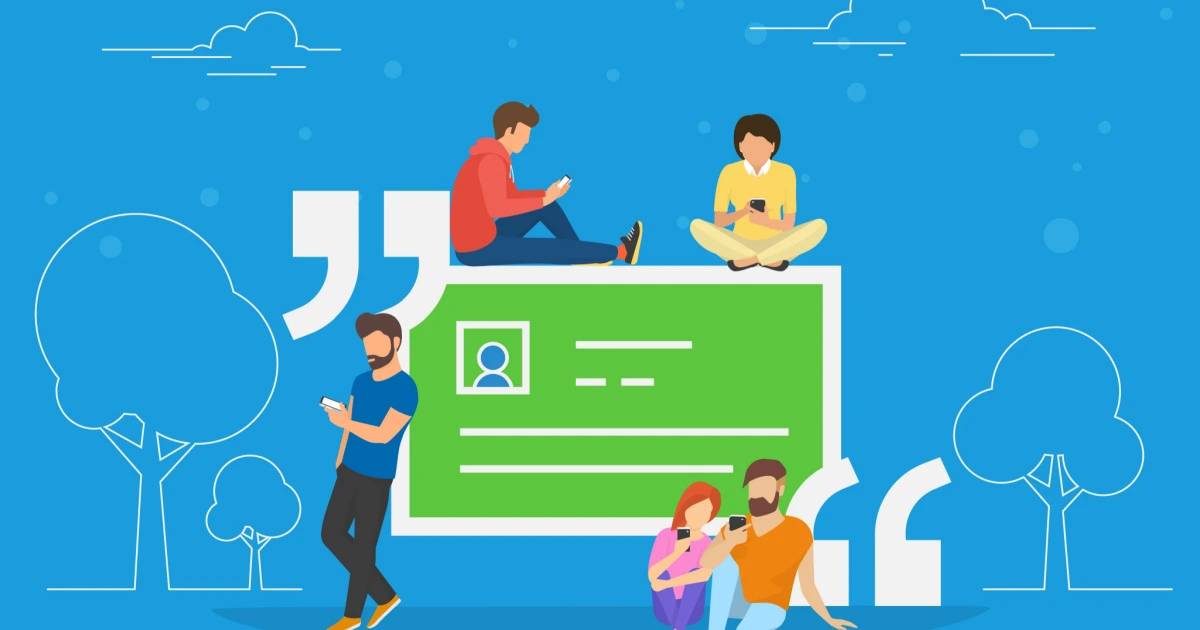 Amazon Posts Guidelines – How to Use Amazon Posts for Your Brand
As a behemoth of the e-commerce industry, Amazon can ignore the need for sellers to build brand loyalty on its platform in favor of providing speedy deliveries and cheap prices. But when Nike pulled out of its two-year-long pilot program with Amazon in June 2019, citing the inability to build a strong, personal relationship with its customers as the core reason for its exit, Amazon knew it had to address this issue, thus leading to the launch of Amazon Posts.
Read on for more information about Amazon Posts, Amazon Posts best practices, and Amazon Posts examples!
What is Amazon Posts?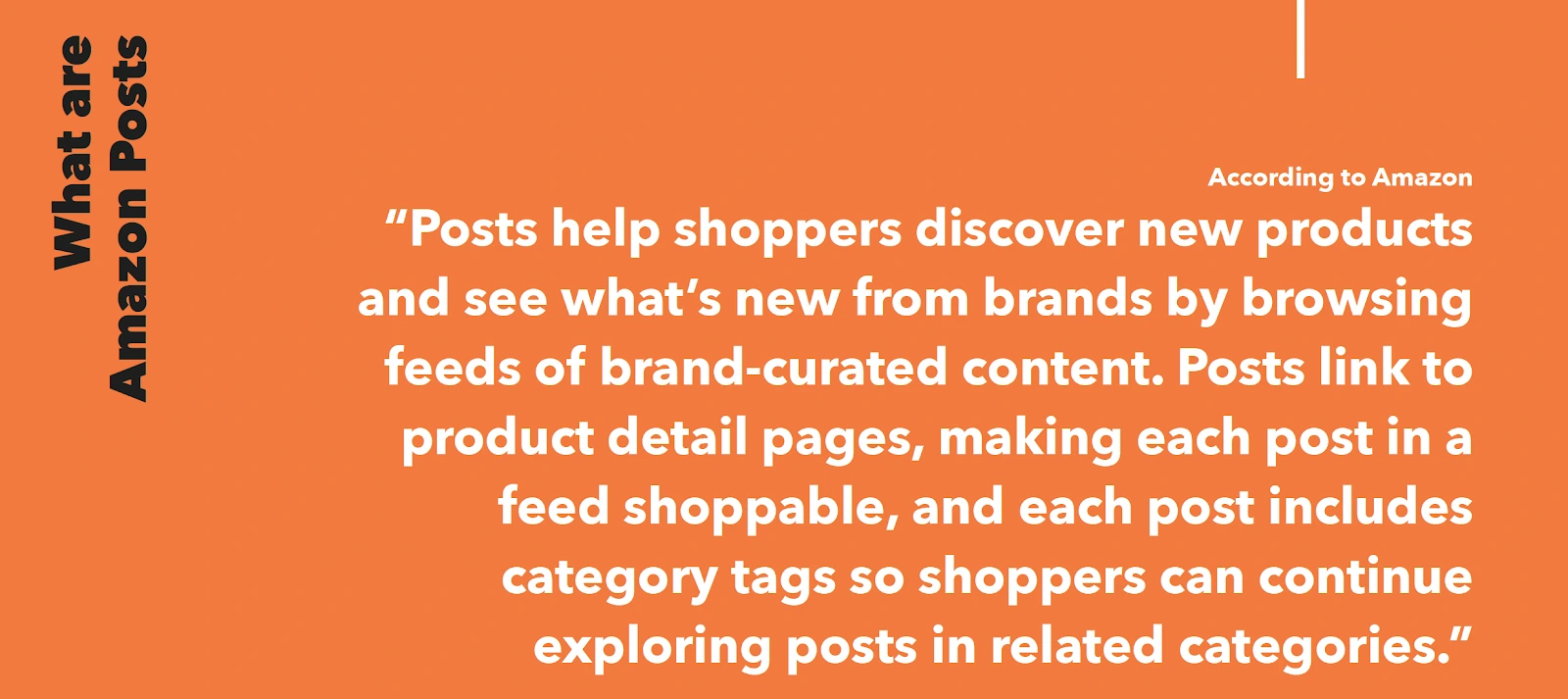 This is Amazon's second and latest attempt at a social media platform following its disastrous first attempt, "Amazon Spark," a feature that allowed Prime members to post and share images of items they bought on Amazon. Unlike Spark, Amazon Posts provides sellers control, allowing them to promote their products and brand in a new way. They can differentiate their brands from others and drive sales as they are able to target competitors' weaknesses.
Amazon sellers are always trying to utilize the best marketing tactics to drive traffic to generate sales and improve ranking to grow their business. With posts, Amazon has taken cues from social media's success in promoting brands and products through beautifully curated, image-driven feeds — "a new browse and discovery experience on Amazon focused on brand-shopping."
Shoppers can explore brand-specific feeds or browse by product category to discover products and see what's new from brands. Posts link to detail pages, making each post in a feed shoppable.
Amazon Posts Feeds – Why Should Brands Participate?
Create a Distinctive Brand Image: Through Posts, you can now establish your brand's unique identity, trust, and authority.
Build a Brand Culture: Right from creating inspirational content and using influencer images to cross-posting for your different products and everything in between, you have complete freedom to market your products as you please.
Unlimited Posting: There is no limitation to how many posts you can upload for your brand, making this an easy way to get higher impressions for your product.
Target Your Competitor's Audience: The best part about Amazon Posts is your competitor's customer base will view all your posts, thus helping you reach your target audience. Presently, sellers do not have a choice where or which competitors they can target.
Shoppable Posts: Unlike other social media platforms, shoppers can scroll through a carousel of Posts that each direct back to the brand product-detail page with the option to buy the product
Free: Best of all, Posts is free to participate!
Where Do Amazon Posts Show Up?
It is important to know that currently, shoppers may only view Amazon Posts on a mobile device within the Amazon App. There are four different places in which an Amazon Post can be viewed: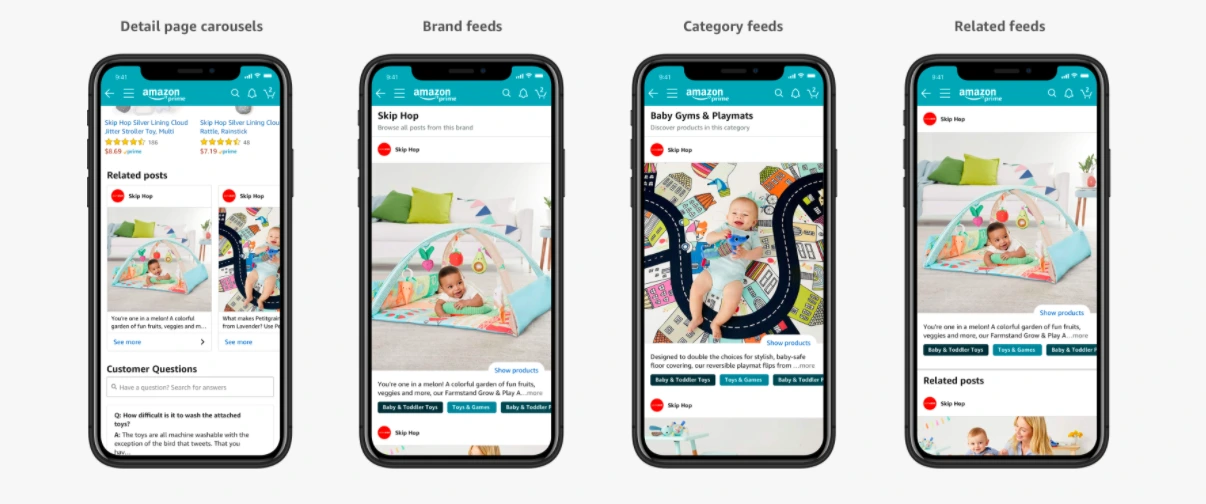 Detail Page Carousel: You'll see this carousel on every listing page of a brand that has Posts enabled. It's placed right above the Questions section and showcases up to 10 related posts.
Brand Feeds: If you click on the brand name in the Detail Page Carousel, you'll reach the Brand feed section of the brand. This is a vertically scrollable section that showcases all the posts created by the brand, where you can not only read the entire post caption but also view the categories that the featured product belongs to.
Category Feeds: By clicking on the category of a post, either from the Brand Feed or the Related Feed, it takes you to all related posts by products belonging to the same category.
Related Feeds: When you click on the image or the "See More" section of a post on the Detail Page Carousel, you'll see all the details of that post along with all related posts (by various brands), in a vertical-scroll mode.
The best part about Amazon Posts is that, unlike other Social Media platforms, Amazon makes it easy to buy the featured product in a post. All you need to do is to click on the "Show Products" link, available on the posts featured in Brand Feeds, Category Feeds, and Related Feeds, which shows you a summary of the product and the star rating, which you can click on to get to the page of the product.
However, users have no control over where their post will be featured, as Amazon decides which feed posts will be published on.
How to Get Started With Amazon Posts
Amazon Posts is currently limited to brands that are enrolled under Amazon Brand Registry and have a store on the U.S. Amazon.com site.
If you meet the above criteria, here's what you can do to start your Amazon Posts journey:
Login to your SellerCentral Account
Head to User Permissions
Click on "Enable" under Posts to enable this feature.
Creating your Brand Profile for Posts:
Visit posts.amazon.com
Sign in to Posts using your existing SellerCentral login
Create a profile

Verify your brand name
Upload your brand's logo

Your profile is all set! You're now ready to start posting.
Once those few simple steps are completed, you can start publishing posts by uploading photos, captioning them, and tagging related products.
Only single images can be displayed, which is optimal as each image is branded and meant to get users to click straight to your listing with the Show Product tab. Engagement is easily improved by uploading lifestyle and/or product-focused imagery. This helps a customer understand exactly what you are selling quickly, and the first time they come across your Posts.
Amazon Posts Examples – The Anatomy of an Amazon Post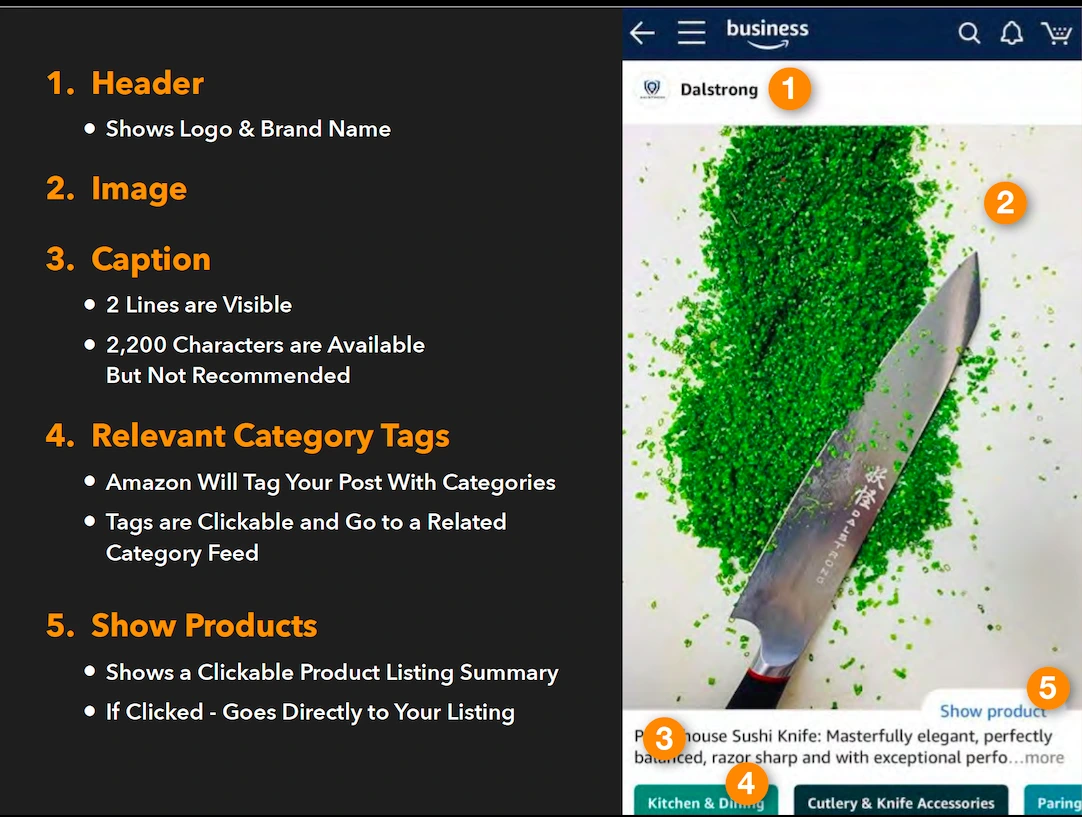 Every Amazon Post has five elements:
Header: Which showcases the Brand Logo and Name. Displayed at the top of each Post.
Image: An exciting image that captures the viewer's attention.
Caption: Text showcased right below the image, with two lines visible. While it has a 2,200 character limit, we recommend sticking to shorter captions.
Category Tags: Amazon auto-tags posts with relevant product categories, ensuring that your posts are visible in a related Category Feed.
Show product button: When clicked, it automatically shows the product listing and rating to easily learn more and visit the product page.
Amazon Posts Strategy – Types of Amazon Posts
The great thing about Posts is that you can take several angles to promote your products — there are no limits!
Here are a few things that we recommend:
Use Lifestyle Images: Using lifestyle images and candid photos provides you with better engagement, as people tend to look for realistic posts that they can relate to.
Create Social Proof: Depending upon the type of product you're selling, create posts and images that show that your product can be trusted. A good example of this would be, if you're selling kitchen knives, having lifestyle images featuring chefs using your product.
Highlight Features, Benefits, How to's: Draw attention to the various features of your product by creating content that highlights its features, talks about its advantages or even shows how it can be used.
Repost from Instagram and Facebook: While you can't ask questions, create polls, and write lengthy posts on Amazon, you can still repost the visual content you use on your other platforms using a tool such as Repost. This way, you can repurpose content without having to create new posts and maintain a consistent brand language across all the different platforms you use.
Explore Different Aspect Ratios: Amazon Posts allows you to use images in 1:1, 16:9 and 4:3 ratio. By switching up between these ratios for your different posts, you can gauge audience reaction and explore what works for your brand and what doesn't.
How to Create Amazon Posts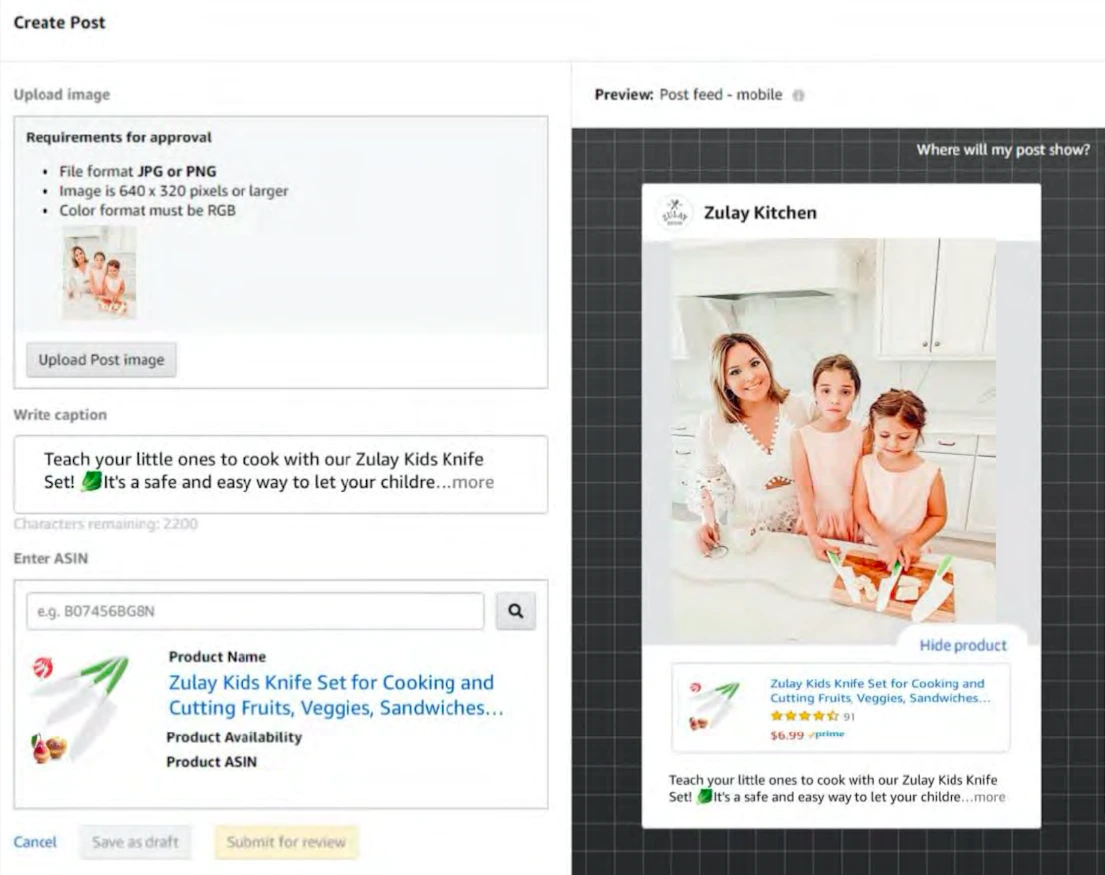 Creating a post is incredibly easy. Here are the steps for you to follow:
Go to posts.amazon.com and sign in to your account.
Click on the "Create Post" button
Once the page loads, fill out your caption, upload your image, add your product ASIN and you're all set!
Track Your Amazon Post Performance
While Amazon Posts may not have a dashboard that's as sophisticated as Facebook, it does offer enough information for you to gauge the performance of all your posts.
The parameters that show up include:
Date Created
Post Status
Image
Caption Preview
ASIN
Impressions
Engagement – (Just changed from Clicks)
CTR%
Actions
With the help of this data, you'll be able to understand what kind of posts your audience responds to, test out variations in images and captions to see what clicks, and look at the impact of these posts in helping you build a brand following on Amazon.
Amazon Posts Best Practices
Ultimately, the success of Posts will be if Amazon shoppers engage with the platform in the first place. However, starting early can have a huge impact on later performance, especially since we're already seeing a correlation between high post impressions and sales.
Assuming they do, making posts work as best as they can is important.
Post Multiple Times a Day: As a brand new platform, there are still no hard and fast rules about what works and what doesn't on Posts. Therefore, the more posts you put up, the more eyeballs you grab and the more data you have to understand what works for your brand.
Use High-Quality Images: As with any social media post, images are what initially catches the consumer's attention and gets them to stop and read (and hopefully buy!). Use everything from lifestyle images to candids to build a great brand story.
Create Compelling Captions: Since Amazon only shows the first two lines of your post by default, create attention-grabbing headlines that help define your brand right at a glance.
Keep Testing: Once posts have been up for a couple of weeks, check the Amazon Post's metrics. Use them to learn which type of pictures, headlines, copy, and length of copy the audience most responds to, and then replicate the highest performers in new posts.
The Pros
It's Free: Free brand exposure on the world's largest shopping search engine can never be a bad thing
Unlimited Posts: Add as many posts to fill the Related Products and Products Categories fields to get ahead of competitors
Unlimited Life: As long as Amazon Posts is around, all posts will remain on brand listings
Placement on Competitor's Listing
The Cons
Time Consuming: Amazon Posts recommends posting as frequently as on other social media platforms
Revenue Metrics: No insights are available to know if people are buying after clicking through on listings
Amazon Decides Placement: Not being able to choose where posts appear nor choosing the tags attributed to posts are big negatives
Cannot like, follow or vote on Amazon Posts
Conclusion
It's still in the early days, but Amazon Posts gives sellers a social media-like platform to grow brand awareness and connect with potential customers. By putting in the time and effort now by posting regularly, eager sellers will gain an advantage over their competitors that are not using it.
By combining the three pillars of Amazon marketing — PPC, combined press release and rebate campaigns, and Amazon Posts, sellers now have a surefire Amazon launch strategy in their hands.
Frequently Asked Questions
Everything for your business on Amazon.
Find out more about our products by signing up or speaking with one of our
Customer Success representatives today. With us in your corner, you can enjoy
more sales and increased engagement from your Amazon business.
Chat with a Support Specialist