Download Reviews From Amazon in a Flash with Review Downloader!
Review Downloader by Helium 10 allows sellers to download Amazon reviews quickly from competitor listings and spend more time creating a better product.
Updated on: January 19, 2023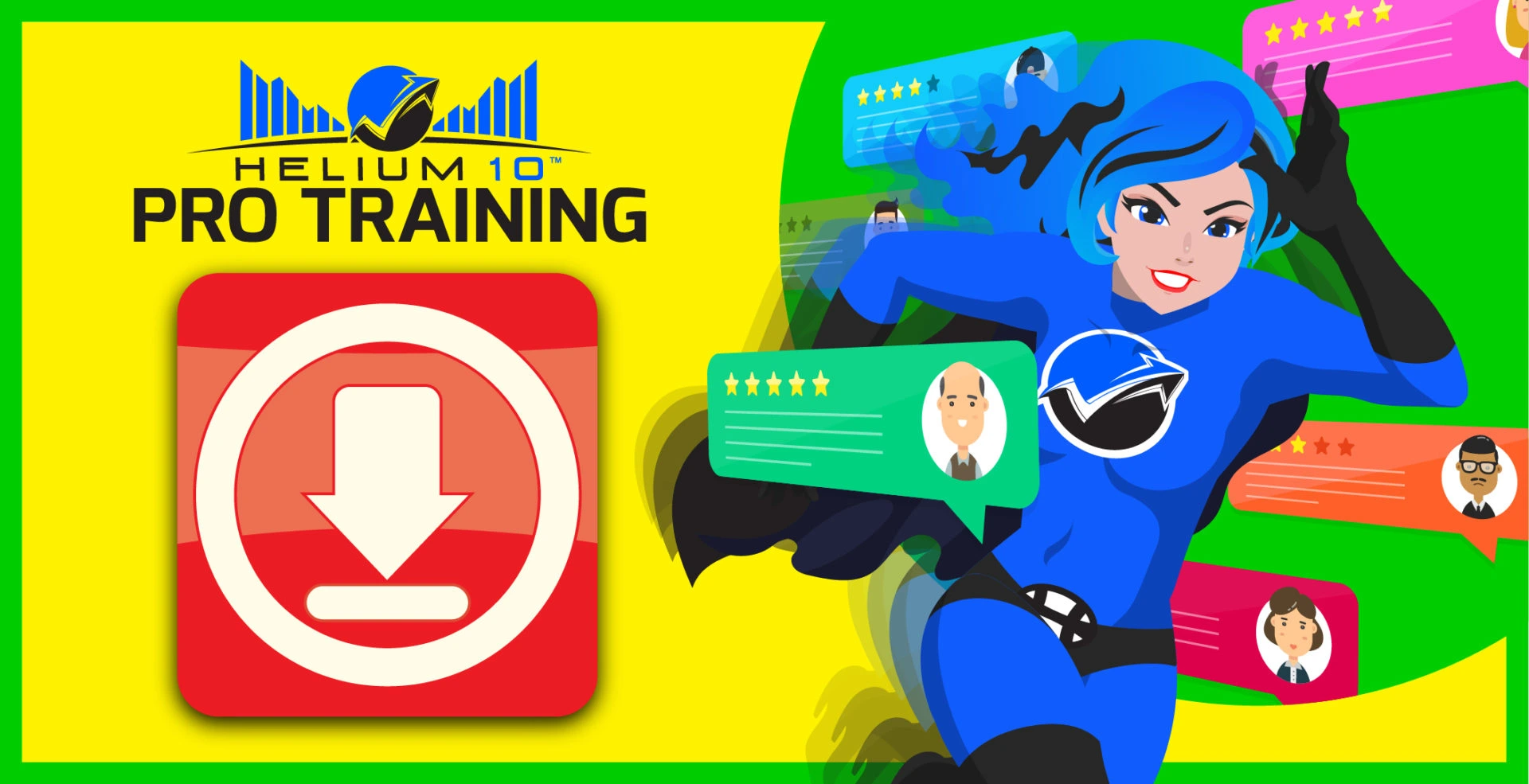 If you are a private label seller on Amazon, the ability to download Amazon reviews from your competitors would be amazing, right?
Right now, if you are looking to check out what negative things customers are saying about your competitor's products, it's quite a process.
In addition to performing product research on your competitors (we highly suggest using Cerebro for its reverse ASIN lookup attributes), you need to painstakingly copy and paste ALL the reviews into a database or spreadsheet before you can analyze any data.
Individually copying and pasting reviews can take hours, even if you assign the task to a VA. Why not get all that work done in only seconds? Now you can through Review Downloader, the best and most efficient way to download Amazon reviews!
This handy tool is part of the Helium 10 Chrome Extension available in the Chrome Web Store or when you sign up for Xray. Review Downloader aggregates all reviews from a designated ASIN within seconds.
With such fast speeds, you can concentrate on building a consensus on the problems competing products have so you can use the information to build a better product.
Check out this quick video about how best to use Review Downloader to download Amazon reviews from competitors:
Make sure you have installed the Helium 10 Chrome extension.
DOWNLOAD HELIUM 10 CHROME EXTENSION HERE
PLEASE NOTE: The tools in the Helium 10 Chrome extension are contextually activated when on Amazon.com, including the passive ASIN information on product pages. Review Downloader, Xray, ASIN Grabber, and Inventory Level will be grayed out unless you are on the correct page for their usage.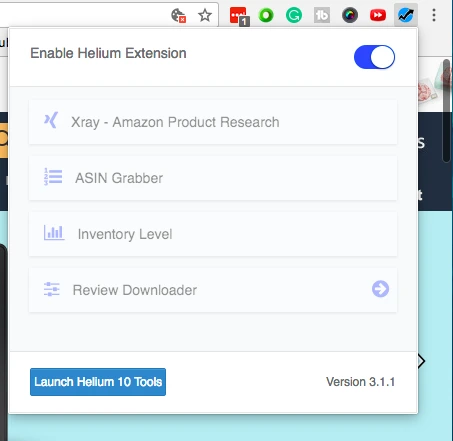 When you have found a product page for an ASIN you would like to download Amazon reviews from, click on the Helium 10 icon in the upper right-hand corner of the browser to open the extension menu.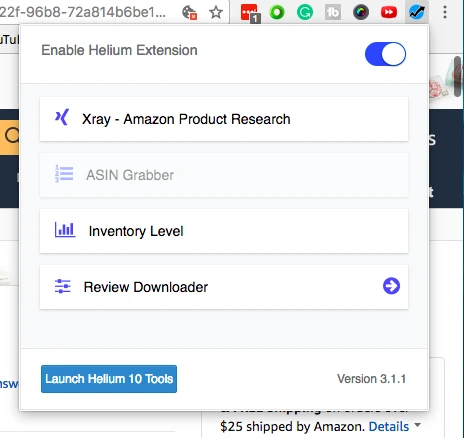 Click the blue arrow next to Review Downloader to expand the options menu.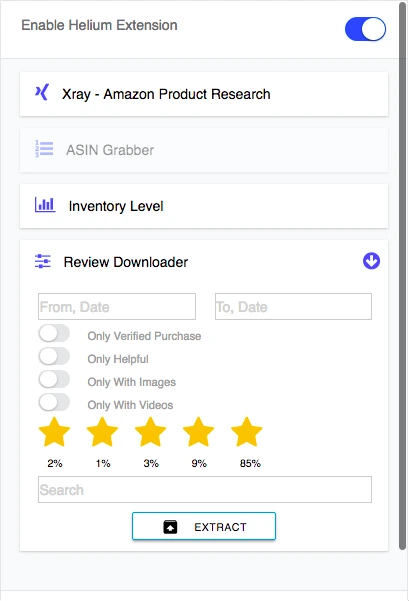 From this menu, you can narrow or widen your downloaded results in the following ways:
Get reviews within a specific time frame.
Select to download reviews only from Verified Purchase customers.
Select to download reviews marked Helpful.
Select to download reviews Only with Images.
Select to download reviews Only with Videos.
Select to download reviews that range between 1-5 stars (percentage of total reviews bearing each rating is provided).
Search reviews that contain a designated keyword(s).
Once your parameters for Review Downloader have been set, click the Extract button to begin the download. The process should take several seconds depending on your internet speed.
Once completed, the results will come in the form of a CSV file and can be viewed as a spreadsheet for you or an employee to dive into for juicy information to gain a competitive edge over your competition.
Frequently Asked Questions
---
If you're not a Helium 10 member yet and you sell on Amazon, what's holding you back?
SIGN UP HERE TODAY TO START ACCELERATING YOUR AMAZON BUSINESS
Get more Helium 10 updates by giving us a "Like" on our Facebook page: https://www.facebook.com/Helium10Software/
Want to see more Helium 10 Pro Training tutorials? Check out the rest of our videos on the Helium 10 YouTube channel! Don't forget to subscribe for regular updates!
Want to absolutely start crushing it on Amazon and make more money? Follow these steps for helpful resources to get started:
Get the Ultimate Resource Guide from Manny Coats for tools and services that he uses every day to dominate on Amazon!
New to Selling on Amazon? Freedom Ticket offers the best tips, tricks, and strategies for beginners just starting out!
CLICK HERE TO SIGN UP FOR FREEDOM TICKET
Trying to Find a New Product?
Get the most powerful Amazon product research tool in Black Box, available only at Helium 10!
Want to Verify Your Product Idea?
Use Xray in our Chrome extension to check how lucrative your next product idea is with over a dozen metrics of data!
GET THE HELIUM 10 CHROME EXTENSION
The Ultimate Software Tool Suite for Amazon Sellers! Get more Helium 10 tools that can help you to optimize your listings and increase sales for a low price!
CLICK HERE TO GET STARTED TODAY
Protect Your Amazon Brand with a Trademark!
Protecting your brand from hijackers is vital. SellerTradmarks.com provides a streamlined process for obtaining a trademark for your business and shielding your products from fraud!
CLICK HERE TO GET YOUR TRADEMARK
Ready to Get Serious About Your Amazon FBA game?
The Helium 10 Elite offers cutting edge training for advanced Amazon sellers who are ready to grow their business and take it to the next level.
CLICK HERE TO JOIN HELIUM 10 ELITE
Does Amazon Owe YOU Money? Find Out for FREE!
If you have been selling for over a year on Amazon, you may be owed money for lost or damaged inventory and not even know it. Get a FREE report to see how much you're owed!
Everything for your business on Amazon.
Find out more about our products by signing up or speaking with one of our
Customer Success representatives today. With us in your corner, you can enjoy
more sales and increased engagement from your Amazon business.
Chat with a Support Specialist