Keyword Chaos: Crazy Ways to Optimize Your Listing
7-figure Amazon seller and industry influencer gives her top Amazon keywords tips. Learn how to do Amazon keyword research like a pro.
Updated on: February 7, 2020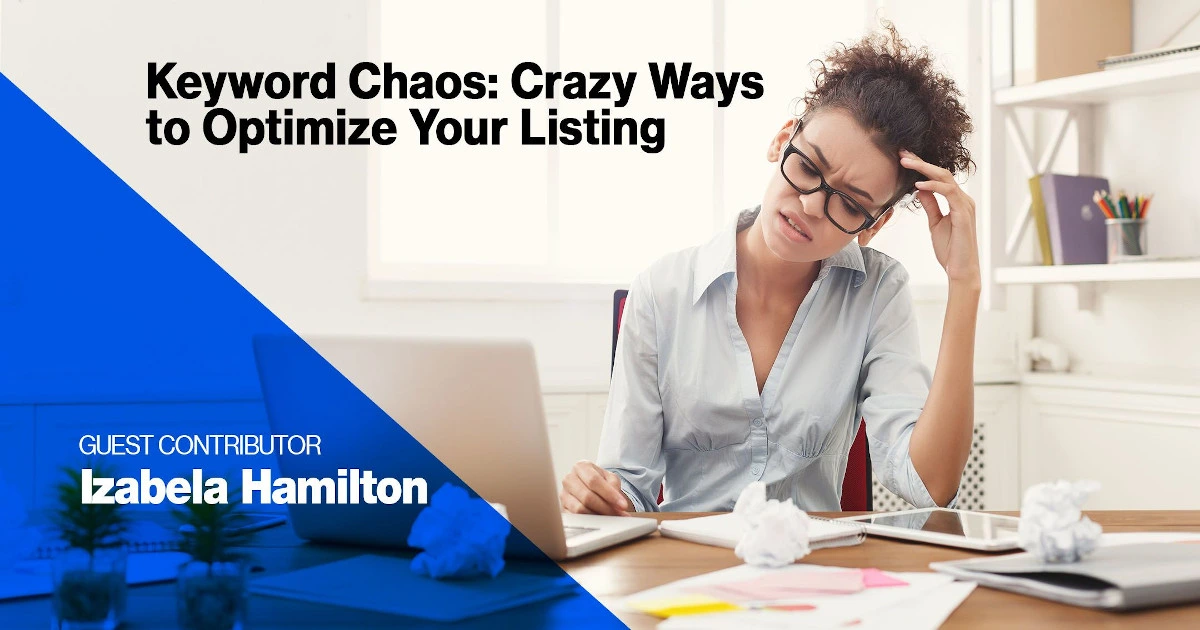 Have you ever lost your wallet?
Not just misplaced it at home and found it after a few hours of searching through couch cushions, but really lost it -to the point of having to go through the hassle of canceling credit cards, opening up identity theft alerts (just in case) and worrying about all the cash you may have lost?
This is what it feels like when you don't take the time you need to perform thorough keyword research. You may be left to wonder what competitors are 'stealing' your sales, and spending a lot of time dwelling on the dumb move that led to missed sales and lost opportunities for cash in the first place.
Whether you are an Amazon Amateur or a super salesman, keyword research is critical to the success of your Amazon store listings.
Critical Keywords
You've heard of MVP's in sports, but in the Amazon world, we have MVK's: Most Valuable Keywords.
In reality the more keywords you pour into your listing, the better, but some keywords or phrases are more important than others. Let me give you an example. I am searching for girls tights for my niece's dance class. I go to Amazon and search the words "girls tights" and get hundreds of results of different kinds of tights from convertible to footless and colored tights to multi packs.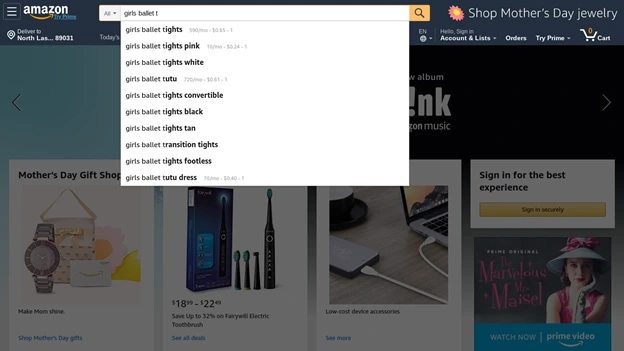 This is where your MVK's come in. When you are doing keyword research it is important to first-know the attributes of your product inside out and backward, and second-think like your customer. When you know what differentiates your tights from your competitors, you can think about what your customer may use to search.
For the tights example, if I know my tights are convertible, pink and fit girls sized 6-8, I am going to want to make sure that customers searching for those specific terms can find my listing. These words and phrases are some of my MVK's because they describe what a customer is looking for.
When I begin my keyword search, I open a new spreadsheet and divide into three columns as follows: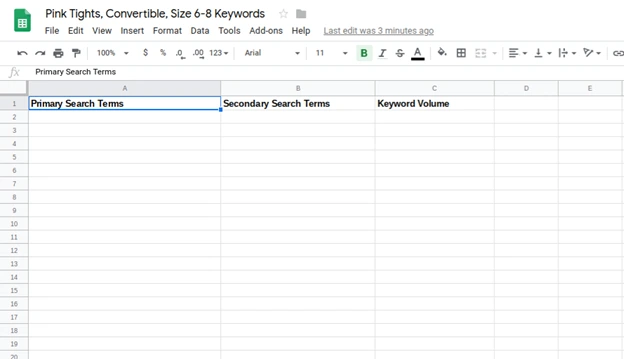 Your primary search terms will be the most obvious terms that your customers may be searching for. In the tights example, some of my primary keywords would be:
Girls pink tights
Girls convertible tights
Girls tights size 6-8
Secondary Searches
While your primary terms are the most important words and phrases that describe your product, secondary search terms help answer some customer questions as well. Again with the tights example:
How many pairs come in a pack?
Are they soft?
Will the elastic waistband stay in place or does it roll?
Answering questions about a product can also help you during the research process.
Important secondary keywords can also be found by taking the time to look at similar products sold by your competitors. Read 7-10 competitors titles, bullets, and descriptions and take note of what keywords are used most frequently throughout.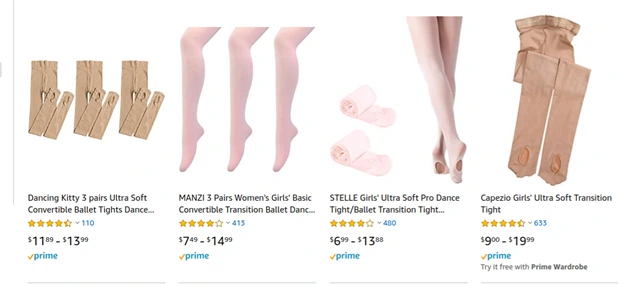 You can see in the image above that the first four results showing in my search also use the words 'transition tights' so this is a good example of getting keyword ideas from competitors that I may not have thought of on my own.
Another way to determine secondary keywords is to think of products that complement the one you are selling. In our tights example, people may also be looking for leotards, ballet or tap shoes, tutus, or even dance hair accessories. These phrases would go in your secondary list of words and should be used either in one of your bullet points or as your backend search terms.
Start Somewhere
For many Amazon sellers, the idea of keywords research is daunting. So whether you choose to outsource your research, or take on the task yourself, here are a few of my favorite tools to get keyword research done efficiently:
1. Helium 10
My absolute favorite pick for keyword research is Helium10. While this whole site is an amazing resource for Amazon sellers, my favorite tools by far are the Black Box, Cerebro, and Frankenstein.
Black Box gives you an insight not only into the search volume but also the potential monthly revenue of certain phrases. Featuring highly accurate data, Black Box saves you time and money by helping you generate highly searched keywords or phrases.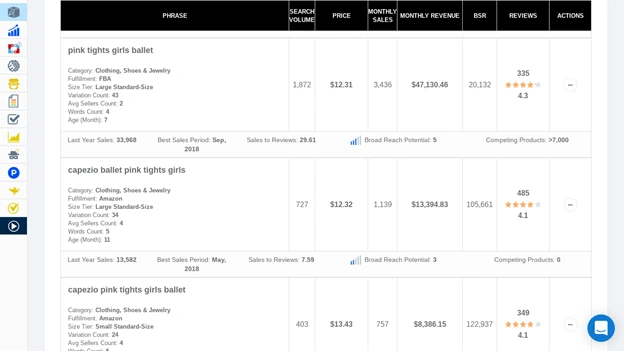 Cerebro is also a fantastic resource as it allows you to do a reverse ASIN search and get a list of keywords your competitors are currently ranking for. Even with an unpaid subscription, you can search a few ASIN's on a daily basis to get a hand up on your competition. Your Cerebro results will show you the Amazon search volume, competing products using that keyword, and even keywords that are ranked as 'Amazon's Choice.'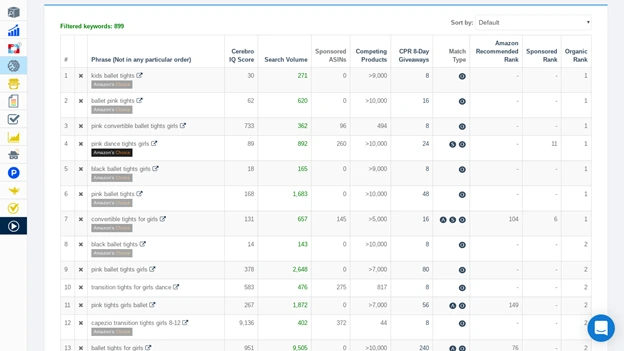 And this third tool I love by Helium10 is the Frankenstein Keyword Processor which allows you to take your finished list of keywords, enter them into their form, hit process, and come out with a list of keywords to use on the backend- without any duplicate terms.
As we've come up with ideas for our tights example, we've used the words girls, tights, dance, and ballet frequently, but in relation to different search phrases. With Frankenstein, you can pair these phrases down so that each word is only listed once in your final list.
2. Soovle
Having trouble thinking of what terms your customers may use or questions they may have? Let Soovle help! Designed to show you what the world is searching for on a variety of sites like Google, Amazon, YouTube, Yahoo, Bing and more, you will get a good idea of what terms need to be included in your listing.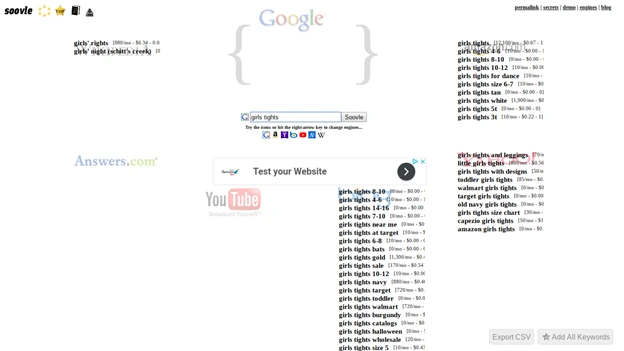 3. BuzzSumo
BuzzSumo shows what topics are trending throughout the web. By doing a simple search for 'girls ballet tights' I found that ballet tights, dance tights, footed tights, and hold and stretch tights are all terms being used or searched frequently. This is also a great tool to come up with blog ideas if you also have a website.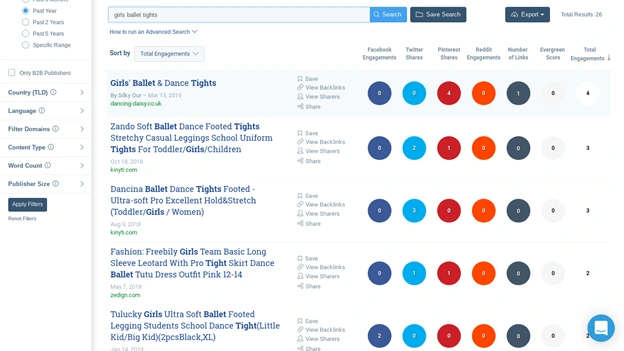 4. Amazon
This one shouldn't come as a surprise. Whether you use the auto-complete feature on the search bar to find keywords, search competitor listings or related products as discussed previously, using Amazon in your research is a powerful way to beef up your listings
The Keyword Craze
Whatever tool you choose to use for your research, the most important part is to be thorough. This is the key between watching your sales soar as a result of your efforts, and worrying about what competitors are doing to 'steal' your sales.
For more tips on how to climb the ranking ladder of Amazon sales, see our Behind the Scenes Guide to Ranking.
About the Author:
Izabela Hamilton is the Founder and CEO of RankBell, a brand accelerator that helps Amazon businesses grow to 7 & 8 figures through driving organic keyword ranking and optimization. To learn more about how Izabela helps Amazon sellers, click here.